Ever find something you love so much and just need to tell someone? Sorry if we're about to gush…
On one of our many trips to Ireland, we decided to break away from spending time between our parents' homes outside the city for a day or two. We wanted to stay in the city centre. To really experience the Dublin we once lived for about five years, without the worry of driving home or public transport hanging over our heads.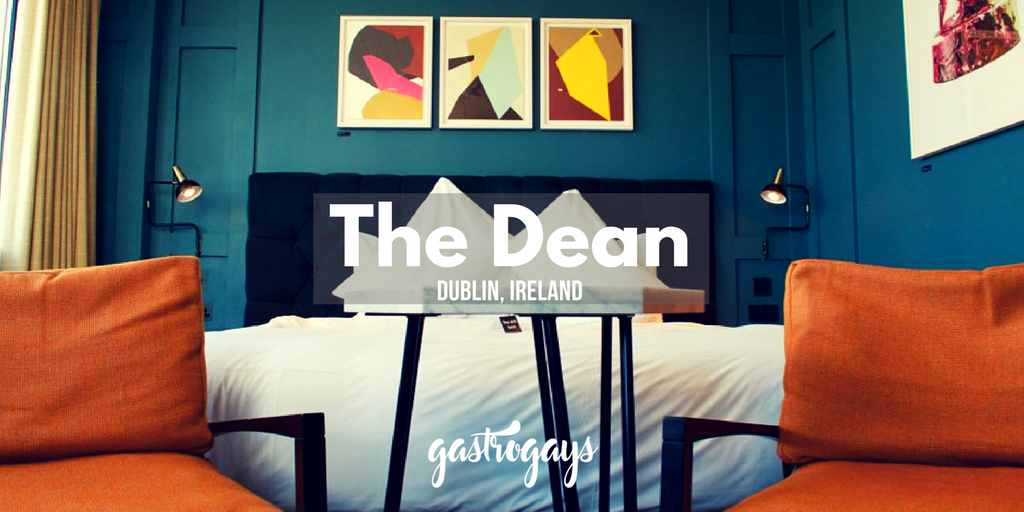 As you know, we've also started posting our travel tips and reviews on the blog – which we're loving sharing – and since we hadn't got a hotel review posted of where we suggest staying in Dublin, naturally we had to remedy that and without a second thought chose The Dean Hotel in Dublin.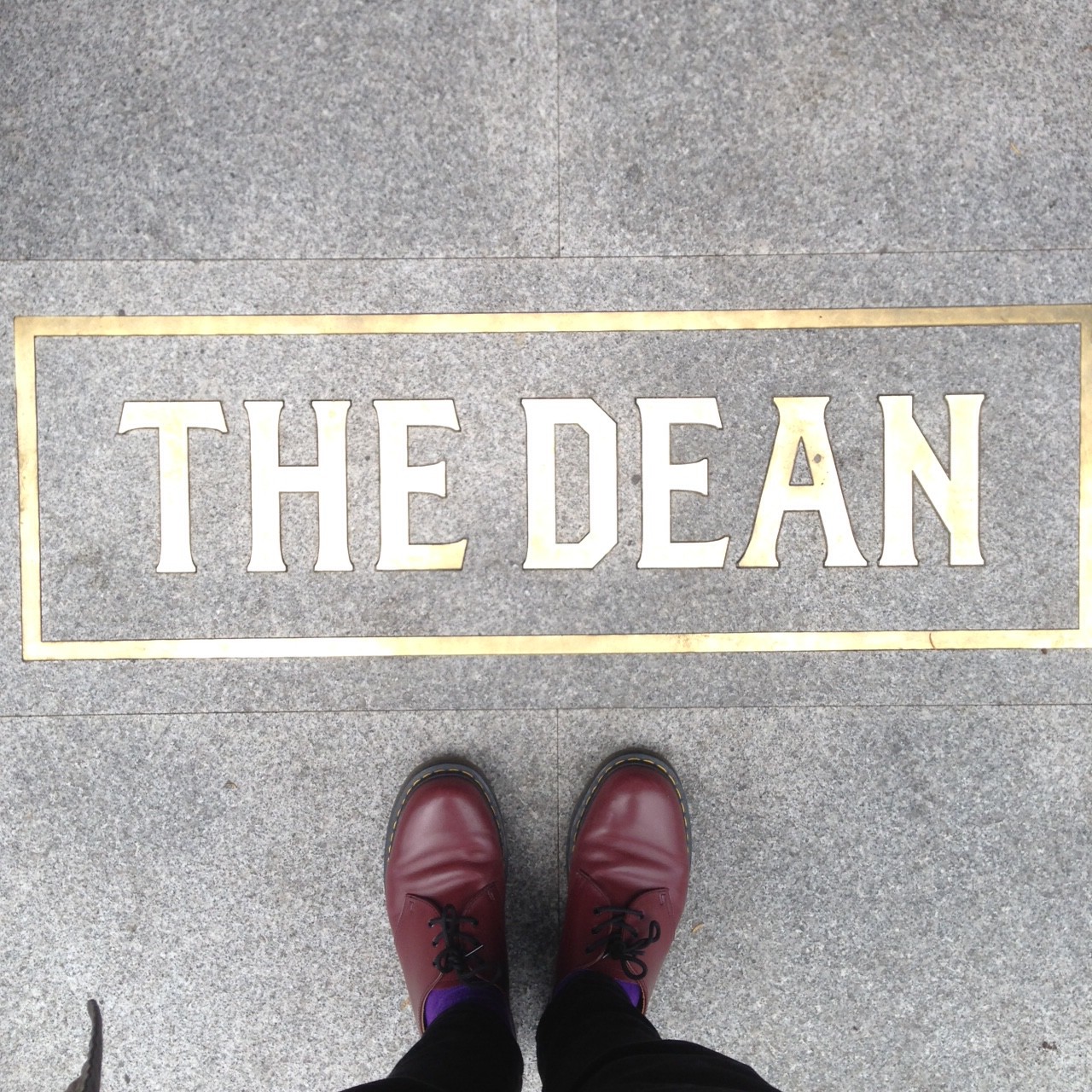 From the moment you enter The Dean, it's clear that this was a well-oiled machine even before it was fitted out or populated.
Comprising three Georgian terraces on Dublin's Harcourt Street, The Dean is the only hotel to open in the Irish capital in the past four years. Dublin, which toughed it out through the demise of the Celtic Tiger and suffered through crippling austerity and depression amidst the European financial crisis, is only now seeing the flowers of change blossom along its streets.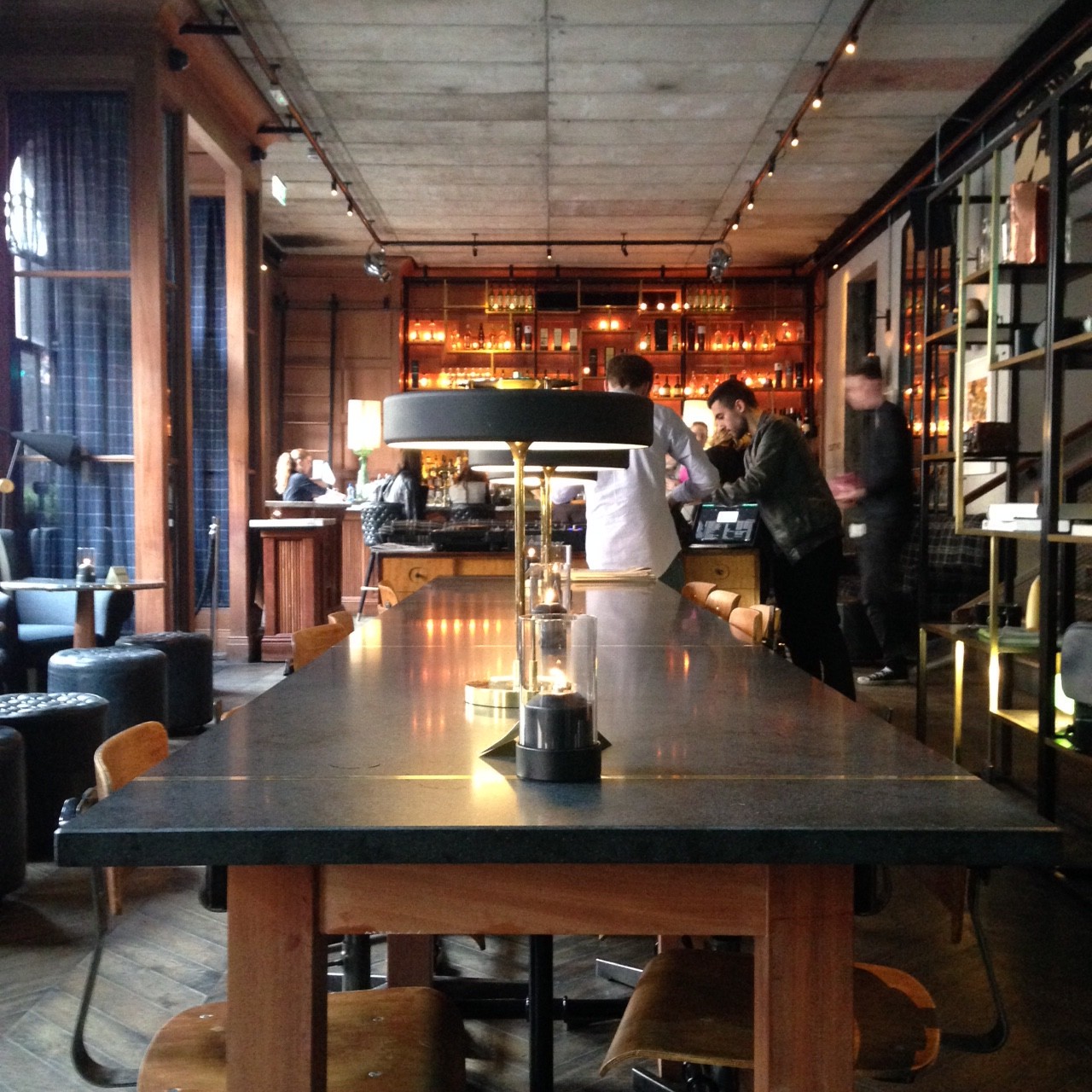 However, they say that some of the best creativity and enterprise is born out of adversity and maybe Dublin was simply waiting for somewhere like The Dean to open. And, by god, did it need it.
Here's what they say:
'We don't do conventional. We do fun. Cool & comfortable rooms filled with stuff that will make you smile. We've 52 bedrooms… Some are small. Some are big. Some are really, really big… We want you to feel like you're staying over at a mate's house so we've filled your room with fun stuff..

You might never leave your room. That's OK with us.'
And now to what we think: We didn't want to leave! Moments from Stephen's Green, Grafton Street and the major shopping districts of the city centre, you basically have Dublin at your doorstep and this room definitely tempts you to throw away all plans and hole up in here for as long as possible.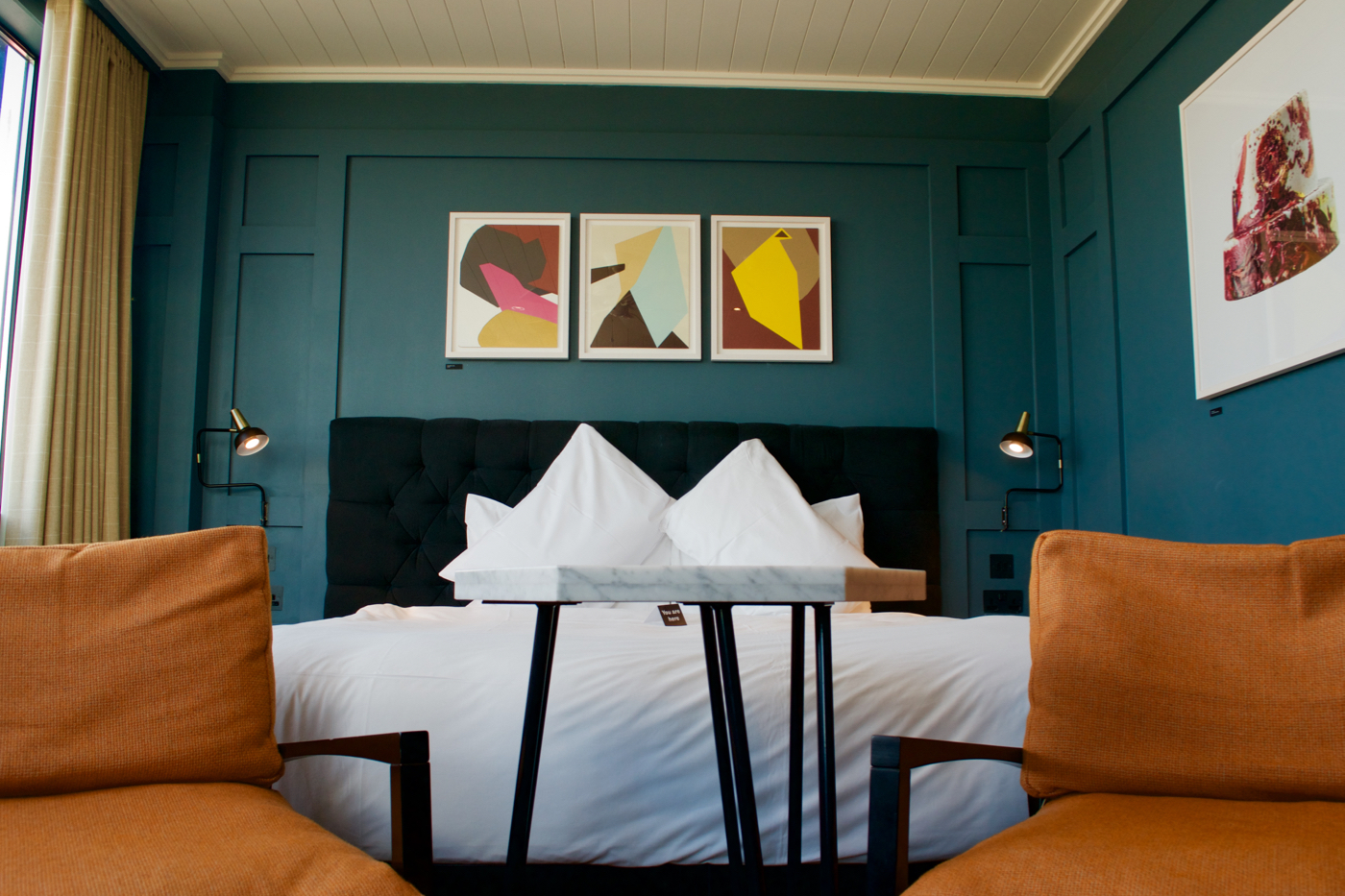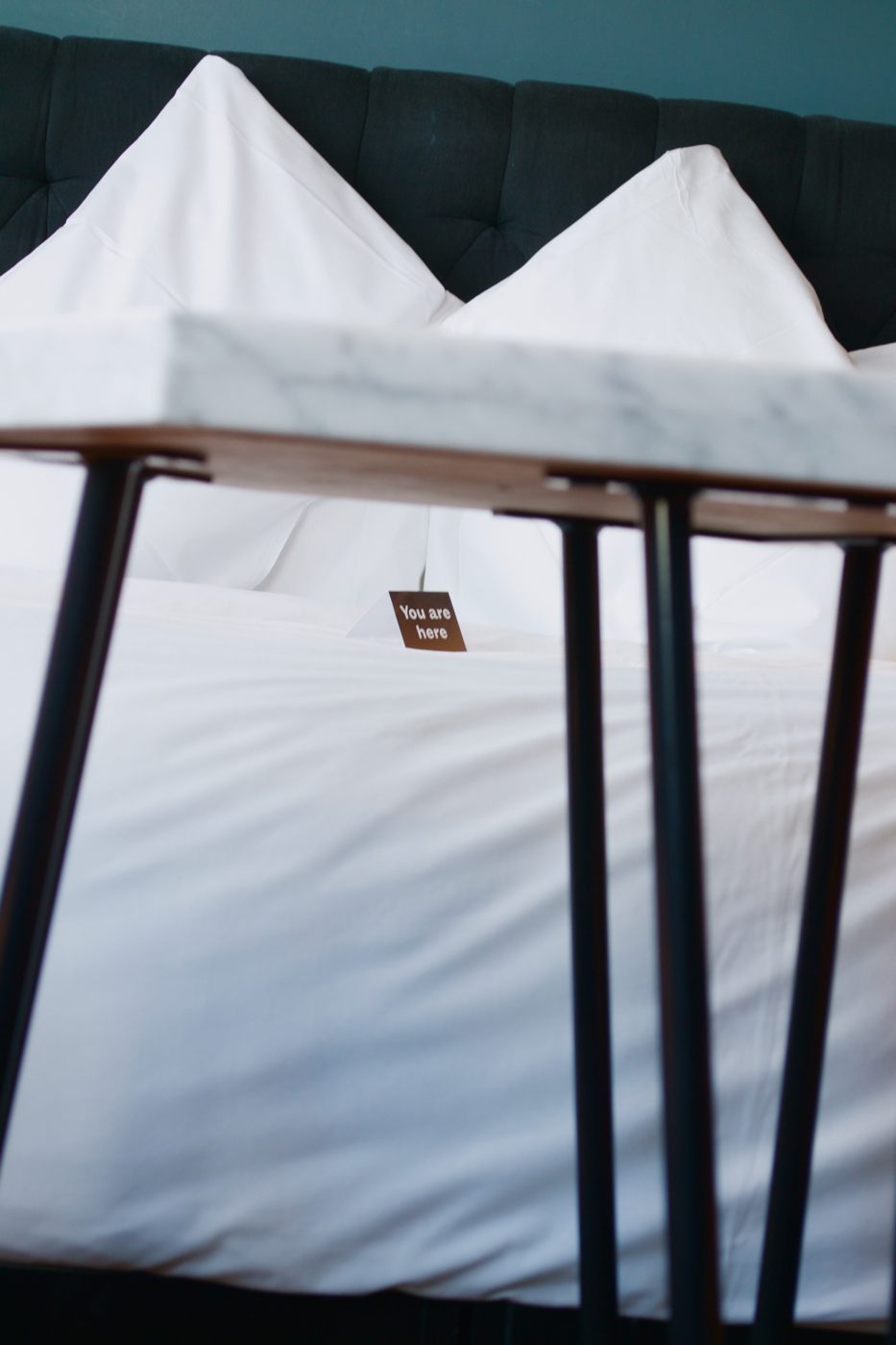 We stayed in the Hi-Fi room, a light-filled, higher floor bedroom with dual-aspect looking out over Dublin rooftops and luminated by the cloudy blue sky. The clue is in the name – 50″ TV (with Netflix subscription, natch), a Marshall amp to plug in and play your own music and a retro record player with a bunch of classic vinyls to soundtrack your stay. This is not the place to come for a quiet rest of the head, enjoy the music, make some noise!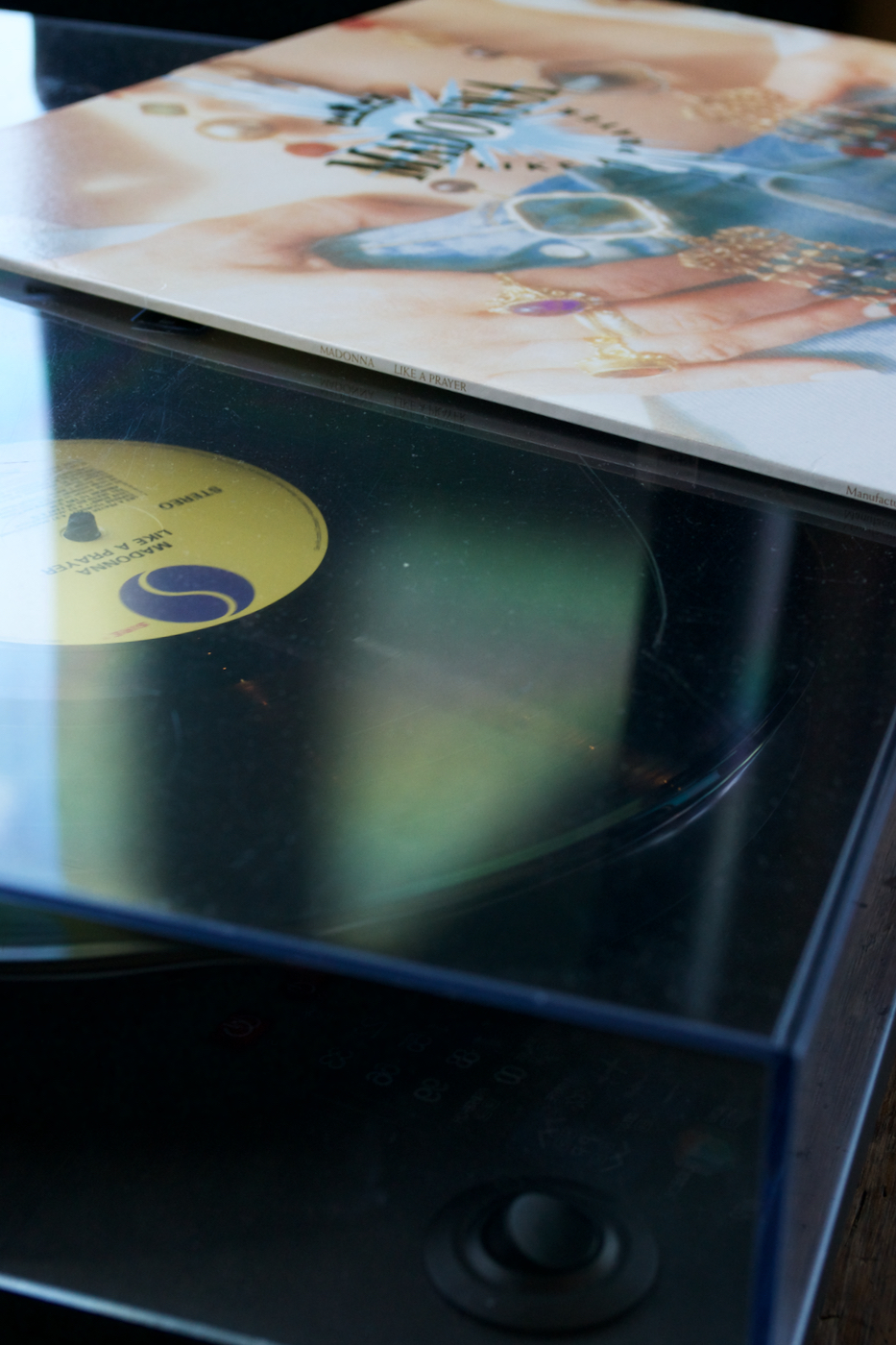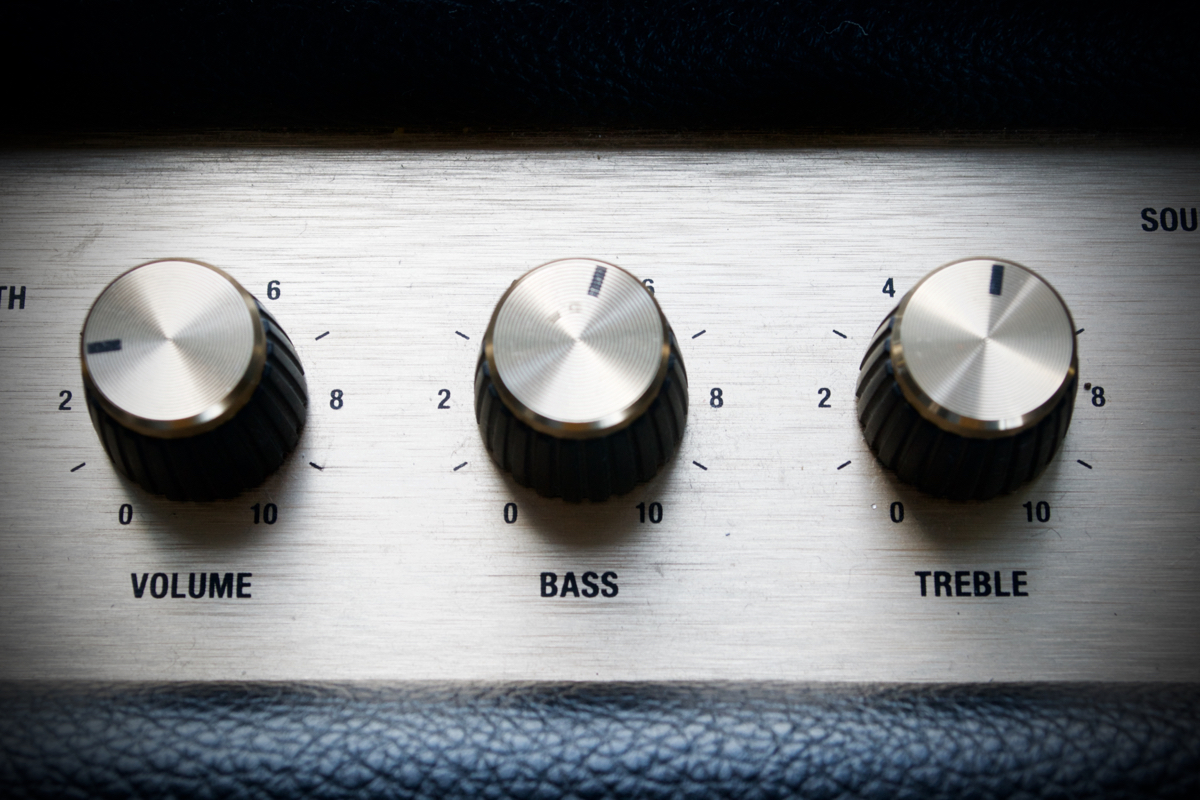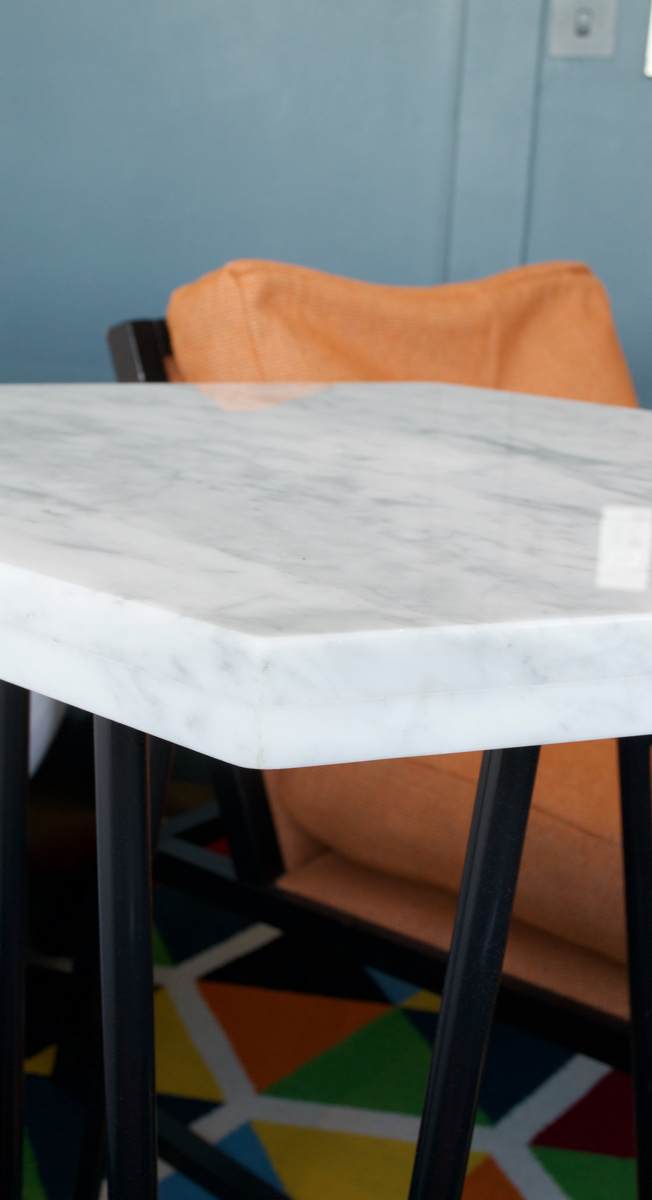 Colourful, clean edges and myriad textures fill the room, from colour block carpets and dark stained wood to marble tabletops and vintage-style ceiling fans.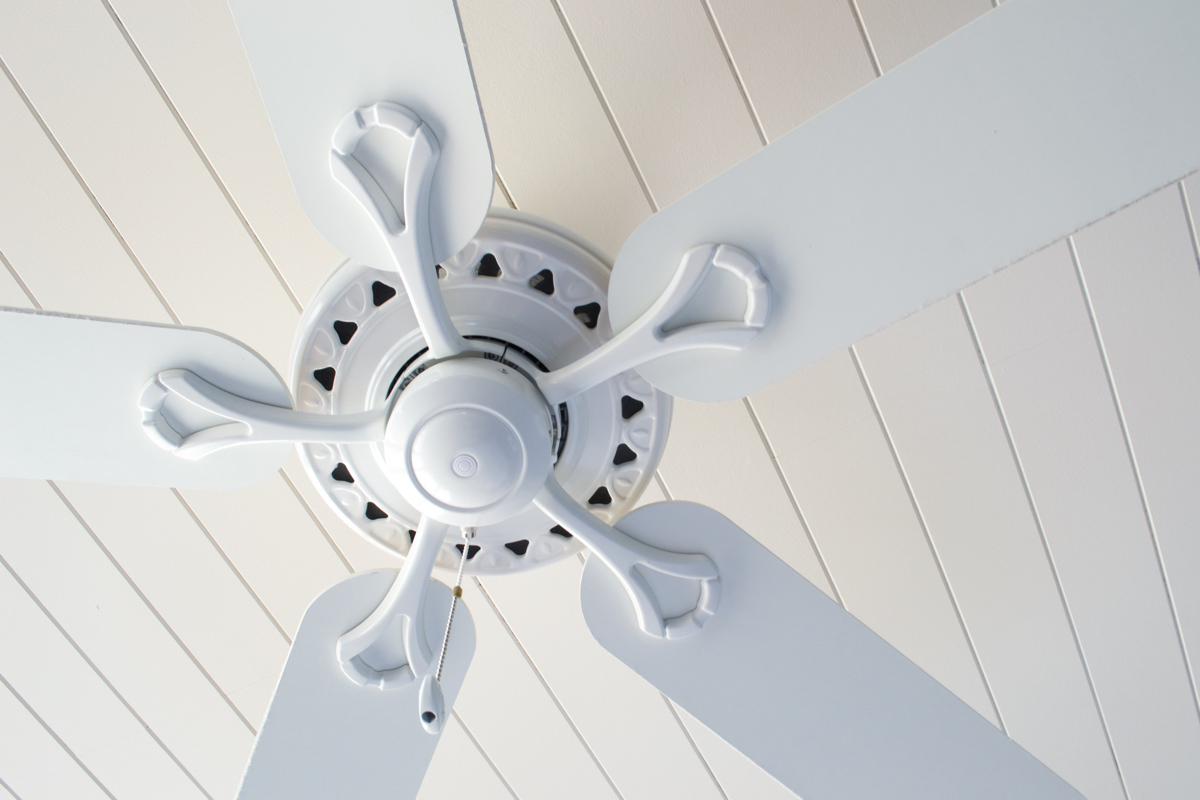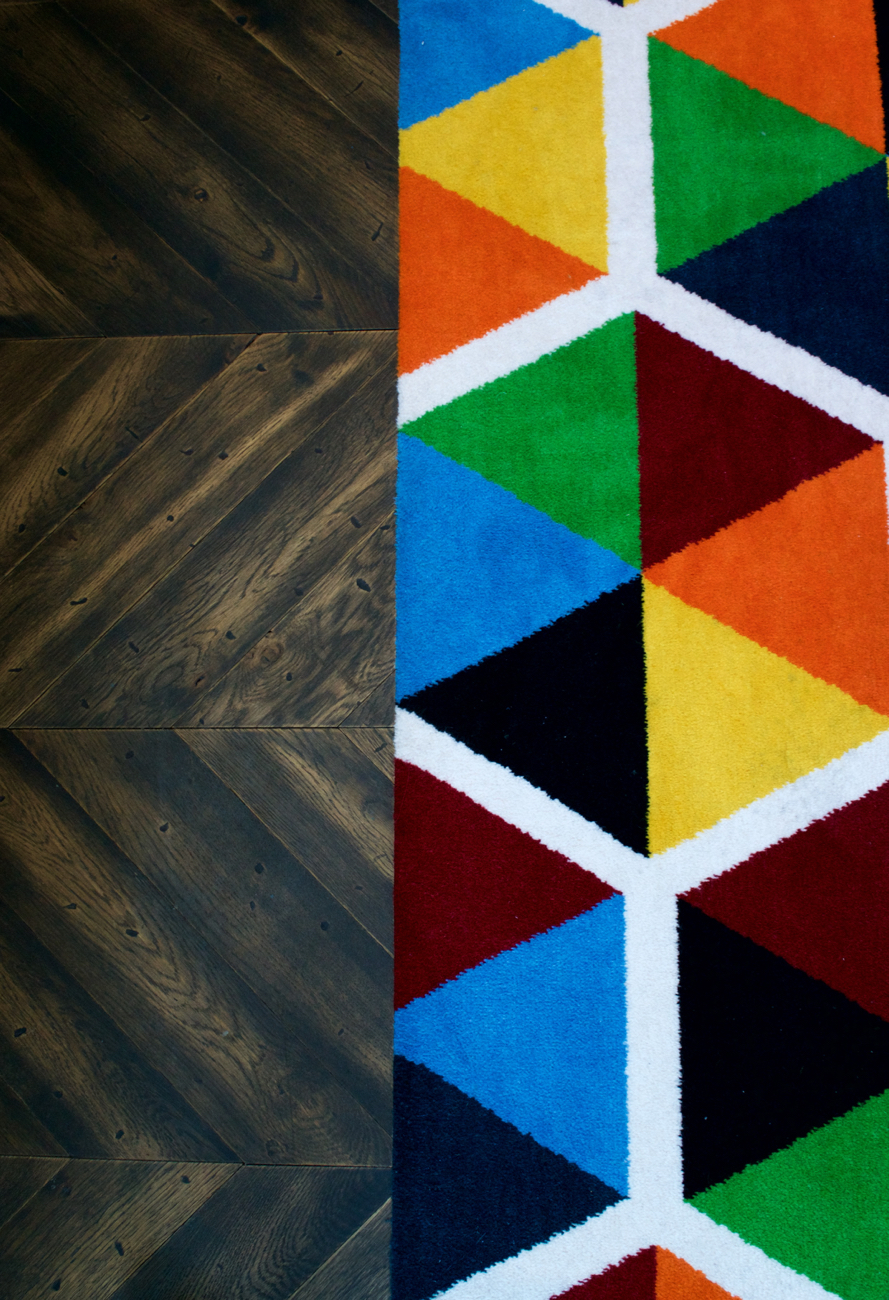 We could go on and on, but pictures often speak greater than words do.. so let's take a few moments to explain visually: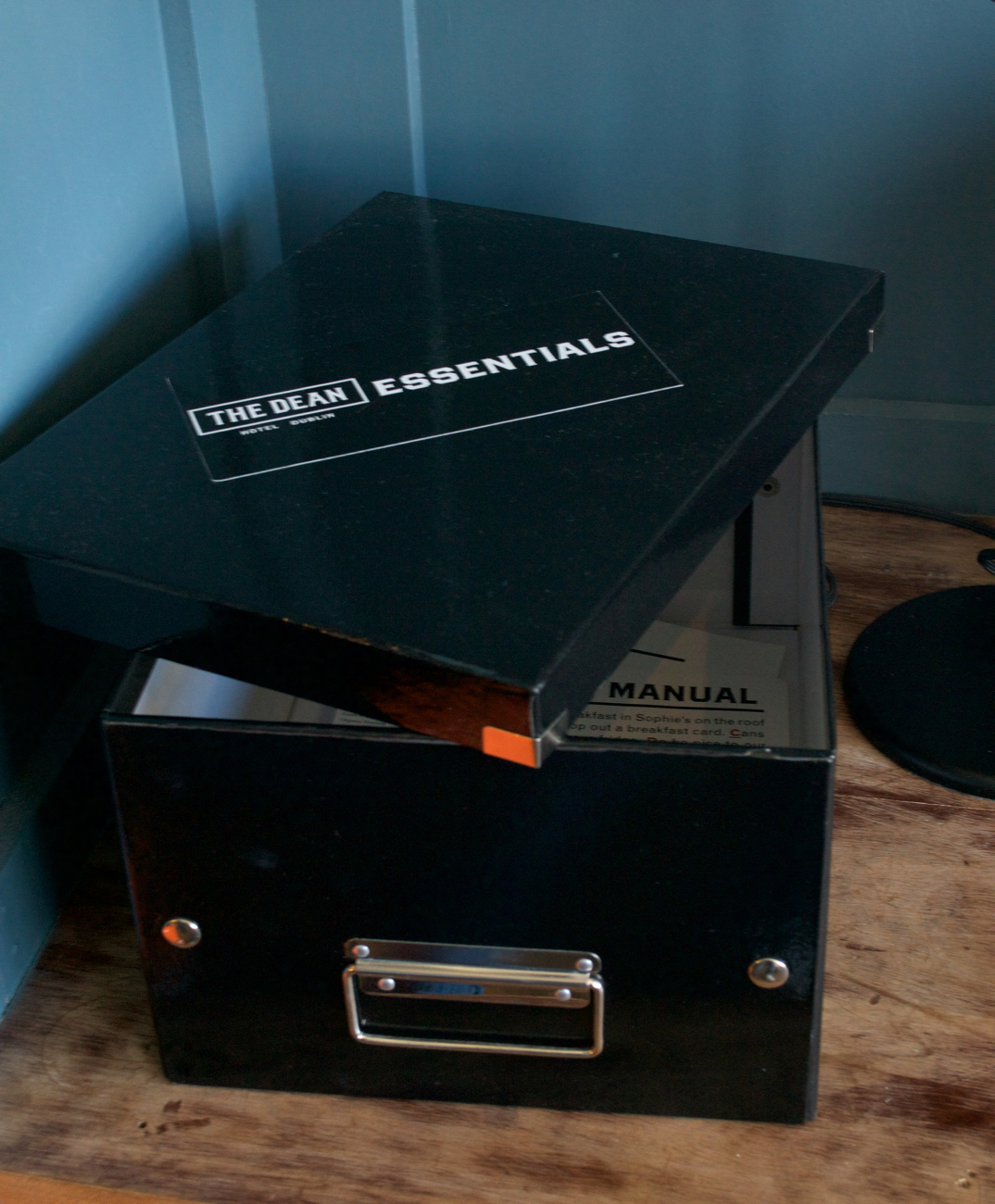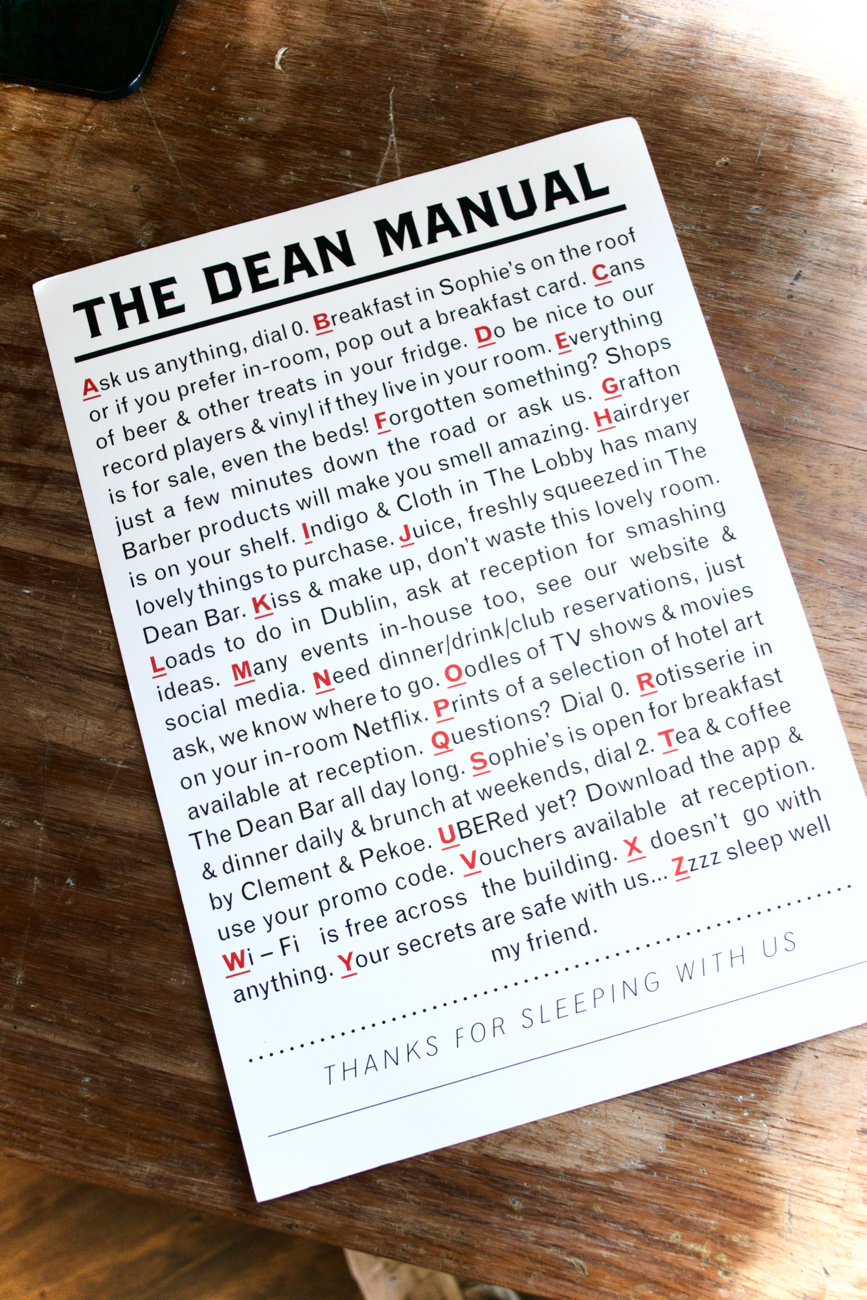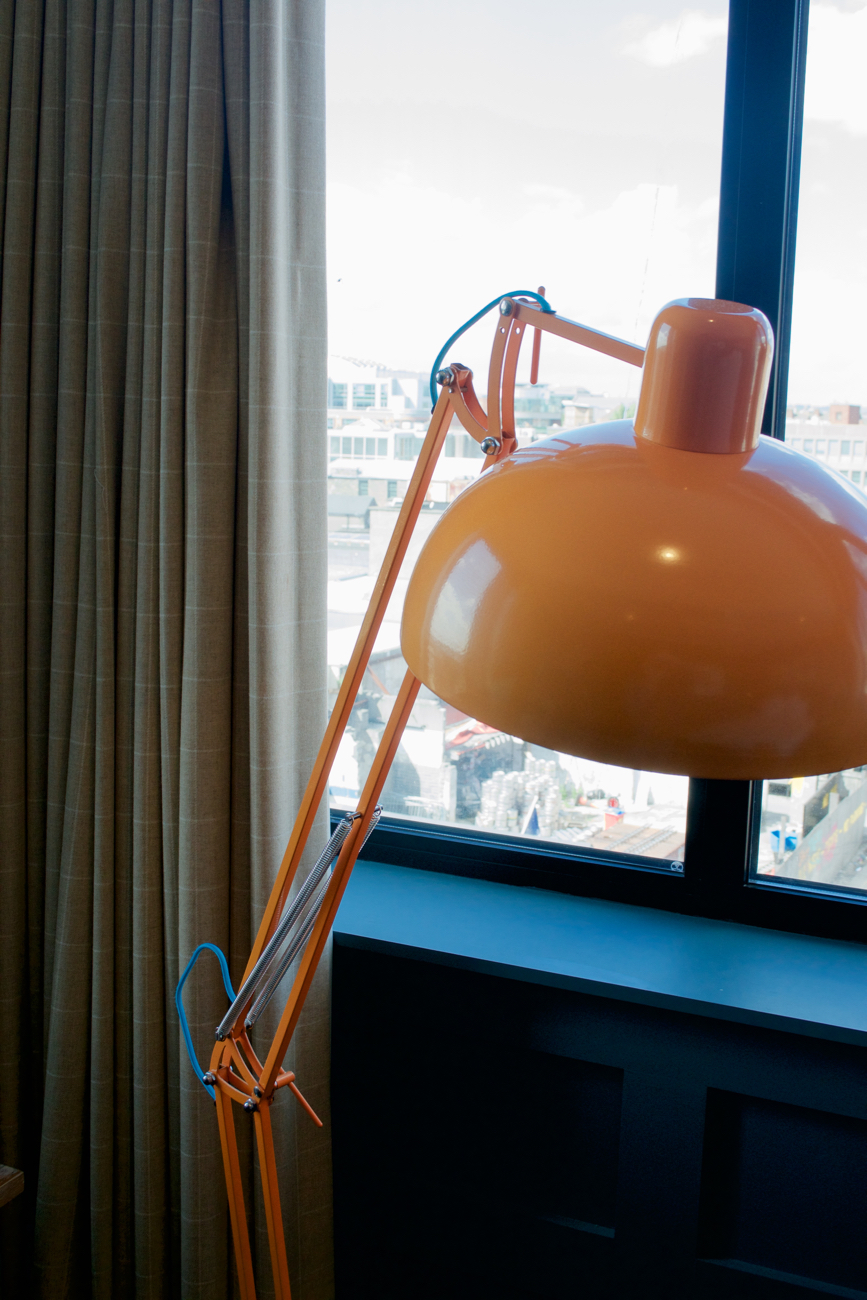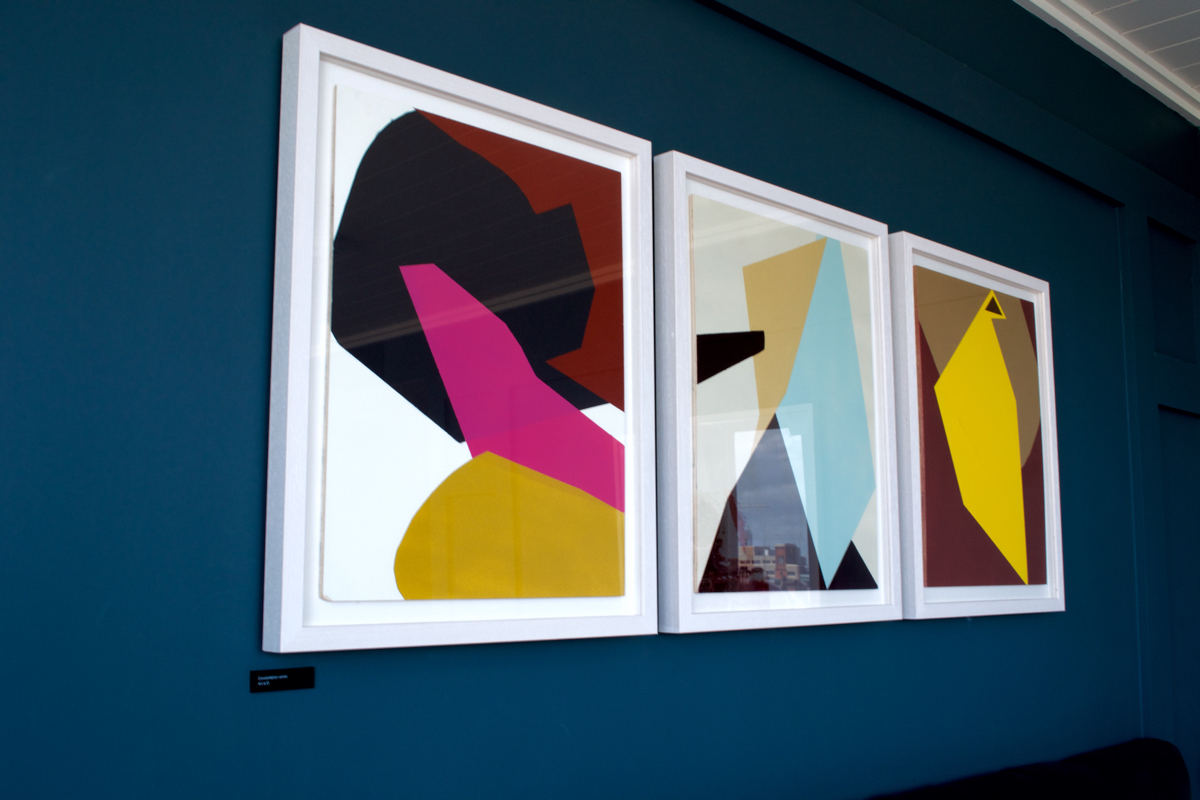 All the artwork, be it along the walls on each floor, throughout reception or hanging in the rooms, come from Irish artists and are all available for sale. Some are really worth stopping and appreciating; we particularly loved this one below.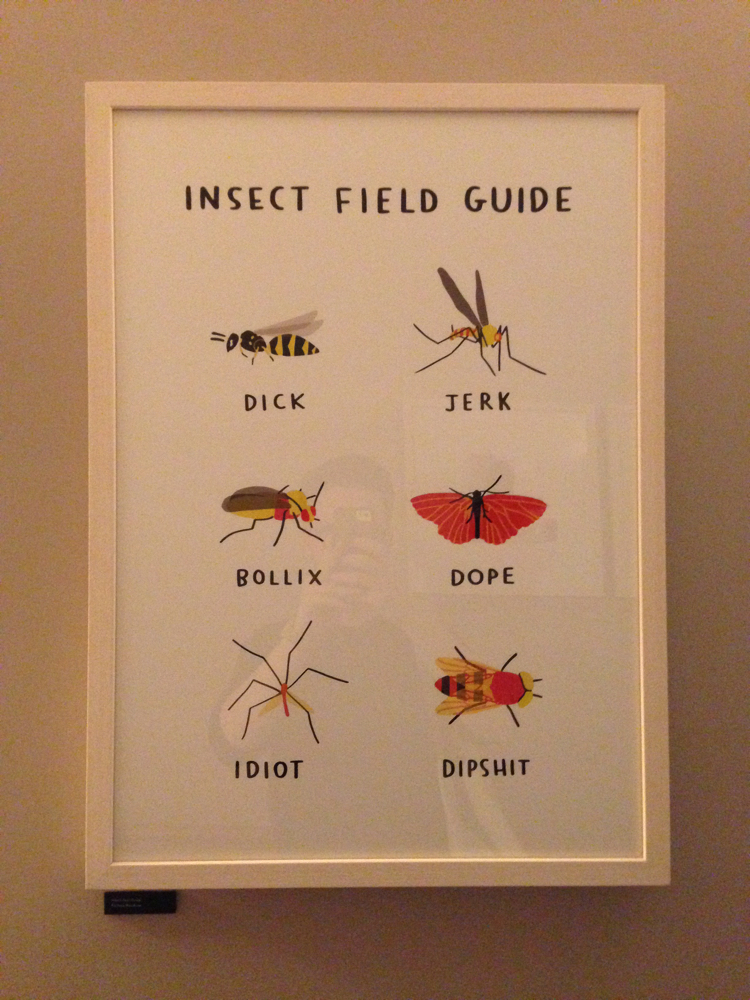 Attention to detail is on another level here. From the 'munchies' box filled with quirky and kitsch Irish snacks and drinks to the coffee table cookbook to flick through whilst sipping a fresh Nespresso coffee, every box is ticked and you're spoiled for choice, you really are.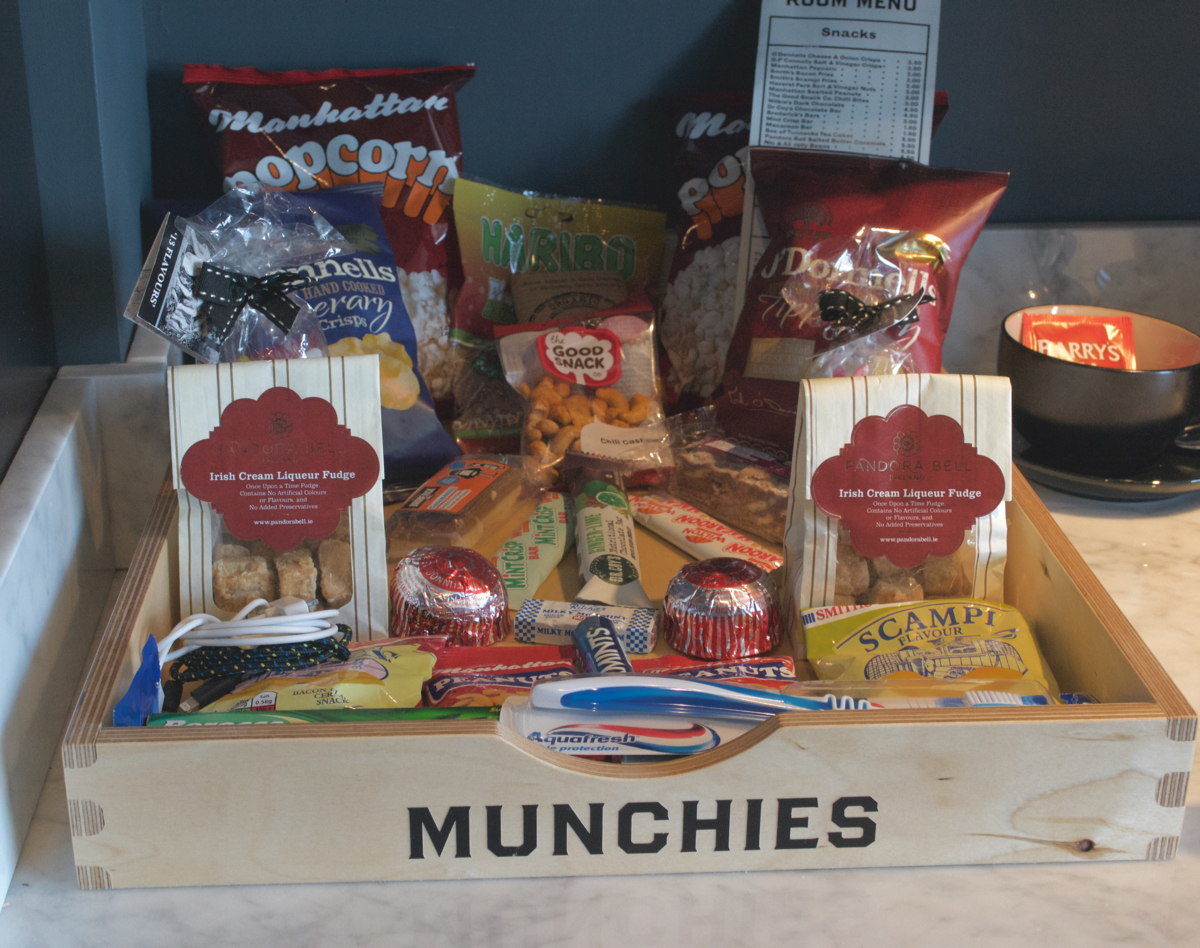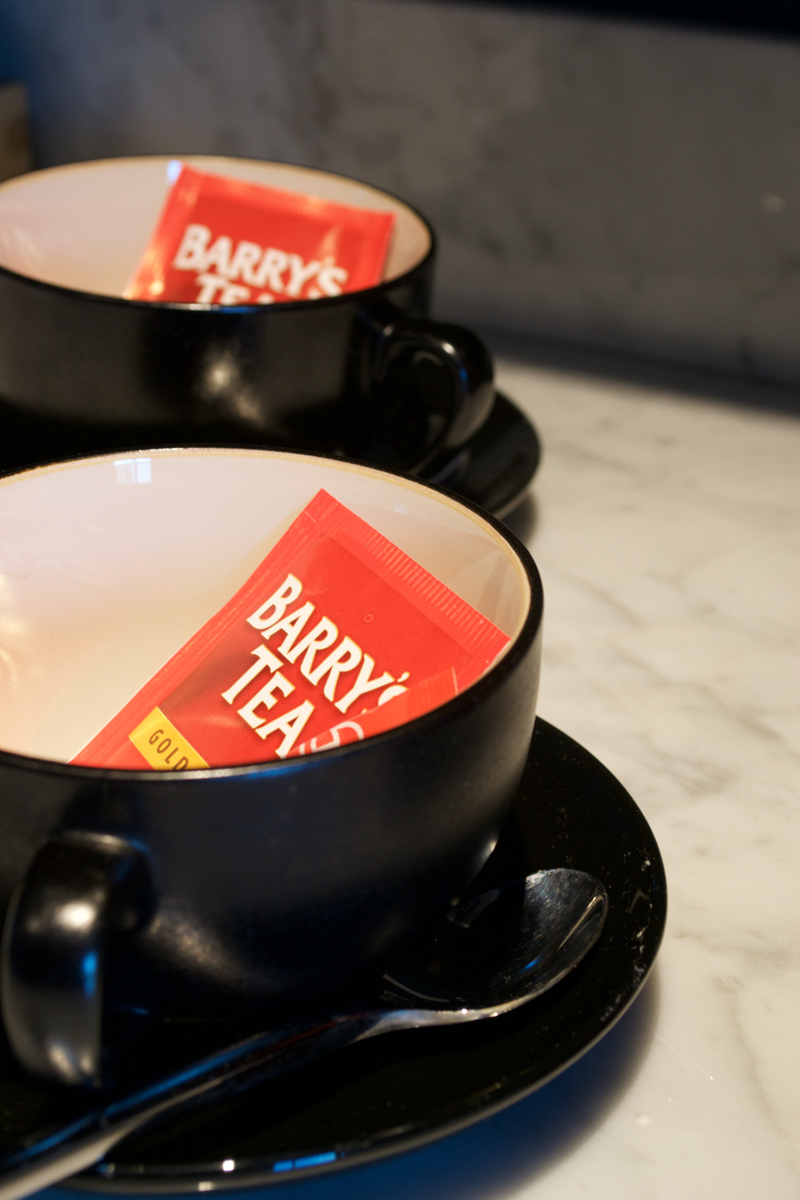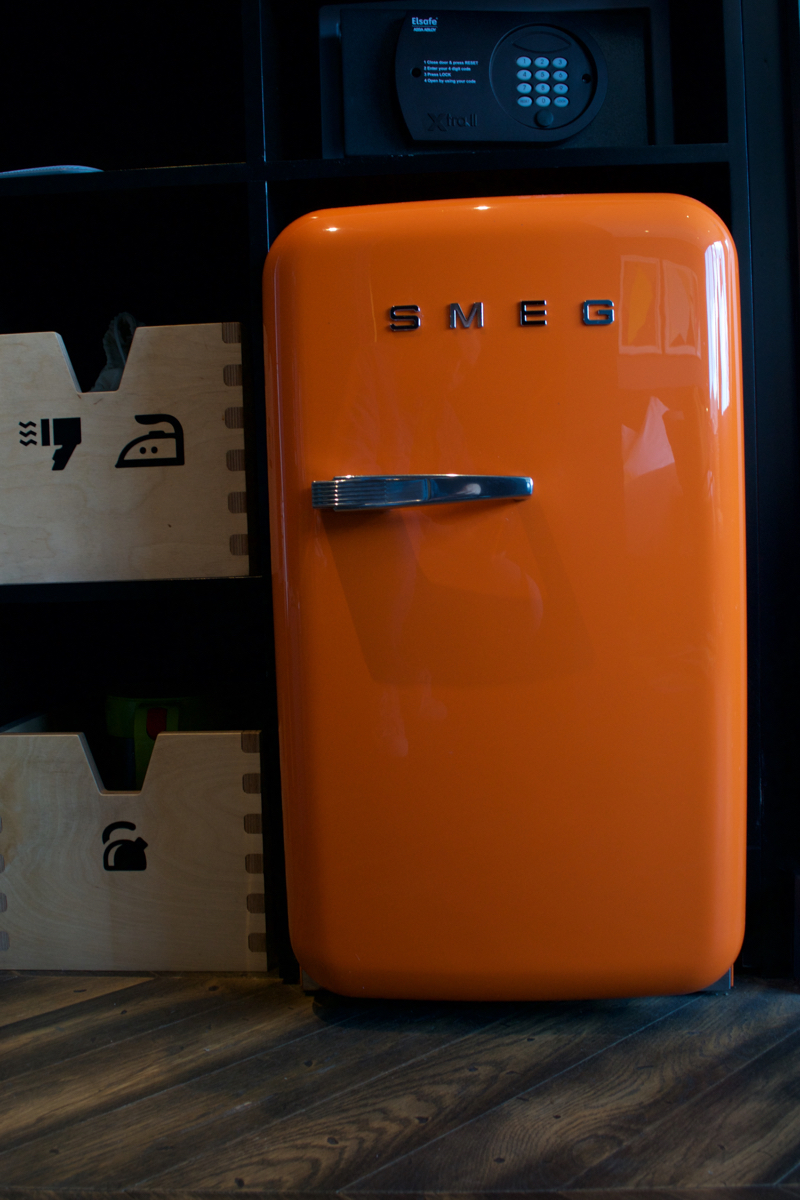 We dream of having a SMEG fridge in our flat, so what a joy it was to see the minibar in this incarnation, filled with chilled goodies; right below a discreet, laptop-sized safe which is great for business customers.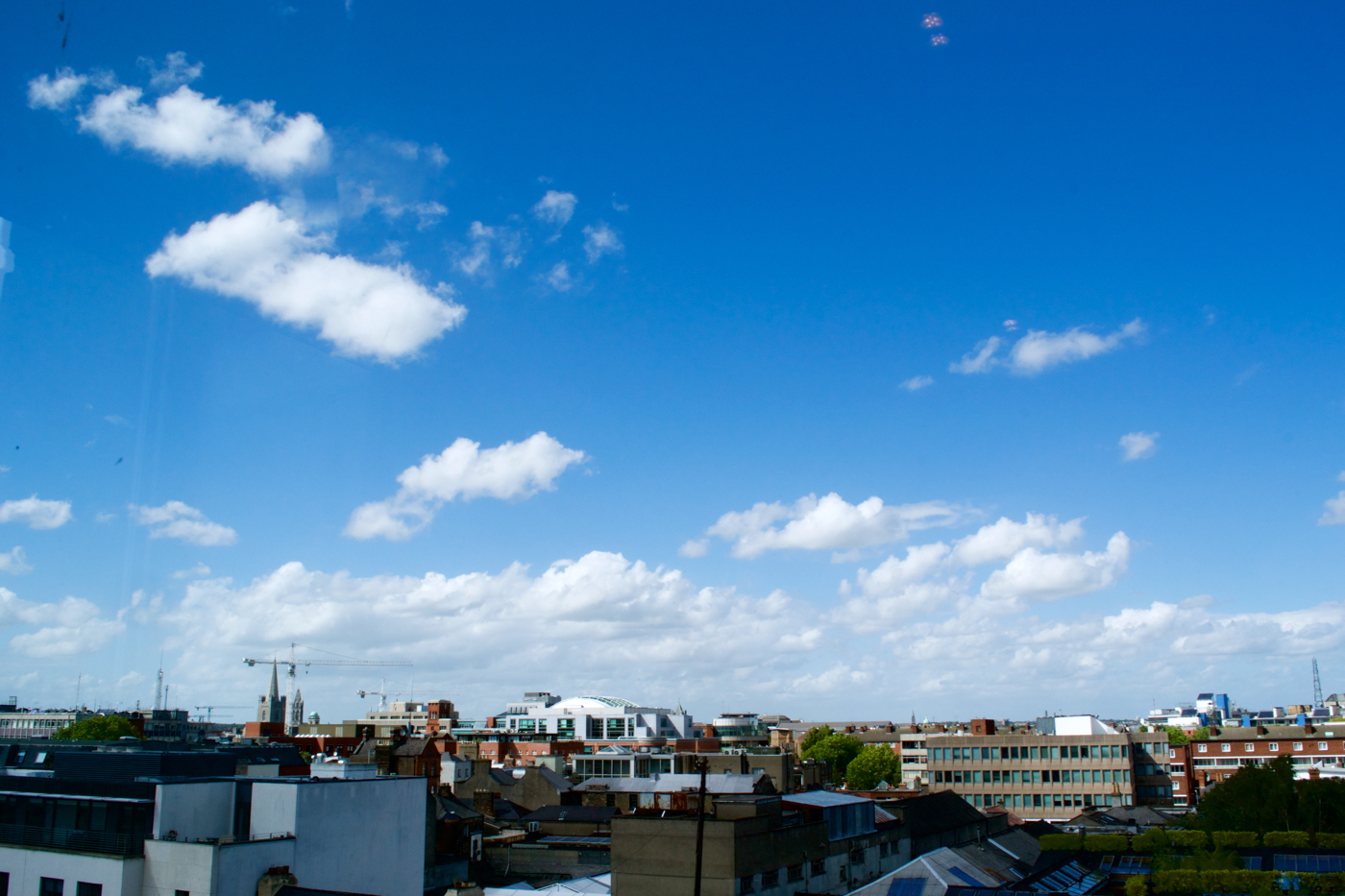 *clears throat* And then you look out and this is your view. As we've said before, you only truly appreciate Dublin's low, unspoilt skyline after coming from the high-rise jungle of London.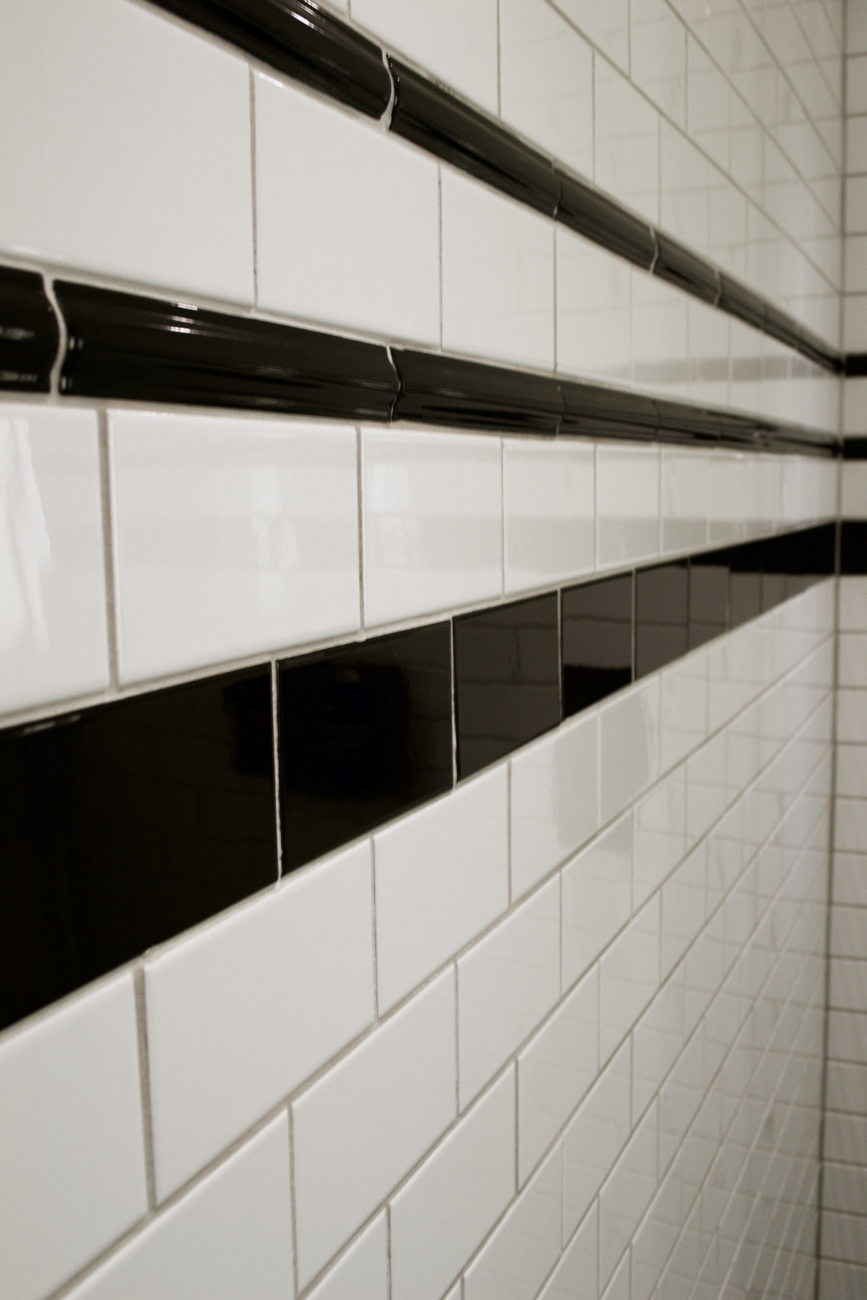 The bathroom offsets the trendy mix of modern and retro as it's industrial in style – all monochrome tiling, rain showers and tubular vanity lighting. It's spacious, well-lit and comes with a shower that you could easily stand an hour in being completely lost. In short, it's bathroom perfection and how often do you get to declare that?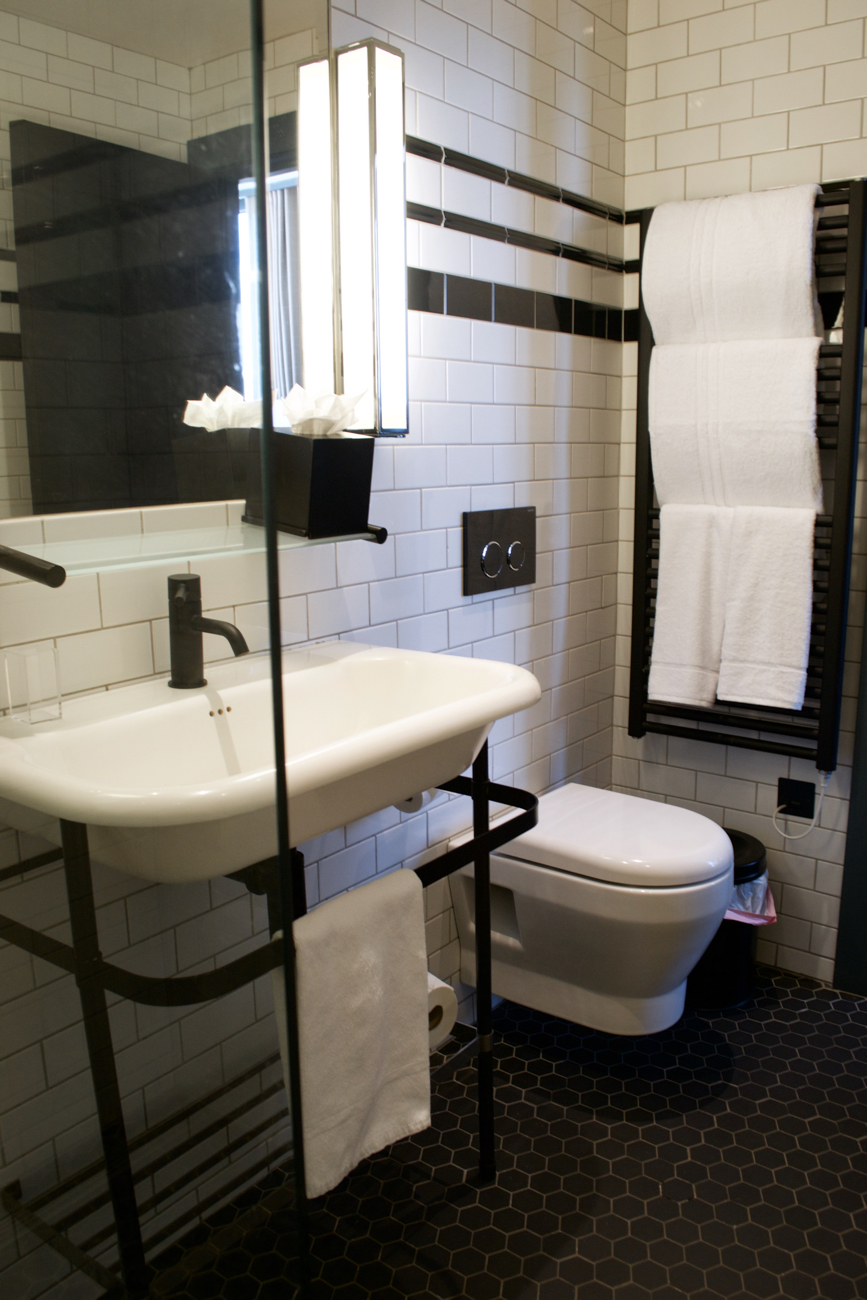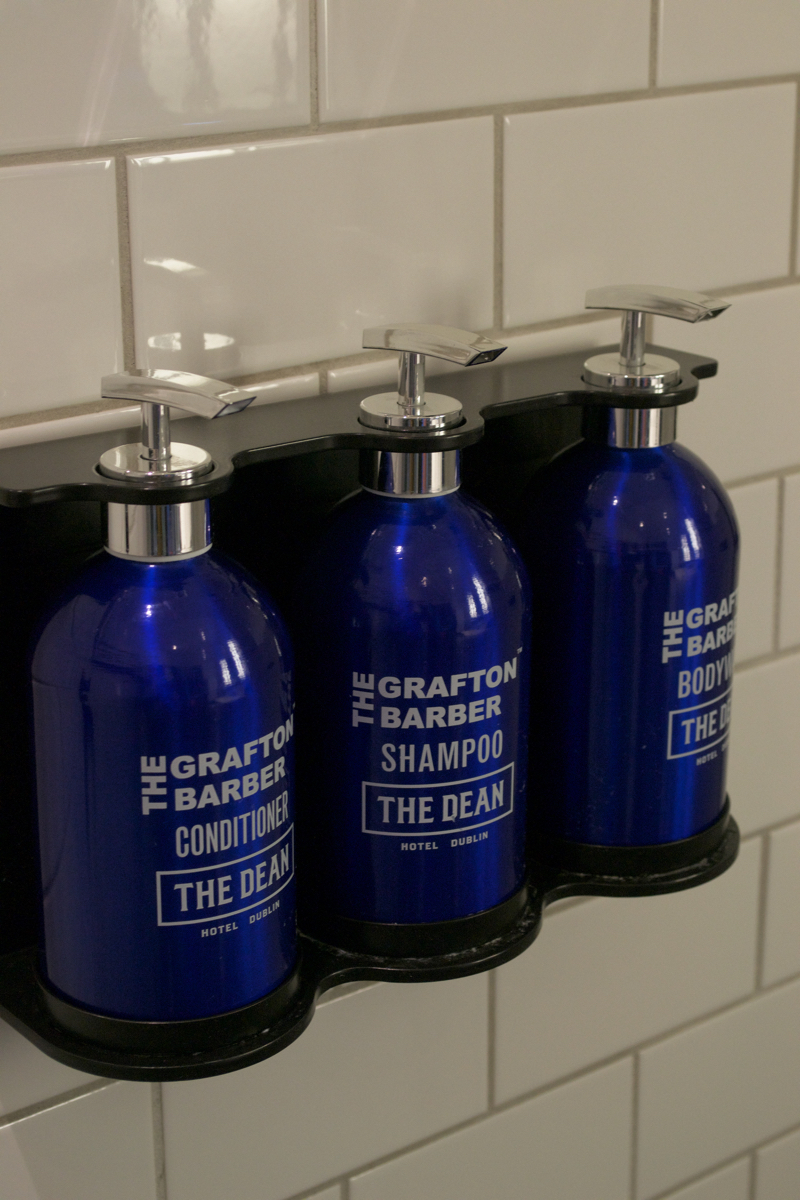 The toiletries are all Dean-branded items from The Grafton Barber range and, we're not alone in this, they are the best toiletries we've ever experienced in any hotel in Ireland. Provided generously in large pump dispensers, they are a joy to use. We definitely love having our creature comforts of tried-and-tested cosmetics and toiletries whilst away, but there's something about even your best-loved products in mini bottles that make travelling very unglamorous and tedious.
In the evening, we met up with a few friends and took them to the rooftop and had a round of cocktails before dinner. All priced around €11 or €12 each, it's table service, so just find a seat, choose your potion and sip as you take in the expansive Dublin view. We had the Los Altos (Olmeca Altos Blanco, pomegranate, Earl Grey, grapefruit..) and Blood & Smoke (illegal Mezcal, Lillet rouge, cherry bitters..)
We then headed along to South William Street to one of our old favourites from when we lived in Dublin, Bear. A prize champion from the stable of the enfant terrible of the Dublin restaurant scene Joe Macken (Crackbird, Jo'Burger, Skinflint), Bear is big on meat with seriously good steaks, unique sides and an army of hipster employees. Casual, convivial and meat sweat-inducing, it was the perfect fodder for catching up with friends and whiling away a couple of hours on a quiet night in the city.
Before going to sleep, we had a cheeky glass or four of wine in the lobby, which is all industrial and plush, with a mixture of reclaimed, up-cycled and vintage interiors offset by opulent features and décor details. The wooden bar to one end of the room has a counter-to-ceiling display of spirits and glass bottles and offers a curated cocktail list alongside a wide selection of wines and bottled beers.
Now… there has been chatter about incredibly loud music, be it from burgeoning Sophie's above, stylish late-night haunt Everleigh  Garden below or both Dicey's and Copper Face Jack's' bustling, rambunctious beer gardens a couple of doors down, we didn't notice it – but we were staying on a Bank Holiday Monday whilst it was somewhat quiet in the city and we were on a higher floor. The Hotel addresses it right there on the site by stating it lies in the heart of Dublin's nightlife district and that they don't 'do' quiet rooms – some are quieter than others – but it's something to take into account when booking. If it's a bug bear, never fear, complimentary ear plugs are available in every room.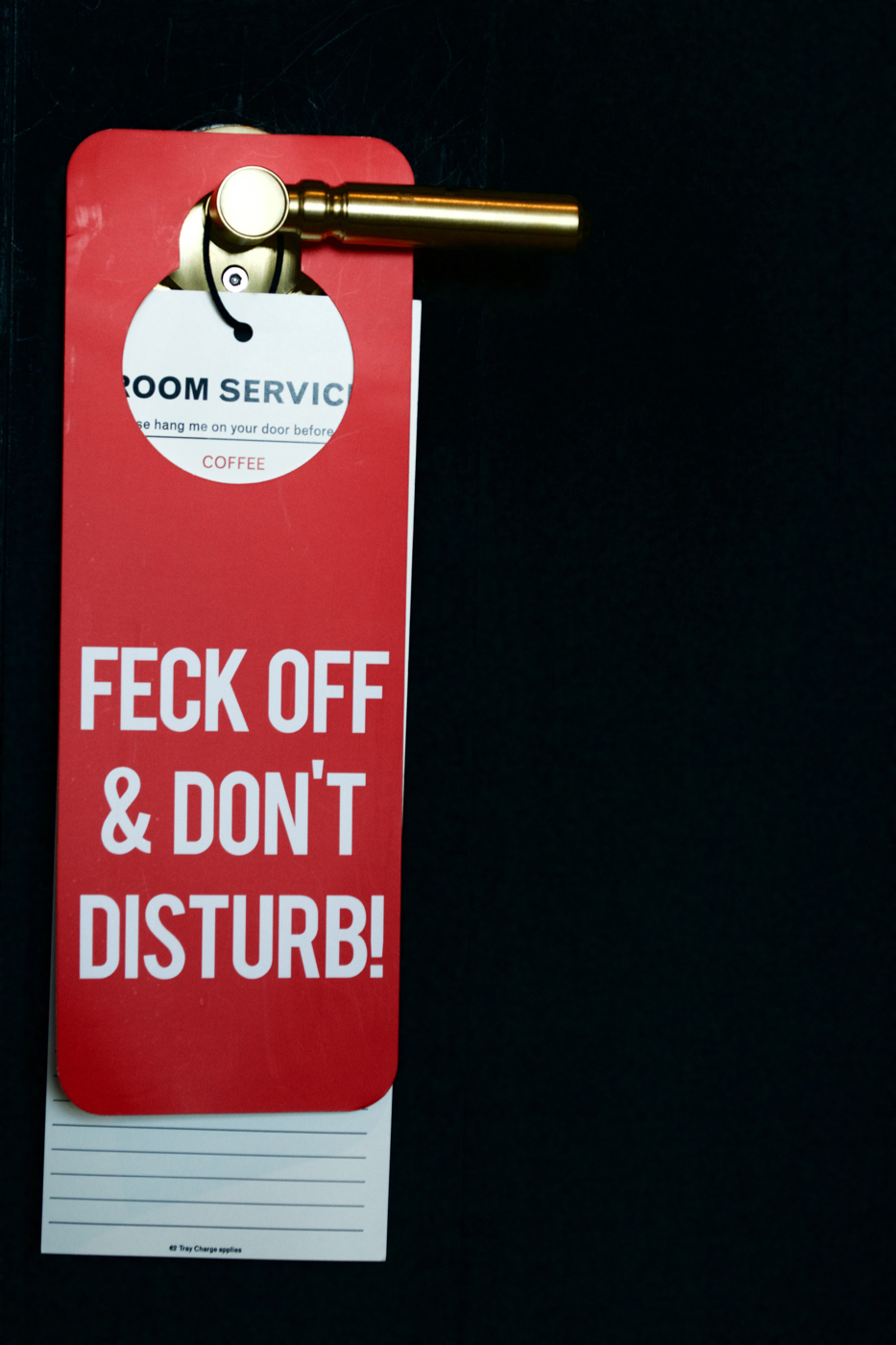 We slept like drunk babies. When we woke, naturally breakfast was the first thing on our minds.
Remember a few months ago we posted about Sophie's? We proudly proclaimed it is one of the best breakfasts in Dublin as well as being one of the city's best viewpoints. Handily, it's located right at the top of the hotel! For non-residents, simply walk in, head right over the the lifts, ping up to the top floor and stroll right in. Reservations are advised, but mid-week breakfast seems pretty easy to get a table for. Weekend brunch probably books up quite a few days in advance!
We've eaten in Sophie's quite a few times (even though we don't live in Dublin!), BUT during our stay we had a couple of meetings early in the morning and couldn't be bothered putting on our faces and going one floor up so we opted for an in room breakfast, ordered the evening before. Delivered ultra promptly and with only a signature needed, it was fantastic to be able to catch up on the day's news on a widescreen, Samsung Smart TV whilst having breakfast in bed. We ordered a pared back version of our full Irish (in the Instagram post above) and it was an exceptional start to the day. Hint to the wise, we cheekily asked for a jug of fresh milk so we could make coffee/tea with fresh milk rather than the UHT cartons provided!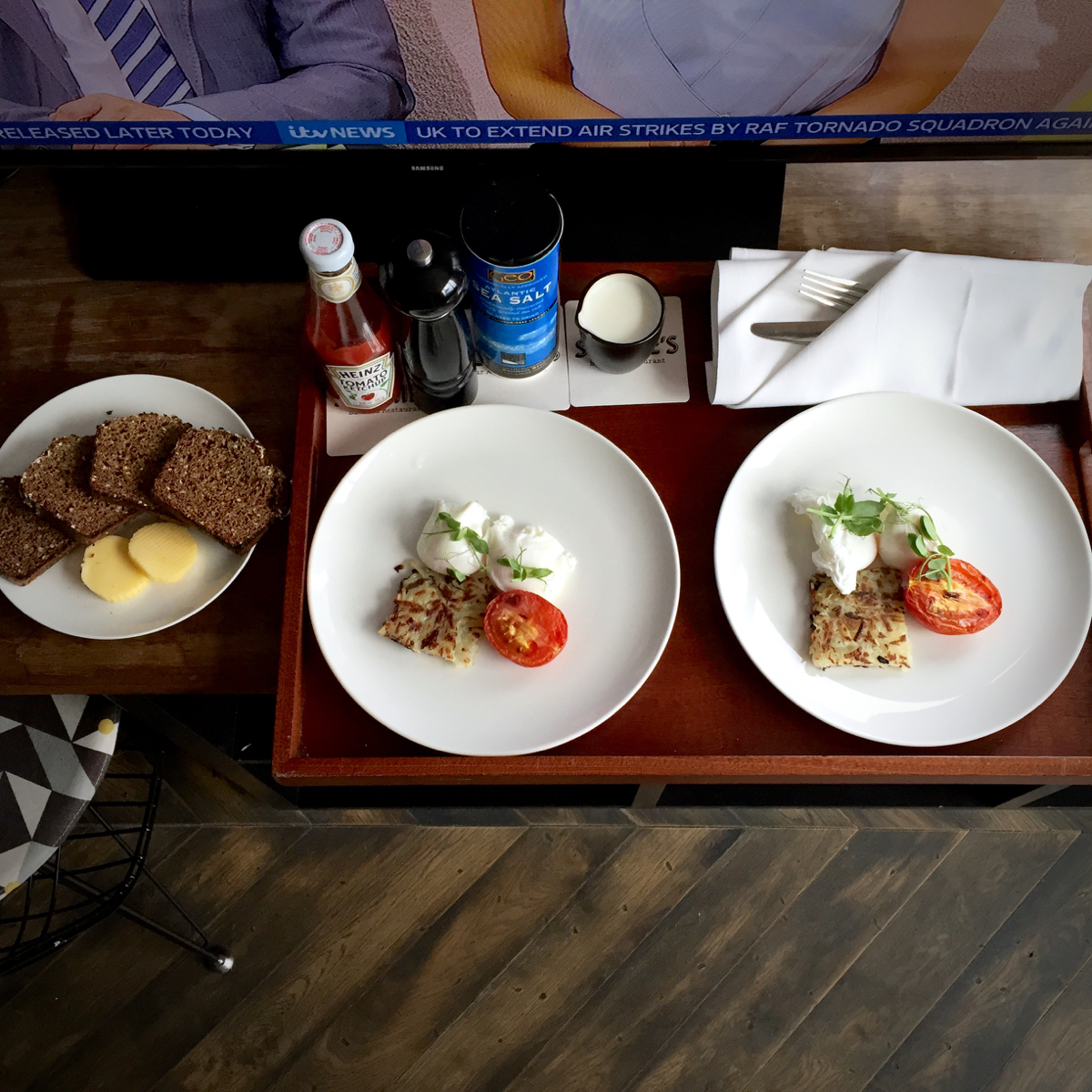 After that, we trotted down to reception where we checked out with the ever-present seamless and stress-free service. Every customer at hand is the most important person in the world to staff and no lengths were out of the realm for them to help make our stay as brilliant as possible: whether that was offering dinner suggestions on our first night and advising that they call ahead and save us tables or just being interested in what we got up to on our stay before storing our bags and organising a taxi to the airport for us on our second day.
Another amazing facet of the hotel is that they've paired up with Uber to offer €25 towards a first taxi ride for new members, so our taxi to the airport was free!
Seriously, we're quite particular and we notice the important stuff, so we don't mean to gush, but honestly, when you find something good, you want to broadcast it.The attention to detail at The Dean has never stopped at interiors, it's woven into the very fabric of the hotel.
If Wikipedia is to be believed, the word dean derives from the Latin 'decanus', meaning leader of ten, and it's no doubt that Dublin's own 'Dean' has quickly become a leader in its field.
Disclaimer

: We stayed at The Dean Hotel on a 'friends and family' slightly discounted rate after approaching the PR team directly ourselves (who  we know already as Patrick worked with them a few years ago in RTE). We paid for our room, our drinks and breakfast ourselves. This is not a sponsored post but we adore this hotel and would recommend it to anyone visiting Dublin. We will definitely be back and staying again!