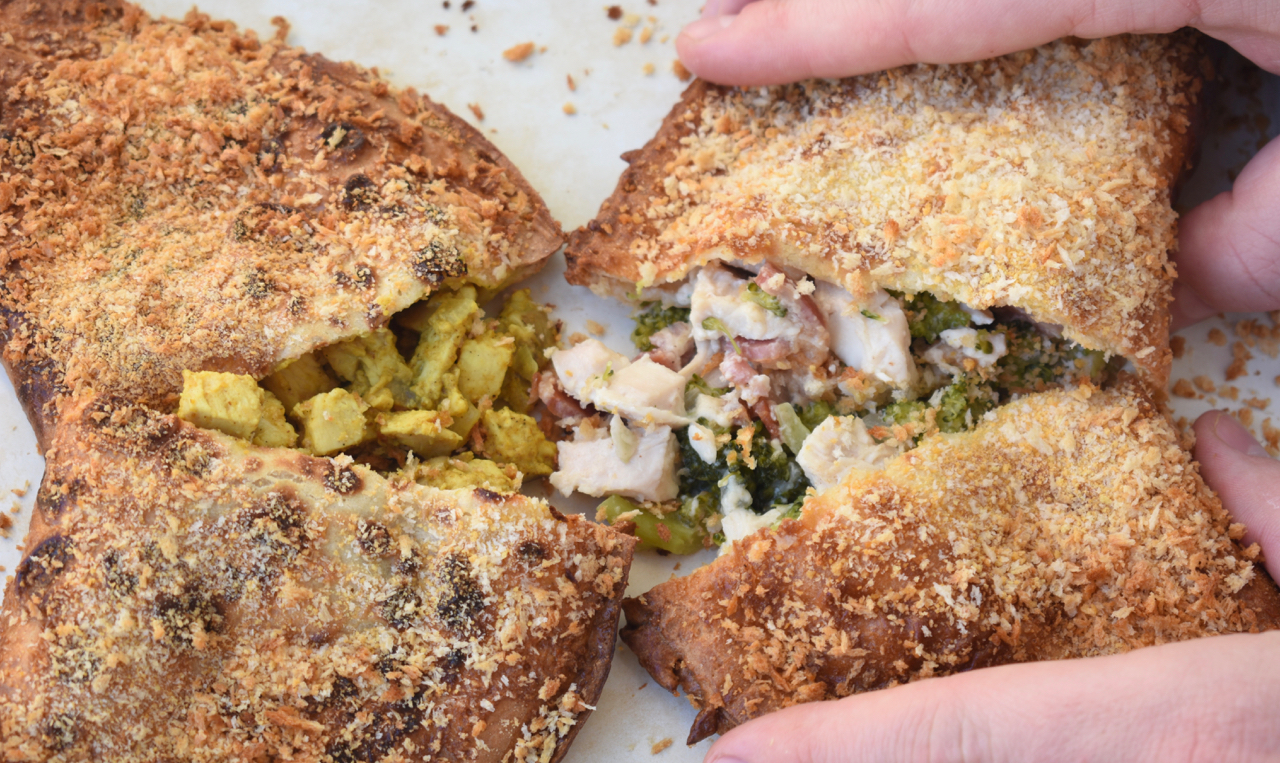 Having produced that iconic, frozen fast food fave crispy pancakes for half a century, in 2016 it was reported with dismay that Findus Crispy Pancakes would be a thing of the past. The parent company sold off the brand and that was that. However, following furious public backlash over the beloved classic, apparently Birdseye are now planning to relaunch crispy pancakes in four flavours.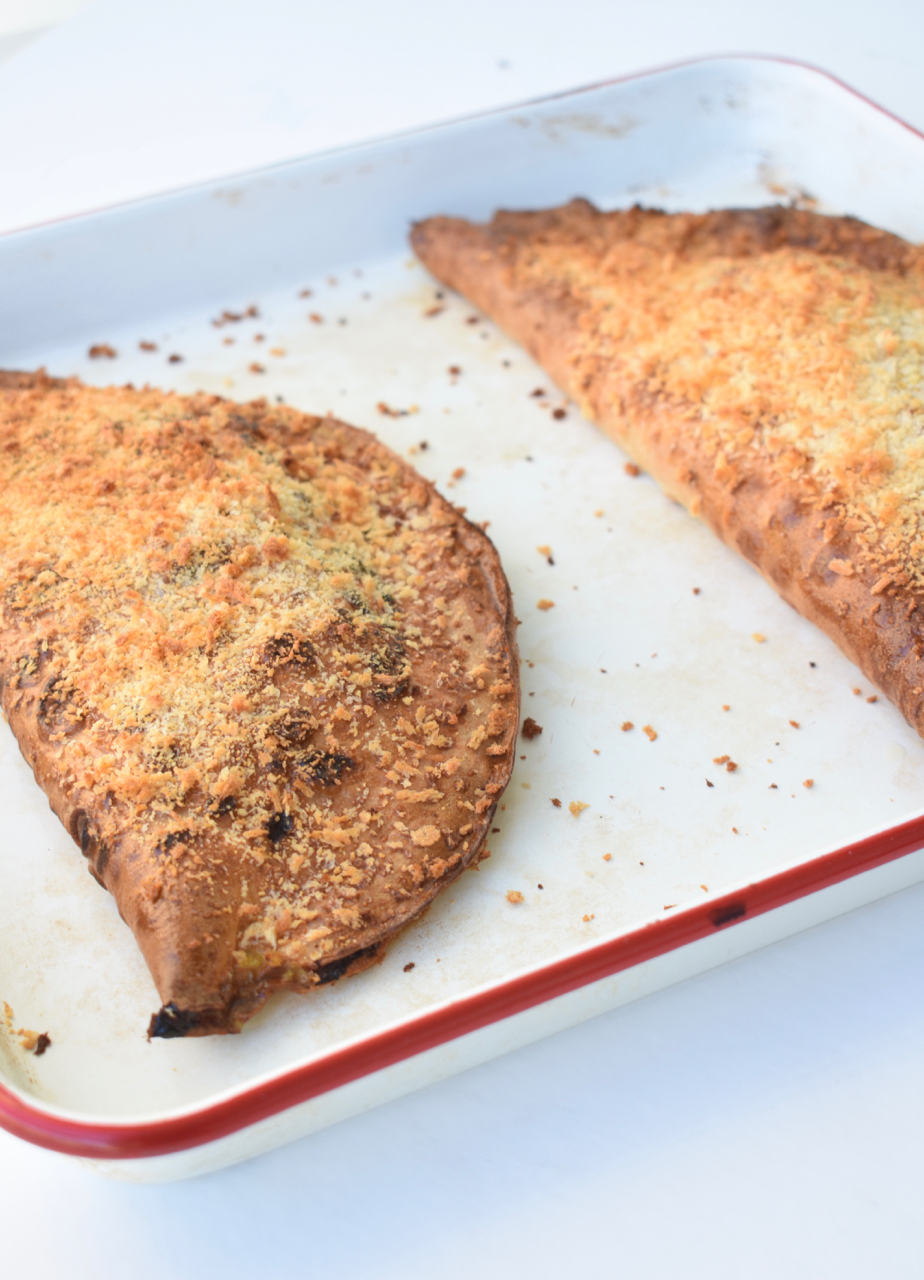 It seems this kitsch – and sort of naff – classic simply cannot be consigned to the past. People may take the piss out of these, but some comfort foods deserve to out-live us all, no matter how poorly produced they might be. (Sidebar: Ours are guaranteed 100% horse meat free!) But just because you can continue to pick these up in the chest freezers of certain UK and Irish supermarkets, doesn't mean that's your only option – we're here to show you how to make these from scratch at home… and they taste even better, promise!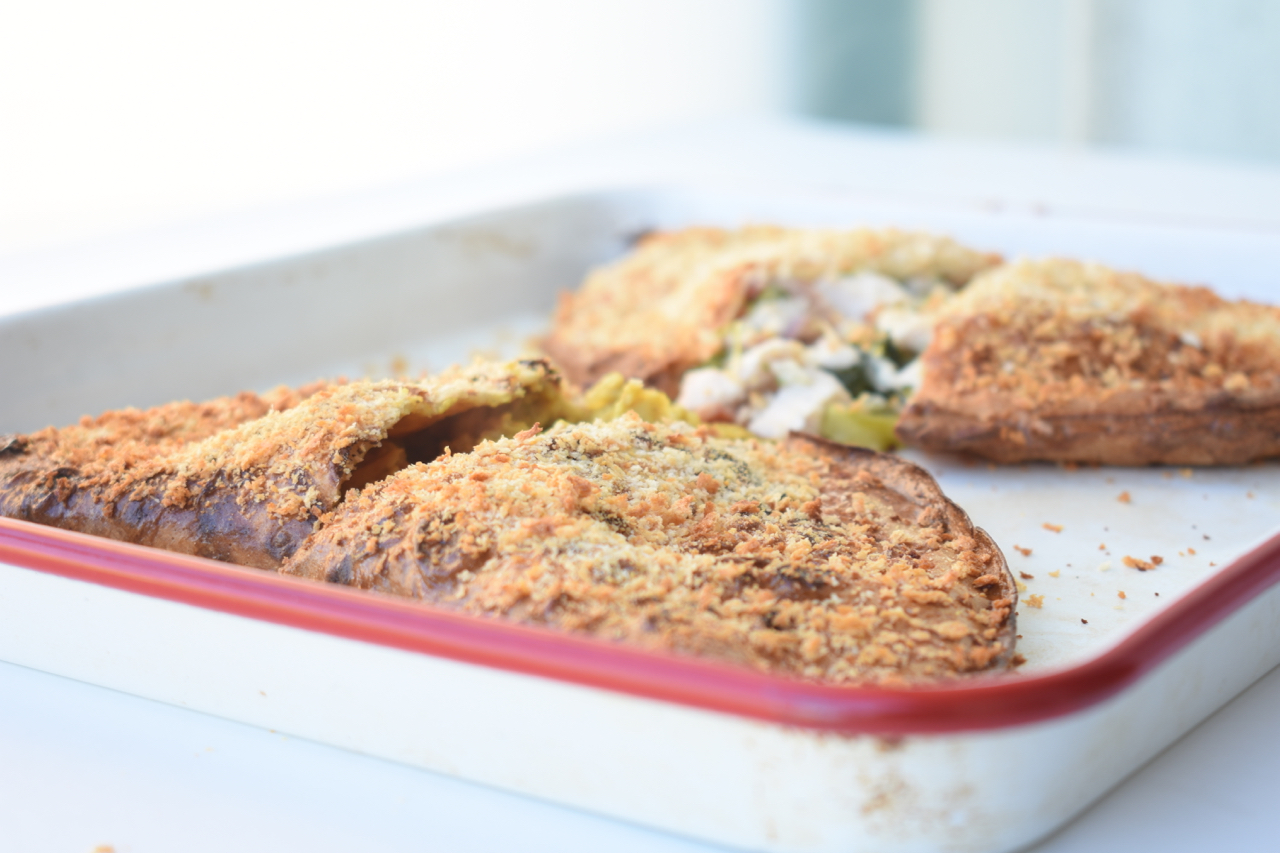 We got inspiration for these from an issue of BBC Good Food magazine (one of our favourite food magazines, we've subscribed for quite a few years now) about a year ago. When we saw this recipe in the issue our jaws dropped to the floor and we just *had* to make it. We've put a tiny GG twist on it here and there, but kept it quite true to their method.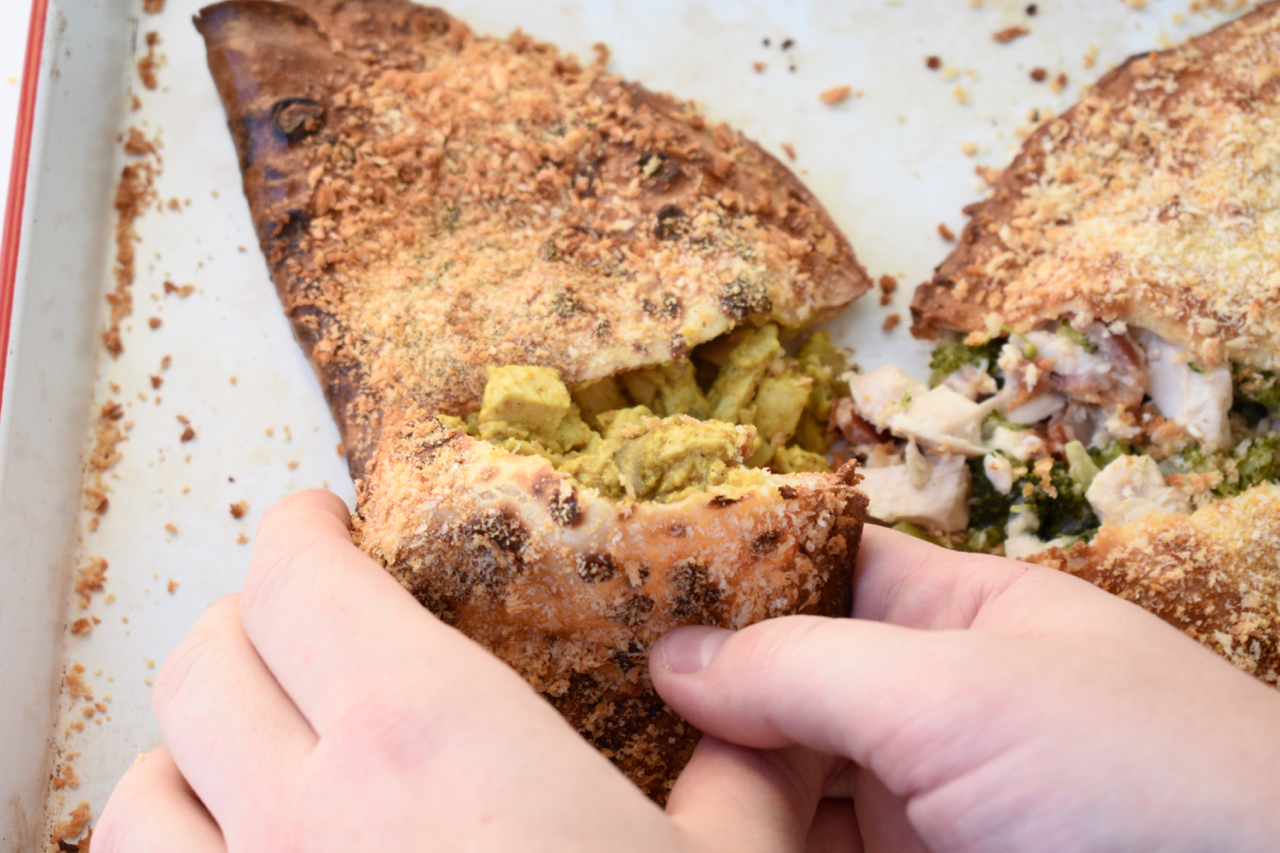 People probably more remember their mouth being scalded by a filling hotter than the sun's surface than any particular flavour. Not dissimilar to a McDonald's Apple Pie, in that regard. But it's inevitable you'll want to sink your teeth into one of these perfect little pancake pockets the second it comes out of the oven. A word of warning: practice self-restraint and wait five minutes. Please.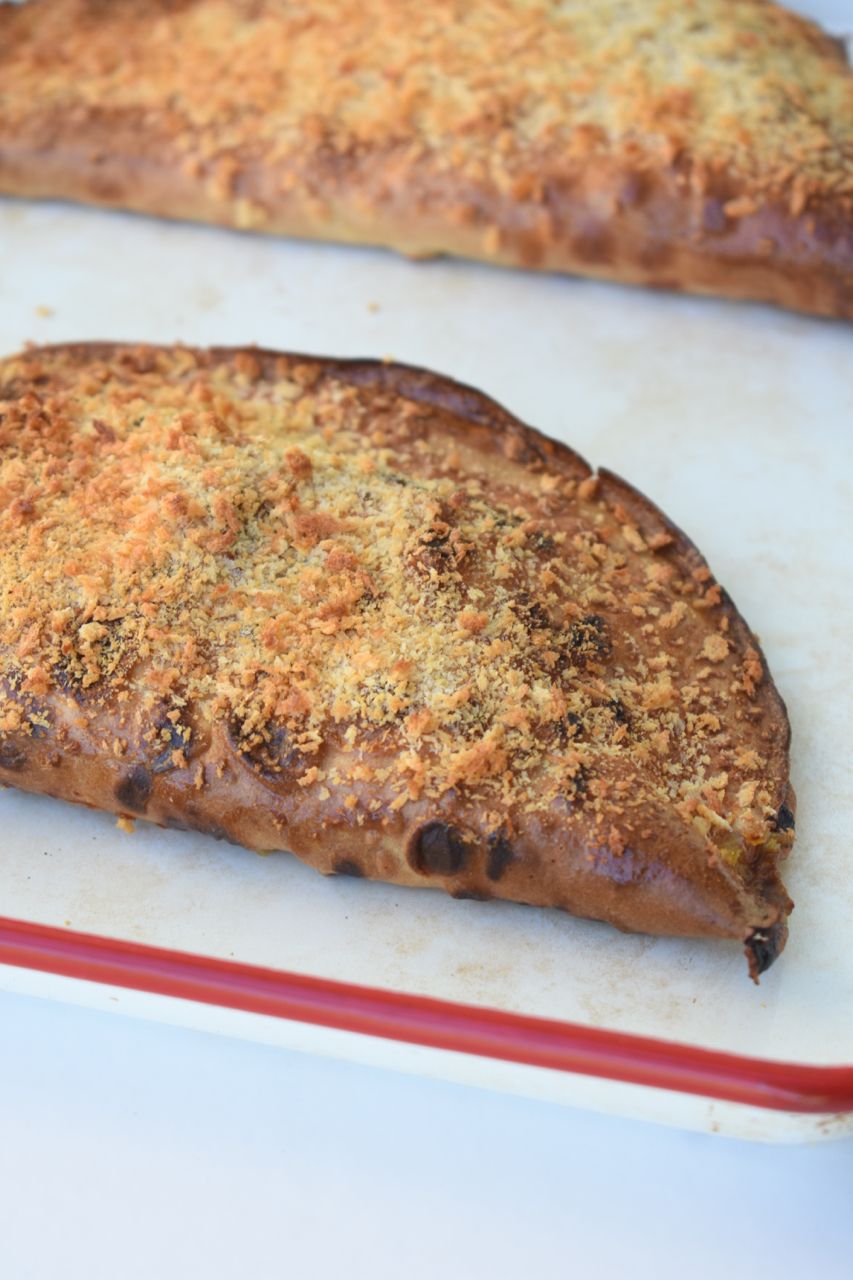 Crispy Pancakes
Serves 4-6
For the chicken mixture(s)
2 chicken breasts (organic, free-range if possible)
200 ml milk
1 banana shallot or medium onion, finely diced
1 tbsp flour
salted butter
half a small head of broccoli
3 rashers of bacon
curry powder
a handful of button or chestnut mushrooms, finely diced
salt and pepper
For the pancake batter
100g plain flour
2 large eggs, beaten
150ml milk
For the topping
1/2 cup panko breadcrumbs
1/2 cup of golden breadcrumbs
1 beaten egg, for egg wash
1. For the chicken, poach the chicken breasts in a small saucepan in about 200ml milk until cooked through, about 5-10 minutes on a medium-low heat, depending on the size of the chicken breasts. Take out and allow to cool, reserving the cooking milk.
2. In another saucepan, melt a tsp of butter and fry the diced shallot on low until translucent and softened. Amp up the heat, put in a tbsp more of butter and allow to melt and slightly sizzle before adding in 1 tbsp of flour. Stir to incorporate into a roux and cook out for about a minute, moving around the pan.
3. Slowly add the cooking milk to the roux – there's no waste here, lovies. Pour in bit by bit until you have a thick sauce of double cream consistency. Whisking vigorously will ensure there are no lumps and don't worry if it's a little thin, it will thicken as it cools. Once the base sauce is made, halve the mixture between two bowls to add your respective flavours.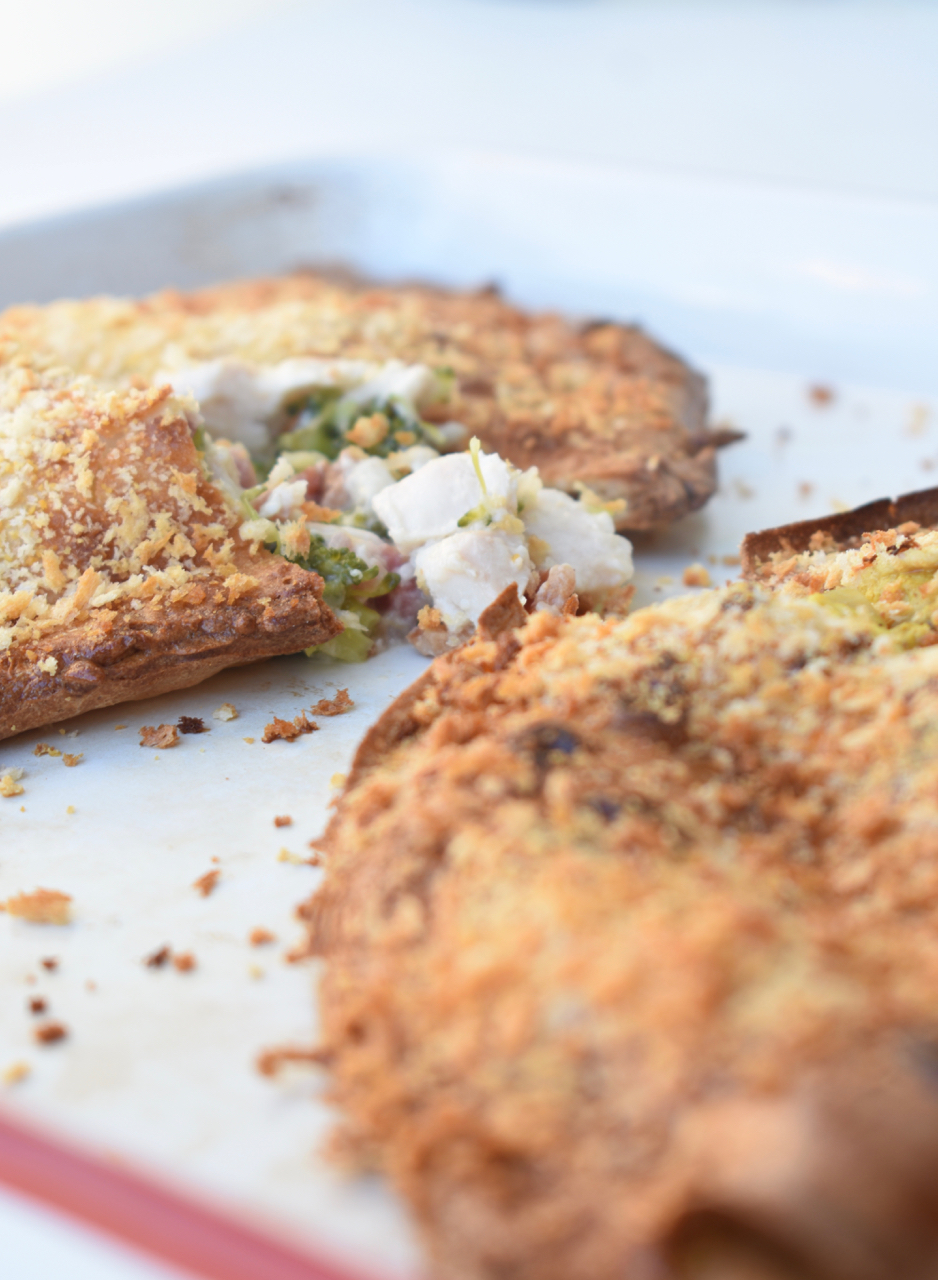 For the chicken, bacon and broccoli mixture
Lay the slices of bacon on a silicone mat or tin foil on a roasting tray and bake in a hot oven for about 15 minutes until crispy and foaming. Chop the cooling chicken into rough small chunks, likewise with the broccoli florets, then add to the white sauce. Season well. Chop the bacon into small bits and add to the mix. Taste and set aside.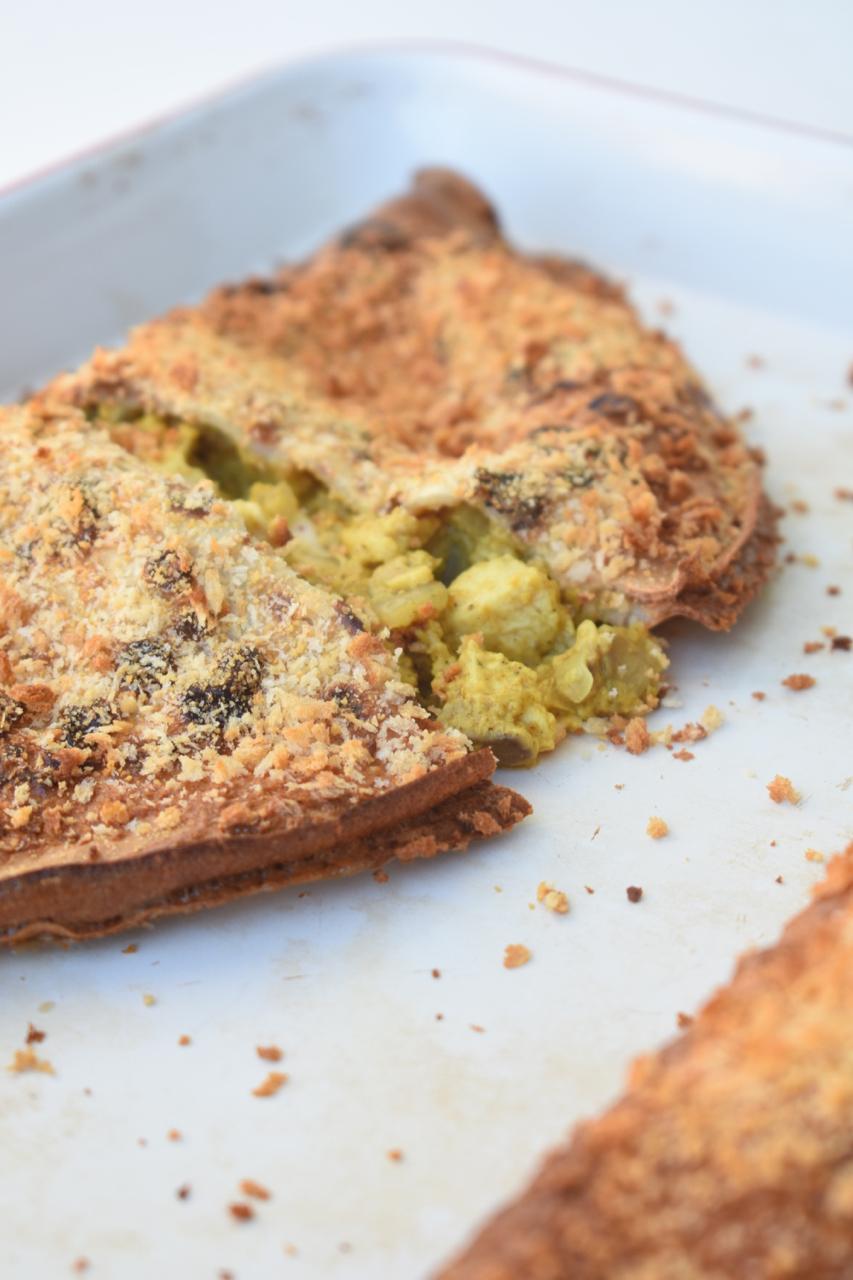 For the curried chicken mixture
Simply take your white sauce and add 2 tbsp curry powder and a handful of finely diced mushrooms. Season well and taste. You could do similarly to cauliflower what you've done to broccoli in the above mixture, also raisins might be nice in this for a Coronation chicken slant.
4. Now, melt a tiny bit of butter on a wide, flat pan, a crêpe pan is great if you have one – as it's easier to get underneath and flip the thin pancakes. What we do is use a silicone pastry brush to spread the melting butter around the pan, it just ensures that it evenly covers the circumference and doesn't leave large buttery deposits in certain areas of the pan.
5. On a medium-high heat, pour a ladle or two full of the batter and swirl around the pan to ensure an even roundness and thickness. Allow about one minute on one side before flipping or turning confidently and cooking the other side. Transfer to a plate to cool whilst you continue with the rest of the batter.
6. Heat the oven to 190ºC and line two baking trays with greaseproof paper or silicone mats. To assemble, lay a tablespoonful or two of your chicken mixture on one half of each cooled pancake. Egg wash the perimeter of each pancake and fold over, gently pressing around the edges to make a pasty shape.
7. Arrange on the baking trays, egg wash the tops of each and then scatter with the panko breadcrumb mix. Bake for 20 minutes or so until the pancakes are browned, crisped at the edges and the breadcrumbs have a golden glint.
8. Allow to cool for about five minutes before even attempting the eat (the filling is molten when taken straight from the oven).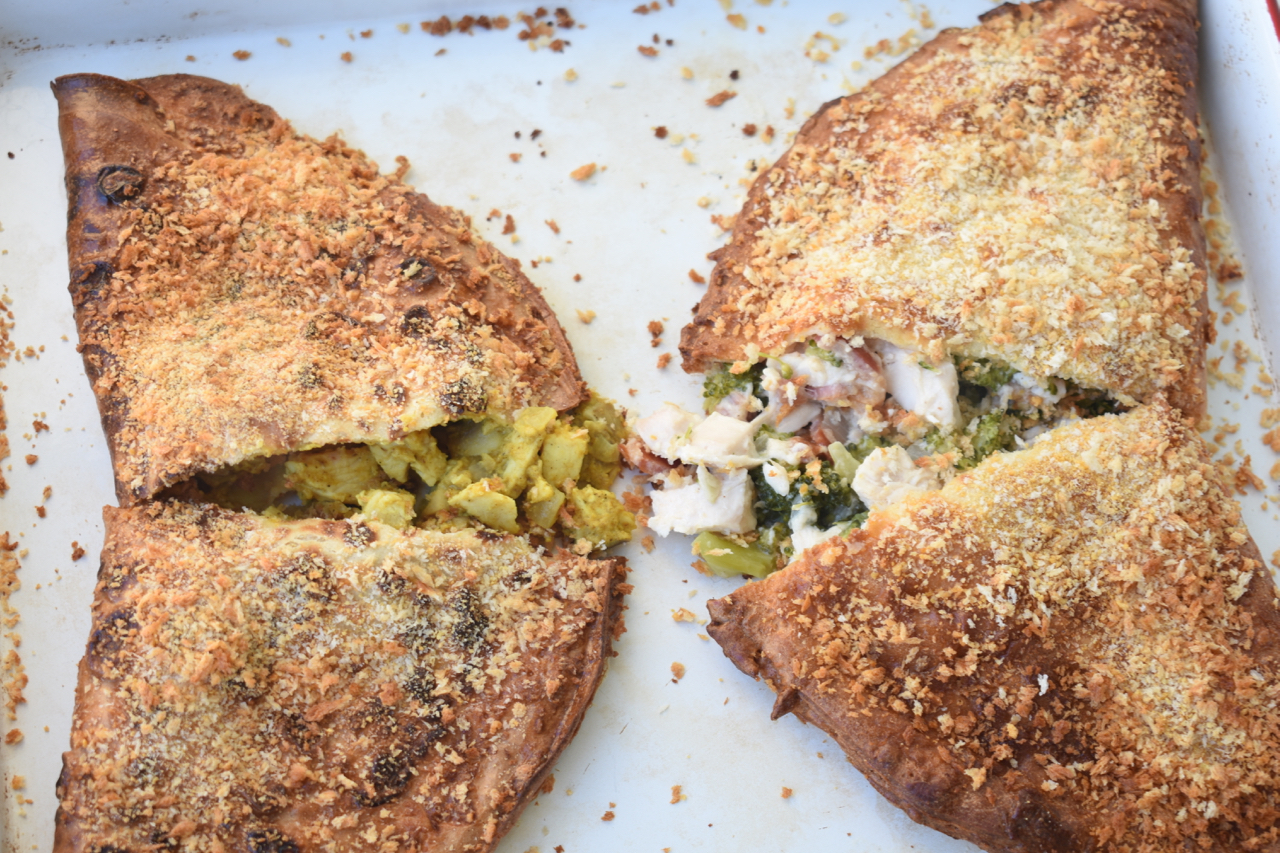 Try these crispy pancakes yourself and tag us (@GastroGays) in your Tweet or Instagram pic!