In these testing times, panic buying won't solve anything, neither will us all running to supermarkets. We need social/physical distance and to stay at home and away from other people as much as physically possible during this coronavirus pandemic. Whether you're housebound and self-isolating through choice or corona-quarantined for the next couple of weeks if you have the virus or not, food and drink deliveries are running for the most part across Ireland winging fresh, local, Irish produce right the way to your door. Order online, pre-pay and then receive your Covid food delivery at a human contact distance.
We've rushed this together just to have structure of who is doing/offering what, but we'll update daily as we get information and any changes or amendments. Please go direct to those businesses linked for further information, as this is just us collating and pooling services available. We're not covering click and collect services here, just to note. Home deliveries only.
Note: None of these covid food deliveries are affiliate links or sponsored in any way.
LAST UPDATE: 22 July 2020 1pm
📦 Veg Boxes 🥬🥕🥔
Boyne Valley Flavours Box by Great Northern Larder –– the Boyne Valley's best produce can be compiled in different boxes, from fresh veg and essentials to a meat or fish box. Mostly delivering to North Leinster but some nationwide availability for longer shelf-life products. greatnorthernlarder.com
Cashel Food Box by Cashel Blue Cheese and the Tipperary Food Producers is a standard order €58 box (larger box €80) with the below ingredients included and nationwide delivery included in the price, too. UPDATE: There is now a vegetarian box (€62) available, too. cashelblue.com
Currently Unavailable
Indie Fude are delivering goods from their all-island-of-Ireland emporium of artisan, small-scale, craft and local food and drink produce locally in the Co. Down area. indiefude.com –– You can hear more about Laura and Johnny and what they're doing in their little shop and online store in Comber on a recent episode of our podcast Chew The Fat.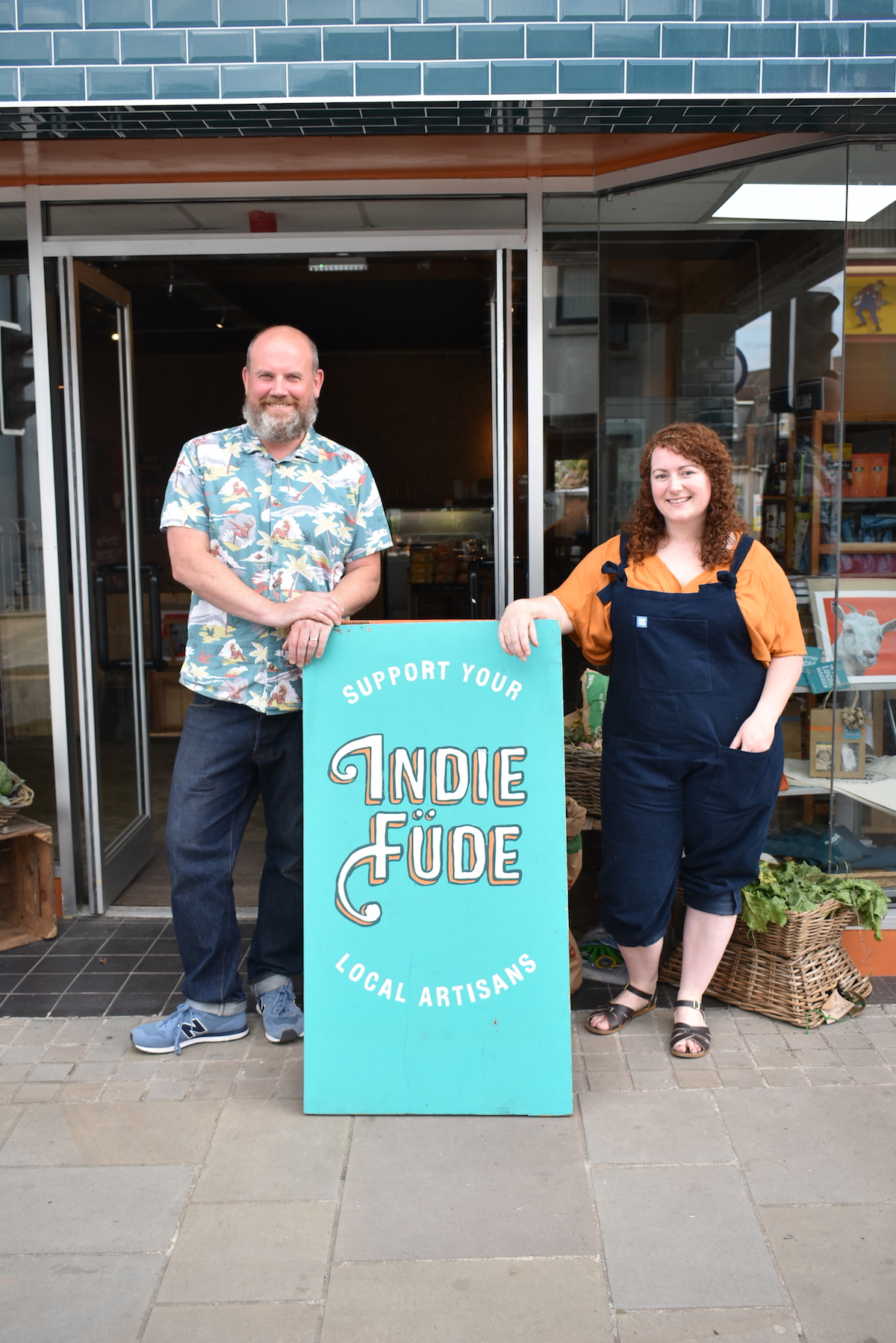 Ardkeen Quality Food Store in Waterford is continuing with its nationwide deliveries. Truly a Mecca of Irish produce, you'll find everything from high welfare meats to fine wines, Sheridan's cheeses to pantry staples and even fresh bread and they are partnering up with UPS for speedy, efficient deliveries now. ardkeen.com
Beechlawn Organics were delivering just in the Connacht area but now offering nationwide delivery via DPD for areas not covered by their own vans (Clare, Galway, Athlone, Ballinasloe and Dublin) . They offer a number of boxes, from Grown in Ireland (€25) to a Stir Fry (€25) or Juicing Veg (€20). Their standard Medium box is (€30). beechlawnfarm.org
The Fruit People A Dublin-based office fruit box and essentials delivery service has, understandably, had their business almost cease with the closure of most offices across the capital. Run by brothers Brian and Barry Dennis – who Patrick worked with for a couple of years – they've quickly changed tack and evolved their business in this current crisis to switch to home deliveries, rather than places of work (though our homes are now technically our places of work!) The Fruit People is a simple online ordering system, whereby you select one of their set boxes as your standard and then you can add on any extras you need (milk, bread, eggs, tea, coffee, snacks) and you can set up the order as a once-off or as a recurring delivery. Minimum order is €25 and for now it's just the Dublin area they're serving. The option to create custom boxes is also available. The lads have even got a €20 box that you can donate to the frontline staff of The Mater Hospital, too, if you want to give back to those who are protecting us. thefruitpeople.ie
Clonanny Farm in North Co. Dublin are slowly introducing a free delivery service in their local area only. A very small farm shop operation, they are famed for their free range, rare breed pork products and their fresh vegetables, and whilst they are operating a limited collection service you can order from their weekly order sheets by connecting with them on Facebook facebook.com/clonannyfarm
Sonairte Co. Meath-based organic farm and visitor centre Sonairte is operating a local veg box delivery service, sharing what they grow with the areas of Julianstown, Bettystown, Laytown, Mornington, Donacarney and Drogheda in €15 veg boxes plus €3 delivery charge. Supply are limited and orders must be in by Thursdays at 5pm for Saturday afternoon deliveries. https://sonairte.ie/archives/asp-products/seasonal-organic-veg-box
Jackie Leonard & Sons One of Dublin's oldest fruit and veg wholesalers/market traders, Leonards is doing next-day deliveries in Dublin of small (€20, serves two), medium (€30, serves 4) and large (€50, serves 6) fruit and veg boxes. Orders taken over email (sales@jackieleonards.ie) and phone 01 8733055. jackieleonards.ie
Drummond House Garlic & Asparagus Looking for seasonal asparagus, summertime garlic scapes or gorgeous fat bulbs of elephant garlic? Marita and Peter Collier are the Boyne Valley farmers behind Drummond House Garlic. Based out of Baltray, a short skip from Drogheda, the pair have spent the last few years building up an incredibly strong brand with a loyal following, and their produce has been available in Dunnes Stores over the last few years but now they're going direct, in mid-May 2020 they added their long-awaited online shop to their website. They are now stocking their first product, a Garlic Scape Sauce & Dip which is bound to bring delicious joy to tables across Ireland. If you've never tried their scapes or garlic bulbs you truly haven't lived yet! drummondhouse.ie/shop
Neighbourfood Doneraile Operating a delivery-only service at the moment, this branch of Neighbourfood is delivering in the area of Doneraile, Mallow, Buttevant and Mitchelstown with an eclectic selection of essentials, from veg boxes, yoghurt, soap/hand sanitiser, jams spreads and chutneys as well as wild boar and venison from Ballinwilliam Farm. They are constantly adding new things to their offering, so keep checking if you're in this area of Cork. neighbourfood.ie/doneraile
A number of Neighbourfood schemes are offering delivery, though not all.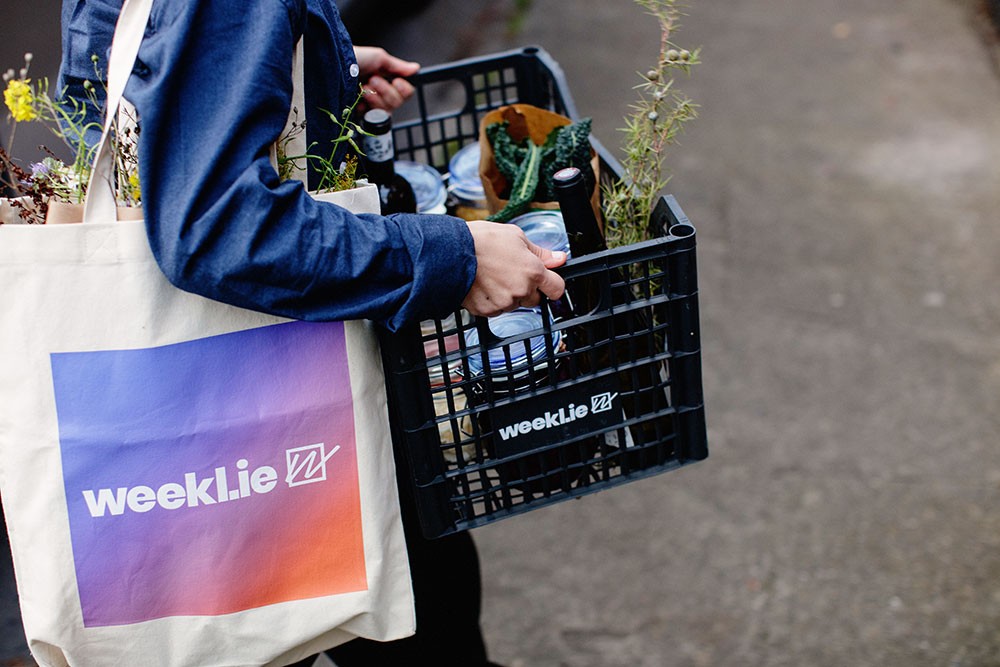 weekl.ie Only just launched in January just before the Covid-19 pandemic gripped the country, weekl.ie delivers organic groceries from a wide range of suppliers across the Dublin area, with minimal waste. They even do a novel knife sharpening service, too! Browse their site for a wide range of different boxes and clusters of kitchen and pantry staples from pasta and sauces to grains and pulses, fruit boxes to fish boxes. This subscription service costs €4.80 per week, with the first fortnight free and delivery available all within the M50 range and southwards towards Dun Laoghaire. weekl.ie
O'Connors Fruit and Veg Based out of Dingle and growing from Maharees, O'Connor's are delivering fruit and veg boxes of varying quantities, sizes and prices to the local area in West Kerry. Minimum order value of €11.50 is required for delivery and the delivery days are daily around Dingle Town; Tuesdays for Lispole, Camp, Annascaul and Castlegregory; and Friday for areas west of Dingle. oconnorsfruitvegdingle.com
Organic Republic delivering around the Cork area, though they have been inundated at the moment of writing, keep an eye on when they will accept new orders in early April. organicrepublic.ie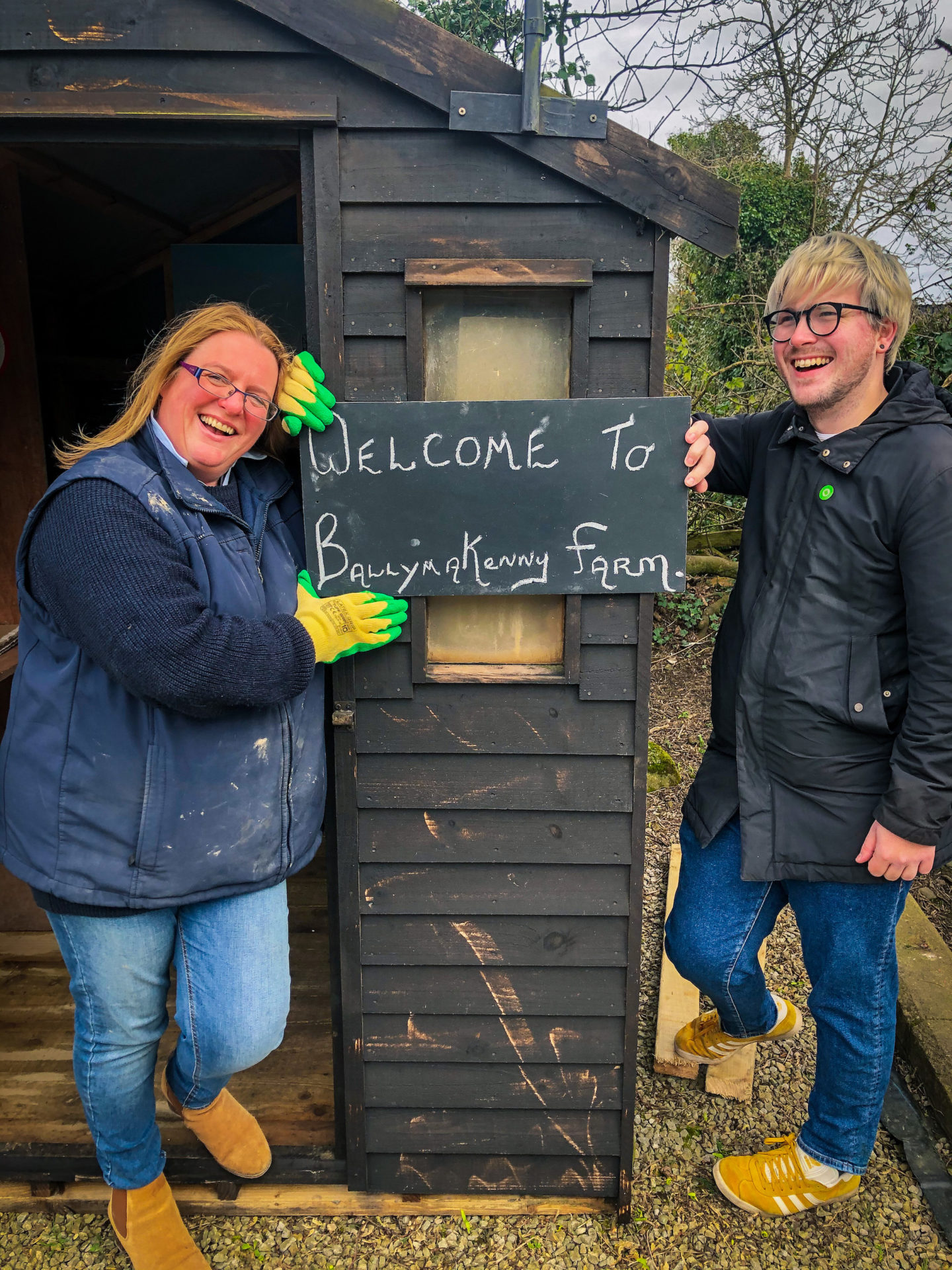 Ballymakenny Farm in Co. Louth, Maria Flynn is accepting direct orders for direct deliveries of her heritage potatoes and long stem broccoli (as o late July). What was once only order through getting in touch directly, Maria now has a dedicated website to order and pre-pay for her potatoes (all €2.50/kg) and you can collect them at the farm shop (Eircode A92 V30Y) or delivery is €5 per order. Maria's drive-thru, contactless 'Spud Shack' is still open Monday to Saturday 2pm-5pm roughly, where she's also selling Rooster Potatoes and may have some broccoli available in a limited supply, too. @ballymakennyF on Twitter
Garden Goodness Also delivering specifically within the Cork area, Douglas-based fruit and vegetable shop Garden Goodness is delivering fresh fruit and veg boxes, plus other essentials like butter, eggs, cheeses, to the Cork city and suburban areas. Delivery is free on orders €30, less than that the cost is €5. Orders can also be phoned in on 021 4362282. gardengoodness.ie
Fallon & Byrne are doing 'Groceries On-The-Go', delivering what you need to the Dublin city postcodes 1-8, so if you live in those areas, get in touch over email. fallonandbyrne.com

Avoca are delivering locally within and around their outlets for as long as they remain open, with complimentary delivery for all orders over €50. 10km radius available around their properties in Rathcoole, Kilmacanogue, Ballsbridge, Dunboyne, Monkstown and Malahide. avoca.com
McCambridges deli in Galway are delivering in the Galway area –– phone ahead with your shopping list on 091 562259 mccambridges.com
Annie's Farm Based out of Tipperary, you can order large or small veg or fruit boxes, eggs, coffee and olive oil for home delivery in both Tipperary and Dublin. anniesfarmtipperary.ie
Sprout & Co. Dublin-based cafe group Sprout & Co are remarked for their healthy take on casual dining with lots of plant-based, local, seasonal ingredients in their dishes –– many grown on their own farm in Rathcoffey, Co. Kildare. From their cafe on Dawson Street, they've just introduced veg box (€35) that you can pre-order for collection. The box includes lots of leafy greens, salad mixes, cauliflower, spring onion, potatoes, courgettes, leek, fennel, broccoli, mushroom, carrots, granola, yoghurt, pesto and you can even add on Le Levain sourdough (€5.95) and Roasted Brown coffee (€8.95) to your order, too. Brothers, and co-owners, Jack and Theo Kirwan are also working with Deliveroo from this coming Friday (10th April) for deliveries within a 6km radius of their cafe. sproutfoodco.com/order
O'Hanlon Herbs [UPDATE: SOLD OUT –– MAY BE BACK IN STOCK LATER THIS SUMMER] We all know how transformative a handful of herbs can be for any dish, and O'Hanlon herbs – who are a staple of the summer food festivals like Bloom – has had to seriously restructure and re-align their business in this pandemic. They've unveiled a pre-order herb box (€40) that you order before the end of April and it will arrive within the first two weeks of June. We believe all the herbs are 'living' so they arrive in planters of soil and O'Hanlon are well remarked for their lesser-found herb flavours like Hot n Spicy Oregano, Lemon Thyme, Pineapple Sage, Purple Basil and all of those and more (plus a selection of the more 'everyday' herbs) are included in this special delivery. ohanlonherbs.ie
Currently Unavailable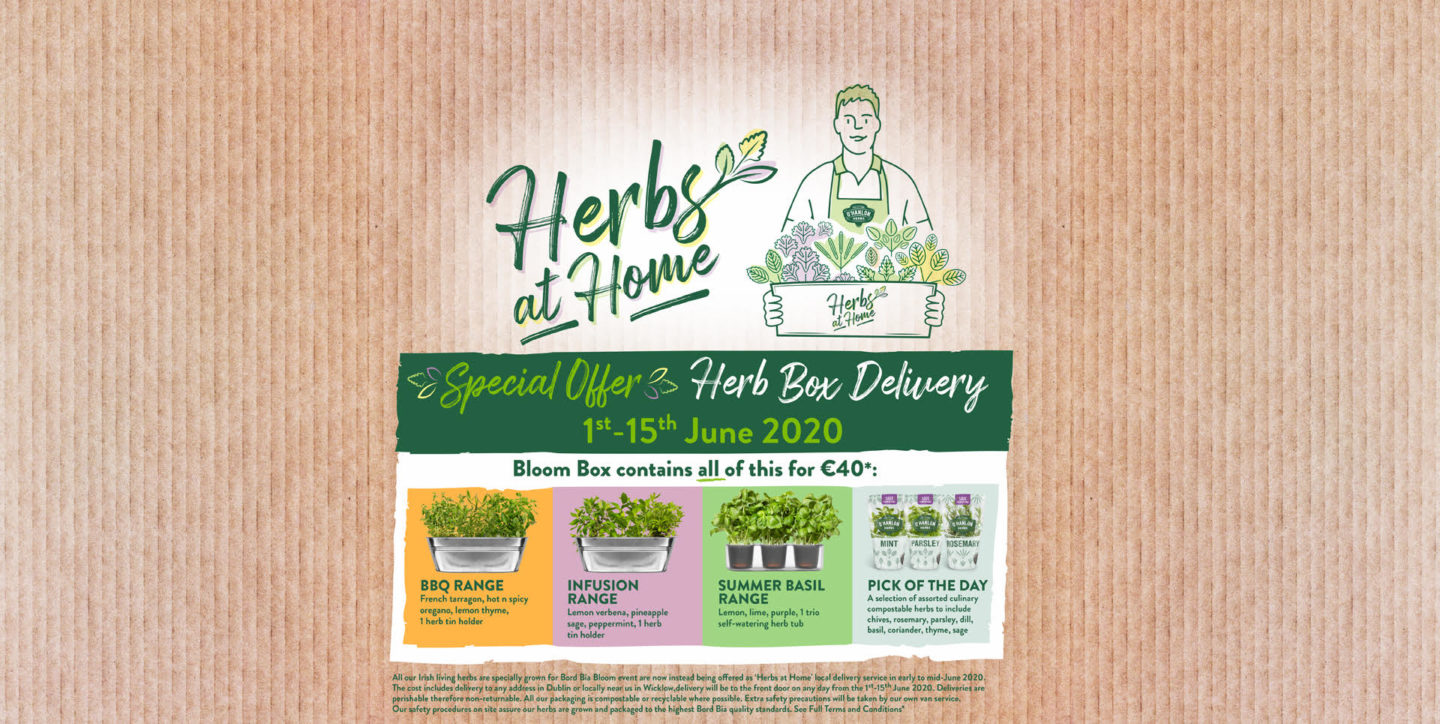 The Fruit Brothers/Burkes Fruit & Veg have teamed up together for next day deliveries around the Galway area of their fruit boxes and vegetable boxes. thefruitbrothers.ie
Letterkenny Real Food Market As the market can't go ahead due to distancing restrictions, the organisers are slowly introducing delivery within a 10 mile radius of where the market is based, on Letterkenny's Port Road. They've made it really easy, an online listing of local meats (Gildea Butchers), fish (landed by Seamus in Killybegs) and vegetables (Ballyholey Farm) letterkennyrealfoodmarket.com
📦 Pantry Staples 🥣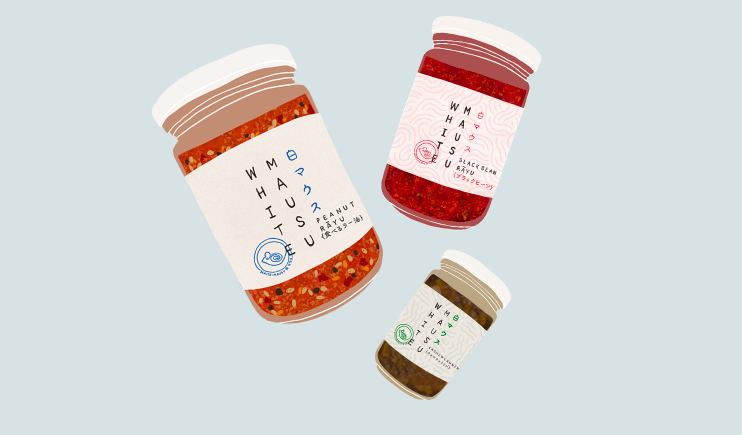 White Mausu Katie Sanderson's cult condiment range of rāyu have become a staple in home kitchens across the land, and we've never been without a jar of the Peanut Rāyu, Cashew Crunch or the newly-added Black Bean Rāyu. Working with stockists primarily before this, the team have now opened up an online store where you can get a six-box (minimum) of these stellar dish toppers so you're well stocked, however long we're all in lockdown or isolation for. Shipping worldwide (Not sure of shipping costs but Ireland is a standard €6.50) and – psst – enter the code 'careful-now' at checkout for €5 off your order! whitemausu.com/shop
Deli Muru Kay Armstrong is the flavour bomb technician – that's what we're gonna dub her – behind the pantry perfect brand Deli Muru. Her award-winning range of chutnies, spreads, jams, conserves, marmalades, cookies, crackers and more have been remarked by both Great Taste Awards and Blás na hEireann so her range is certified sensational! Kay is selling online via her store and you can pick up a couple of flavours and products individually or choose one of the hampers (the Our Favourites Range, £24.95 is particularly gorgeous!) but we can also heartily recommend the Brinjal Pickle; Spiced Apple and Fig Jam, Sugar and Spice Snaps; and the Shortcross Gin and Plum Chutney! A world of flavour at your fingertips in a couple of clicks! Deli Muru is Northern Ireland-based, so delivery is calculated at checkout, anywhere from £4.95 and ROI deliveries are an additional cost, calculated at checkout. delimuru.com/shop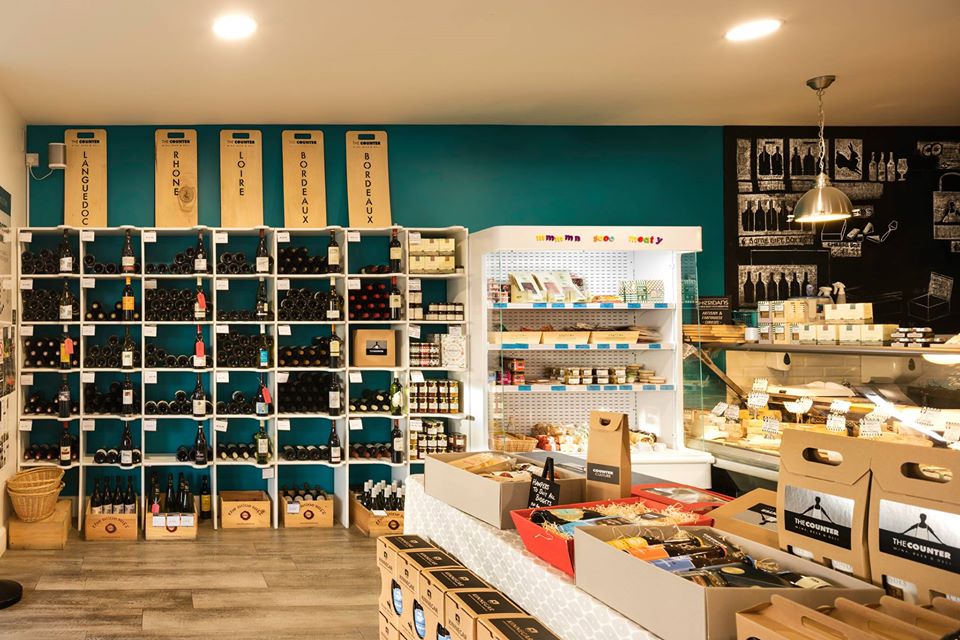 The Counter Deli Letterkenny-based The Counter Deli has a huge array of producers listed on their online shop, shipping nationwide and also remarked for their gorgeous, stylish packaging. Peruse their wide range of hampers, from Italian staples to coffee essentials, and they also have a huge range of New World and Old World wines and craft beers too. They stock Skelligs Chocolate Easter eggs and the covetable Tony's Chocoloney too, for those with a sweet tooth at this time of Spring. Well worth taking a look; shipping is a standard €7.99 per order, though if you spend over €100 it's free. thecounterdeli.com
A Bit on The Side Hilary McGrath's A Bit On The Side brand of tantalisingly delicious gourmet savoury jellies are available on her site. From Cider and Sage to Rosé and Pink Peppercorn, the two favourites of ours are the Red Jalapeno and the Port and Balsamic. You can buy them individually (€5) or in a mixed case of six (€28). Minimum online purchase is €20 and shipping as standard is €8. abitontheside.ie/store
Sawers Belfast deli powerhouse is delivering 'lockdown' boxes across Belfast for free delivery. A cheese and meat box is £39, luxury deli box £50, a luxury pasta and meat box is £50 and sweet treat box £50. Best to order via phone (Kieran on 078 17862115) or email sawersltd@gmail.com sawersbelfast.com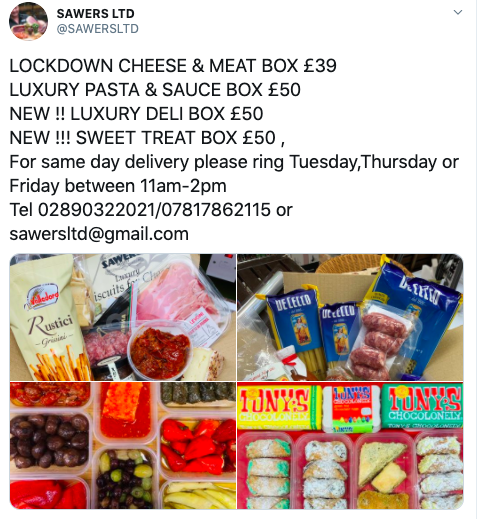 Mash Direct Vegetable-based farm fresh prepared products brand Mash Direct are offering several home delivery boxes of different products, from 'Brunch' to 'Spring', 'Party' to 'Healthy'.They are offering free delivery to Northern Ireland whilst delivery to the Republic of Ireland is £3.50 (but free on orders over €75) mashdirect.com/shop
Olly's Farm Get your raw honey in various styles and expressions (as well as bee pollen) from honey maker Olly Nolan who tends to hives around the Dublin mountains and the capital region. Olly ships orders from his website direct, nationwide, with delivery charges ranging from €5.50 to €8 (depending on amount of products) across both ROI and NI, mainland UK is possible but a significantly higher shipping cost. www.ollysfarm.ie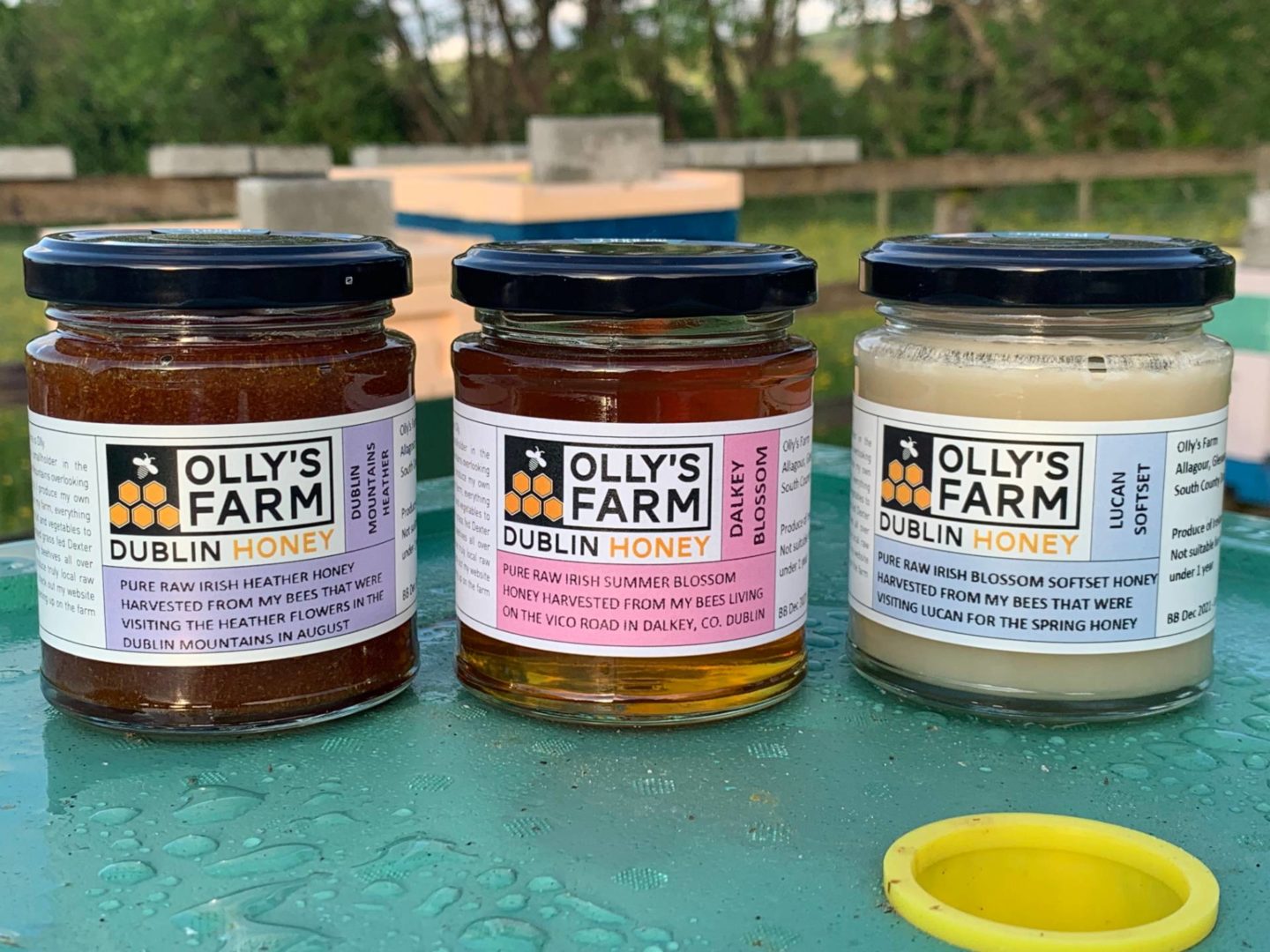 Big Red Kitchen Jams, marmalades, chutney and curd, spreads, sauces, cordial and condiments. Big Red Kitchen is also operating an online store to deliver their jarred cupboard staples direct to their customers. Free shipping within Ireland for orders over €40, otherwise €4.95 for orders less than 25kg. bigredkitchen.ie/shop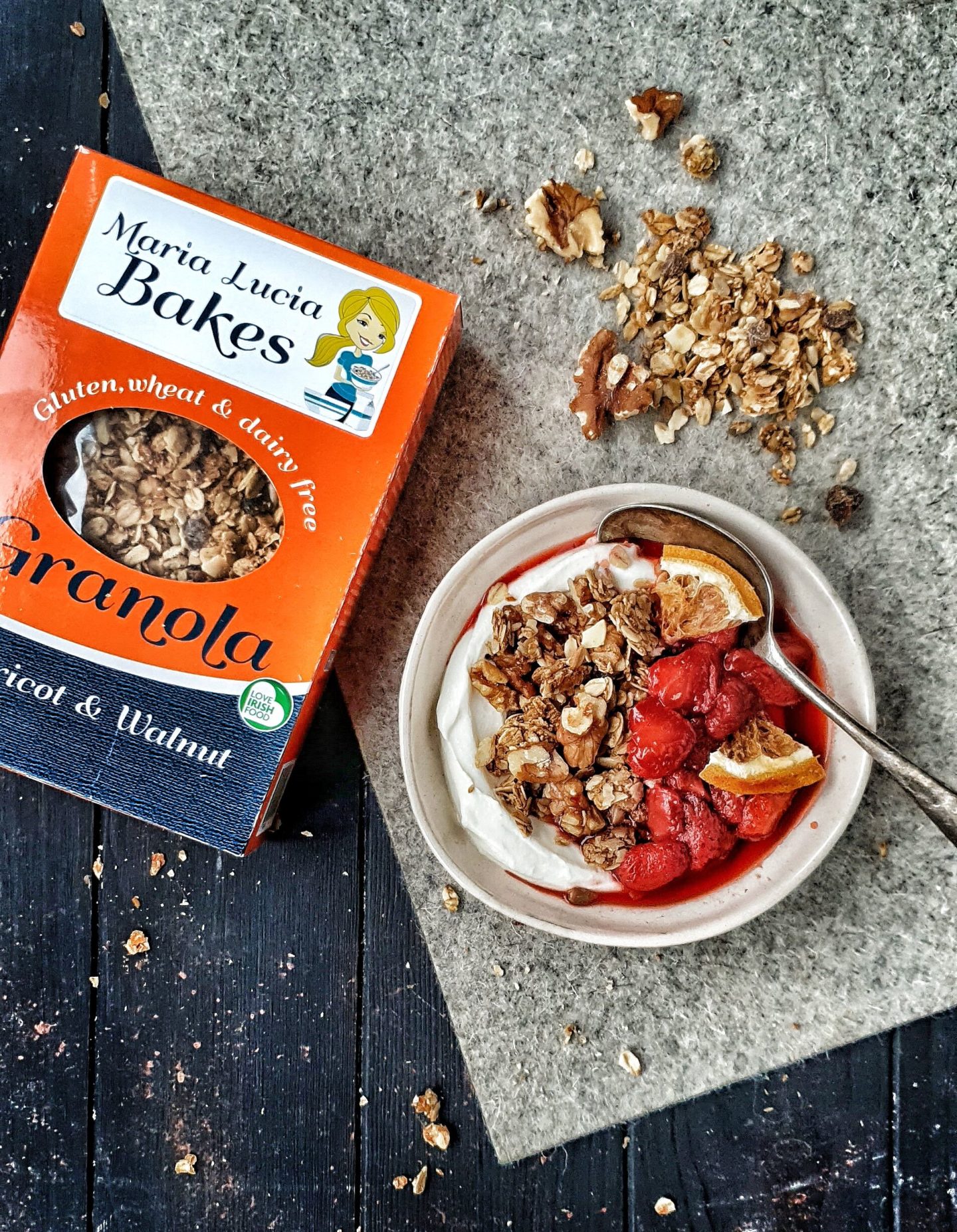 Maria Lucia Bakes With a wide range of award-winning gluten-free granola, muesli and cookies, Maria Lucia Bakes is selling direct to consumers via their website shop and delivering nationwide (€5 charge) but free with orders over €50. marialuciabakes.com/shop
Moran's Mega Jam Cavan-based small producer of quirky jams, chutneys, relishes, pesto and sauces is selling online and delivering anywhere on the island of Ireland. Courier deliveries carry a flat rate of €4.95, for NI and ROI. moransmegajam.ie
Burren Balsamics 'Letterbox Larder' The Letterbox Larder has been launched by Burren Balsamics, the Northern Ireland producer of multi-award winning balsamic vinegars and balsamic sugar and salt, to meet a growing demand during the lockdown from home cooks seeking novel and flavour rich ingredients for meals. The range of balsamic seasonings and rubs (Balsamic Beef Seasoning; Balsamic Chicken Rub; Moroccan Spice Bag; Vegetarian/Vegan Sprinkle; Black Garlic Cloves; Peppermill Spice Bag; Wild Garlic Seasoning) have been designed to slot easily into letterboxes across the UK and Ireland. Sent in eco-friendly, compostable pacakaing, the novel food concept has been designed by Susie Hamilton Stubber, founder and managing director, and Bob McDonald, the development chef at Burren Balsamics at Richhill in county Armagh. Letterbox Larder is available from the company's website burrenbalsamics.com
The Apple Farmer Con Traas' Tiperary orchard bears fruit that creates an expansive range of apple products, from juices to cider and cider vinegar, and he's operating an online store with delivery offering most of the products available in his farm shop online. Packaged in postage-safe cases and sent by courier direct to your door, a case of 12 bottles of his gorgeous apple juice, for example, is €35.95 incl. delivery. On his small online webstore you can also curate a case with what products you'd like. theapplefarm.com
Blath Na Mara David and Jenny O'Halloran are the couple behind Inis Mór-based seaweed brand Blath Na Mara. As of 8th April they have introduced a web shop to their site where you can order direct. Carrageen to kombu, sea spaghetti, dulse to seaweed bath mix and even a cute branded cupán! No minimum order on the site, and delivery is a set €5 fee. blathnamara.ie –– you can hear more from David from Blath na Mara in this episode of Chew The Fat all about the food producers of the Aran Islands.
Ballyhoura Mushrooms Vinegars, syrups, oils, powders, dust, ketchup, all celebrating the finest mushrooms in all the land. Dr Lucy Deegan and Mark Cribbin supply a wide range of cultivated mushrooms and wild plant products to food service across the country but also do a roaring trade in retail. You can order many of their products on their web store, shipping is a standard €8. ballyhouramushrooms.ie
Green Saffron Cork-based nationwide Irish spice brand Green Saffron, run by Arun Kapil, is offering both collection and delivery of their Curry Tubs (minimum order 8 tubs) and delivering within the Carrigaline, Cork city, Midleton, Ballycotton belt. They are also working with the Cork branch of Neighbourfood, supplying the hubs at Midleton/Ballymaloe Cookery School, Watergrasshill, Douglas and Kinsale. Peruse their website for a wide selection of spices, sauces and kits to add a bit of spice and interest to your home cookery. Postage varies depending on size and weight, calculated at checkout. Arun will also be doing an 8-part series of 'Spice Masterclasses' on the Green Saffron Instagram IGTV, demonstrating practical ways to incorporate spice (and those jars of old spices lurking in cupboards) into your cookery to keep things exciting and delicious. greensaffron.com
Rebel Chilli Spice up your life with Paul Moore's incredible hot sauces coming out of Cork, he's still producing (at a social distance in his prep kitchen) and taking orders delivering nationwide. rebel-chilli.myshopify.com
Achill Island Sea Salt Atlantic-harvested sea salt is available to be ordered online. Also, look at how cute their little salt pig is!! Free shipping for orders over €45. achillislandseasalt.ie
Mezze Nicola and Dvir have only opened their deli-shop in Tramore within the last year and they've already faced huge challenges, but they're persevering, still delivering dishes locally (go direct to order). Their online shop is still stocked (and open for orders and deliveries) with pantry products and both Irish artisan and international ingredients. Minimum order of €30 qualifies for local free delivery, but nationwide delivery is €8. mideastmezze.com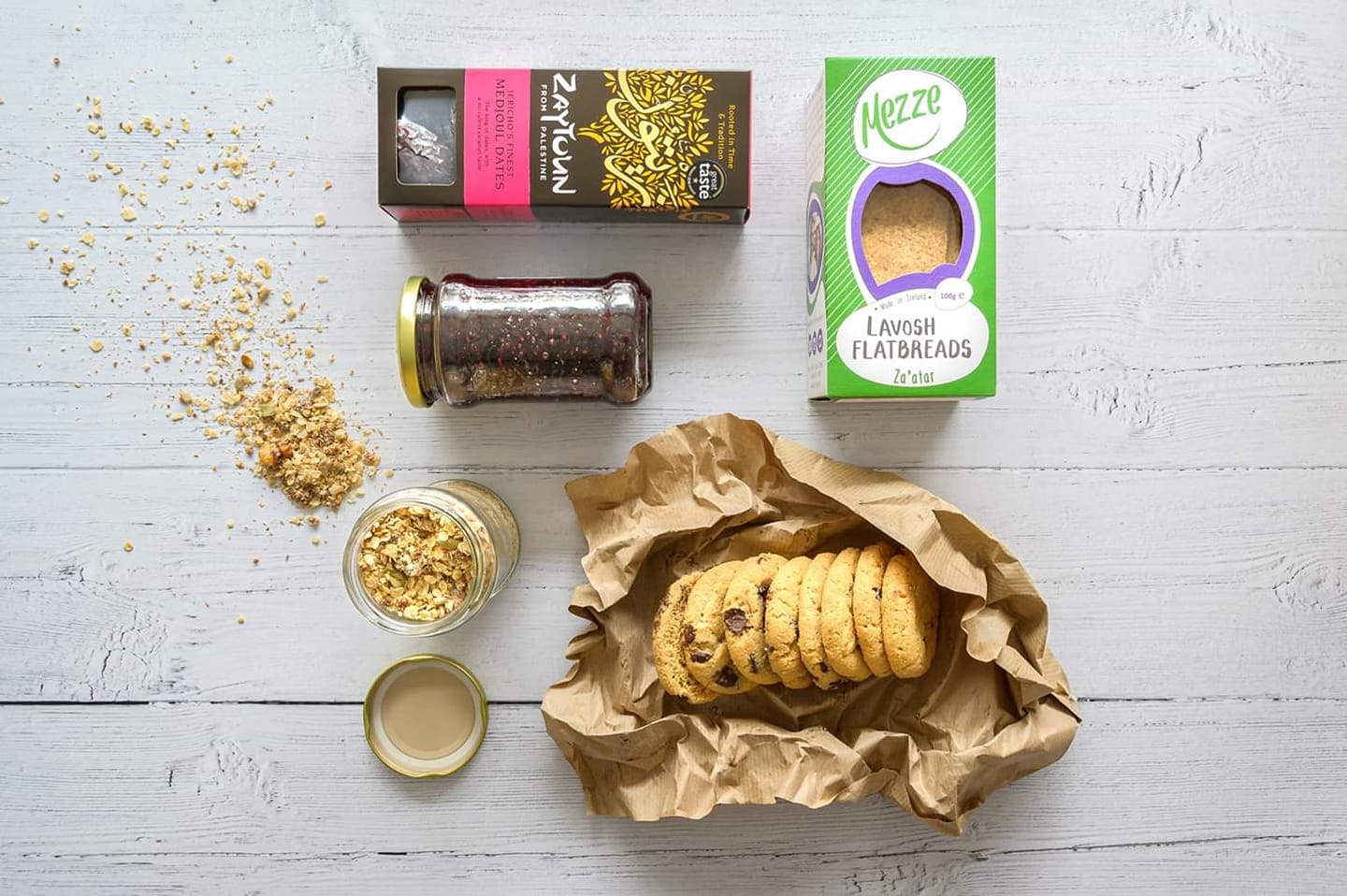 Pudding Row Looking for a little edible comfort? Easkey cafe and bakery Pudding Row is now posting their 'Comfort Kits' via An Post to wherever you are across Ireland. They've been staying open for online orders and collections but this is a new feature and the €65 box includes eight homemade seeded bagels, two each of Orange & Pistachio Brownies and Achill Island Sea Salt Caramel Squares, a vegan flapjack, date power ball and some other necessary pantry staples: Pudding Row Jam, Pudding Row Chutney, Pudding Row Granola and some Wall & Keogh tea. Shipping every Wednesday for the next while, orders have flown out and they sell out almost instantly, so keep an eye on their Instagram for notice of when they're back in stock –– or you can add your email on the order page to be notified. puddingrow.ie
Little Italy Ltd. Dublin-based importer of the best Italian produce, Little Italy has always had a web shop and they're feeling the pressure with Covid-19 but the orders are still flying out. Free delivery is offered for orders over €50, within the area of Dublin 1, 2, 4, 7 and 8 and they are truly a treasure trove of fine ingredient, from pasta and pantry staples to specialist flavours. They've advised that in the current pandemic, orders may take up to a week to be processed and delivered and that if certain items are no longer in stock they will find suitable substitutions or offer a part refund. Standard deliveries to ROI of 30kg or less are €8.40 whilst NI deliveries start at €14 shipping. littleitalyltd.com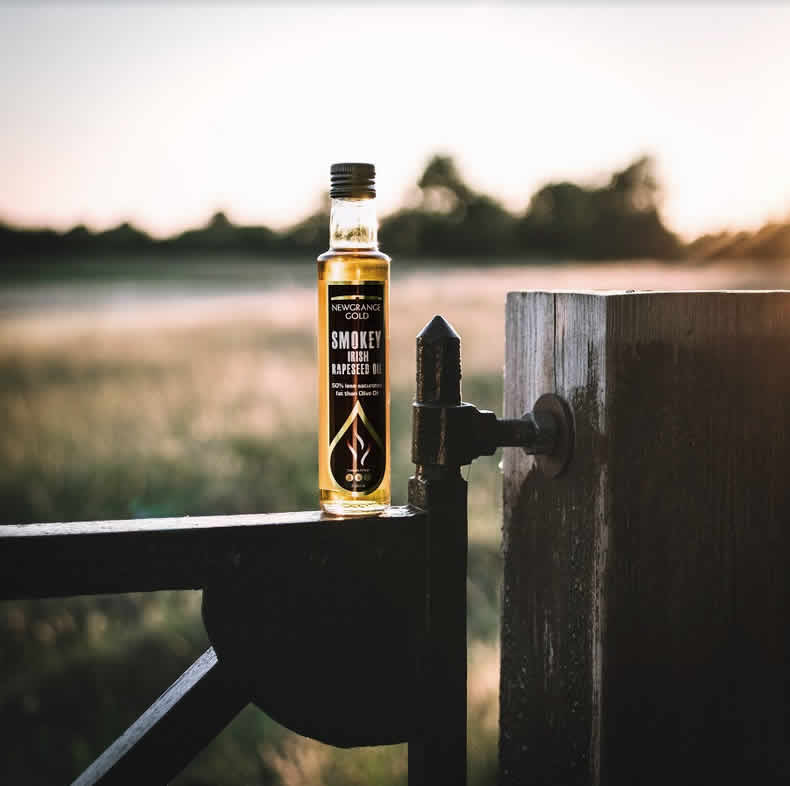 Newgrange Gold Keep your cupboard stocked with incredible Irish rapeseed oil by buying online! Newgrange Gold is produced just up the road from us outside Slane, Co. Meath, and each of their flavoured rapeseed oils are wonderful, but if we can suggest you try anything, try their Smokey variety –– it transforms dishes! Free delivery across Ireland for orders €40+ (and most of their boxes of 12 units reaches just over €40 anyway, so well worth stocking up and buying a little in bulk!) newgrangegold.ie/buy-online/
WASI Hand-harvesting seaweed on the shoreline, WASI (Wild Atlantic Seaweed Ireland) produces three seaweed-based pestos: Garlic & Lemon, Chilli & Lemongrass, and Ginger & Sesame. Unlike most pestos, these are vegan friendly and a great source of B12. As an island nation we should all be eating seaweed way more often than we currently are, as it's packed full of goodness. You can order from their site, in individual flavours or in a three-pack of their range, and delivery is available across Ireland –– cost calculated by weight at checkout. wasi.ie/shop-online
Cafe Rua Co. Mayo-based shop and café Rua is delivering within a 5km radius of their location on Spencer Street in Castlebar. Call ahed on 094 9286072 or email deli@caferua.com and payment details can be taken over the phone. Order before 2pm will qualify for same-day delivery. Order and collection still available, and they are still opening daily for the public, 10am – 2pm, Monday to Saturday. caferua.com
The Pepper Pot Cafe The purveyors of our favourite sandwiches in all the city, The Pepper Pot Cafe – based in the Powerscourt Townhouse in the heart of Dublin city – is now delivering hampers within their local vicinity (Dublin 1, 2, 6 and 8) and taking orders through their Instagram page. Marian is selling set hampers at €45, which include treacle soda bread, si bagels, chive and caper cream cheese, Pepper Pot granola, Achill Island Sea Salt and a few other special treats! instagram.com/thepepperpotcafe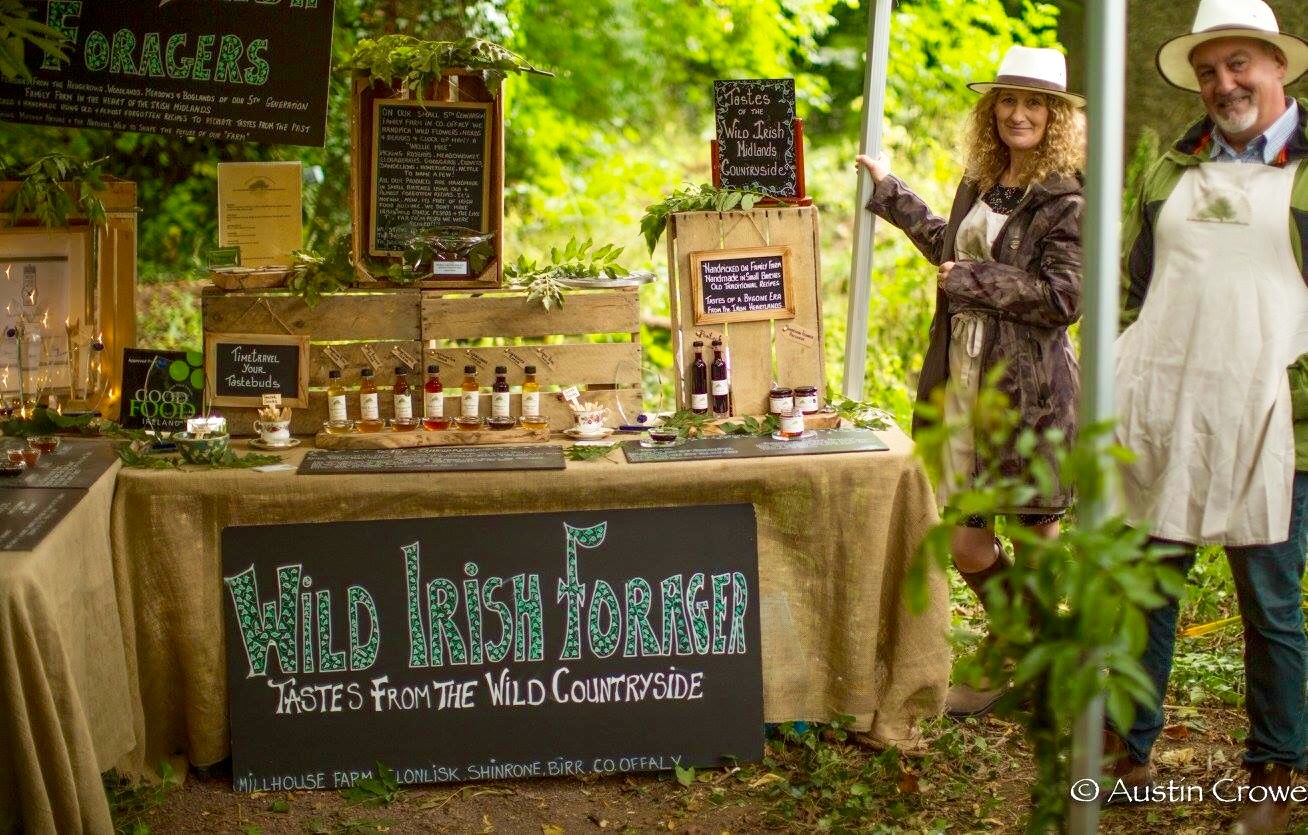 Wild Irish Foragers Offaly-based family business specialising in local, foraged and seasonal ingredients in a range of shrubs, syrups, spreads and preserves. Wild Irish Foragers are also offering a 10% discount if you buy four or more of the same product, too, and we love having their shrubs in stock in particular to add a unique, different dimension to cocktails, drinks and recipes. Shipping is via An Post (both to ROI and NI) and costs are calculated by weight and order size, so will be charged accordingly. wildirishforagers.ie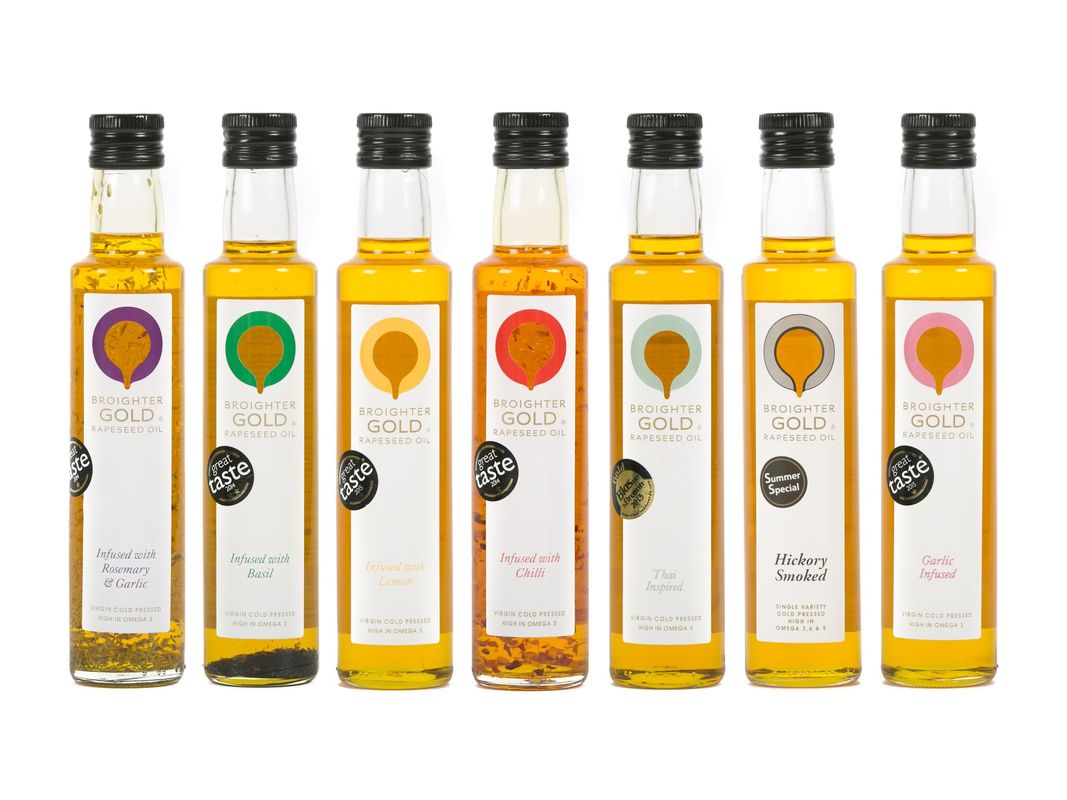 Broighter Gold Oil Richard and Leona Kane up in Limavady are sending their stunning gold-by-name-gold-by-nature rapeseed oils in various flavours across NI and beyond to ROI. Seriously, try these oils –– we always have a bottle or two in stock. Broighter Gold is offering free NI and ROI delivery for orders £30+, for smaller orders the shipping is £4.99 within NI and £6.44 to ROI. broightergold.co.uk
Sliabh Aughty Farm to Fork Box Producers from East Galway have come together to launch a box of their local produce (€35) available for nationwide delivery for €7 via the Essential Food Trails website. It features a set selection of local produce from the farms and markets including chutney, oil and marmalade from Gran Grans Foods, Kylemore Farmhouse Alpine-style cow's milk cheese, Sliabh Aughty hot honey and crackers from the Foods of Athenry. essentialfoodtrails.com
Crossogue Preserves Tipperary-based producer of over 100 different flavoured Jams, Jellies, Marmalades, Curds, Chutneys and Coulis, running for the last 20+ years. Shipping is set at a standard €5.50 within Ireland and €12.50 for UK orders. crossoguepreserves.com/shop
Wild Wood Vinegars Fionntan Gogarty's range of exceptional, premium, exciting and award-winning vinegars and infusions truly capture the Irish landscape. He's a staple of the market scene and can often be found at the best food festivals in Ireland, though he's never traded online not least had social media or a proper website. However, for the time being, Ballina-based Fionntan has opened up his business to send his vinegars to customers by post. Simply email info@wildwoodvinegars.com to order from Fionntan's range.
Kate's Kitchen Sligo-based cafe and provisions store Kate's Kitchen is operating doorstep deliveries of their goods and prepared meals within the local area, whilst they also operate an expansive online shop of food and lifestyle products offering nationwide delivery for €7.95 (An Post) or slightly more via DPD for bulky items. kateskitchen.ie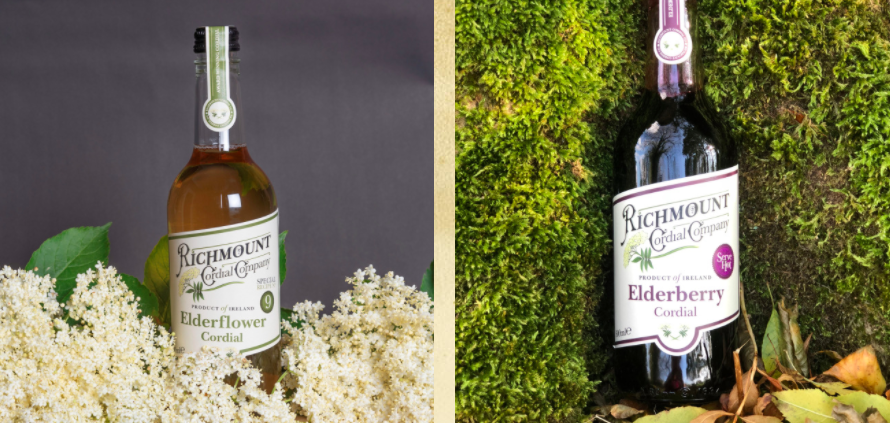 Richmount Cordial Company Co. Longford-based drinks producer Richmount has added a web shop as of 5th April, selling their two products – (Elderflower Cordial, Elderberry Cordial) produced within their 2,000 elder tree orchard – direct to consumers. ROI Delivery is free with orders of seven bottles or more, any less requires a delivery fee of €5 + 23% VAT. richmountcordials.ie
Burren Balsamics Award-winning balsamic producers Susie Hamilton is offering 10% of all online orders using code 'COOK10'. ROI deliveries are a standard £7.50 fee whilst NI deliveries are £5 for 4 bottles or less and £10 for five bottles and above. burrenbalsamics.com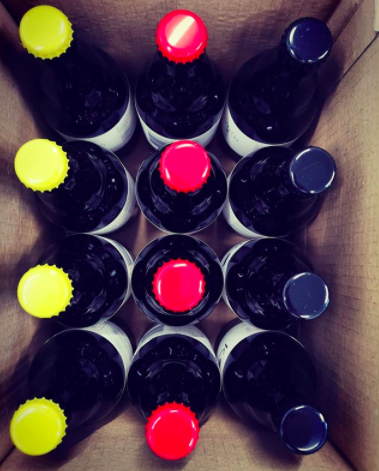 KO Kombucha Whether you want a delivery of 12 kombucha or a kombucha starter kit to start fermenting at home, Offaly-based kombucha brewers KO sell three flavours of kombucha (original, blueberry, strawberry) of which you can get crates of 12x330ml of each (€35), or a mixed case of all three. Their starter kit is also €40. Free delivery is being extended across the island of Ireland for the duration of this crisis. Gut health is wealth, so this is a great service and option! kokombucha.com/shop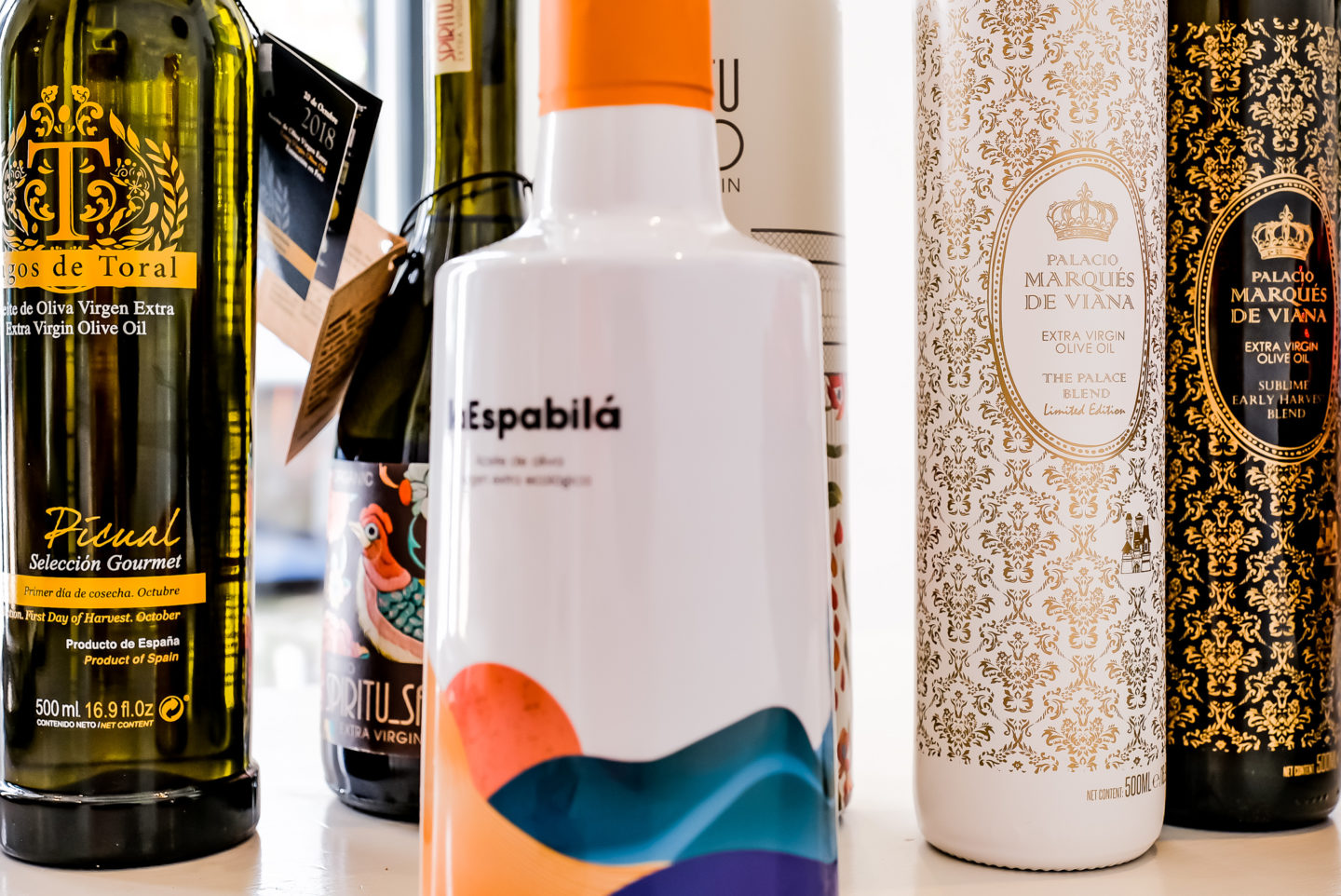 Sarah & Olive Specializing in prizewinning single estate olive oils from Andalucia, Sarah & Olive is doing deliveries in Dublin and sending oil through An Post nationwide (free shipping on orders over €75), as well as being available via the Neighbourhood Food click and collect market in Glasnevin. Delivery under that order amount is a standard €10. sarahandolive.com
Totally Nutz Butter Galway-based nut butter brand Totally Nutz is delivering their peanut and almond butters nationwide with free delivery. There are various sizes and amounts of their different products, which come in both crunchy and smooth varieties and all contain no palm oils or hidden sugars. totallynutzbutter.com
Raw Delivering nationwide, Ballymount-based brand Raw specialise in cold pressed juices, frozen fruits & yogurts for smoothies, coffee beans and syrups. Mainly food service supplier, the team have had to change it up and go direct to the public and have recently launched a range of cold-pressed juices designed for the home consumer. raw.ie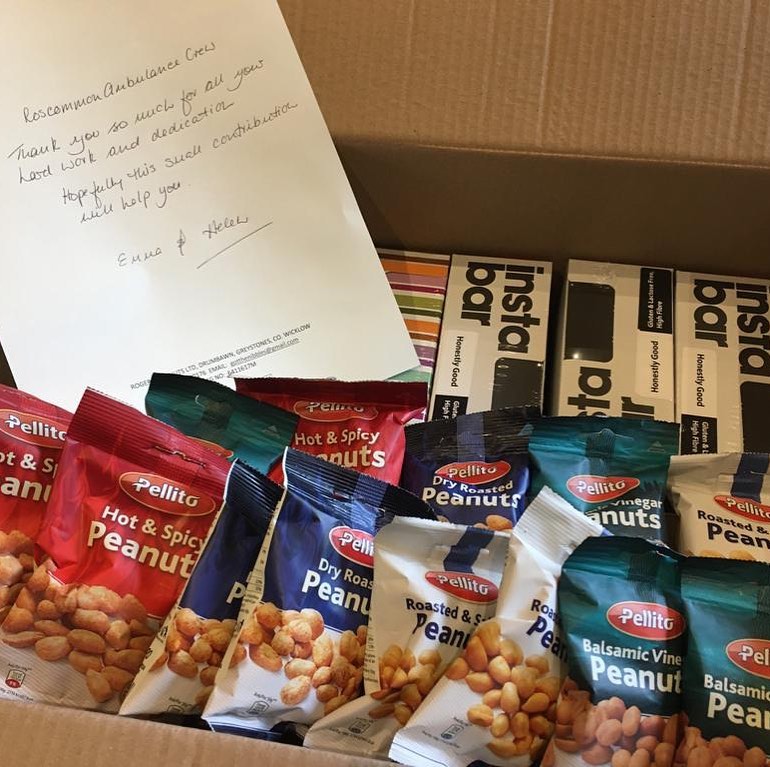 Roger's Hot Nuts Mother-and-daughter team Helen and Emma sell packaged peanuts usually direct to industry, like pubs and certain shops from their base in Wicklow. Since the hospitality industry closures they've totally changed their business model, now delivering boxes of peanuts to people's homes, through An Post and locally delivering where they can. Choose between four of their flavours, or enjoy a combo box of 20 bags from your own selection. They also sell gluten free nut bars in 3 different flavours. rogershotnuts.com
StuffUNeed An online marketplace aiming to deliver orders within 48 hours of being placed, StuffUNeed is a collection of different household essentials and cupboard staples as well as restaurant kits from the likes of Box Burger, Uno Pizza, Smokin' Bones and Platform Pizza (Wing It and other meal kits being added soon!) They also specialise in Bretzel Bakery bread. Contactless delivery is available across the Dublin region (Dublin 1, 2, 3, 4, 5, 6, 6w, 7, 8, 9, 10, 11, 12, 13, 14, 15, 16, 17, 18, 19, 20, 22, 24) and both North Co. Dublin and as far as Bray and Greystones south of the city. stuffuneed.ie
📦 Meat 🥩🐓🐷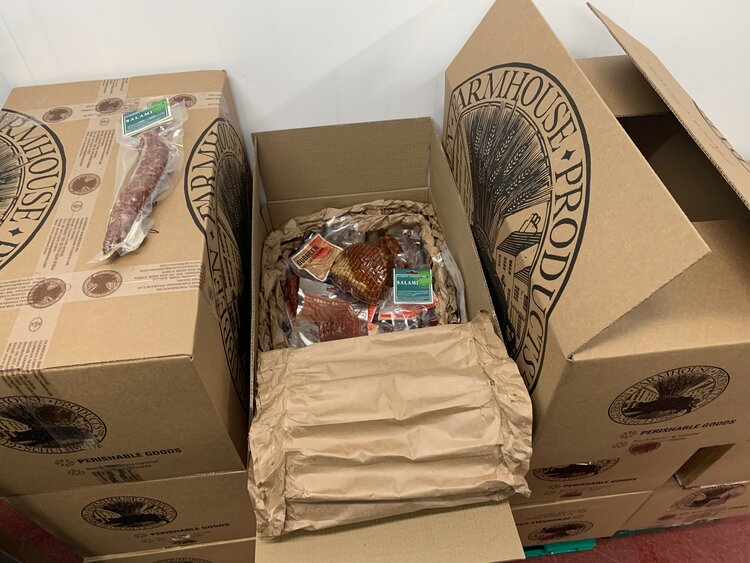 Gubbeen order online from Fingal Ferguson in West Cork and choose between his sensational pork and cheese products, as well as standard boxes from €35 to €50 and €75 in worth. gubbeenfarmhouseproducts.com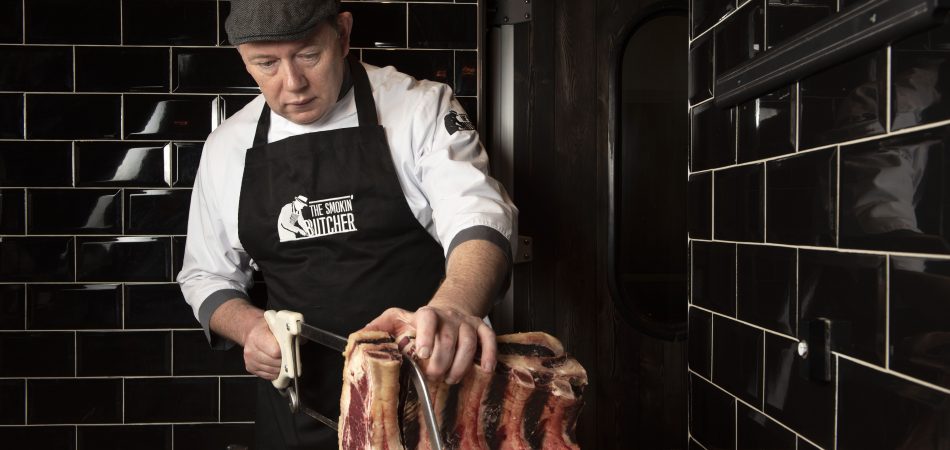 Hugh Maguire Butchers Ashbourne-based butchers run by master of his trade Hugh Maguire (Great Taste Awards' Supreme Champion 2017 for his Smoked Black Pudding) has just this week (April 4th) launched an online store with a wide range of meat products (beef, pork, lamb, turkey, chicken and meat parcels).
Minimum orders are €40, and delivery – although free of charge – is currently only possible within a radius of the Co. Meath butcher shop as well as within the Dublin region as of late July. The butchers in Ashbourne remains open, with restrictions in place and following the appropriate guidelines, Monday to Saturday weekly for collection. shop.hughmaguirebutchers.com
John Stone Beef Opening their "treasure chest" of meat that's usually reserved for top chefs and restaurants, both at home in Ireland and internationally, Longford-based John Stone Beef has launched a web shop (mid-April) for customers to order their dry-aged, grass-fed Irish beef and premium Irish lamb direct to their door for the very first time. They've also teamed up with Wines Direct to offer steak and wine boxes inspired by the different wine-producing countries: Argentina (€55), France (€66) and Spain (€96) with cuts specific to dishes from the destination, alongside a complimentary bottle of wine. Deliveries are limited to Leinster and Munster for the time being but nationwide will be an option in the near future. Their own team are personally delivering in their own refrigerated vehicles in Leinster on Monday, Tuesday, Thursday and Friday and Munster once-weekly on a Wednesday. johnstonebeefshop.com
The Premium Butcher The Premium Butcher, a division of Dawn Meats Group, offers next day delivery (for orders placed Monday-Thursday, no weekend deliveries) and free delivery on orders over €100. They offer chicken, beef, lamb and pork. You can also still visit or call & collect at their fully stocked shops in Waterford, Ballyhaunis & Dublin 24. thepremiumbutcher.ie
Ridgeway Wagyu Ridgeway Farm in Wicklow is selling online and offering free contactless delivery in Dublin, Wicklow and Kildare. Their delivery days are Tuesday, Thursday and Friday, and for customers outside of this area the best way to order is to email the team directly and they will organise courier delivery. Uniquely, their grass-fed cattle also munch on olive feed and chocolate to produce premium quality Irish Wagyu beef, renowned for an intense marbled appearance which results in a tender and juicy meat with a distinctive, delicious flavour. Wide range of cuts available including fillets, prime steaks and gourmet hand-presssed burgers. wagyu.ie/shop
Corndale Farm Our great friend Alastair Crown has been breeding freer-than-free-range pork for quite a few years and his award-winning charcuterie is truly some of the finest you'll find across the island. Alastair's offering free delivery nationwide with all orders from his site using the code 'FREESHIP20' at checkout. Aside from charcuterie products, he has fresh meat boxes too with grass-fed meats including pork, lamb, beef and chicken, all vacuum packed and delivered chilled to your door –– for these email Alastair directly on info@corndalefarm.com. He's just added a 'Breakfast Box' and 'Cured Meat Box' to the site, also. corndalefarm.com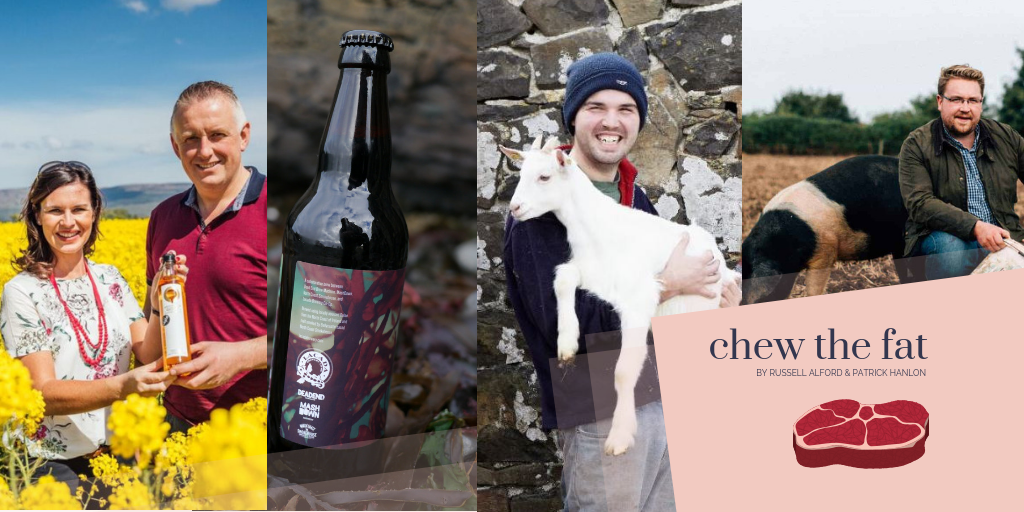 –– you can also listen to Alastair from Corndale Farm, Charlie from Broughgammon Farm and Leona and Richard from Broighter Gold in this episode of our podcast Chew The Fat.
James Whelan Butchers is offering free delivery for orders over €100 from their wide range of meats, cuts and styles of both fresh, raw and prepared meat-based dishes. What's more, if you live within a 15km radius of any of their ten stores – Avoca (Kilmacanogue, Rathcoole), Dunnes Stores (Rathmines, Cornelscourt, Swords, Blanchardstown, Naas, Bishopstown Cork, Jetland Limerick) and Clonmel – you can order from their site and they will deliver direct to you for orders €50+. jameswhelanbutchers.com

FX Buckley Victualler, Grocer, Steakhouse and Bar is delivering three versions of meat-based boxes, a Breakfast Box (€22), Dry-Aged Beef Box (€110) and Mixed Meat Box (€60). Order via email or phone, details on their site. fxbuckley.ie
The Whole Hoggs The family-owned free range pork farm in Co. Meath has just set up an online shop and is delivering to the Louth, Meath and Dublin area. Choose from a wide range of pork cuts and meat packs. wholehoggs.com
Tuites Butchers Also in the Boyne Valley area, esteemed local butchers Tuites Butchers (with three shops: Laurence St (041 9831757), Bull Ring, (041 9831753) Ballymakenny Road/Yellowbatter (0419836175)) are offering local deliveries around the Drogheda area. Simply phone ahead to your nearest of their three stores. facebook.com/tuites/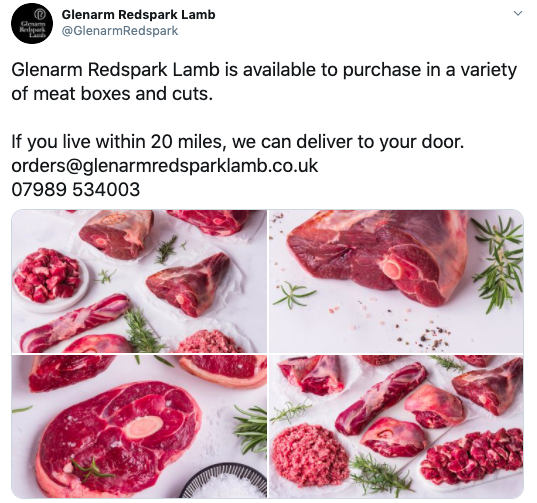 Glenarm Redspark Lamb Based in Antrim and love lamb? Glenarm Redspark Lamb is delivering locally their boxes and various cuts of fine lamb, simply call or email using the details above. glenarmredsparklamb.com
The Chicken Inn The famed poultry stall at the English Market serving for the last 65 years, The Chicken Inn is now offering home delivery from Monday 6th April to the Cork area, due to demand. They've outlined very specifically how people can order (via email chickfoods.acc@gmail.com or phone 021 4275415) and deliveries will be sent out on Monday, Wednesday and Friday to Cork's south side and Tuesday, Thursday and Saturday to Cork's north side –– they request two days lead-time for all orders, so those placed on Monday will arrive Wednesday, etc. etc. Details below. facebook.com/chickfoods
The Friendly Farmer in Athenry is selling his range of 'Butcher Boxes' online, with lamb, chicken and family options, ranging from around €30 for the essentials box up to €170 for a premium, free-range chicken box. thefriendlyfarmer.ie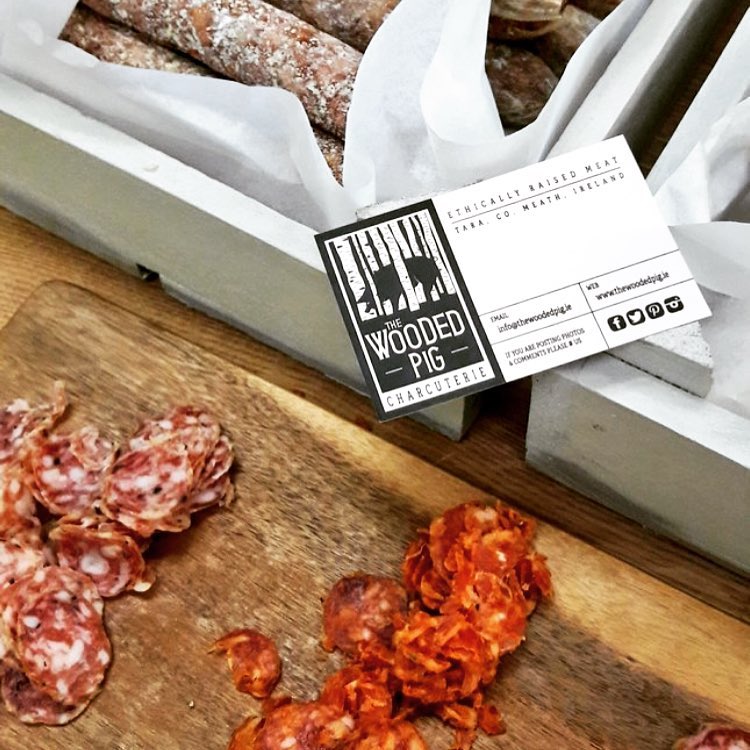 The Wooded Pig Looking for charcuterie? Eoin Bird from The Wooded Pig in the Boyne Valley has an online shop selling his coppa, chorizo and his three flavours of salami (fennel; black pepper; garlic) –– all from his free-range pigs. Eoin offers free delivery on orders above €50 (€6.50 for orders less than that) and please allow a two-day delivery time window. thewoodedpig.ie/shop
Andarl Farm standard box includes 1lb each beef mince, lamb mince and pork mince, 2 Black Angus striploin steaks, 1 pork steak/tenderloin, 4 pork chops, 2lb each of pork belly and rasher, 4lb gammon and 2 packs Breakfast sausages. andarlfarm.ie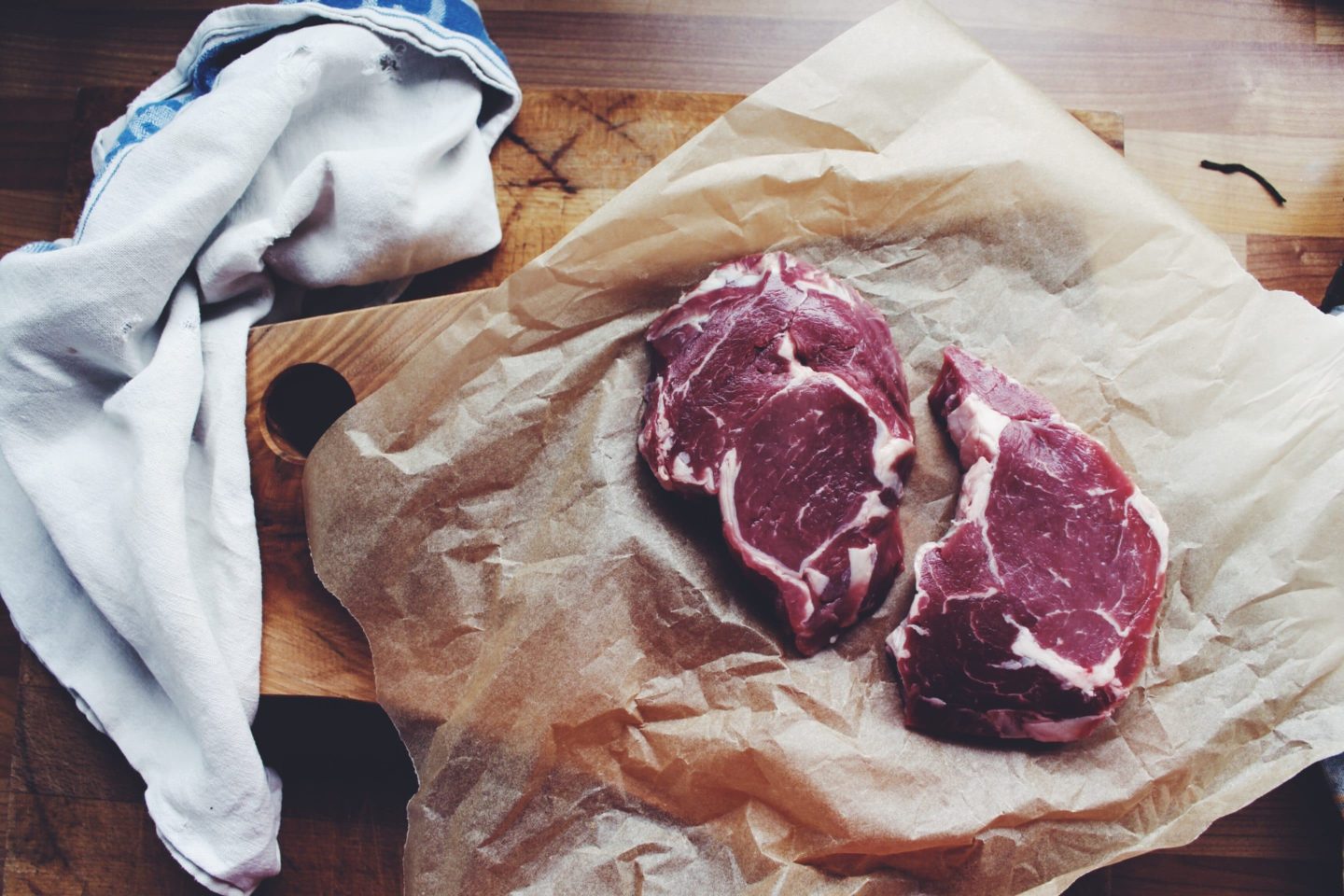 Broughgammon Farm in Ballycastle have a wide selection of boxes, from goat and veal to chicken and larder essentials, that can be delivered to your door. They are also operating a collection point down south at McNally Family Farm. broughgammon.com
Ring's Farm has various delivery packs of his free-range, organic chicken from his base in Castlecomer, Co. Kilkenny, and also has veg boxes and The Village Dairy milk you can enjoy delivered direct to your door. There's a minimum order value of €50 for home deliveries. ringsfarm.ie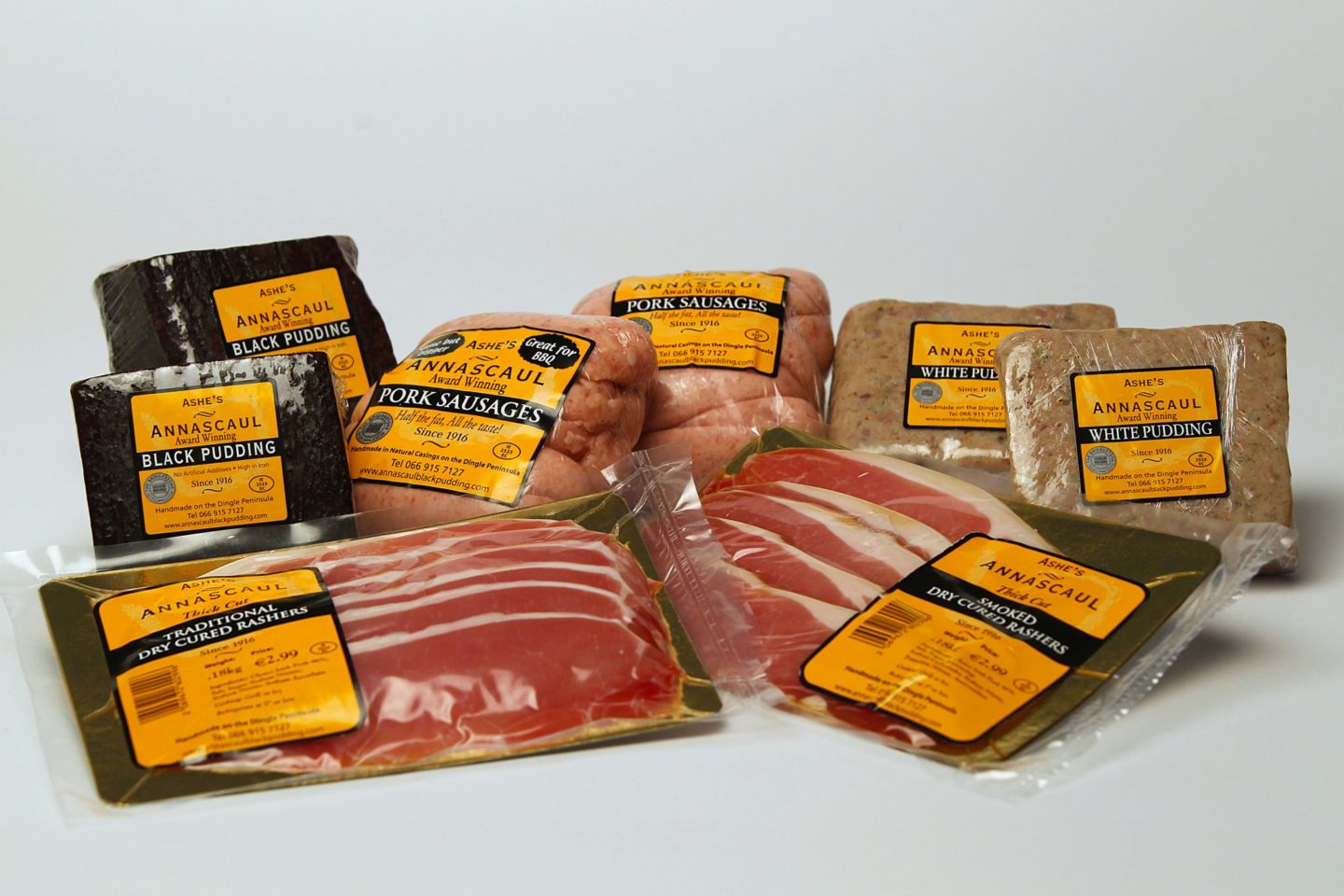 Annascaul Black Pudding Get your award-winning Annascaul black pudding, white pudding, sausages and rashers delivered to you nationwide from where it's produced by the Ashes in Kerry. Minimum orders on their site is €35 with €10 delivery charge. annascaulblackpudding.com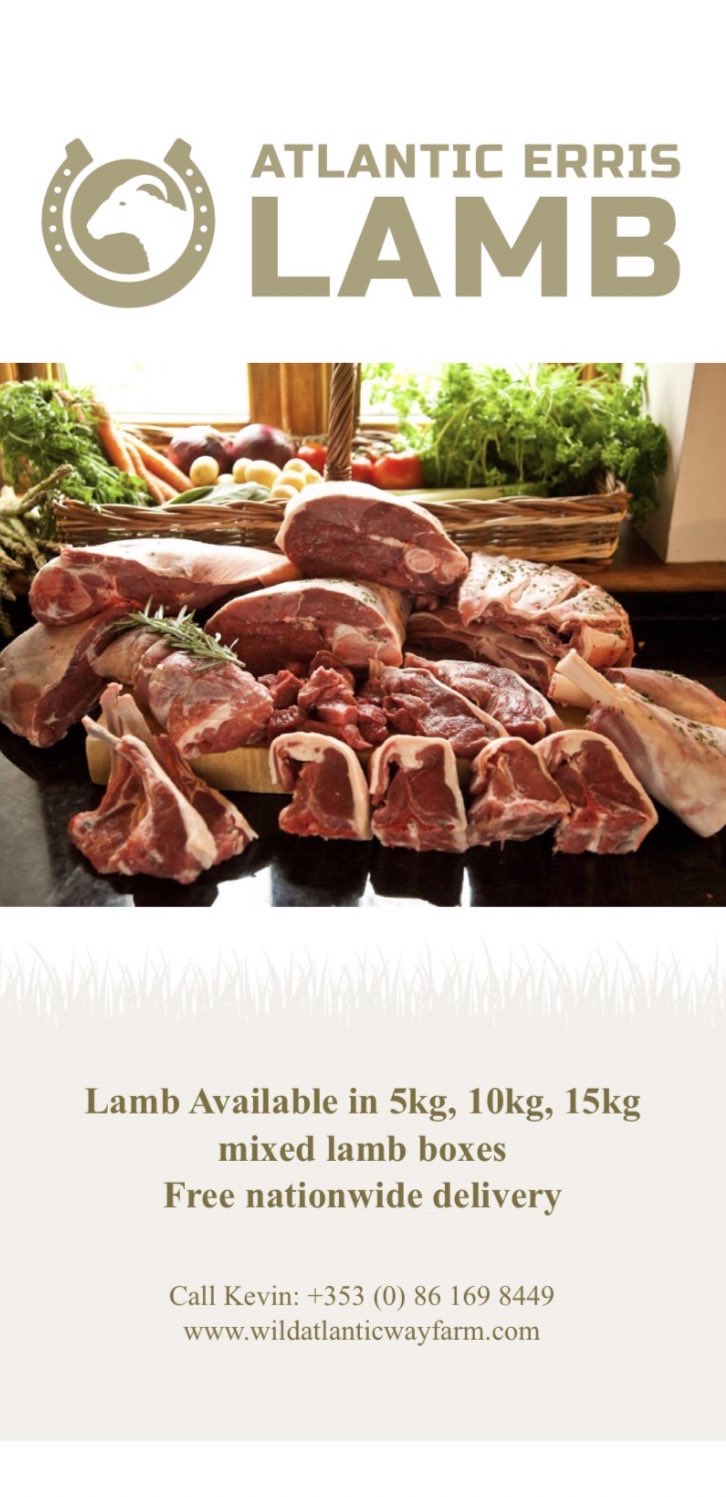 Atlantic Erris Lamb are 5th generation family farmers of beautiful lamb on the Belmullet Peninsula in Co Mayo. Their Bord Bia approved produce would ordinarily destined for the restaurant industry, but now available to you. They offer lamb boxes, which is a great way to stock up the freezer for the months ahead or to split with friends, family or neighbours. Their website says "A cool Atlantic sea breeze carries the salty sea air across the lands and The regular rain soaks the earth with sea salt. The grass and herbs "seasoned" in this manner is the lambs main source of food" which has us salivating! Lamb boxes are priced from €75 to €195 with free nationwide delivery. wildatlanticwayfarm.com/
O'Crualaoi Foods The Cork-based butcher and deli is delivering fresh meat and oven-ready dishes nationwide. Free local delivery within 10km of their Ballincollig, Fermoy and Wilton stores with orders of €30+ via their site. All other online orders carry a €10 flat rate for delivery nationwide. ocrualaoi.com
The Village Butcher Based in Ranelagh, The Village Butcher is offering a straightforward online order form where you can list out what you want from their counter and in what quantities, though allow them 48 hours turnaround –– free local delivery for the Dublin 2, 4, 6, 14 and 18 postcodes. Once the order is confirmed they will liaise with customers over email on specifics of delivery times, though phone orders can still be processed. They're currently moving premises, so please check their social media and website for latest updates thevillagebutcher.registrationdesk.ie
Fodder NI Downpatrick-based farm shop selling Dexter beef and other grocery items. Choose between their different boxes, ranging in price from £30 to £50 or just choose the individual cuts of meat you want delivered. They also have fresh sourdough, Bara Bakehouse baps, brownies, tea/coffee, preserves and oil. If you want to fire up the barbie or wood fired oven, they can also drop you out charcoal or firewood. Delivery is available within a 20km radius and is free on orders over £25; a £5 charge applies for unders under that amount. goodeats.io/fodderdelivery
Achill Mountain Lamb Calvey's Farm on Achill Island, Co. Mayo, is taking orders by phone for their incredible-tasting lamb, whole and half, plus they can prepare it bespoke for each order within reason. Call Grainne on 098 43158. Delivery nationwide costs €20. calveysachillmountainlamb.ie
Ballinwilliam Farm Organic wild boar, venison and goat direct from Co. Cork delivering nationwide for a cost of €10 shipping or complimentary if you spend over €70. They are also offering some click and collect locations.
The Gourmet Butcher in Clonmel has a really handy, easy-to-use online ordering system for meat deliveries. thegourmetbutcher.ie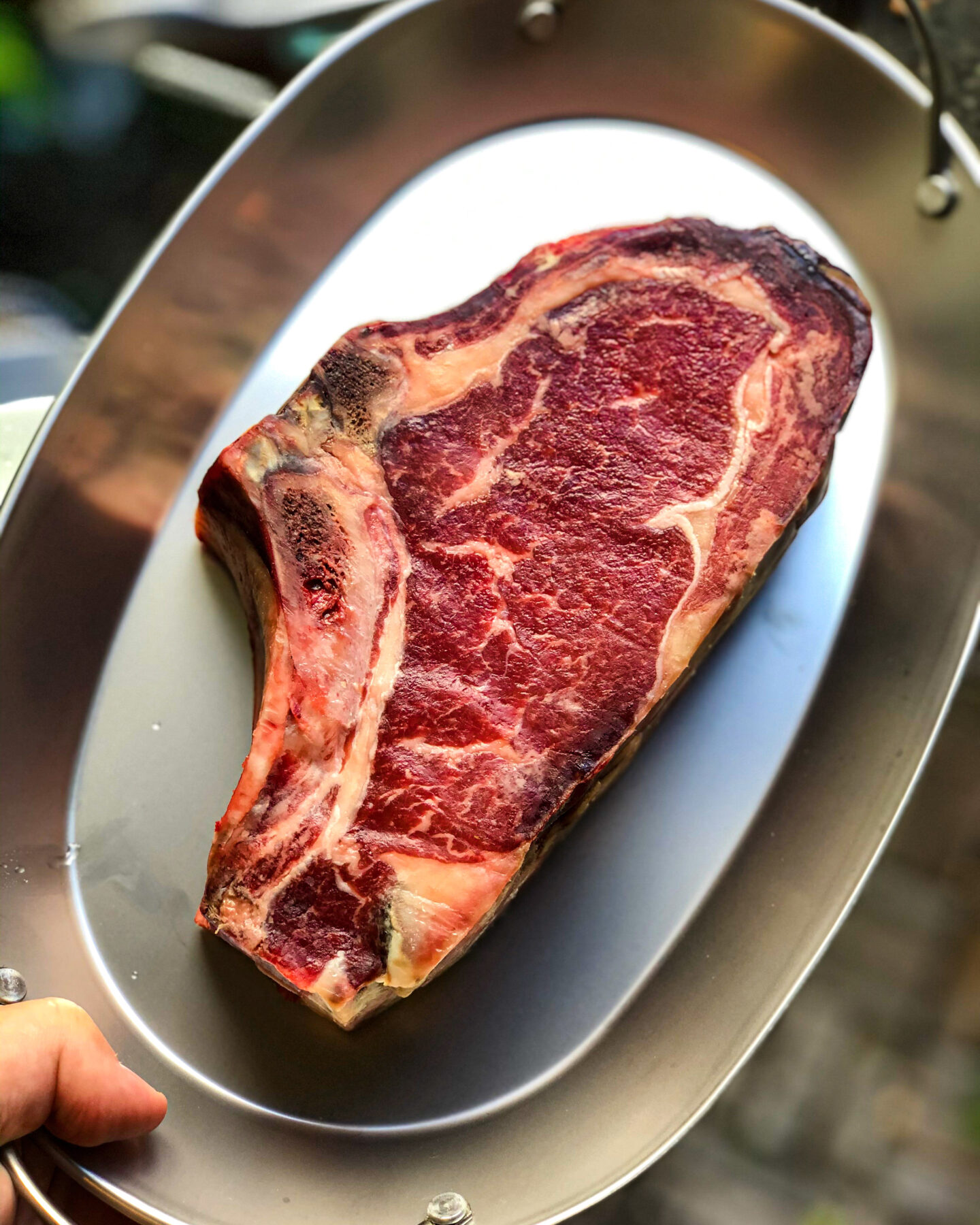 Higgins Butcher is offering a nationwide delivery service of their incredible dry aged steaks (pictured above), as well as lamb, burgers, free range pork and more. Delivery is fairly quick and efficent, and everything is vac-packed for freshness. More info on their stock and approach on higginsbutchers.ie.
Tom Durcan, a master butcher located in Cork's English Market is offering free local delivery during the Covid-19 crisis and nationwide delivery for €8.50. Simply call or fill out a form on their site with your requirements. tomdurcanmeats.ie
McLoughlins Butchers Southside Dublin-based butchers don't have an online shop but they are delivering locally, by taking order via phone on 01 5065554. mcloughlinbutchers.ie
Skeaghanore Duck Fancy some duck? It seems that every other competitor on MasterChef this year is cooking duck breast, so why not you?? In Cork, the third generation, family-run farm are doing deliveries direct from their site, nationwide delivery costs €10. skeaghanore.ie
McCarthy Kanturk Also with a popular outpost at the English Market, McCarthys of Kanturk are supporting their local community with free delivery within a 20km radius of their base in Kanturk, north Cork for orders €30 and above (there's a map on their site to see if you qualify within the region) and they are also offering free delivery nationwide for orders above €150. For orders less than that, standard delivery is €15. mccarthysofkanturk.ie
The Scarlet Heifer The Co. Meath farm, run by the Collins family and specialising in traditional beef and lamb breeds, has two stores in South Dublin –– Foxrock and Leopardstown. They have now set up a seamless e-store on their website for both deliveries and contactless collection. thescarletheifer.com
Magners Farm in Tipperary is selling eggs and lots of other produce local to the area via their online shop for local deliveries. magnersfarm.com
Irish Biltong Looking for a long-life snack? Irish Biltong have been producing the South African dried meat snack for years and offer a variety of flavours and quantities on their site. irishbiltong.ie
Flanagan's Butchers Based in Armagh? Give this local butcher a ring (028 37522805) and they will deliver to your home, within the local area of their shop. facebook.com/flanagansbutchers
Sadie's Kitchen Sarah Kiely's bone broth brand Sadie's Kitchen is available for online orders via their website, with payment and delivery via Soul Bia. sadieskitchen.ie
📦 Fish 🐟🦐🦑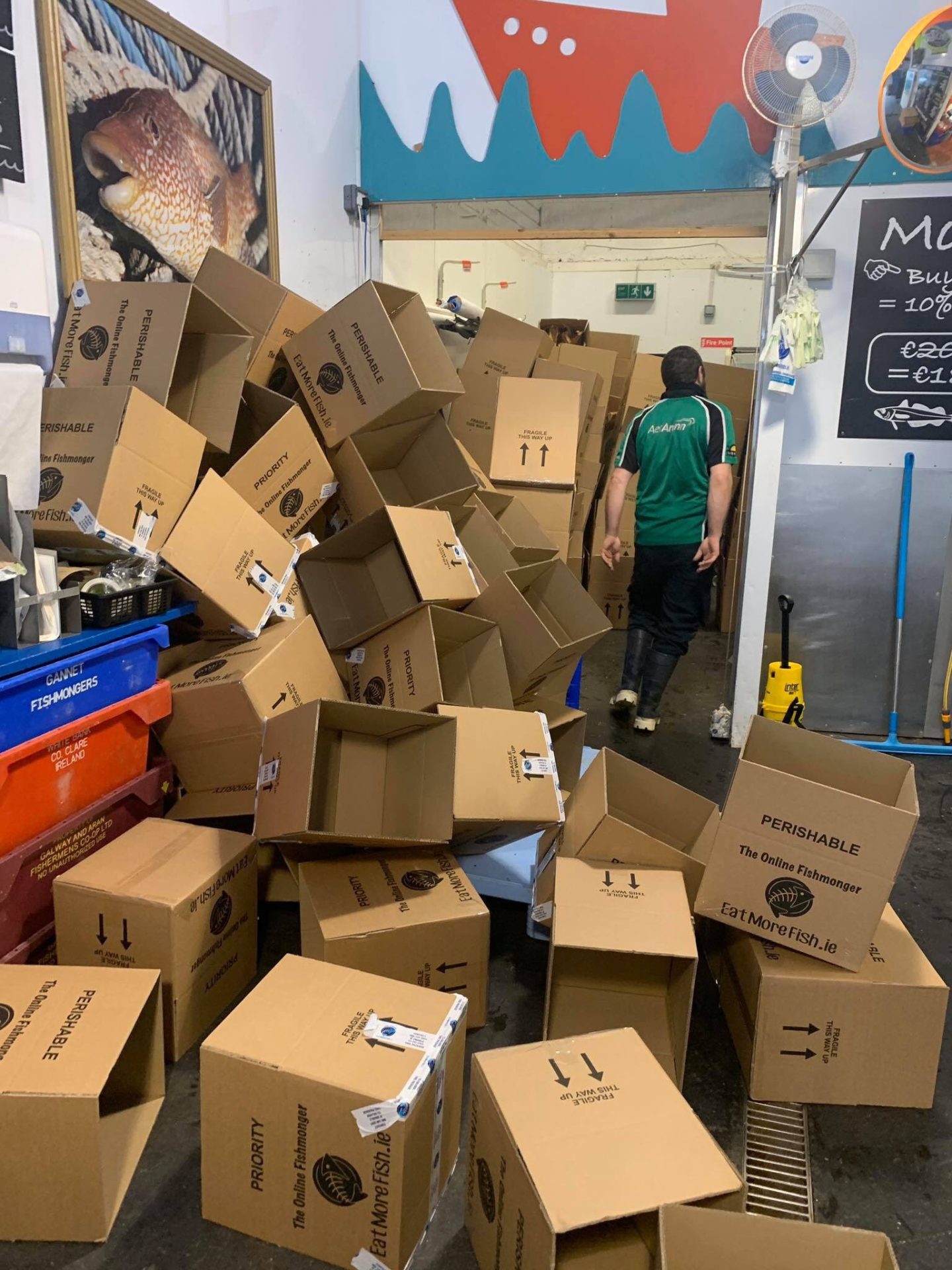 The Gannet in Galway, Stefan Griesbach has been selling and delivering nationwide via his EatMoreFish website for a number of years –– we've ordered off it several times and it's excellent, he's continuing as normal as possible. Minimum order is €35 and delivery charge is €8.50 but free for orders of €100 or more. eatmorefish.ie
Burren Smokehouse Birgitta Hedin-Curtin's award-winning Burren Smokehouse is still operating nationwide deliveries, as normal, and her range includes hot and cold smoked salmon, wild smoked salmon and both trout and mackerel.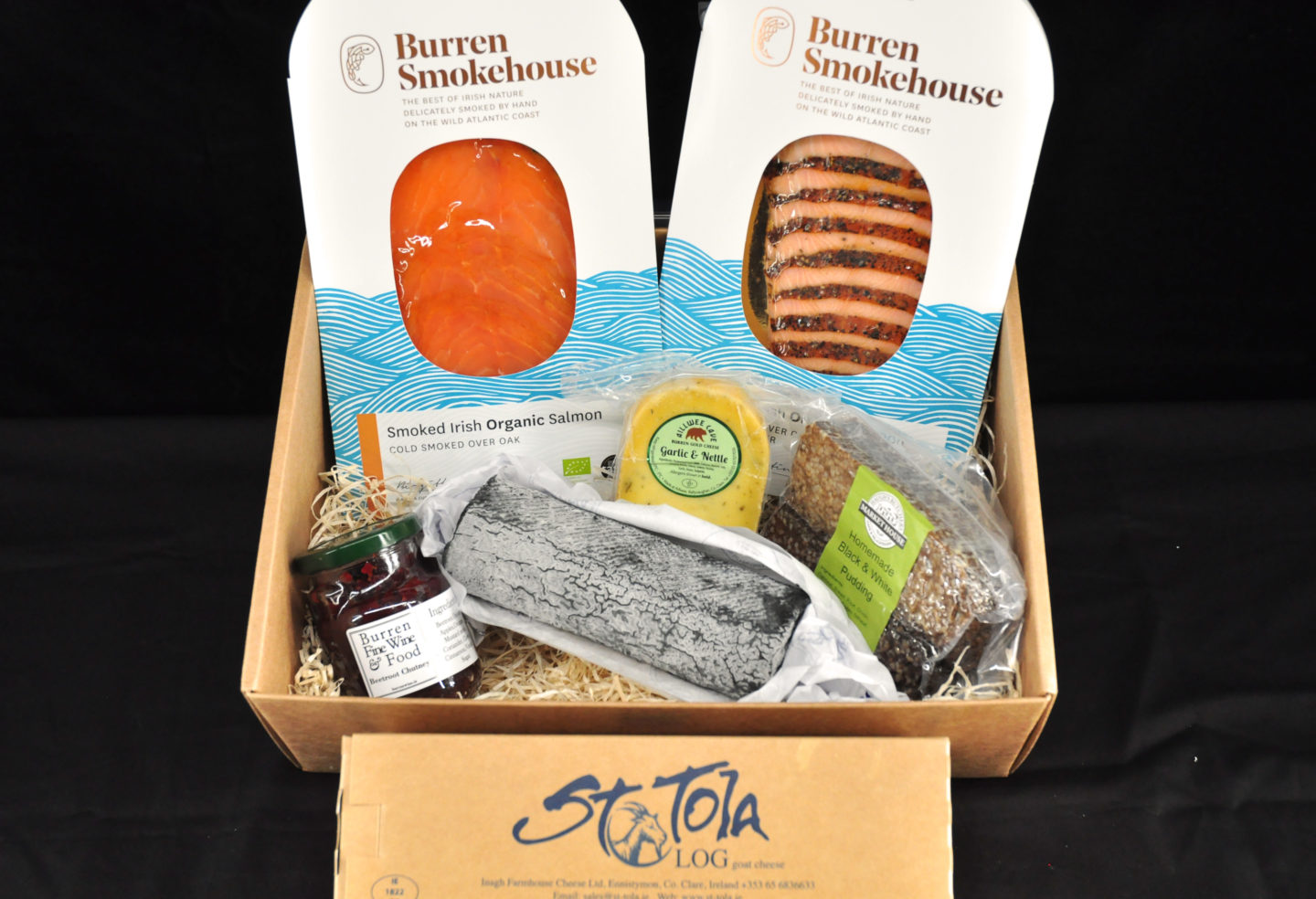 Birgitta is also working with Burren Eco offering a #BurrenBasket (€58) throughout Covid-19 crisis, including 180g Burren Cold Smoked Irish Organic Salmon, 140g of Burren Hot Smoked Irish Organic Salmon with Honey, Lemon & Pepper, 500g of St. Tola Ash Log goats cheese, 225g Burren Gold gouda with Garlic & Nettle from the Aillwee Cave in Ballyvaughan, 450g pack of Black and White Pudding from Market House in Ennistymon and a 250g jar of Beetroot Chutney from Burren Fine Wine & Food, Ballyvaughan. A slightly smaller, 'Medium' box is also available for a cool €50. burrensmokehouse.com –– you can also hear more from Birgitta and her Clare-based business on our podcast Chew The Fat here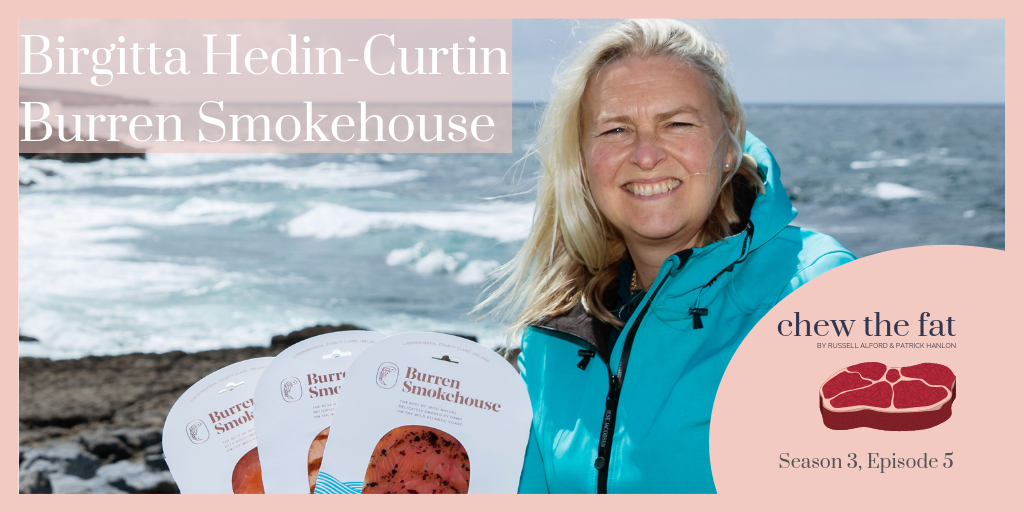 Woodcock Smokery Sally Barnes' incredible wild fish smokery in Cork has been open for online orders for a while, but they really could use public support at this time as restaurant orders have fallen through. Use the code 'LOCKDOWNLOVE' for 15% off all orders online. Also her branded smocks in navy and red are also available online to-order; Patrick ordered a navy one before Christmas and absolutely adores it. Great for pottering about the kitchen or the house! woodcocksmokery.com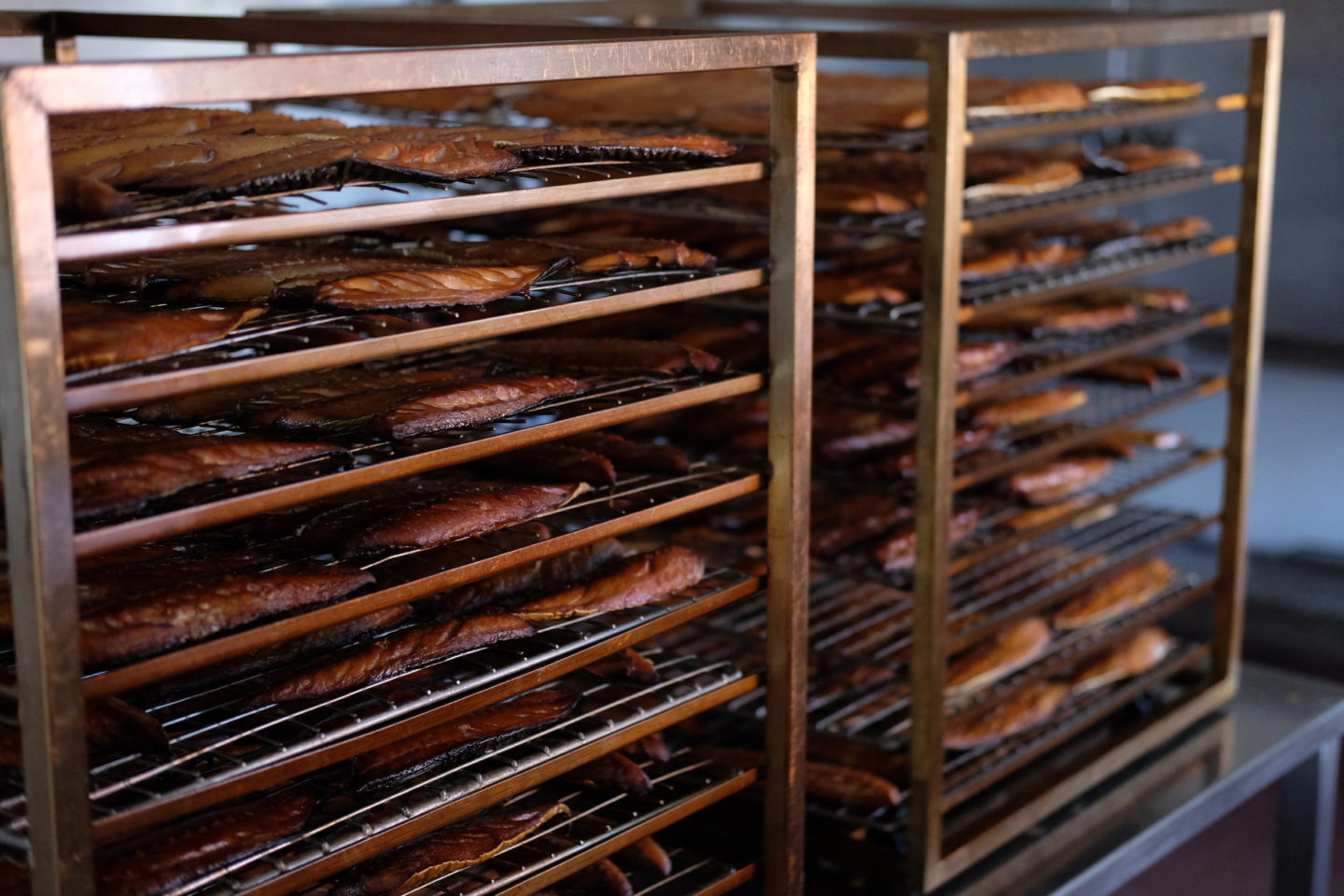 K O'Connell Fish Pat O'Connell from the English Market in Cork City has widened his free delivery service beyond the city itself and out in the towns and suburbs of Cork City, like Blarney, Ballincollig and Passage West. Simply phone (021 427 6380) or email your order to freshfish@eircom.net –– minimum order €30, stock listing on the website. koconnellfish.com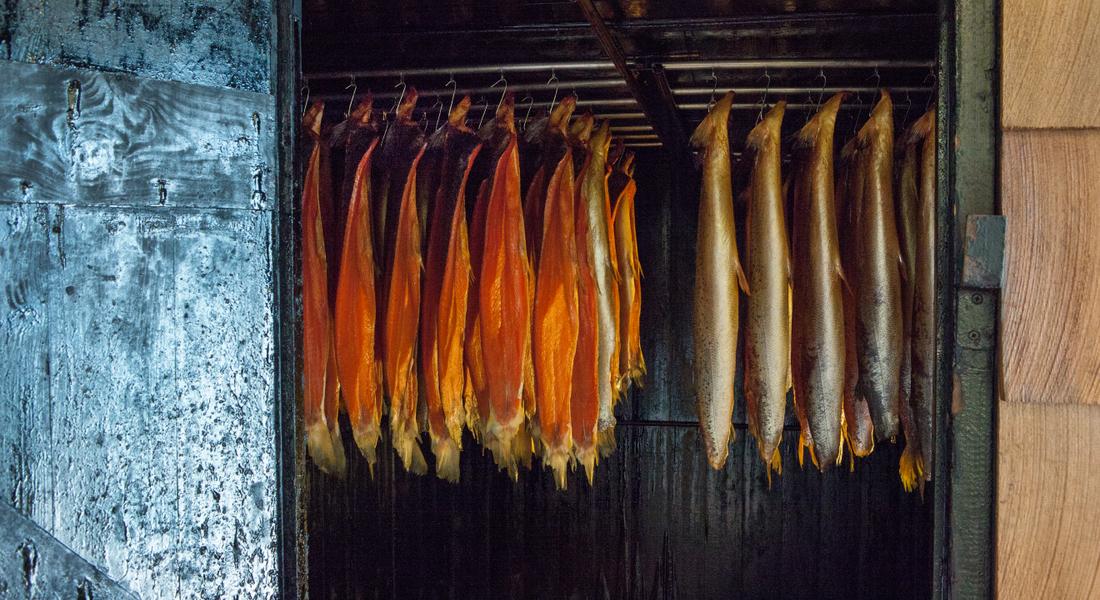 Frank Hederman Hederman's Fish (also a staple of Cork's English Market) from Belvelly Smokehouse in Co. Cork is also offering both a 'Click & Collect' service for those in and around the Cork area and a home delivery service nationwide. The 'Mostly Smoked Fish Box' (€30) is "the ideal way to enjoy a vicarious visit to our farmers market stalls. Trust us to include the best of what's on offer at the time you order," they say. This doesn't include short shelf-life products (their pâtés or fishcakes) but much of their core range. As of July, there is also some beautiful wild smoked salmon! When browsing their online shop, you will see what items are marked as 'Click & Collect Only' and if they aren't marked with that they are suitable and available for home delivery. Shipping is calculated at checkout and delivery is made by Fastway Couriers. frankhederman.com/online-shop
DK Connemara Oysters Want a box of oysters direct to your door? Order a dozen, two dozen or three dozen from Connemara-based DK to anywhere in Ireland or UK. Minimum order is one dozen (€18) whilst the best value is two dozen at €24, they dispatch Monday to Thursday for Ireland Monday to Wednesday for UK orders. dkconnemaraoysters.com
Mullaghmore Sea Farm Sligo-based family business specialising in live lobster and crab, delivering nationwide for a flat fee of €8.50. Order by Wednesday at midnight for delivery on a Friday. More information and options available on their site mullaghmoreseafarm.com/shop
Nicky's Plaice Howth-based fishmonger (and in-house hot and cold smoker) Nicky's has an online store you can order fresh fish to-your-door. Delivery (all Ireland) starts from just €5! nickysplaice.com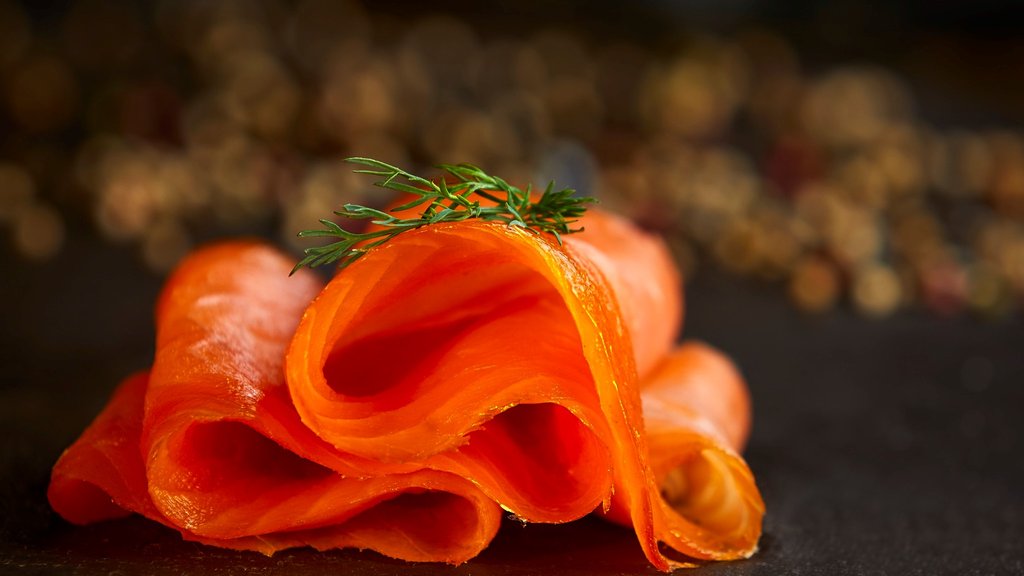 Port2Door Donegal-based Starcrest Seafoods has set up a web shop for customers to order fresh fish from, delivering across Donegal, Galway, Leitrim, Mayo, Roscommon and Sligo, as well as Athlone. In Northern Ireland, they deliver to Counties Derry, Fermanagh and Tyrone. They are delivering at least twice in every county a week, up to four times weekly. port2door.ie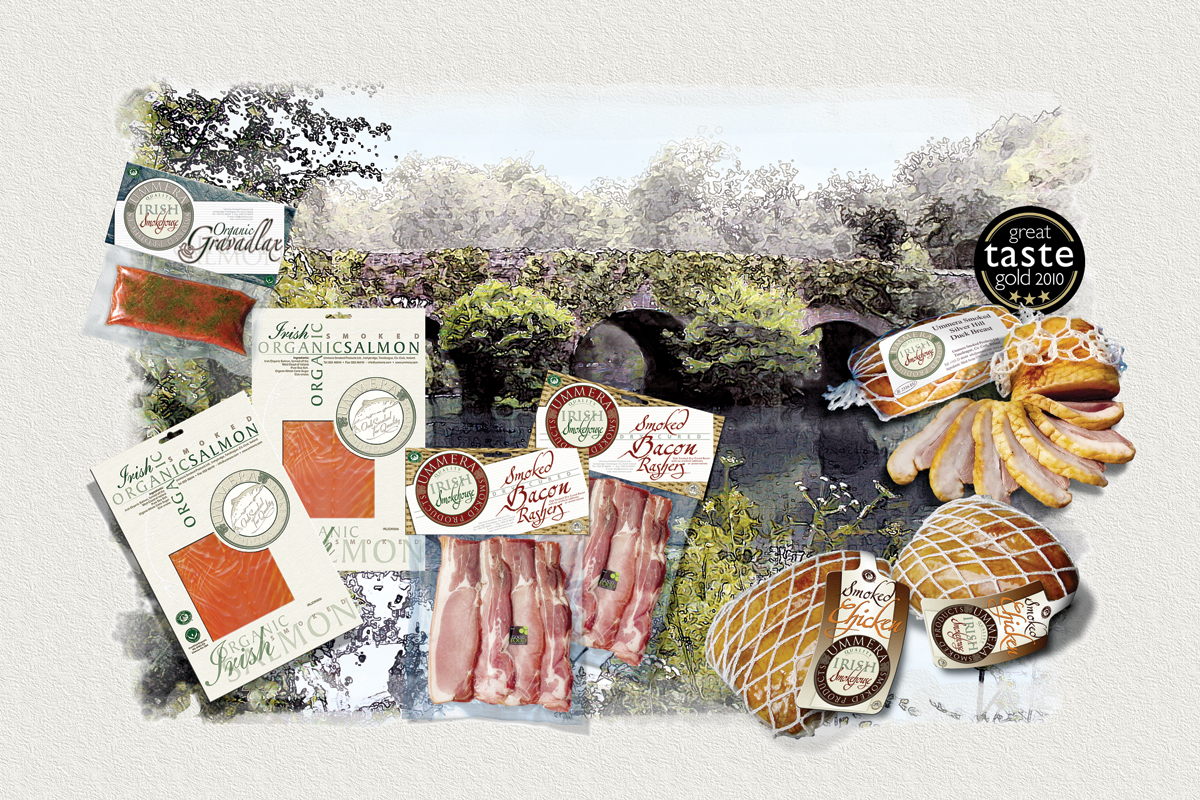 Ummera Smokehouse Though most known for the wonderful organic smoked salmon and organic garadlax that comes from the Creswell family's artisan smokehouse in Cork, they also smoke duck breasts, chicken, bacon and picanha beef too. You can order from their diverse range of smoked meat and fish products. Working with a courier company to facilitate deliveries (internationally), if you're in Ireland and order before 10am on a weekday, they will endeavour to get your order to you the next day –– though Covid-19 may be making deliveries a little slower. Shipping/delivery costs are calculated at checkout, depending on size and weight. ummera.com
Kish Fish Free delivery in the Dublin area for orders over €25 to Kish Fish. Orders can be placed via phone (01 8543900) or email sales@kishfish.ie and a short stock list for home deliveries is available on their website. kishfish.ie
Star Sea Foods A whopping €10 minimum order with no delivery charge, Cork-based Star Sea Foods delivers on Tuesdays, Wednesday and Fridays to Cork city, Midleton, Ballincollig, Carrigaline, Glanmire and the Cork Airport rgion. starseafoods.ie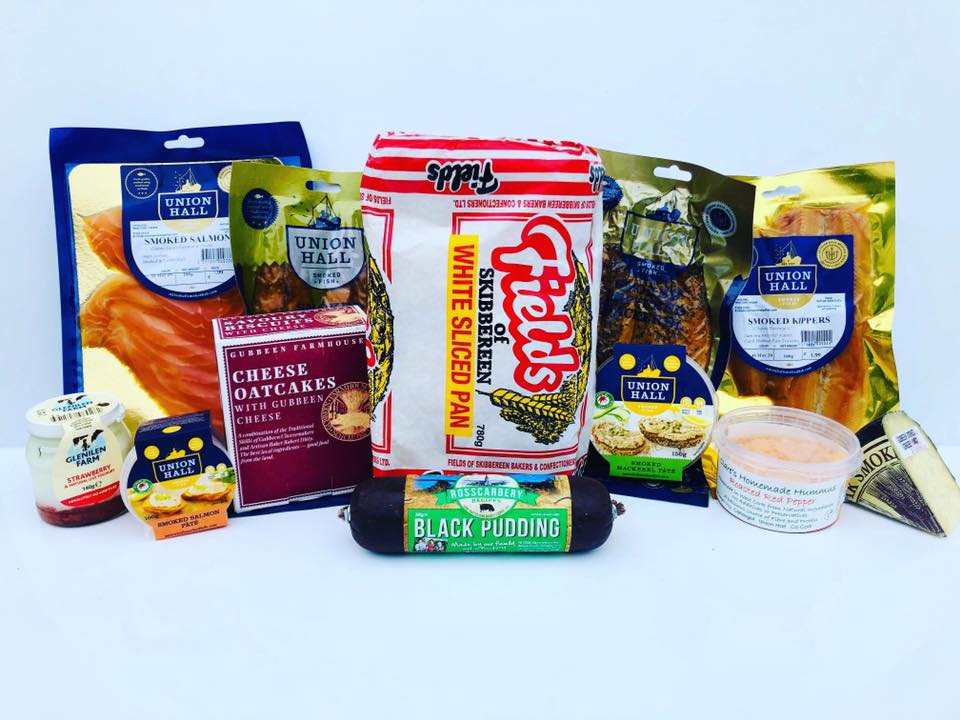 Union Hall Smoked Fish West Cork based, second-and-third generation family business Union Hall Smoked Fish has an online store you can browse and order from, with next-day delivery for orders in before 1pm Monday-Thursday across Ireland. They have a West Cork Box (€50), which includes their smoked salmon, kippers, mackerel and a selection of their smoked pâtés, Rosscarbery black pudding, Gubbeen cheese and crackers, hummus, bread and Glenilen yoghurt. Shipping is with DPD and costs are calculated at checkout, weight dependant. unionhallsmokedfish.com/shopping-cart
Nick's Fish Ashbourne-based fishmonger Nicholas Lynch is offering delivery within a roughly 60km radius of their Co. Meath base –– so covering Meath, Louth, Dublin and some areas of Kildare and Wicklow. Click through to their website for details on their different packs (€45), orders are taken by email (niall@nicksfish.ie) or WhatsApp. Order before 7am and they will try their best to get your order to you, same-day. Deliveries are in split compartment temperature controlled vans and their own drivers making deliveries, rather than courier. nicksfish.ie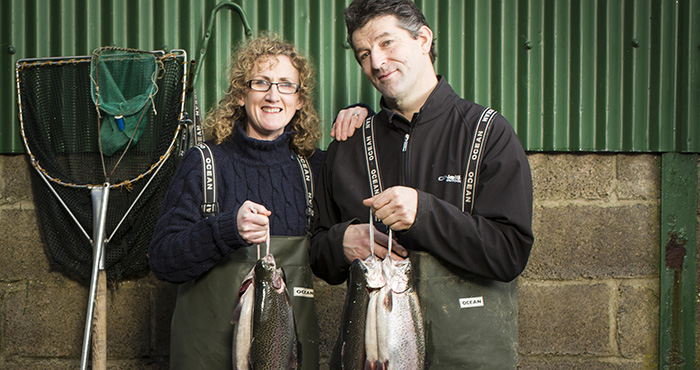 Goatsbridge Trout Husband and wife team Ger and Mag Kirwan have always operated an online shop selling their famous smoked trout, fishcakes, goujons, pates, roe, fresh trout, fillets and indeed the cookbook Fishwives. All Ireland deliveries for baskets over €100 are free, whilst there is a flat shipping fee of €5 for 20kg or less. Mag advises buying in bulk to store out your freezer is a good idea with regards shipping costs, and they keep their online prices competitive to what they are in physical retail, so that offers another incentive. goatsbridgetrout.ie/shop
Quinlan's Kerry-based Quinlan's operate a number of shops and restaurants around the county of Kerry. Their website usually offers order and delivery nationwide but for now are solely offering a call and collect service, details on their website. kerryfish.com
Mourne Fish Box Offering free delivery to both Ireland and NI/UK, choose between a variety of 'fish boxes' and bulk orders of different varieties of fish prepared in different ways. Our friends Carlingford Oysters are also available as an add-on via their shop in a 12-oyster box with additional shucking knife (£10.80). mournefishbox.com
📦 Dairy 🥛🧀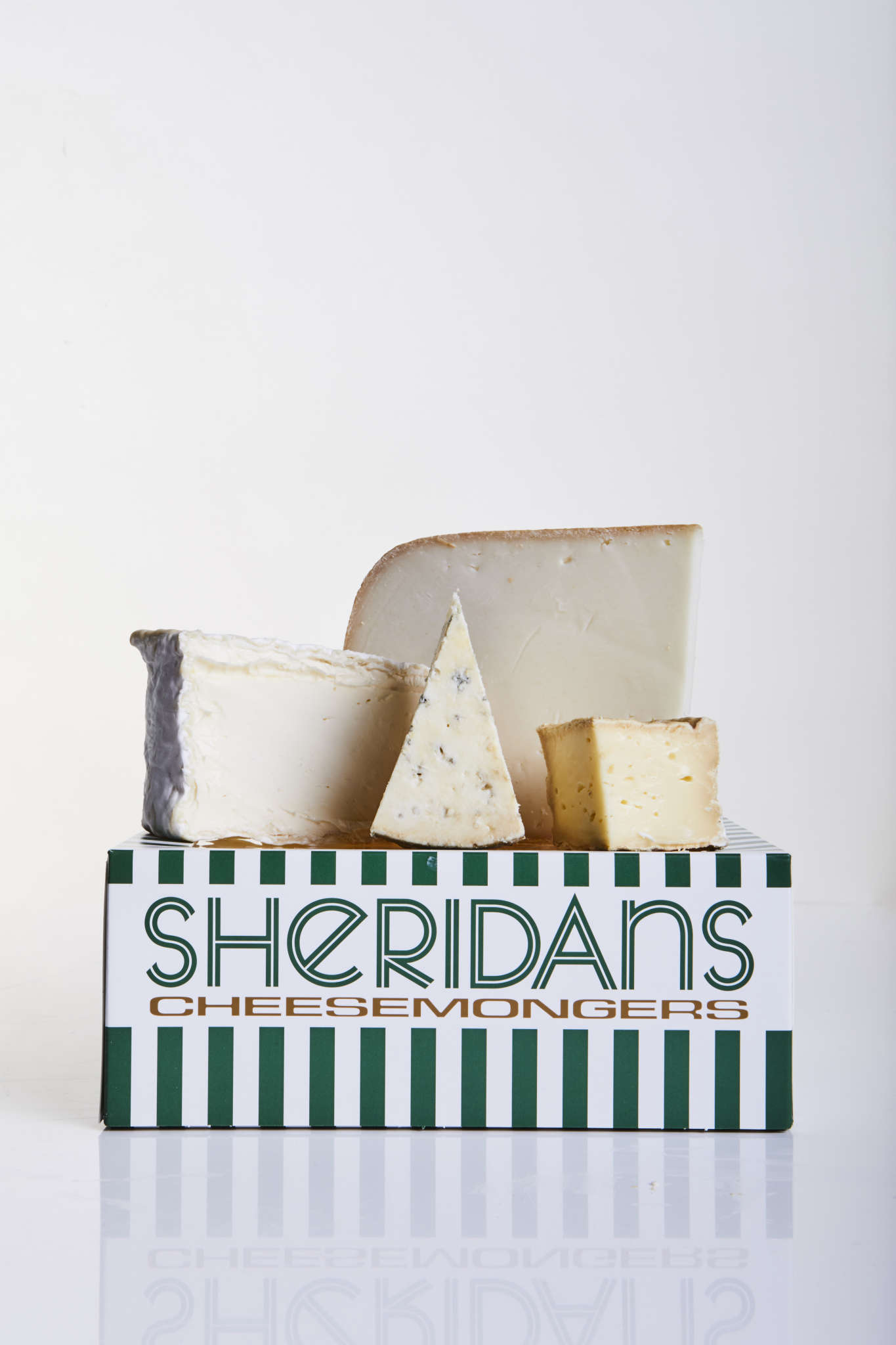 Sheridan's Cheeesemongers Sheridan's is synonymous with both fabulous cheeses and fantastic artisan produce from Ireland and abroad, and throughout Covid-19 they're still sending food deliveries across Ireland. Order from their *HUGE* selection on their site (and you can even order their fabulous book all about the world of cheese and cheese appreciation too, it's a favourite of ours!) Deliveries under €100 are subject to a €5 charge, but over €100 are free! sheridanscheesemongers.com
St. Tola Cheese Clare-based cheesemaker Siobhán Ní Ghairbhith is selling her fresh goat's milk cheeses at a discount online, direct to her customers after losing lots of trade owners through the Covid-19 crisis. Packaging and nationwide delivery is included in the cost, and choose between her Goat's Cheese Log, Ash Log (our favourite), her Greek style cheese or a 'Clare Cheese Selection' (€25) including crackers. st-tola-irish-goat-cheese.myshopify.com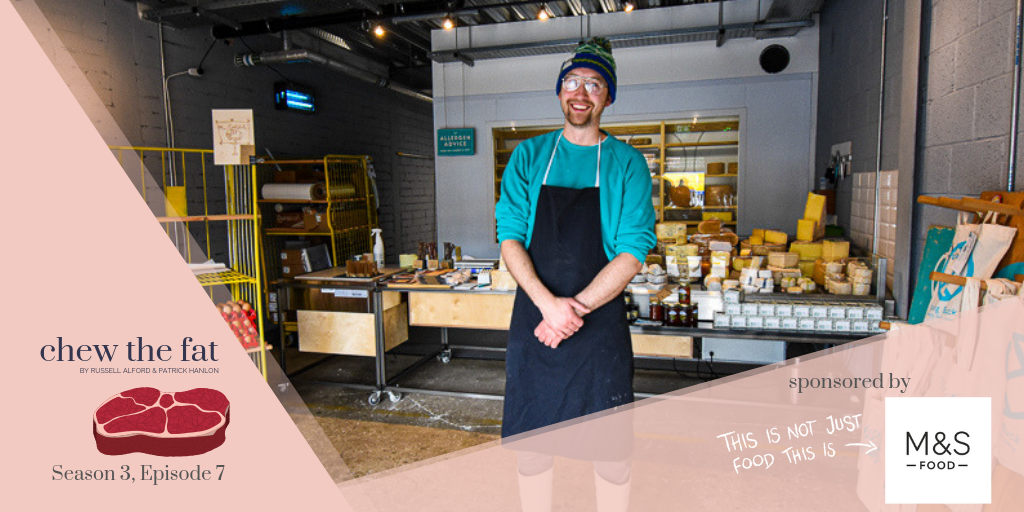 Mike's Fancy Cheese Co. doing weekly, pre-ordered deliveries of cheese, bread, eggs and cured meats around the Belfast area, free delivery for orders over £30. Trust us, Young Buck is what you'll need to get through isolation. If you want to listen to more about Mike Thomson and what he's doing as both a cheesemaker and shopowner, listen to his episode of our podcast Chew The Fat.
The Real Olive Co. An expansive online shop with Mediterranean influence, visit The Real Olive Co. online to stock up on their Toonsbridge cheeses (Greek-style feta, Cypriot-style Halloumi, ricotta, smoked scamorza, mozzarella Fior di Latte, Caciocavallo, Manchego, Parmesan, Pecorino and more) whilst they also have a huge array of olives, tapenades, pastes, pesto, antipasti, dried and cured meats, tinned/jarred fish, olive oil and vinegars. There really is a world of global flavours at your fingertips here, and we've ordered from Toby and Jenny Rose before and can't recommend them enough. Better yet, there's free delivery nationwide for orders over €75, and like many others they require a two-day lead time for delivering orders. therealoliveco.com
Be sure too to check out their newly opened store on George's Street, Dublin.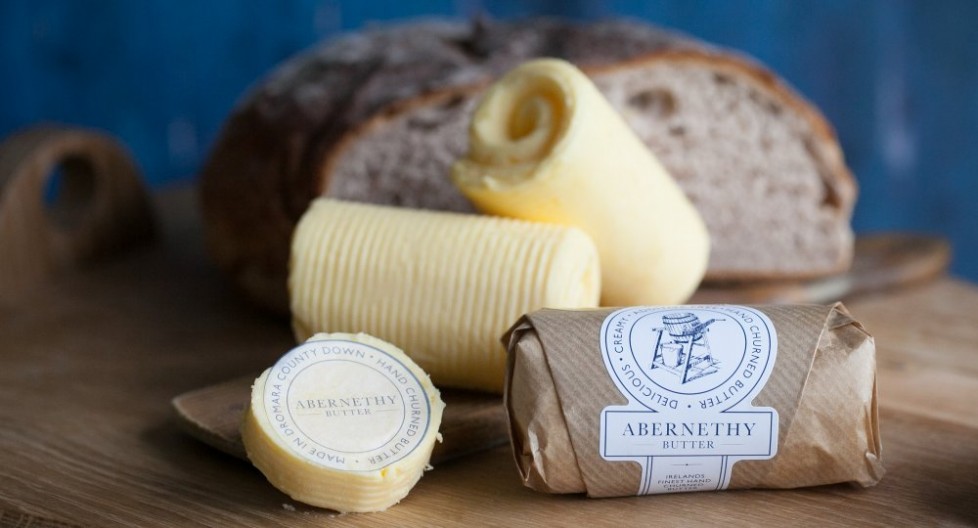 Abernethy Butter Quite possibly the most delicious and best butter in all of the land is made by Will and Allison Abernethy up in Dromore, Co. Down. The husband-and-wife team have added an online shop onto their website and you can order their butter (sent via courier) direct to your door! abernethybutter.com/store
You can listen to Allison and Will of Abernethy Butter on a recent episode of Chew The Fat here.
Milleens Famed Irish farmhouse cheesemakers down in West Cork, Milleens have had a surge in demand for their cheese that they've begun orders and deliveries direct with consumers. Message them directly on Twitter or Facebook to get a full round (€25) shipped direct to you.
The Village Dairy delivering milk in their local vicinity around Carlow. villagedairy.ie
Ballylisk of Armagh Incredibly delicious and rich, Ballylisk's fresh milk and gorgeous cheeses (plus some stunning chutneys) are available to order online from their website with milk delivery for their local area in and around Armagh only. Free delivery across NI, 50% off their standard delivery rates to ROI (cheese and chutneys only to ROI) ballyliskofarmagh.com
Corleggy Co. Cavan-based cheesemakers, mother-and-son team Silke and Tom Cropp produce a range of cheeses using goat's milk (Corleggy, their signature), cow's milk (Cavanbert; Drumlin) and sheep's milk (Creeny). You can order to ROI or NI and they offer both a Hard Cheese Box (€59) and a Soft Cheese Box (€23) whilst delivery is €8.50. corleggycheeses.ie
Velvet Cloud, producer of natural sheep's yoghurt from Co. Mayo, has added an online store to their website offering order and delivery of their 450g tubs of yoghurt in packs of six or twelve with free shipping. velvetcloud.ie/shop
moo.ie Ballybofey-based second generation butchers John and Shane run McConnells in Donegal and their website is an expansive and delectable selection of meat cuts, prepared dishes, breakfast staples and chutneys and sauces. There's also a wide selection of 'weekly boxes' featuring favourites and staples, delivered regularly to your door. Delivery for each order is €7 nationwide, but free delivery for the local areas of Glenfinn, Ballybofey, Stranorlar, Killygordon, Castlefinn and Drumkee, whilst if you order before 11am in the Donegal area there's every chance you can get your order the next working day. moo.ie
MyMilkMan A nationwide service, just like it used to be, where your local milkman will deliver your order direct to your door. You can choose an order from a wide range of milk, yoghurt, cheese, eggs and juice. mymilkman.ie
Bó Rua Cork-based farming family the Dinneens make a wonderful cheddar cheese using French Montbeliarde cattle (the same cows that make Comté in Eastern France). Choose between wedges or a 1kg wodge of their cheese via their newly-instated online shop, which is also offering free delivery for €45+ orders. boruafarm.ie
See also (ctrl/cmd + F this page to search) Indie Fude, Ardkeen, Avoca, Fallon & Byrne, Cashel Blue, Burren Smokehouse, The Counter Deli for cheese.
📦 Meal Deliveries / Restaurant Kits at Home 🥘🥗
[A caveat for this one: we don't necessarily want to get into the business of highlighting all the various restaurants and takeaways still doing regular take-out, as this has always been about producers and retailers, however some exceptions apply and below is producer-led meal deliveries]
Black Sheep Foods have four different delivery boxes (Breakfast, Juices, Dinner, Easter) which you can order from their site for delivery within the Dublin and Kildare region –– the breakfast box is their bestseller already! blacksheepfoods.ie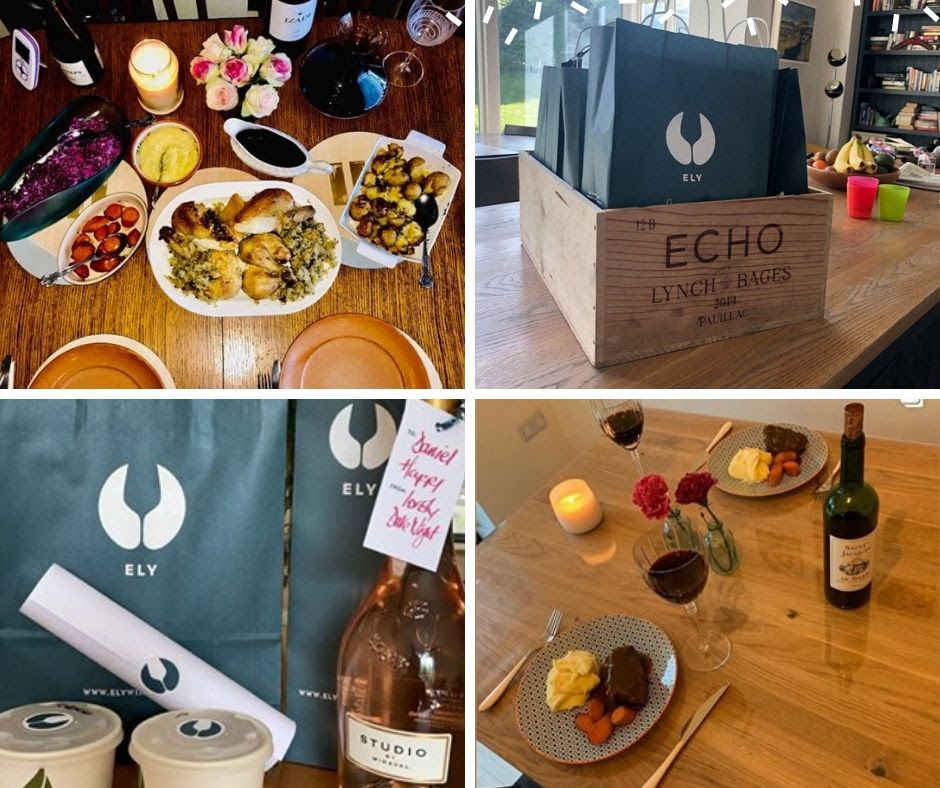 Ely Wine Bars (LovELY At Home) Although the front doors might be closed, Michelle, Erik & a limited team have been working tirelessly to create LovELY at Home, expanding their online shop to include a range of ready meals with wine pairings from Date Night Boxes and a Roast Chicken Feast to their famous Ely Burgers. 90% of the cooking on most items is done, and instructions provided are for assembly and finishing at home, in your own time. Available for click and collect from ELY Wine Store Maynooth, or local delivery within a 30km radius –– free deliveries for orders over €60 and within a 10km radius by entering the code 'Free10' at checkout! elywinebar.ie
Blue Bar Skerries This seaside bar and restaurant along the harbour in the picturesque, North Co. Dublin town of Skerries is sending their staple dish to your door! Order Blue Bar's iconic Louisiana style hot wings and recreate them at home. They're delivering Tuesday-Friday weekly, 4kg portion of marinated wings with accompanying hot sauce, a large tub of garlic mayo, a large tub of blue cheese dip and 6 celery stalks for €40 –– enough for around 6 portions. Orders must be in 48 hours before delivery and they are currently only delivering within North Co. Dublin (Skerries, Balbriggan, Rush, Lusk, Swords/Donabate) to the following Eircodes: K32, K34, K36, K45, K56 and K67. bluebardelivery.com
Jaru Korean Kitchen Dublin-based Jaru has just launched an online order and delivery system of their products – homemade Kimchi, seasonal Banchans (like pickled wild garlic) and homemade sauces like Korean Chilli and Korean BBQ – as well as some hot food like their signature Korean BBQ rice bowls, Korean fried chicken and dumplings. Pre-order for delivery Wednesday to Saturday, evening time only and restricted for the time being to 5km radius of their Rathfarnham base at the moment, but we're assured it will be expanded. jaru.ie/order-online
Beef & Lobster Oliver Dunne's Beef & Lobster restaurant in Dublin city has launched At Home Indoor/Outdoor Boxes, which he describes as "a one-stop-shop for having a great meal indoors or outdoors with family or friends –– no additional ingredients required and all sauces, dips, garnishes and salads are included". Choose between the Classic Box (€49), World Box (€59), Surf 'n' Turf Box (€65) – all feed four people – whilst they also have their in-house mixology team sending out their Signature Cocktail Box (€49, 8 cocktails-worth) where you can perfect the likes of an Espresso Martini or Amaretto Sour at home. The boxes come with cooking instructions, tips and techniques for using either the oven, grill, frying pan or bbq. "All the hard work is done with only basic cooking required and our boxes are a stress-free Beef and Lobster experience at home in less than 30mins," Oliver adds. They have just secured next-day delivery ROI wide (excluding Donegal, unfortunately) and cut-off is 2pm the previous day. Collection is possible from sister restaurant, Bon Appetit in Malahide, too. beefandlobster.ie
allta "While allta's doors are closed, we wanted to carry on delivering some of the signature bold flavours diners thankfully seem to have fallen in love with," says Niall Davidson of allta, Dublin's hottest new wine bar with food. We interviewed Niall and his chef troupe of Hugh Higgins and Christine Walsh (now also with Kevin Burke, formerly of Michelin-starred The Ninth in London) for Chew The Fat (episode here) a couple of weeks before the lockdown came into effect, and it's great to see the team change tack so effortlessly to survive, only a short few months after opening…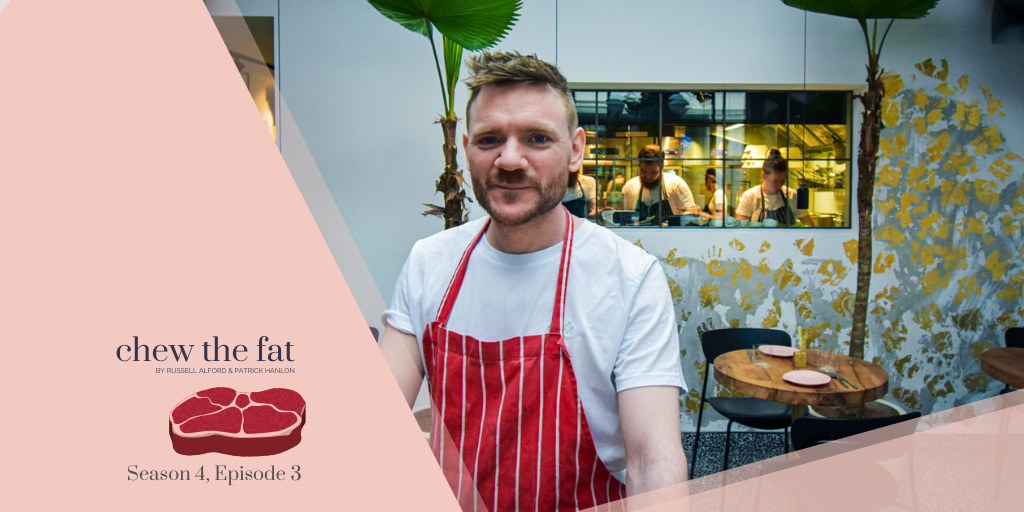 The allta delivery box launched the weekend of 11th April and sold out in under ten minutes –– three minutes, we believe! Costing €55 per week, a sample of the freshly prepared ingredients and weekly changing provisions menu in each subscription allta BOX may include: Sourdough and shiitake miso butter; Ventricina and McNally's farm pickles; Comeragh mountain lamb, seaweed pappardelle and Cáis ná Tíre (our favourite dish on their menu!); Velvet Cloud sheep's yoghurt mousse and Ryan's rhubarb jelly; Pecan and oat cookie dough. Each pasta arrives in 200g bundles with plenty of sauce and condiments to match, enough for two hungry people to share generously. Only two chefs prepare each allta BOX and strictly follow social distancing measures in the work place and are temperature checked at the start of each day. A wine pairing option is also available. Order your allta BOX via www.allta.ie with free nationwide shipping. After orders open on a Saturday at midday, each Allta Box is delivered by DPD to your door on either Thursday or Friday each week. alltabox.ie
There is now the option of a top class shellfish box, with produce ordinarily destined for export from Glenmar Seafood featuring native lobster, spider crab claws and more as well as the possibility of buying boxes of great wines.
BuJo The famed burger joint in Sandymount is taking a novel approach and delivering 'Home Meal Kit' for making burgers (€40)! What began as just for D2 and D4 areas has now blossomed into being available widely across Co. Dublin and some parts of Co. Louth, Meath, Kildare and Wicklow –– they have an area guide on their site and you must include your eircode when ordering. You can prepare, cook and enjoy their style of burgers from the comfort (and safety) of your own home, and included is enough to make 8 BuJo burgers (4 doubles; 4 singles) with 12 patties of premium, grass-fed Irish beef, 8 brioche buns, 250ml of their signature burger sauce, 12 slices of cheddar and whole dill pickles in vinegar. BuJo's culinary director Grainne O'Keeffe has also included step-by-step instructions. bujo.ie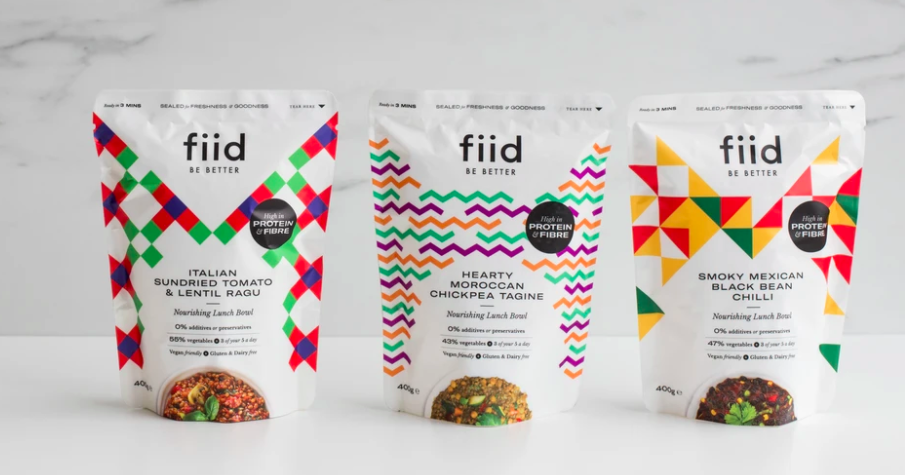 Fiid High fibre, protein-rich, plant-based food pouches by Irish start-up Fiid. Choose your 'bowls' in a grouping and they'll be handily delivered to your door, you simply need to warm through and it's a meal covered! There's three flavours: a tagine, a ragu, and a bean chilli. Choose one case (€23.94, 6 meals), two cases (€47.88, 12 meals) or three cases (€71.82, 18 meals). eatfiid.com
Good Day Deli Delivering meal boxes of sustainable dishes using local, seasonal and organic produce from their deli and kitchen is Cork-based Good Day Deli. Enjoy a large mezze selection of different dishes (weekly changing), a bottle of premium natural wine and decadent cake options delivered to your door on Fridays. The €65 GDD 'Kete Kai' (Maori for "Food Basket") is, what the team describe as "a weekend treat for you to enjoy over a long evening relaxing in your back garden, your balcony or your sofa". The contents of the box serve 2 to 4 people and as a welcome gift, a GDD voucher will be included for complimentary coffee for two once they reopen their Nano Nagle Place cafe. Delivery is free but this is currently only available within the Cork city area. gooddaydeli.ie/ketekaibox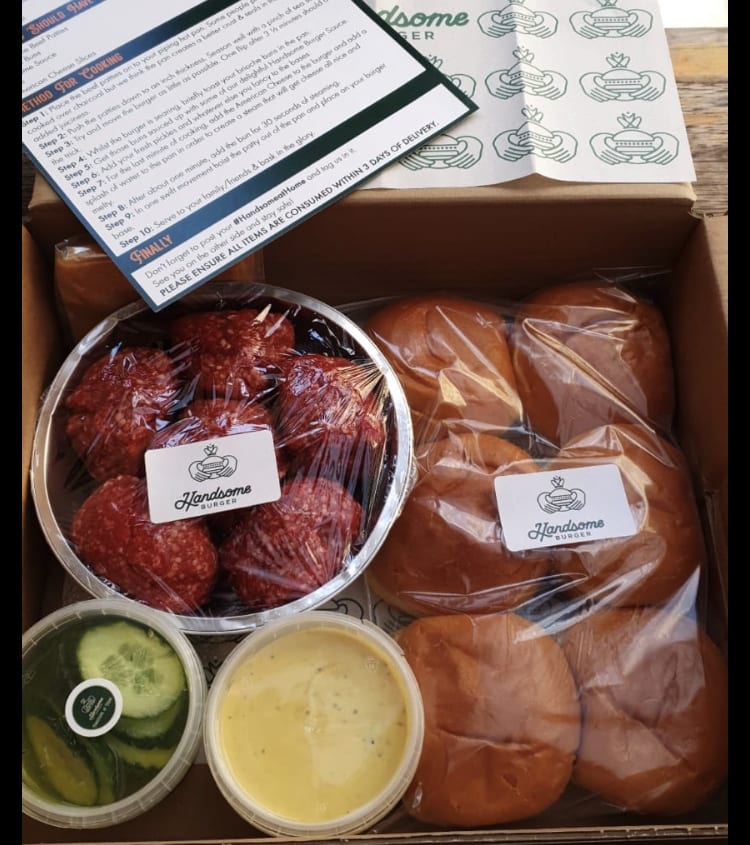 Handsome Burger Handsome at Home has launched in early April, covering the Galway city and county region. For €30 you'll get all you need to recreate their signature burgers at home, delivered to your door, including six beef patties with six brioche buns and enough cheese, as well as Handsome pickles and a tub of special burger sauce. Cooking instructions and branded greaseproof paper included, too. Their first delivery is this Saturday (11th April) and orders online must be in by Friday midday. handsomeburger.com
Salamanca Tapas Bar Dublin tapas restaurant and wine bar Salamanca is offering 'Salamanca At Home' kits to recreate the restaurant in your own home. Delivery (free) is within the Dublin area only and the standard €30 box contains manchego, salami, roasted peppers with garlic, Murcia almonds, Malaga olives, Jamon Duroc, olive oil, sardinallas and chocolate-dipped figs. You can also add-on a bottle of red or white wine to bring your box up to €45, whilst for €5 more you can add on their cookbook rounding up the price to a neat €50. Great as a gift or if you just want a night off from cooking and want to graze leisurely on a selection of Spanish delights. salamanca.ie
Asador | Prado Firing up the BBQ now that summer weather has seemingly arrived early? Proprietor of both Asador on Haddington Street and Prado in Clontarf, Shane Mitchell has been working on bringing their barbecue expertise to homes across Dublin city and planned to launch 'Asador | Prado at Home' this summer, however this is now launching as immediately as possible! Choose between their BBQ Box (€49) or Deluxe Box (€75), where you will find premium steaks, dry-aged beef burgers, chicken wings and sticky glazed ribs. These BBQ cooking packs include an entire barbecue-ready meal as well as delicious accompanying sides and sauces – potato salad with cornichon, corn on the cob with garlic butter and tabbouleh salad.
Customers will also have included tips, BBQ tricks, and cooking instructions to ensure you serve up the perfect meal you would expect to receive at one of their restaurants. Now delivering to the greater Dublin area, all you have to do is, fire up that barbecue, get that oven pre-heated and show off your cooking skills. Delivering Thursday-Sunday weekly, order before 2pm for next day delivery before 6pm. asador.ie
Uno Pizza Rathmines-based pizzeria Uno has launched 'Uno At Home' kits, delivering all the essential ingredients for you to perfect a take on Neapolitan pizza at home in your own oven with just an ovenproof frying pan as your kit! The Margherita kit is €16 whilst the Diavola is €18 –– both provide enough for two pizzas. Delivering seven days a week within the Dublin area only, unopizza.com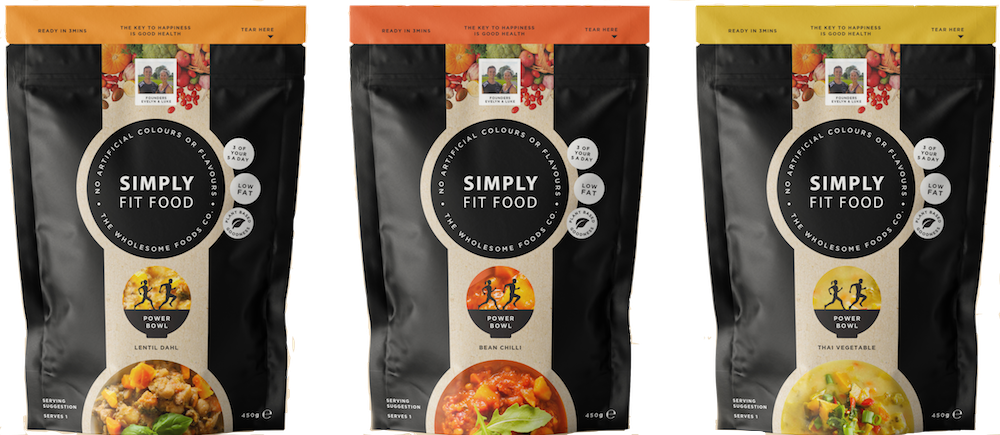 Simply Fit Food Drogheda-based healthy meal brand Simply Fit Food is offering 20% off online orders using the code STAYHEALTHY20 at check out and they will deliver all orders to your door. They have pre-made meals such as bean chilli, lentil dahl and Thai veg in bulk, ranging from €22 to €90. Delivery costs €6.50 nationwide, but free with orders €60+. Luke and Evelyn have also partnered up with Dr Coy's, Blendi Snacks, Nudest Foods & Pro Kulture Kombucha boxing up a selection of products and sending them direct to your door: Self Care Variety Pack (€60) and Self Care Snack Pack (€23.50) simplyfitfood.com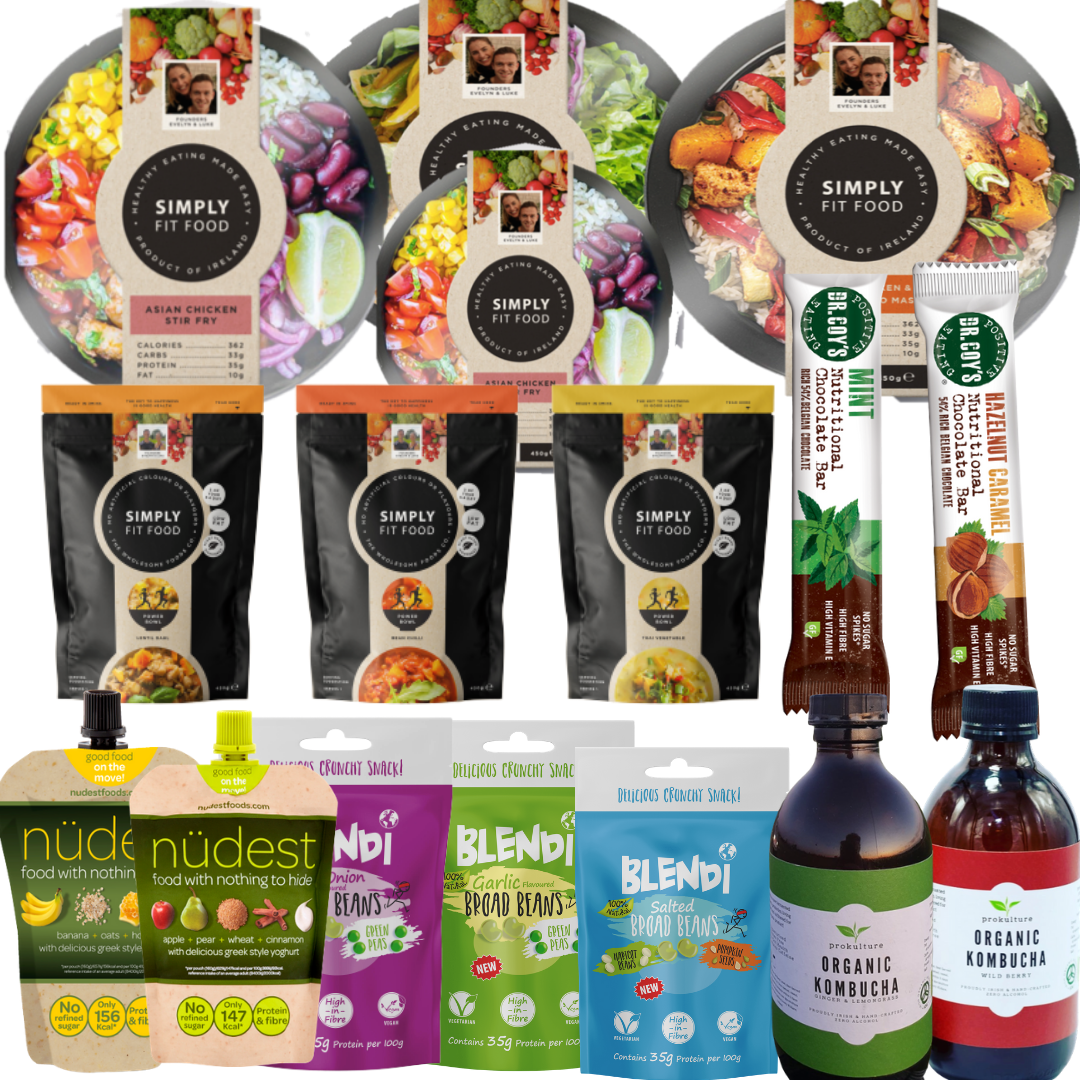 Rúibín In Galway, restaurant and bar Ruibin on Docks Road is selling a boxed selection of home made goodies and local organic produce, including a bottle of wine, homemade bread, homemade granola, organic veggies from Sloe Hill Farm & other treats. Delivering anywhere in the city or suburbs of Galway and specify a time for pickup or order by Thursday for delivery between 12-2pm on Saturday. menus.preoday.com/Ruibin#
The Butler's Pantry Dublin-based deli and provisions stores, The Butler's Pantry has begun a nationwide meal packages and provisions hampers delivery service via courier. Weekday deliveries (Wednesday – Friday) cost €15 whilst weekend (Saturday) cost €25, and are always during 'daytime' so ensure someone is home to receive at a distance. They have a range of prepared meals and enough provisions to feed a family for a week, as well as hampers filled with essentials and some sweet treats, too. thebutlerspantry.ie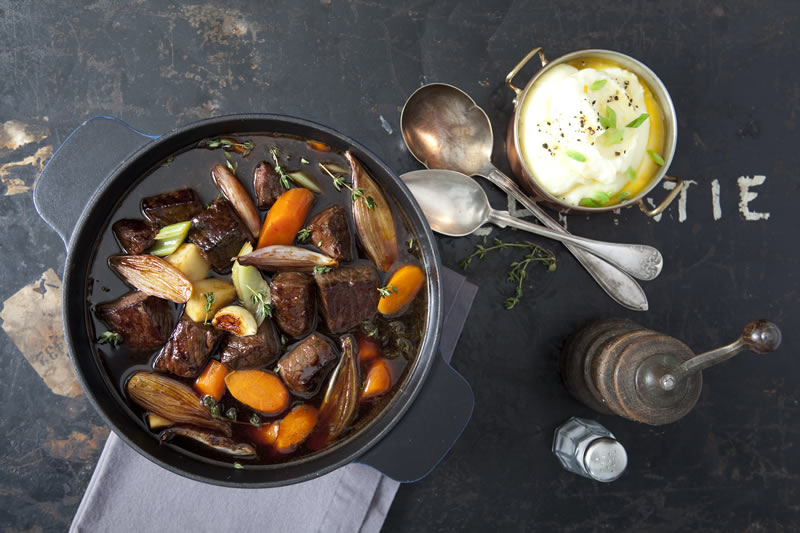 Poulet Bonne Femme Delivering from their Monkstown base, Poulet Bonne Femme has now launched an app where you can order their rotisserie meats and boxes direct to your door (website ordering also available) to anywhere within a 6km radius, so areas like Ballsbridge, Clonskeagh, Carrickmines, Blackrock, Dun Laoghaire, Dalkey, Killiney and more. pouletbonnefemme.com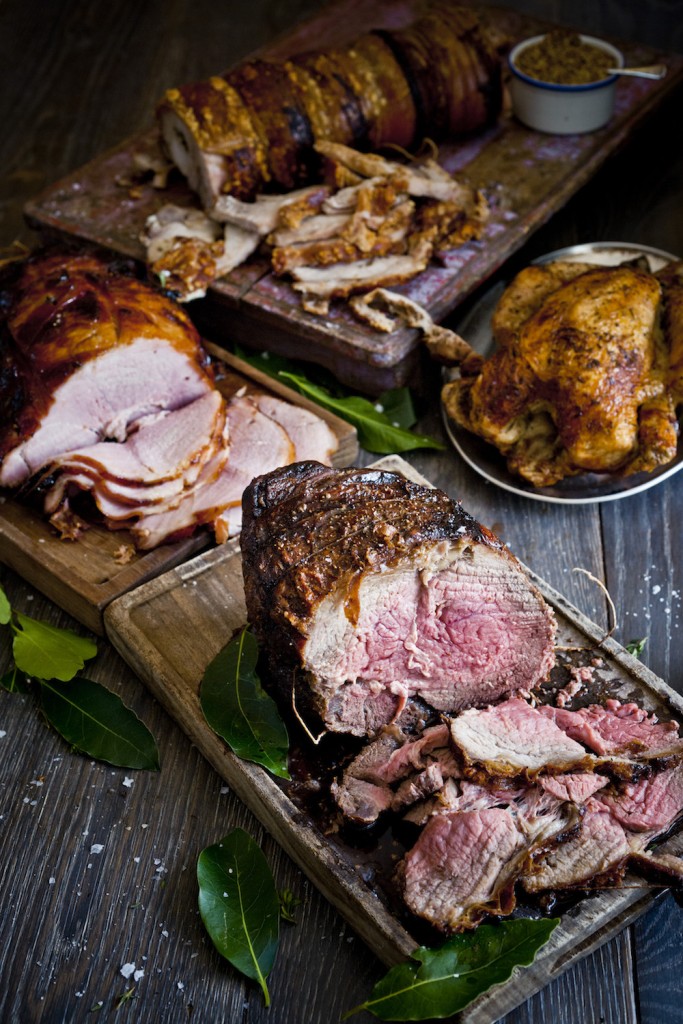 Hapi Food Co. Not only a prepared meals delivery service, Hapi Food Co. also acts as a co-op, offering functionality to order from third party suppliers and have them delivered. Two day lead-time needed for deliveries, and cost is €5. Through their online ordering system, you can also donate a meal to someone working on the frontline –– they write: "every cent donated will go directly to producing breakfasts, meals and snacks to those working on the frontline of healthcare. We are in contact with the Mater Foundation at the moment in order to facilitate this."
hapifoodco.ie
Elite Cuisine Cork-based catering company Elite Cuisine has had their diary of events for the foreseeable wiped clear, so they've re-adjusted and are now doing home deliveries of ready-to-eat and freezer meals. Delivering all around Cork city and county. elitecuisine.ie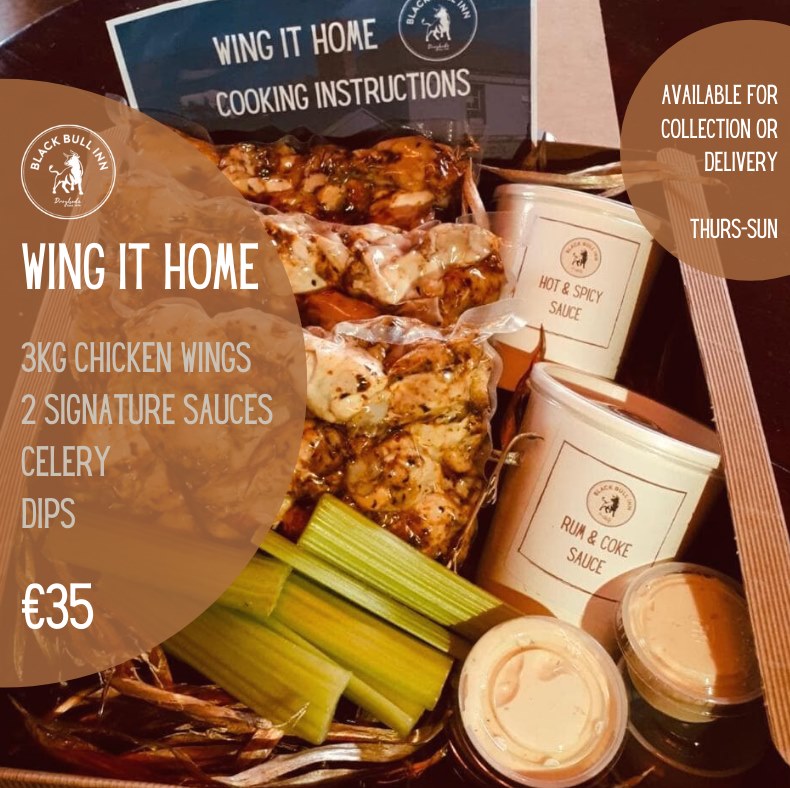 Black Bull Inn Drogheda's long-standing Black Bull Inn on the Dublin Road has introduced their Wing It Home BBQ Box (€35) available for local delivery which includes 3kg of marinated chicken wings, two house sauces, celery sticks and dips. Order by calling 041 9837139 or messaging them directly on the Black Bull Inn Facebook, and 24 hours is needed for orders before delivery/social distance collection. facebook.com/blackbulldrogheda
📦 Bread/Cakes/Pastry 🥖🍞🥮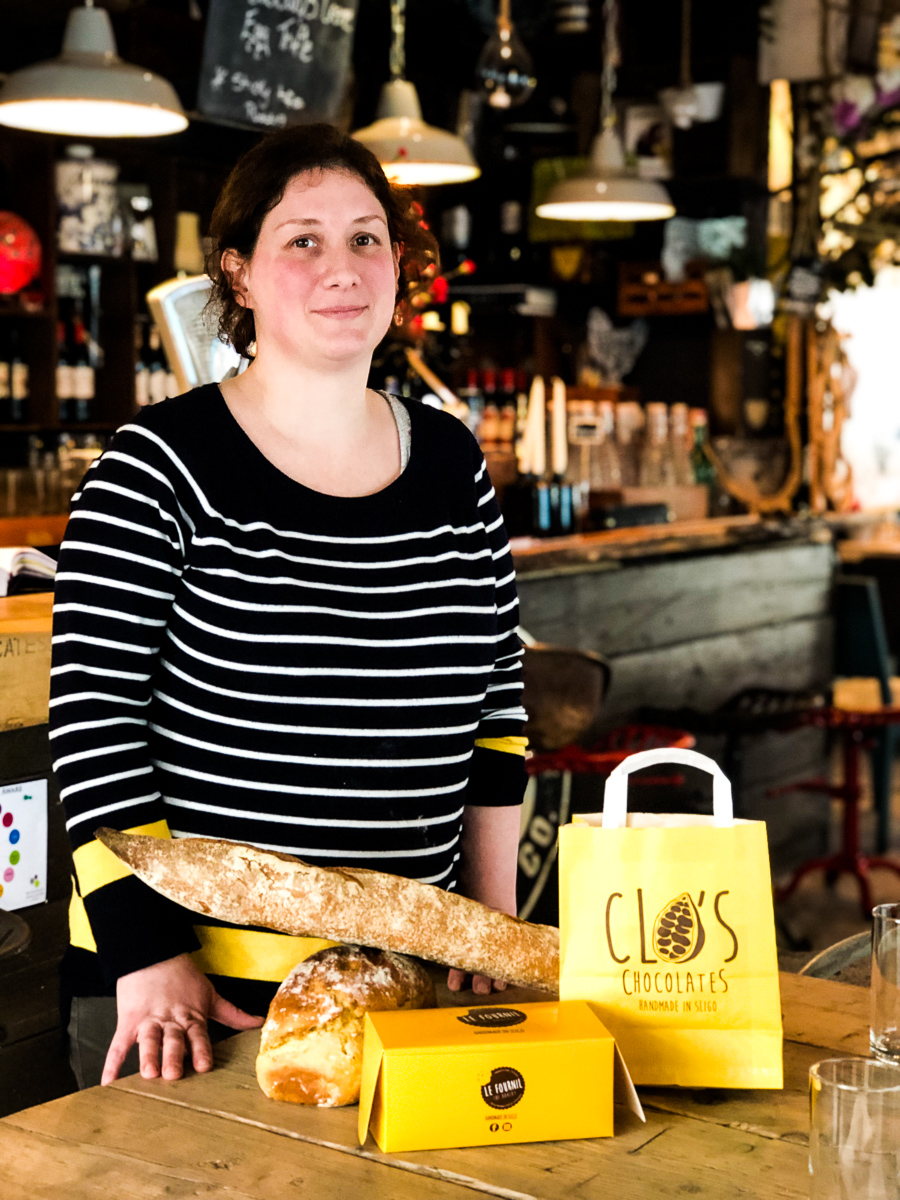 Le Fournil Clotilde and Tomasz from Artisan bakery Le Fournil in Sligo city have opened an online shop where you can pre-order different breads, pastries, cakes and treats for delivery around Sligo. It's a very small operation, so orders are restricted to 30 a day and delivery days are Thursday and Saturday only (so order online on Tuesday for Thursday delivery; Thursday for Saturday delivery) and delivery per order is €2.50. lefournilsligo.com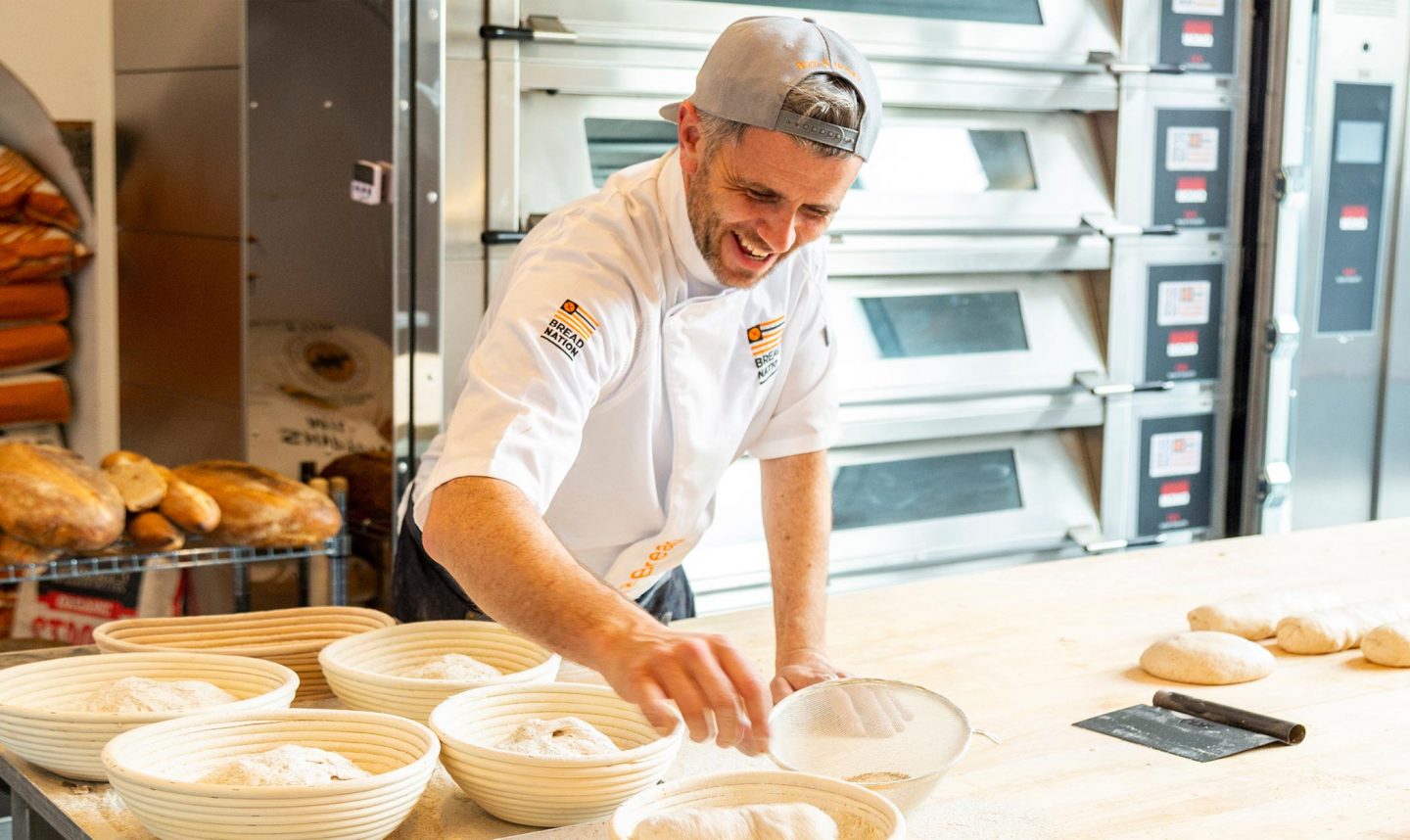 Bread 41 Dublin's ultimate new wave bakery with a cult following, Eoin Cluskey and co. have worked out the logistics for online ordering and delivery and are now introducing it in a limited and controlled way. Only delivering between 3km and 5km from their cafe (2km or less, you can walk :)) they will offer a limited range of breads and pastries (bearing in mind they specialise in sourdough so they need time and it's a long process). Keep your eyes peeled on the following link for details: bread41.ie/outside-catering
Mueller & O'Connell Bakery Order sourdough to-your-door as fresh as possible. Mueller & O'Connell Bakery, based in Abbeyleix, Co. Laois, are shipping sourdough in loaves of four for €19.50 to customers (local priority, but Ireland-wide) and the novel thing is that the loaves are just underbaked, so you can refresh in ten minutes in the oven when they arrive, or store instantly in the freezer. mocbakery.myshopify.com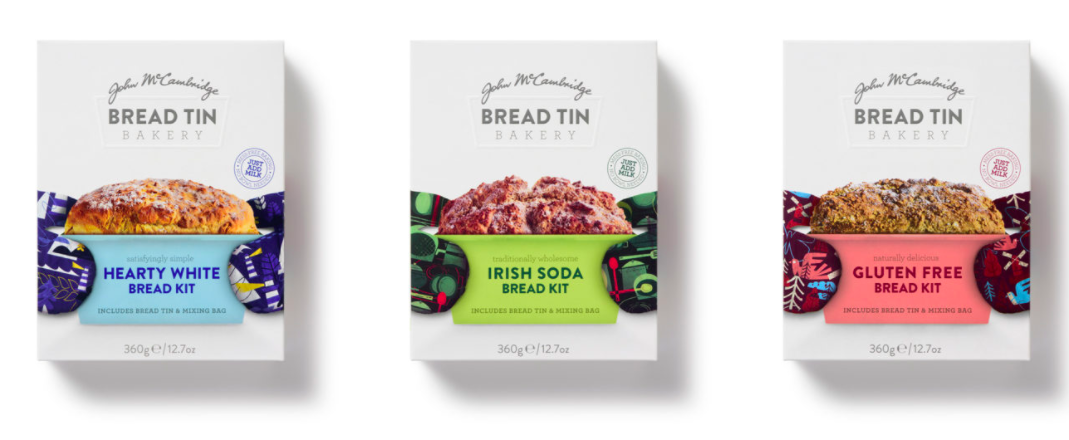 McCambridge Bread Take the stress of out baking fresh bread at home and order the simple-to-use and stress-free Bread Tin Bakery kits from the iconic McCambridge Bread. From traditional soda bread mixes to gluten-free mixes, they come in packs of six or twelve, including mixed cases and they also have gluten-free porridge oats available to order as well. The cost of shipping is included in the prices on site. mccambridge.ie/btb-shop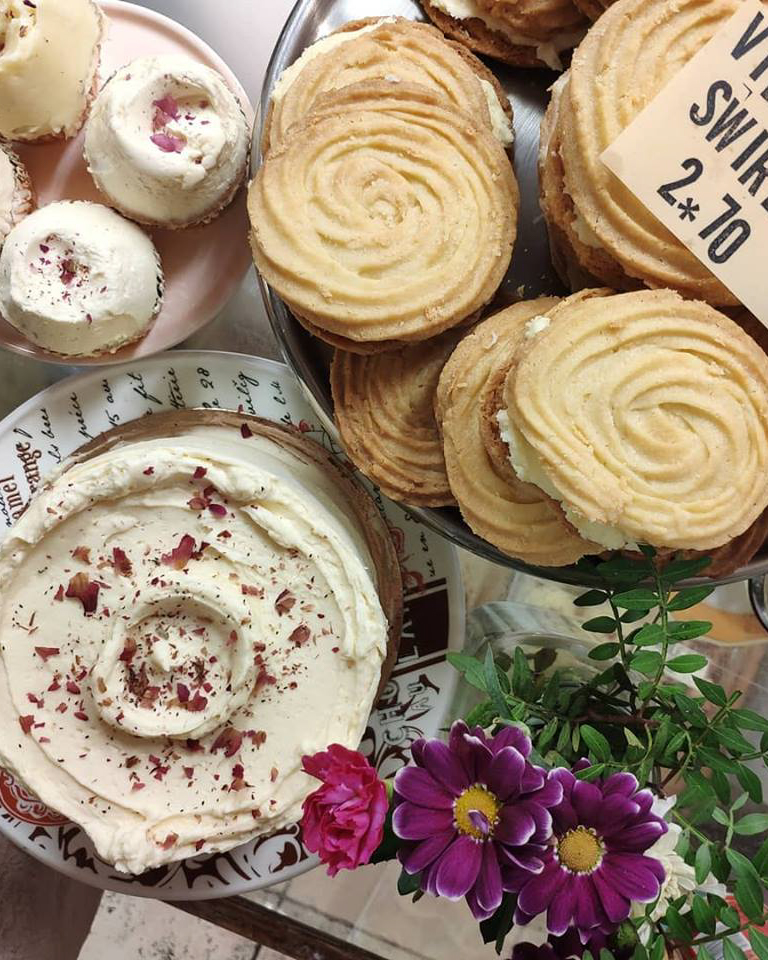 Bakealicious Navan-based bakery Bakealicious and owner Eimear Reynolds is offering a postal cake ordering service, where you can order from their digital cake cabinet and have sweet treats delivered to your door. Viennese Swirls, brownies, cupcakes, lemon bars, cookie mixes, macaroons and more, with free shipping on all orders over €50. https://bakealiciousire.myshopify.com/
Ursa Minor In Ballycastle at the northern coastline of Northern Ireland, Ursa Minor is both a bakery and emporium of provisions and delicious stuff. They are operating local deliveries via their online site, including locally-delivered fresh loaves each week and even fresh croissants and almond croissants. Snap them up quickly! ursaminorbakehouse.com
The Little Mill Looking for flour? The Little Mill from Kilkenny are selling online via Kells Wholemeal online portal in large quantities. Shipping we believe is calculated at checkout, and our order of 16kg of bread flour delivered to us in Louth was an extra €5. kellswholemeal.ie
Riot Rye Also operating a web store is Joe Fitzmaurice's Riot Rye, but they've suspended their flour orders until mid-May due to overwhelming demand. You can still buy baking equipment, but their flour is only released once-monthly we believe. riotrye.ie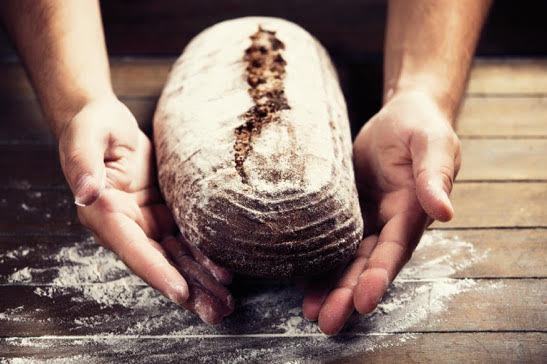 Natural Bakery Dublin Having re-opened in the second week of May, The Natural Bakery is now offering an online order and home delivery service (Dublin only, €15 standard fee) for cakes, bakes, breads and more dropped direct to your door. With flour in such high demand, home-bakers will be glad to hear that The Natural Bakery is selling strong and plain flour by the bag, as well as yeast. Special occassion/celebration cakes can also be ordered from their site. They are also operating most of their stores (except Baggot Street and IFSC branches) 9-5pm Monday to Saturday with social distancing and health and safety measures in place. thenaturalbakery.ie
French Village If you're based in the Belfast area, French Village are accepting orders online and delivering in the BT1-BT18 area (+ BT23 and BT27). Pick and choose bread, pastries and cakes individually or order their Provisions Box (£25) or Family Box (£15). Orders over £10 qualify for free delivery. frenchvillagebakery.co.uk
Custom Cakes Drogheda-based cake bakery and decorator studio run by Sarah Cunningham and Neil Costello, Custom Cakes offers nationwide delivery and if you're in need of a showstopper of a cake, here's where you need to order from! They have a choice of six different tiered cakes, from carrot cake to salted caramel, lemon drizzle to cookies and cream, ranging in prices from €28 to €35. customcakesireland.ie/shop
Mud Bakery Dublin-based baker Shane Murray is delivering from his Mud Bakery across Dublin (and able to post certain items nationwide) and you can order from his handy drop-down on his site exactly the goodies you'd like to receive. Delivery is between €5 and €7 depending on your area of Dublin –– the wider nationwide delivery is €10 standard. mudbakery.com/buytreats
Seagull Bakery Tramore-based sourdough bakery Seagull has opened an online shop for the first time and its sourdough and other delicious bakes are flying out. For now, Sarah and the team are offering order ahead and collection only (and you've gotta be quick!) though if you are "elderly, immunocompromised or a front-line health care worker and would like to request delivery in Tramore or its surrounding areas, we will do our best to look after you", they have said. seagullbakeryshop.com
Crean's Place Kildare-based cafe and bakery Crean's is accepting orders for collection but will also deliver their bakery staples (and some other local produce!) within a 10-15km radius of their location (Kilcullen, Naas, Newbridge, Poulaphouca) on Fridays. No online functionality to pre-order yet, simply call up (087 1940078) and they are also encouraging customers to have their own containers for packaging-free and zero waste deliveries, details of which can be explained over the phone. facebook.com/CreansPlaceKilcullen
Merci Beacoup Cakes Navan-based bakery Merci Beaucoup has opened up to facilitate orders (minimum €40) from their customers which they will deliver free the areas of Navan, Ardee and wider Meath, Louth, Dublin, Kildare, Westmeath and Cavan. Orders must be in by Thursday weekly for once-a-week deliveries on a Saturday. Simply call (0879921018 / 0469063780) or email orders mercibeaucoupcakes@gmail.com. You can also see/shop for some of their items on their Facebook page. facebook.com/pg/MerciBeaucoupCakesCreationNavan/shop/
The Cupcake Bloke [UPDATE: SOLD OUT] Enterprising isn't the word for Graham Herterich and his partner Daithí Kelleher, and between their bakery space in Smithfield and The Bakery – their bricks and mortar deli-cafe in Rialto – they are seriously popular for cupcakes, cakes, brack and local provisions and with Easter on the horizon during this Covid-19 pandemic, this pair are par for the course. UPDATE: Unfortunately this Easter delivery offer is now over, but their shop in Rialto is staying open through this crisis with all the necessary regulations implemented. thecupcakebloke.com
Currently unavailable – but keep a check on social media.
📦Chocolate 🥚🍫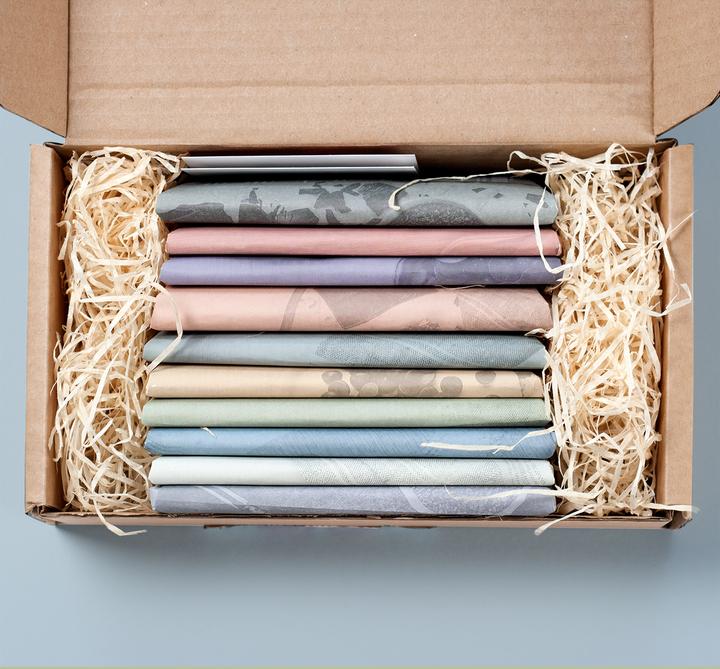 Bean and Goose Chocolate is *always* a good idea, and sisters Natalie and Karen Keane are really good friends of ours, and naturally struggling a little at this time with the upheaval in their business. They are still making chocolate weekly and still accepting orders and deliveries, of which orders of €50 are free to ship (and sent express). beanandgoose.ie
Jo's Absolute Nutrition For a healthier take on sweet treats, look no further than Jo's Absolute Nutrition, a brand we've gotten to know over the years and whose range includes Powerhouse Protein Balls, Rawlos, Chia Energy Bombs, Snickers Slices, brownies and bites. They also have really nice gift ideas or home office essentials like journals and reusable sustainable cups. Delivery (nationwide) is €4.95 and we currently have 15% off our store. Plus, currently 15% off *everything* on their store using the code '15OFF'. absolutenutrition.ie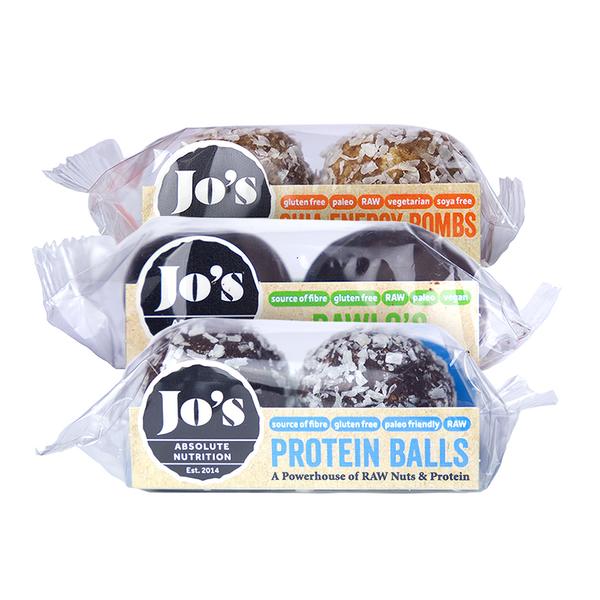 Koko Kinsale A family-run business based in south Cork, is offering free shipping for orders €40+ from their website kokokinsale.com
Exploding Tree Down in Clonakilty, Co. Cork Exploding Tree is still sending fairtrade, bean-to-bar chocolate orders. Take a look at their website for both chocolate and discounted ingredients explodingtree.com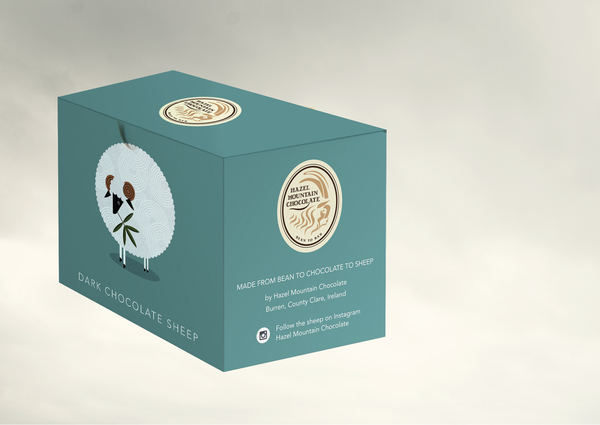 Hazel Mountain Chocolate Bean-to-bar, Burren-based chocolate brand Hazel Mountain (which also operates a popular cafe and shop in Galway city centre) offers a wide range of bars, truffles, spreads, drinks and even edible chocolate sheep! hazelmountainchocolate.com
Arcane Chocolate Erik Van der Veken sells his delectable chocolate creations under the brand Arcane and currently you can buy direct from his website. arcanechocolate.com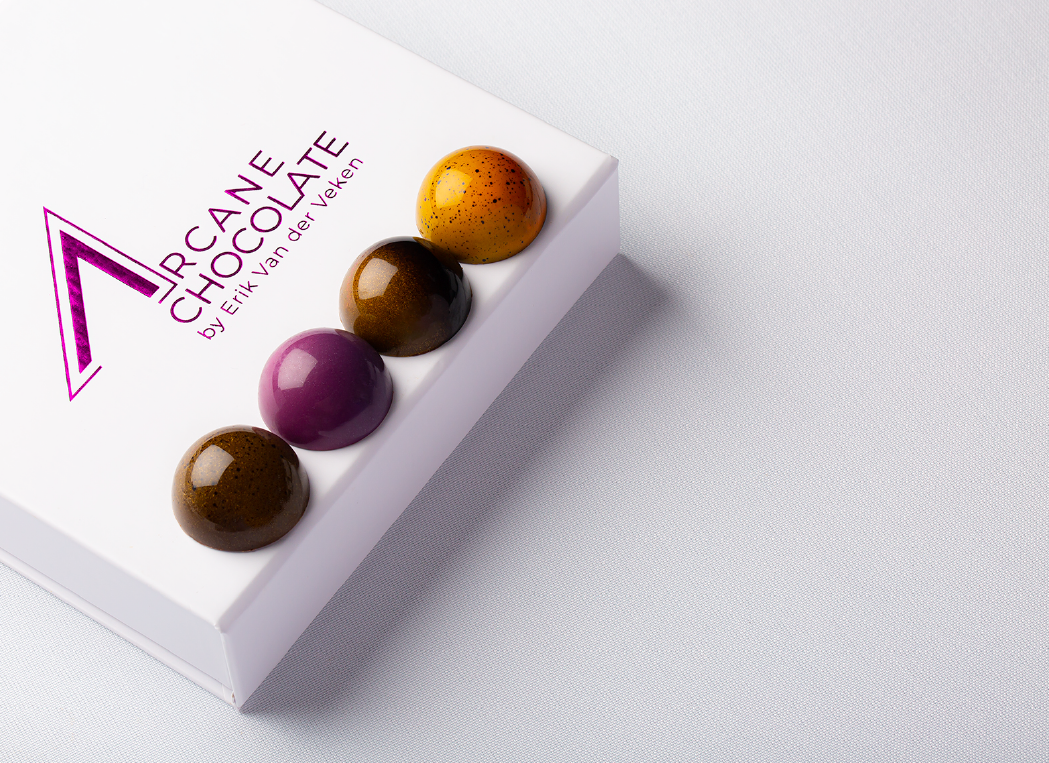 Wilde Irish Chocolate is shipping nationwide for just €5, whilst click and collect locally at their Co. Clare factory can be chosen at checkout too. They make chocolate bars, slices and fudge. wildeirishchocolates.com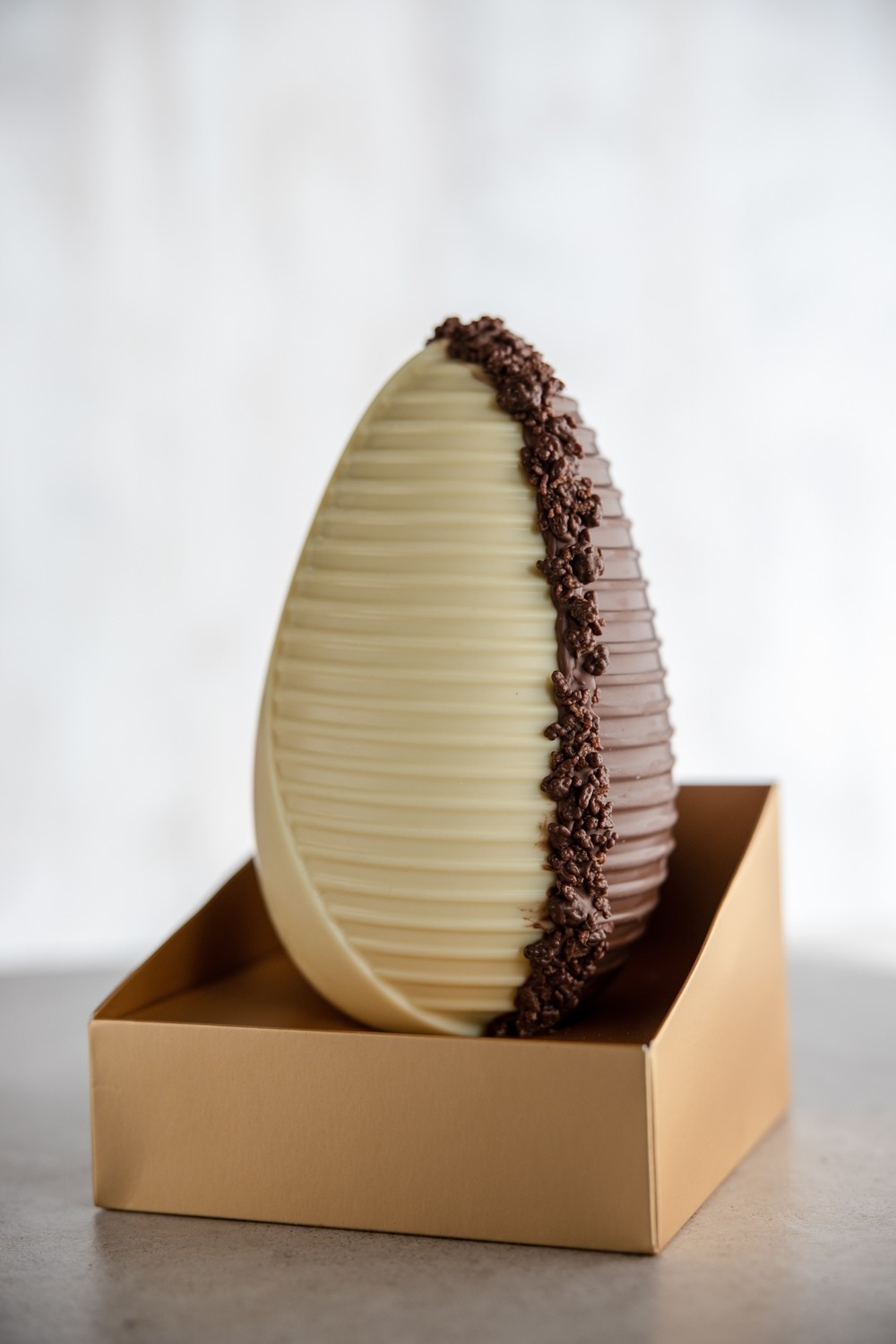 Zaeire South African-born, Wexford-based Leigh Kelly makes extraordinary chocolate in the south east. Take 20% off using code 'CODE20' on the website, posting product once-weekly. zaeire.com
Co Couture Belfast-based cafe owner and chocolatier Deirdre McCanny is taking orders via social media and payments via email. facebook.com/CoCouture
Lorge Chocolate Kenmare-based Benoit Lorge hand makes all his chocolate and delivers nationwide with free shipping on orders €50+ and a flat fee of €5 delivery for orders under that. lorge.ie/shop
Áine Hand Made Chocolates Cavan-based chocolate brand (which also produces some Dunnes Simply Better range Easter eggs) is selling from their website, minimum order is one product, delivery is based on weight and location and delivery time is usually three working days. chocolates.ie
Neary Nógs Craft chocolatemakers set by the Mourne Mountains in Northern Ireland, Neary Nógs ship to both NI and ROI and they've just introduced subscription boxes to their offering. nearynogs.com
The Chocolate Garden Based out of Carlow, The Chocolate Garden has lots of edible gift ideas and chocolate treats. chocolategarden.ie/shop/
Proper Chocolate Co. Dublin bean-to-bar chocolate makers offering free shipping across Ireland for orders €50+ on their site properchocolatecompany.com
Butlers Chocolates Free delivery on orders €35+ butlerschocolates.com
Lily O'Briens Free Delivery throughout IRL & UK on orders over €35/£30. lilyobriens.ie
Lir Established chocolatier company based in Co. Meath (and famous for supplying Marks & Spencer with some premium Easter eggs annually), Lír sells direct through its own website and has all manner of boxes and truffles available to order. Use the code 'STAYSAFE' at checkout to receive 20% off your order (before delivery), which is running until 14th April. lirchocolates.com
Nobo Temporarily relocated to Connemara, Nobo – the dairy-free chocolate brand that's wildly popular – is still shipping out orders from its site via An Post and orders €15+ qualify for free ROI delivery. nobo.ie
Brona Chocolates Family-run bar and truffles producer in Kerry now selling their varied flavours online. bronachocolates.com
Rhoda Cocoa Based in Bray, Co. Wicklow, use the code 'FREESHIPPINGIE6' to get free ROI delivery when you buy six or more of Rhoda Kirwan's chocolate bars rhodacocoa.com
Skelligs Chocolate is still taking online orders throughout Covid-19 crisis skelligschocolate.com
📦 Coffee & Tea ☕️
Cloud Picker (free delivery on 1kg orders + currently 25% off sale) (listen to Frank and Peter's episode of our podcast Chew The Fat here, too)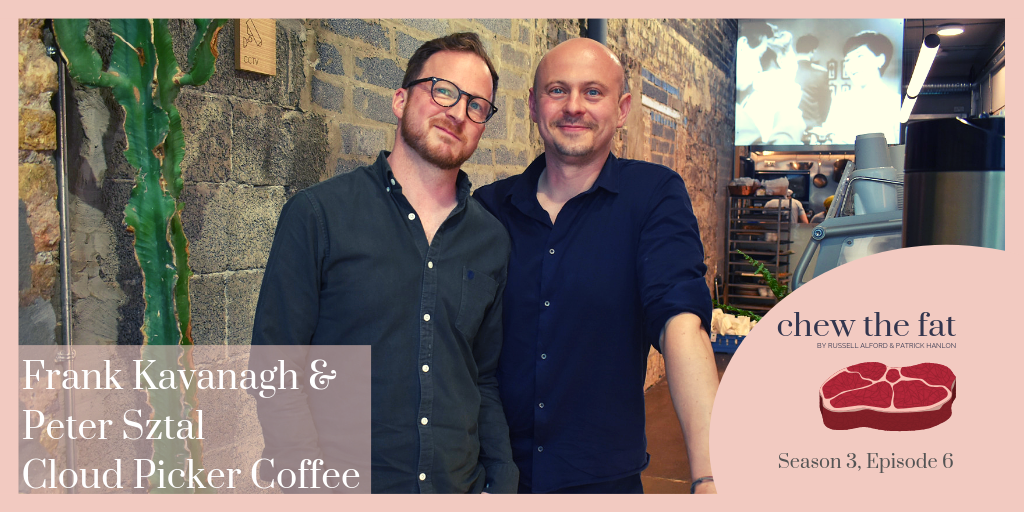 CoffeeAngel is shipping coffee, hand-thrown stoneware, brewing tools and accessories across Ireland, free delivery on orders over €20 and they're even both hand-delivering in Dublin and managing same day weekday deliveries if orders arrive in before 8:30am
West Cork Coffee (free delivery)
Full Circle Coffee Roasters (free delivery)
Ariosa (free delivery on all orders €25+)
3FE (free shipping on orders €20+)
Bean In Dingle (free shipping for orders €20, shipping every Tuesday and Friday)
Root & Branch (free shipping to ROI/UK, discounted international rates)
Calendar Coffee (donate 30% of your order to an ROI cafe of your choice!)
Moyee (free delivery, also a 'Buy One, Gift One' on all 1kg orders)
Anam/Burren Roastery (100% profit donation to stockist of your choice)
Badger & Dodo (free delivery on orders €50+)
Roasted Brown (free shipping on orders €30+)
The Studio (free delivery with orders €30+)
Three Fools Coffee (19% off all coffee)
Silverskin (free delivery on orders €20+)
Two Fifty Square (free shipping on orders €50+)
Imbibe (free delivery on orders €20+)
Upside Coffee (free delivery on orders €35+)
Old Barracks Roastery (10% off with code 'WASHYOURHANDS')
Bell Lane Coffee Roasters (20% off with code 'THANKS20')
Still also operating as normal with online orders and deliveries is Coffee House Lane, Java Republic, Carrow Coffee Roasters, Bailies, Two Spots, Cork Coffee Roasters, Art of Coffee, McCabes and Velo. Clement & Pekoe on Dublin's South William Street is still operating its online store for coffee, loose leaf tea and kombucha deliveries. Bewley's also has a wide range of tea and coffee, tea and coffee making equipment and even coffee capsules on their website. Subscription service BeanDelivered also collates and collaborates with different Irish roasters to deliver beans monthly, and you can also shop for specialist coffee equipment on their web store too.
Suki Tea in Belfast has waived all shipping and delivery charges during this crisis for both NI and ROI orders. Lily's Tea, based in Termonfeckin, Co. Louth, offers free shipping on orders over €50 whilst McEntees Tea – also based in Louth, in Dundalk – has a number of different loose leaf tea flavours and brewing accessories, with shipping set at a standard €2.95 but free for orders over €20.
📦 Wine 🍷🥂
All the following are offering free nationwide delivery with orders of over €100: O'Briens | Blackrock Cellar | Mitchell & Sons | Molloys | Curious Wines | Quintessential Wines | Green Acres and then to those who have a lower minimum limit for free delivery: Bubble Brothers (€50) | The Corkscrew (€75) | Searsons Wine (€90) | WineOnline (€175)
Wines Direct, FrenchWines and The Wine Buff are all offering free nationwide delivery (the latter just insists on a three bottle minimum) whilst SIYPS (based in Dublin, specialising in biodynamic, organic, natural and rare wines from Old World producers) is offering free delivery as standard during this difficult time. First Draft Wine (and coffee!) offers wines delivered nationwide for a standard €8 delivery fee.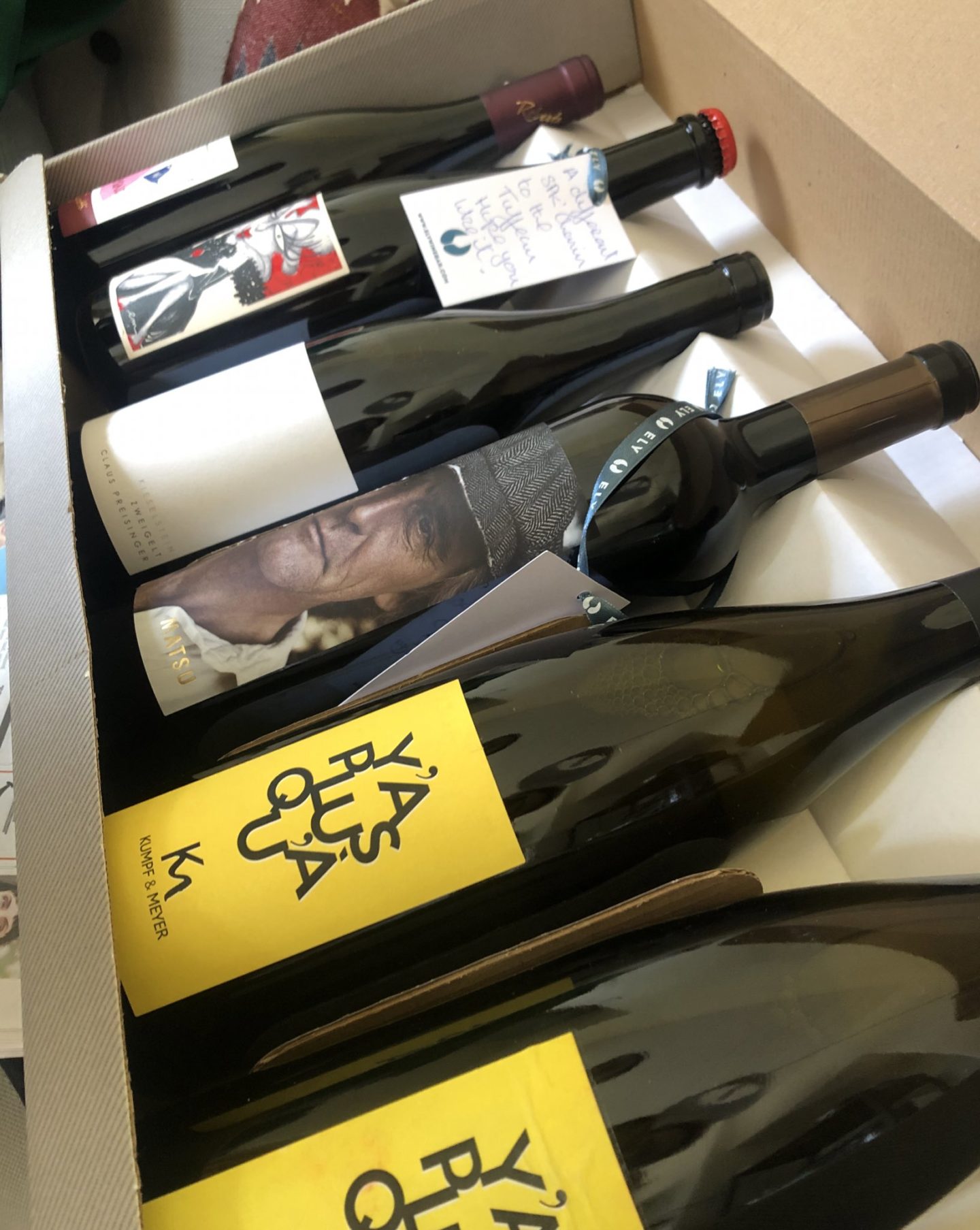 Ely has a €15 delivery charge nationwide but no minimum order amount (15% off currently with code '15%OFF') whilst Le Caveau offer complimentary delivery nationwide for 12 bottles or more. Both WineLab and Station to Station Wine are offering delivery within the Dublin region. Green Man Wines in Terenure offer free local delivery in the Dublin area with orders €150+, orders under that cost €7.50, whilst nationwide delivery is €15 as standard. The Wine Market delivers wine around Galway, Dromahair, Sligo and Leitrim. Also in the Galway region is Woodberrys Wines, which is offering free delivery with orders over €200 (and €12 for orders with less than 12 bottles).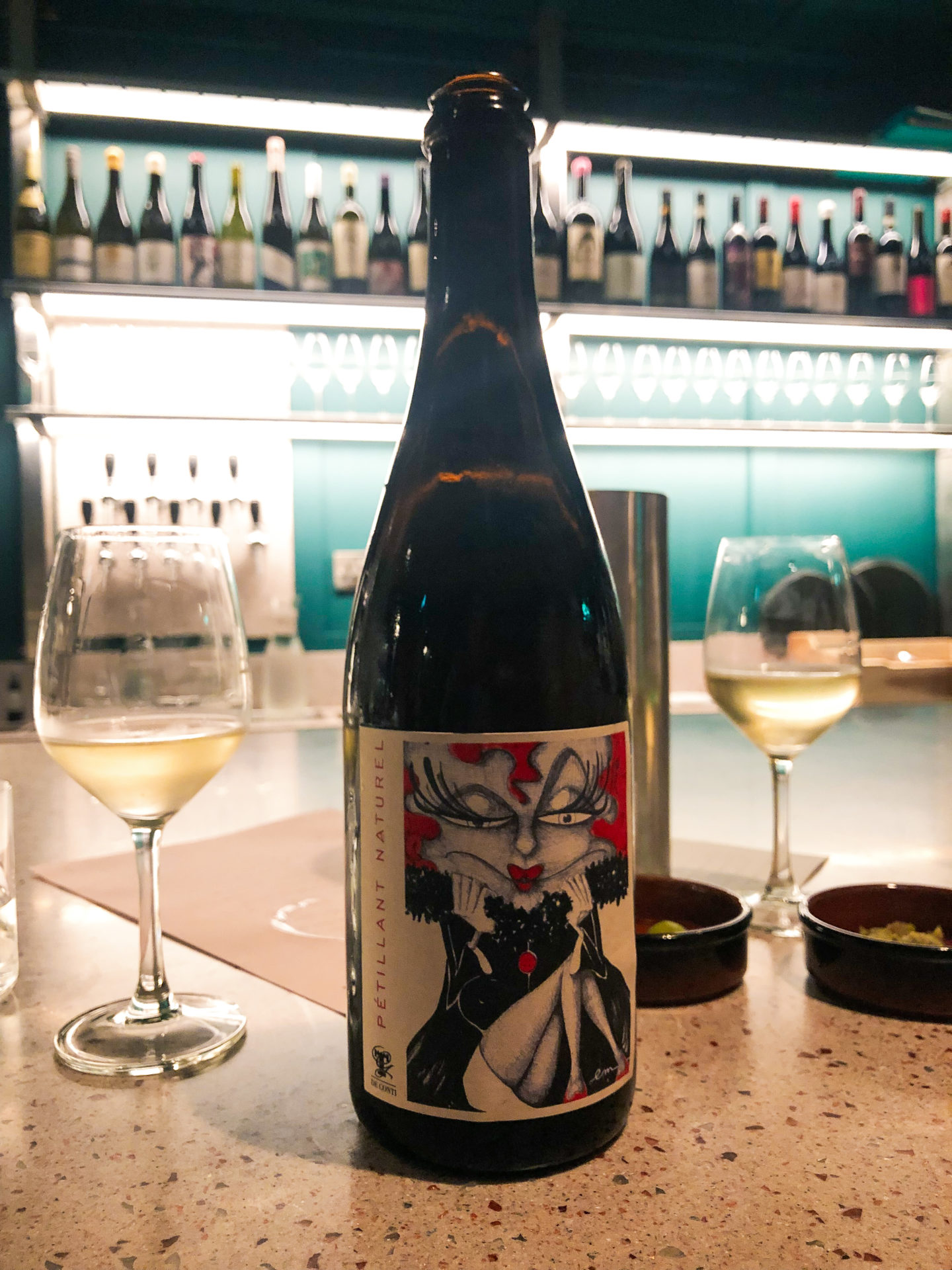 Franks on Camden Street is doing deliveries within the Dublin city area (by none other the main man himself, Mr. Darren Free!) within a 5km radius of the wine bar (€5 delivery charge) and has four options: three different mixed cases and one red-only case, from between €105 and €140 –– whilst you're at it pick up a pair of Franks' gorgeous wine glasses for €25 too! exploretock.com/franksdublin

Natty Wine is the new online bottle shop of Loose Canon on Dublin's Drury Street, the incredibly popular wine bar that specialises in Irish cheeses and charcuterie as well as small plates. They have a speciality of natural, low intervention, biodynamic and orange wines from select winemakers, almost entirely Old World and even a few 'Unicorn' sommelier-savourers, too. Offering free delivery for orders above €150, with a standard €10 charge for both ROI and NI deliveries for orders less than that. nattywine.ie
The Nude Wine Co has been more than just a retailer over the past while since Michelle Lawlor founded the company in 2019. She offers the DIY Wine Course, so you can learn about your wines at your own leisure, as well as creating a number of really interesting and educational videos and Instagram Lives. Individual bottles as well as regular curations of biodynamic and organic wines are all available, including the Staycation Box (pictured above). €95 for a selection of wines from countries we may wish we were visiting during the summer, but can enjoy all around Ireland instead. thenudewineco.ie
Bradley's Off Licence Cork city emporium of interesting wines, cutting-edge craft beers, a wide range of Irish and international spirits as well as a huge selection of local Irish produce, you can order direct from Bradley's' range online. Delivery is nationwide, handled by Fastway Couriers, and generally next working day delivery service is offered on orders placed before 12 Noon, depending on availability of stock, large quantities and orders with a large variety of items. Some of the more unusual products can have a lead in time of up to three working days, so allow for this when ordering. If you're in the Cork city and county region, orders over €200 will be delivered free. Delivery nationwide is a flat fee of €12. bradleysofflicence.ie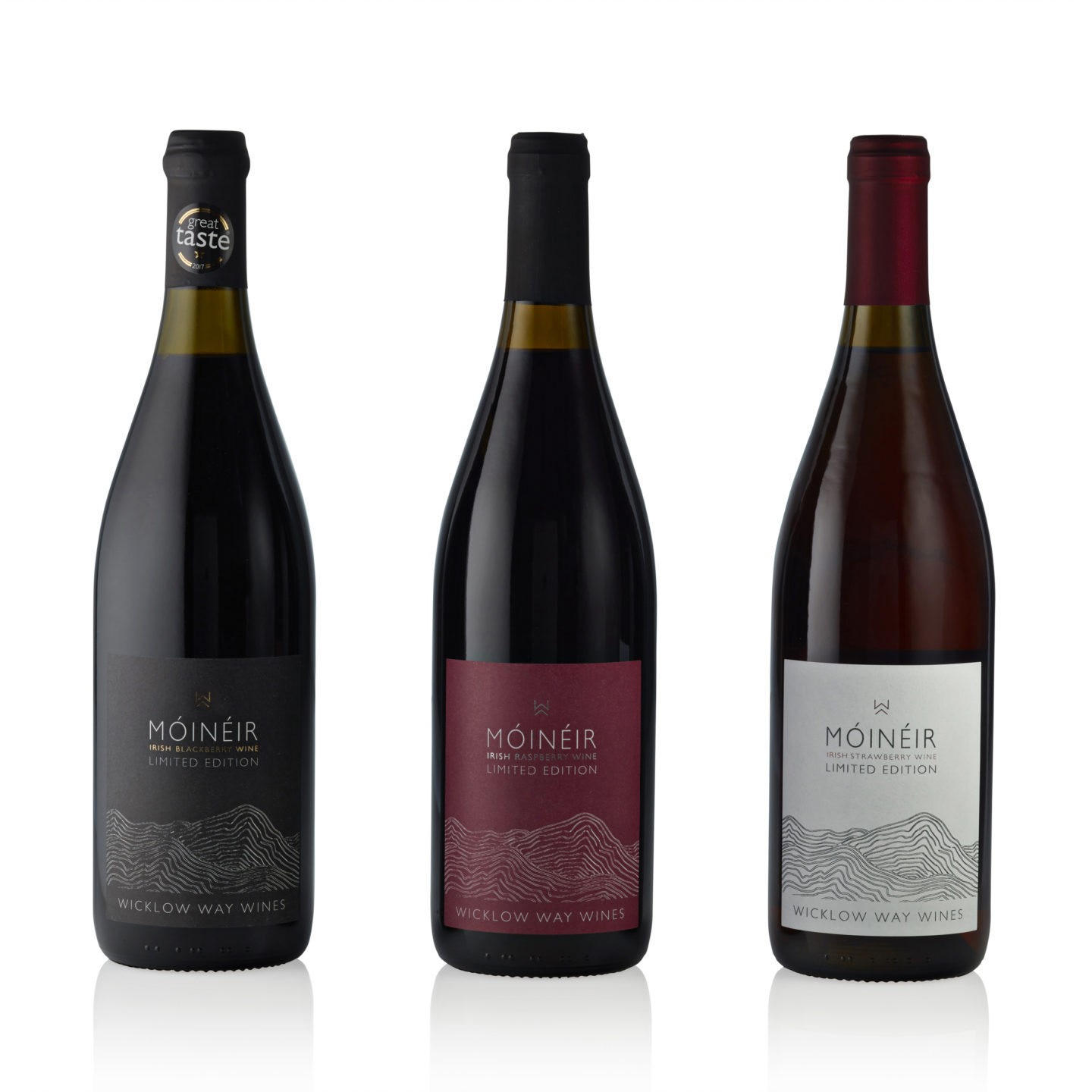 If you want something exciting and that you may have never tried before, opt to support an Irish winemaker. Our friends Pamela Walsh and Brett Stephenson are the couple behind Wicklow Way Wines, Ireland's first fruit winery, producing really complex and interesting wines using 100% Irish fruit in a very sustainable way. You can order direct from their site (min. 6 bottles –– why not try a mixed case of their three expressions?) and delivery nationwide costs €7.95. wicklowwaywines.ie
📦 Craft Beer & Cider 🍻
Beer Cloud is a novel coming together of Irish craft brewers in order to get their products safely into homes of their customers. Craft Breweries like Dead Centre, 12 Acres, Ballykilcavan, 8 Degrees, Dot Brew, Heaneys, Wide Street as well as The Cider Mill in Slane have joined forces to share deliveries of bulk orders of 12 or 24 cans or bottles whilst shipping nationwide is just €6 per order. beercloud.ie
Mescan Brewery On the slopes of Croagh Patrick, craft brewery Mescan are fulfilling orders for batches of 24 of their beers (€74 per case) and everyone who orders during Covid-19 will get an invite to their post-crisis party, they assure us. Cost of delivery in ROI is €12 per case or €20 for 2-3 cases, for Northern Ireland, contact the brewery directly via phone or email. mescanbrewery.com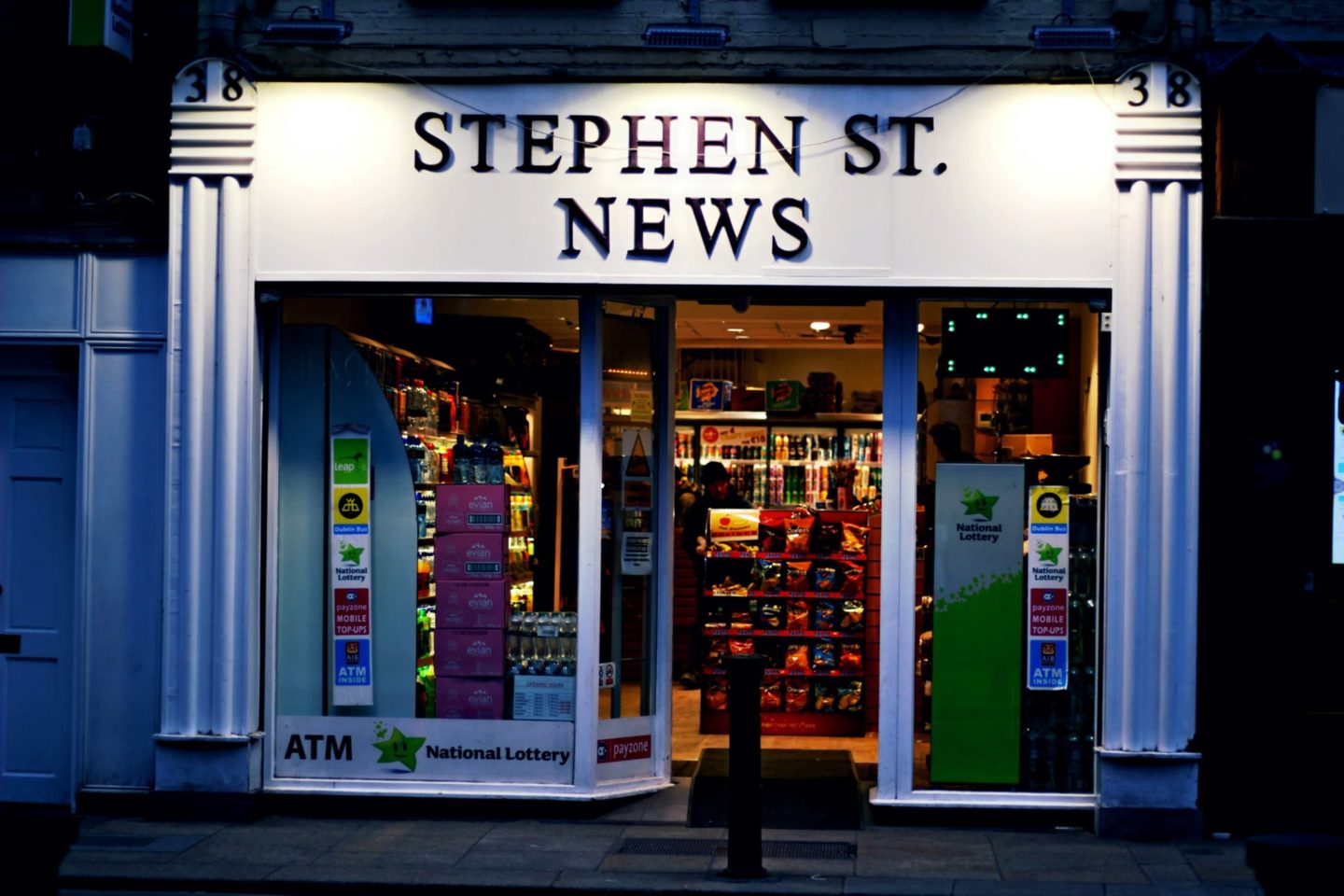 Craft Central AKA Stephen Street News is a true craft beer emporium squeezed into a tiny newsagents just steps from St Stephen's Green Shopping Centre. Order online from their site to anywhere in ROI or NI for postage of just €5 (no minimum order). Their comprehensive website is very easy to navigate and to pick your favourites, whilst there's also special offers ongoing too. craftcentral.ie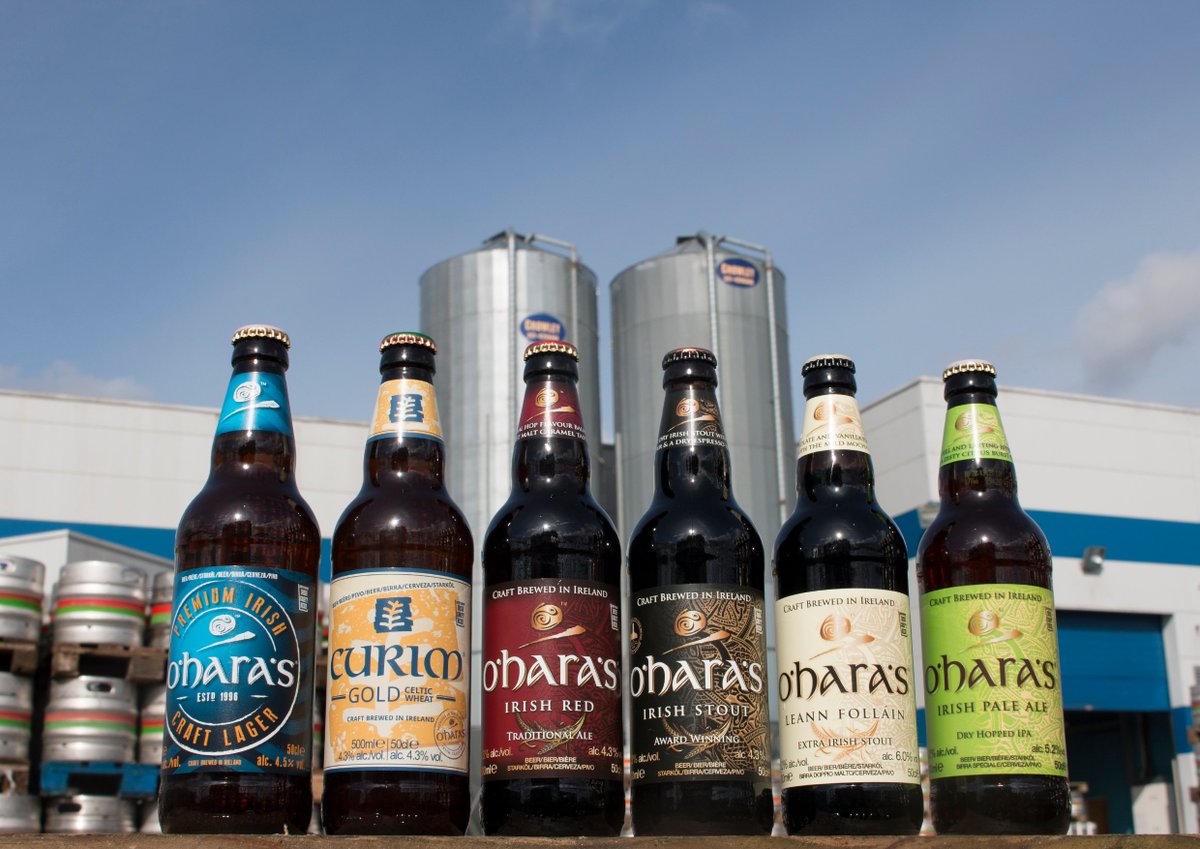 O'Haras Beer Radical Drinks, based in Carlow, is the maker of O'Hara's Irish Craft Beers, Falling Apple Irish Craft Cider and Craigies Irish Craft Cider. Their Radical Drinks website is a hub shop for a wider variety of beer and cider expressions in their ranges and they're offering free nationwide delivery on orders over €90. Mixed cases of different styles are also available. radicaldrinks.com/shop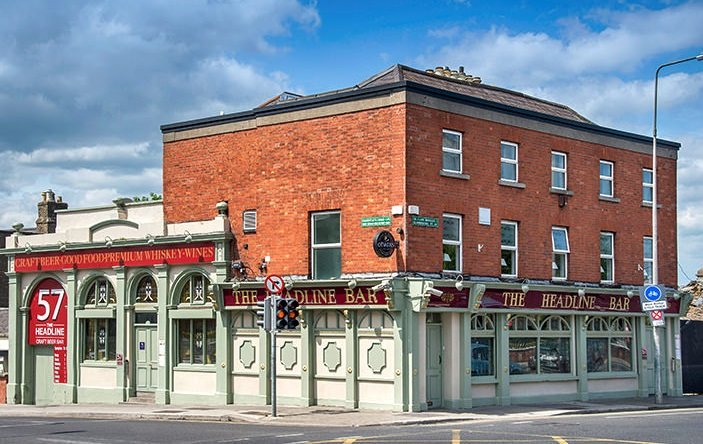 57 The Headline Teaming up with local suppliers and breweries, the 57 The Headline Gastro and Craft Bar on Dublin's Clanbrassil Street began offering local deliveries within the D2, D6, D6W and D8, D10 and D12 area but have now branched out nationwide! Shipping costs just €5 for minimum online orders of €30. Not only is there a wide range of craft beers and brews on their site, they also offer a great selection of wine and even Dingle Gin and tonics, if you fancy it! Choose bottles of red and white wine individually and add to cart, or choose beer by the branded case. 57theheadline.com
Whiplash Buy big luscious bags of delicious cans from Dublin-based brewers Alex Lawes and Alan Wolfe over at Whiplash via their online store which launched at the beginning of April. All orders placed before midnight will arrive within two working days (ROI only) and shipping costs €4.50. What's more, instead of playing around and getting crazy and creative with their smaller kit, over the next few weeks they'll be resurrecting beers they've made in the past hadn't been planned to be brewed again this year. They will be going into cans in the coming weeks, and they're taking suggestions on their Instagram grid of what they should brew. Those tanks will be canned with a maximum of 50 cases and will also be available on the webshop once packaged. whiplashbeer.com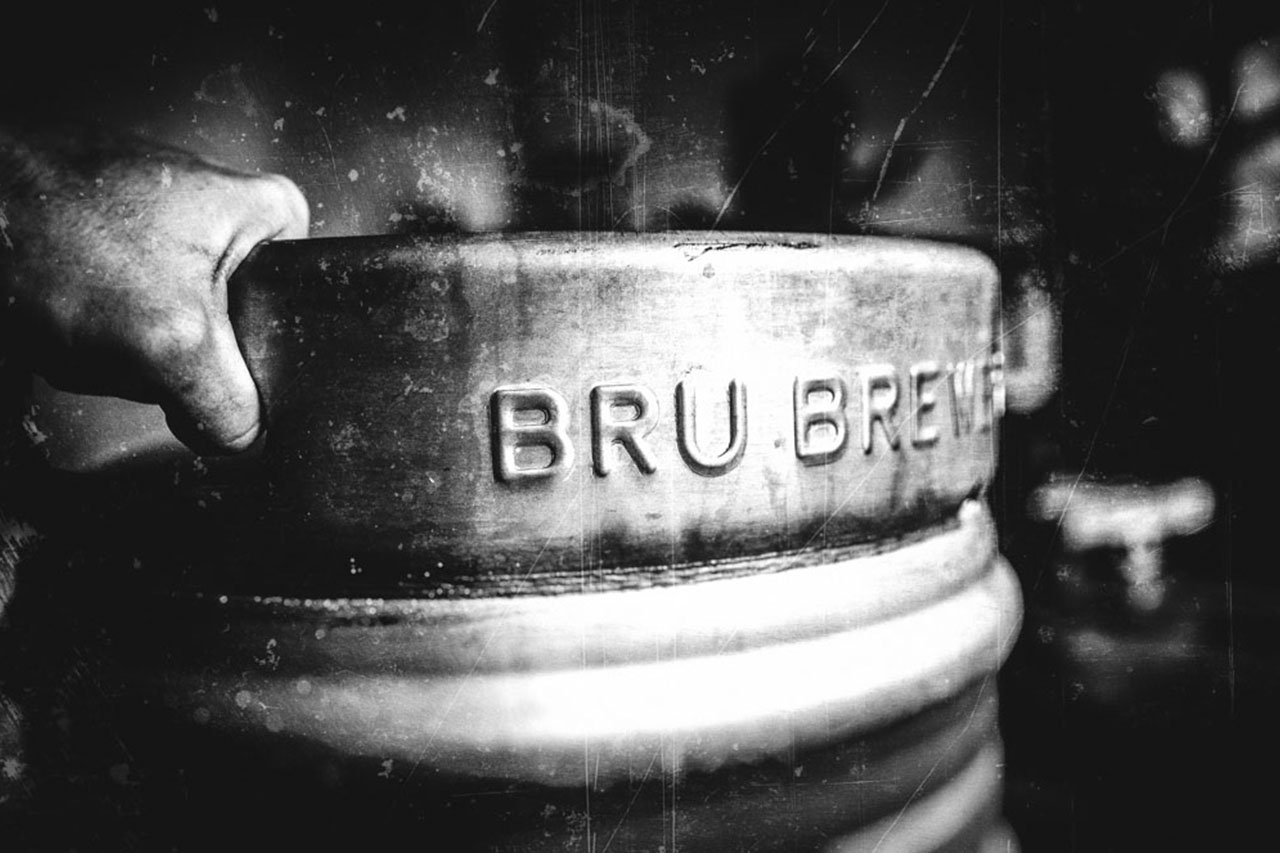 Brú Brewery Based out of Trim, order online from this craft brewery with a wide range of their own lines in different styles and expressions, as well as fellow local brand Dan Kelly's Cider. Orders are only for cases of 12/24. and they offer free delivery to Louth, Meath, Dublin, Wicklow and Kildare. All other counties (including NI) carry a €7 delivery charge for one package, then €3 after that. brubrewery.ie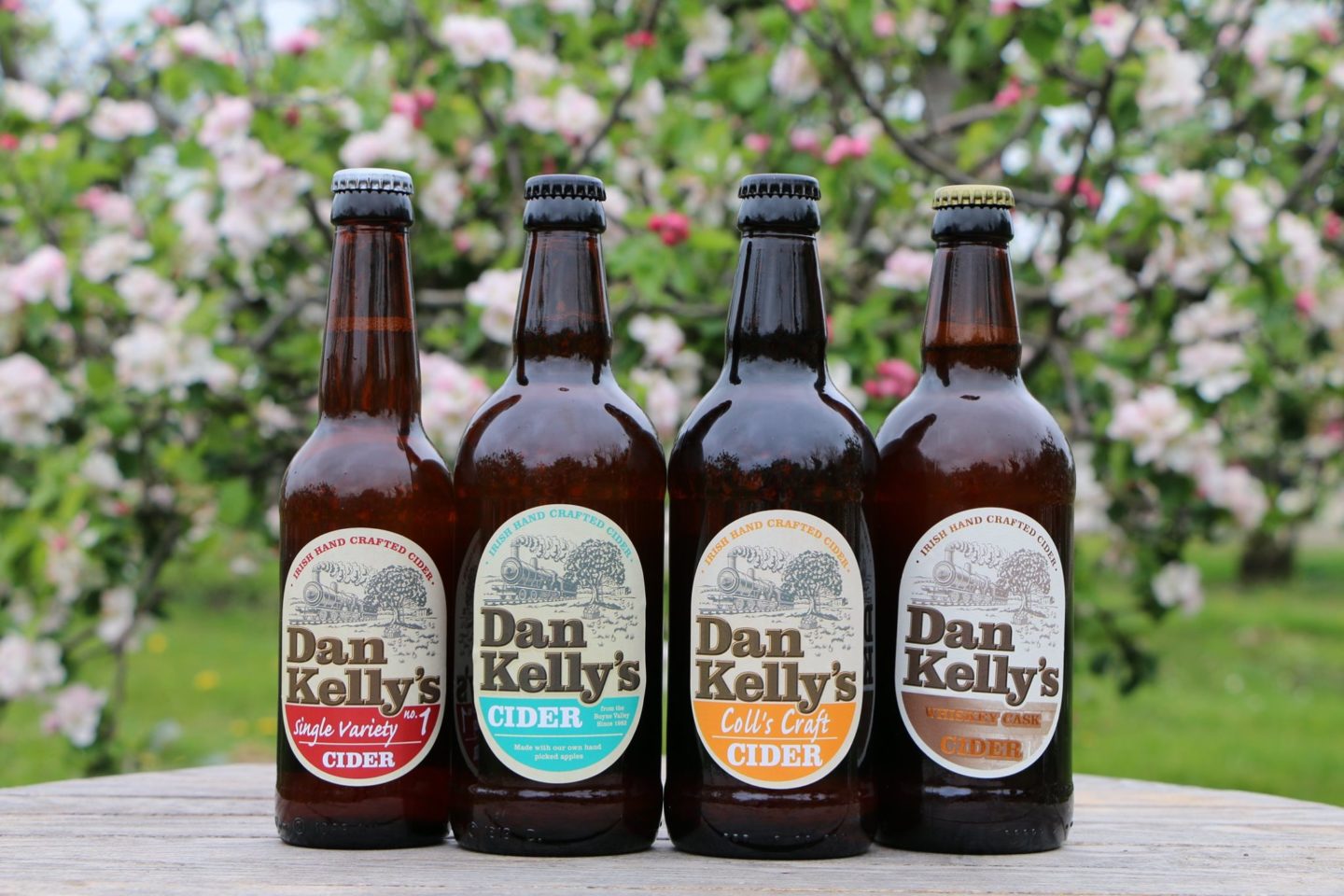 Dan Kelly's Cider Likewise, Dan Kelly's Cider is also selling themselves direct-to-consumer via their online shop. Choose between their Original, Coll's Craft, Single Variety and Whiskey Cask ciders, or order a mixed case of them all. Also selling Olan's stunningly fresh apple juice. All come in 12 or 24 packs, minimum order value of €40 and handily the prices listed include delivery. dankellyscider.com
Rascals Brewing Inchicore-based craft brewery (and pizza place!) Rascals has been delivering for a while via their webshop on their website. All cases of their different beer styles are a neat €50 (including a mixed case). Delivery is preferable but you can indicate if you'd like to collect (at a physical distance) at the brewery at checkout. Standard shipping cost is €7.50. rascalsbrewing.com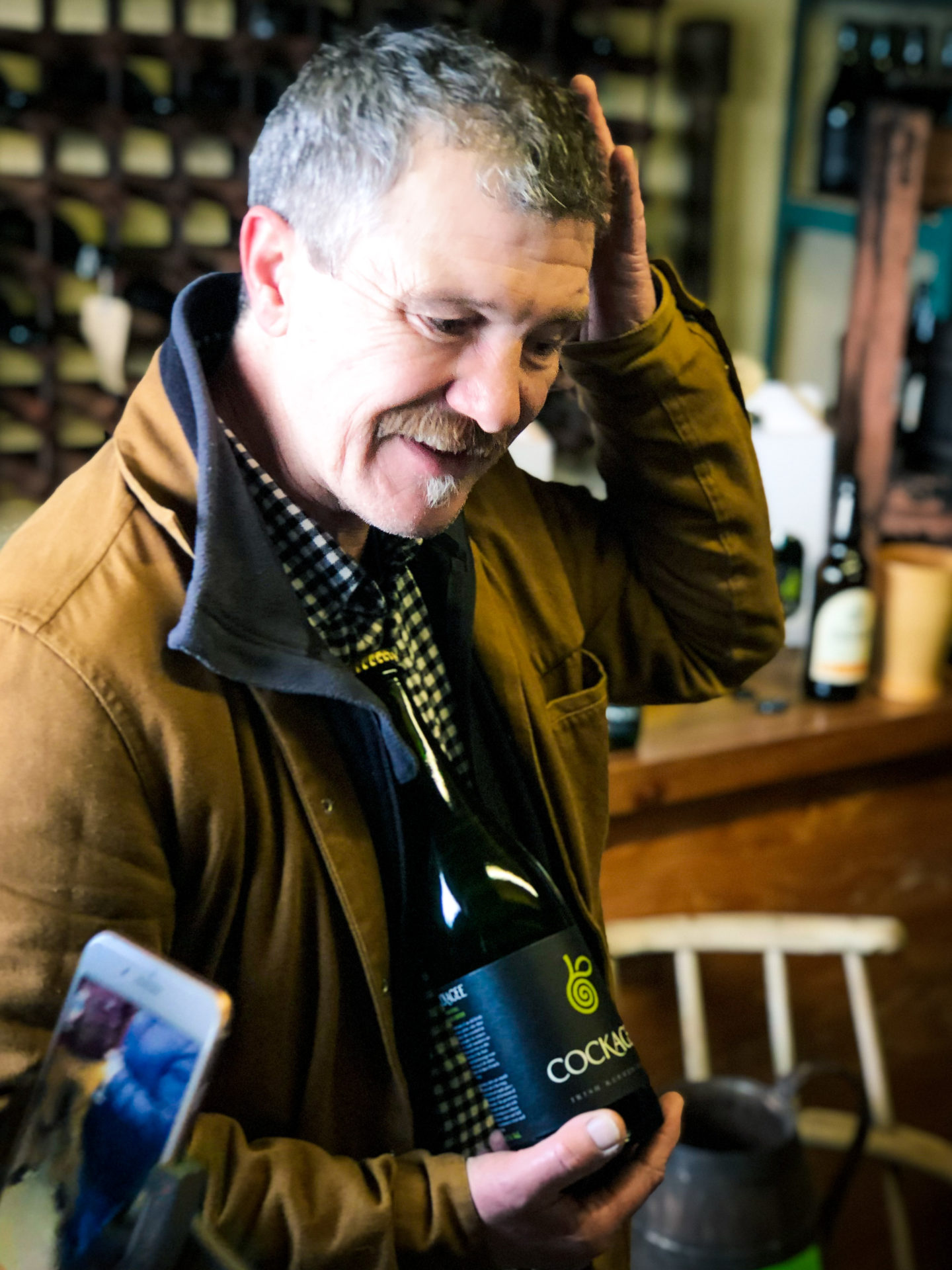 Cider Mill Slane Mark Jenkinson makes traditional 'keeved' cider in Co. Meath, called Cockagee, as well as a perry (Piorraí) and a 'Revival Series' of three different expressions of craft ciders from different apple varieties (Ciderkin, Windvane and Lamhóg). He also makes the most amazing apple juice (100% apples, nothing added or taken away) for non-drinkers and kids. Mark is accepting orders for collection at the Cider Mill outside Slane by phone (0864493354) or email finecider@gmail.com, as well as doing local deliveries. cockagee.ie –– you can read more about Mark and what he's doing with his ciders in this post.
The White Hag In Sligo, there's free delivery nationwide for orders over €60 on The White Hag Brewery's online shop. In cases of 24, choose between their brews or combine in a mixed case whilst they're also selling their merchandise (t-shirts, hoodies, totes) and branded glassware too. If you're looking for something new and interesting, the guys have just this past week launched their Róc Helles, a 4.5% ABV traditional German-style pale lager with subtle spiciness, floral hops and very refreshing, everyday beer! thewhitehag.com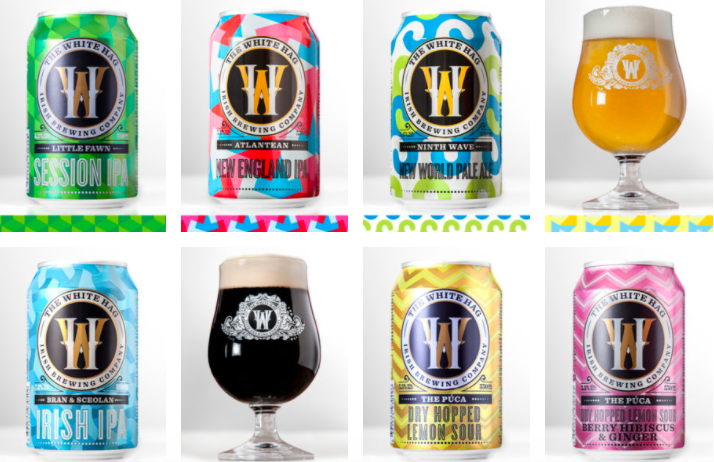 Dungarvan Brewing Company is setting up orders via their webshop from Monday 6th April. Order any of their selection of brews in cases by the dozen (€30-€48) and local delivery around Dungarvan free of charge. dungarvanbrewingcompany.com
Lough Gill Brewery Over in Sligo, Lough Gill are offering 10% off for the first 50 orders on their new web shop, whilst they will offer free next-day delivery with any 24-pack. loughgillbrewery.com
Lineman Rathcoole-based independent microbrewery Lineman is offering €5 next day delivery nationwide (ROI and NI) with a minimum order of two cases from their web store. lineman.ie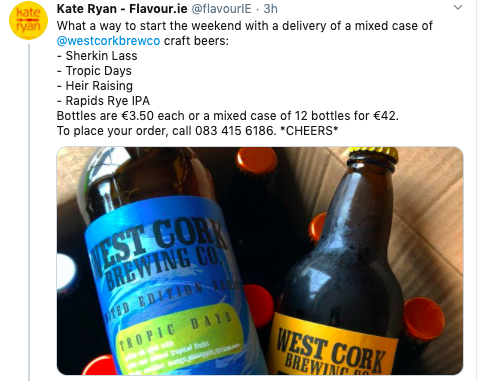 West Cork Brewing Co. are doing local deliveries around the West Cork area, no online functionality as of yet and details limited but you can call on 0834156186. westcorkbrewingco.ie
📦 Cocktail Kits 🍹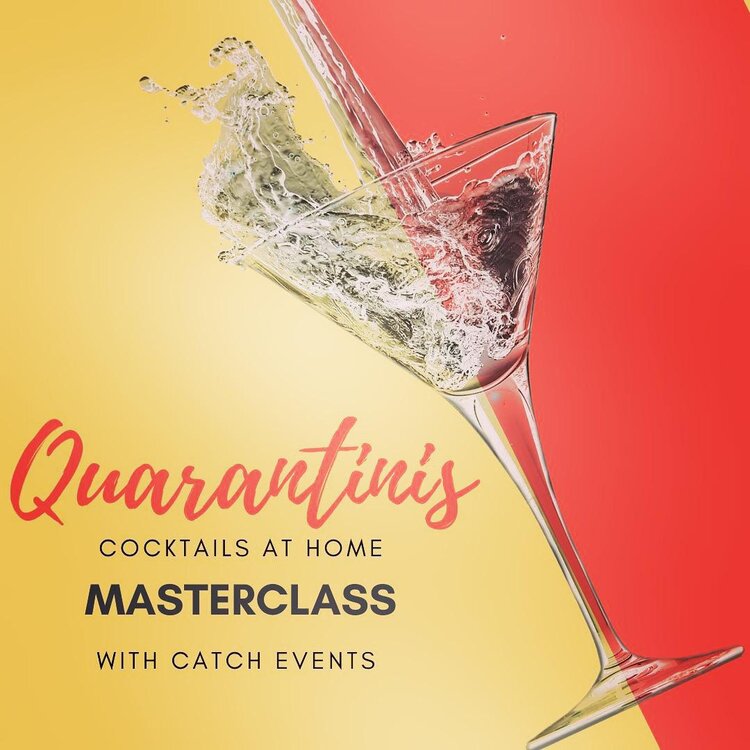 Catch Events Quarantini Box Our deadly friends Ciarán and Federico are known for their wildly creative and imaginative drinks events and experiences company, and they've worked with the biggest and best international brands over the last number of years. Now that their industry and diary of events has been decimated for the foreseeable, they've been very clever and developed a 'Quarantini' box that you can mix and mingle your own cocktails at home, with all the accoutrements and ingredients necessary, as you follow along their IGTV cocktail masterclasses every Friday at 8pm. UPDATE: What was only Dublin delivery is now nationwide! Purchase on their site for delivery to your door, anywhere in Ireland! Allow a two-day window for deliveries. catchevents.ie
Brown Bag Cocktails @ The Twelve Hotel Simon King, bar manager at The Twelve Hotel in Barna, has come up with a genius solution to getting cocktails to his customers –– Brown Bag Cocktails, which are pre-mixes posted nationwide and quite literally poured into your chosen receptacle at home! The Twelve has been a force during Covid-19 with takeaway wood-fired pizzas, bakery goods and even their restaurant menu available to collect, but now their cocktail offering is going nationwide. Costing between €16 and €19, there are three types of cocktail available and they will ship the day after you order. A really novel way to connect to their customers. menus.preoday.com/the-twelve-hotel –– We love The Twelve Hotel and would love you to support them –– we talked to MD Fergus and Head Chef Martin for Chew The Fat in 2019!
Anti Social New to the Dublin scene just before Coronavirus took over, Anti Social has announced their 'Anti Social House Arrest' weekends which entails your favourite cocktails being delivered to your door in 500ml/1l quantities. Moscow Mule, Pornstar Martini, Party Punch, Margarita, Cosmopolitan; you name it. Deliveries on Friday and Saturday. antisocial.ie
Bar 1661 Winner of the Irish Craft Cocktail Awards 2019 (just six months after opening) Bar 1661 has recently celebrated its first birthday by being shut due to the ongoing pandemic but owner Dave Mulligan is determined to keep his loyal customer base and community in fine fettle. BAR 1661 has always had the power of community at its heart, in its mission to highlight the best of Irish spirits, with a particular focus on poitín, as well as smaller Irish and independent producers. Now, Dave and his team have introduced a new range of pre-batched cocktails, eight in total and all based on BAR 1661 classics, with some additional expressions to take discerning drinkers through the summer and beyond. These include their house drink, the 'Belfast Coffee', a cold brewed poitín version of the classic, which had gained international notoriety in bars from Texas to Tokyo, as well as cocktails like the 'Brother Hubbard', made with Regal Rogue Wild Rose Vermouth, Mad March Hare Poitín, Irish cider brandy, vanilla butter and strawberry. Each one contains a serving of 6-7 servings.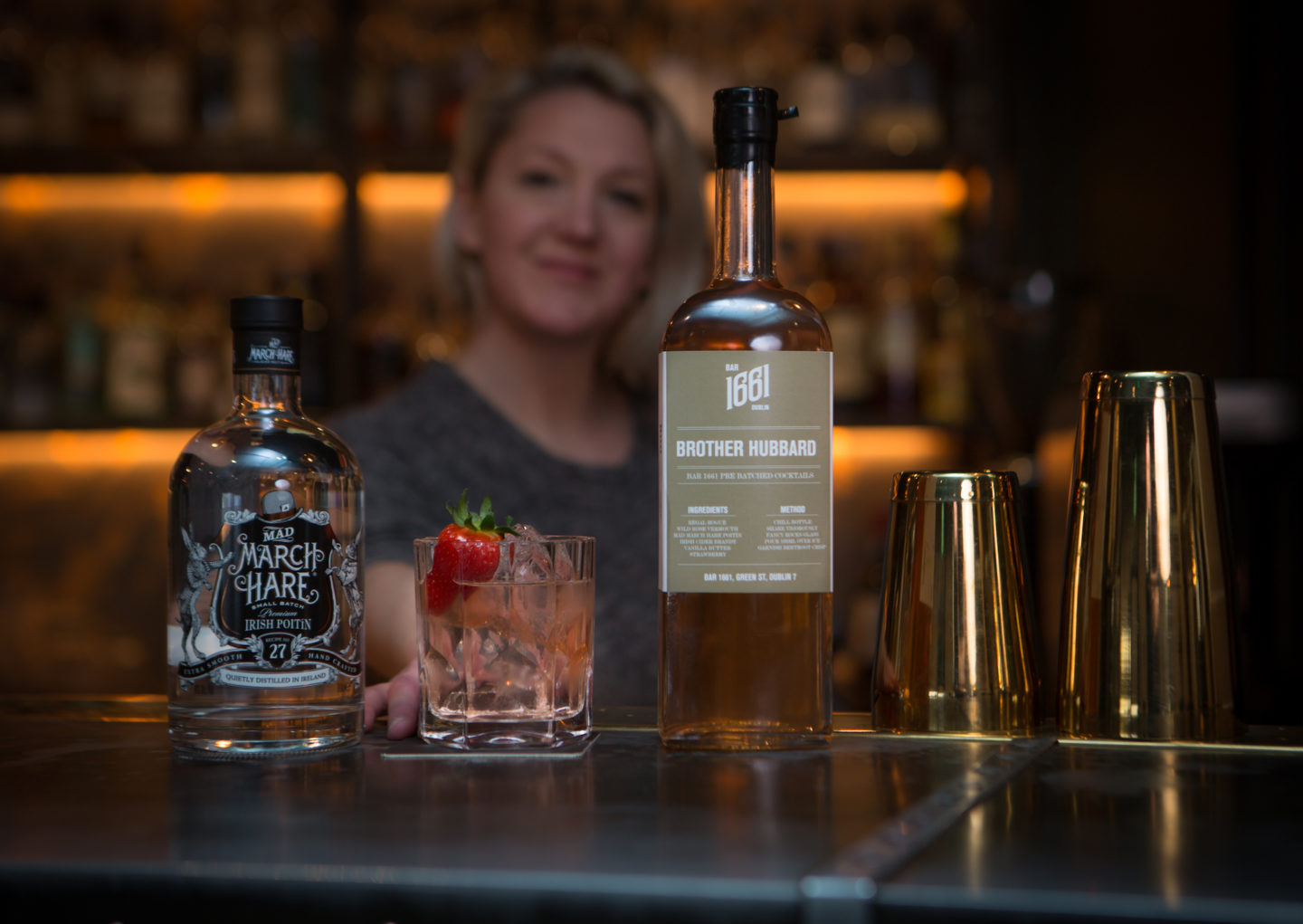 BAR 1661 is also keeping its loyal whiskey customers happy with a 'Dream Dram' delivery service, available for nationwide delivery. This includes individually packaged 50ml servings of some of BAR 1661's favourite whiskey and spirits, changing every week. BAR 1661 has also been working to procure hand sanitiser from its partner distillery The Echlinville Distillery in Co. Down, available to buy at €15 for 1 litre with refill service available. One third of this stock is being donated to frontline services and charities.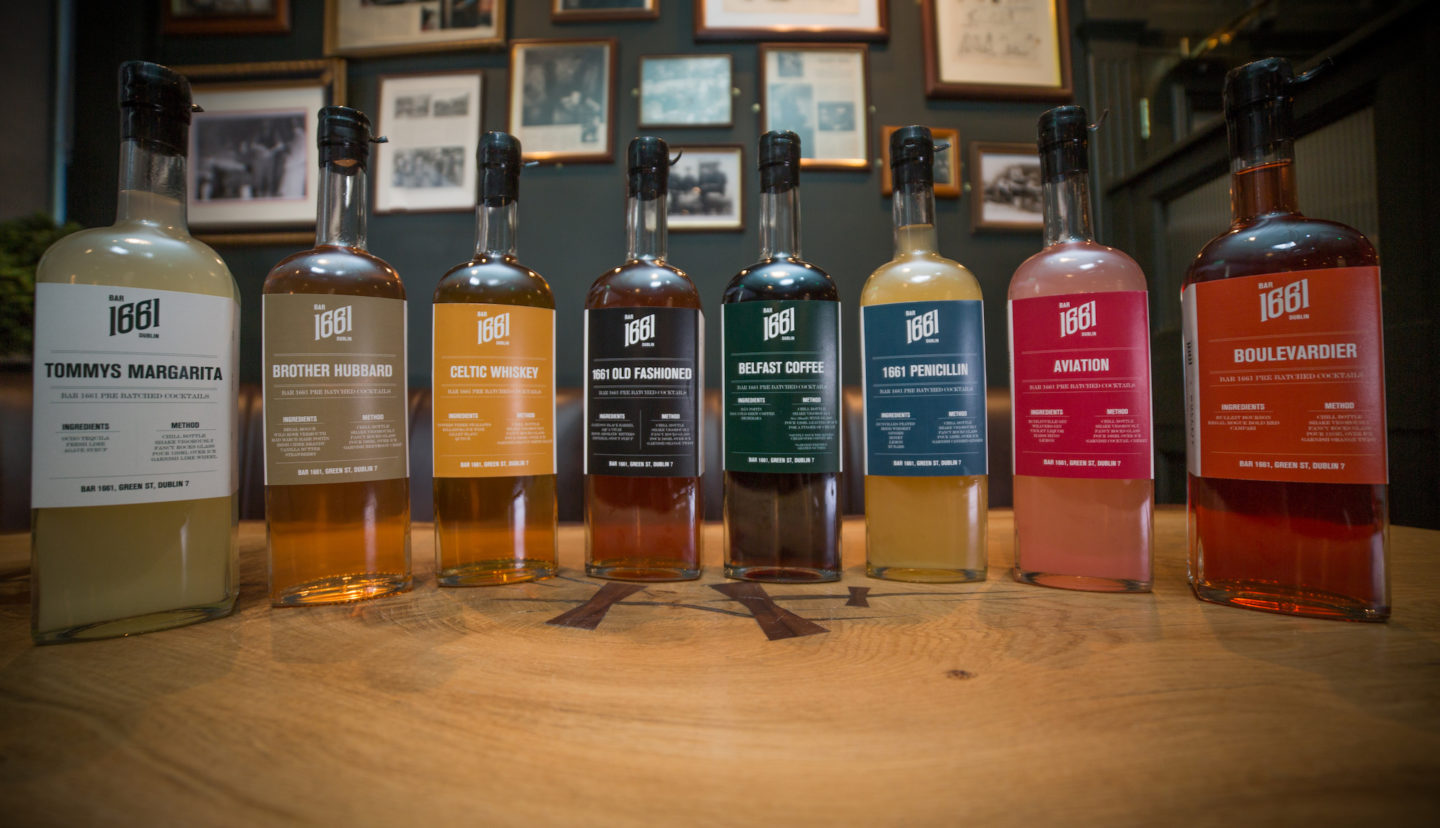 Order BAR 1661 Cocktails at Home direct via WhatsApp 0858041991 (online shop coming soon!) with delivery to your door around Dublin, or contactless collection Thursday – Saturday from 12-6pm at the venue at Green Street, Dublin 7. Nationwide delivery is coming soon online via celticwhiskeyshop.com. bar1661.ie
L Mulligan Whiskey Shop & Grocer Seáneen Sullivan over at L Mulligan Whiskey Shop has put together a cocktails-at-home kit, delivering cocktail making sets nationwide, each week highlighting a different Irish spirit. For the first week it's Dingle Gin and all the ingredients are included to make two different cocktail recipes using the same spirit. The cost is €40 and needs to be ordered via their website, and they are only packing and posting twice weekly but handily the cost includes nationwide delivery. Peruse their site because they are also doing craft beer growler deliveries and cheese board deliveries, strictly within the Dublin 7 area though. lmulliganwhiskeyshop.com
📦 Spirits 🍸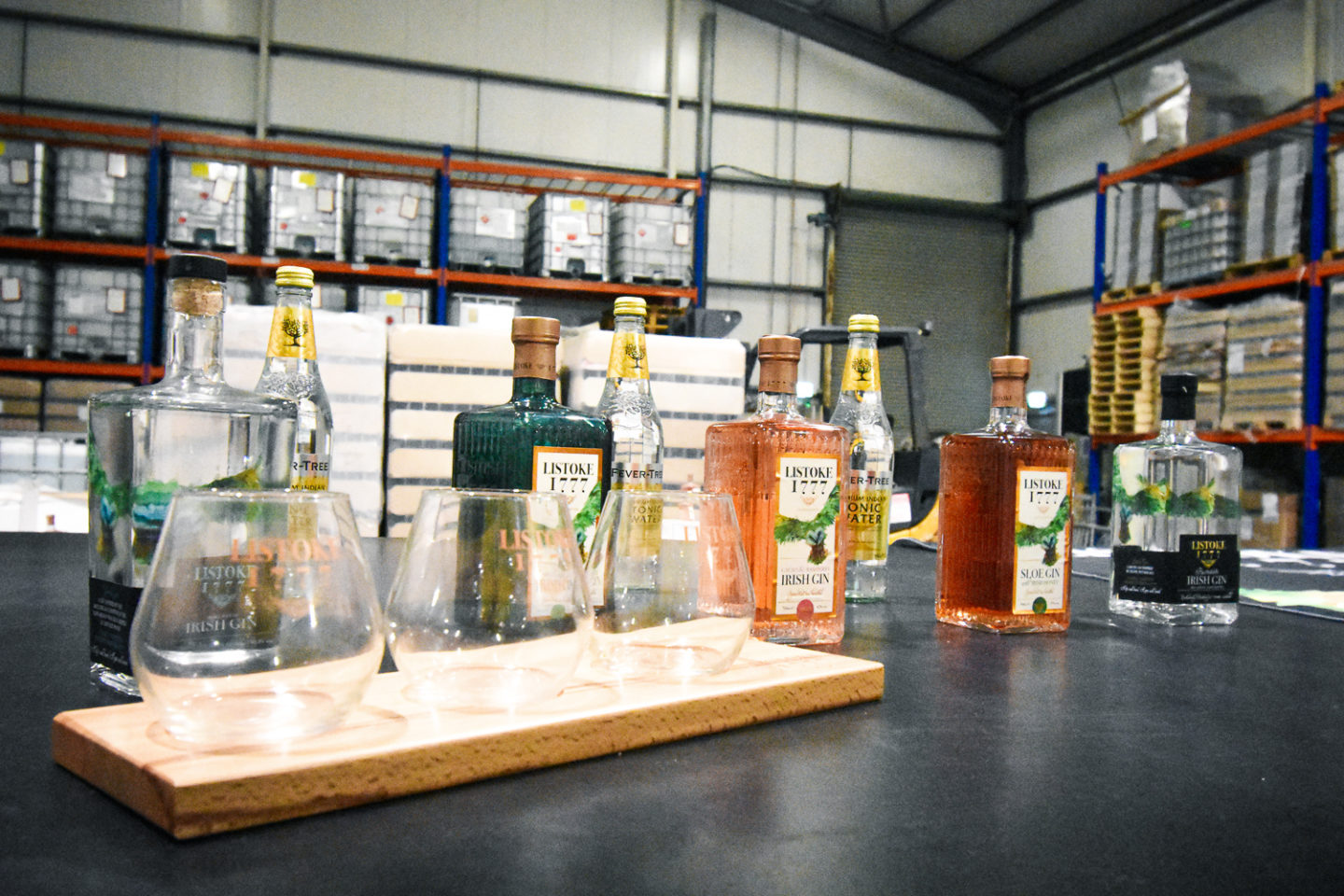 Listoke Distillery Bronagh Conlon, her husband Sean, her daughters Grainne and Sarah and their wider team are nothing if not enterprising. The first Irish distillery to switch gear and divert their alcohol for use in hand sanitiser production, rather than their own brands of gin and their busy contract distilling and bottling business, way back when Covid-19 was just a whisper in Ireland.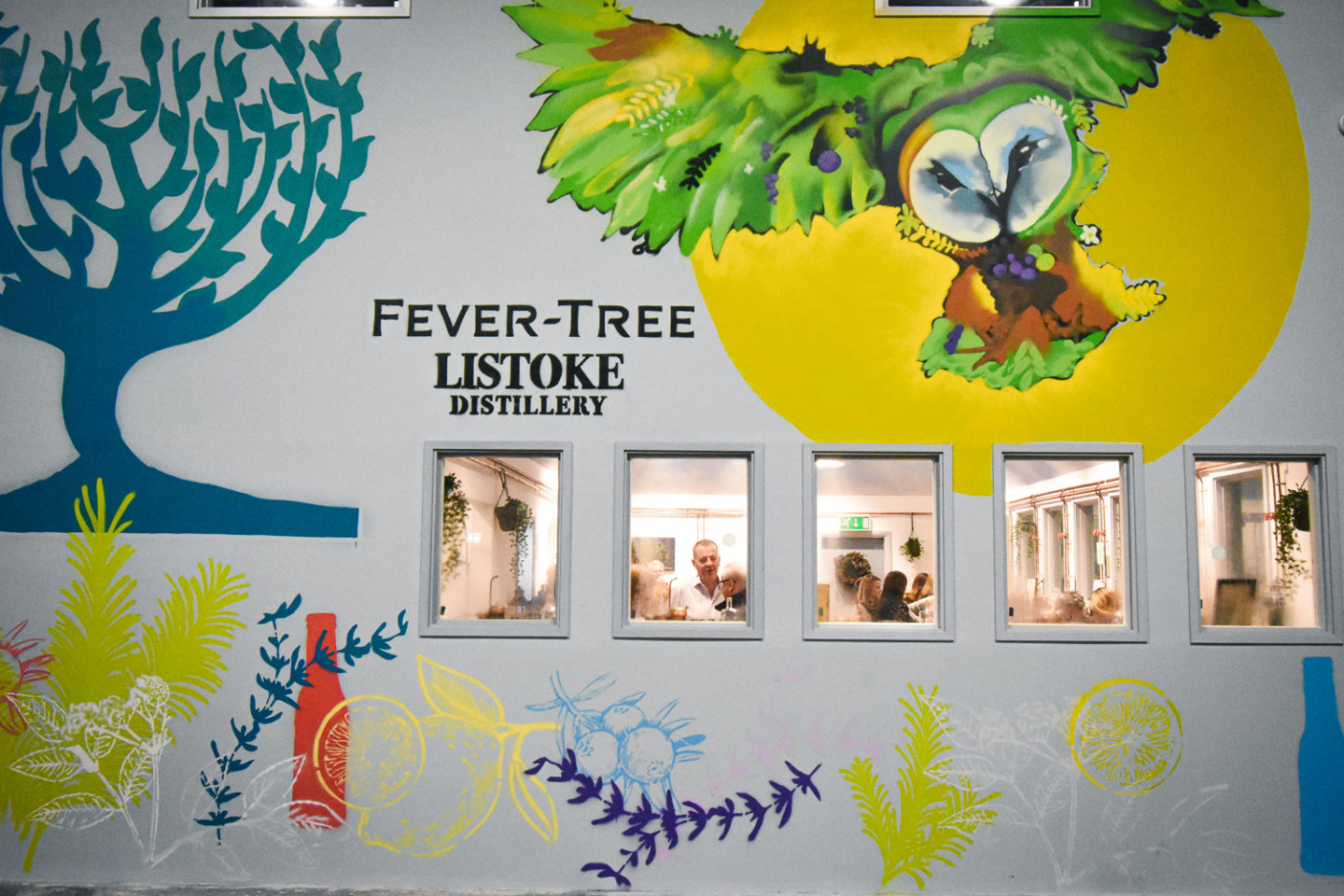 Now, many other distilleries have followed suit, but let it be known Listoke was first out of the gate. Now, they've opened up an online store to the public for the first time, where you can buy their trio of Listoke 1777 gins (Original; Cacao and Raspberry, Sloe Gin), each €40, as well as that all-important hand sanitiser. Delivery nationwide costs €5.50, and be warned: there is restrictions on the amount of hand sanitiser you can order –– don't grab it all. shop.listokedistillery.ie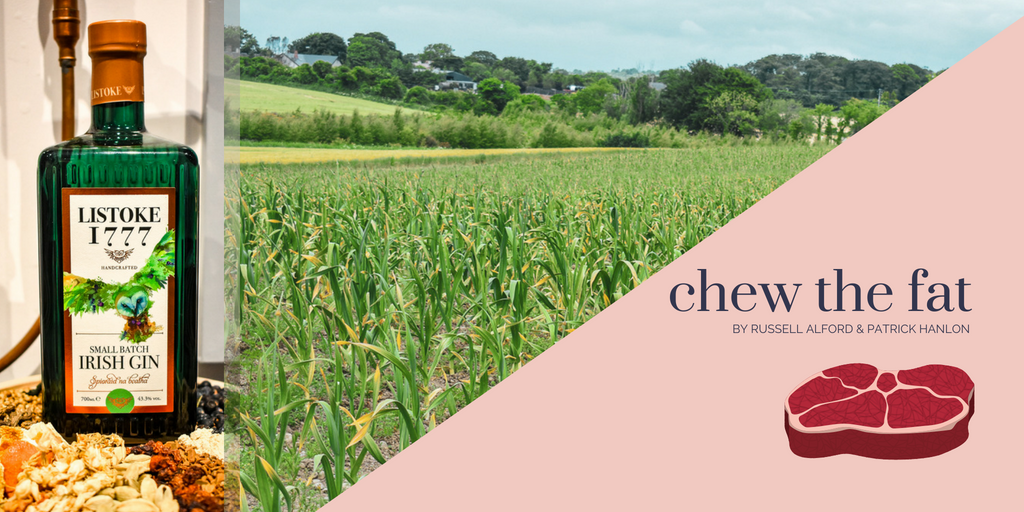 Similarly, Highbank Orchard and Distillery in Kilkenny is diverting orders that they had for a custom gin for a hotel client straight into producing hand sanitiser instead. No orders are being taken online, to order you need to call 056 7729928 or email Ruth at ruth@highbank.ie. Ruth is personally doing a weekly Dublin delivery run on Wednesdays, so if you're within the Dublin area they could potentially deliver to your door. Their wide range of orchard products (gin, syrup, vodka, treacle, cider, etc.) are also available online for delivery, with shipping costs calculated at checkout to reflect weight and distance. highbankorchards.com/shop
If you want to hear more about Listoke Distillery, listen back to our very first episode (ever) of Chew The Fat with one of its co-founders Blánaid, or click through to our post all about Ireland's first ever Gin School and Distillery in Co. Louth.
Dingle Distillery Widely regarded as the distillery that kicked off the gin boom in the last decade within Ireland for their consistency and value, Dingle Distillery does triple duty by producing gin, vodka and whiskey. They, too, are also producing hand sanitiser now as well. All are available from their easy-to-navigate web store. Shipping is a standard €5.95. shopie.dingledistillery.ie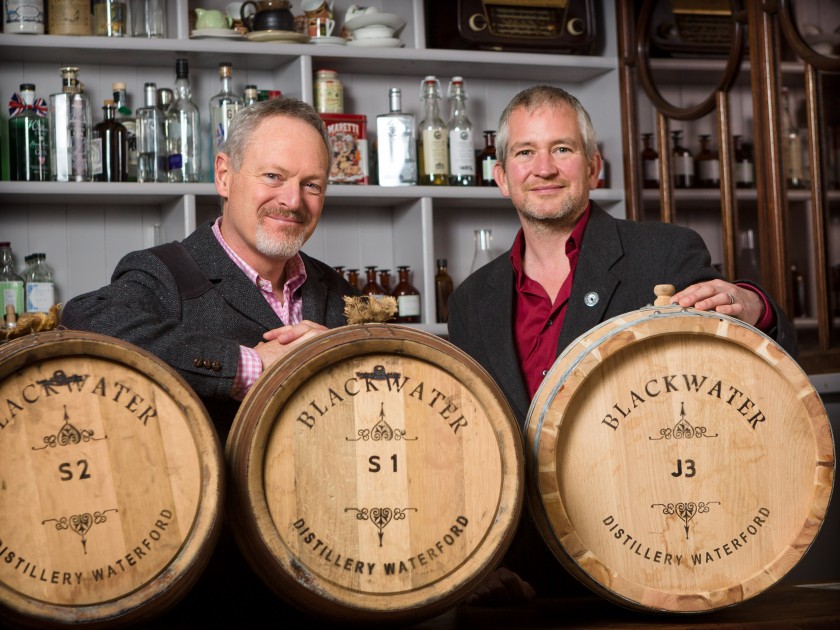 Blackwater Distillery in Waterford is the home of some truly top class products including their signature gin, plus some interesting (but still, delicious) variants including Barry's Tea Gin, and Tanora Gin, plus their recently launched Velvet Cap whiskey and copper still vodka and more. Free delivery on orders over €60. blackwaterdistillery.com/shop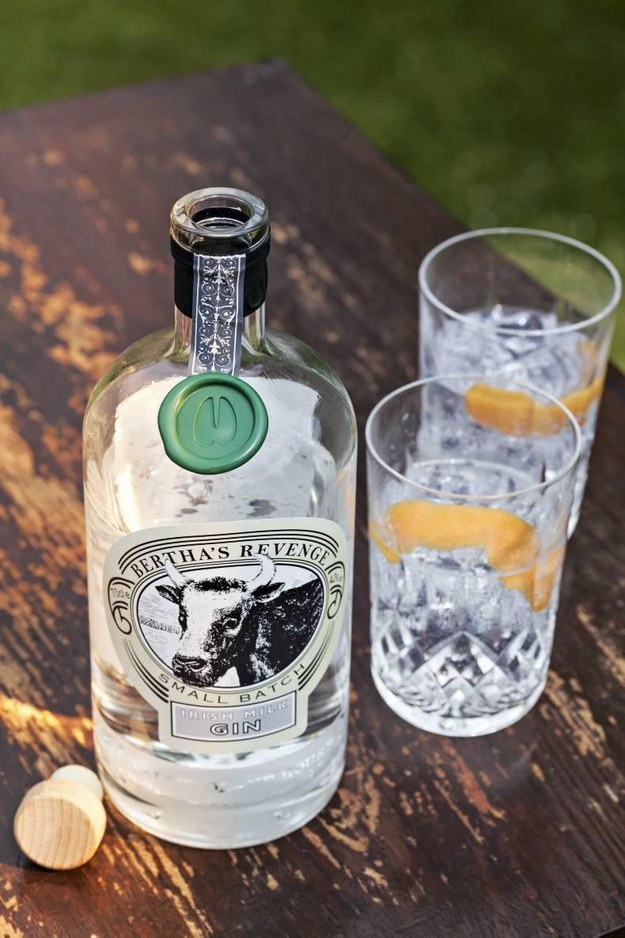 Bertha's Revenge Gin is a favourite of ours, and the team at Ballyvolane House have recently started to offer online orders and delivery via their website of their gin, sloe gin as well as the cleverly named "Herd Immunity" hand sanitiser. shop.ballyvolanespirits.ie/
Kinsale Mead Cork-based producers of unique and modern flavours of an historic alcoholic drink, Kinsale Mead is available in three varieties (Atlantic Dry, Wild Red, Hazy Summer) as well as a gift box of all three. Contactless free delivery available nationwide during the Covid-19 crisis. kinsalemeadco.ie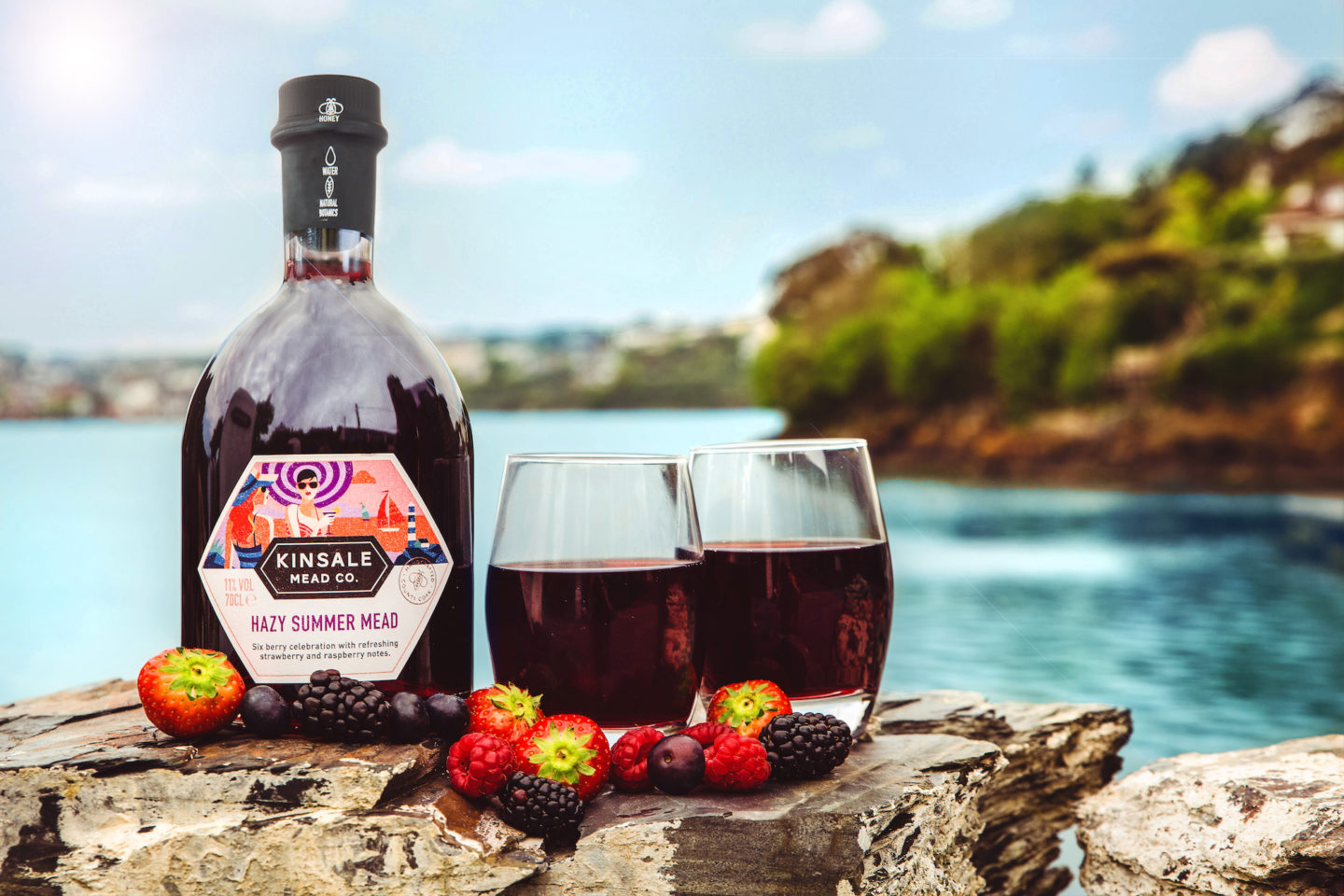 Celtic Whiskey Shop Truly the premier collection of spirits in the country, alongside some fabulous wines, Celtic Whiskey Shop is still accepting orders and fulfilling deliveries throughout this crisis –– delivery to ROI is €7.95 flat fee. celticwhiskeyshop.com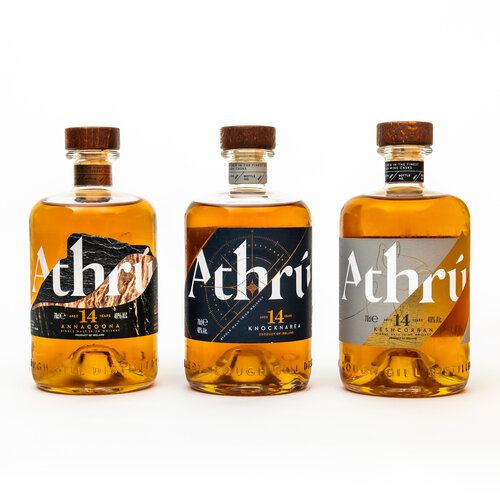 Athrú (Lough Gill Distillery) A relative newcomer to the whiskey scene in Ireland, Lough Gill Distillery arrived on the scene a couple of years ago and their beautifully-designed whiskey range Athrú followed in 2018. You can purchase their three expressions of 14-year single malt whiskey, in different finishes and styles (all €149) on their site. athru.com/shop
Irish Malts Fine Irish whiskey and other spirits, delivered to your door in a couple of clicks from online drinks retailer Irish Malts. Free ROI delivery for orders of six bottles or more whilst under that amount carries a standard €4.95 fee. ie.irishmalts.com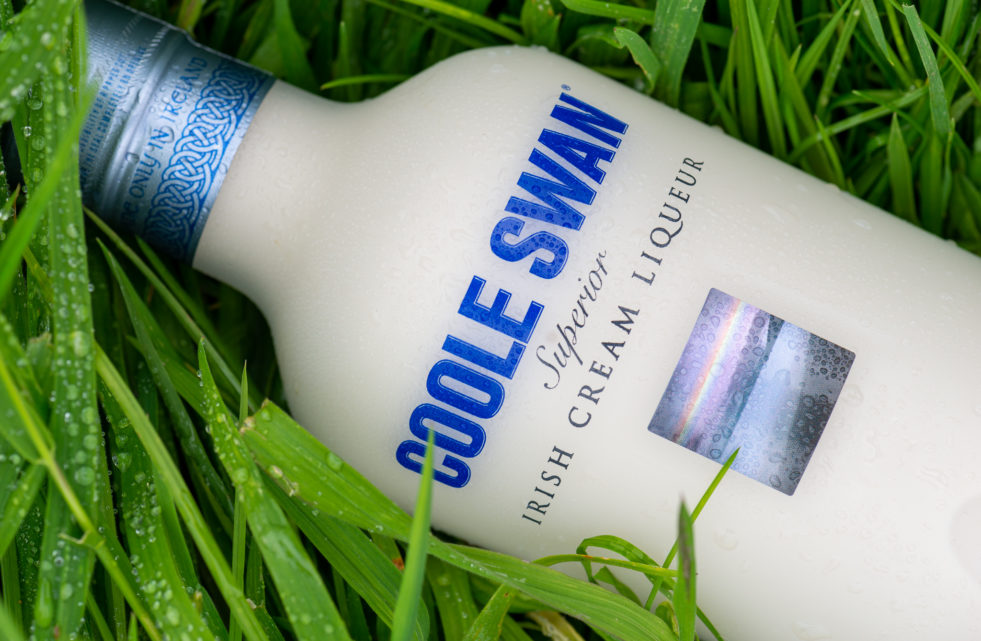 Coole Swan If you're looking for an Irish cream liqueur, try Coole Swan, based on the Meath/Cavan border. Made using single malt Irish whiskey, blended with high quality Belgian white chocolate and fresh dairy cream for a smooth, original and decadent sip, you can order online via their web shop. Free delivery is available across Ireland for two or more items purchased, €5 standard charge for orders of less than two items. Next day delivery is €20 and the free delivery for two or more items does not apply to this method. cooleswan.com/shop
Any we've missed out on? Let us know in a tweet to @GastroGays or if you're a producer who is offering order and delivery, feel free to email us on hiya@gastrogays.com with as much information as possible and we will include –– other resources with information include the Blas na hEireann website and Slow Food Ireland, both updated regularly and broken down into county-by-county offerings.
Like this? Buy us a coffee!