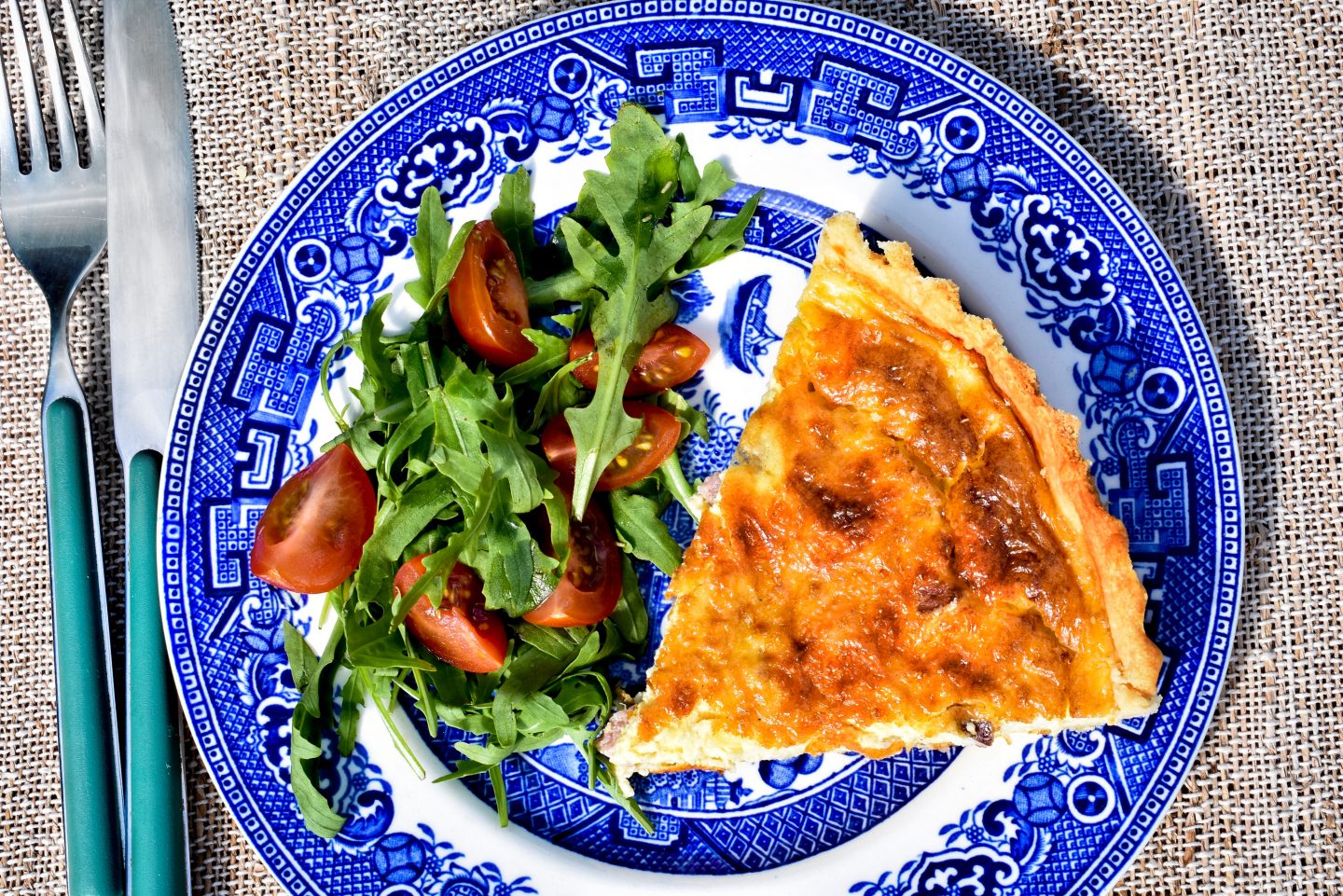 We recently got the chance to visit the Jura region of France, where the world-famous Comté is produced. Due to it's protected status, this cheese – the king of French cheeses, if you ask us – has a very strict way of being manufactured, with milk from Montbéliarde cows, to a very specific ageing process. Here is a recipe which makes the cheese really come alive, using some delicious smoky bacon as well, which we cooked on TV3's Six O'Clock Show on 22nd August 2017, which you can see at the bottom of this page!
Ingredients
1 block of shop-bought shortcrust pastry
or homemade pastry made with:
90g soft butter

180g plain flour

2 egg yolks
120g Comté, grated

180g smoked bacon lardons

3 whole eggs, 1 egg yolk (save the white)

300ml/g crème fraîche or double cream

1 tsp dijon mustard

pinch of nutmeg

salt & pepper
Method
1. If you're making pastry yourself, put the butter, flour, egg yolks and about 4 tsp cold water into a food processor. Pulse it until it forms into a ball. Tip the pastry onto a lightly floured surface, gather into a smooth ball. Wrap in cling and leave in the fridge for about an hour, or overnight is always best.
2. Pre-heat oven to 180ºC and whilst it's coming to temperature, take your pastry out of the fridge and allow to come to room temperature – this makes it more pliable and easier to roll. For the simplest way to roll, roll the paste between two sheets of baking or greaseproof paper until it's a bit larger than the tin you're using. Fold up the four corners of the paste and put in to a loose-bottomed, fluted quiche tin and open out instead of trying to lift the sheet into the tin perfectly. Smoot out the bottom, push into the fluted sides and allow to rest in the fridge to firm up for 30 minutes if possible.
3. Prick the base of the pastry case all over the base with a fork, then cover with a sheet of baking paper and baking beans (or dried beans, rice) to hold it down and stop it puffing up. Blind bake for 15-20 minutes with the beans in, then take out, brush with beaten egg white and return to the oven for another 5-10 minutes. This step makes the base extra crisp, more firm and acts as a layer between base and filling so there's less risk of a soggy bottom!
4. Whilst the blind baking is taking place, put the lardons on a cold pan, and leave on a low to medium heat allowing them to come up to temperature slowly, rendering all their fat to then fry within its own fat, getting crisp and a little caramelised.
5. In a large bowl, crack the 3 whole eggs and add an extra egg yolk (remember that egg white for the pasty? no food waste here!). Mix in the crème fraîche and whisk together just until it's well combined – you don't want to add extra air into this! Add the mustard, nutmeg and the seasoning, and stir int the generous grating of Comté.
6. Place the cooked lardons in the base of the dish, and cover with the egg and cheese mix but work quickly to pop the tart on a lower rack of the oven and bake for 30 minutes, same temperature as before. You know your oven best, so keep an eye on it – it might need to be turned halfway through. You'll know it's ready when there is only a slight wobble, and the top is beginning to get a golden bronze. It will have puffed up during baking because of the eggs, but don't worry, as it cools the filling will fall back to size.
7. Remove from the oven, and leave to cool in the tin for a couple of minutes before trying to take out of the tin, try leave it 15 minutes if possible. Slice and serve very simply with a dressed salad and maybe a glass of French wine?