Who knew Frankfurt held within such an incredible coffee scene? Packed full of third wave coffee spots (yes, lots of free WiFi, infused water and comfy seating in abundance!) who take roasting and brewing incredibly seriously – just another example of how Frankfurt has shaken off its outdated reputation as a soulless commercial centre. If you're planning a trip to Frankfurt am Main, you might have clicked directly here from our 48 Hours In… Frankfurt post. If you haven't, here's all you need to know about finding the best coffee in Frankfurt and then when you're done, click through to some more of our content on this fascinating and exciting German city.
Plank
Painfully cool, Plank is situated seconds' walk from Frankfurt Hbf on the corners where Elberstraße and Münchener Straße meet. With it's jet black walls and minimal bar, it's painfully fashionable and serves exceptional coffee with a selection of freshly-baked sweet treats too.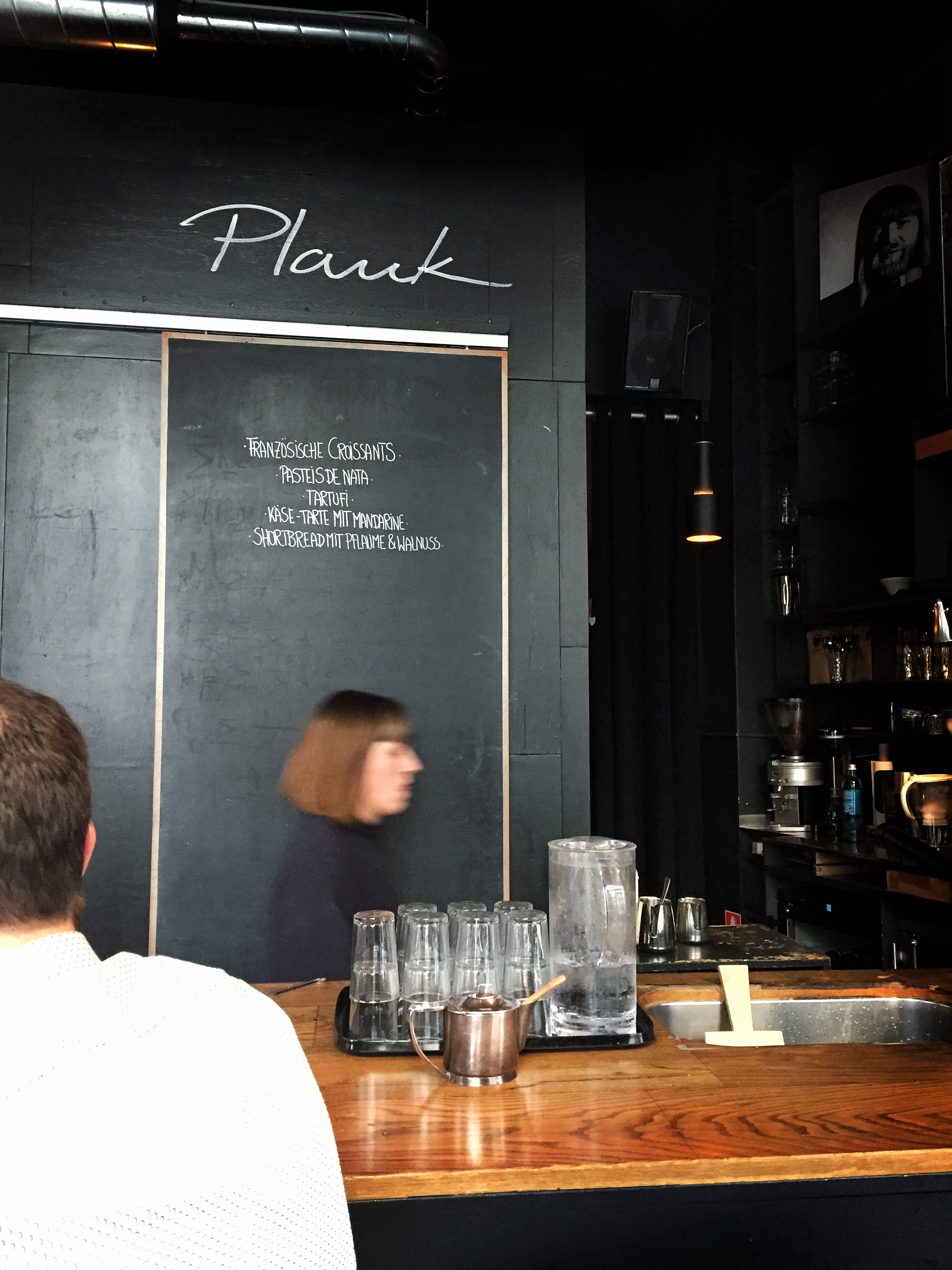 We had one of the best pastel de nata outside of Lisbon here, though it was non-traditionally flavoured with orange, as well a large slice of German Orange Cheesecake.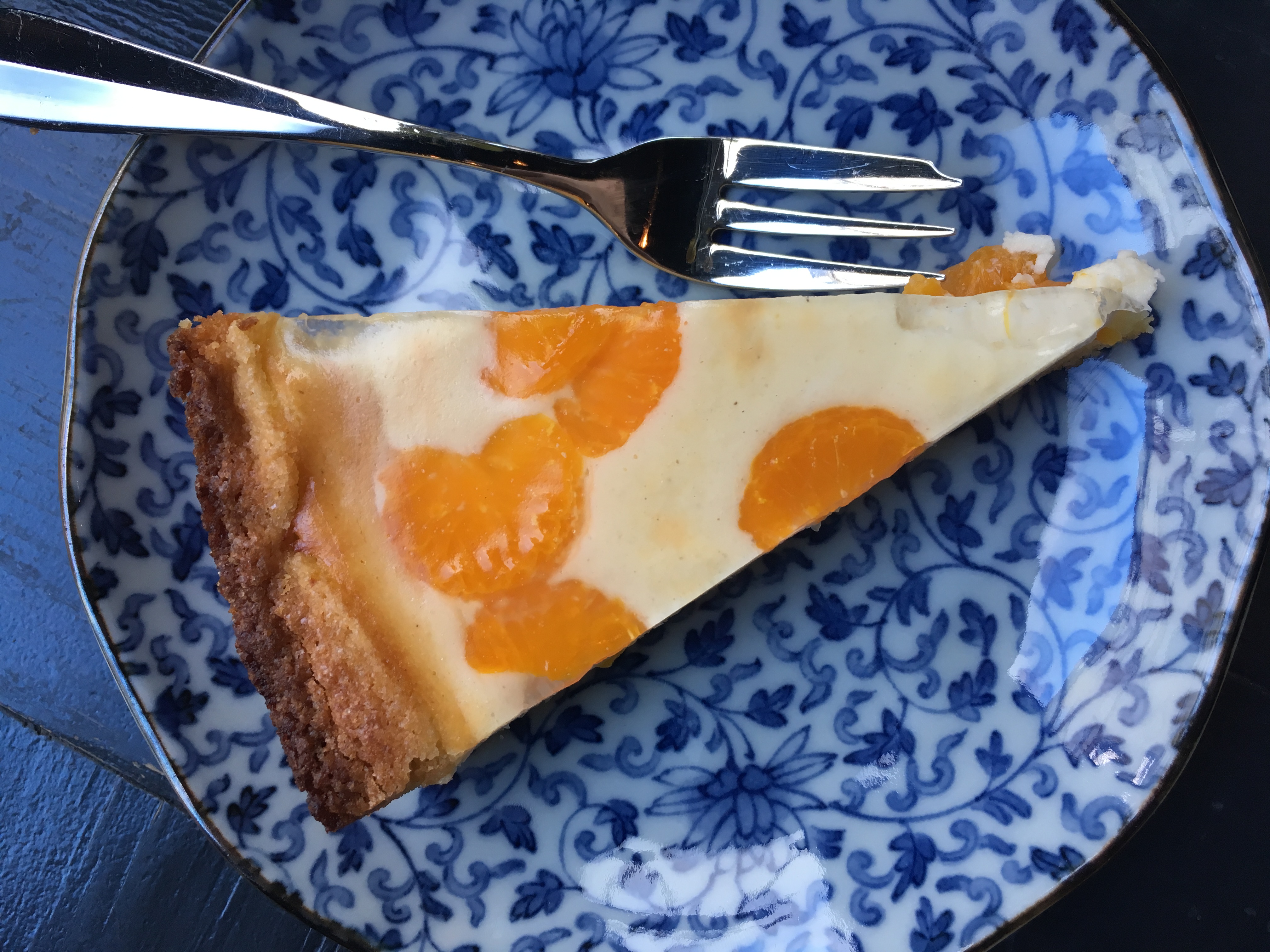 It's also a bar too and transitions into a bit of a gin haven when dusk hits! Plank is open from 11am 'til 1am or 2am every day, except closed on Sundays.
Bunca
Right across from the beautiful Steinberger hotel (which hides within a Michelin-starred restaurant Français) is a cool, casual little coffee shop called Bunca, with its tagline of: 'love, peace and damn good coffee'.
There's hippy vibes here, but there's also seriously slick espresso pulling going on and a small selection of sweet treats too. Ample seating mixed with really chilled out staff makes this the ideal place to spend an hour or two hanging out and sipping some of Frankfurt's best coffee. Bunca is open 8am 'til 5pm every weekday, but Saturdays are slightly different hours – 11am – 6pm.
Oheim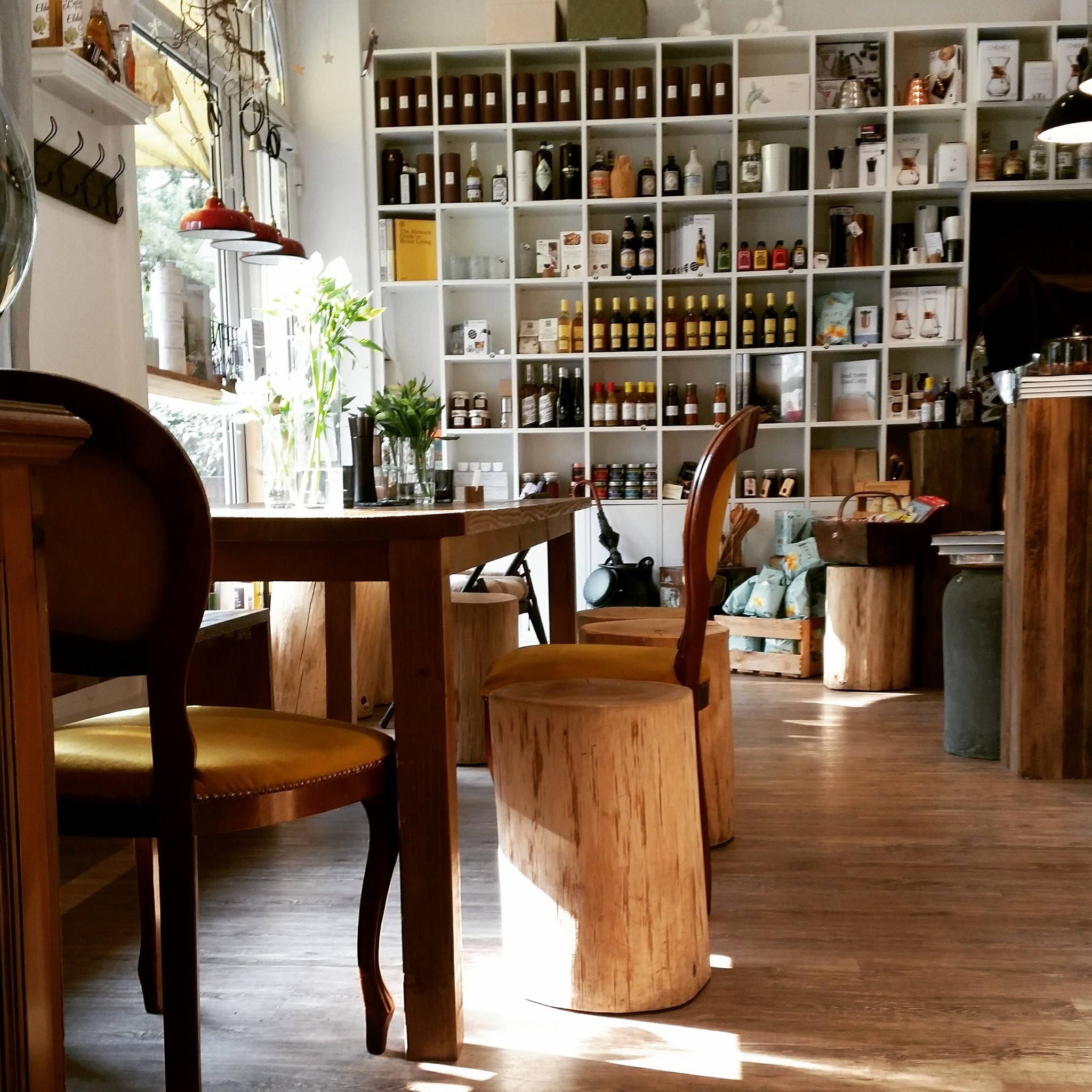 Down in Sachsenhausen is Oheim – a favourite of local Frankfurters. This is a design-led concept store and oozes style from the second you walk through its doors. You'll find branded products and interiors for sale, but the cafe is a big draw too with great coffee and home-made delicacies, guaranteed. Oheim is closed every Sunday and Monday, but open every other day until 6pm.
Cafe Opitz
Hankering for some coffee with cake? Head to Konditori Cafe Opitz for a slice of the crown-like Frankfurter Kranz cake, layers of airy sponge, sandwiched with cream and jam, with a buttercream and krokant (nutty) exterior and finished with dotted whipped cream topped with bright red ruby jewels (cherries).
Strong coffee, albeit not the best we found, but paired with the cosy setting and fast WiFi was an ideal space to while away an hour or two.
AMP (Yourself)
A bar and live music club by night, by day Amp does double duty as a cafe. Set on Gallusanlage, there's ample seating here and an ultra casual vibe.
The Holy Cross Brewing Society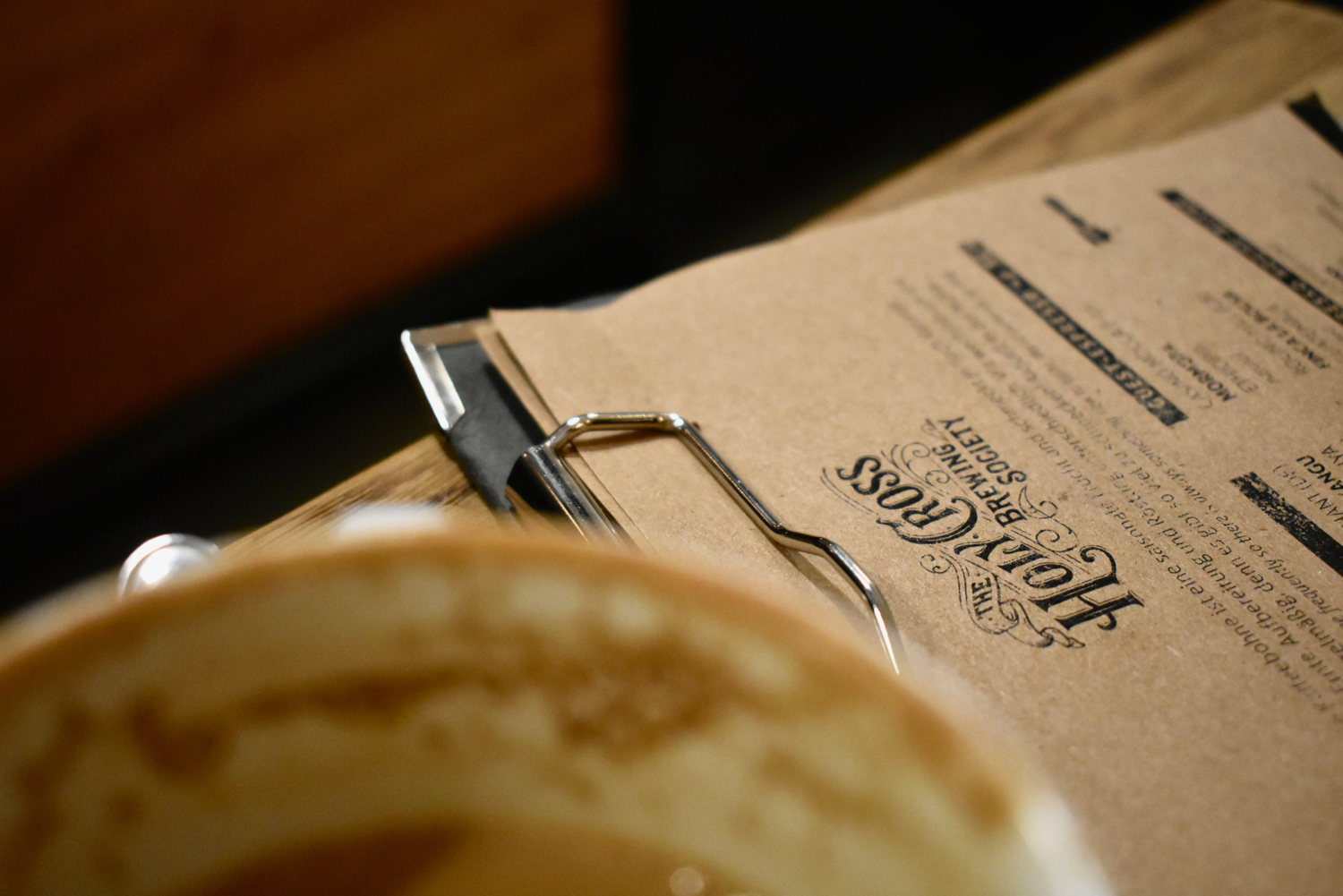 Right by the Alte Brücke (old bridge) towards Ostend, the eastern quarter of the city, sits The Holy Cross Brewing Society. Might sound like an odd title for a cafe, but don't let the name deceive you – this could very well be the cafe of yours and our dreams. Its Scandi-styled interiors do have a whiff of industrial but it's not cold and unwelcoming, it's friendly and surprisingly cosy. Monochrome in style, they do a great selection of milk options for coffee and they have lots of different roasters' beans, always keeping things fresh and interesting.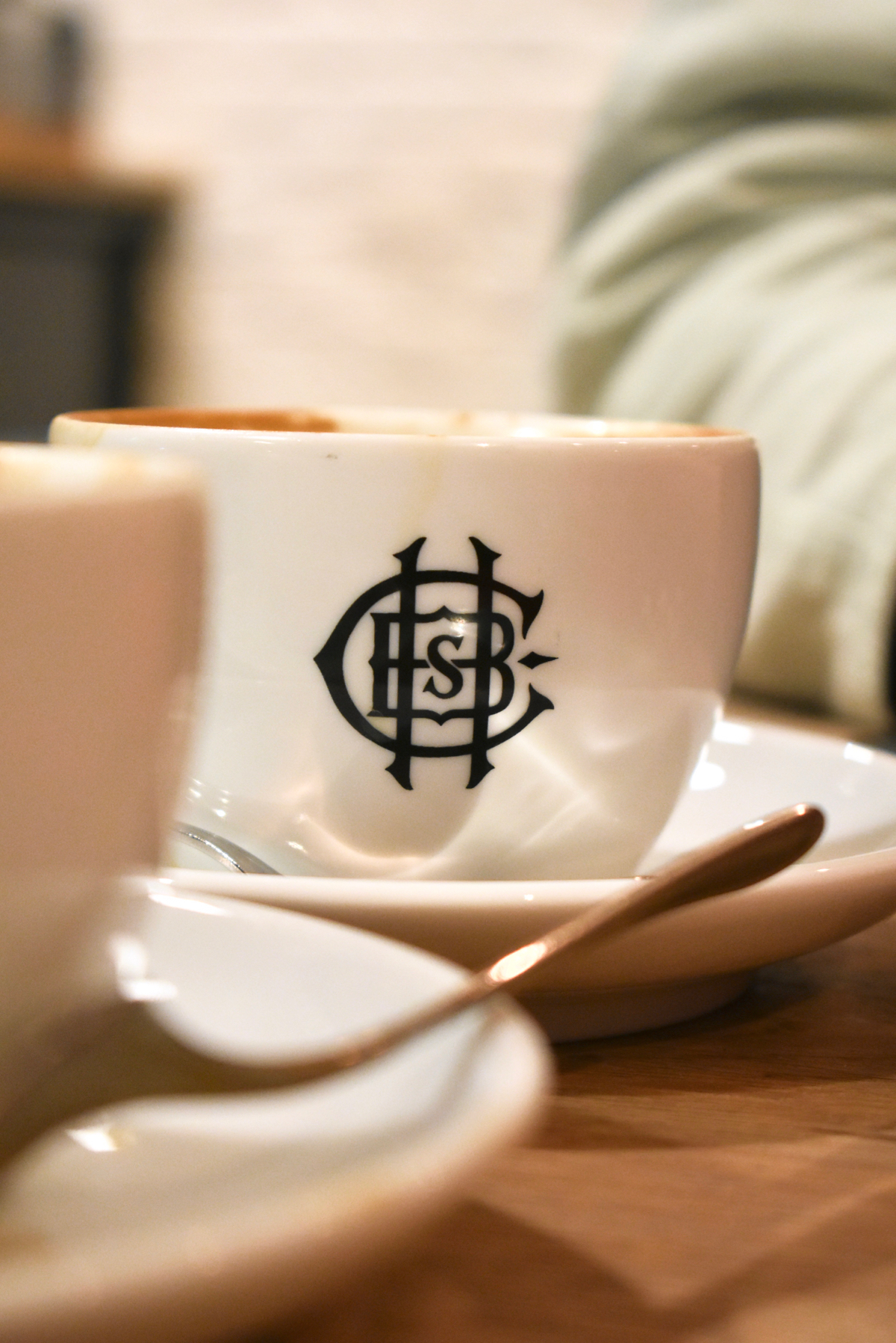 A relatively new addition to the Frankfurt scene, this is fast becoming one of the best in the city. Closed on Monday, for the rest of the week they open at 8:30am (10am on weekends) and close at 7pm
The Espresso Bar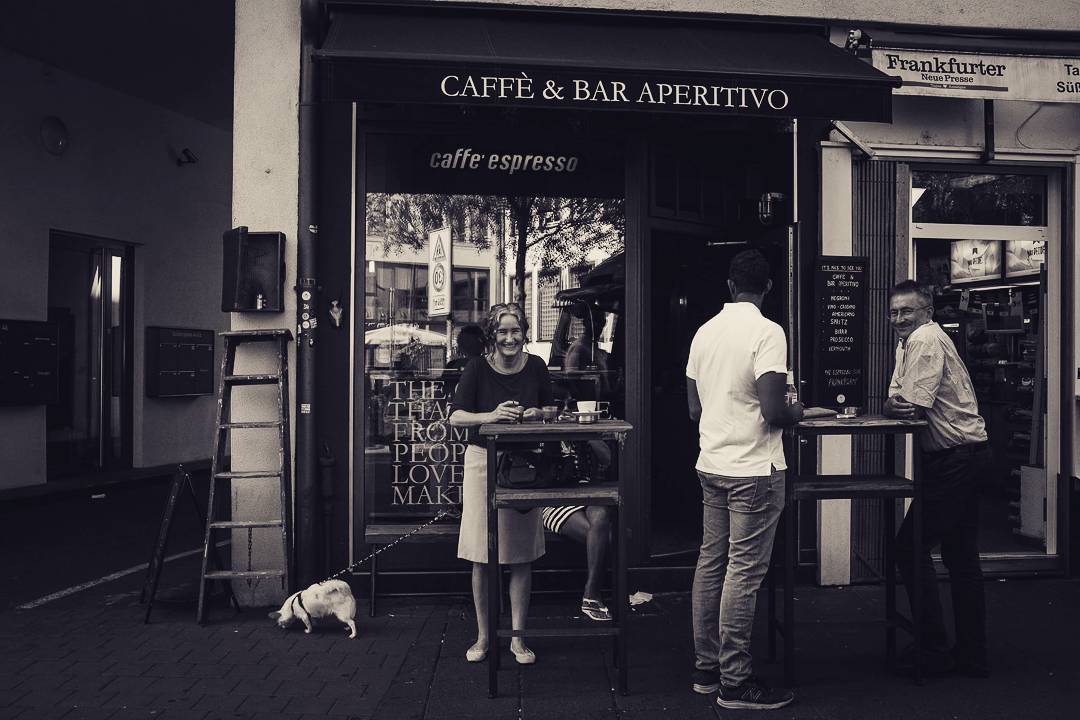 The Espresso Bar is like you would imagine a little Italian cafe down a winding side-street of Milan might be like, transported to Schäffergasse, serving coffee in the morning and afternoon with aperitivo following as day turns to night.
This place exudes old school Italian cool, with the barista/bartender staff all suave and suited. It's small and specialist, so there's not much else except great coffee and strong spirit serves. The bar is open from 8:30am until 7pm daily, slightly later opening on Saturday (9:30am) and closed on Sunday.
Hoppenworth & Ploch
Hoppenworth & Ploch is one of the most established coffee shop brands in Frankfurt, having ridden the 'third wave' very early, they are approaching a decade in business at Friedberger Platz. Minimal and paired-back, they excel with customer service and a strict focus on each cup of coffee – which is created using beans from their nearby roastery. There's also an outpost close to Goethe University.
They open 8am on weekdays (except we believe they are shut on Tuesdays) and close at 7pm, whilst at weekends it's 10am – 7pm.
Kaffewerk Espressionist & Brühmarkt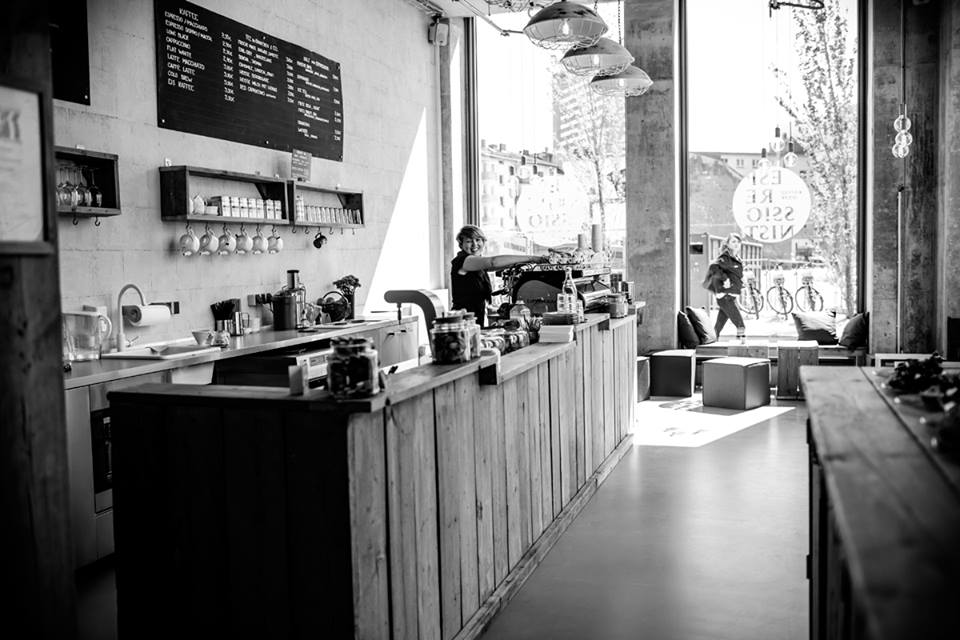 Kaffewerk Espressionist and Brühmarket are actually owned by the same people, so we've piled them together here too – though they're 20 minutes' walk apart. Kaffewerk Espressionist is located by Tower 185, one of Frankfurt's largest skyscrapers, and it's cosy and pared back with just a few seats inside and out. Filter is the speciality at both cafes, and Kaffewerk Espressionist is the more casual of the two. It opens weekday working hours, Monday to Friday between 8am and 5pm.
Brühmarkt is borderline obsessive about filter. Arguably the purest way to taste the flavour profiles of coffee (without the heaviness of espresso or the muddle when milk is involved), at Brühmarkt you can order filter coffee in no less than eight different ways: Hario V60, Aerobie Aeropress, Slow Coffee by Kinto, Chemex, Hario Siphon, Kalita Wave, French Press, Cold Drip, Comandante and Cafflano. There are two daily-changing espresso roasts, too. Brühmarkt is open seven days a week, which is rare in Frankfurt, so you can happily get your fix from 8am 'til 6pm daily (but slightly later 10am opening on Saturday, Sunday and public holidays).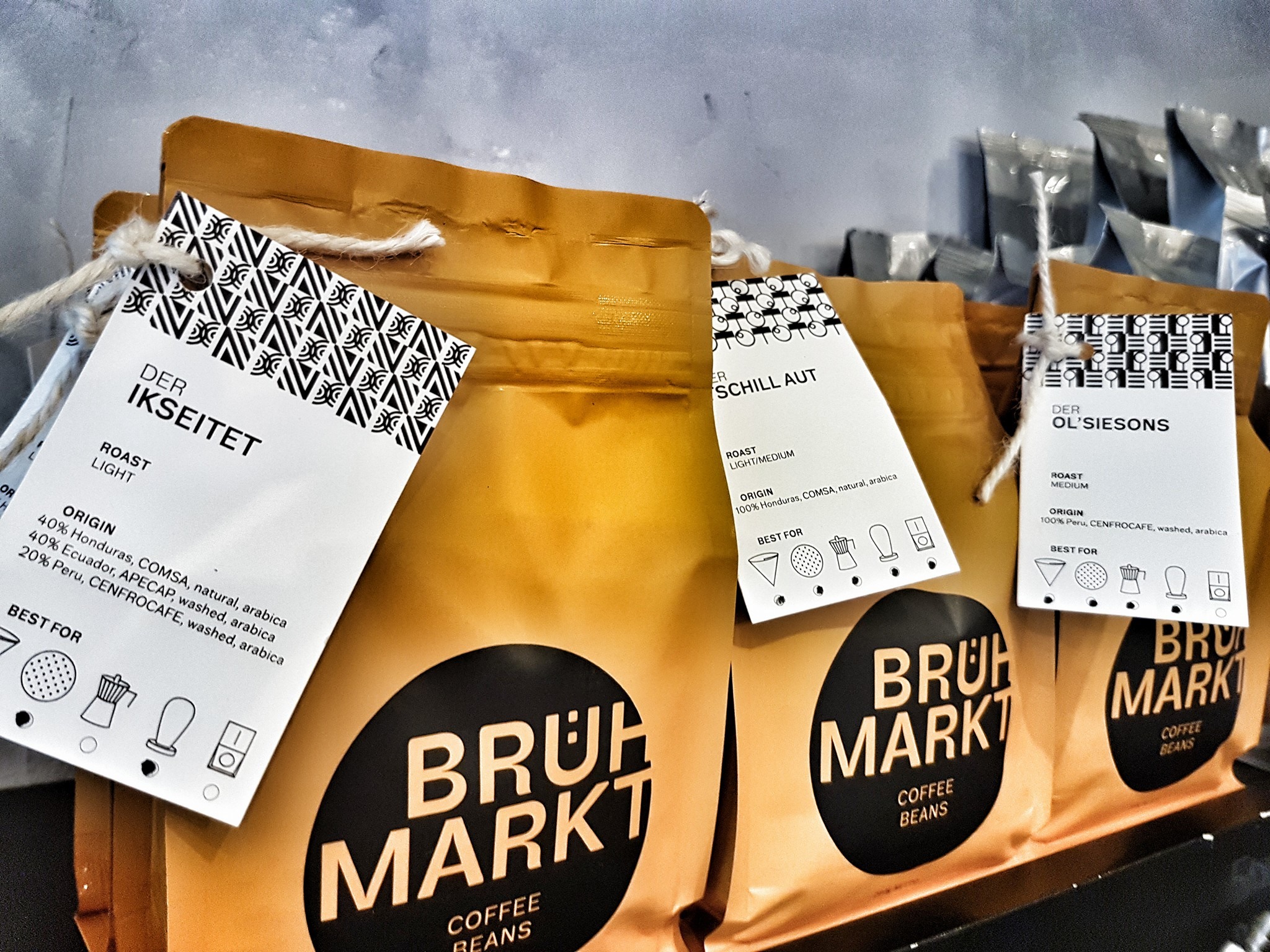 Roasting their own beans at a  roastery located on the outskirts of the city, which supplies both stores, you're also able to order their branded Bruhmarkt beans from the website and buy both beans and brewing equipment in both cafes.
Aniis – Raum für Kaffeekultur
An artistic and cute cafe, Aniis on Hanauer Landstraße is the most Eastern suggestion on this list, but it's well worth taking the trip to Ostbahnhof. In addition to great coffee and speciality drinks, Aniis is also a working kitchen with a menu filled full of seasonal ingredients, as local and organic as possible. You can enjoy breakfast, sandwiches, salads, lunches and cakes and they describe their kitchen as "experimental, creative, varied and international with a touch of the Orient".
Aniis closes on Monday, but is open every other day of the week, 8am – 6pm on weekdays and 10am – 5:30pm on weekends.
Kunstverein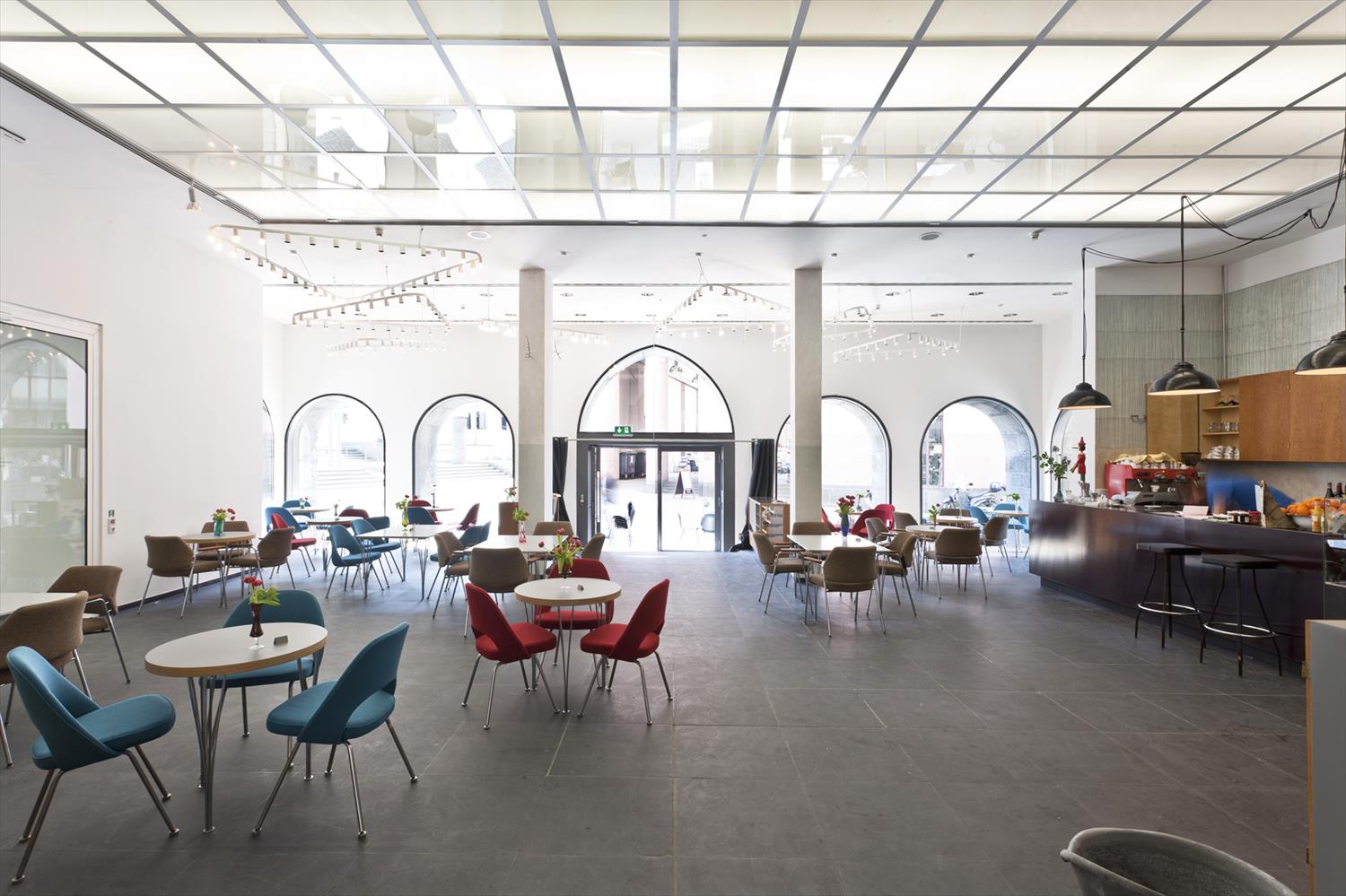 Double height ceiling, spacious, and busy yet quiet, meet Cafebar Im Kunstverein. It's set right beside the Frankfurt Art Association and set within the Steinernes Haus, one of the oldest buildings in Frankfurt. Arguably better known for their food than their coffee, it's still a stunning space to enjoy a great cup of black stuff with lots of seating space. Organic is essential in their kitchen, which is run by a French head chef, and everything is cooked and baked from scratch in-house. Open 10am – 7pm daily with late opening Wednesday and Thursday weekly.
Cafe No. 48
Finally, in the Nordend area of Frankfurt is Cafe No. 48 on Rotlintstraße 48. Their tagline is kaffee-kultur & kuchen ('coffee culture and cake') and declare that coffee is their passion. That's a statement they should be confident in living up to. Sourcing much of their produce from organic suppliers, they tend to favour Ethiopian Arabica beans from 'wild' coffee plants. In the kitchen, the same ethos for local, fresh, seasonal and organic-where-possible carries through. They offer a selection of homemade cakes and sweets, as well as a small breakfast spread, some hearty snacks and a daily-changing lunch menu, all prepared fresh on-site each day. No. 48 closes on Wednesdays, right in the middle of the week, so they open throughout the weekend. You'll find them serving from 8am 'til 6pm on weekdays and 10am until 5pm on weekends.