The aroma of coffee is omni-present in our house. From the first cup in the morning, right through to the mid-afternoon pick me up, alongside some sweet treats. Yes, you won't be surprised we've definitely embraced the Swedish tradition of Fika – a pause for coffee and cake to break up the work day – from our extensive travels around the country. We also have countless coffee making implements (espresso machine, moka pot, aeropress, French press, V60) –– so a great cup of coffee is never far from reach, and each one always a joy.
But we also love to feature coffee in dishes and desserts, as the flavour works so well as something special after dinner. Bewley's is one of Ireland's favourite coffee and tea brands and one of the largest coffee roasters in Ireland and the UK, so we're delighted to be working with one of our favourite coffee brands and sharing this recipe with you for something delicious to try – Coffee Crème Craquelin Choux Bun.
Think of this as the the most gorgeous little afternoon edible treat or an elegant dessert idea –– the perfect thing to enjoy alongside a piping hot cup of freshly-brewed coffee. We've used Bewley's Kenya Loam Earth pre-ground coffee from Bewley's here (single origin, smooth, elegant, hints of citrus and berries) in the crème pâtissière which fills these delicately hollow choux buns with their signature 'cracked' and crisp craquelin. Three classic French baking techniques –– we'll take you through how to make choux, crème pâtissière and craquelin with the added benefit of having this gorgeous sweet treat to devour, too!
From humble beginnings to the forefront of coffee innovation, did you know Bewley's' origins dates back to the 1840s? What's more, Bewley's has contributed €2.4million in Fairtade premiums over the last three years, so you can trust that their Fairtrade credentials extend from field to cup. 2021 will be no exception in terms of company growth as Bewley's is continuing product innovation. Plus, aside from being stocked in lots of major supermarkets and retailers, you can order your favourite coffee and tea direct from the source at bewleys.com!
Coffee Crème Craquelin Choux Bun
Craquelin
60g each: soft brown sugar, strong white flour, butter
Choux
120g strong white flour
50g water
50ml cooled espresso
3 eggs
50g butter
1/2 tsp fine coffee granules (optional)
Coffee Crème Pâtissière
300ml milk
50ml cooled espresso
125g caster sugar
25g cornflour
25g flour
4 large egg yolks (or 6 medium –– free-range if possible)
Vanilla Whipped Cream
2 tsp vanilla paste
1 tsp cornflour
300ml cream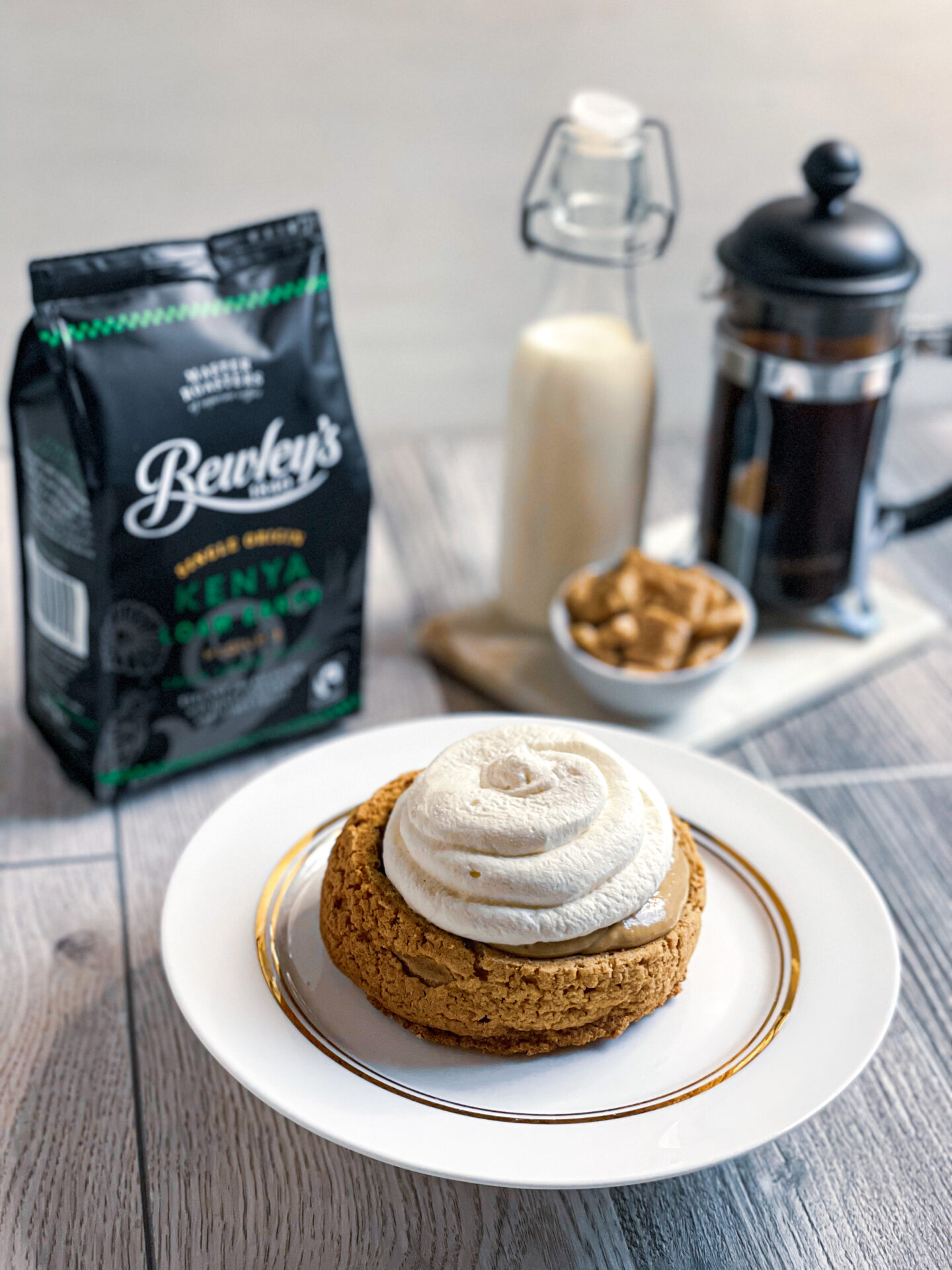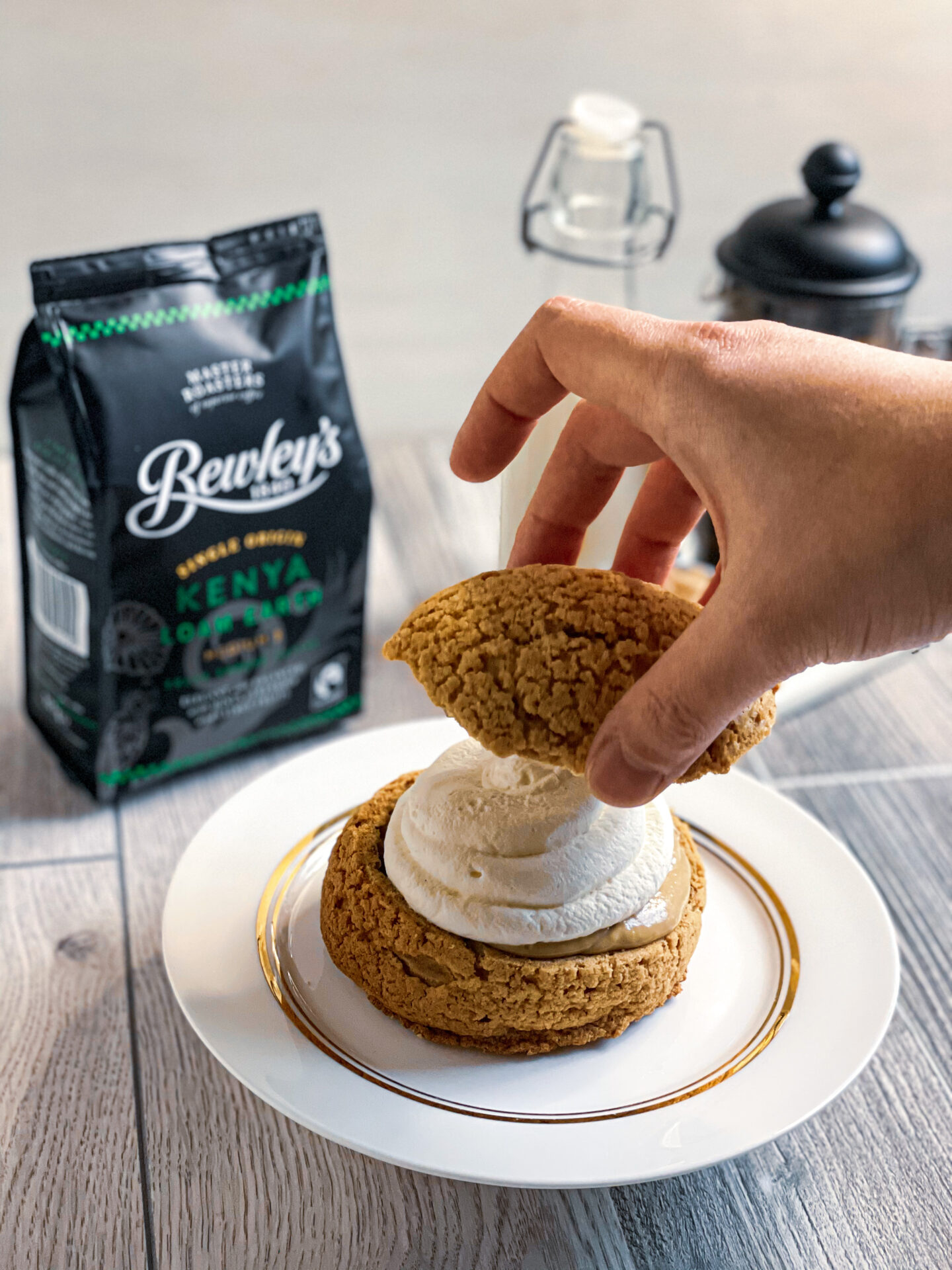 For the craquelin, cream the butter and sugar together until light in colour and fluffy, then work in the flour until you have a paste. If you don't have a stand or hand mixer, you can just rub all the ingredients together and form into the paste. Roll this out between two piece of baking parchment to about a 25cm round or 25x25cm square and about 3-5mm thickness. Keeping in the parchment, lay flat on a small tray and place in the freezer for 30 minutes to one hour.
For the Coffee Crème Pâtissière (this can be done up to two days before you need to use it!) combine the flour and cornflour with the sugar and egg yolks in a bowl, stirring to a thick eggy mixture, then add the cooled espresso.
Heat the milk in a pan on medium heat until it just comes to the boil, then remove from the heat, add 1/3 of the milk into the egg mixture and whisk vigorously to incorporate, then pour this back into the milk pot and return to a medium heat. Keep stirring or whisking as it comes back up to temperature and begins to thicken. As it thickens you can gradually increase the heat, but have patience with this and don't succumb to heating too high too early as it could boil and split. Ensure you're scraping the bottom in case any of the mixture is catching, as this is a sign it's too hot. After a couple of minutes you will have a very thick custard –– which will thicken slightly further as it cools. Keep in a jug or bowl, with a layer of cling film touching the surface to stop a skin forming, until needed.
Next, make the choux. In another pot, melt the butter with the espresso and water over a medium heat until it boils, then in a steady stream pour in the flour as you whisk it to something like a roux. Switch to a wooden spoon, beating the mixture together until it comes away from the sides in roughly one ball and has a slight shine to it. Immediately put this into a mixing bowl (of a stand mixer, if you have one) and allow to rest and cool to lower than body temperature.
When just about warm, beat the choux paste for 30 seconds to ensure no more heat is left. If there is, allow it to cool further. At this point, pre-heat your oven to 210ºC.
Next, with the mixer on medium (or hand mixer, whichever you have) add the whole eggs one by one, beating vigorously between each egg. Notice that the mixture instantly doesn't seem to want to mix and will turn to the globule stage, but beat past this and it will eventually come together and thicken to hold its shape. Then, add the next egg. And the next one. Once thickened to a stiff, heavy batter than holds its shape, remove to a piping bag and keep in the fridge until you need to pipe.
Take your craquelin out of the freezer in its solid block form and allow to come up to room temperature for 2-3 minutes. Using a cutter or a small ramekin, cut rounds of the craquelin out, remembering that you want this to cover the entire top of the choux buns, so you will need to cut out to the diameter of the buns you will pipe –– it's handy to possibly draw out the circle on the underside of the baking parchment you will bake on to give you a guide.
Pipe your choux into six identical medium-sized buns (or four large ones, or even 12-15 mini ones!) on a baking sheet lined with your baking parchment. When just about ready to put your buns in the oven, add the craquelin to top each bun, pressing lightly to adhere to the top of the buns, then bake in the middle of the oven for 10 minutes, at which point you can reduce the heat to 190ºC and continue for a further 30-45 minutes (depending on the size of your buns, you may need to adjust this time).
When puffed up, darkly-coloured and looking crisp and dry with the craquelin having melted and hardened on the exterior, turn off the oven and leave the door slightly ajar, allowing the buns to completely cool and dry out in the residual heat.
Make your whipped vanilla-flecked cream by combining double cream with your vanilla paste (or extract, if it's all you have) and whipping (by hand or by machine) until stiff and holds its shape. Decant into a piping bag and keep in the fridge until needed.
To assemble, cut horizontally through the middle of the cooled bun to reveal the hollow centre. Spread 3-4 tbsp of the crème pâtissière mix into the hollow, then follow with two piped swirls or a big dollop of the vanilla cream, finishing with the 'lid' of the bun and a gentle dusting of icing sugar. Enjoy immediately with a cup of Bewley's coffee –– what a delicious moment to yourself!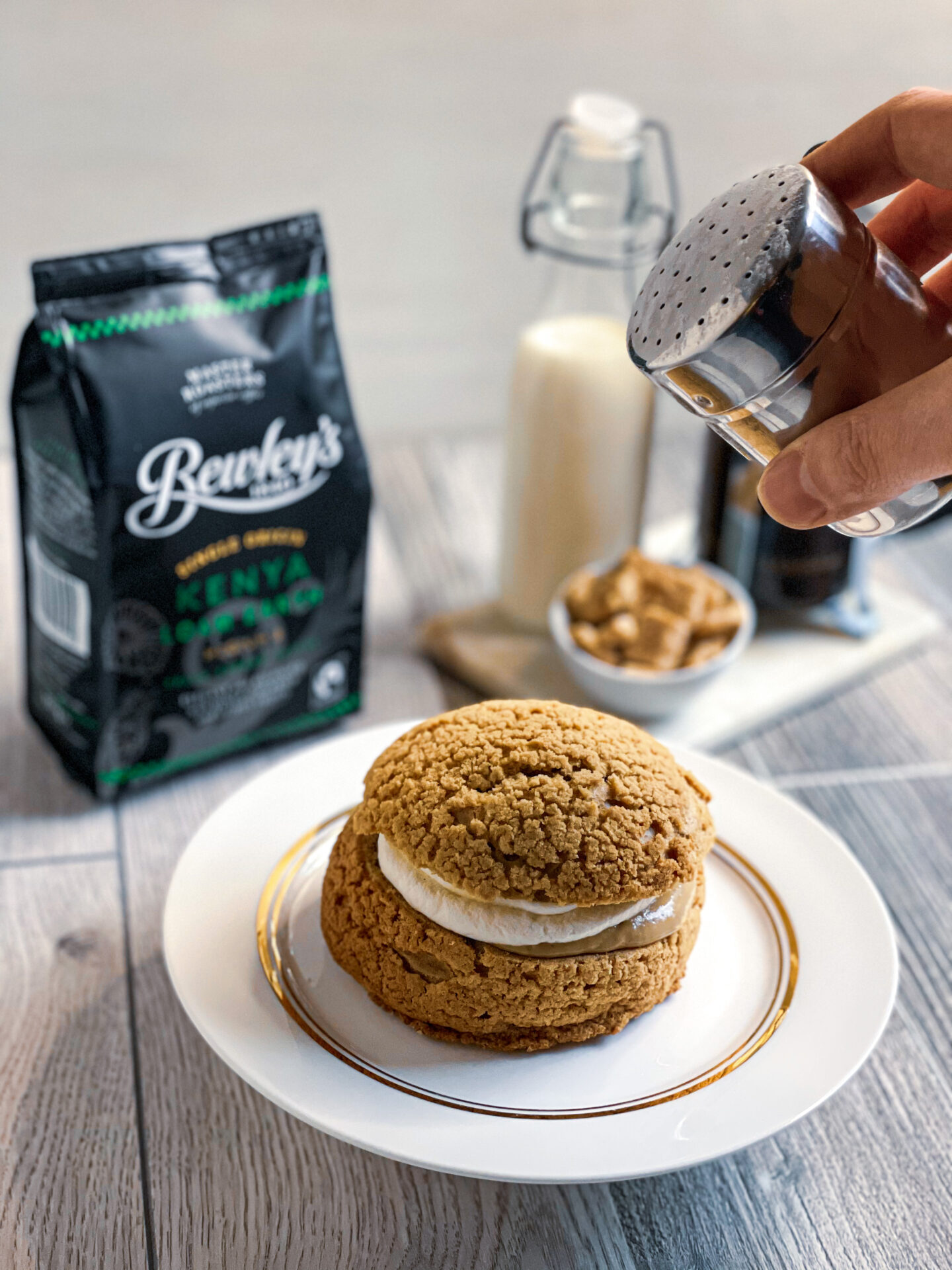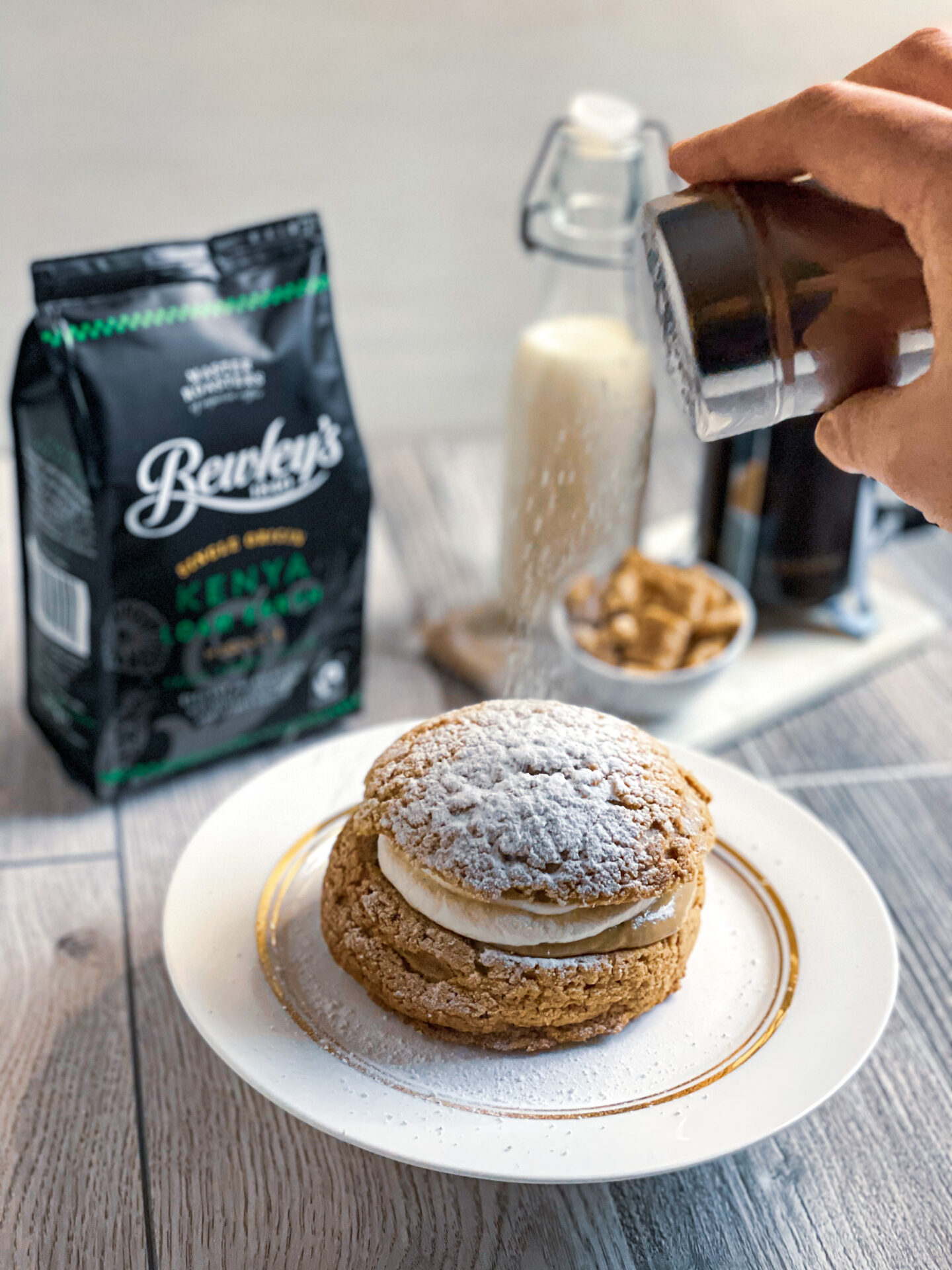 bewleys.com #BewleysCoffee #Sponsored