Caramel always felt so obvious and basic but still forever alluded us, and we don't think we're alone. The thought of boiling sugar to any home cook likely whips up a little anxiety as the potential for danger is always in the mind –– but caramel should be a frequent joy, this accidental vegan salted caramel sure is for us and we find excuses to make it so often –– use it in cakes or mousse, stir it through porridge, drizzle luxuriously over sticky toffee pudding or ice cream, even savour it slathered on toast as an indulgent snack.
This came about when making an edible gift for a vegan family member –– and it's become a staple in our kitchen for the last few years. The coconut flavour is so subtle and the salt brings everything together with balance between sweetness and creaminess. This also stiffens beautifully as it cools, so 24 hours after you make it it will be satisfyingly spoonable.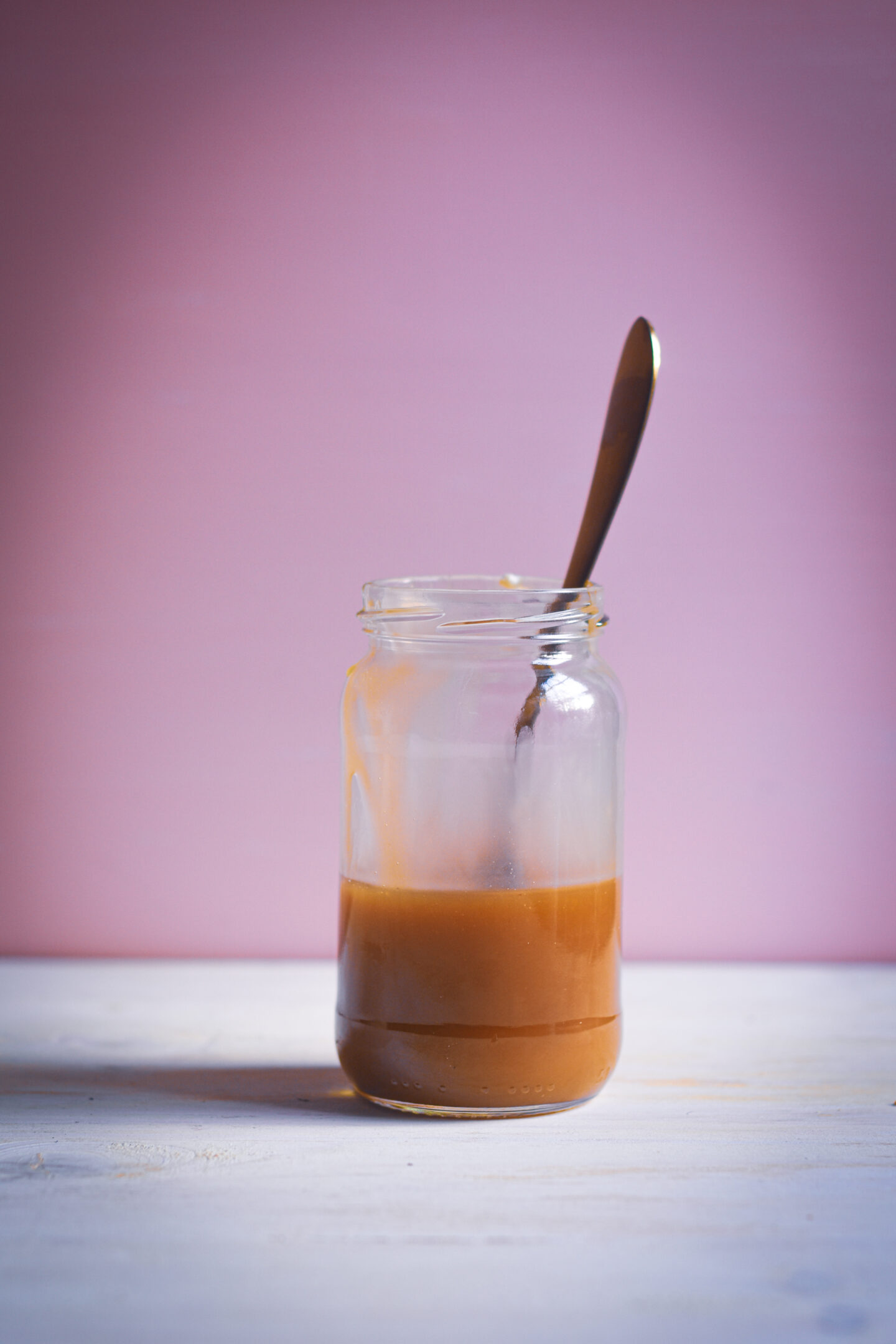 There is quite literally three ingredients here: sugar, coconut milk* and flaked sea salt. Couldn't be simpler!
*You're using the thick coconut 'cream' part of the coconut milk (the firm, opaque white part that hardens at the top) so what we recommend is before you make this to keep your tin upright in the fridge to ensure even separation. If you can't do this, it's not a problem but please don't shake the jar – which, for some, may be force of habit? – as that will start to combine the two parts of the coconut milk.
With the leftover coconut water, add it to smoothies or your porridge in the morning –– or even make a chocolate mousse using the Hervé This method, which we do almost every time, whipping up the coconut water with melted chocolate over a bowl of ice water, it's truly magical! We sometimes add a hidden caramel layer of this very vegan salted caramel sauce into the middle of said mousse, too!
Vegan Salted Caramel Sauce
400ml can of full fat coconut milk
115g caster sugar
A generous pinch of flaky sea salt
1. In a pot, dissolve your sugar in a couple of tbsp of water, enough to dissolve (no dry sugar clumps) as you swill it around off the heat. Then pop on the heat to medium-high and begin to bring the sugar and water to a boil. Don't push your caramel too fast too quickly, so keep the heat on a medium rather than pushing it as high as it can go and this can take up to ten minutes. Be patient, as the sugar heats it will begin to turn colour, first to a light gold and then down through the gold spectrum to a nutty amber. The darker you take your sugar the darker the caramel will be, and the lighter you leave it the more anaemic the colour of the resulting caramel will be. For temperature reference, somewhere around 175ºC – 180ºC is a good indication of caramel stage.
2. When happy with the colour, briefly remove the pan from the heat and add in the coconut cream –– the mixture will likely hiss and possibly splatter as the cream and sugar meet one another, but take care, whisking both together –– notice that this is the first time that you're agitating the mixture with a whisk or spoon. The caramel may seize and harden, but once back on the heat the sugar will soften and melt into the cream.
3. Back on the medium heat, keep whisking/stirring and coaxing the mixture to melt together –– it may be very watery at the start but persevere and keep boiling down until it gets to your desired caramel thickness. Note: this will further thicken once it gets completely cold, so if you want it drizzlingly pourable you can take it off the heat when it's still a little loose.
4. When happy with the viscosity and colour, remove from the heat and either use immediately or store in a sterilised jar. This will keep for weeks in the fridge!