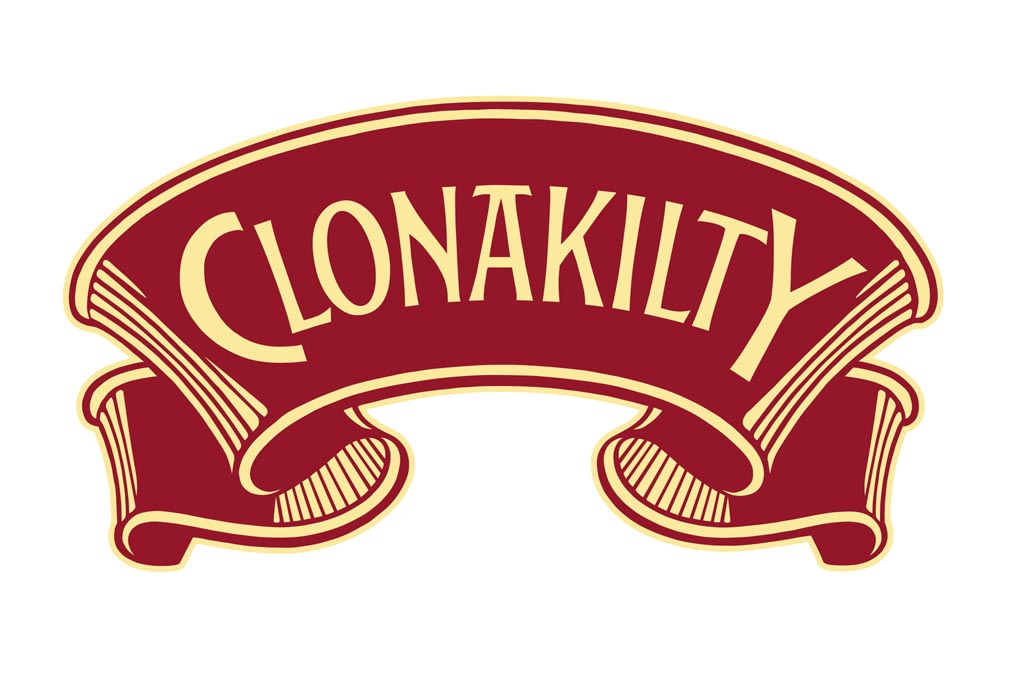 Sponsored by Clonakilty Food Co.
That satisfying crunch of fried filo as you take a bite, and the unfaltering pleasure of something crisp, handheld and bursting with a highly-flavoured filling. One of life's edible pleasures, no? These filo parcels, made from scratch simply at home in less than ten steps, have a secret ingredient in them we're dying to share with you –– a brand new product finding its way onto the shelves near you from this very moment: Veggie Pudding.
A delicious (and novel) new product from our friends at Clonakilty Food Co., famed for their black and white puddings, plus other breakfast favourites like sausages and rashers. Though we love the meaty, rich flavour of black pudding, we were very intrigued and excited when we heard that the team were developing this vegetable-based product that everyone can enjoy!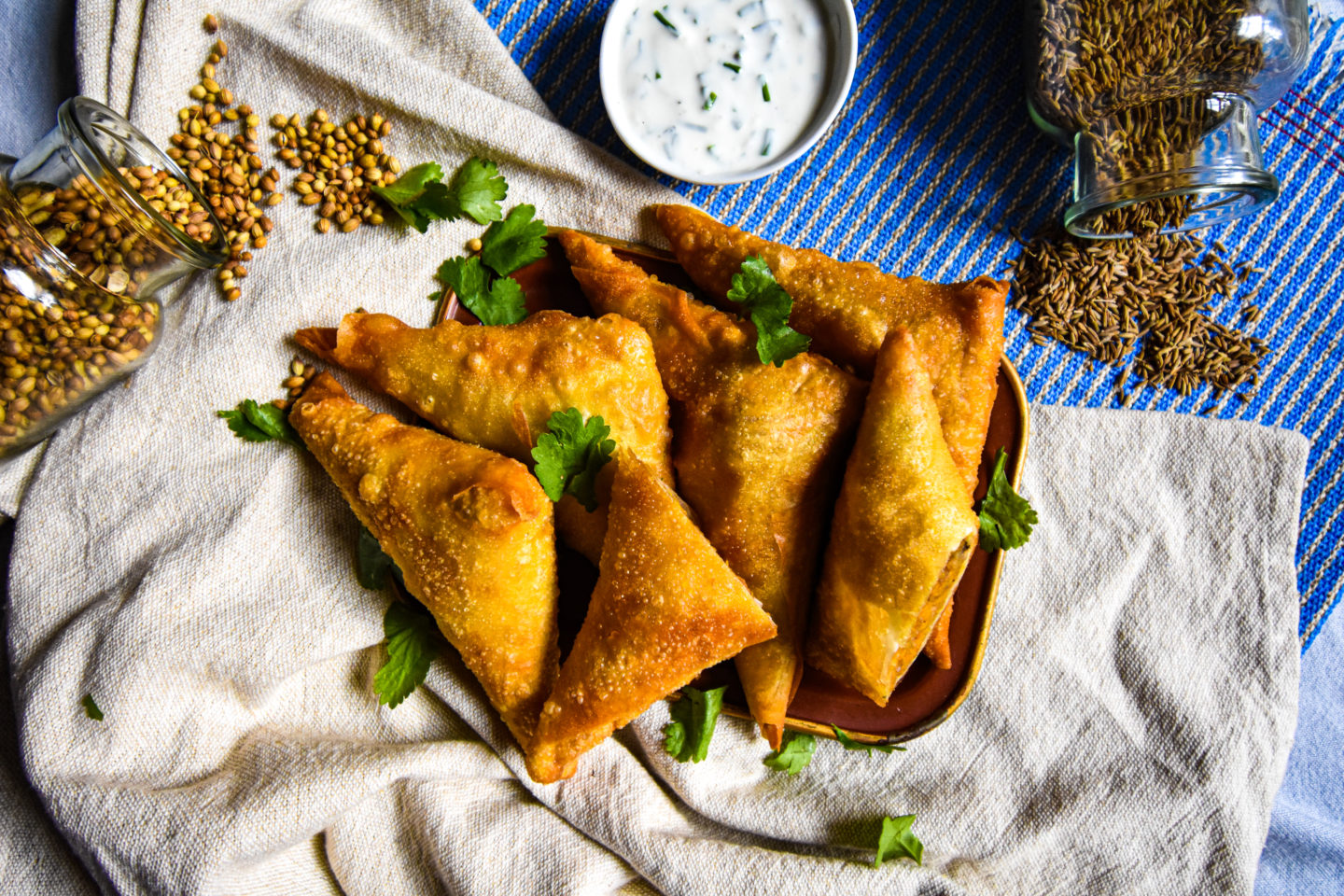 Made with very few ingredients – just gluten-free oatmeal, onions, carrot, black beans and natural spices – it's got buckets of flavour and a great texture. Not only vegetarian but vegan-friendly to boot, it's also gluten-free, free from any artificial additives and preservatives and a nice little source of protein (5g per 100g). We have a feeling your breakfast plates will be appointed with this en masse soon to try it out, but we wanted to demonstrate an interesting way to serve this – a gorgeous filo parcels recipe using sweet potato, spices and maybe even a new skill in the kitchen!
These are like samosa, but we're not claiming to be purveyors of expertise when it comes to the culinary staples of Indian Subcontinent at all, but this is a style of cooking we adore –– and a style of food we adore eating, too! When we got our hands on this product, we immediately thought "how would we use this when entertaining? How would we incorporate it into a weekend dinner party or an evening get-together with drinks?" and finger food, canapes and light bites came to mind, so we thought making little handheld, couple-of-bite parcels would be a perfect crowd pleaser!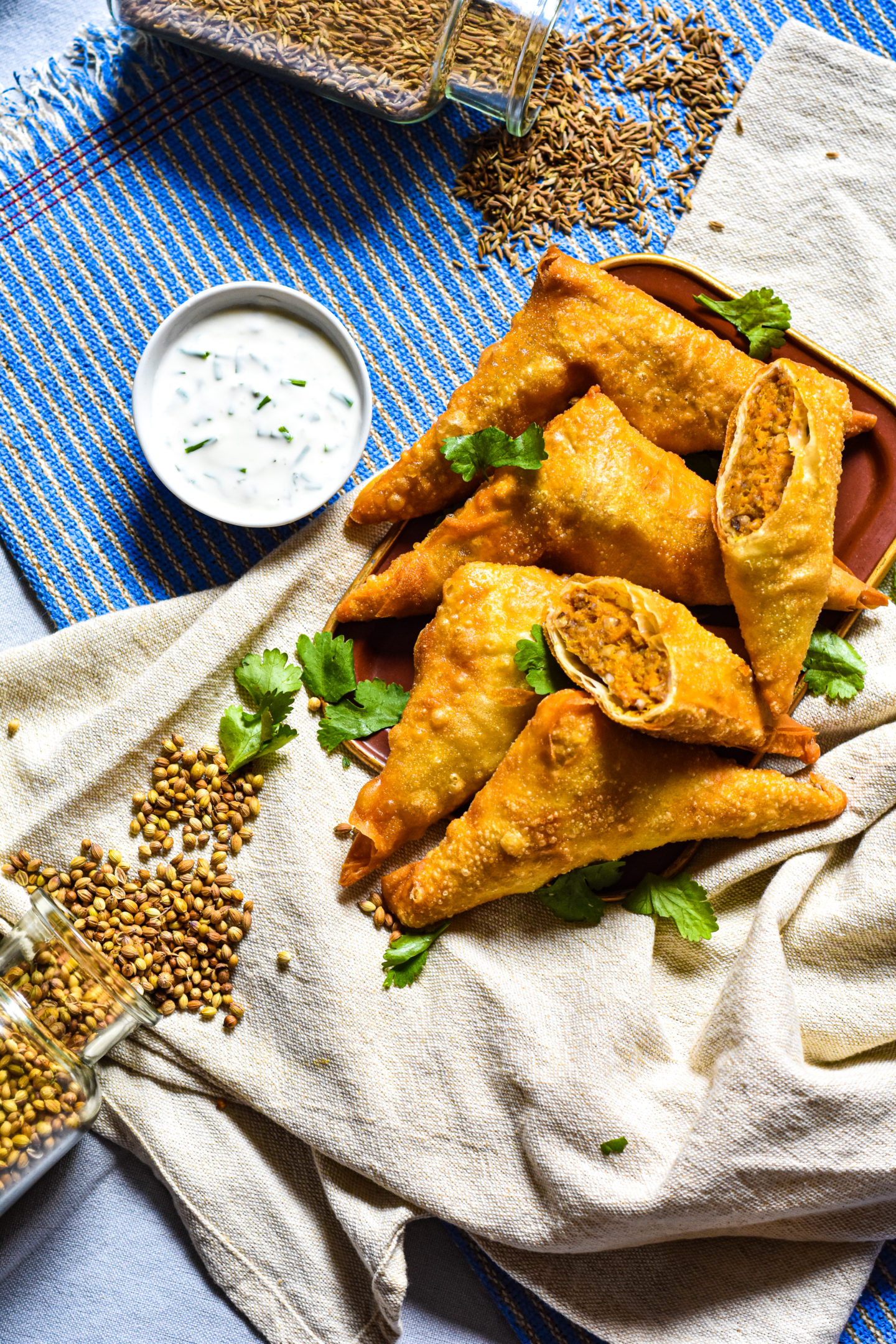 These filo parcels are so seriously simple to put together, you'll be amazed and sweet potato – compared to normal potato varieties – really adds a lightness to the mixture and also a sweetness of flesh. We bake the sweet potato here in its skin until soft and almost collapsing on itself, intensifying the flavour of the flesh within and not adding in any extra moisture or catching in the oven too much.
🔺Clonakilty Veggie Pudding & Spiced Sweet Potato Filo Parcels 🔻
1 medium-sized sweet potato
100g Clonakilty Veggie Pudding
A packet of filo pastry (if frozen, thawed before use, but there are 'chilled' varieties)
2 tsp each flaked salt, whole cumin seeds, whole coriander seeds
1.5 tsp white pepper
1/2 tsp caraway seeds, fennel seeds (optional)
A little flour and water, binded to make a thick paste
Note: deep fat-fryer required, or you can shallow fry
1. First, prick the sweet potato a few times with a fork, wrap tightly in some tin foil and bake in a moderate oven for 30-45 minutes (timing will differ depending on size) or until a skewer or knife inserted meets no resistance. Then, allow to cool slightly in its jacket before scooping out the flesh into a mixing bowl. Discard the skin.
2. Next, heat the fryer to 165º/170º Assemble the spices by toasting the whole cumin and coriander (and fennel, caraway if using) on a dried pan until fragrant and then with a pestle and mortar grind with the salt until fine. Add the ground white pepper.
3. In the bowl with the sweet potato flesh, crumble the Clonakilty Veggie Pudding into the mixture and follow with the spices. Stir everything to combine.
4. Prepare the filo by unrolling the rectangular sheets. Take one sheet and then cut in half lengthways (the shorter side) right down the middle so you have a pair of long rectangular strips.
5. Make a fairly thick paste (think regular crêpe/pancake batter) by combining a little water with some plain flour in a bowl –– this will be used to secure the filo parcels, by dipping your finger in it and spreading on the unsecured lengths to secure them.
6. Next, make a pocket by folding over a corner in a triangle to the other side. Think of an isosceles triangle. Secure the 'open' side by rubbing a little of the flour-water paste and squeezing together to 'close'. Then, fold the triangle over again, end to end, and secure one side with a little paste. Now, you'll have a neat little pocket that you can fill with your mixture –– around two tablespoons is plenty, you don't want to overstuff these delicate triangular parcels.
7. Keep folding the triangle shape in on itself, using the rest of the rectangular length, securing as and when you need to with a little paste until you've used the full length. Make sure the final portion is secured tightly with paste, or else it will all start to unravel in the oil.
8. Repeat this process, from cutting filo to securing the neat, filled parcel in its triangular shape – for as many sheets/parcels as the filling will allow.
9. Fry immediately for 6 minutes in total, turning half-way to ensure even golden colour. Keep an ear out for any activity in the oil, these fry gently but if they burst in the oil you will know about it.
10. Serve warm (these don't keep their crispness very well once cooled) with a little dipping sauce of thinned out natural yoghurt, mint, a little grated garlic and a few twists of freshly-ground black pepper.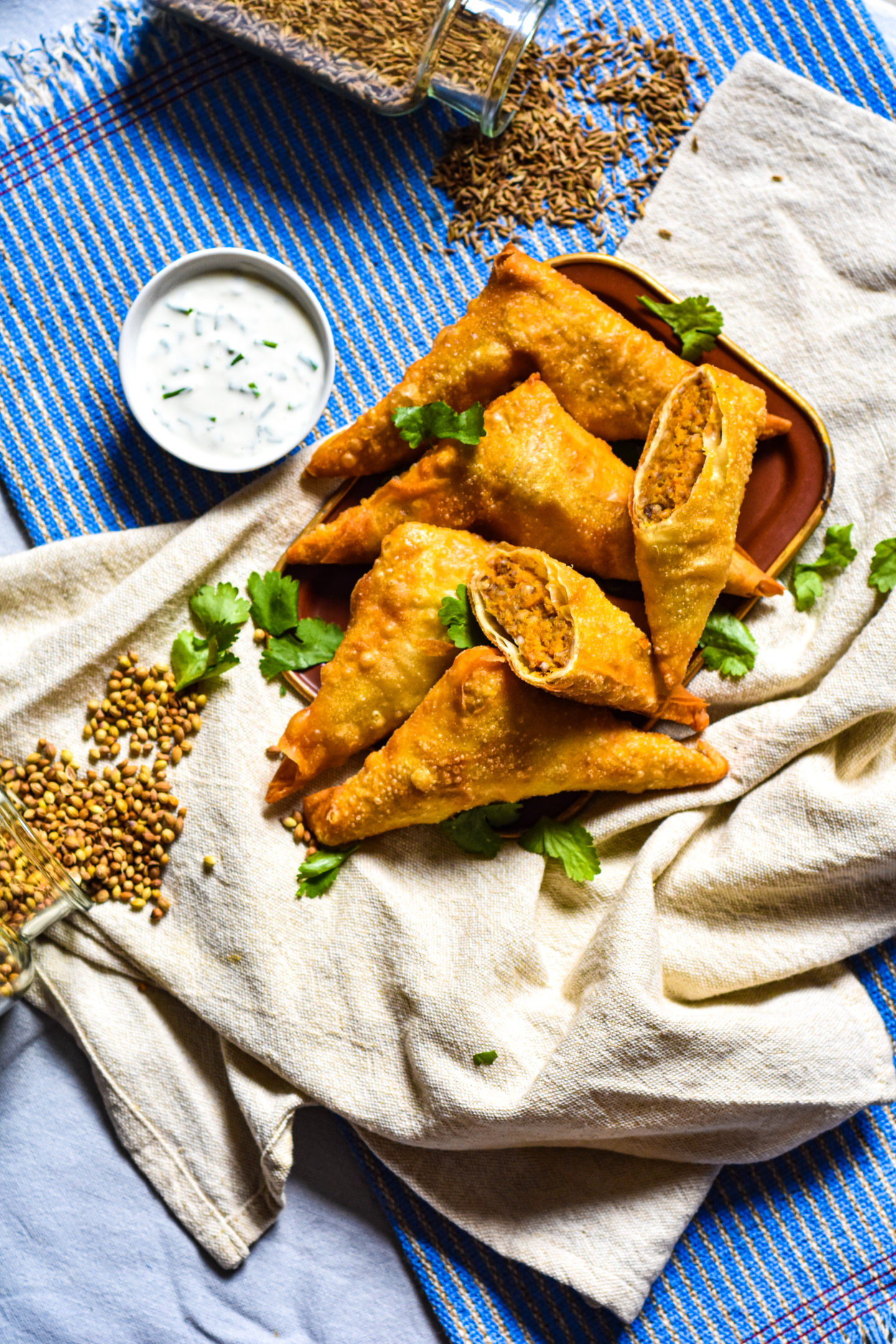 Disclaimer: This post is sponsored by Clonakilty Food Co. Try their new Clonakilty Veggie Pudding, launching in select supermarkets in the Republic of Ireland from early September 2019.