Ireland's Wild Atlantic Way is a mammoth 2,500km stretch along the country's rugged, ocean-battered coastline, running from Donegal right down to Cork. At its mid-point is the colourful, eclectically electric and craft and craic-filled city of Galway, which is the entry point to what's increasingly known as the 'Cliff Coast' portion of the WAW.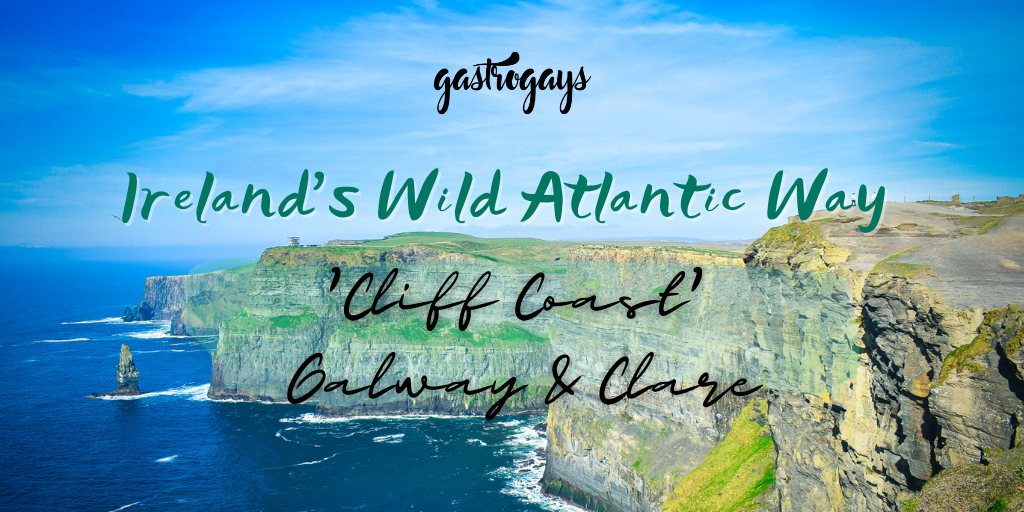 The costal route that runs almost parallel to the inland M18 from South Galway through Clare is ripe for the picking, whether you're staycationing on home soil or visiting from further abroad with its soaring heights, sheer cliffs, rugged beauty and cute seaside towns and villages.
Note: this post may contain affiliate links, which earn us a very small commission if you choose to book direct via our website. We appreciate the support of going via our website if you're planning to book.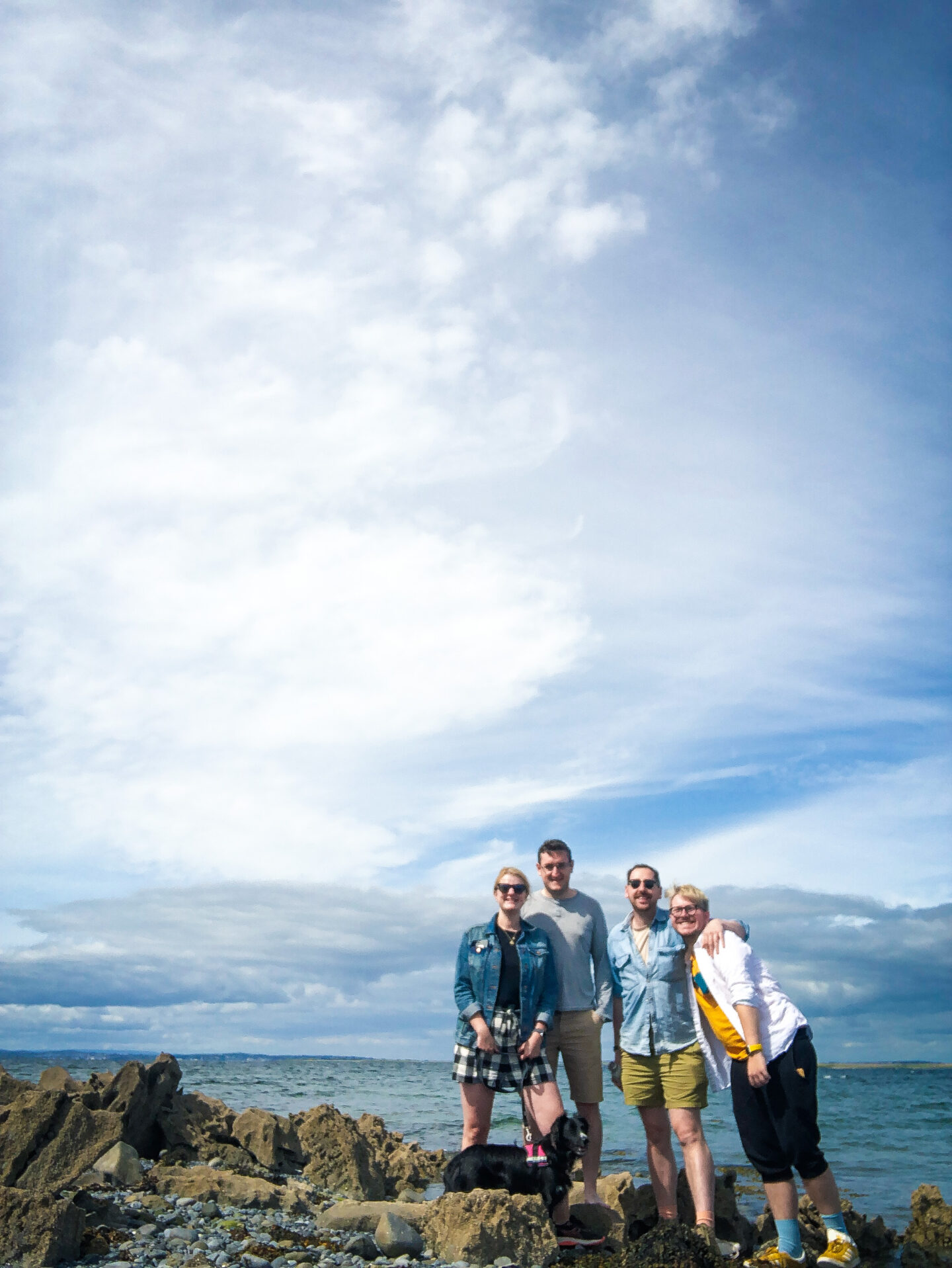 Recently we spent a week out west with friends exploring the coastal towns, sights and eats around south Co. Galway and Co. Clare. Our base was just outside of Kinvara in a gorgeous Airbnb that was perfect. A bungalow with two large guestrooms, a huge kitchen dining room with everything you need for self-catering (and more!) and a huge lounge room with a sun room just off it as well.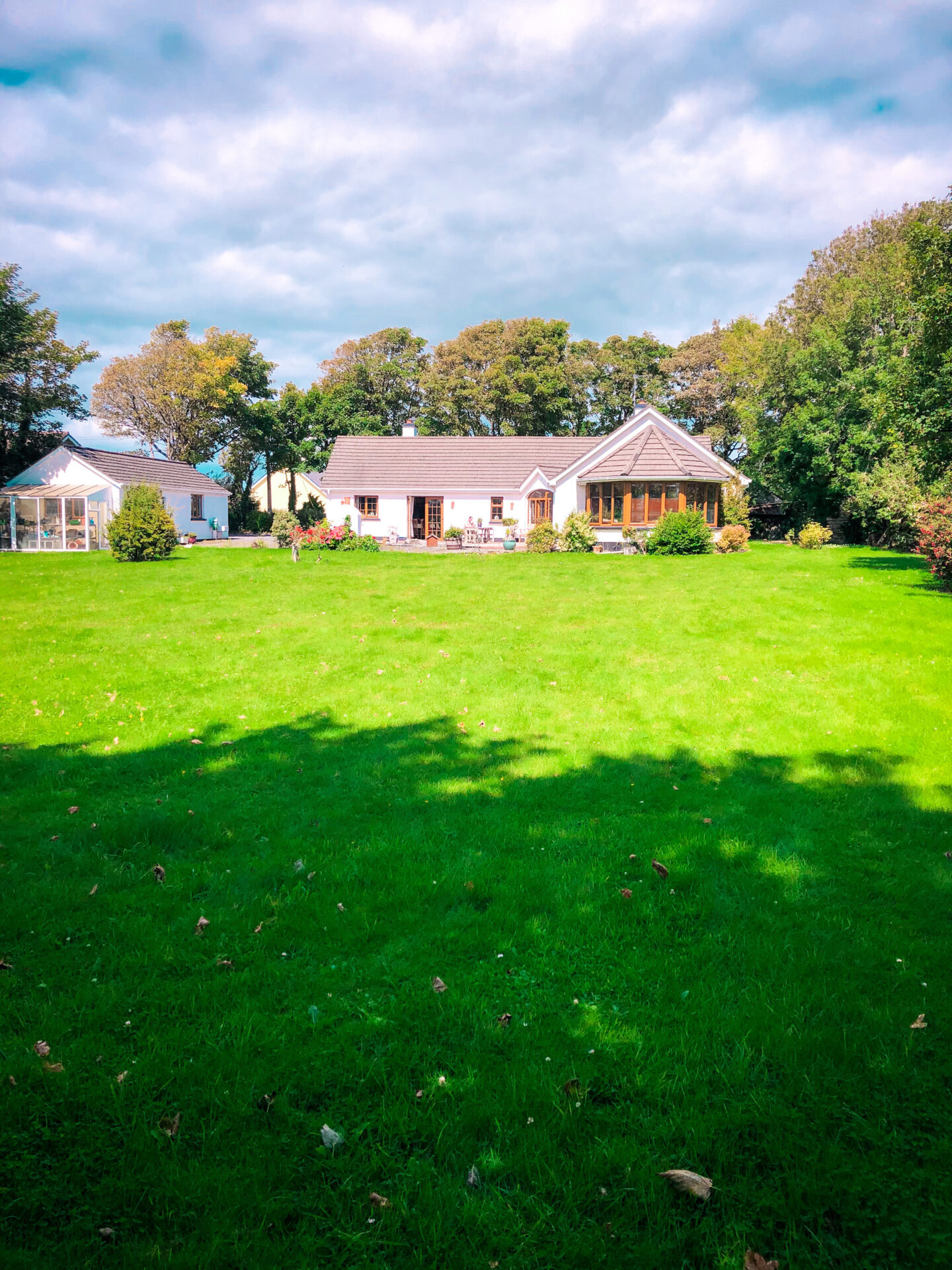 Lots of parking space, a huge back garden and just off the main road. There's even an outdoor grill!
But of course, you can base yourself at any one of these coastal destinations and make your way around by car or bike, but here are some suggestions from us!
Kinvara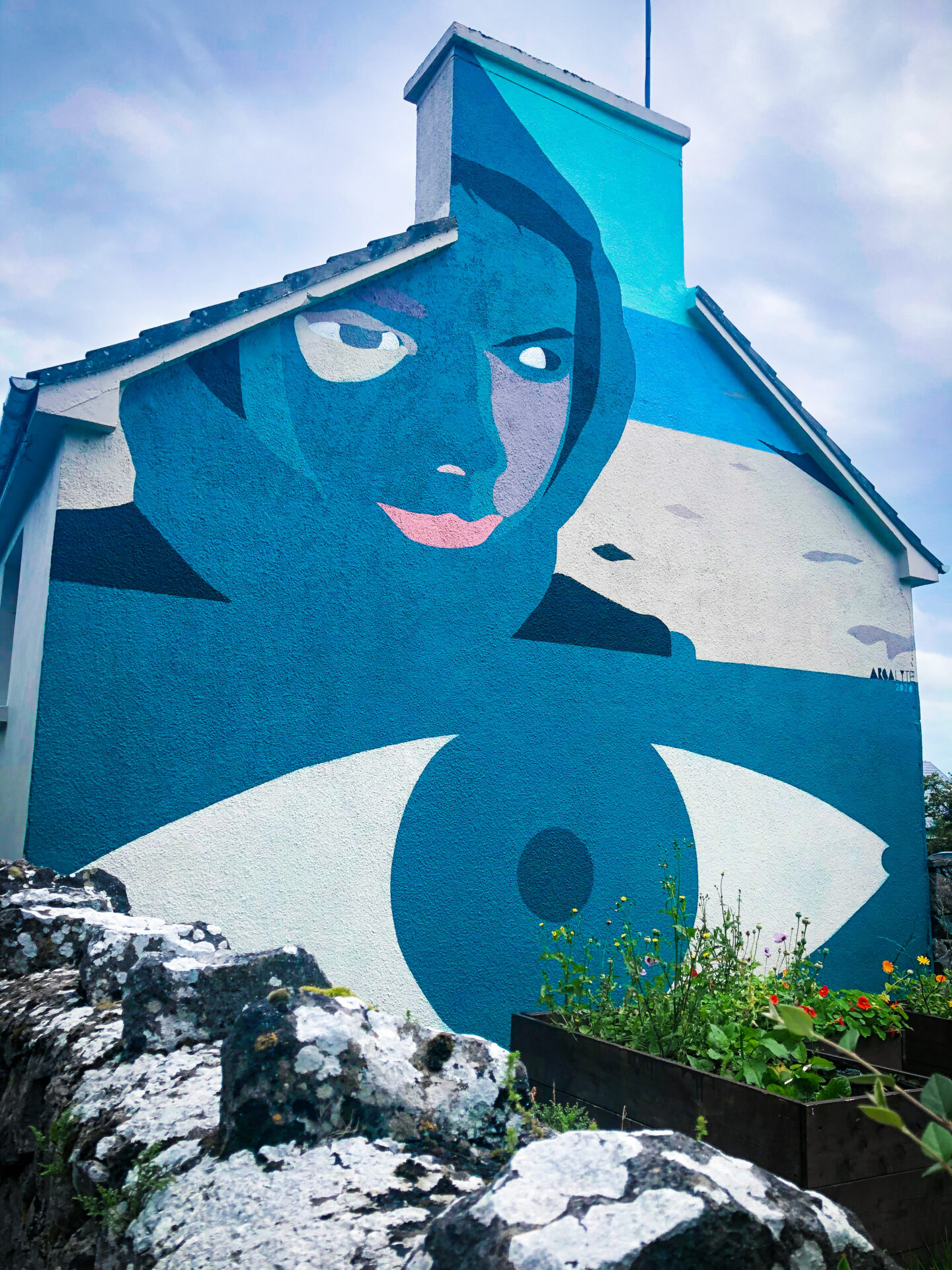 It's hard to miss Siar as you approach the town of Kinvara from the north, past Dunguaire Castle. Two-tone emblazoned in the possibly controversial Clare county GAA team colours (bright yellow and blue; though Kinvara is actually in Co. Galway) though that's probably happily accidental, this spot is great for coffee and doubles up as a mini art gallery for local artists and craftspeople, as well as a wine and provisions store with a choice selection of bottles and essentials.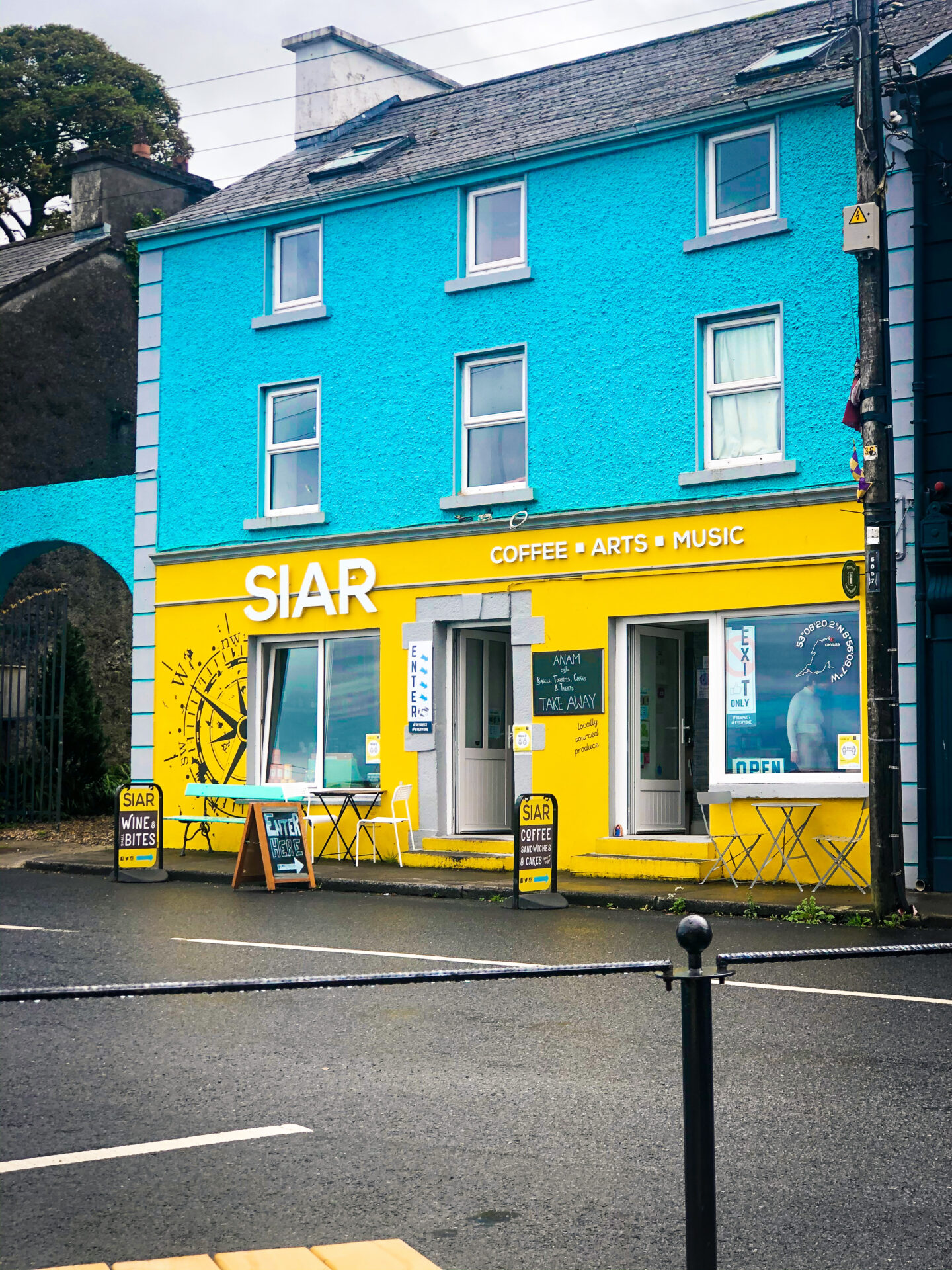 Translated into English as 'West', whilst here, we suggest picking up some incredible enterprising Irish food producers (White Mausu rāyu; Harry's Nut Butter; Mr Jeffares Blackcurrant Cordial; Builín Blásta Smoked Onion Mayo, sauces and dressings).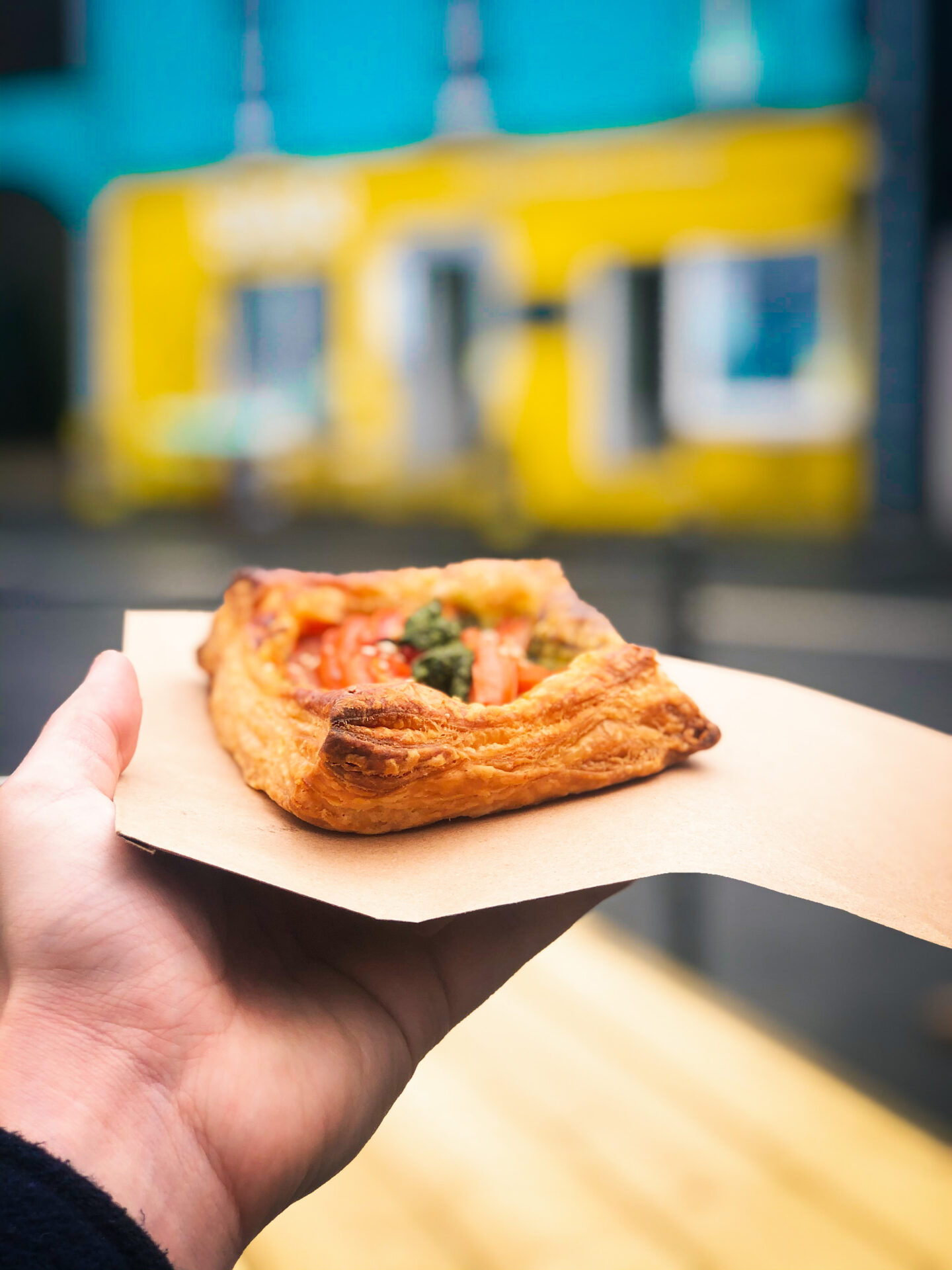 There's fresh pastries daily and you might be lucky to pick up a couple of savoury pastries by local baker Emma O'Loghlen (former 2** Restaurant Patrick Guilbaud and Two Pups, both in Dublin) –– who relocated back to her native Galway in 2019 and set up a pastry business Wild Garlic Kitchen, taking online orders and delivering to cafes and homes in this part of Galway.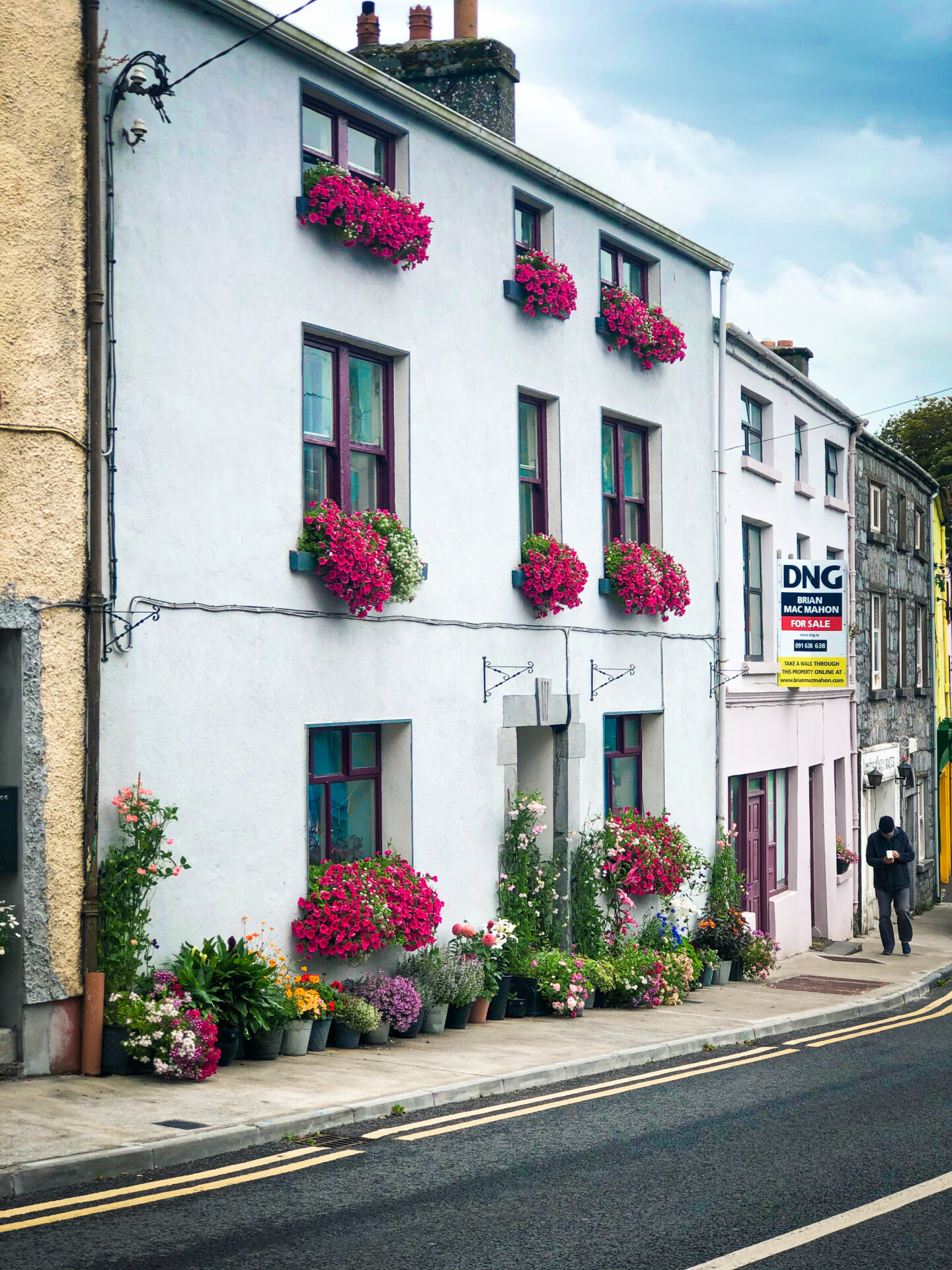 The Kinvara Farmer's Market takes place in the town weekly on a Friday morning from about 10am, and best to get there early for your seasonal vegetables and fruits, local soaps and crafts plus a couple of hot food traders too. A gorgeous start to a Friday, maybe followed by coffee or lunch locally too and then a spin out the road to the coast or a brisk walk in this beautiful part of Ireland.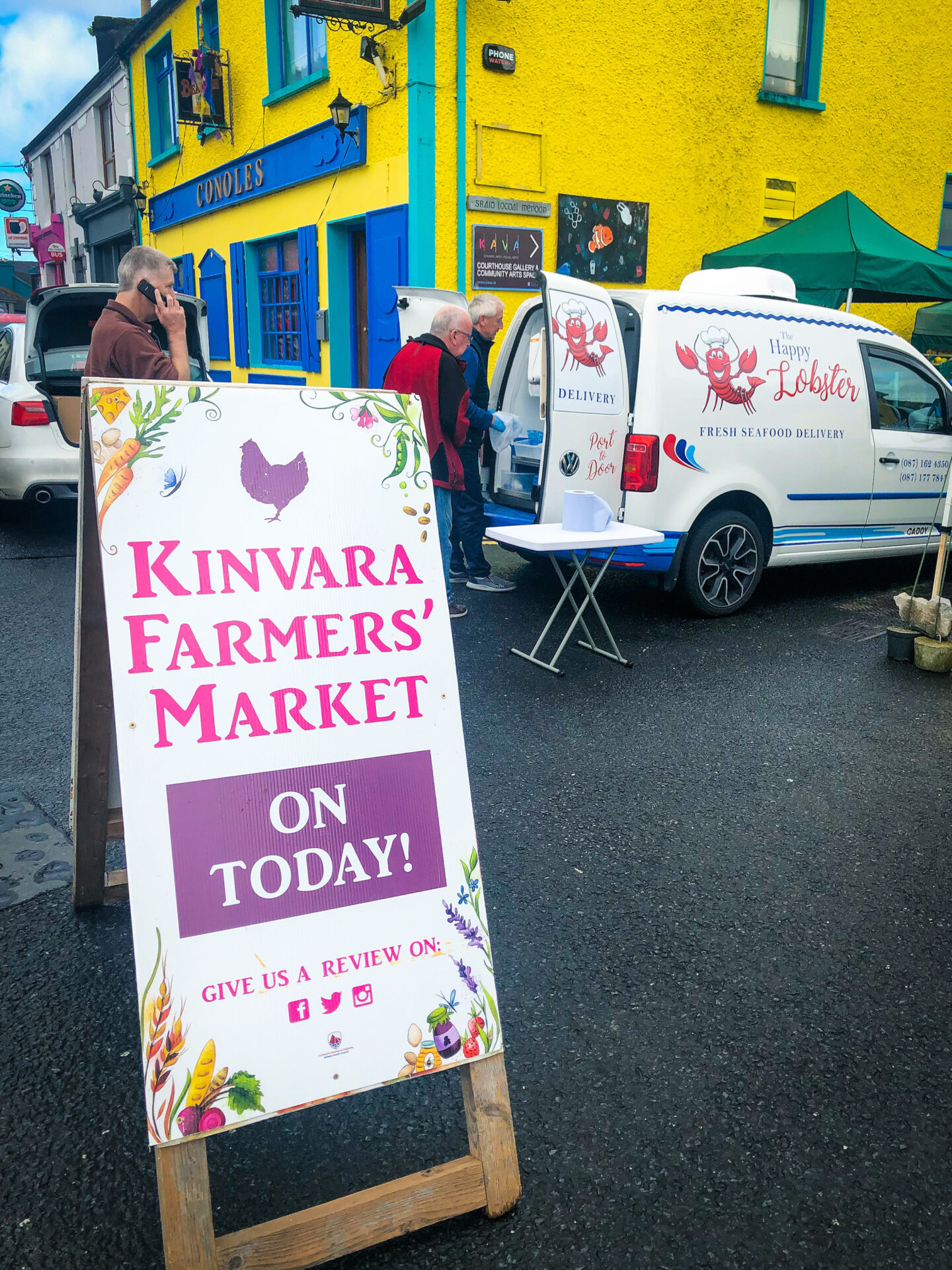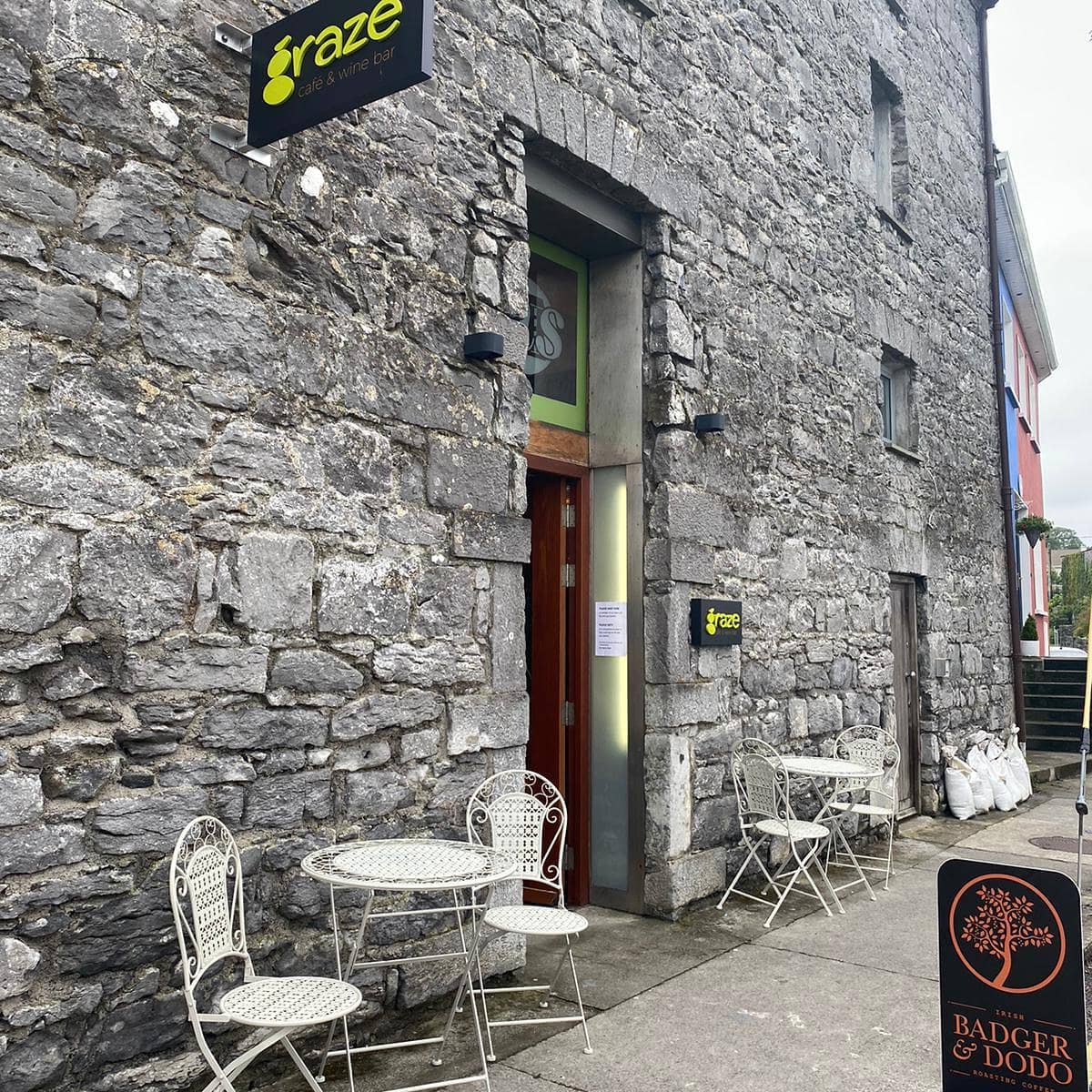 Elsewhere in the town, Graze Cafe and Wine Bar is a new restaurant opened in August 2020 by Nicola Abbott. Sadly after two years in operation, Covid-19 has added to the pressure put on local global flavours restaurant Ishka which unfortunately shut up shop permanently in July 2020.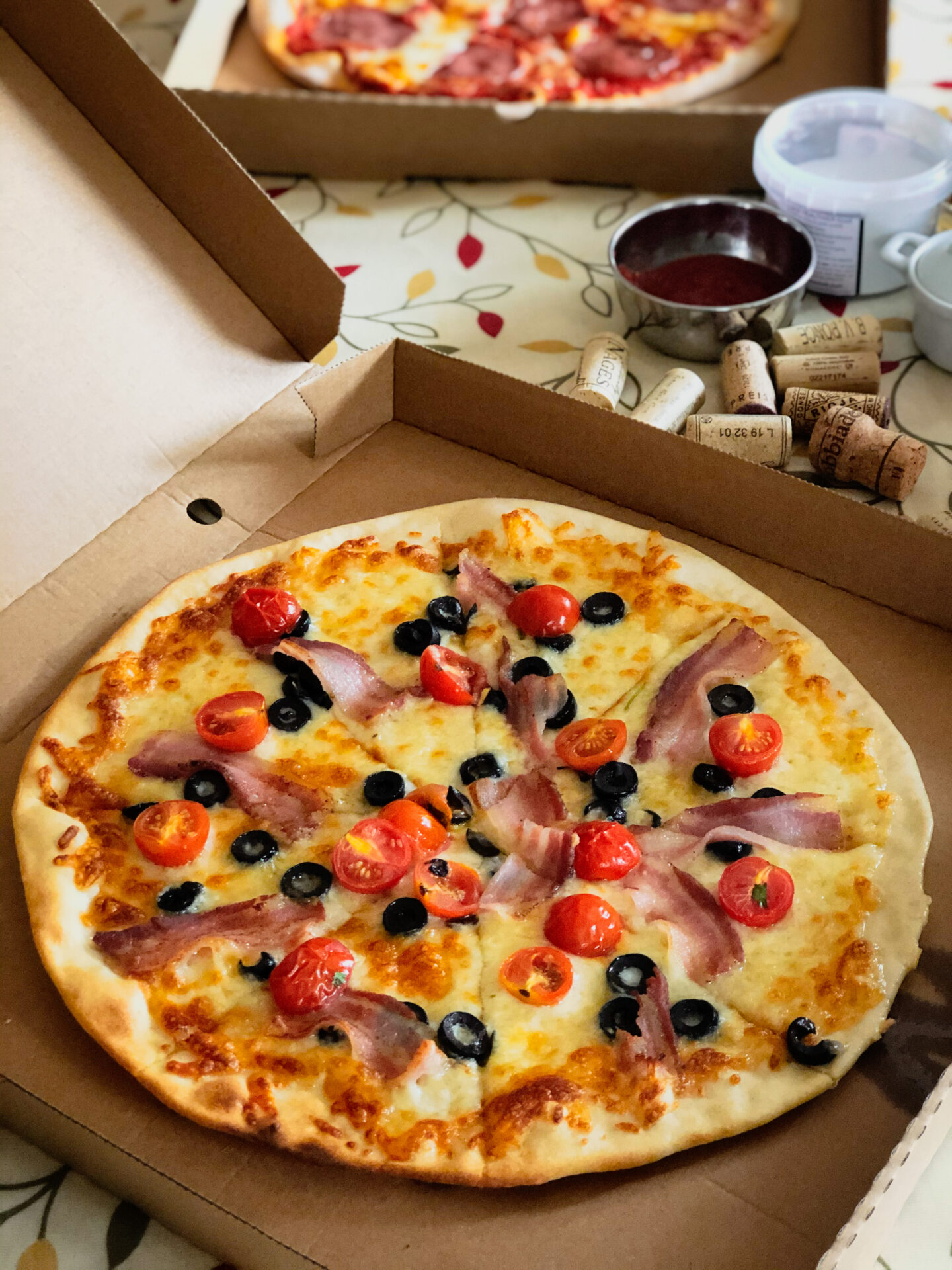 We ordered takeaway pizza one of the afternoons of our trip from Fox's of Kinvara, a bustling restaurant-wine bar-pizzeria right in the heart of town and whilst it wasn't the best pizza we ever had we have to commend the varieties available and the quality of the toppings. They serve right throughout the day from breakfast through lunch and dinner (around 9am to 8pm-ish daily), and we're definitely hightailing it back here for the mezze plate, the fish board, the chilli and lime-marinated cod tacos or one of the daily-changing, keenly-priced "Mammy Dinners" for around €12.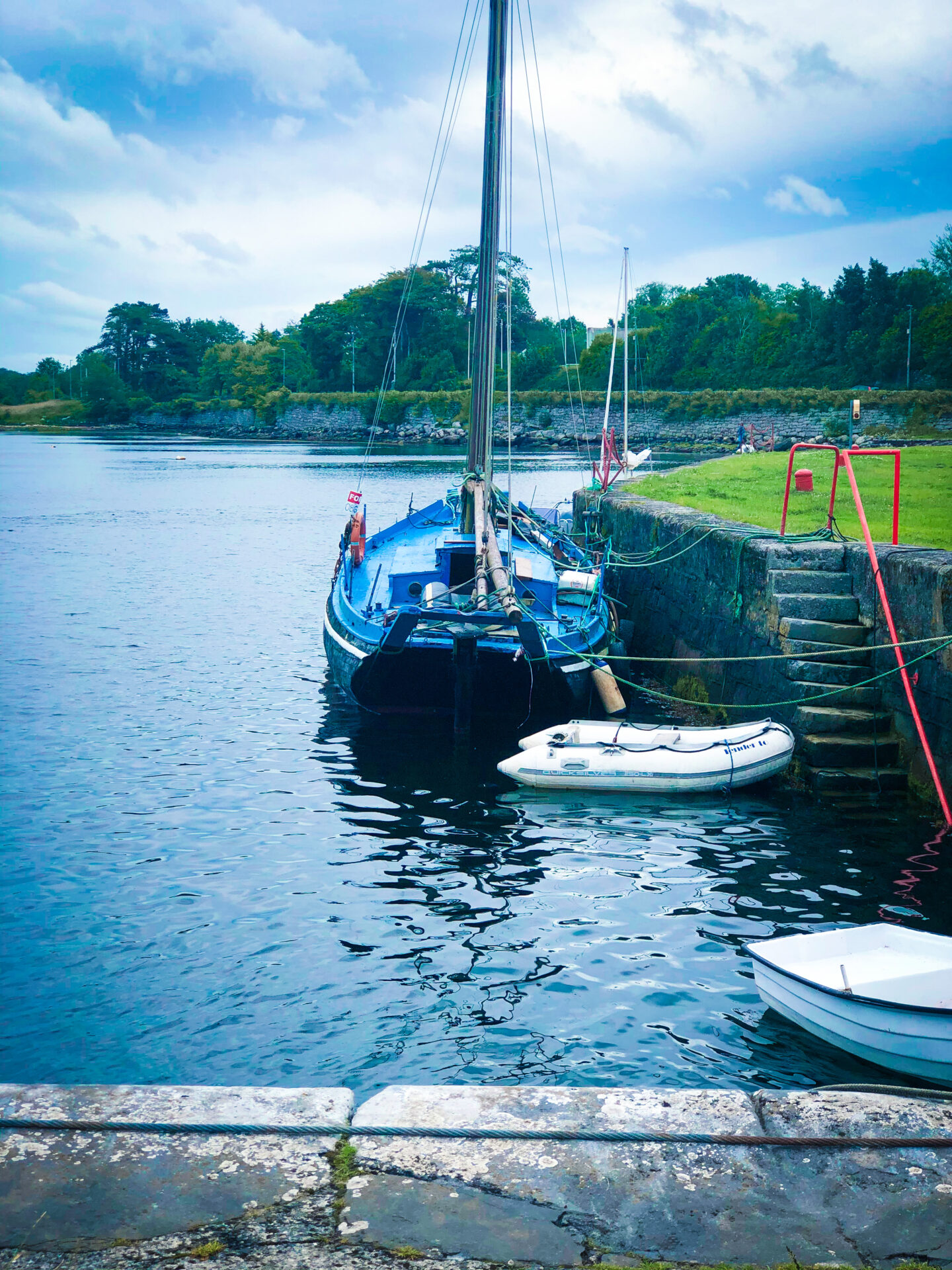 We'd love to recommend lots of gorgeous pubs to park yourself in for a couple of seaside pints, but due to Covid-19 when we visited, social distancing, regulations and just our own nervousness at being in too close vicinity to others, we didn't eat or drink inside many places when we visited. We hope we can revisit and right that wrong in the future when everything (hopefully) opens up again in a way how it used to be, but until then we have heard great things about.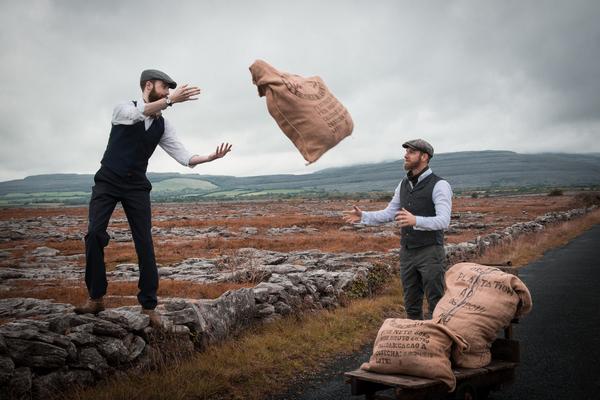 Burren-based bean to bar chocolate makers Hazel Mountain Chocolate have an outpost in Galway city but the real magic happens amidst the serenity and sites of the Burren. You can book a tour of their Bellharbour facility where – much like a microbrewery or winery – participants taste their way through chocolate from tropical fruit and cacao to the finished product. Adults €12, children €7 + booking fee(s), running at 11am on days when they run, check their website for details closer to your trip and tours need to be pre-booked online before you go.
Clarenbridge (sometimes spelled Clarinbridge)
Hailed as 'The Home of the Oyster' and the most Easterly point of Galway Bay, we only drove through en route to Galway but Morans Oyster Cottage/Morans on the Weir comes highly recommended. We had an oyster fest of our own organised so we missed out on trying but it's top of the list when we get back.
The town is famous for its annual Clarenbridge Oyster Festival, usually held in September, which celebrated 65 years on the trot in 2019!
Furbo/Flaggy Shore
Also famed for oysters, Flaggy Shore Oysters (Redbank Food Co.) is also a must-stop on this coastal jaunt. Set ten minutes' drive from Kinvara, right by the water at the eponymous Flaggy Shore, this family-run operation is all about aquaculture, particularly oysters!
Pre-book a tour and tasting experience (or learn how to shuck like a master) from Gerry and Ciara, as well as hearing their story and what makes the oysters they have special and unique. We tried the Shuck It experience (€25 per person) and it was wonderful, plus got a heap of them to take away with some dressings and all the accoutrements you need to enjoy afterwards –– why not take them to the beach and shuck to your heart's content with a beer or a glass of wine? Bliss!
Right beside here, also by the pier, is Linnanes Lobster Bar which is long-remarked for being a wonderful spot for fresh seafood and pints, and that's exactly what we had! Set overlooking the water with both an expansive terrace and a large interior dining room, you wouldn't believe they had all this space out the back from looking at the traditional pub front!
We tucked in to fresh fish cakes, plentifully packed and beautifully shaped, and an open crab sandwich that was impeccably fresh and served on some gorgeous brown bread, plus two pints of Guinness, of course. Obviously it's famed for its lobster (given the name) and mussels, too! Landed daily from right here at the pier.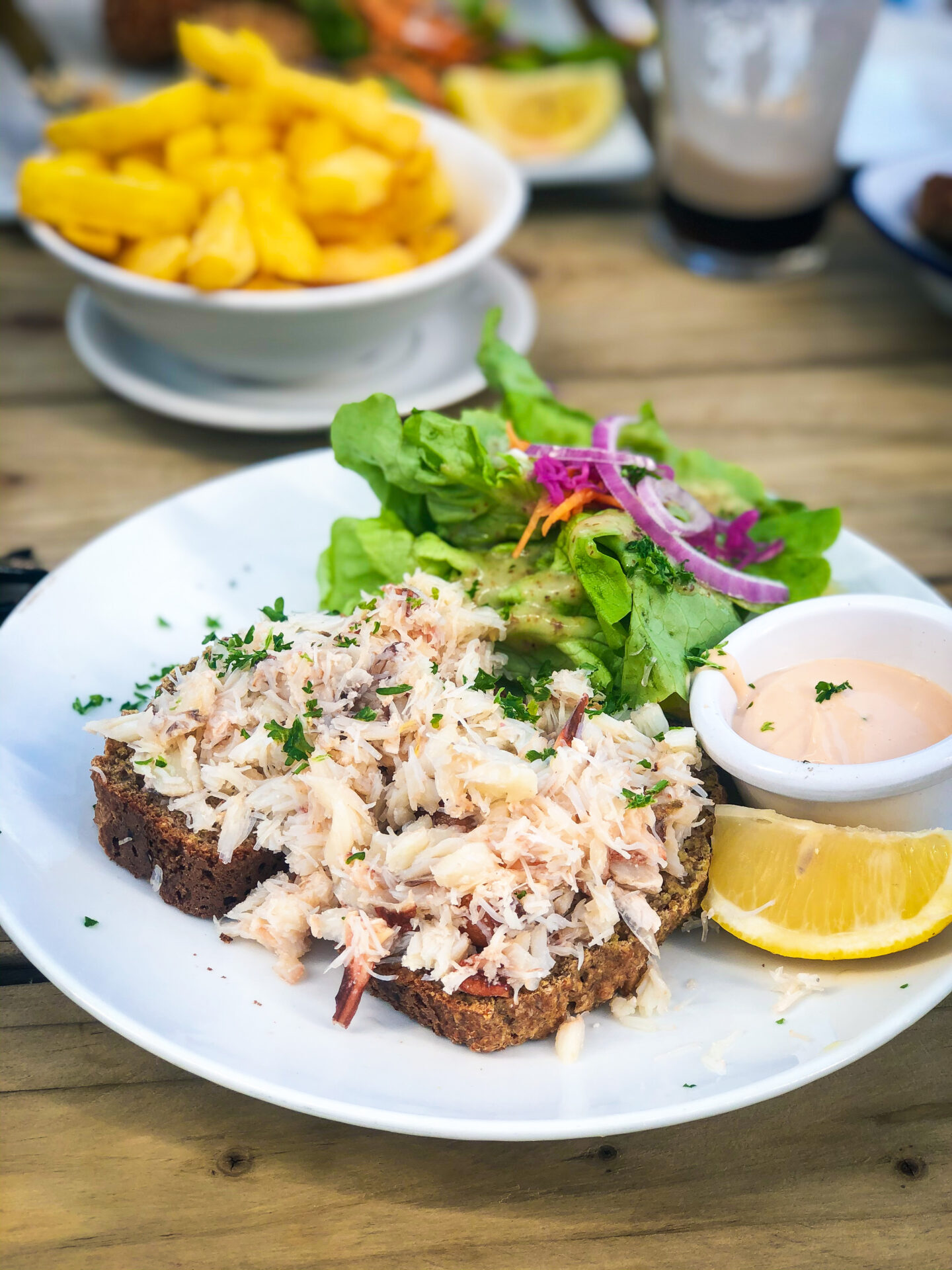 Similar name but completely different product, up towards Furbo you'll find Linnalla Ice-Cream. A Fahy family-run operation, using their own milk from their herd, served in a variety of flavours and ways. Great for lapping up on a seaside walk!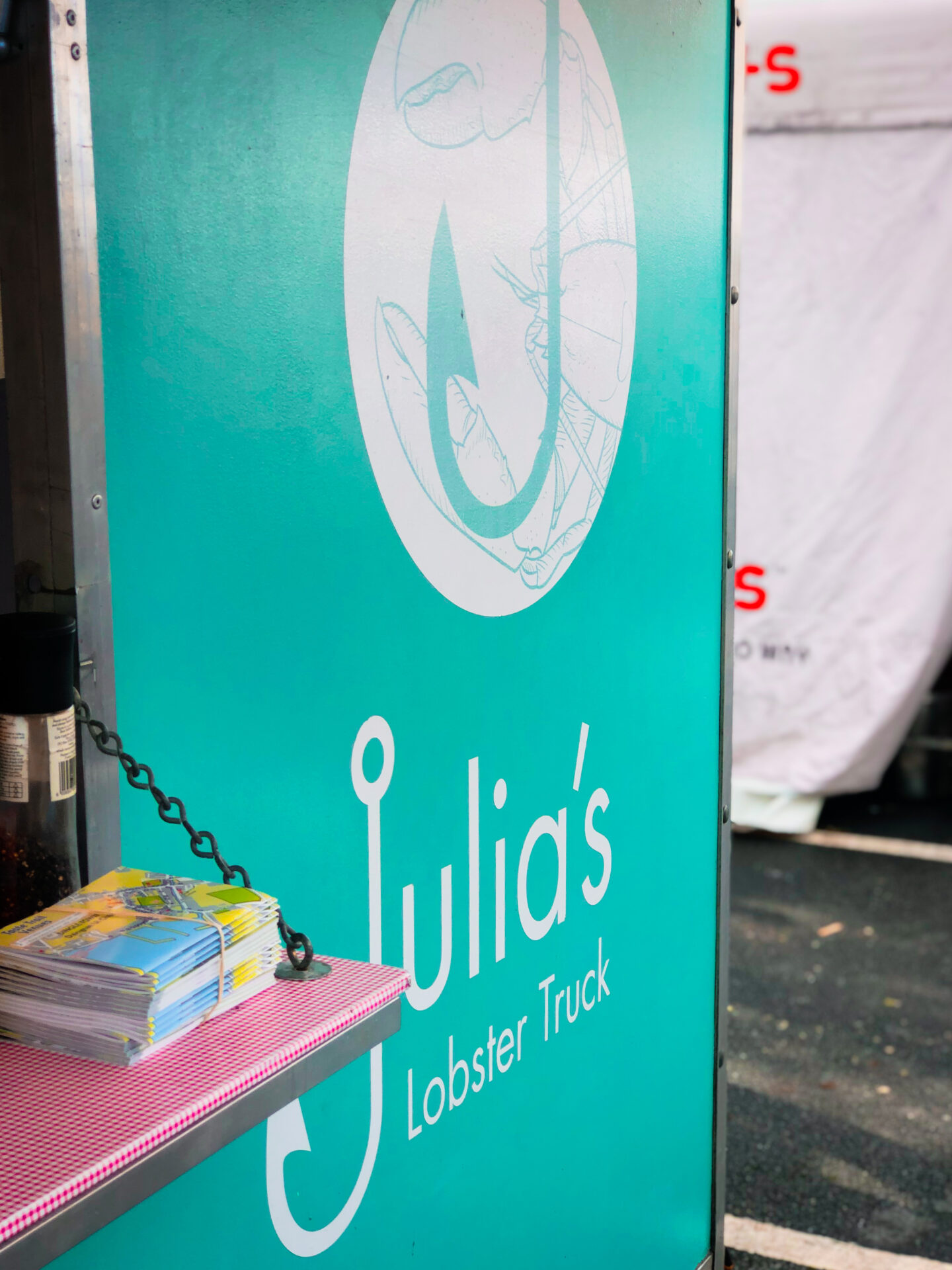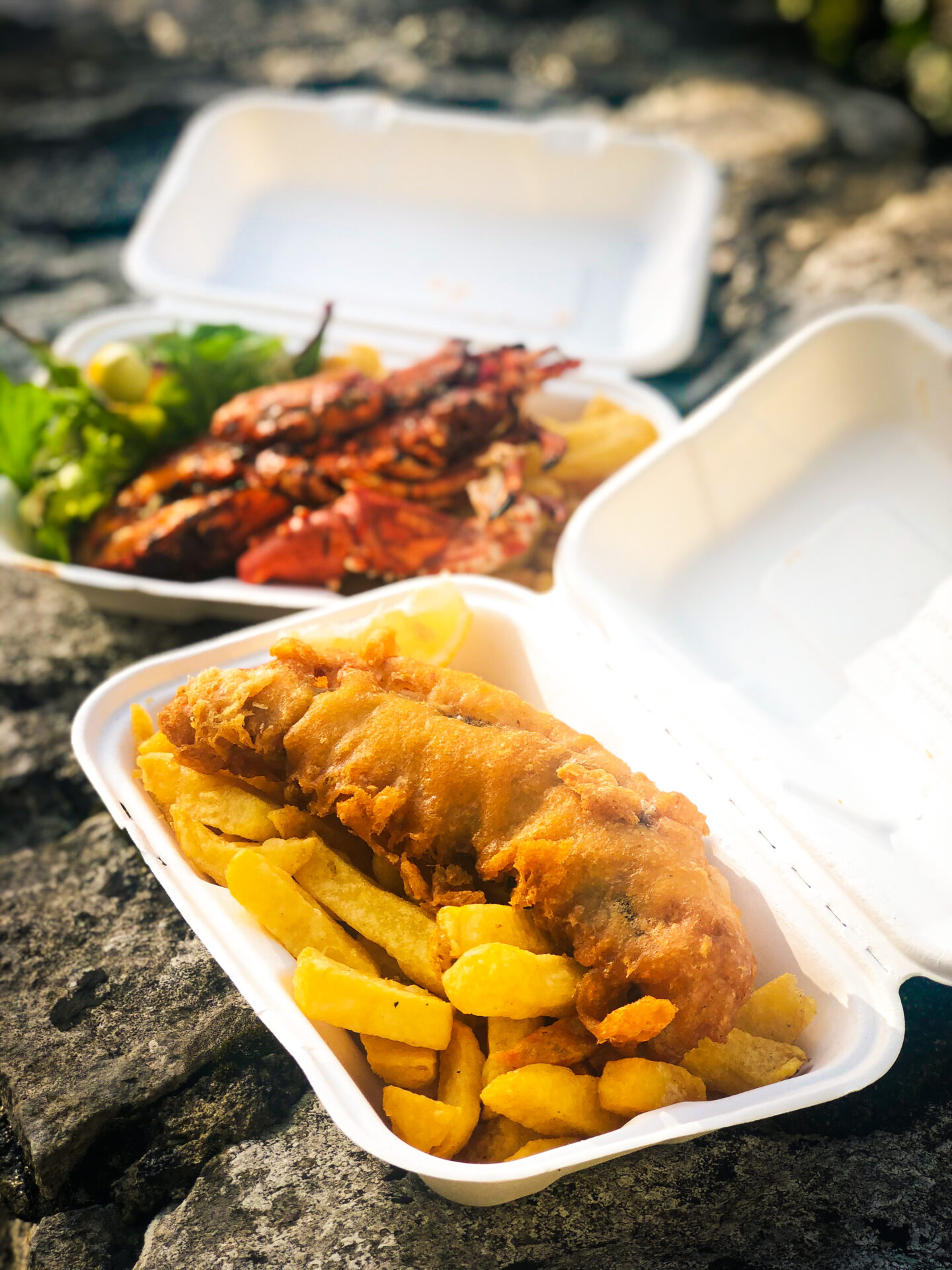 Roving 'round West Clare like no one's business, Julia Hemingway's turquoise-tinted food truck is the stuff of dreams, selling grilled lobster and beef dripping chips to the masses. But that's not all, there's also whatever is freshest and landed daily, from shellfish and oysters or chowder, bisque and other deep sea delights.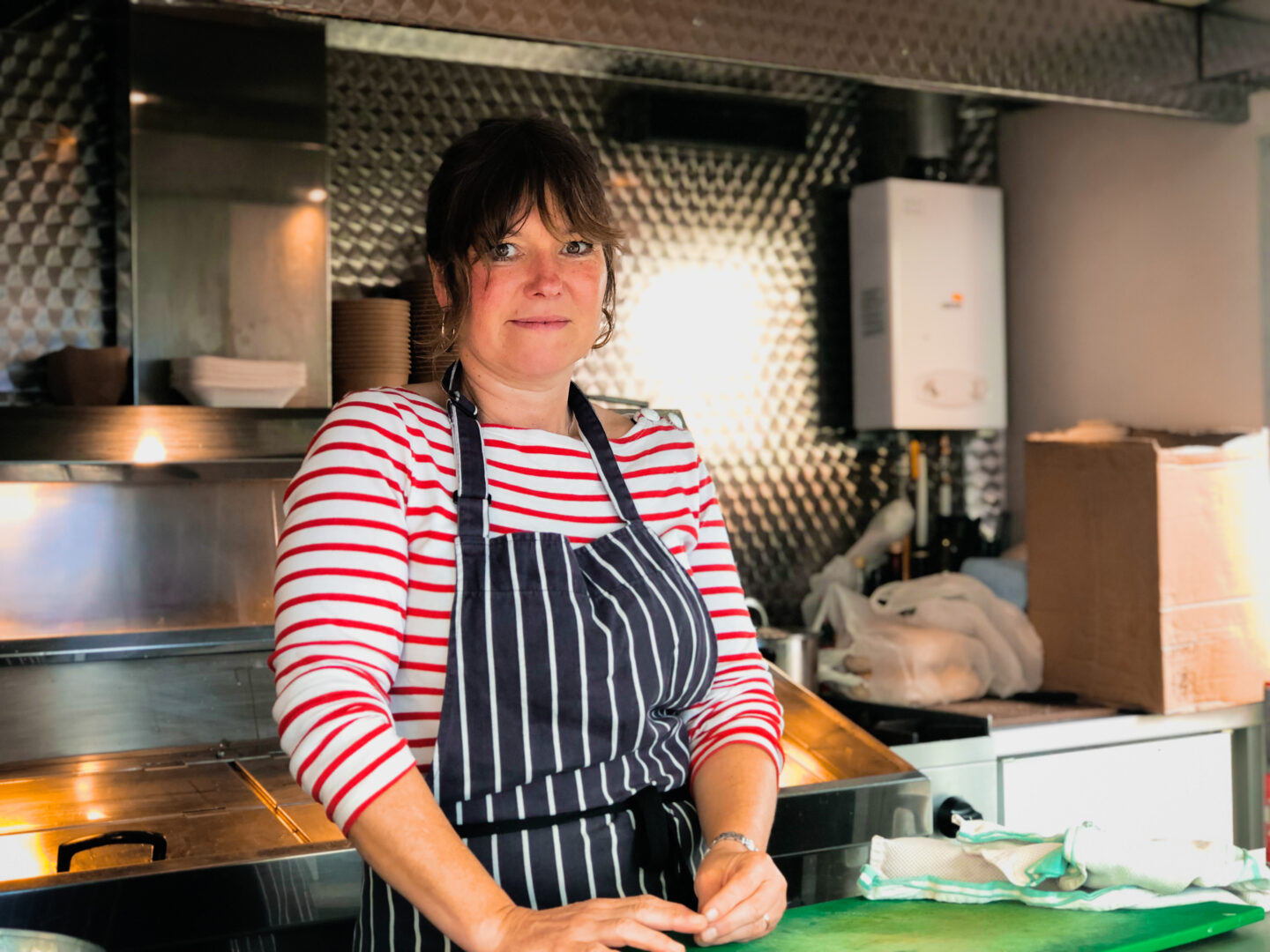 As she's movable, you'll find her at several locations on different days and we found her at Daly's Bar in Bellharbour and pre-ordered a feast, which we delighted in eating al fresco.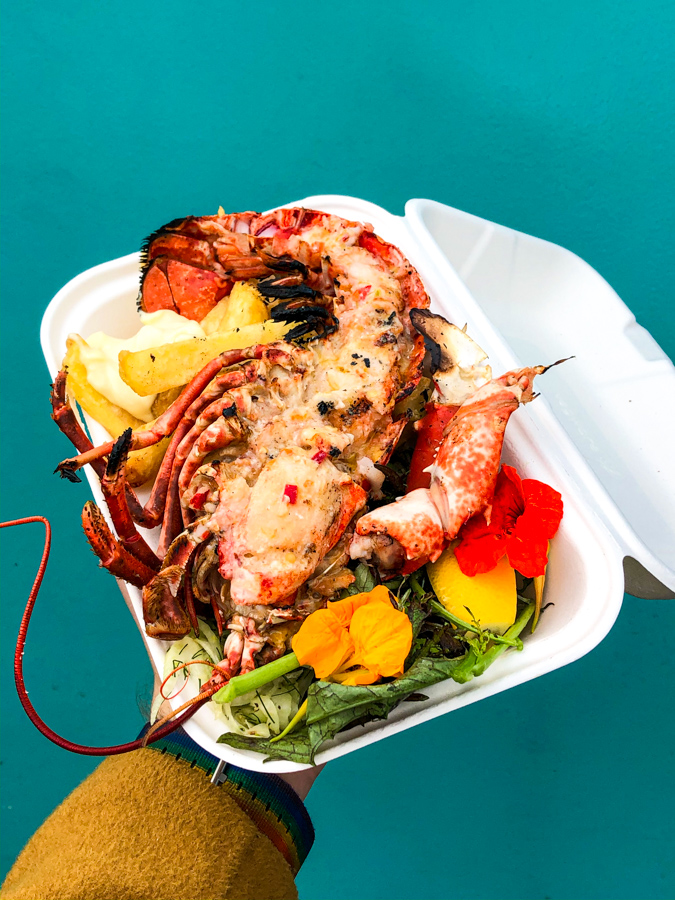 Want to know more? We wrote about Julia (who is a great friend of ours, by the by!) with pride in our feature on Ireland's Street Food Truck Revolution article but you can also hear her describe what she does in her very own words in the Julia's Lobster Truck episode of Chew The Fat!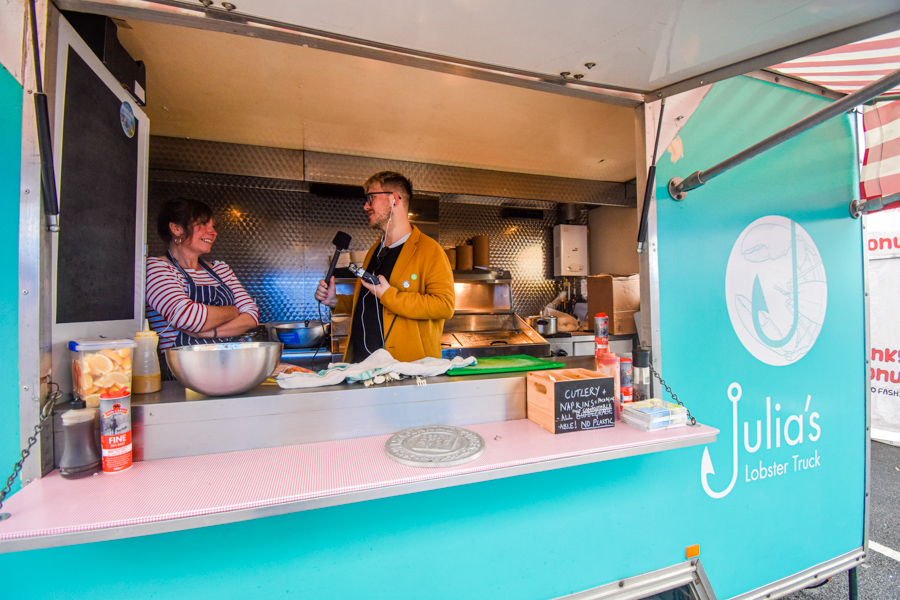 Lisdoonvarna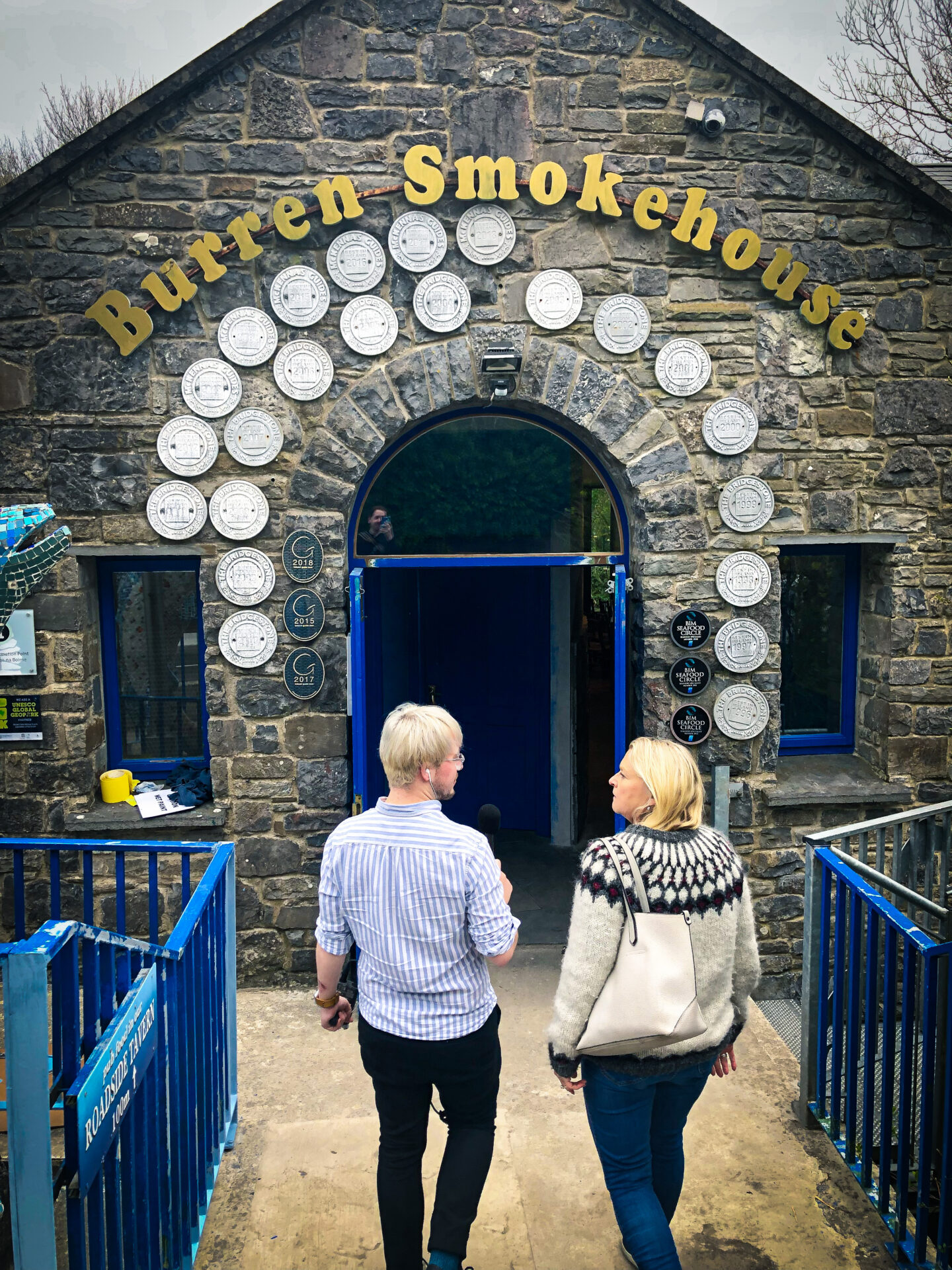 Slightly veering inland, you simply must visit Birgitta Hedin-Curtain at Burren Smokehouse, the legendary, award-winning smokehouse based just on the edge of the town of Lisdoonvarna. Birgitta and her husband Peter have had quite a hand in putting the town of Lisdoonvarna on the food map and making it a food tourism destination, having started their organic smoked salmon business in 1989 and are also proprietors of The Roadside Tavern award-winning gastropub and their casual pizza 'n' beer spot The Burren Storehouse.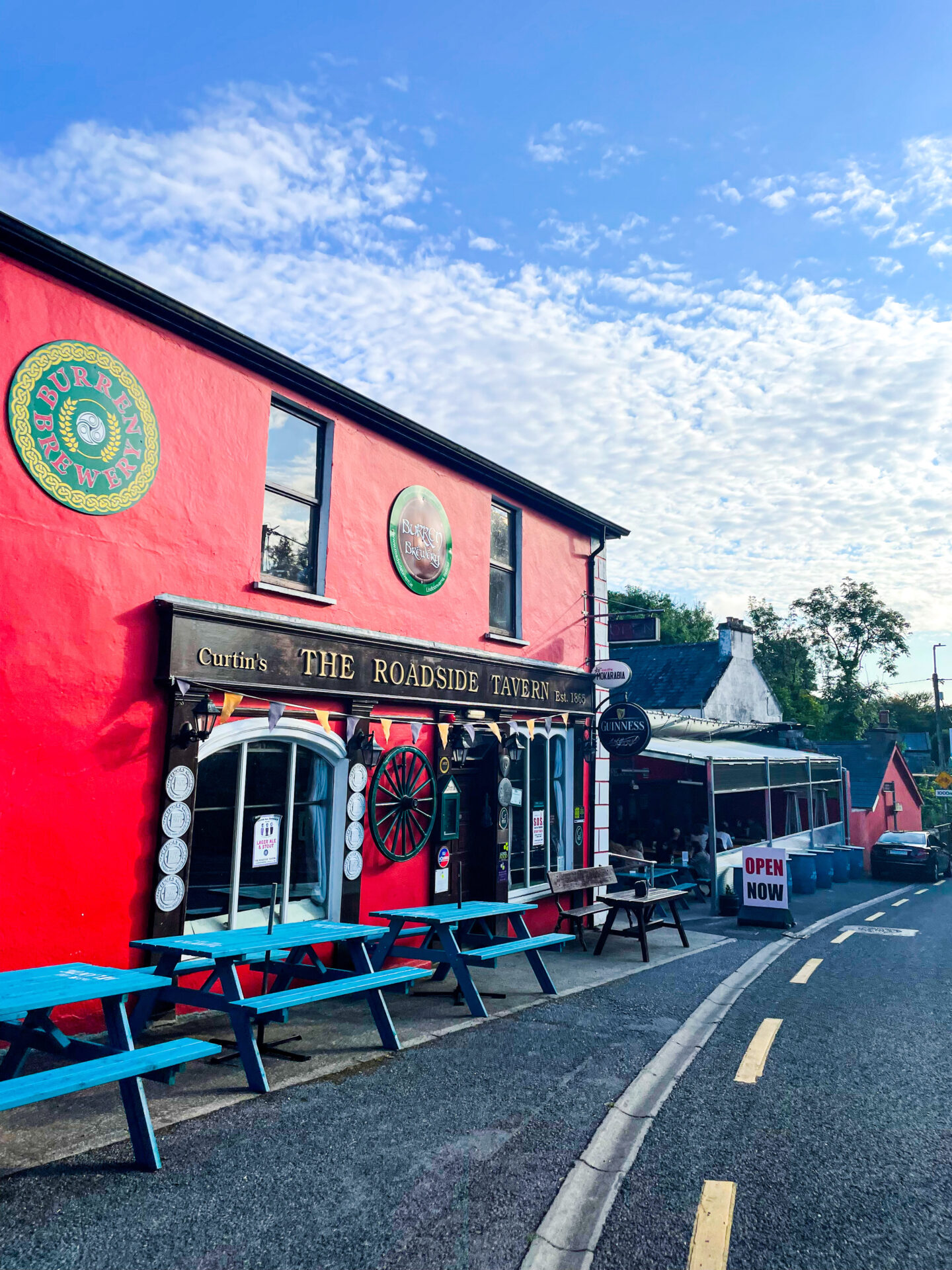 In fact, Peter is the man behind possibly Ireland's only commercial nanobrewery, where he produces four distinct small scale brews: Burren Gold, Burren Amber, Burren Black and Euphoria, which is a gruit beer (made without hops) brewed using captured wild yeasts from The Burren itself. A must-try, whilst the stout is a fitting rival to Guinness!
Visit the Burren Smokehouse and learn all about their process in creating both hot and cold organic Irish smoked salmon, the family history, their awards and accolades and also visit the Bord Iascaigh Mhara-supported Taste The Atlantic salmon experience. A visit to the Smokehouse costs €8.50 per adult (€22.70 for a family of two adults and up to four children)
Theirs is a local love story, both as husband and wife (as Birgitta came to Ireland from Nyköping in Sweden as a young woman to travel, and stayed because of love) but also a shared love for their local area of the Burren and they work tirelessly to promote that. What's more, why not peruse the huge selection of local produce and crafts that are stocked in the Burren Smokehouse shop and pack up a picnic and head to the Burren to enjoy the delicious taste of the region with a stunning backdrop?
We interviewed Birgitta and Peter for Chew The Fat, so you can listen back to that episode to hear much much more.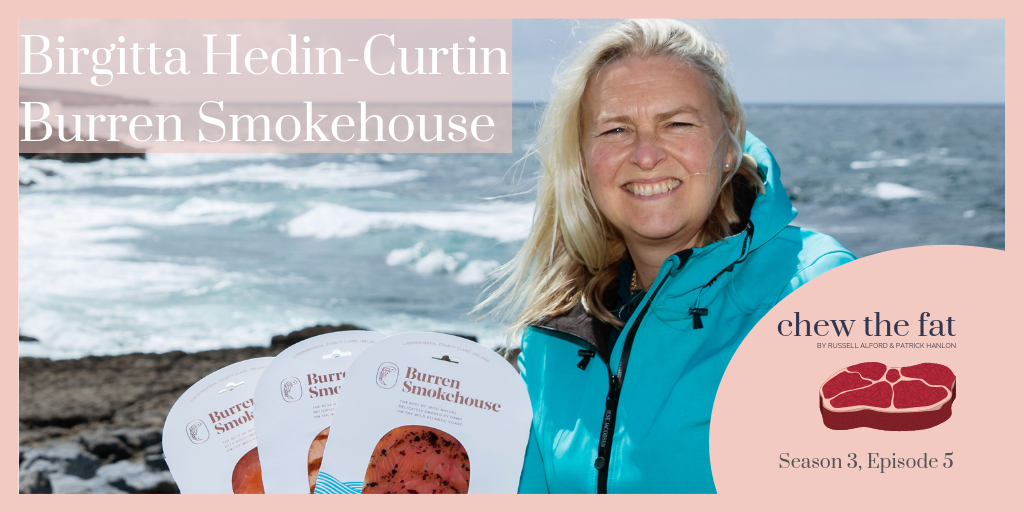 Where to stay in Lisdoonvarna? We very much recommend Ballinsheen House (AF) run by Mary Barrett Gardiner and her husband Michael, where the rooms are immaculate, comfortable, with views out to the manicured gardens and a place where you'll truly leap from bed at the prospect of breakfast. Mary's breakfast is the stuff of legend, with the hand-written menu detailing all the local producers (Gubbeen, St. Tola Cheese, Niall Hawes Butchers, Cratloe Cheese, Glenisk dairy, and of course Birgitta's salmon) and running the gamut from bagels and porridge to French toast to a full fry.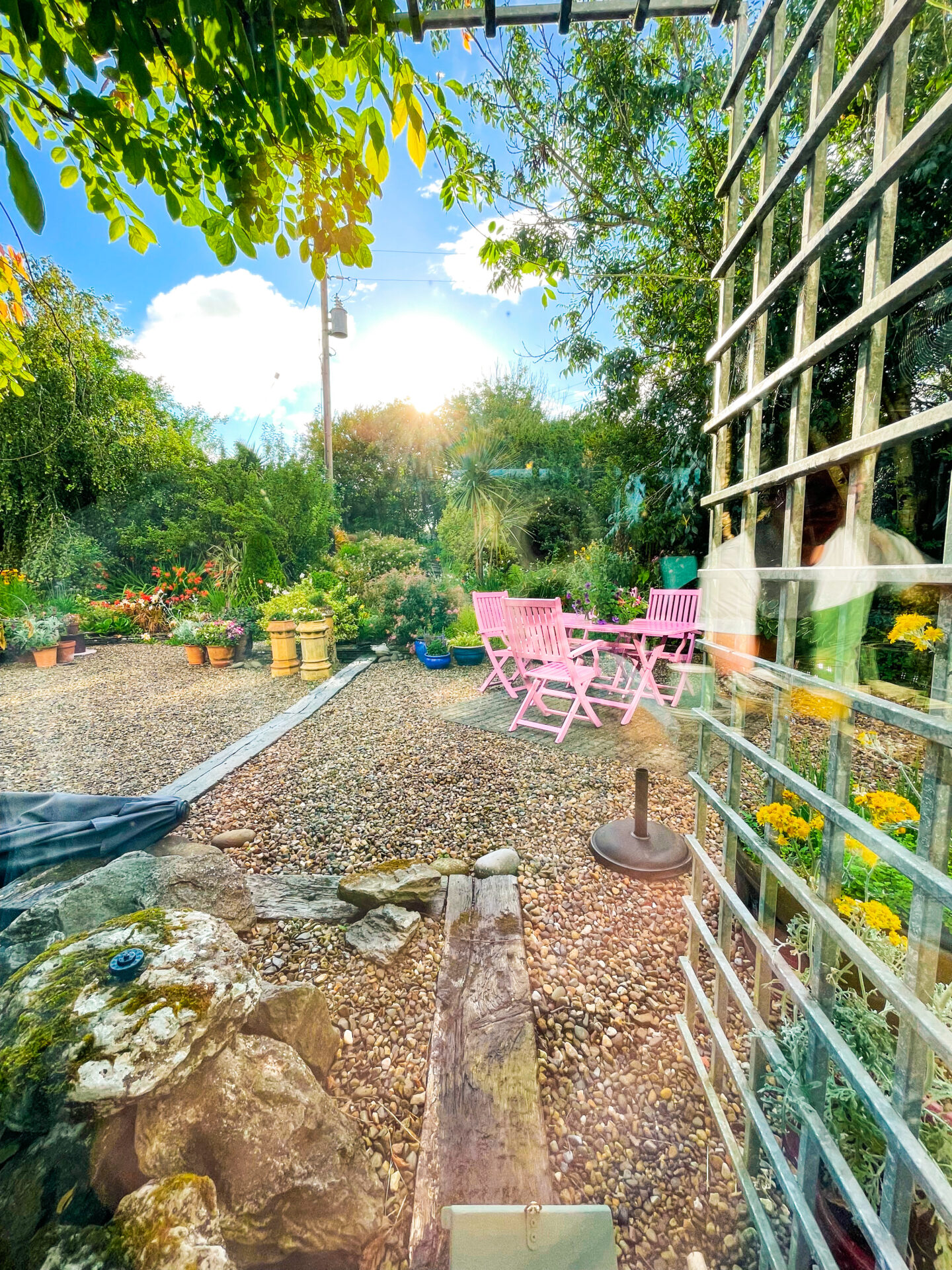 Ennistymon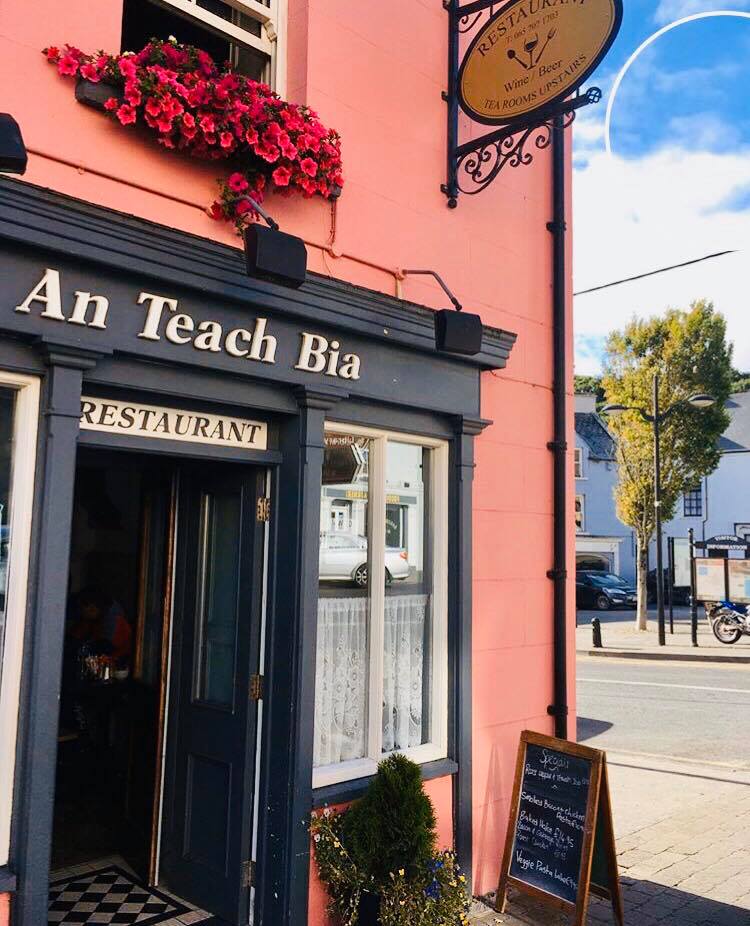 Another sliiightly more inland stop on the N67 from Lahinch and Liscannor, Ennistimon is a sleepy town that's come alive with a burst of food credentials in recent years. Though we've lamented the recent loss of Niamh Fox's The Little Fox (thanks Covid-19!) there's still Pot Duggans and The Cheese Press, An Teach Bia and Oh La La bringing a slice of France to 'shtymon.
The very week we stayed in this area in summer 2020 marked the opening of This Is It, a new cafe and wine store from Ger O'Donohoe, formerly of First Draft Coffee & Wine in Dublin. We adored his cafe in Temple Bar, which then evolved into a coffee and wine bar in the super cool area of Dublin 8 before Ger upped sticks and headed west. He's a master barista and has a great team, so definitely take a stop in here when passing through. Grab a bottle of natural, organic or biodynamic wine for later, snack on some cakes or toasties with a perfectly-made coffee and stroll around the town or down to the Falls. You may recognise Ennistymon from a certain music video, as this town was used for filming the popular 90's Channel 4 comedy.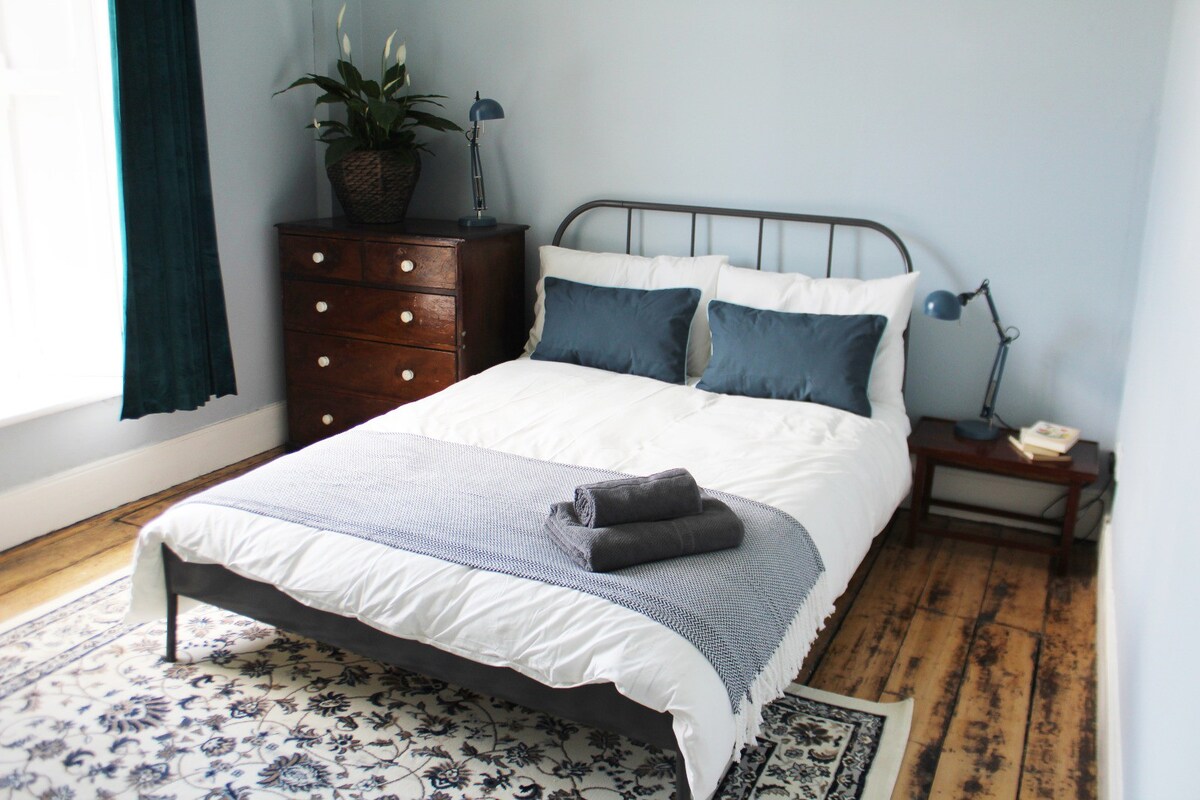 Pot Duggans also boasts a three-bedroom apartment above the pub, which is available to book via Airbnb and sleeps six, spread over two storeys. Another Airbnb in the town called The Pink Cottage Ennistymon is also gorgeous, though we've not stayed yet! [Neither of these are affiliate links]
We stayed at The Falls Hotel (AF), which was a fine place to lay your head in the town though definitely crying out for a bit of a refresh in parts. When we stayed in 2019 on a last minute trip there was a large family wedding happening and while the rooms could really do with a bit of a freshen up in terms of interior, the breakfast spread is really good and we'd suggest trying to get a window seat for the view. It's a former grand country house, extended and turned into a hotel, so it's very unique.
Doolin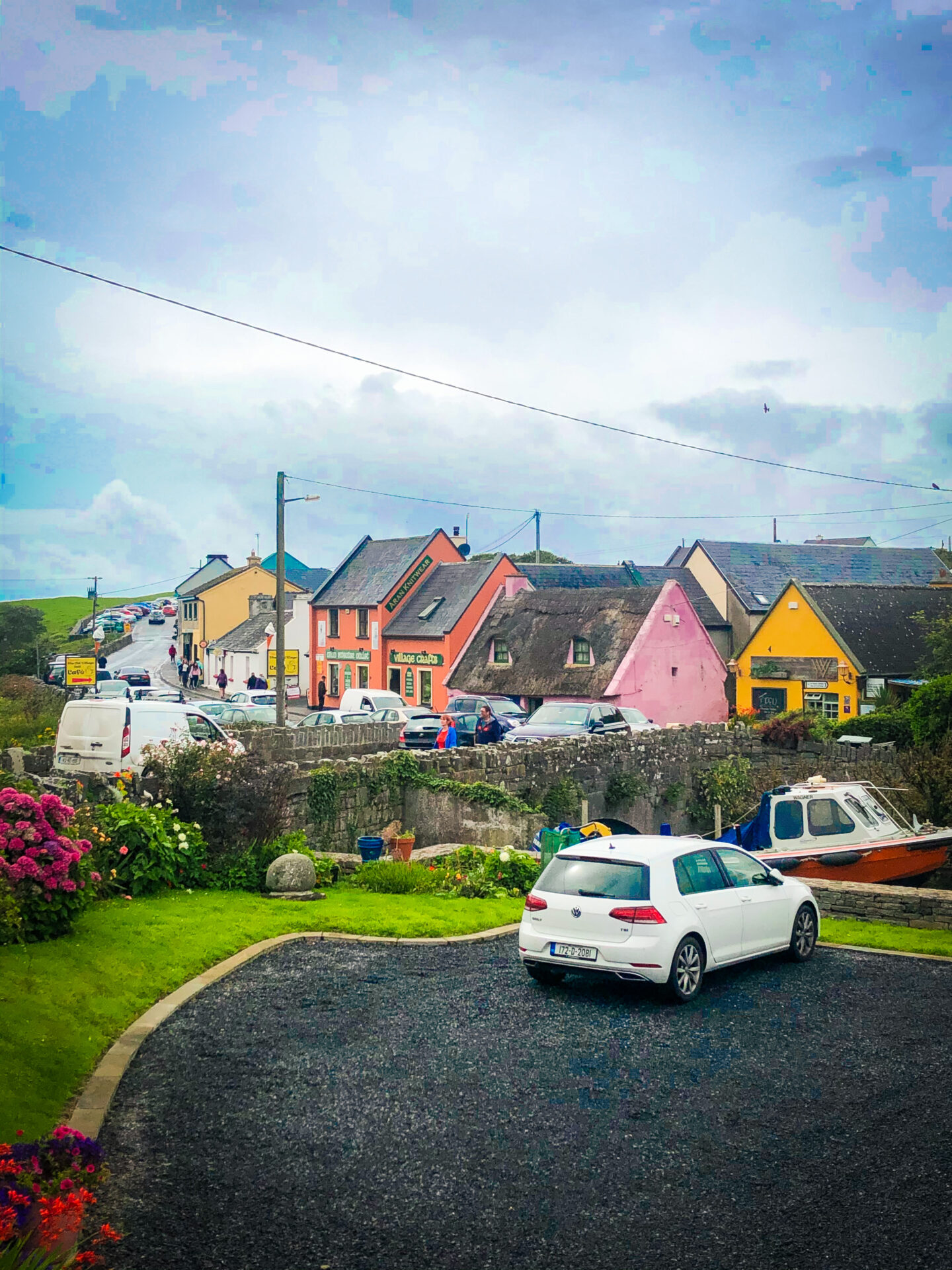 Colourful Doolin is a bit of a traffic jam at the best of times, so prepare for a squeeze in this popular little spot. Right at the main corner of the town is Ivy Cottage, the main restaurant/cafe for food, drinks, take-away and coffee. We haven't tried it yet but Glas is also worth a shout, and right beside the recently-opened Cheese Press –– a sister site to the Ennistymon original, run by Sinéad Ní Ghairbhith.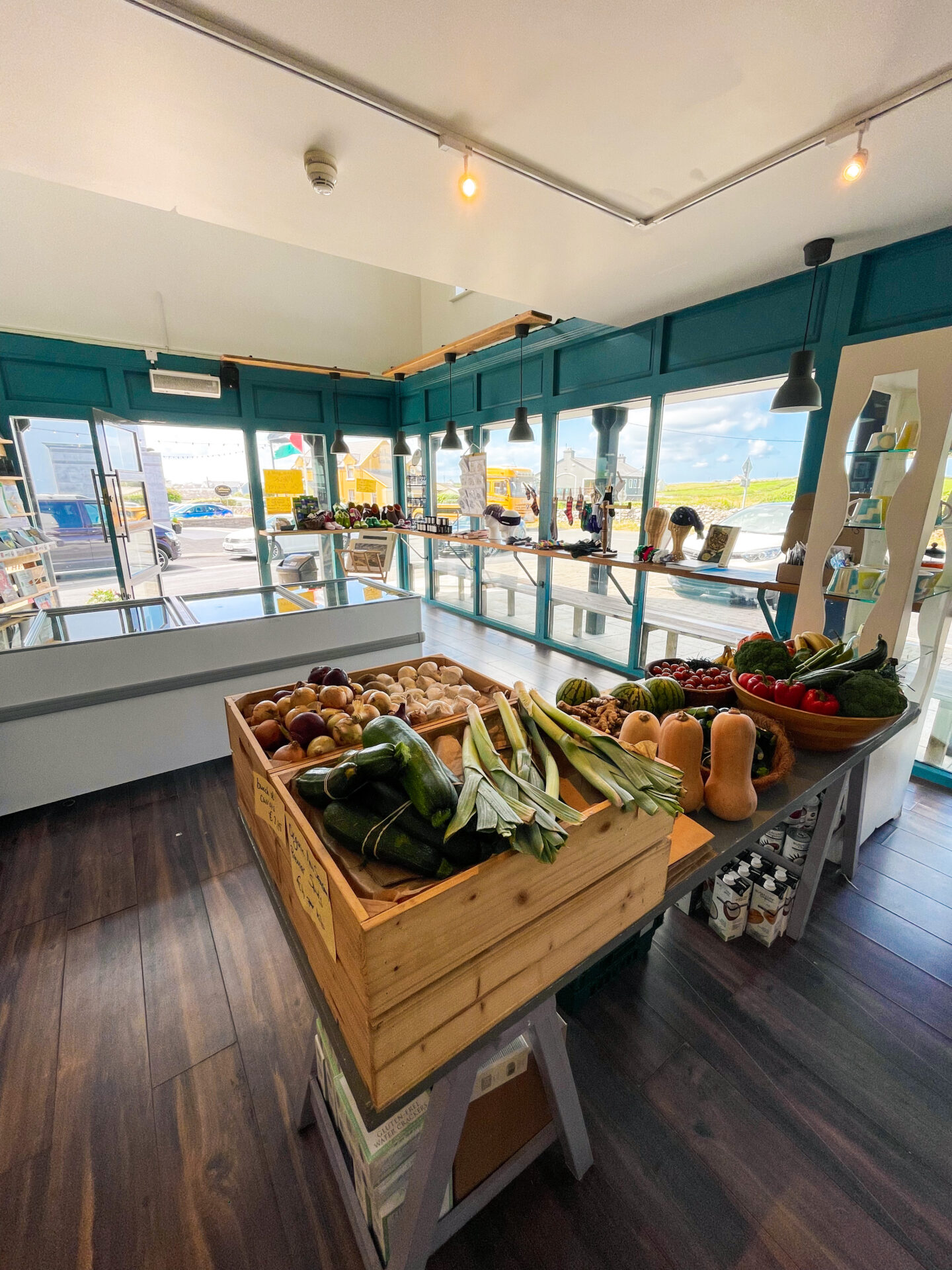 Outside the town is Irish Crafts, an expansive showroom and shop of Irish-made gifts and souvenirs of high quality, whilst a little Citroën van inside serving coffee, tea and cakes. Doolin is well known for pubs with live music, too. If you're interested in a local tour guide Ollie Gleeson is your man. Buckets of energy, humour and a cheeky wit, he's a young local lad with lots of expertise and charm by the bucketload, check his availability an book one of his Ollie's Tours.
A minute's drive outside Doolin you'll find Doolin Cave, which boasts "the Great Stalactite" – the longest free-hanging one in Europe! – which is run by John and Helen Browne and opens daily 10-6pm with tours on the hour. What's an equal draw here is Wild at The Cave, the cafe from Wild Catering run by chef Ryan Fitzpatrick. Following fine dining experience in Ashford Castle, Adare Manor, The Europe and in New York City, Ryan returned home and set up his own catering business which has now branched out into his first cafe. Trust us, Ryan's food is worth the trip alone!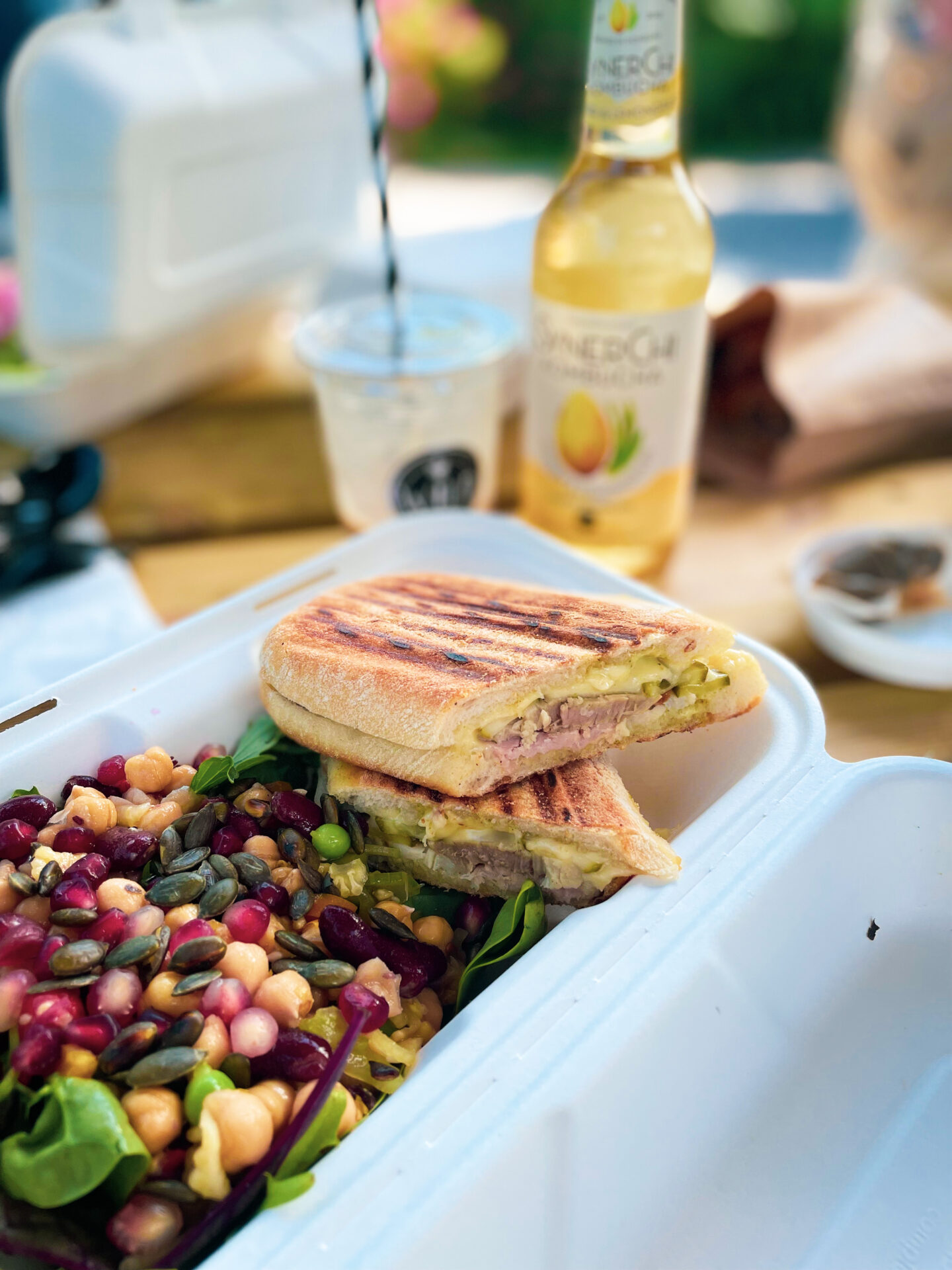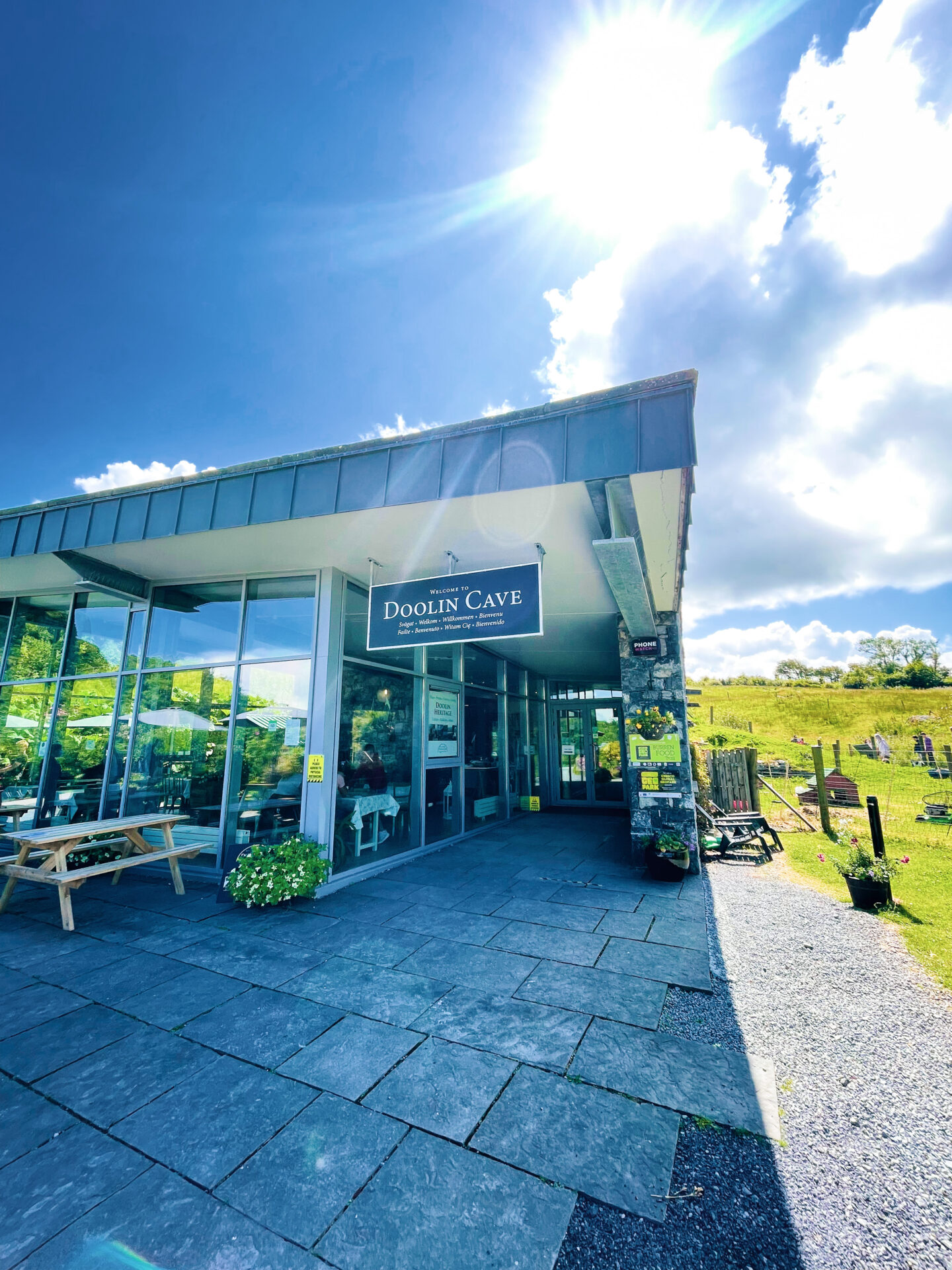 Here's also a jumping off point where you can connect to the Aran Islands via one of the two cruise companies who do daily sailings to the Arans. The Doolin 2 Aran Ferry is a slightly shorter but choppier sailing than the one from Rosseveal in Connemara. You can also hop on board to view the full majestic drama of the Cliffs from the Atlantic!
The Cliff Coast's Best Beaches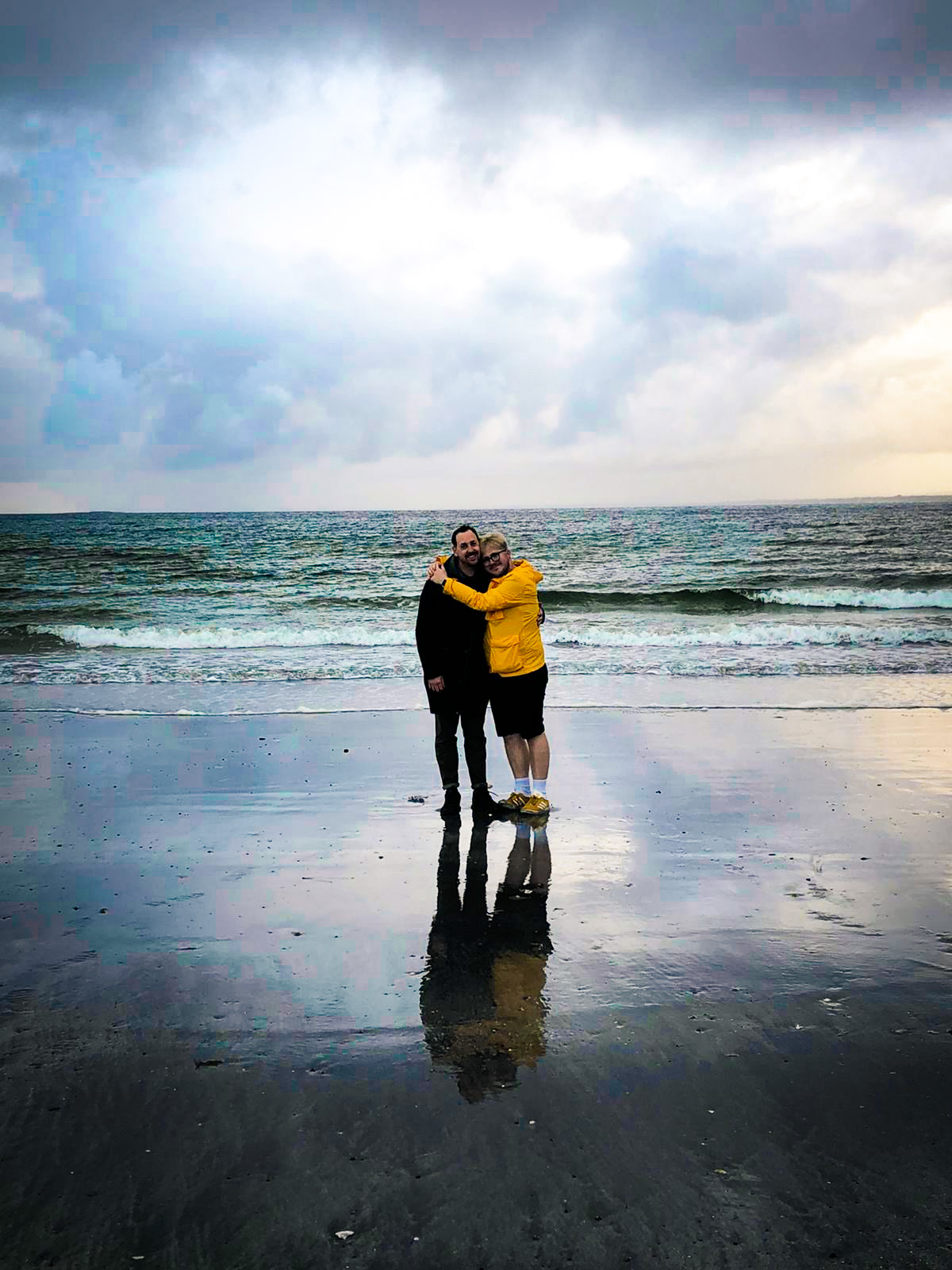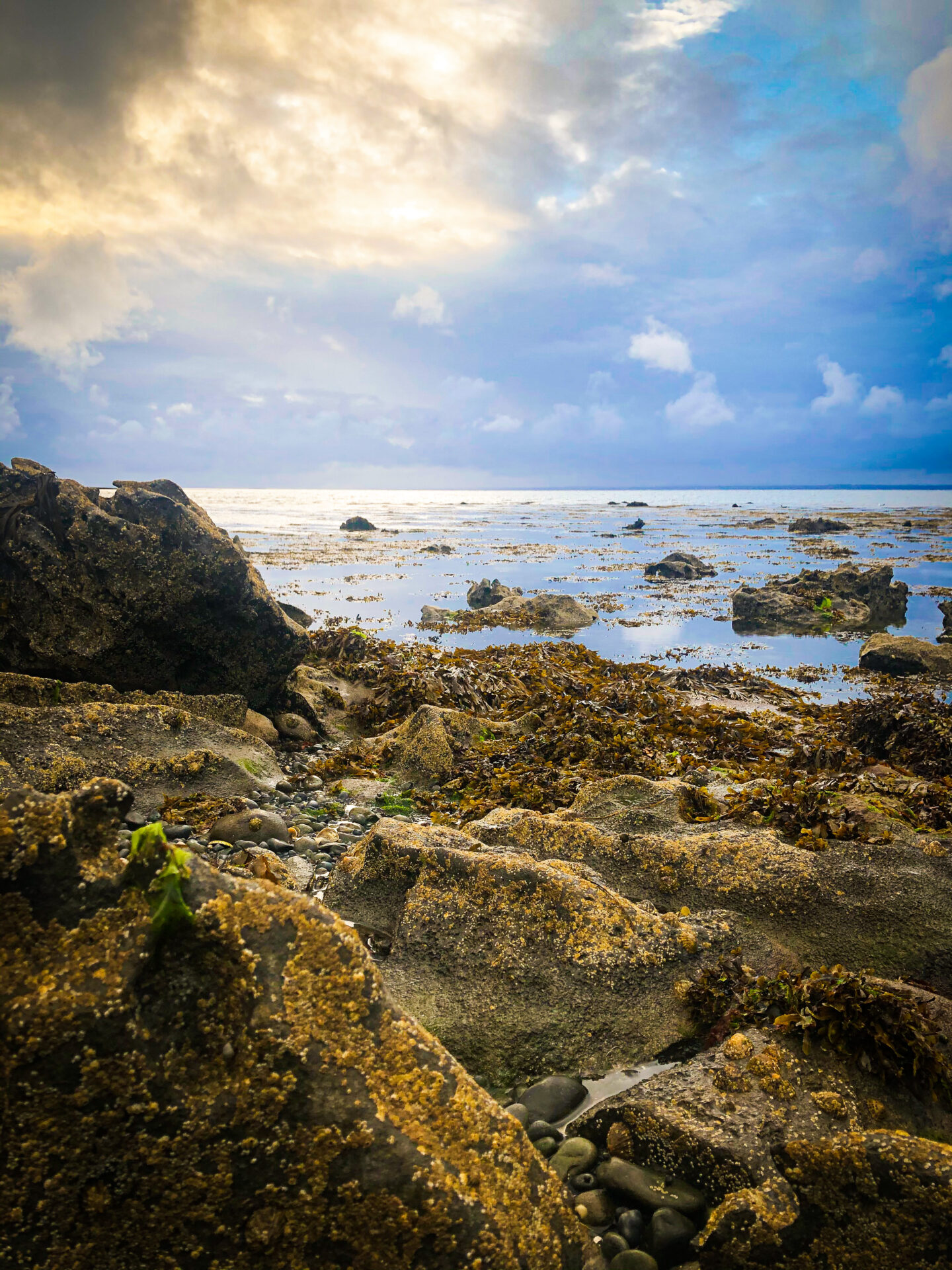 Lahinch is one of the best beaches on the west coast (and remarked as one of the best places in Ireland to surf), as are both Kilkee Beach and Spanish Point, but being so remarkable means they can all be very busy, especially when it's a little hot out.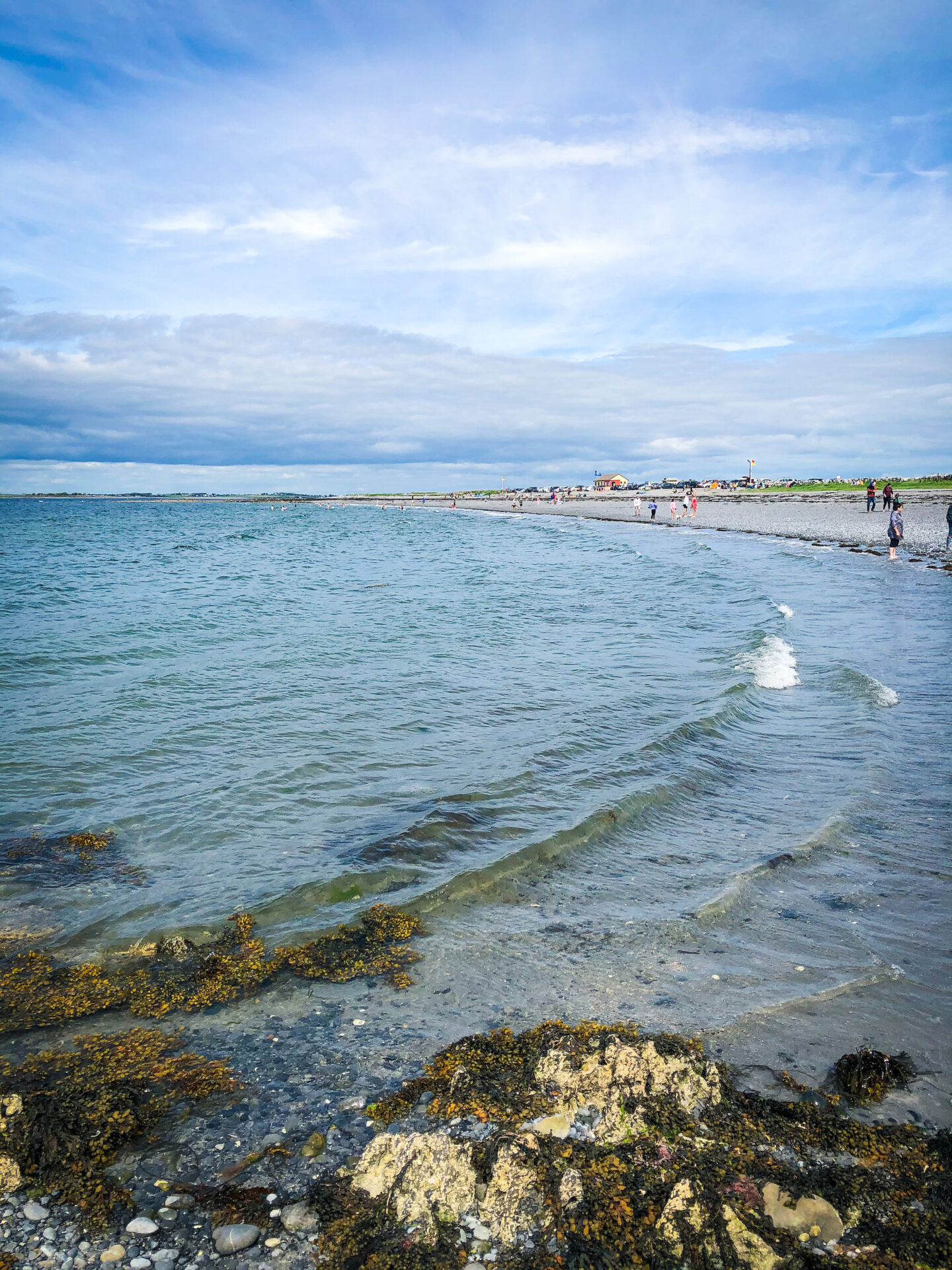 A little bit less busy might be the beaches of Fanore Beach and Clahane Beach whilst off the beaten track are the likes of Traught Beach and Bishop's Quarter Beach. Check local signposts for facilities and safety warnings, particularly for swimming.
Cliffs of Moher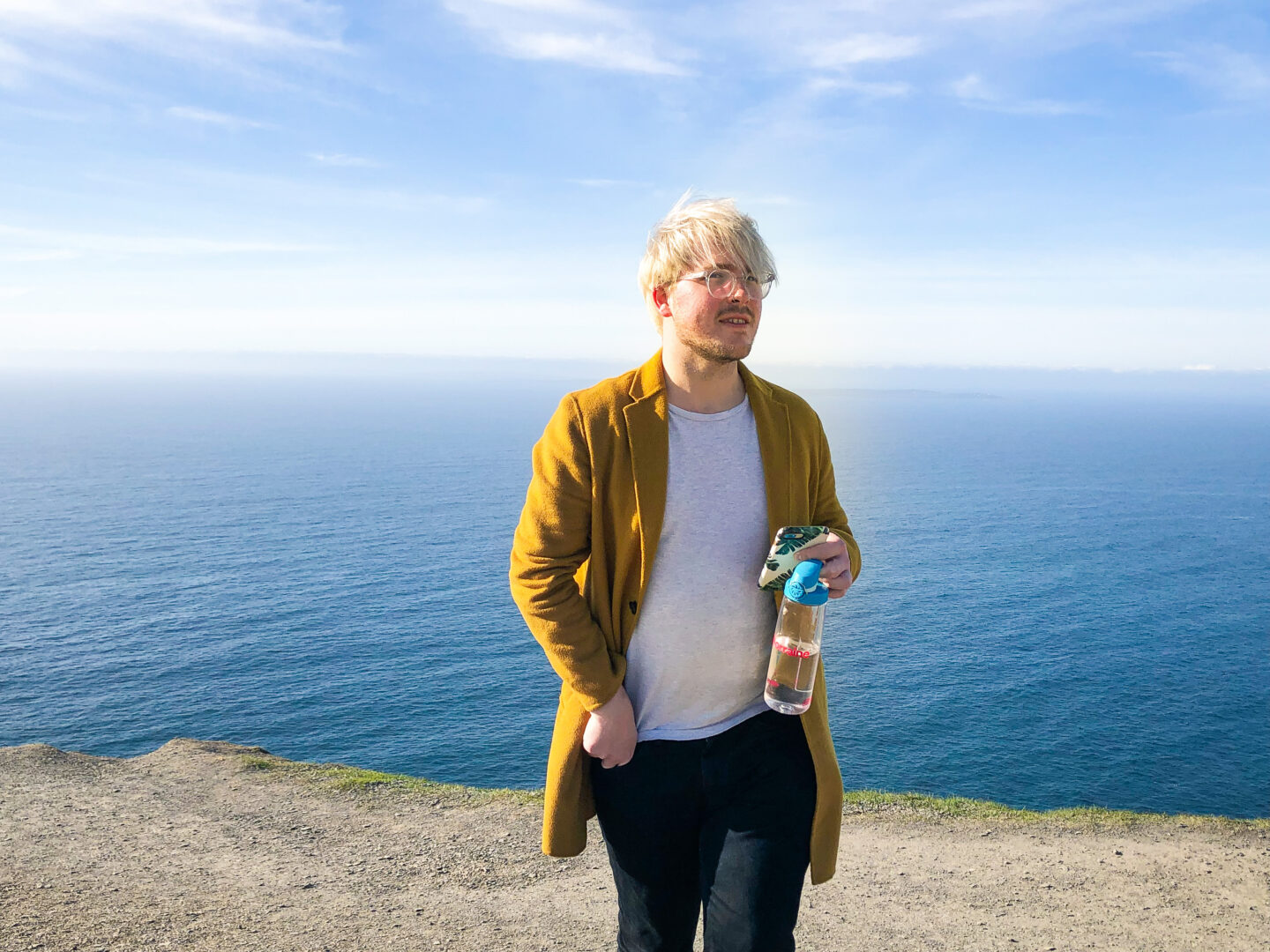 The Cliffs of Moher need no introduction, Ireland's most-visited natural tourist attraction has been a backbone of the Wild Atlantic Way long before the brand was born –– 350 million years they've stood bearing the brunt of the moody blue ocean.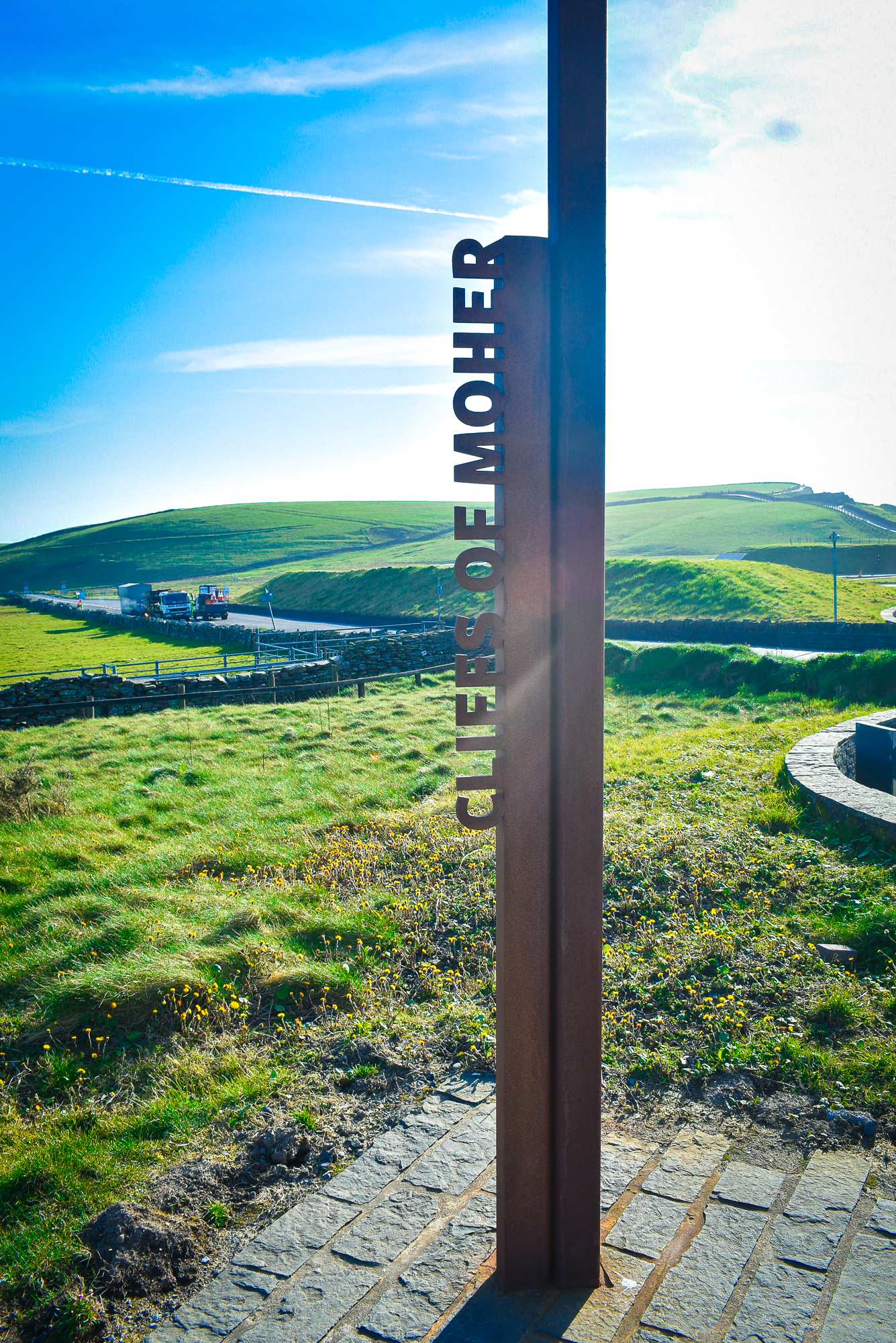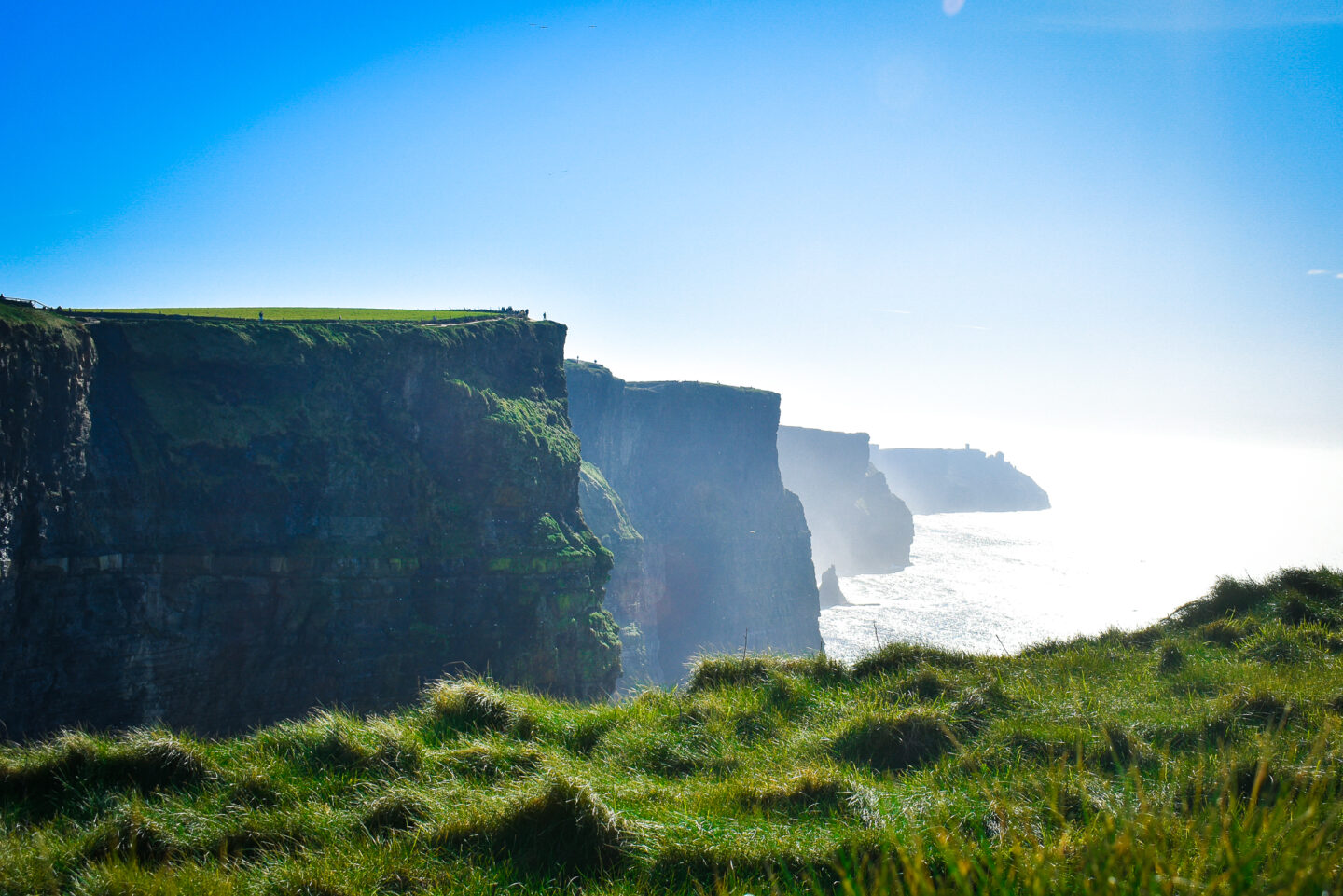 Running for 8km, we recommend giving yourself about two or three hours here to really take your time and breathe it all in. Expect scale, expect height, expect views and lots of natural drama. The weather, as it always is in Ireland, is changeable so, as we say, "dress for all weather".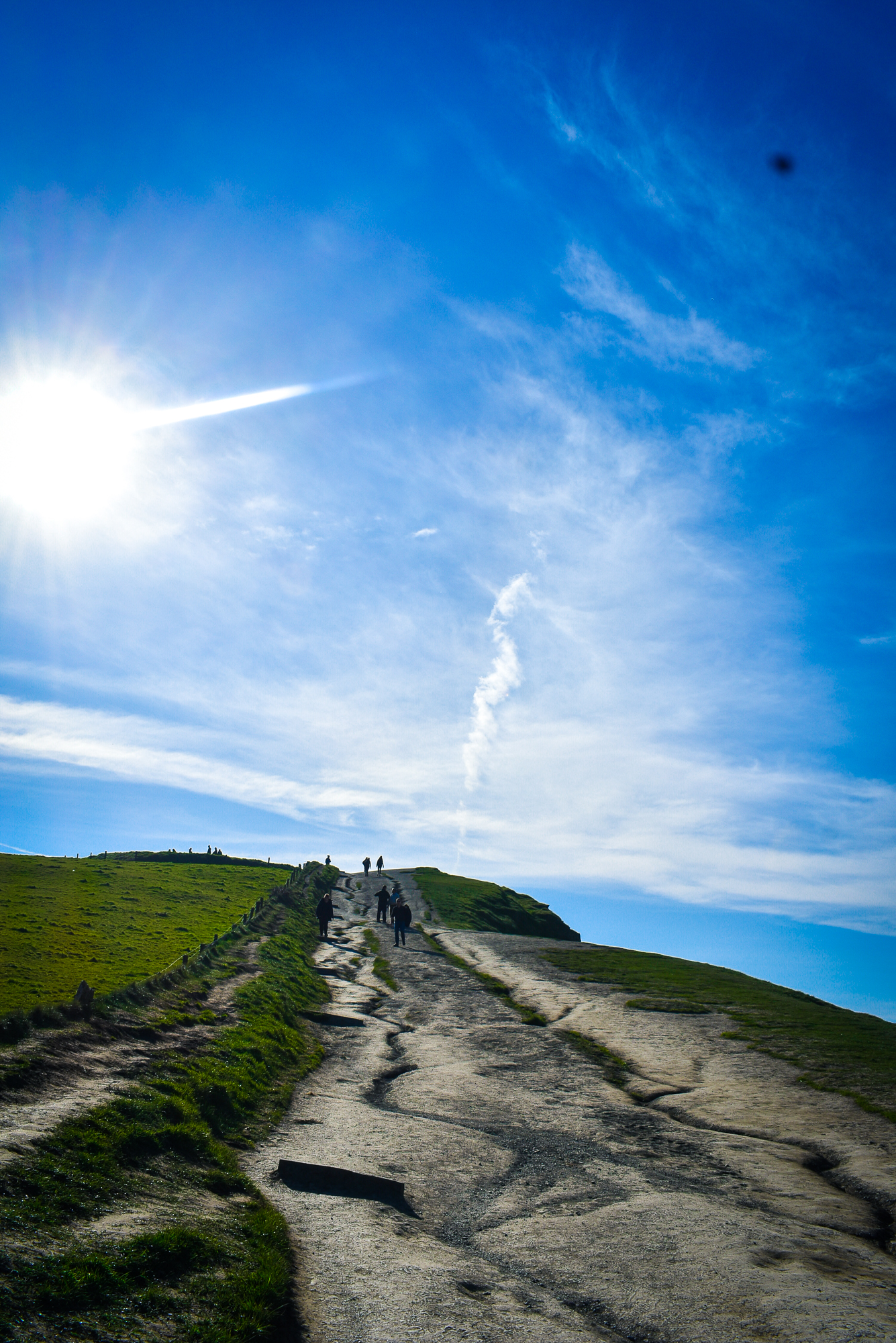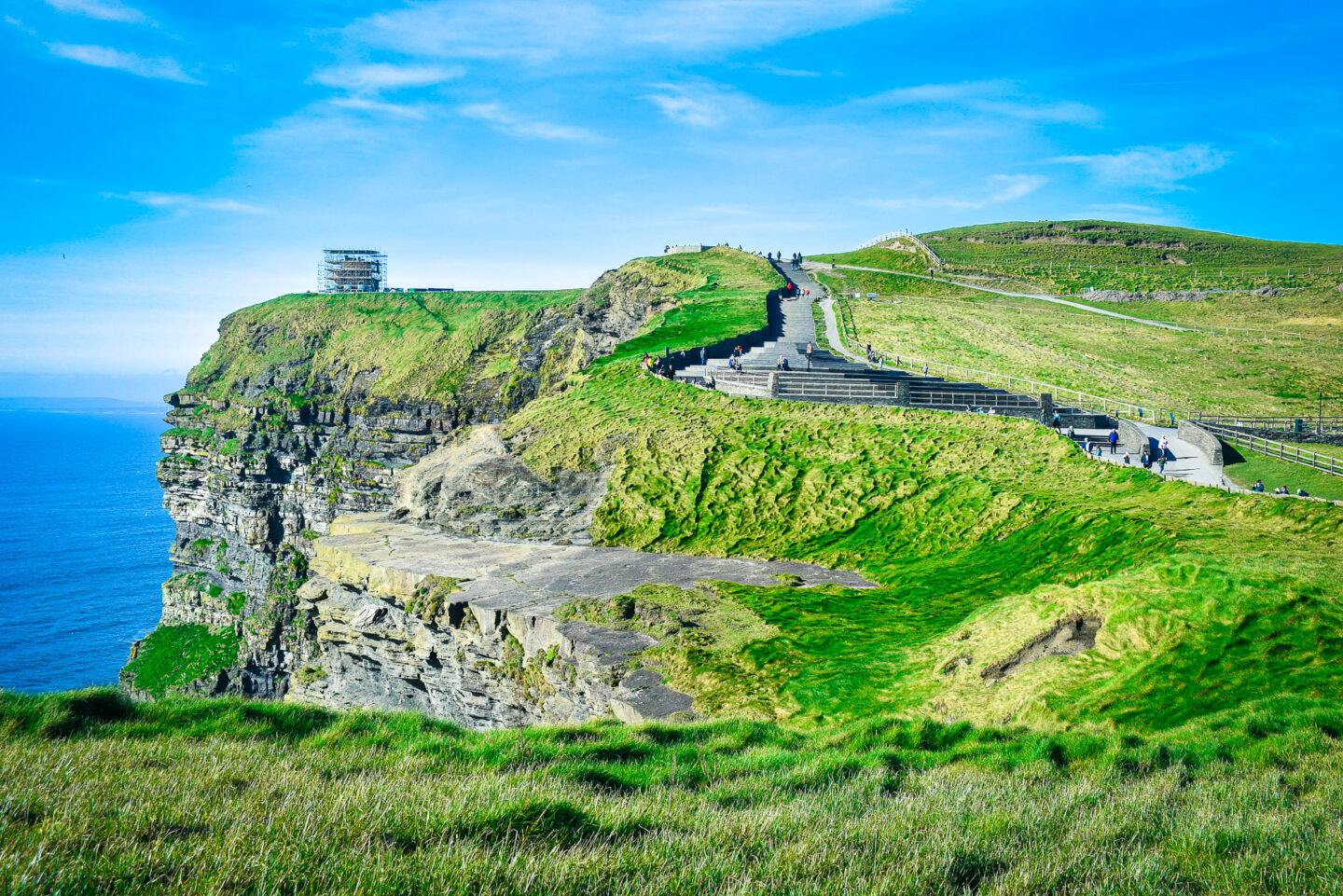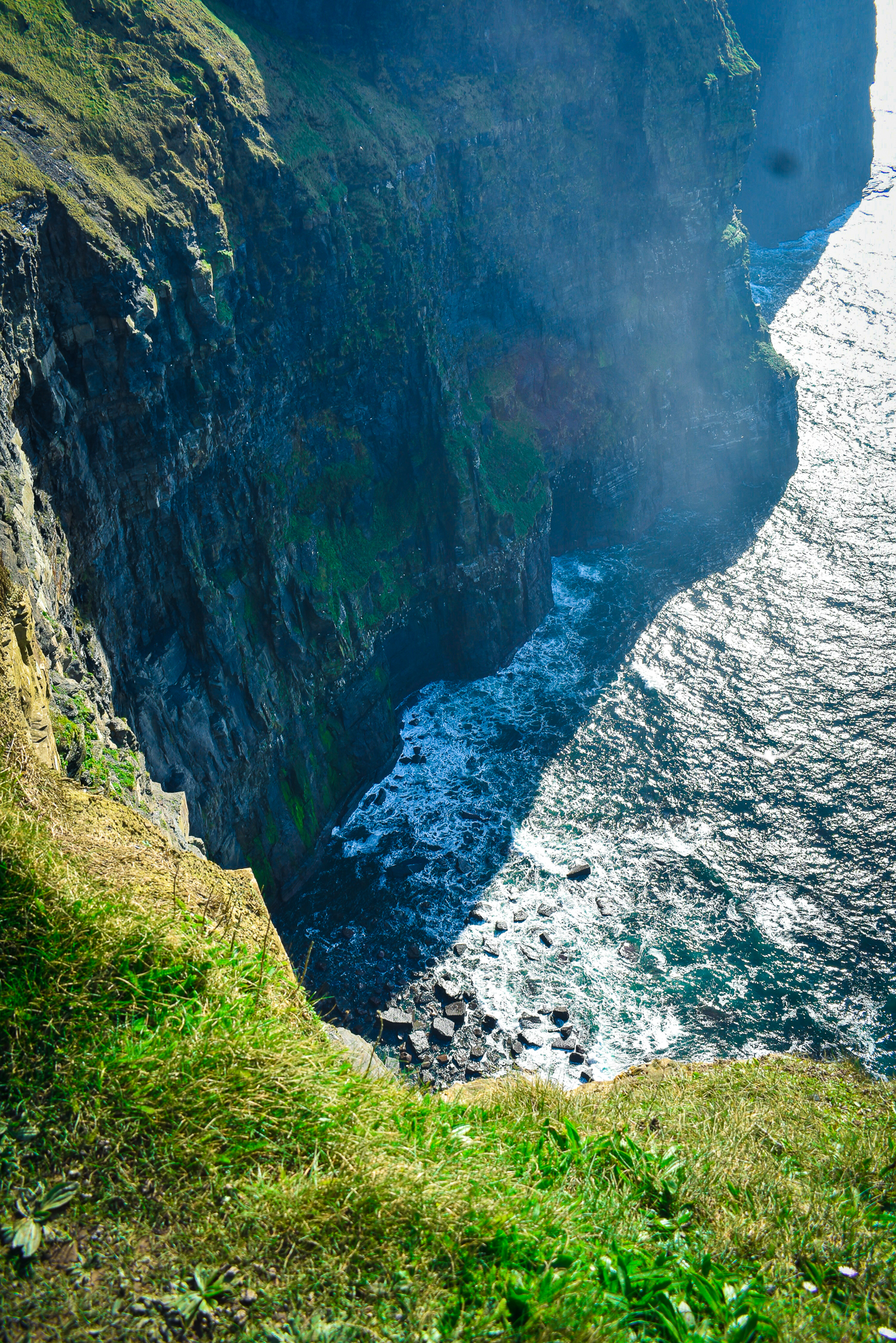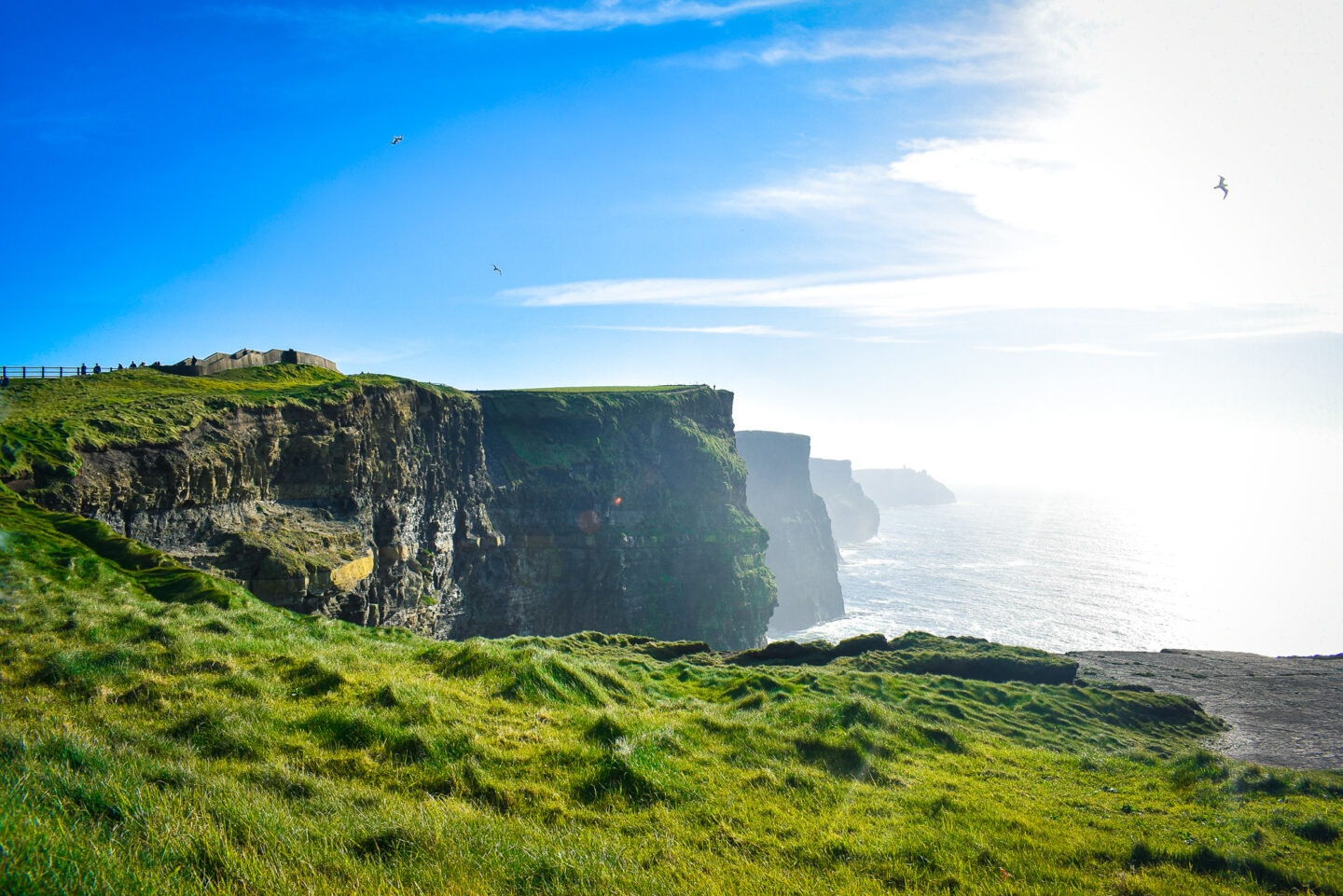 Children under 12 go free, whilst general entry tickets start at €7. Like many popular 'destination' attractions, it's usually slighter quieter earlier in the day and later in the afternoon –– maybe that golden hour glow is the ideal time to plan a trip? Parking in their on-site car park is included in the ticket price per person, but you can visit free by parking in Doolin and taking the 'Coastal Walk' which stretches for 20km and hugs the cliffs all the way down to Hag's Head.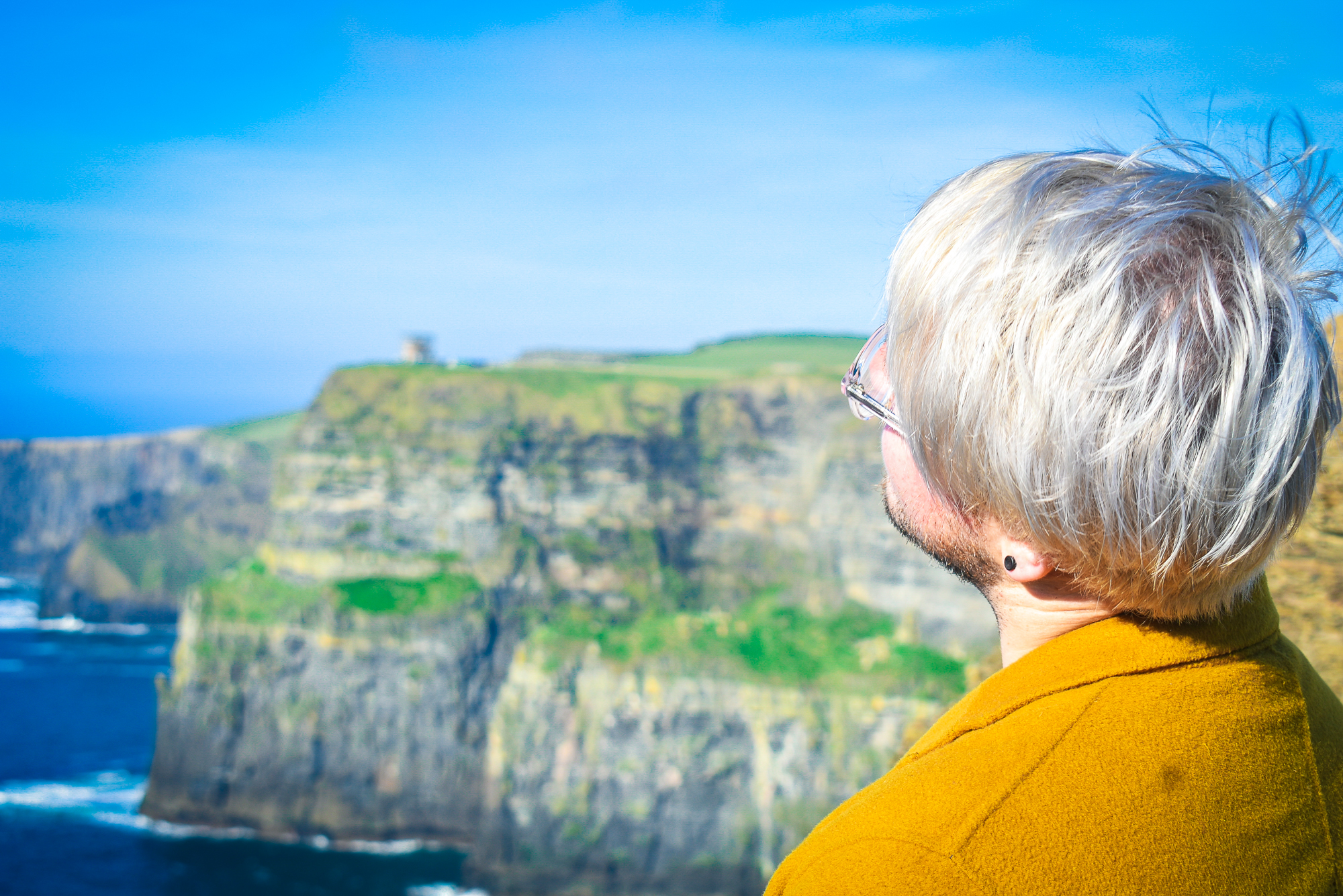 Make a half-day of it and bring a picnic, charge up everything, have the camera in tow and take the leisurely, lesser-explored route! It is a cliff edge, so keep safety at the forefront of your mind at all times.
Grab a coffee, sweet treat and peruse the great selection in the shop at Moher Cottage, just a short drive from the visitor centre at the Cliffs of Moher and perched with a great view overlooking Lahinch. This is a great spot to pick up some little gifts or some things to bring home!
Though we've dipped in and out of coastal Clare and Galway before, this was our first extended stay there –– though, in saying that, we visited during the post-lockdown era of Covid-19 in 2020, so we had to be extremely picky about the activities we undertook and the exposure to other people, so this guide/feature isn't as packed as ours usually are. Bear with us, as we'll keep adding to this the more we explore!