There is one certainty in everything right now; Christmas 2020 will be a Christmas like no other. There won't be in-person Christmas parties with colleagues; family and friends may need to distance to even hand over presents; annual traditions like choir services or twelve pubs will be shelved for certain. But another certainty is the ability for us all to eat well, and that's been one of the truest things to stand to 2020 –– we've all been able to eat especially well, and with that we've made a deeper connection to our cherished food producers. We don't mean "eating well" as in subbing the glorious big bird for a salad, we mean, high quality, restaurant-standard dishes that provide access to incredible ingredients and setting off flavour bombs, which will continue through the festive season!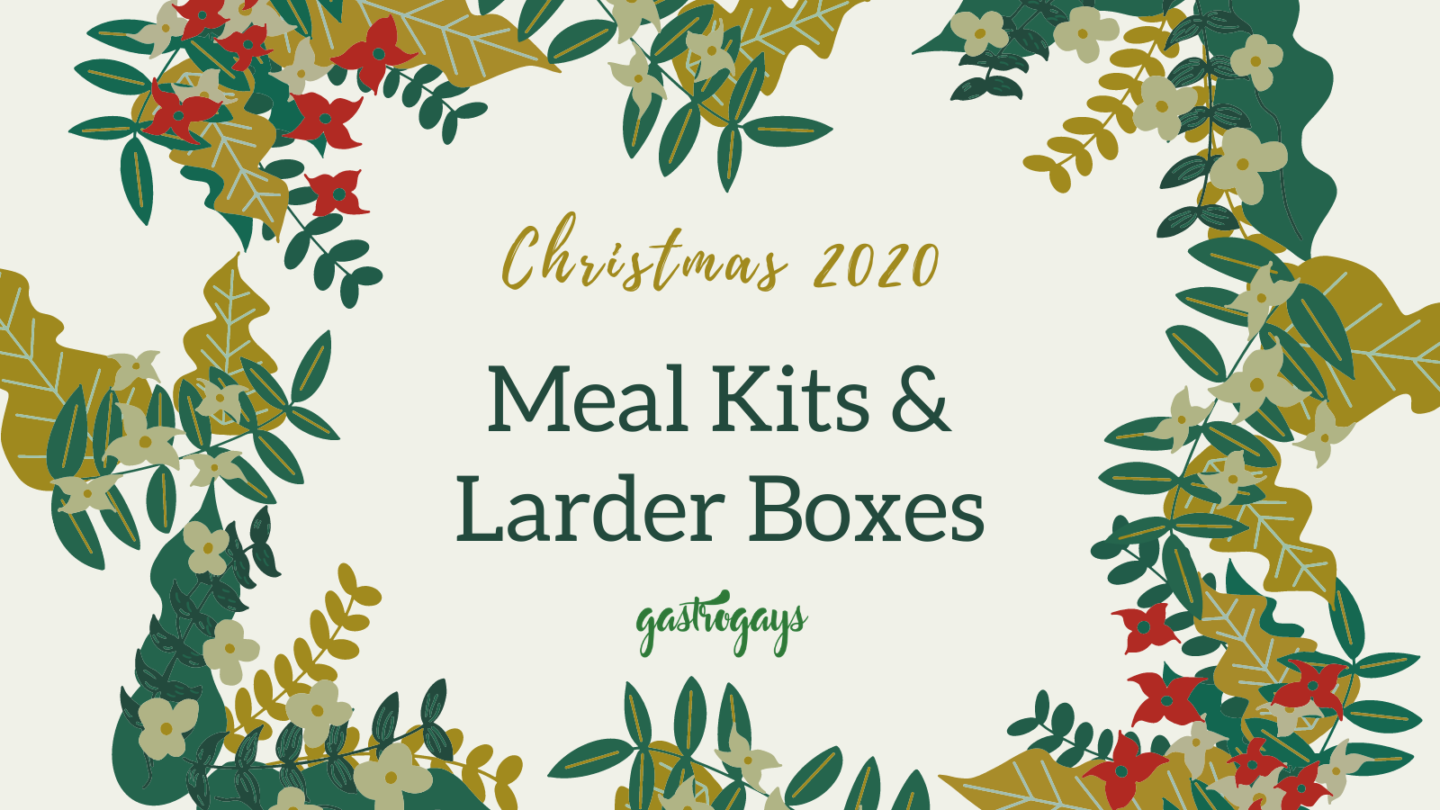 Throughout the pandemic, we've been keeping our Covid Irish food delivery list updated, packed with producers and offers but also with meal kits, restaurant boxes, hampers and 'at home dining experiences', so this feature is really a supplementary piece zoning in on similar for Christmas, which we'll endeavour to keep up to date on a rolling edit so, please, suggest any you've come across that we've missed and might suit, rather than bark "you forgot X" or "you left out Y". We'll aim to include as many Irish businesses who will pre-prepare parts of your Christmas dinner, or who are offering the spoils of their kitchen larders to you, either as a food loving fanatic yourself, or a culinary genius as a gift.
Updated: 8th December 2020
Allta "Everything In Between"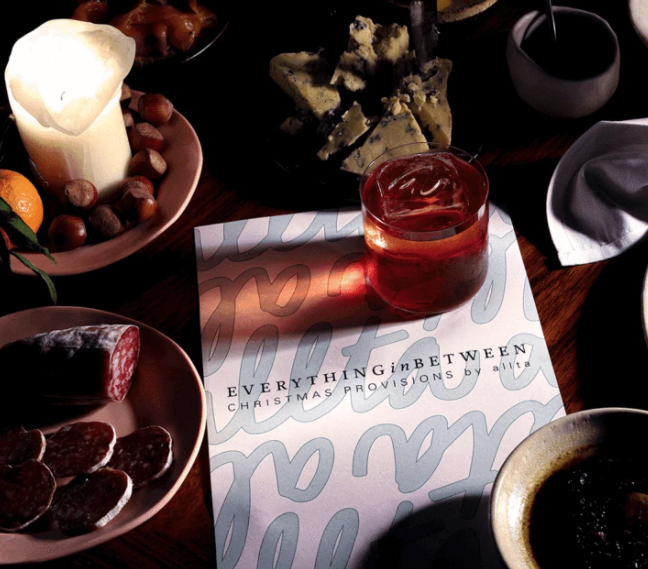 Throughout both lockdowns, there has been a spark of joy that arrived to the door of hundreds around the country most weeks: the Allta Box. Chefs Niall Davidson, Hugh Higgins and Kevin Burke have consistently struck the right note and found their stride, from being early adopters of the 'at home' kits to being industry leaders. Allta Box has always been easy to assemble, delicious to eat, and great value too. But now for Christmas 2020 they've introduced the "Everything In Between" box, which as its title suggests encompasses everything around the main event. Think starters, snacks, desserts and sides such as McNally's Farm braised red cabbage, potted crab, green tomato + buckwheat mayonnaise and a bottle of JM Gobillard Brut 1er CRU Champagne. What does it for us is the pain perdu and Teelings Whiskey custard. An incredible treat and the guarantee of a gourmet Christmas. Everything In Between box costs €195 and includes delivery nationwide. Ideal for 3-4 people. Order at alltabox.ie
Virginia Park Lodge Christmas Dinner
We're sure every family in the country has the same discussion – "maybe next year we won't get a turkey for a change", but for the purists with an adventurous edge, a turkey wellington will quell any table tantrums from grandad who simply doesn't agree with breaking tradition!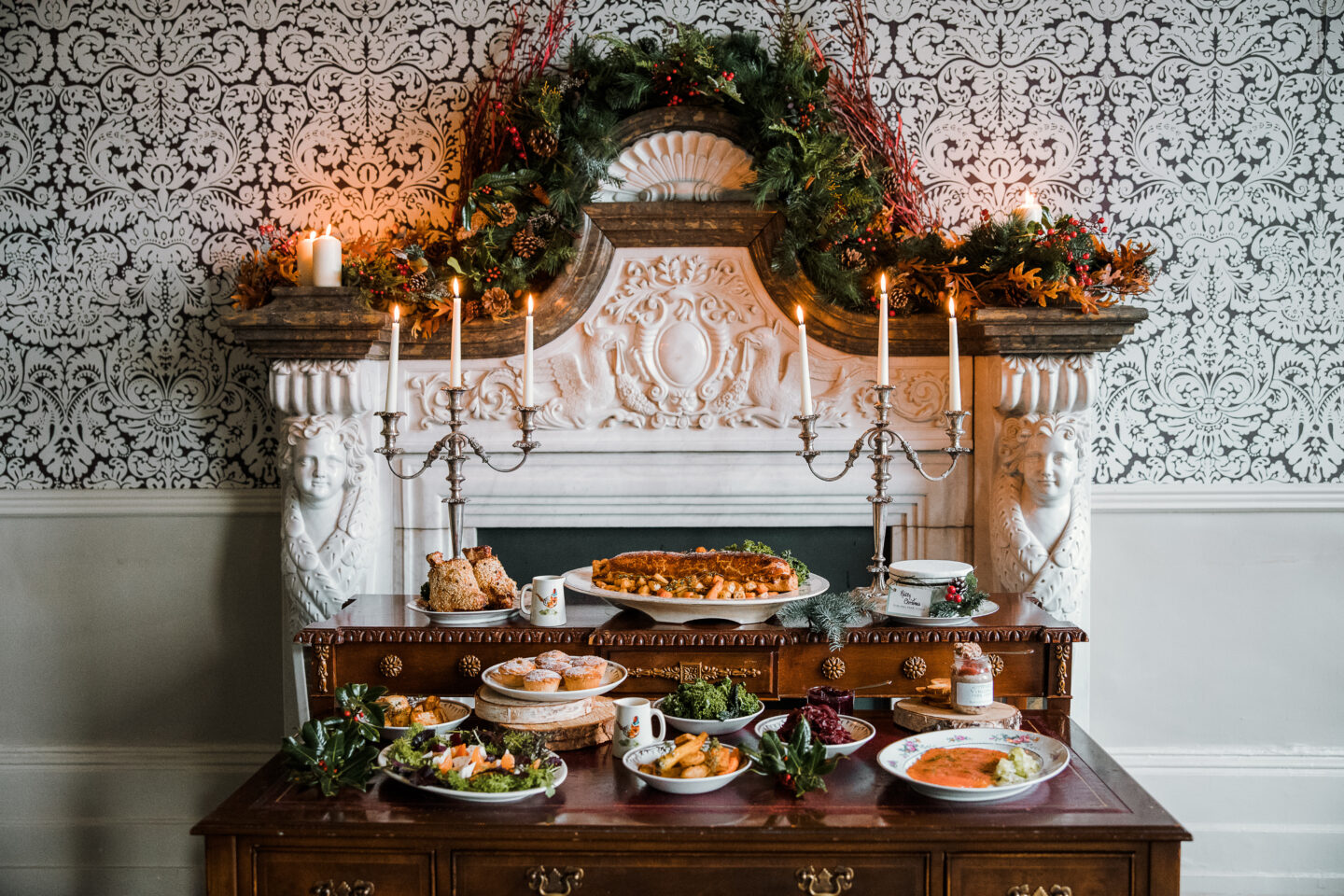 Chef Richard Corrigan, the man at the helm of Virginia Park Lodge in Cavan, Bentley's & Daffodil Mulligan's among others over in London, has everything covered for you and your family in his luxurious Christmas hamper running the gamut from mince pies and Christmas pudding to salads and starters of duck rillettes, herb crusted smoked salmon.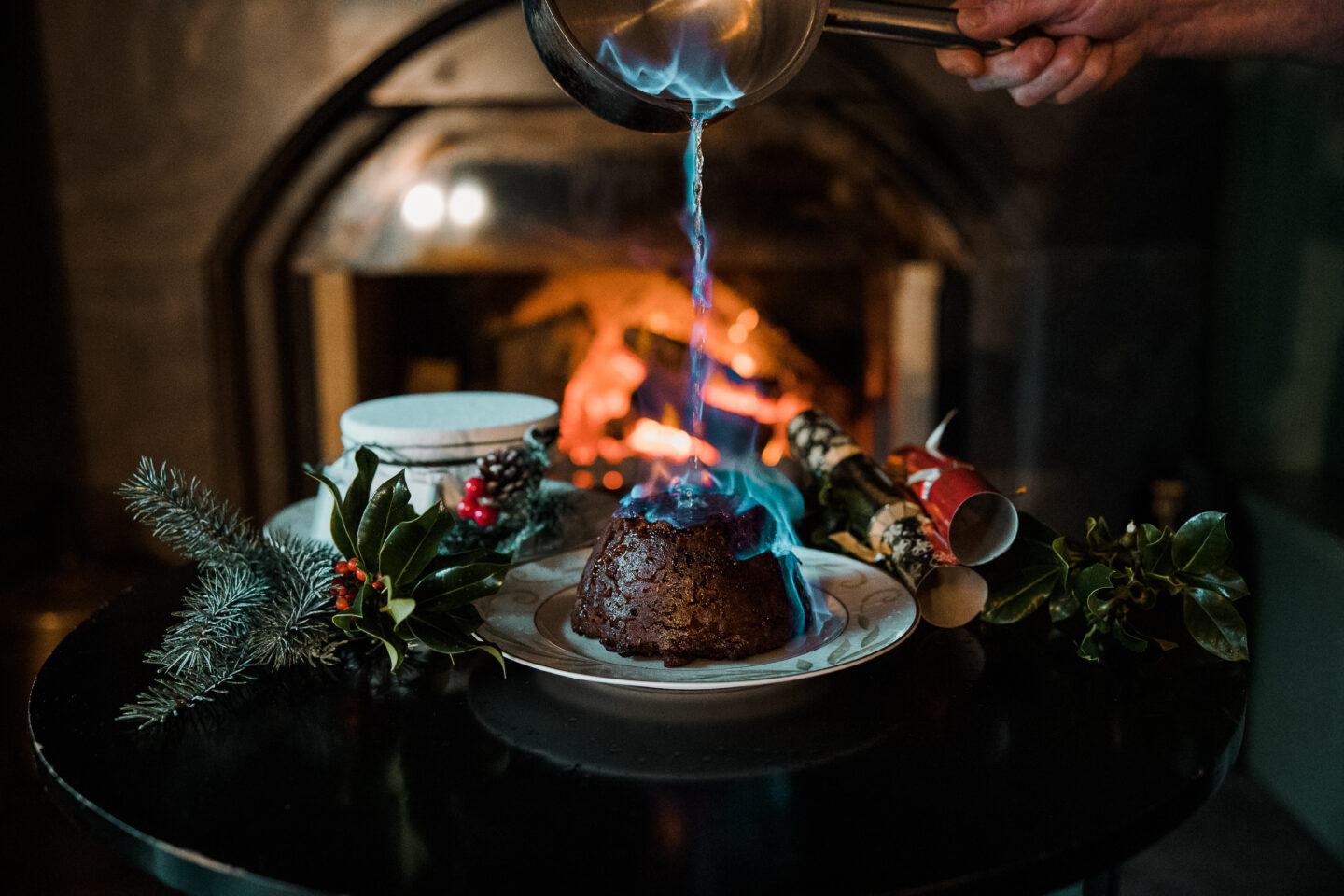 The Christmas Day Hamper is priced at €275 + €10 delivery (orders need to be placed by 6pm on Thursday 17th December) and is only available for delivery to addresses in Cavan, Meath and Dublin. If you're not in those areas, you can order Corrigan's Christmas pudding, priced at €38 + delivery and orders need to be placed by 6pm on Thursday 10th December. Order at virginiaparklodge.com
Rock Farm Slane Gobble Box
Our final gathering before all of this took over was a wonderful day exploring the Slane Food Circle meeting producers in the Boyne Valley. The conclusion of that was a wonderful dinner and overnight stay at Rock Farm Slane, the farm and eco tourism site run by the Alex and Carina Conyngham – also of Slane Castle fame. As lockdown developed, Carina & Alex started a weekly market featuring the fantastic producers of the Boyne Valley, as well as their own free range pork, Dexter beef and organic produce. Fast forward a few months, and they've enlisted the help of Keith Coleman & Aisling McHugh of Roots Dinners to bring a new dimension to the food offering at the Castle and at Rock farm, including the weekly market.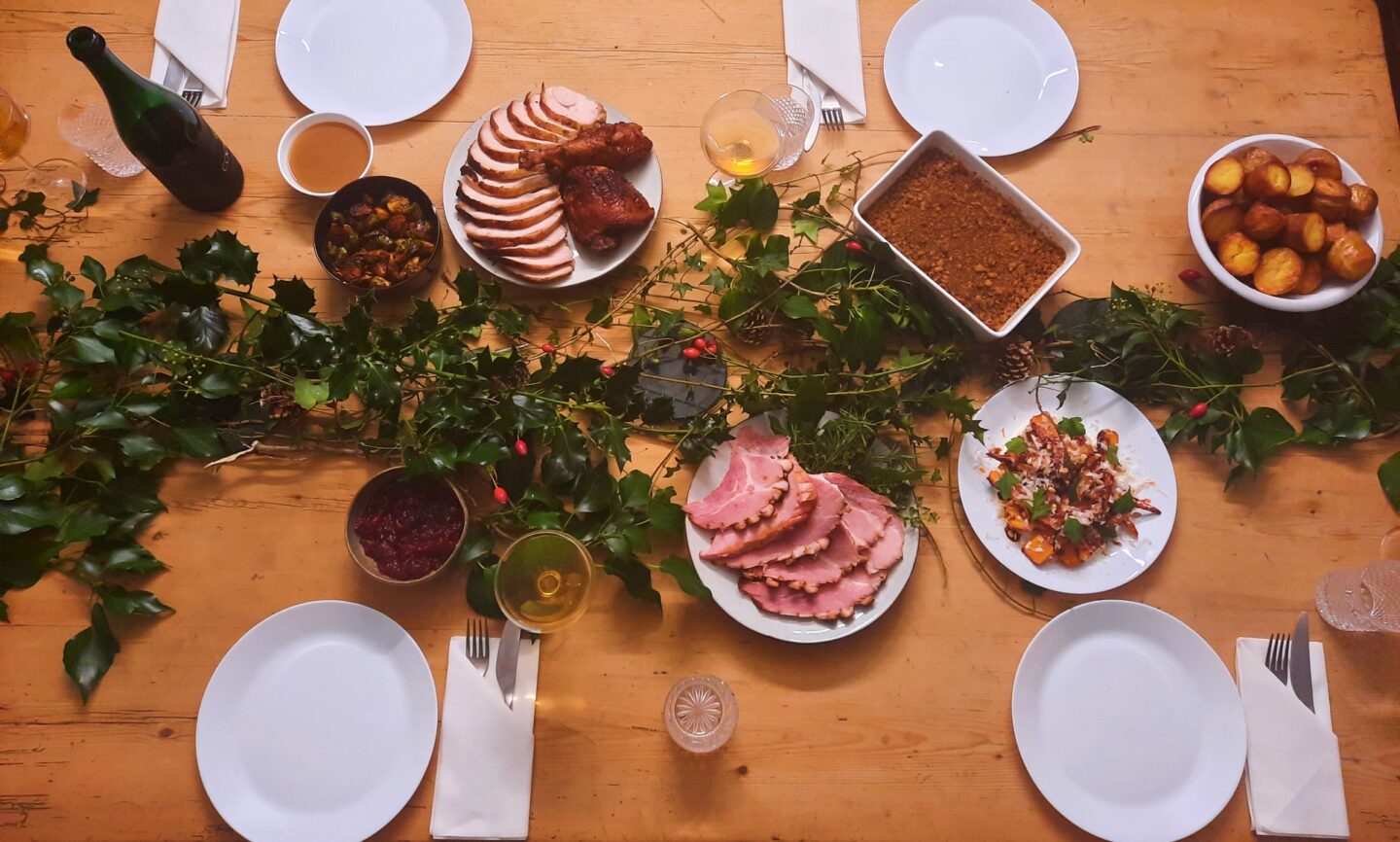 Now Rock Farm Slane already produce organic turkeys and their own ham annually for purchase, but to go alongside this Christmas, Keith and Aisling have developed the cleverly named "Gobblebox", an array of treats to pimp your Christmas dinner and leftovers to another level. Included is a turkey brine, a soy and Slane Whiskey ham glaze, a paprika, brown butter and honey glaze for veg, cranberry sauce, and a herby stuffing butter, ideal to tumble your spuds in or spread on sandwiches.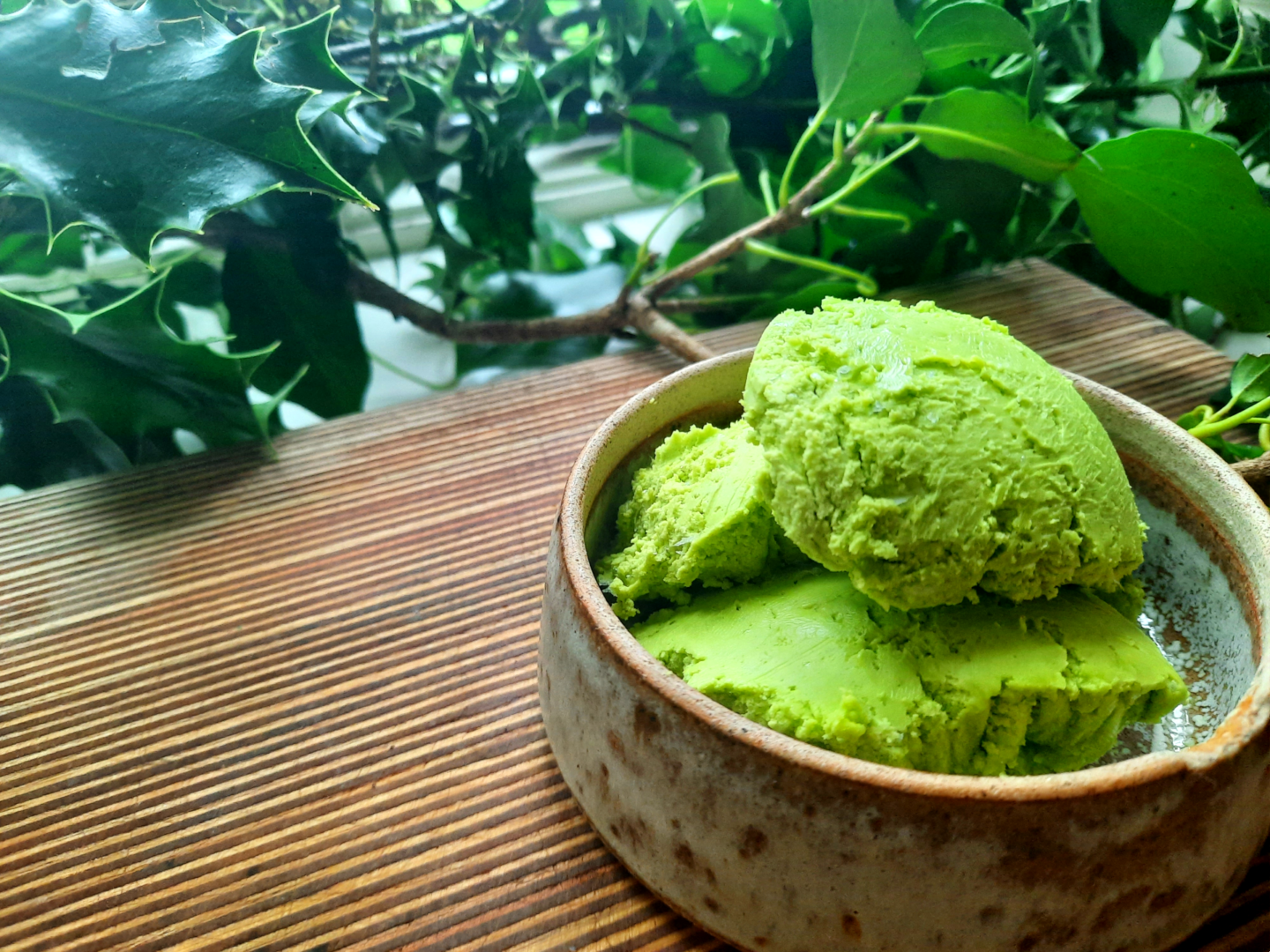 The box costs €35, though a limited number of products can be purchased individually at both McNally's Family Farm and at Rock Farm Slane. Otherwise, pre-orders can be made when McNally's Christmas pre-orders open for collection at the farm shop, Honest To Goodness, Naomh Olaf or Temple Bar Market. And of course, pre-order alongside your top quality turkey & ham at Rock Farm, or at the weekly market from the 10th December. rockfarmslane.ie/farm/
The Glass Curtain Christmas Totes
Choose between three special, stuffed Christmas Totes from The Glass Curtain in Cork City –– the Cool Yule (€90), the Jolly Holly (€120, vegetarian), or the Deck The Halls (€140). Each comes with a bottle of either Champagne or Pet Nat Rosé, mince pies, a mulled wine spice bag, Ballylisk Triple Cream Brie, Aged Ballinsrostig Goud, Rye Crispbreads, Beetroot Relish, Milk Buns (with either schmaltz or hazelnut beurre noisette) plus lots of other treats for each individual option. Each GC Christmas Tote is designed with each item in mind to complement one another, resulting in a perfect selection to share around the table with family or friends this festive season. Collection only (23/34 December) from their MacCurtain Street outpost in the city, order here from the Glass Curtain website.
Forest Avenue Christmas Dinner Box
If the turkey is well and truly off the menu at yours, and a goose or chateaubriand is more up your avenue, this might be for you. For €200, Forest Avenue on Dublin's Sussex Terrace – which truly transformed into a green grocer and wine shop during Covid – has a gorgeous array of starters including Chicken Liver Parfait, Potted Crab & Smoked Salmon and Sausage Rolls, all the sides for your main, including potato gratin and celeriac with truffle crumb. Available for pre-ordered collection only between Monday 21st and Wednesday 23rd December. Order at forestavenuerestaurant.ie
Mister S Larder Box
Another superstar of lockdown edible spoils was Camden Street's Mister S, led by Jamie O'Toole and Paul McVeigh with superstar chef Dan Hannigan in the kitchen. Cooking over fire and coals in December mightn't be to everyones taste, but it's a dream for a pair like us.
This might be a bit more of a gift than something you'll be serving up to all and sundry (restrictions permitting) but some elements can absolutely make it to your festive table at some point on Christmas Day. Smoked Rapeseed Oil is a staple in our kitchen (we always use Newgrange Gold Smokey Oil or Broighter Gold Hickory Rapeseed Oil) and transforms mashed potatoes or roasties to a whole new level, while that smoked bacon butter would go down a storm to spice up your soup starter. Worth noting you can also add on smoked free range Andarl Farm ham as well as sausage stuffing. The larder box costs €60 and is available for delivery nationwide, or collection from Mister S in Dublin. Note that the ham & stuffing extras are only available for Dublin delivery or collection. misters.ie
Chestnut Ballydehob – Roots Larder Box
During the summer, we were continuously envious of the takeaway heat at home offer 'Sticks & Twigs' Rob Krawczyk & Elaine Fleming at Michelin-starred Chestnut in Ballydehob, West Cork. The menu each week sounded like a truly special experience, and this Noël-focused flavour of Chestnut is no doubt equally a treat. The 'Roots' Kitchen Larder Collection costs €65 and includes home made vinegars, turf smoked butter, whiskey & damson preserve, West Cork wild fennel pollen and a few other treats. Delivery isn't included but is available nationwide (bringing the cost up to about €80), and alternatively, you can pick up from the restaurant if you wish. Available to buy right away, there are plenty of other treats available from their Christmas pop-up shop every weekend. restaurantchestnutwestcork.ie
12 Days Of Franks-mas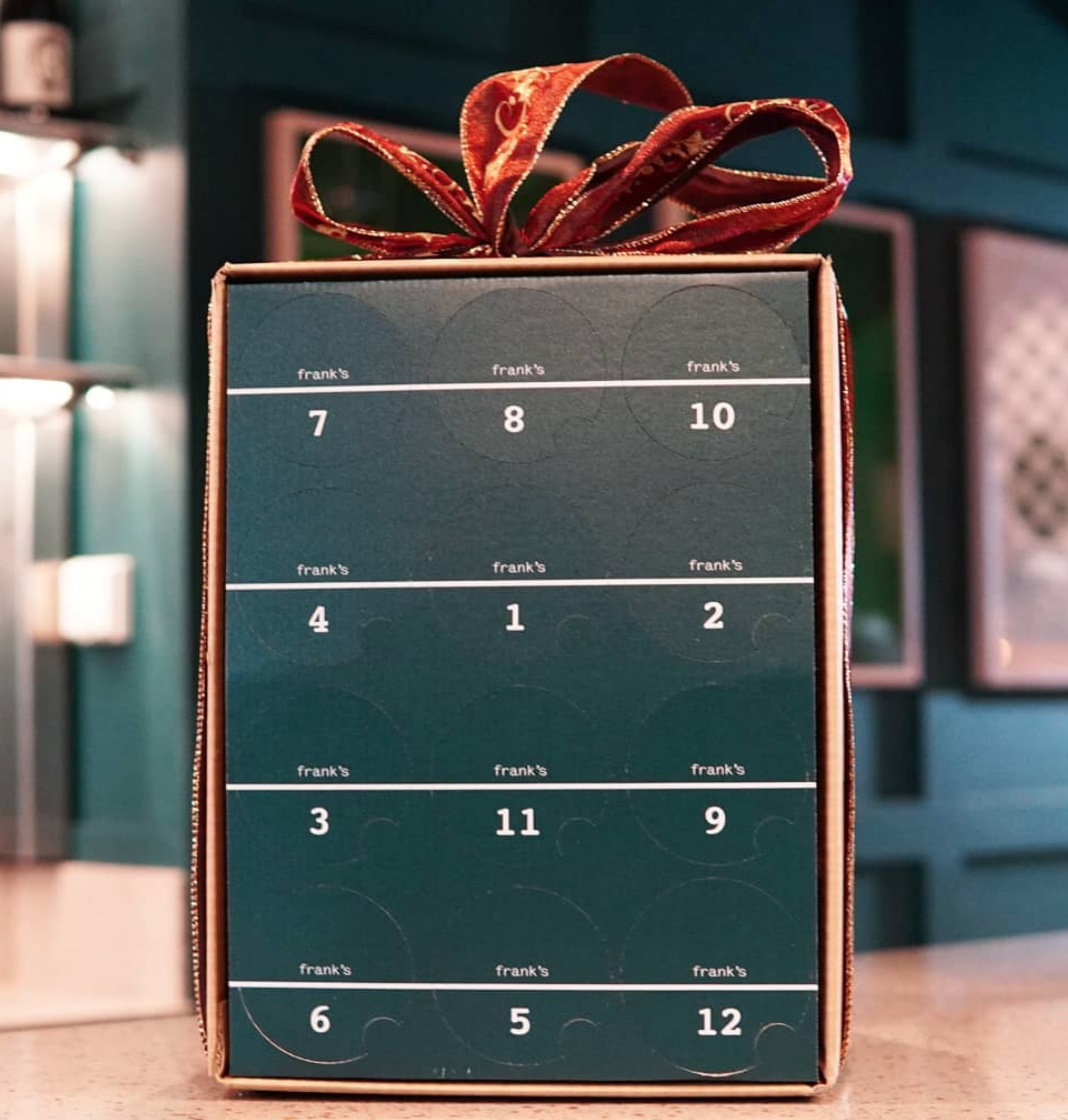 Wine is a meal, right? Either way it's bloody essential in our book and we truly worship at the alter of Frank's (and sister restaurant Delahunt). Pre-COVID, the wine bar served up some of the best casual small plates around, paired to exceptionally curated bottles; but they've brushed themselves down and become a bonafide bottle shop so naturally the have festive gifting zipped up and this is the perfect Christmas gift for the wine lover in your life. A selection of 6 full bottles of wine from their amazing selection, 2x 275ml treats, plus 4 wine related gifts. Either you can show restraint and not open any of them until Christmas Day, or perhaps this is the perfect advent calendar for you to get you through an unusual Christmas season. Price is €195 and is for collection only from Frank's on Camden Street. franksdublin.com
Volpe Nera Christmas Supper Box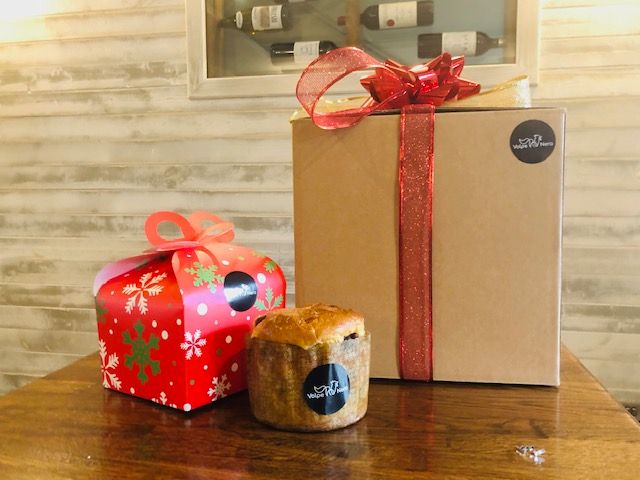 Open just over a year now, Volpe Nera is already cemented as a dining destination in SoCoDu that's so worth the trip. We got their meal kit during first lockdown, then managed to squeeze in for the in-restaurant experience once they opened up again during the summer of staycations. We hope to get back sooner than later, but meanwhile chef Barry Sun and Restaurant Manager/Sommelier Darren D'Arcy have perfected a pick up kit that lucky people can pop along and collect on Christmas Eve. The supper box contains house-made bread, cep butter, a selection of cured meats, pickles, smoked almonds , olives, Picpoul olive oil, a selection of Irish cheese, house-made jam and crackers. Two bottles of wine are also included as well as Panettone de Volpe Nera, spiced red wine poached pears with vanilla mascarpone and nut crumble, and a box of artisan chocolates from Cocoa Atelier. Talk about the most delicious and indulgent Christmas Eve! Price is €150, and is available for collection only on December 24th. Orders open December 1st at midday at volpenera.ie
Daddy's Breakfast Bag
Daddy's Cafe in Rialto well and truly took Dublin by storm – not only because of their mouthwatering menu, but their use of top-class ingredients used throughout the menu. Christmas Day, in our eyes, requires a proper breakfast to kickstart proceedings, and the Daddy's Xmas Breakfast Bag contains some favourites from the cafe including Annascaul White Pudding from Co Kerry, Jane Russell's gorgeous fresh blood black pudding, Tartine bakery sourdough, 6 organic eggs and housemade brown sauce. The bag costs €25, and is pick up for collection on Christmas Eve only. For any extras, pop along to our great friends The Cupcake Bloke across the road while you're in the area, or the top quality Ennis Butchers. Only thing it's missing is the camp classics pumping out of the speakers, but you can pop on a playlist of your fave camp classics or Christmas jingles as you prepare breakie. Order at daddys.ie
[SOLD OUT!] Hugo's Moveable Feast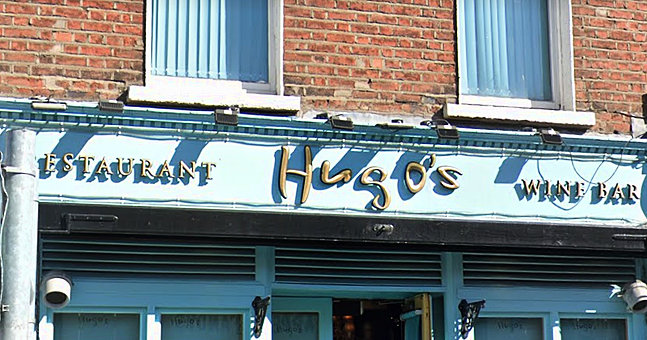 Throughout 2020, one person in particular has emerged as been tirelessly vocal, campaigning on behalf of her industry and pressurising the government to act decisively and with care. Gina Murphy of Hugo's Restaurant is also based just a stone's throw from government buildings –– on Merrion Row in Dublin. A realist, a real trooper, and a really eloquent speaker. While Christmas dining out with friends and family isn't as certain this year, Hugo's has created 'The Moveable Feast' – full Christmas spreads for collection on December 23rd or 24th. Choose between turkey, beef or duck, and with menus for 2, 3 or 4 people, prices begin at €100. Choose starters such as Ballycotton smoked salmon & spiced beef (two iconic tastes of Cork, so to speak) or a gorgeous silky soup. Sides of spuds, sprouts and carrots are included too, as is a selection of Irish cheeses with crackers and chutney, plus Christmas pudding and brownies. Wines – including a favourite of ours, Crazy Creatures Grüner Veltliner from Austria – are available as add-ons, too. Honestly, everything you'd want, hope and dream of for Christmas Day. Collection only. Order at hugos.clickandcollection.com
Poulet Bonne Femme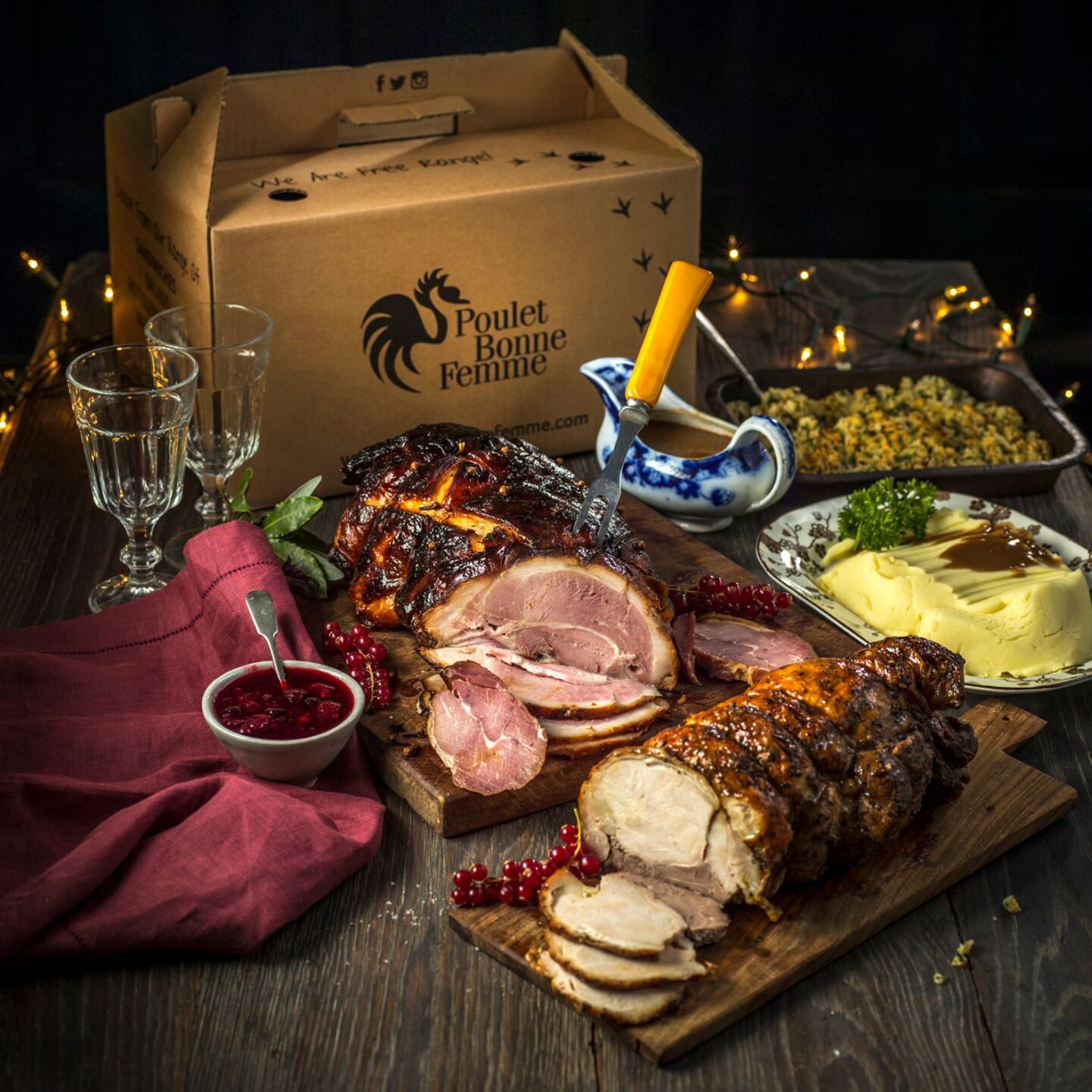 If PBF do Christmas dinners as well as they make chicken sandwiches, then you're in for probably the best Christmas dinner of all time. Their sandwiches are legendary, and they hinge on the succulence of their slow-cooked, free-range birds. Now, it's Christmas, so it's a different kind of poultry: Turkey takes centre stage, and of course comes free-range, boned, rolled, already rotisserie-cooked and prices start at €75 for a regular size and around €105 for a large. Add on mash, gratin, stuffing, pudding and hams if you please. This will take a lot of stress out of your day. Limited delivery is available within a 7km radius of their south Dublin base, with collection set for Christmas Eve. Full details, choices and prices at pouletbonnefemme.com
The Old Post Inn Gift Box
Another choice outside of the capital comes from Gearóid Lynch's The Old Post Inn based in Cloverhill, Co Cavan. A Luxury Christmas Gift Box comes packed with fabulous larder items (like the cranberry sauce and ham glaze) a couple of treats (that beautiful Cockagee cider from The Cider Mill in Slane plus marshmallows and nuts) and Christmas morning essentials, such as Bell Lane coffee, and a signed copy of Gearóid's book My Gluten Free Kitchen –– your kitchen will be all the better for this gift box adorning it. Price is €150, with free collection from the restaurant, or a flat delivery fee nationwide of €10. Order at theoldepostinn.com
Imperial Hotel Cork Christmas Dinner
Bring the Grand Dame of Cork home for Christmas –– The Imperial Hotel in Cork City is making Christmas as relaxing as possible for the chef of the household by providing an exquisite, traditional Imperial Hotel Christmas Dinner with all the trimmings minus any of the fuss. The menu is homemade from start to finish in the hotel kitchen and brimming with local and seasonal produce, starters include winter vegetable soup, wild game terrine with charred Arbutus sourdough and festive Horizon Farm winter salad, followed by traditional turkey and honey baked ham with fig and chestnut stuffing, duck fat roasties, vegetables and lashings of rich gravy. Desserts are traditional favourites like a boozy Baileys Cheesecake and of course mini mince pies to finish. You can also add a selection of drinks to your order with a bottle of Taittinger Champagne for €50 or a bottle of Poire Fine Perry from Killahora Orchards for €30.
The Imperial Hotel Christmas Dinner will come complete with simple reheat and serving instructions and costs €150 for two people, including a €5 per dinner donation to The Imperial Hotel's chosen charity this Christmas – Cork's Simon Community. Collect on Christmas Eve (5-7pm, or even 'til 11:30am Christmas Day!) from the hotel on the South Mall and the last date for pre-orders is Tuesday 22nd December. To reserve your Imperial Hotel Christmas Dinner call 021 427 4040 or see www.imperialhotelcork.com
Weekl.ie Christmas Morning Nosh Box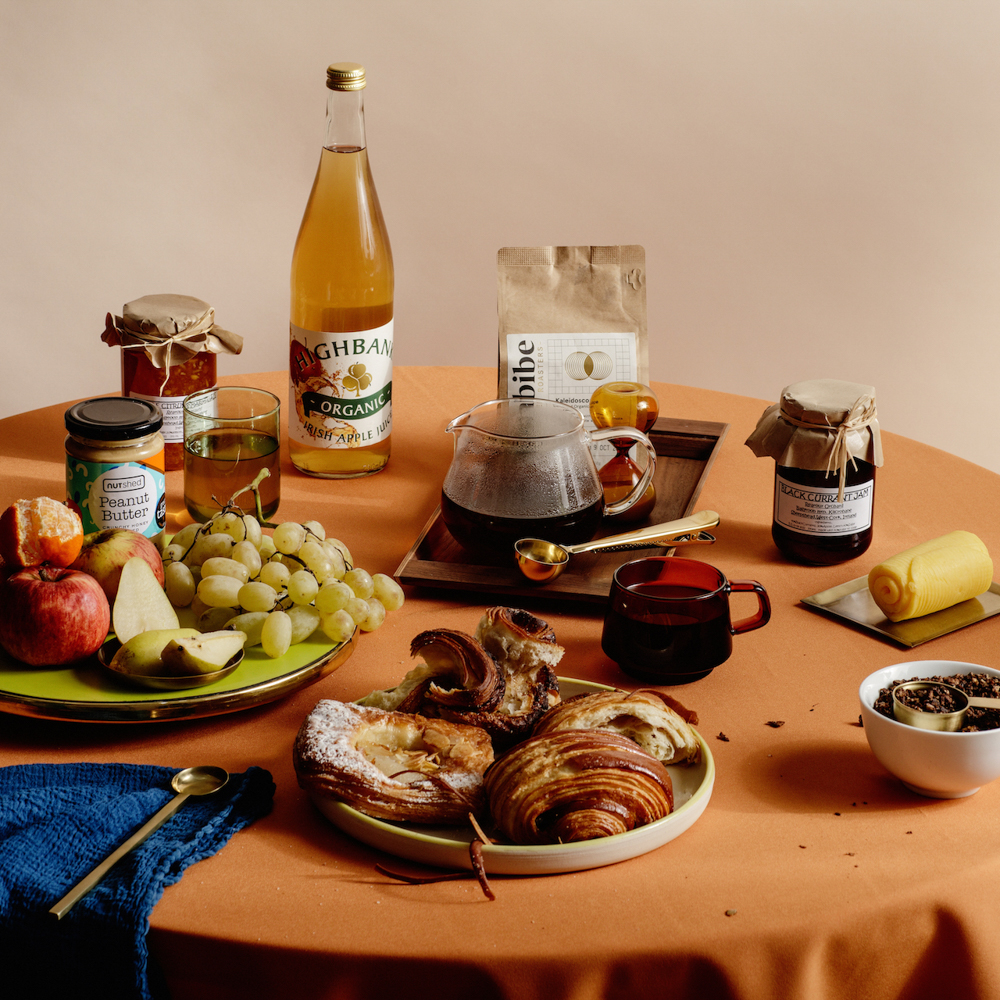 Give yourself/or someone you love the morning off this Christmas and treat your nearest and dearest to the Weeklie Irish Breakfast Nosh-Box, crammed full of incredible Irish produce for a continental style Christmas morning spread –– because let's face it, the day that follows will be indulgent enough! The €50 Nosh-Box includes organic Highbank Orchards apple juice, NutShed peanut butter, a selection of fresh fruit, four freshly-baked pastries, butter and Rearour jam, alongside a bag of Imbibe Kaleidoscope Coffee. You can even order a Mimosa kit with a bottle of Prosecco and a pair of orange juices for €25 to make it a real occasion! Order from weekl.ie
As mentioned above, this is a living list, so be sure to keep an eye on our Twitter for updates, or check back intermittently. Similarly, if there are any you think are missing or you are the operator of a restaurant/hotel with an offering that suits inclusion, drop us an email or a message on social media.