Piri-Piri chicken has become a hugely popular dish in the UK & Ireland because of Nando's. And to be honest, it's understandable why. It's finger lickin', fiery and incredibly satisfying. But the origins and original recipe that makes Nando's and the like so delicious is in Portuguese cuisine and Portuguese-speaking African areas, where the humble chilli is seriously celebrated and slicked upon grilled meat.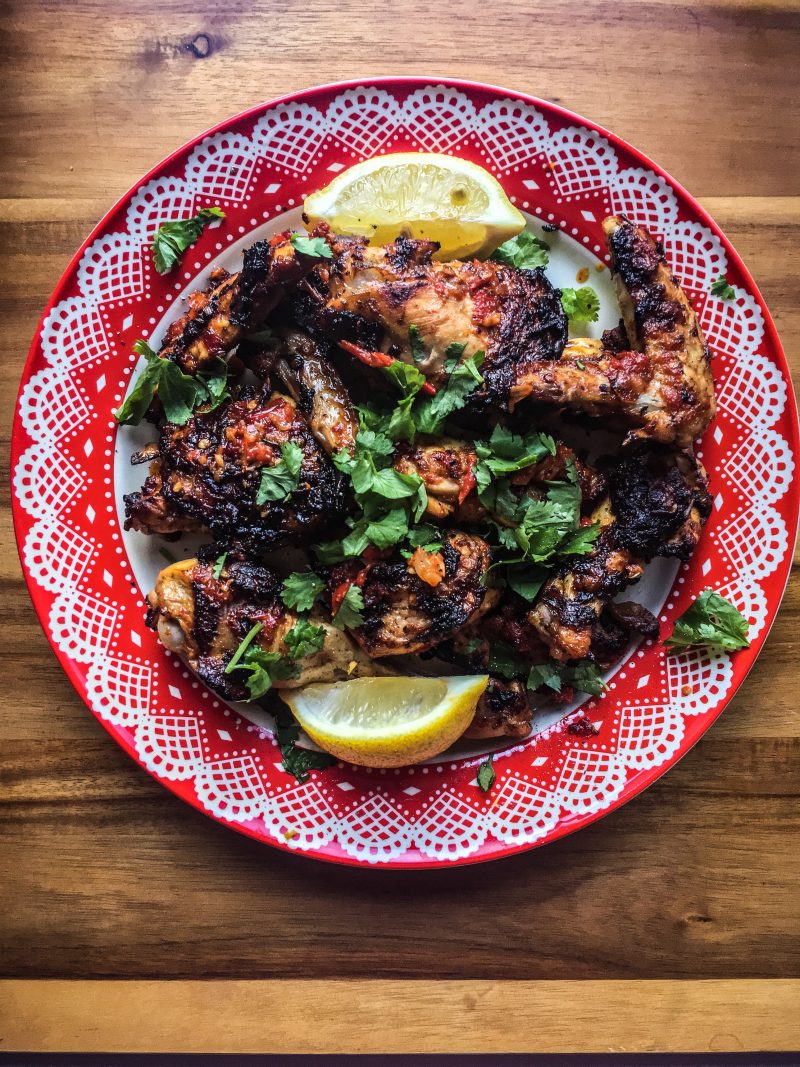 When we visited Lisbon, we made a point of having lunch in a restaurant called Bon Jardim, which is tucked away down a Restauradores back street. Here, on a giant rotisserie oven they cook whole chicken, coated in a blend of lemon juice, oil and seasoning. They then liberally coat the frango (chicken) in their signature spicy sauce – which they also give in jugs to you – so you can add a bit more spice to your dish. You may say this is the original Nando's, but here's our very own interpretation of this hot favourite.
🇵🇹 Piri Piri Chicken 🍗
Serves 2-4
INGREDIENTS
1 whole free-range or organic chicken, jointed (alternatively, use drumsticks or thighs)
1 large clove garlic, blanched then sliced (see below)
6 red chillies (bird's eye chillis if you want it hotter)
5 shallots, finely diced
1 lemon, zest (reserve to squeeze later)
1 tsp salt flakes
½ tsp Italian dried herbs mix, or oregano
½ tbsp sweet paprika
100ml/3½fl oz oil (we used rapeseed, but olive oil works too)
50ml/1¾fl oz red wine vinegar
METHOD
1. Preheat oven to 180ºC. Place all your chillies on a baking tray and roast for about 12-15 minutes. This will soften them and intensify their flavour. If you fancy a spicier mixture, up the quantity to 9, or throw in one or two small bird's eye chillies to the mix too. This version is still spicy, smokey but manageable.
2. Blanching the garlic softens the flavour, making it milder and less intense, which in a recipe like this you want because the spice is the main element, while the garlic more of a subtle back note. To do so, drop the clove in a little boiling water for about 2-3 minutes, strain the water, then run under cold water for a few moments. Alternatively, you can Microwave the cloves in a bowl of for 2 to 3 minutes, until they're warm but not cooked through.
3. When the chillis have cooled, cut them up into slices. Heat a tiny drop of oil in a saucepan at a medium and add the shallots instantly to allow them to soften down a touch. This should take about 90 seconds or so. Then add in the garlic, the chillies, the lemon zest, the salt flakes, the herbs and spices, the remaining oil and red wine vinegar. Fairly instantly, it will start to bubble and simmer. Allow it to do so for about 2-3 minutes, constantly stirring everything together.
4. Remove from the heat. Using a hand blender, blitz the mixture. You don't want it to be like a soup though, just a chunky sauce, kind of like a pesto consistency. You can leave this, covered, for a couple of days in the fridge. But since it's hot, you should allow it to cool completely before using it to marinade the chicken.
5. When it comes to cooking, joint your chicken (buying a whole chicken and jointing is cheaper than pre-jointed individual pieces) place all your chicken pieces in a large ziplock bag and smother with two-thirds of the sauce. Reserve the other third. Almost seal it over, while massaging the mixture to ensure the mixture is coating all pieces. Then seal and leave in the fridge for at least an hour. The longer you leave it, the more intense the flavour, so you can absolutely do this the night before.
6. When it's time to cook, remove from the fridge to allow the chicken to come to room temperature. Preheat the oven to 200ºC. Drizzle a drop of oil on a large frying pan or skillet. If you happen have a griddle pan, don't use any oil, but still preheat. Seal the chicken for about 2 minutes on each side, cooking skin side down where possible. Avoid moving or touching the meat as it's sealing if you're trying to achieve a crispy skin. We prefer when the chicken gets blackened a bit, because it adds to the flavour.
7. Cook in batches if need be and when complete, place all on a baking tray. Deglaze the pan once you're finished with a drop of red wine vinegar or water, stirring off any stuck on pieces of the sauce. Pour over any remnants onto the chicken. Bake in the oven for 12-15 minutes further, before removing and brushing with the reserved peri peri sauce. Return to the oven for 10 more minutes.
8. Serve with some chopped coriander and a squeeze of lemon juice. Ideal accompaniments would be chips, mash, corn-on-the-cob or peas.