Let's face it. No matter how strict you are with what you eat, as soon as you've had one too many pints (or pinots) your first instinct is to fall face first into something naughty. It's a natural reaction; a dirty chippy, a 3-in-1, or the glorious shavings of an elephant leg wrapped in a carb-loaded kebab. As if by magic, all your dietary hang-ups disappear for a few hours. When you wake, you can't help feel a smidgen of regret as you wipe dried-in chilli sauce from your chin.
We don't have these situations too often but nor do we feel guilty or apologise for treating ourselves to takeout when the occasion grabs us.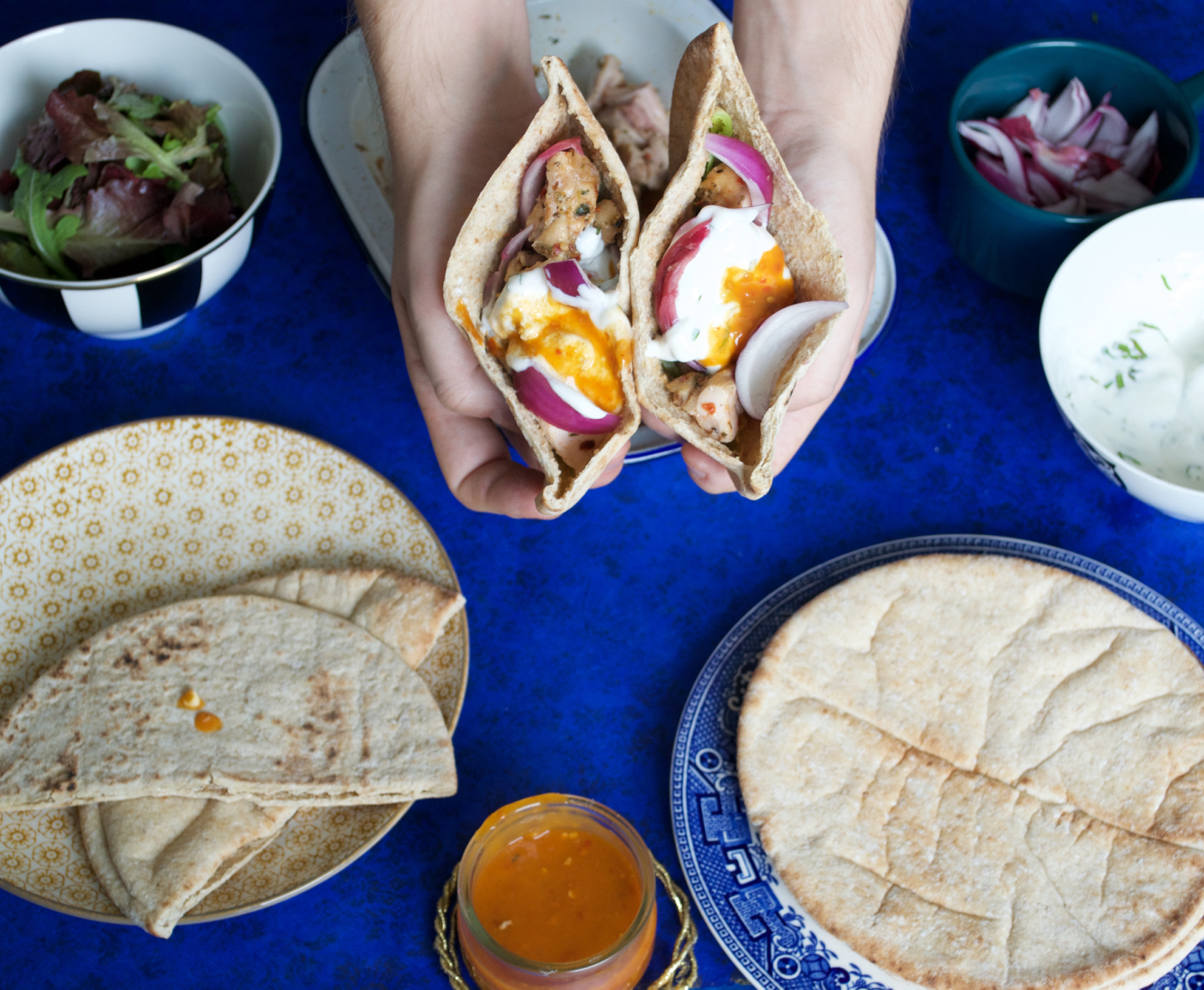 Though kebabs are still really somewhat of a novelty in Ireland, where we grew up, they have a huge presence on the London high streets of each borough and we've craved them every now and again and recently recreated a version in our own kitchen, albeit requiring a slight bit of DIY handiwork but with worthy results.
You'll be filled with a sense of pride you don't have when you are stumbling along the streets at 3am. Sure, you can so easily go to the takeaway and likely enjoy this cheaper and far quicker, but it won't taste as satisfyingly homemade as this. While we are under no illusions that you should cook this at such an ungodly hour of the night – nor should you operate cooking appliances under the influence – we do think that this is the perfect Friday night dinner, prepared before sitting down in front of Netflix, wrapped in snuggly blankets and nursing a keg of red wine. Bliss.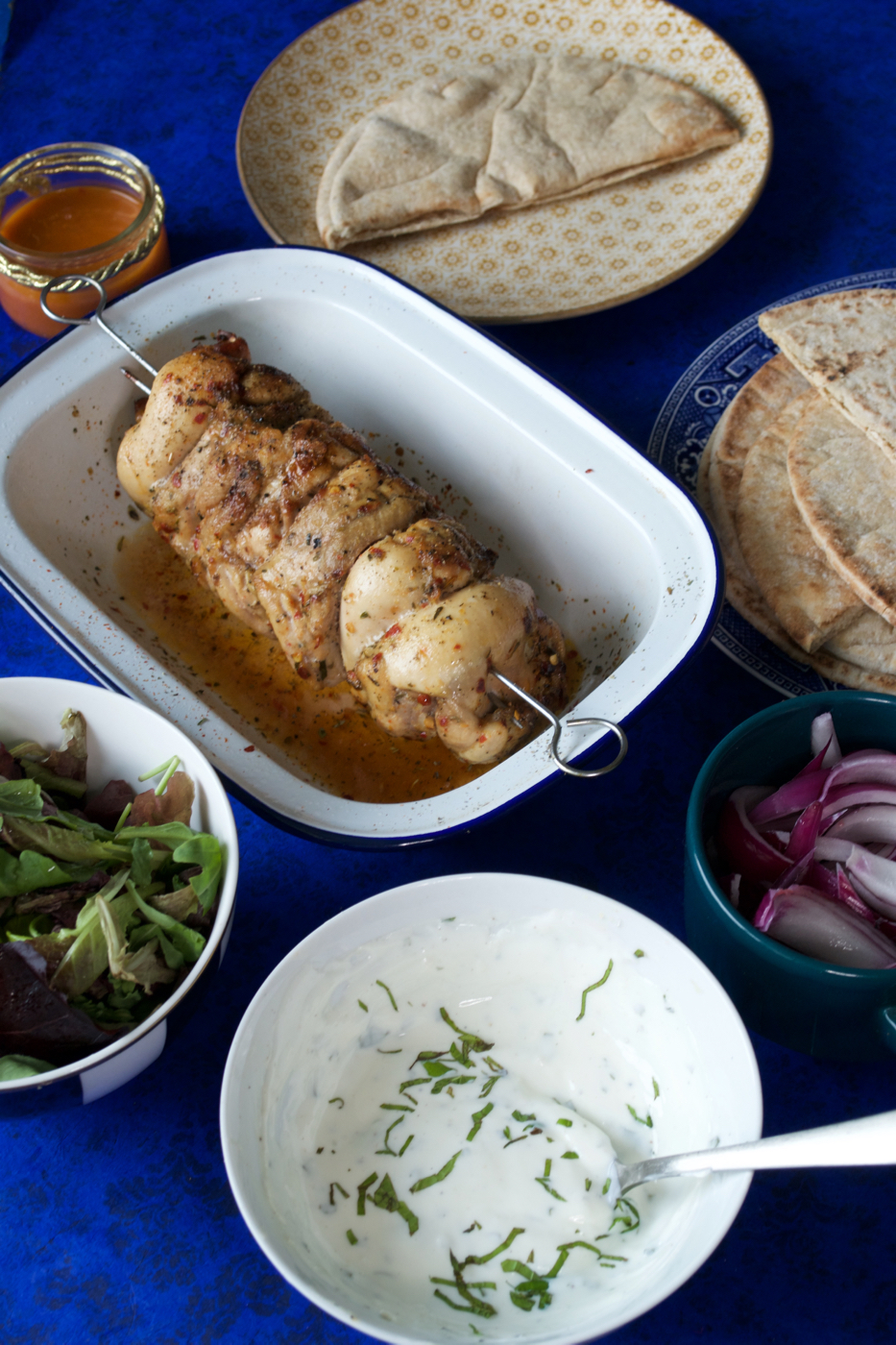 A few notes: firstly, it's entirely fine to use chicken thighs which still have the bone in place and the skin on. It requires  a bit of butchery, which can take time and probably isn't for the squeamish. But you get the added bonus of the chicken skin, which seals in moistness and also offers another texture, though we don't think it's overly necessary so this recipe uses that as an optional addition. Likewise,  the quantities of spice and herb. Like so many of our recipes, we want to leave it open to interpretation so you can make this as garlic-y, herb-filled or spice-spiked as you like.  You'll also need a loaf tin or two along with some long metal skewers (the thicker the better).
Homemade Chicken Thigh Kebabs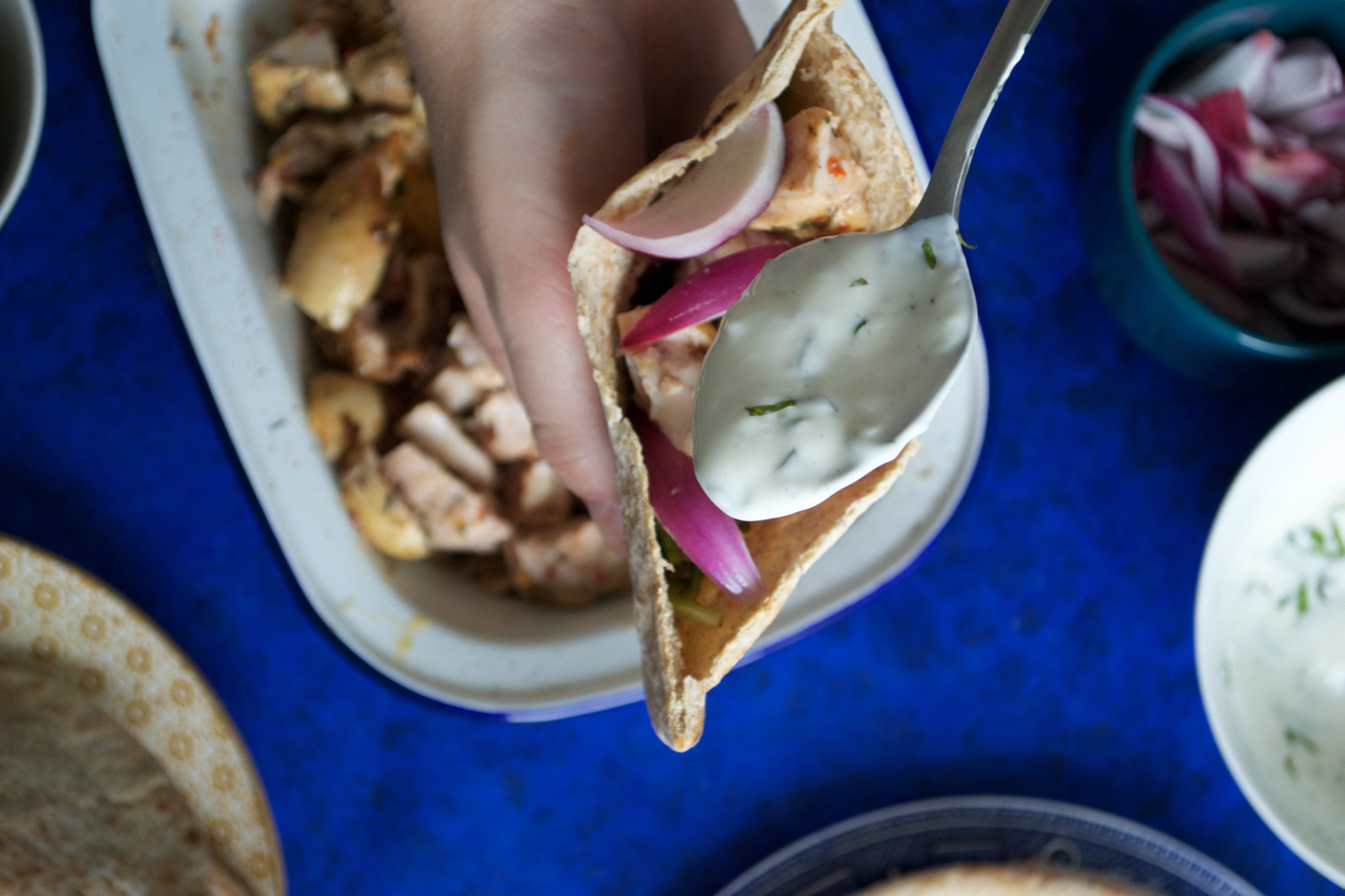 Ingredients:
Chicken thighs, about 800g – see notes above.
Juice of half a lemon
1 tbsp dried herbs of your choice
2 tsp onion powder
2 tbs fresh or frozen chillis, or 2 tbsp dried chilli flakes
1 tsp cayenne pepper
Few cracks of black pepper, shakes of white pepper and a couple of salt pinches
Natural Yoghurt
4 cloves of garlic, mashed
Mint
Hot Sauce (of your choice, we used a store-bought Nando's one for ease)
Salad
Red onion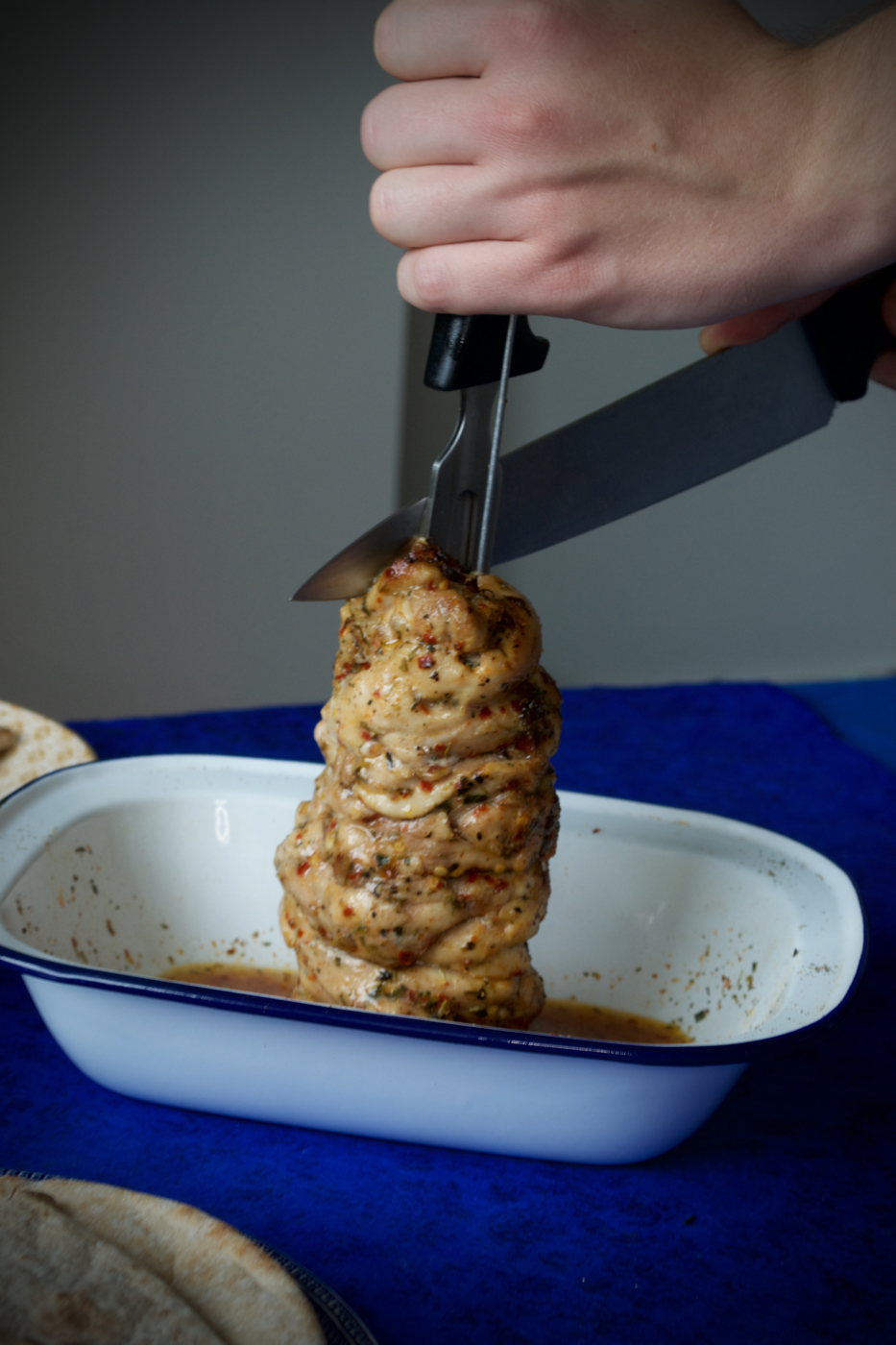 1. If using bone-in chicken, carefully cut around the bones and separate the skin, ensuring the the tough cartilage at the end of the bone is removed too. Keep skin to one side, and place chicken in a freezer bag or a large bowl.
2. Add the onion, two cloves of minced garlic, pepper, spices and herbs to the bag or bowl as well as a good glug of oil and give it all a good mix through with clean hands.
3. Now it is time for a bit of skewer skill. Folding each thigh over itself, pierce the skewer through the meat and repeat it until you've either no room on the skewer left or no chicken. Pack them tightly together. If you've to use a second skewer, go right ahead.
4. Now, carefully pierce another skewer through the opposite end, so the two sides have a handle. If you have some chicken skin, wrap it around the meat, sealing in the flavour and adding extra moist juiciness.
5. Tear off a strip of cling film, roughly 60cm or so in length and place it on a clean worktop.  Lay the meat down on the extremity of the cling, and wrap it up tightly. Pop into the fridge for about an hour to allow flavours to penetrate the meat – you can also do this for a full day beforehand.
6. When ready to cook, heat the oven to 200°C. Remove the skewers from the fridge and unwrap. Using the handles on each end, rest them on the rim of a loaf tin, so it is suspended above the base. Carefully place the chicken into the oven and roast for about 30-45 minutes until cooked through. Don't be afraid to give the skewer a quick rotation, if gravity will allow it.
7. While cooking, prepare the rest of the fillings for your kebab. We've used both flatbreads and pitta and find the latter ensures each mouthful is equal, while a flatbread is a bit more authentic but heavier. Cut up some lettuce, red onion, cucumber – whatever salad you like in a kebab – and make a creamy, thick yoghurt sauce with minced garlic, freshly-chopped mint and seasoning.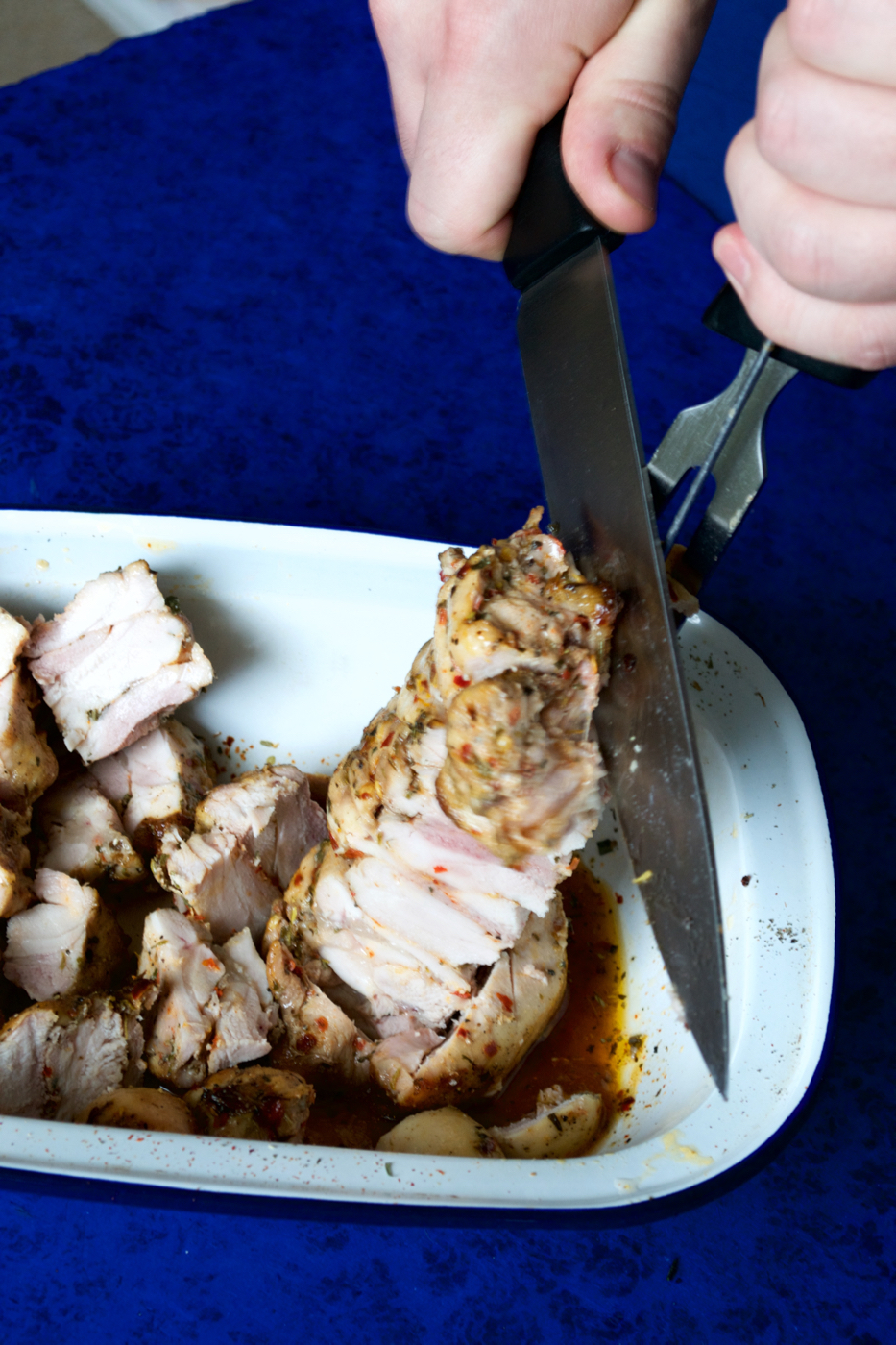 8. When the the time is up and the chicken is cooked,  your kitchen will smell irresistible. Remove from the oven and when the skewers have cooled enough to touch, begin to slice the chicken off them with a sharp knife.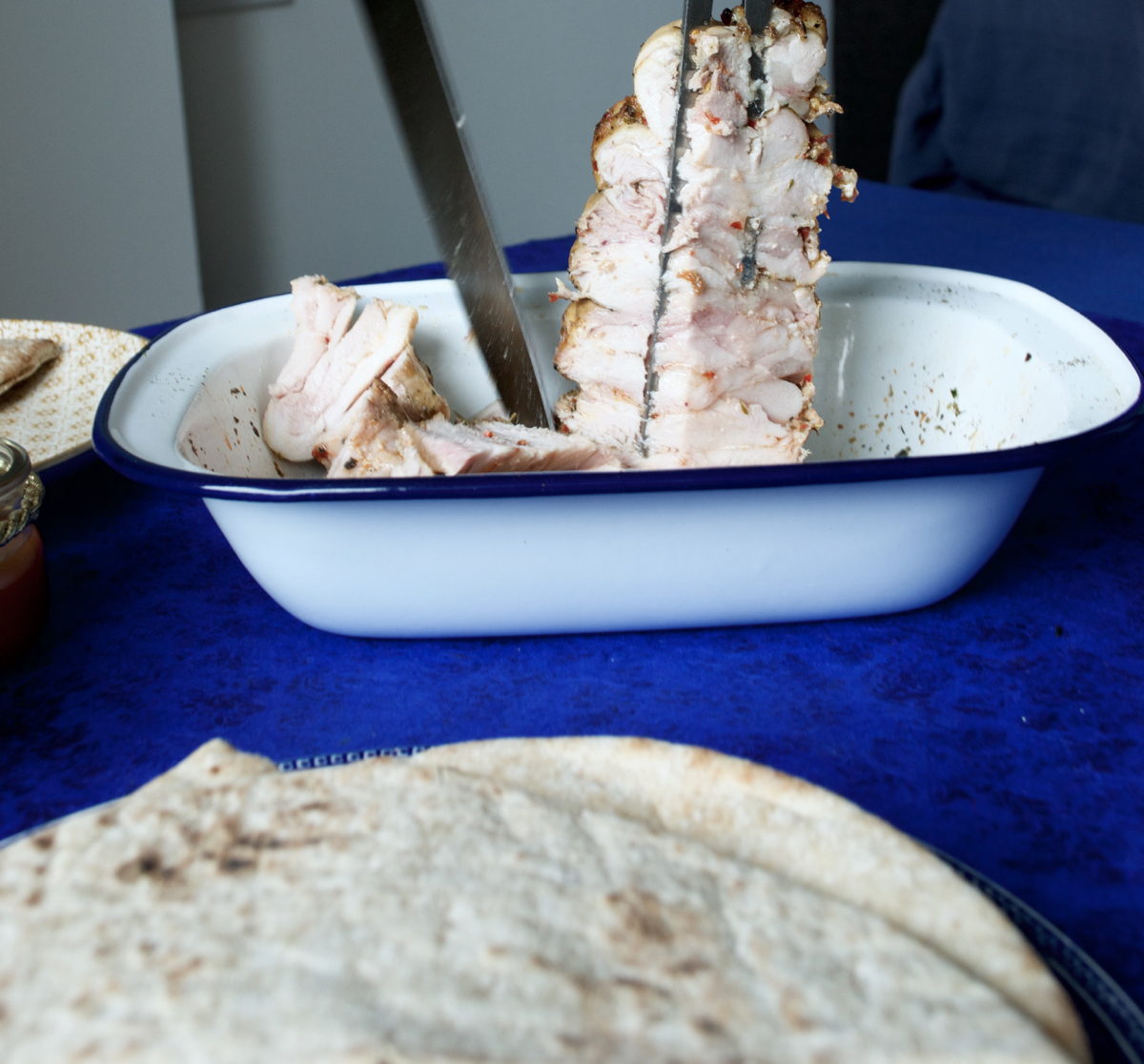 9. Fill up your bread, starting with some salad, then chicken and finally yoghurt sauce. Drizzle over some hot sauce of your choice (sriracha, Nandos, homemade; whatever you wish) and more so, whatever you can handle. Then inhale. And believe us, you will inhale this.