Here's a simple, quick and healthy recipe which happens to be #AccidentallyVegan, too! If ever in doubt about the versatility of cauliflower or how to use it in interesting ways, here's a really delicious lunch or dinner recipe that packs a punch in flavour. This can also be enjoyed hot or cold.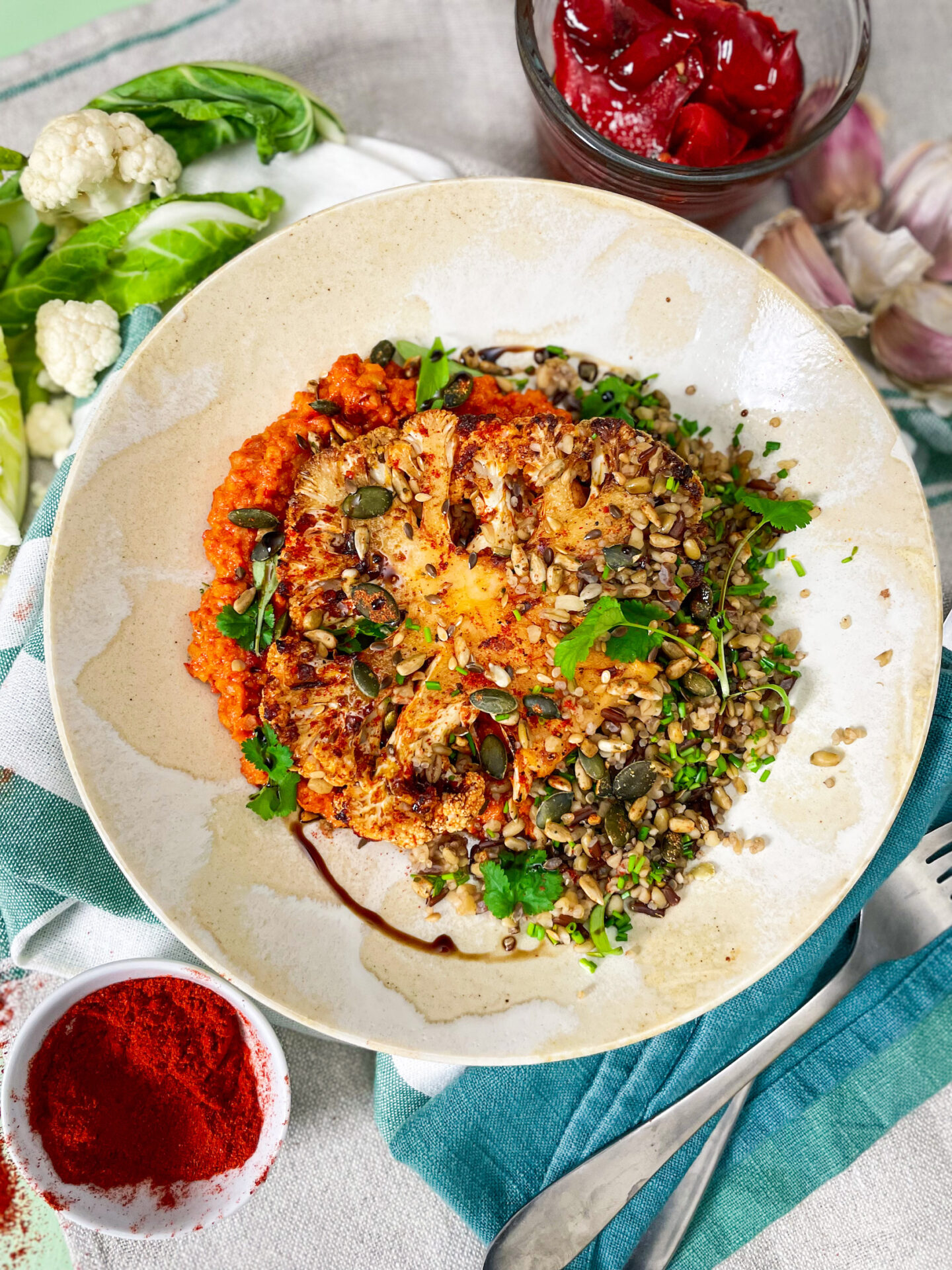 Ingredients
1 whole cauliflower, stalks removed (save for stock or roast 'til crunchy!)
100g blanched almonds
200g jar roasted red peppers, drained
1 clove of garlic
1 tsp smoked paprika
1/2 tsp cayenne pepper
1 tbsp sherry or white wine vinegar
50-70ml olive oil
Optional: A jar of rose harissa paste (or spice paste/marinade of your choice)
A handful of nuts and seeds (or a little packet of nut & seed mix)
1 pouch microwaveable pulses/grains (like bulgur wheat, quinoa, freekah & red rice here)
Method
1. Toast the almonds in a frying pan until golden, be careful not to burn!
2. In food processor, pulse the peppers, almonds, garlic, spices and vinegar adding a little bit of oil at a time, until combined and chunky. Leave to one side. This sauce can be heated up or served cold, whichever you prefer.
3. Cut 2-3 thick slices out of the cauliflower and fry in little oil on a pan set to medium heat in a little oil for around two minutes per side. (NOTE: don't throw away any part of the cauliflower — so many uses for the florets, stalk and crunchy leaves!) As the cauliflower is turned, sprinkle some spices or brush a paste to add extra flavour. We used some rose harissa paste, which we picked up in M&S. Once spiced/brushed, allow a further 1-2 mins per side.
4. Place the cauli steaks onto a baking dish lined with a sheet of parchment and into the oven at 200°C for 15-20 mins until tender, you could also do this in an airfryer –– depending on size.
5. Once the cauliflower is roasted and tender in the middle but still firmly holding its shape, serve atop the Romesco sauce and grains, finishing with some fresh herbs and a sprinkling of nuts and seeds for texture.