Looking for a gorgeous side dish whether you're having a spring lunch, a summertime picnic or an Autumnal dinner? This is the recipe for you –– vibrant, spiced, sharp and crunchy. You can make this vegetarian recipe vegan by swapping out the two cheeses for vegan alternatives!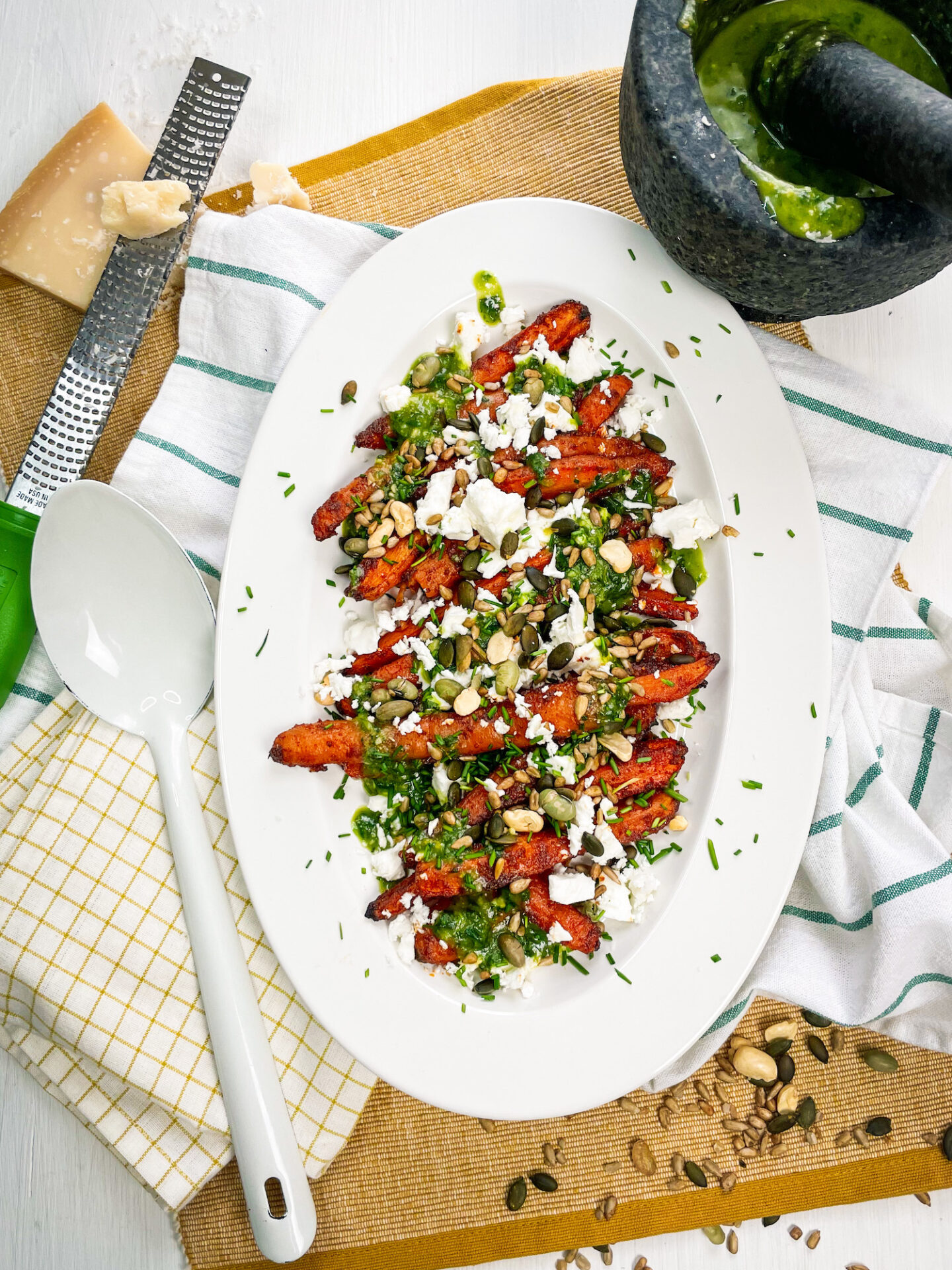 Ingredients
4-5 medium-sized carrots, cut in chunky lengths or quarters
1 fresh basil plant
60g freshly, finely grated Parmigiano Reggiano
100ml olive oil (garlic-infused if you can find it!) + an extra 2 tbsp plain olive oil
75g pine nuts
Flaky sea salt
2 tbsp each ground cumin, ground coriander
1 tbsp smoked paprika
2 tbsp maple syrup
1 pack nut and seed sprinkle (or chopped nuts of your choice)
150g Greek Feta (barrel-aged is best, if you can find it!)
A handful of chives, finely chopped
Method
1. Wash and cut your carrots into long batons, no need to peel.
2. Prepare a spice mix of the cumin, paprika and coriander with 2 tbsp each of maple syrup and oil, then in a mixing bowl smother the carrots in the spiced mix.
3. Bake in a single layer on a baking sheet – pre-heated oven at 180ºC – for 25-30 minutes until roasted and tender but still holding their shape.
4. For the basil pesto: pound and grind 75g of pine nuts using a pestle and mortar until well crushed before adding in two generous handfuls of fresh basil leaves and two pinches of flaky sea salt. Grind until the basil breaks down and then continue grinding whilst adding in the olive oil and Parmesan cheese
5. To assemble, start in a large platter or sharing dish with the carrots as the base layer, then crumble the Feta over the top, following with spoonfuls of the fresh pesto. Then, to add crunch, strew some mixed nuts and seeds (sunflower, pumpkin, or even just roughly chopped nuts of your choice) over the top and finish with a smattering of finely-chopped chives.