It's almost time to start thinking about working towards the big day, December 25th, and to get ready for the annual meal prep to end all meal preps. Some kitchens are run with military precision, others are filled with chaos and carnage. We're hoping this recipe will fall into the latter as make-ahead desserts are the simplest way to ensure a failsafe, foolproof and fabulously delicious sweet to end your festive meal.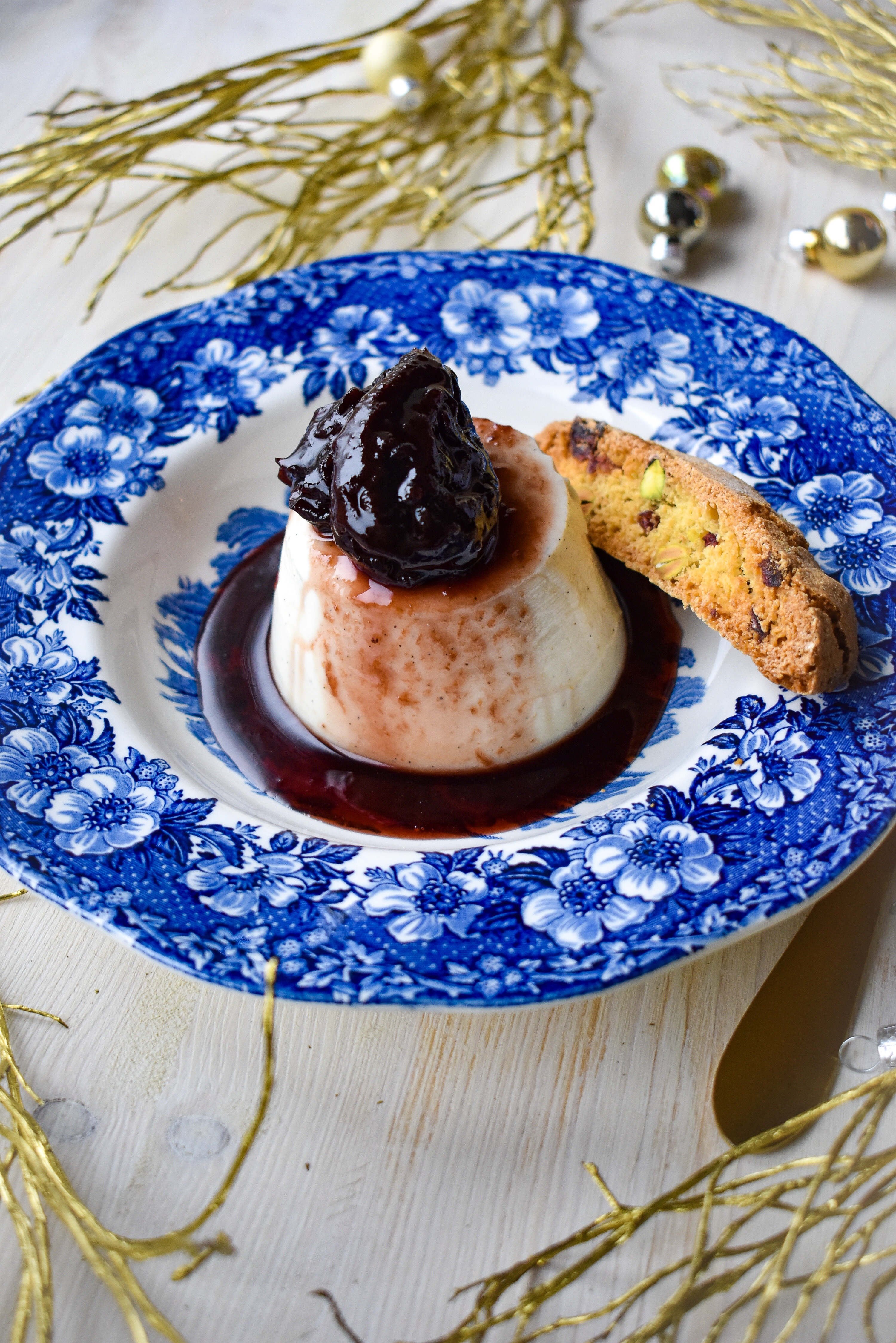 The Christmas meal is arguably one we all look forward to throughout the year, so why settle for sub-par or questionable ingredients to serve at your celebration? Provenance is really key to us and if you can't splash out and share great food around the table on Christmas Day, when else can you? We're teaming up this Christmas with Organic Feed Your Happy and Soil Association to spread the joy of organic ingredients at Christmas, highlighting the benefits of organic produce and encouraging people to share the food that makes them happy this season of celebration.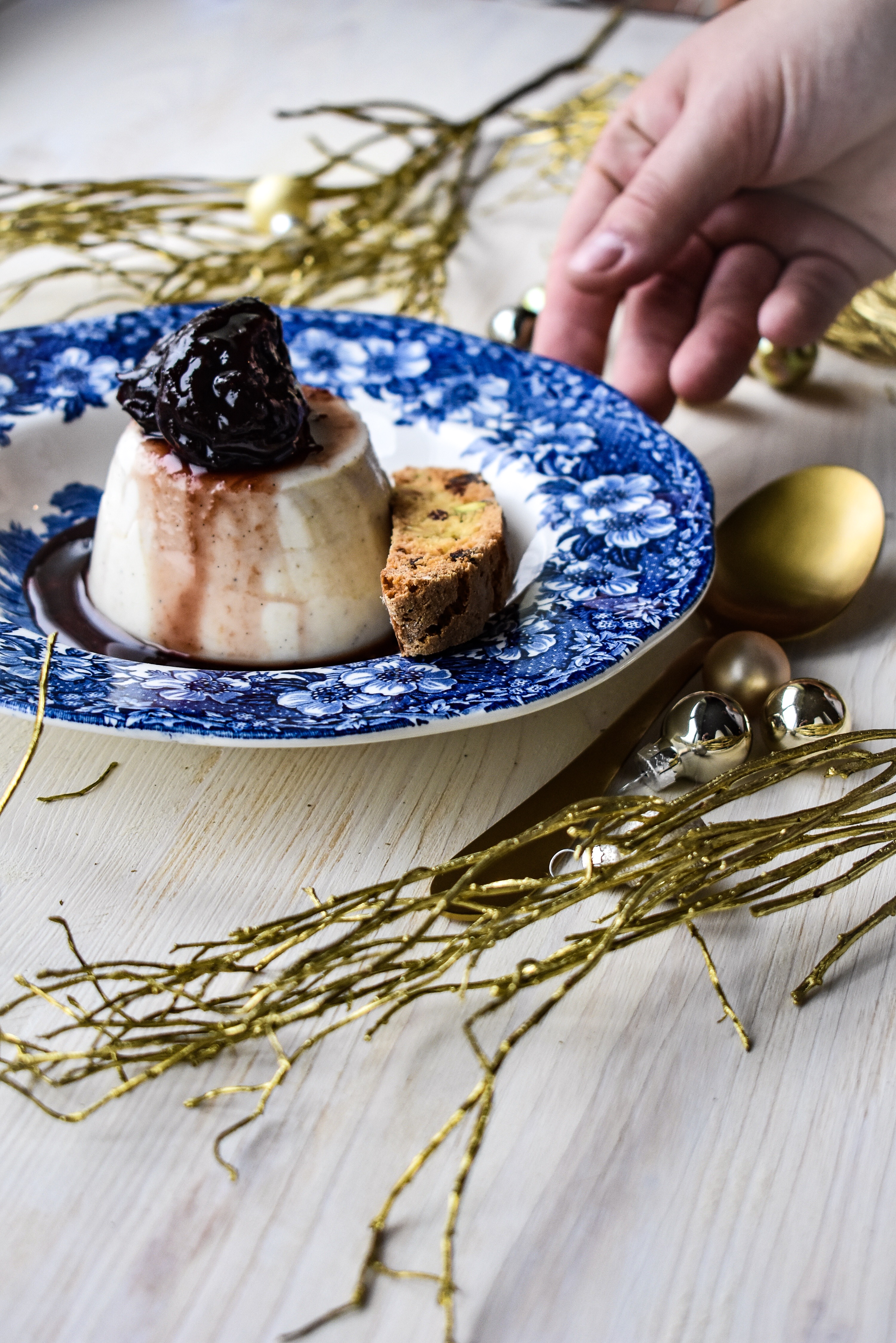 We've shared a story and recipe about why we choose organic before, but it's really a no-brainer, if you ask us. Why organic? Because organic means higher standards of animal welfare (with no routine antibiotic use), fewer pesticides in fruits and vegetables and no artificial additives or preservatives in packaged goods – all essential elements of a Christmas spread. We're always happy to pay a little more to have ingredients and produce we can 100% stand over, especially when we're cooking for loved ones. More than just free-range – but that's always a given in our recipes – we choose ingredients that are going to have the best flavour and more often than not organic is the way forward for us. Remember our recipe for whole Baked Cauliflower in Harissa Spices? That was also an Organic campaign and would be the perfect main for vegetarian (or vegan, with substitutions) guests or even a marvellous side for the whole family!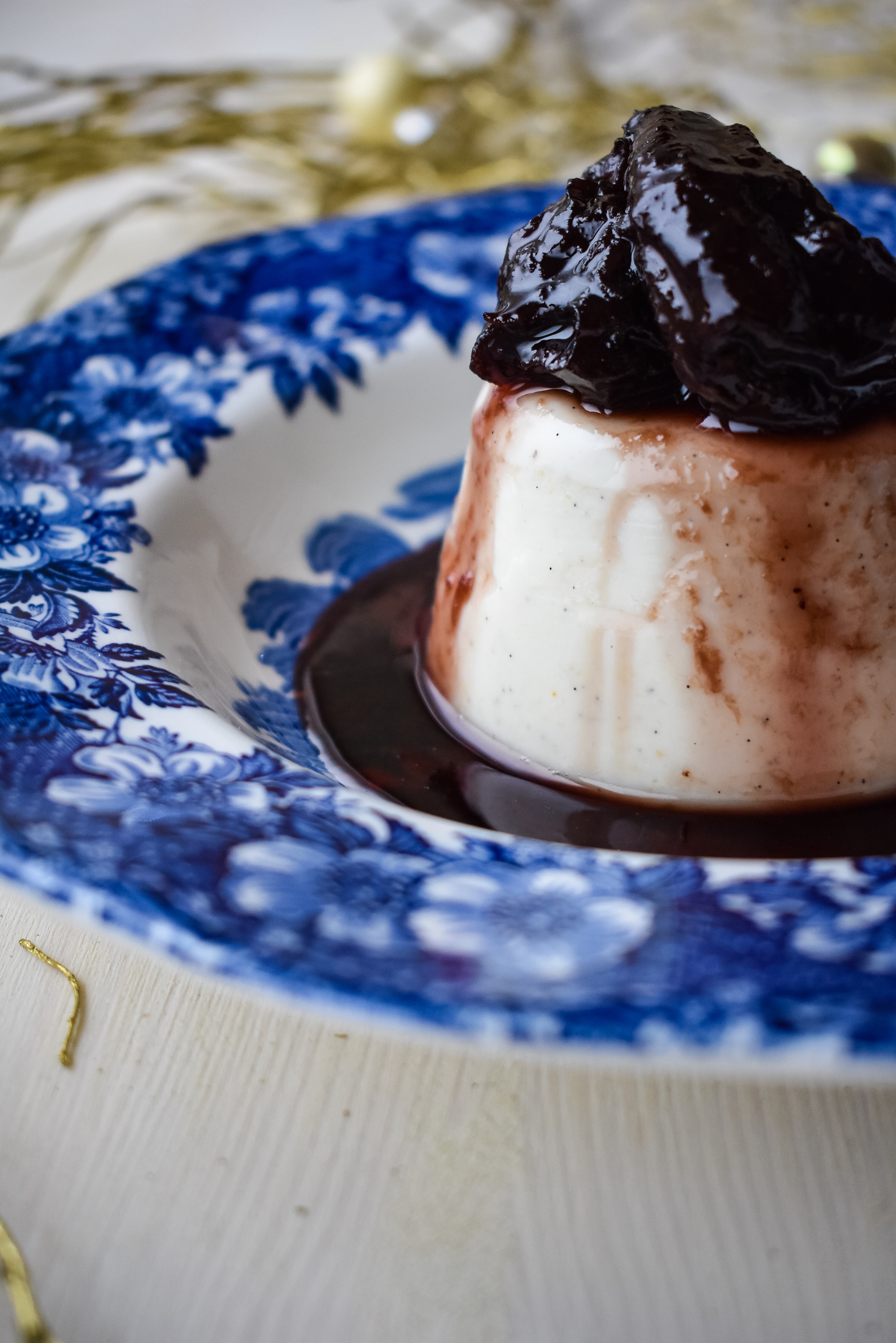 But we're not going to tell you how to cook a turkey, carve a ham or what sides to settle on. You can tailor your Christmas menu how ever you like, but we do have this one suggestion for dessert that will definitely #FeedYourHappy! We wanted to develop a Yuletide dessert that would be effortlessly simple, show-stopping to look at, light on the lethargy but big on flavour. Also, we really wanted to create a recipe that could be made days in advance to take the pressure off the cook at this time of year. This is our antidote to the stodgy, shop-bought cakes and puddings that will really have the wow factor when served at the Christmas table. Speaking of – check out Soil Association's handy Christmas Market, an online directory of seasonal food and decoration essentials.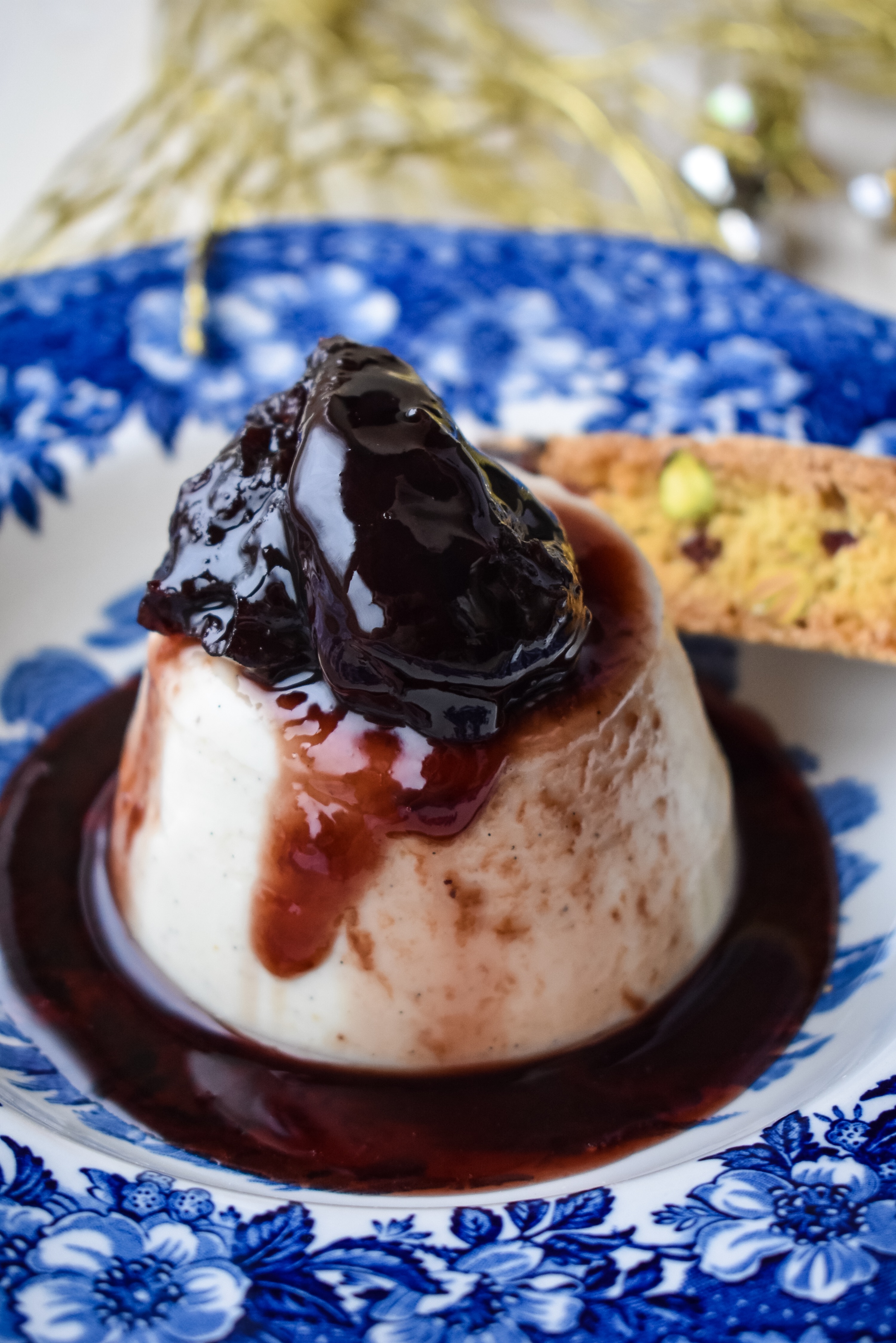 Similar to a Panna Cotta, this pudding is made using carrageen seaweed, also known as 'Irish Moss' (bear with us, you're going to adore this!) flavoured with cardamon, and as full fat milk is its main ingredient it's milky, soft and rich with just a hint of spice. We'd never played around with carrageen moss as a setting agent before. If we're honest, we're always a bit funny about gelatin and agar agar but seaweed is intrinsic in Irish cookery – and should be used way more, we feel. We've even found an incredible organic seaweed producer from the West of Ireland to tell you about. Stewed prunes in red wine – what's not to love here? It's like mulled wine, cranked up a notch and dried fruit just really shines at Christmas time.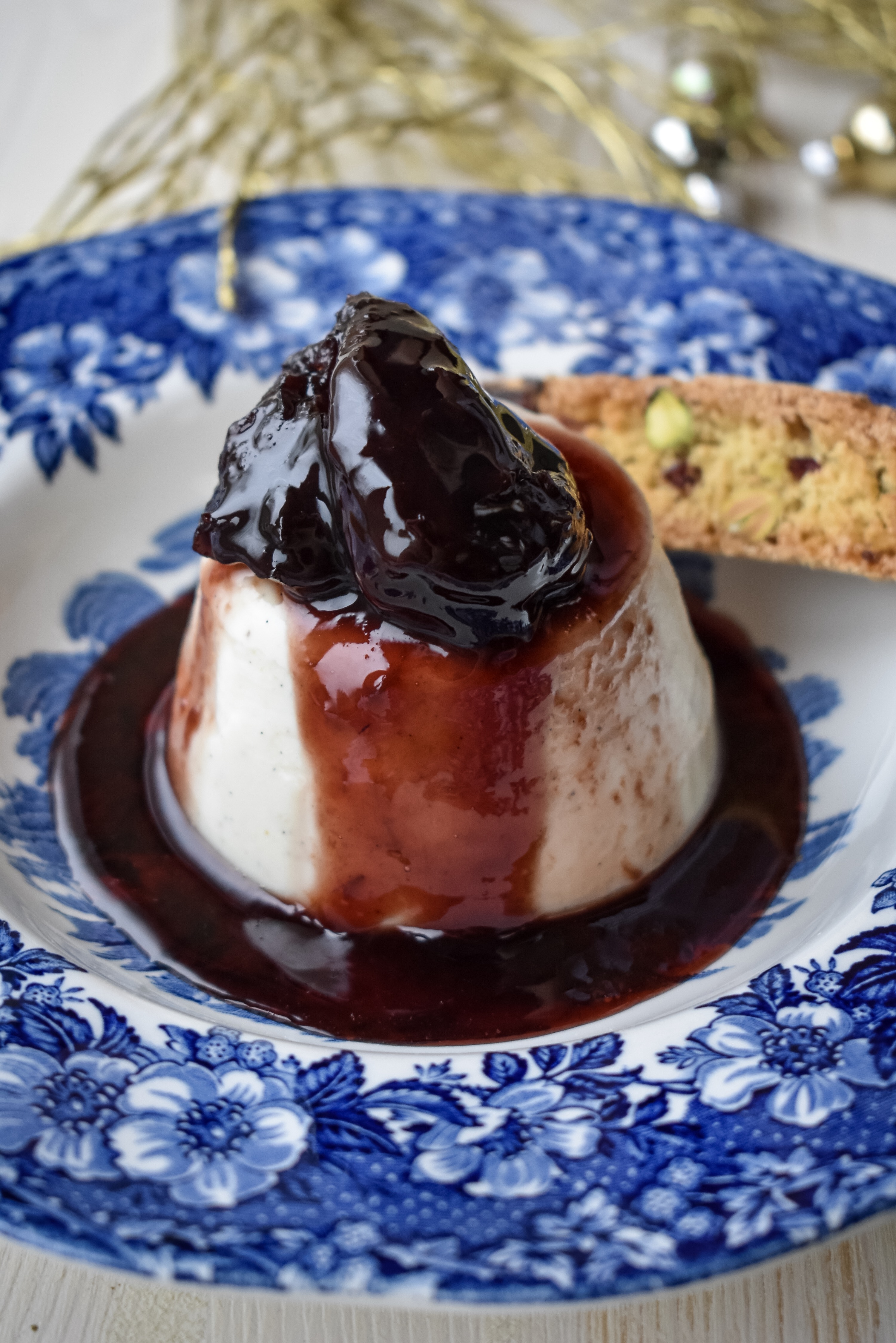 For the biscuit on the side, which harmoniously brings everything together, we've played around with a couple of biscotti and cantuccini recipes but never posted them before, so now we feel this is an ideal outing. We've always followed Felicity Cloake's 'Perfect' recipe column in the Guardian too and when researching the perfect biscotti we loved the sound of adding just a whisper of crushed fennel seeds, advised by beacons of Italian cookery Rachel Roddy and Angela Hartnett, so we included here too. Though, we forewent the traditional almonds in lieu of the flavours of pistachio and cranberry – not to mention their additional dappling of green and red delivers a wonderful festive nod.

Cardamom Carrageen Panna Cotta, Red Wine Prunes, Pistachio and Cranberry Biscotti
Serves 6, or 4 very generously 
For the Carrageen Panna Cotta
For the Biscotti
250g organic plain flour (we use Odlums)
2 large organic, free-range eggs, beaten (support your local farmer or try your local bucher, but some larger supermarkets also stock too)
125g organic sugar (as above)
100g peeled organic pistachios
100g organic dried cranberries (Crazy Jack on Ocado, for example)
1/2 tsp kosher salt (we use

Oriel

from Co. Louth)
1/4 tsp fennel seeds (we use Steenbergs), ground in a pestle and mortar
1 tsp baking powder (we always use Doves Farm in our baking)
For the Stewed Prunes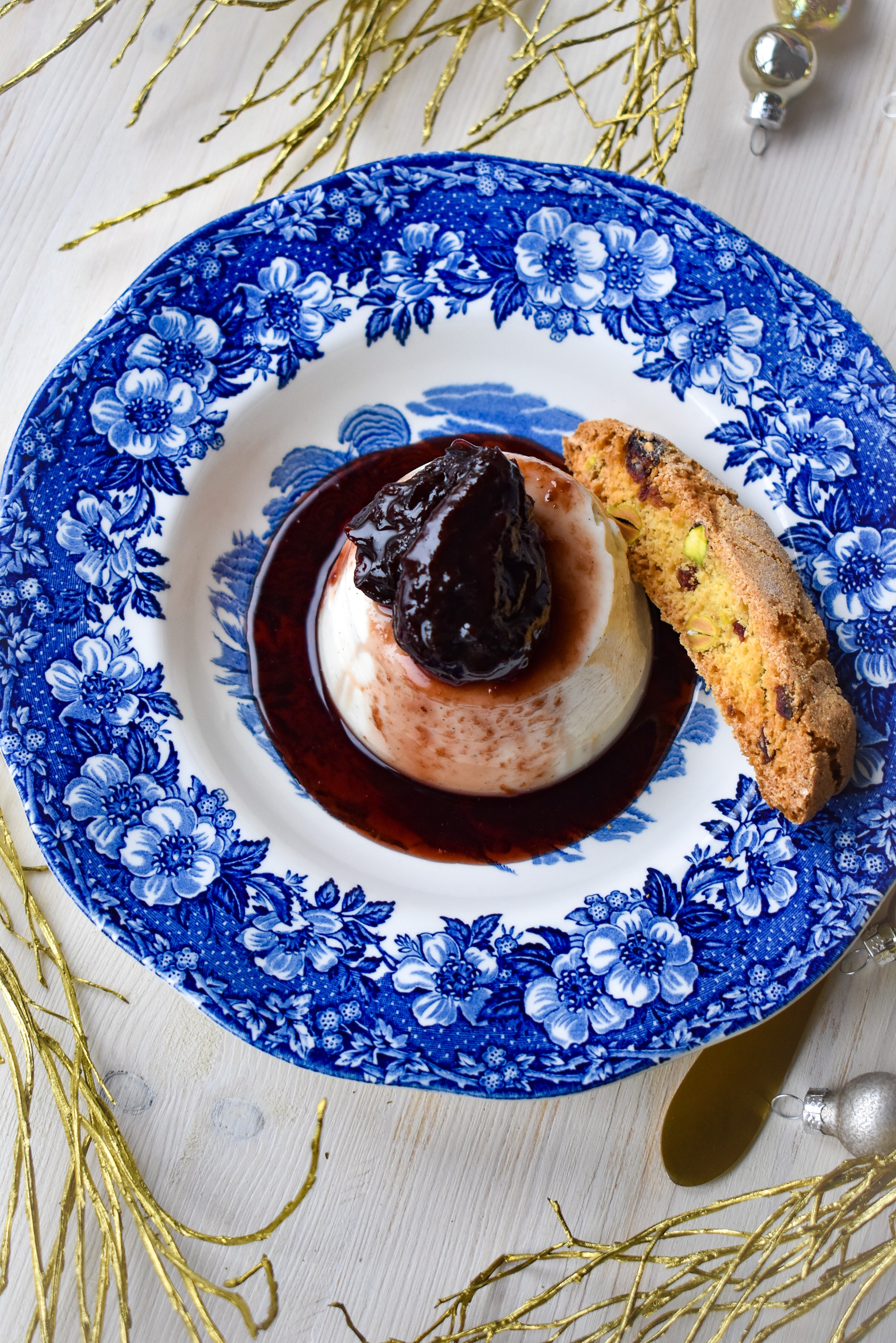 Method
1. First, make the carrageen moss panna cotta by steeping the carrageen in tepid water for ten minutes. Drain and add to a pot with the milk and vanilla pod, which you can split, scrape the seeds out of and drop both the seeds and pod in. Bring to the boil and then reduce to a low simmer for 15 minutes with the lid on. Stir in the sugar towards the end and then strain through a sieve, making sure you squeeze the thickening, jelly-like agent from the seaweed as much as possible. Discard the carrageen at this point, it's now done its job.
2. Decant the milky mixture into a jug to enable easier pouring. Pour into four or six moulds, whether you're using large or small ramekins or little stainless steel pudding basins like we did – 180ml size for six and 335ml size for four. Once cool, place in the fridge and allow to chill, ideally overnight but a good hour or two will do.
3. Next, make the stewed prunes by adding pitted prunes to a saucepan with a full-bodied, spicy wine, sugar, orange peel and cinnamon stick and bring to the boil. Reduce the heat to low and allow to stew and cook down for around 45 minutes to an hour, uncovered, until the plums are plumped up again and the sauce has reduced to a thickened syrup. Remove the peel and spice and allow to cool until just warm if serving immediately. If making ahead, wait until it's completely cold and store covered in the fridge for up to three days.
4. Next, make the biscotti. Pre-heat the oven to 200ºC (180ºC Fan) and  sieve the sugar, baking powder, salt and flour into a large glass bowl, followed by the shelled pistachios and dried cranberries. Add the beaten egg and bring together with your hand into a firm-ish dough. Sprinkle a little flour on the work surface and remove the dough, kneading just ever so slightly more on the floured surface until it holds together, separate into two and make into slightly flattened fat logs.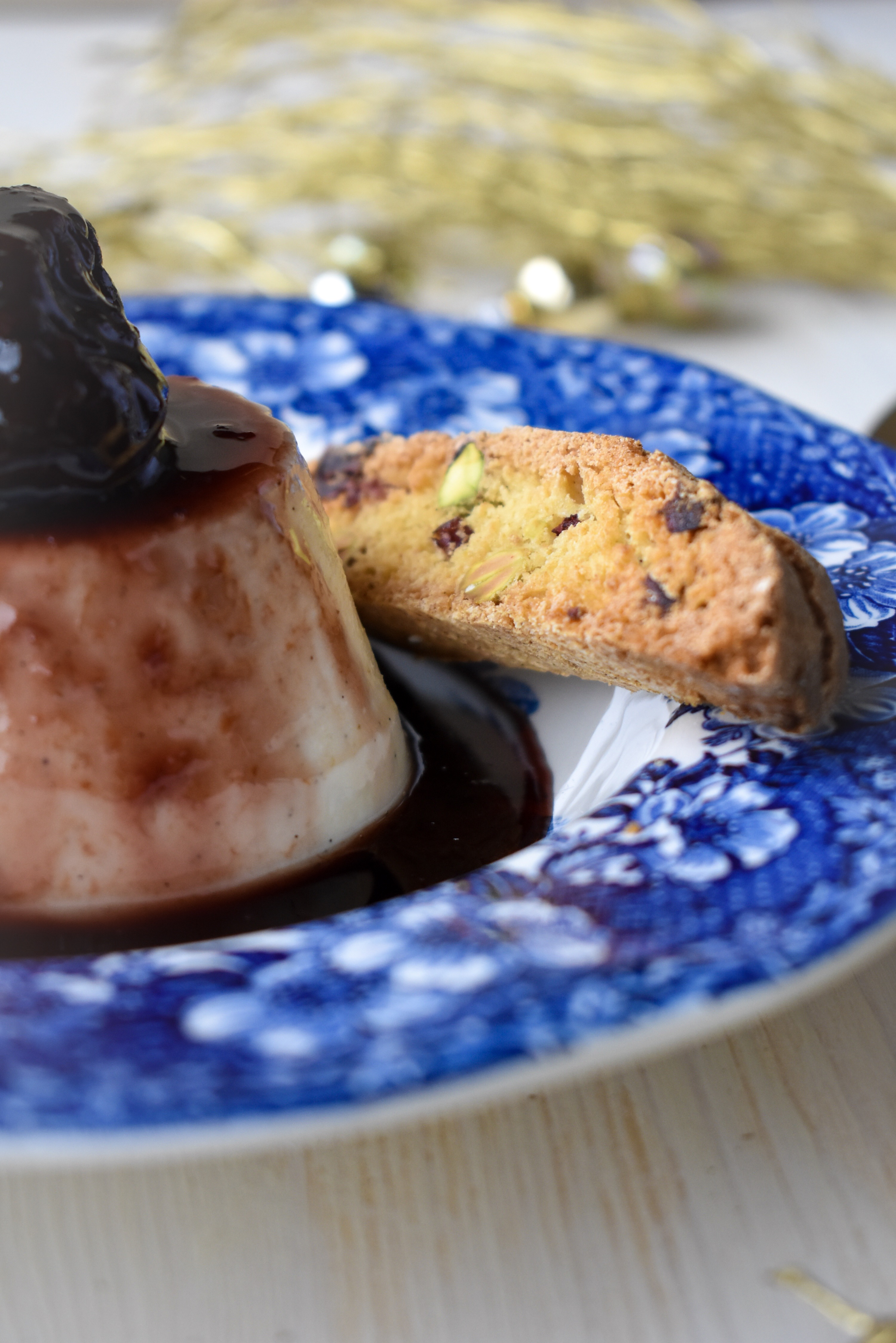 5. Bake the biscotti at 200ºC for 20 minutes, then take out and knock the heat down to 150ºC. After about ten minutes when the part-baked biscotti doughs have cooled and hardened a little on the baking tray, slice into 2cm lengths and place back on the baking sheet, assembled in flat rows, for a further 15 minutes, turning half way to colour the other side. When done they will be golden and dry. Turn off the oven and allow to completely dry out, with the door ajar. These can be made up to a week in advance and stored in an airtight container.
6. Everything before now can be done a couple of day in advance. You can reheat the stewed prunes in syrup and also give the biscotti a little blast in a moderately warm oven. Next: on to the assembly. To free the panna cotta from the moulds, it's best to take them out of the fridge 30 minutes before eating to allow to come to room temperature. Submerge each pot carefully into a dish of boiling water and hold there for 10-15 seconds making sure the water never touches the top of the basin. Take out of the water and dry the mould on a tea towel quickly and running a bread knife that's been soaking in a cup of hot water around the interior edges before inverting and placing on your serving dish of choice. Give a little wobble and shake and the panna cotta should come clean out, or at least with very gentle coaxing of the knife towards the upper dome as you might need to encourage the natural vacuum to release.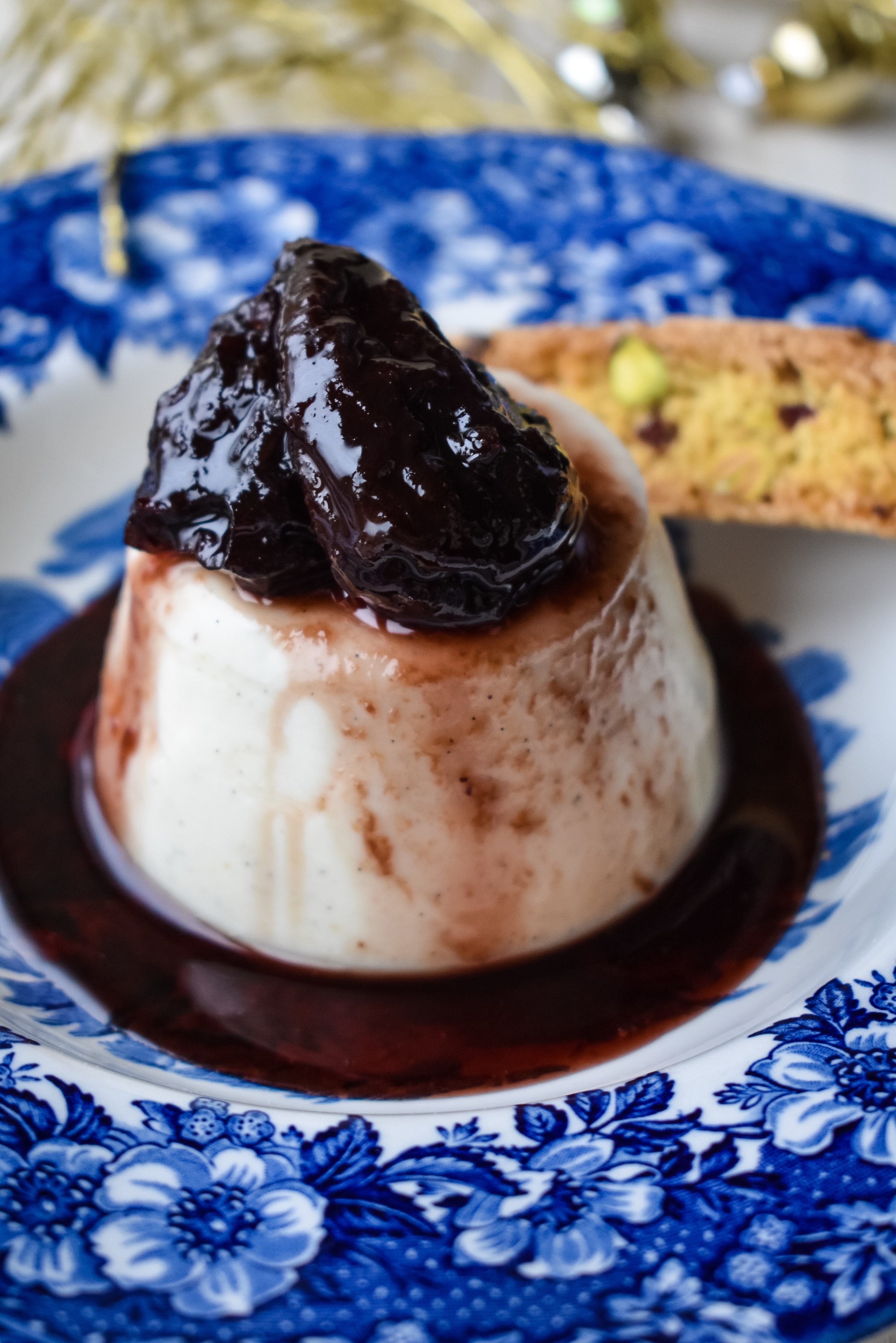 7. Top the panna cotta with three stewed prunes per person, a generous drizzle of the thickened wine syrup and a biscotti or two on the side.
Christmas perfection and definitely a dish to feed your happy using the best of organic ingredients!
Nollaig Shona Daoibh!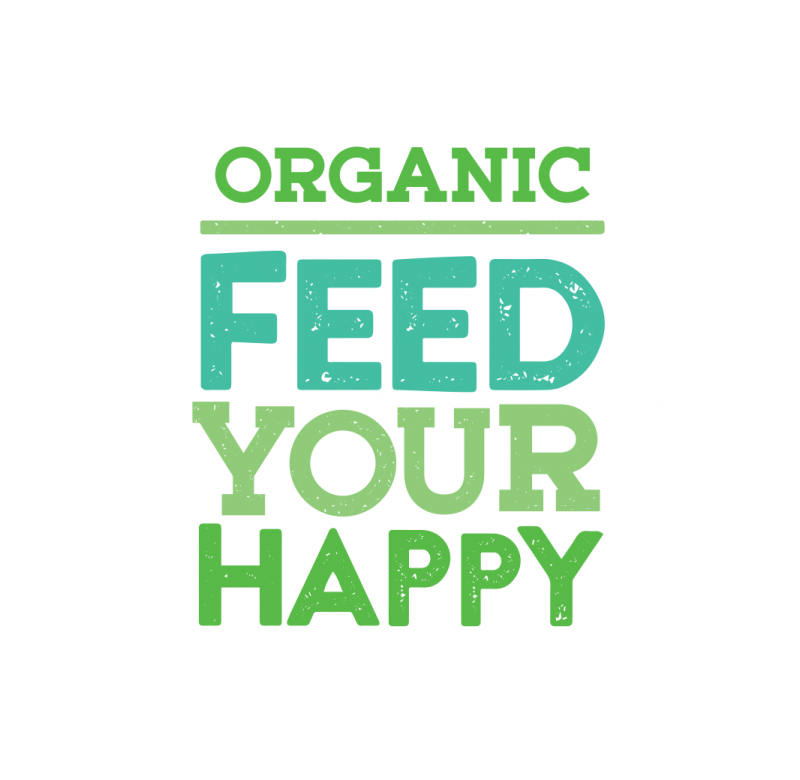 DISCLAIMER: THIS POST IS A SPONSORED CAMPAIGN BROUGHT TO YOU BY GASTROGAYS IN COLLABORATION WITH ORGANIC UK, SOIL ASSOCIATION AND FINANCED WITH AID FROM THE EUROPEAN UNION.