This is part of our Eurovision series – offering you ideas for simple, easy-to-eat recipes when you're entertaining a big group of Euro-fans on Eurovision Final night, or just set up in front of the TV mid-week as the semi-finals entice and entertain.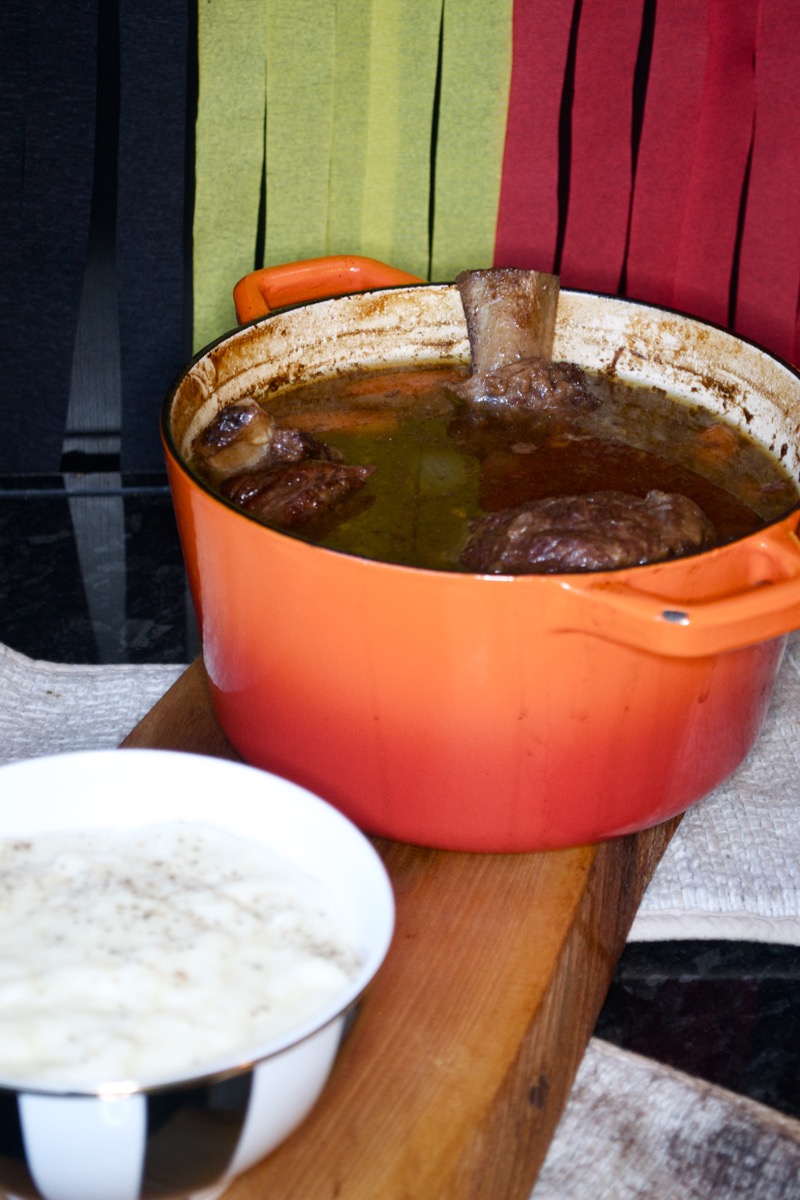 You know us by now. Our belogphilia is seriously out of control. We fell in love with Belgium the second we first landed a few years ago. With that first fateful frite in the mouth… let's say the rest is history! (We've already begun publishing some travel and food posts about Brussels, btw…) For a main of epic proportions on Grand Final night, tuck in to this mighty meaty magnificence – Carbonnade de Bœuf (also known as Carbonnade à la Flammande) the iconic Belgian stew made using beer. Comforting, incredibly casual and a cosy hug from within that everyone will adore. 
You might remember this recipe from us from our Gay Times column a few months ago. We write a monthly recipe for the food pages of the magazine, focusing on easy to make dishes that are described in few words and explained in even fewer. We want everyone to be able to entertain and cook for themselves comfortably.
 If you happen to have February 2015's issue (the one with Freddie Fox on the cover), simply turn to page 129 for the recipe, including the story behind why this recipe was included in the column and how much it means to us.  Here we've recreated it for you with a twist  – incorporating some fantastic local ingredients from around our area and almost trebling the portion in honour of this joyous occasion.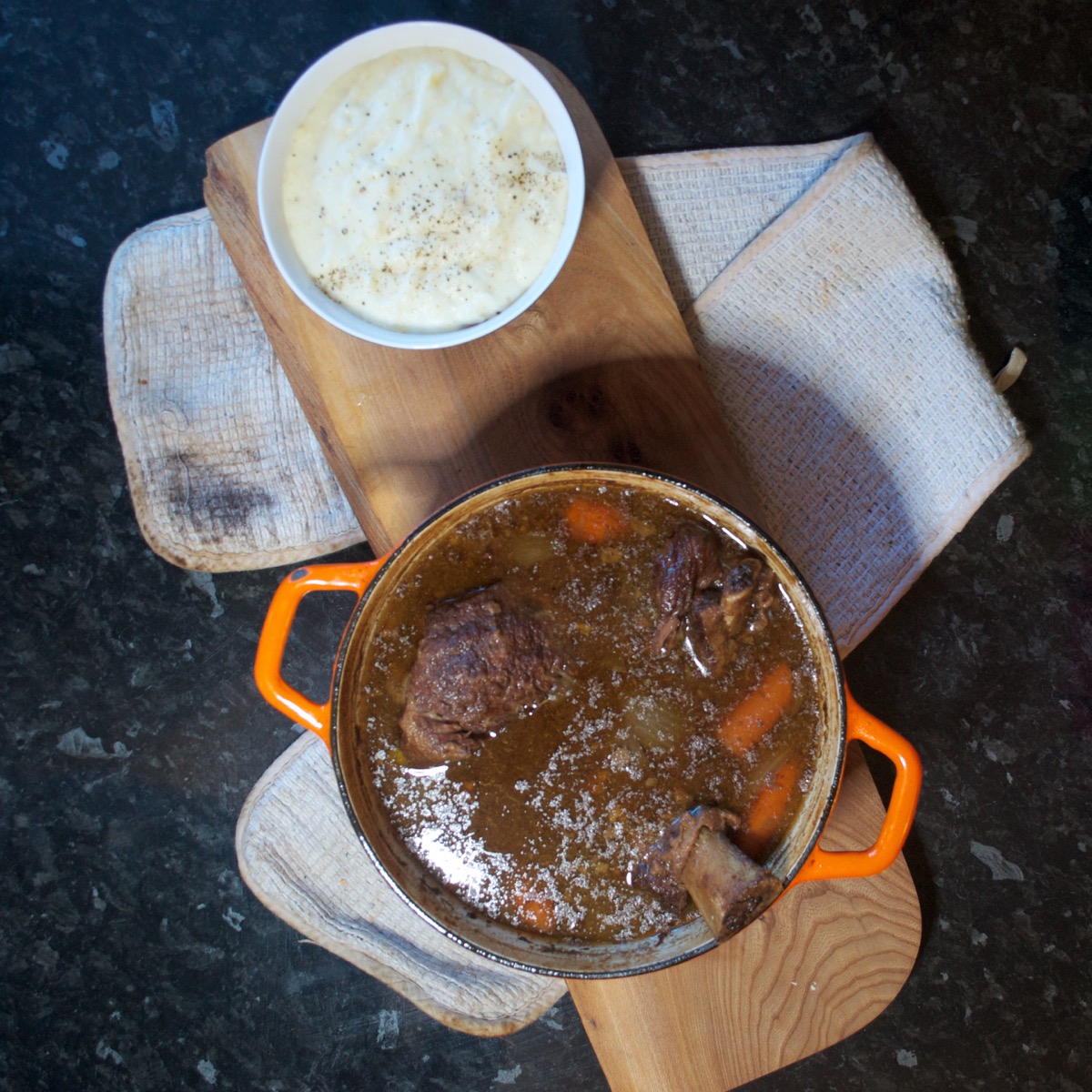 Never slow cooked before? Let us take your hand and show you how. We're tactile and versatile cooks, and we both very passionately believe that no one can go through life simply recreating recipes from cook books, magazines and newspapers word for word. Live a little. Experiment. Don't always stick to the recipe – hell, we're not even sticking exactly to a recipe WE wrote ourselves! Take our lead, you'll find you learn more and improvising what whatever ingredients you have to hand or your own personal substitutions will make you a cannier cook.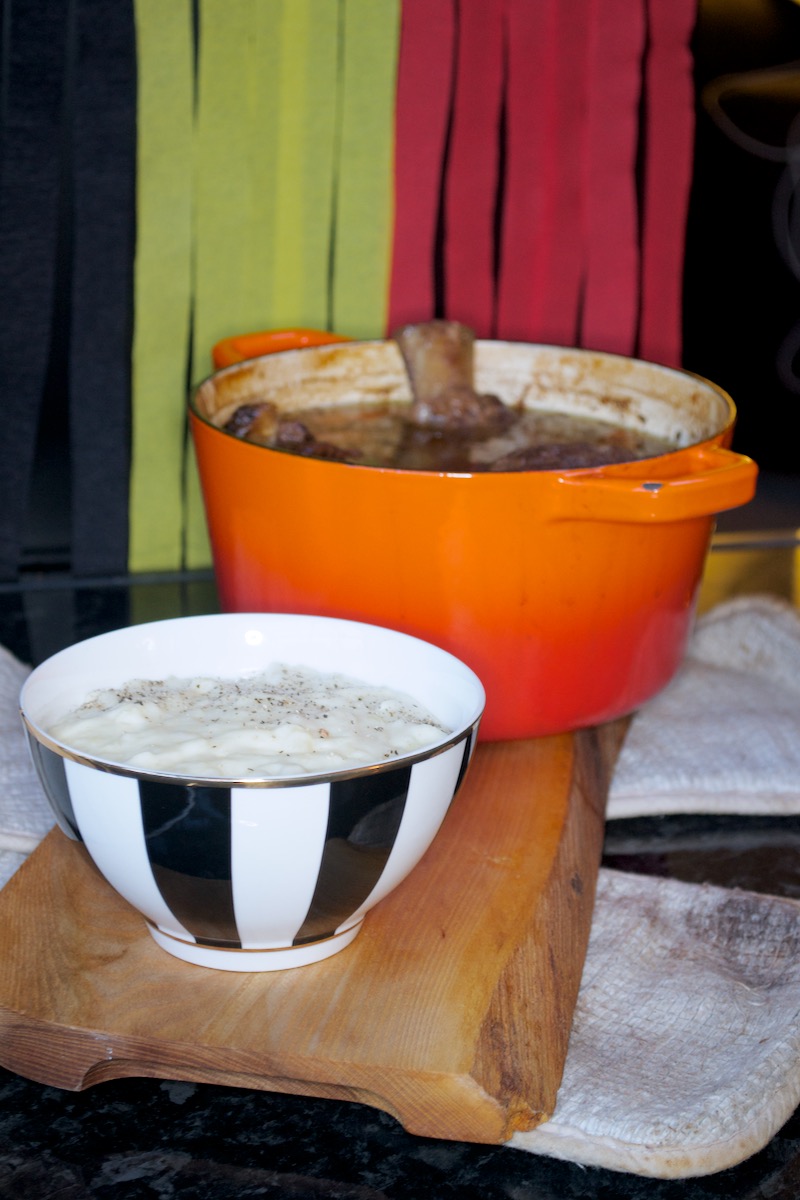 We've talked about Hop, Burns and Black on our Twitter and Instagram a few times before. It's an independent store on East Dulwich Road (seconds from our flat along Peckham Rye) and stocks a dizzying selection of craft beers, hot sauce and vinyl records – hence the trio in the name: hop, burns, black. There's also fresh sausage rolls and Scotch eggs, ciders, international brews and wine available. We picked up two UK craft brews to make our Carbonade, chosen specifically for their tasting notes of coffee and chocolate.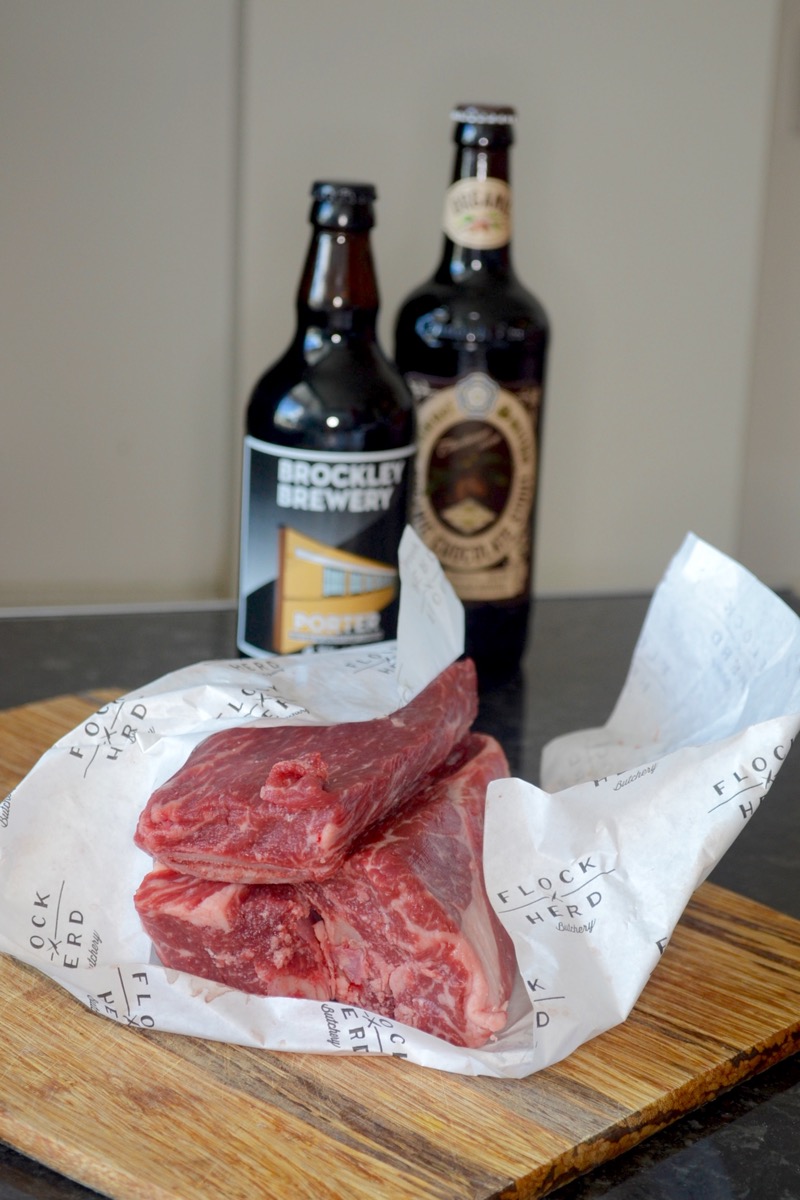 Beer works amazingly with the addition of both coffee and chocolate. The trio seem to muddle together into what can only be described as rich, bitter indulgence. The ones used in this recipe are Brockley Brewery and Samuel Smith Organic (also Vegan!). For drinking, we both loved the chocolate nuttiness of the Samuel Smith from North Yorkshire. 
Similarly, we've talked about Flock & Herd a lot, and we're not going to stop anytime soon. We're super lucky to live a couple of streets away from one of the best butchers we've ever encountered. The service is exceptional each time, prices are always reasonable and the selection is forever dependable, while there's always a surprise or two sitting in the chilled counter too if you're quick enough! The boys are among the best and with The Butchery nearby in Forest Hill, our south east spot is a truly sweet one when it comes to exceptional quality meat.
We got 1kg of short ribs, which will comfortably stretch to six people when served with seasonal veg and mash with lots of unctuous sauce to go around. We even added a special trick in the form of adding freshly ground coffee to our seasoned flour, which we rolled the short ribs in before browning off in the pot – further sealing in the coffee goodness.
Make this and your friends will melt as they eat – just like the tender, fall off the bone beef. You can make this two days beforehand, store it in the fridge and just re-heat in the oven or on the hob once your guests are ready to dig in.
Carbonnade de Bœuf/à la Flammande (Belgium)
Serves 6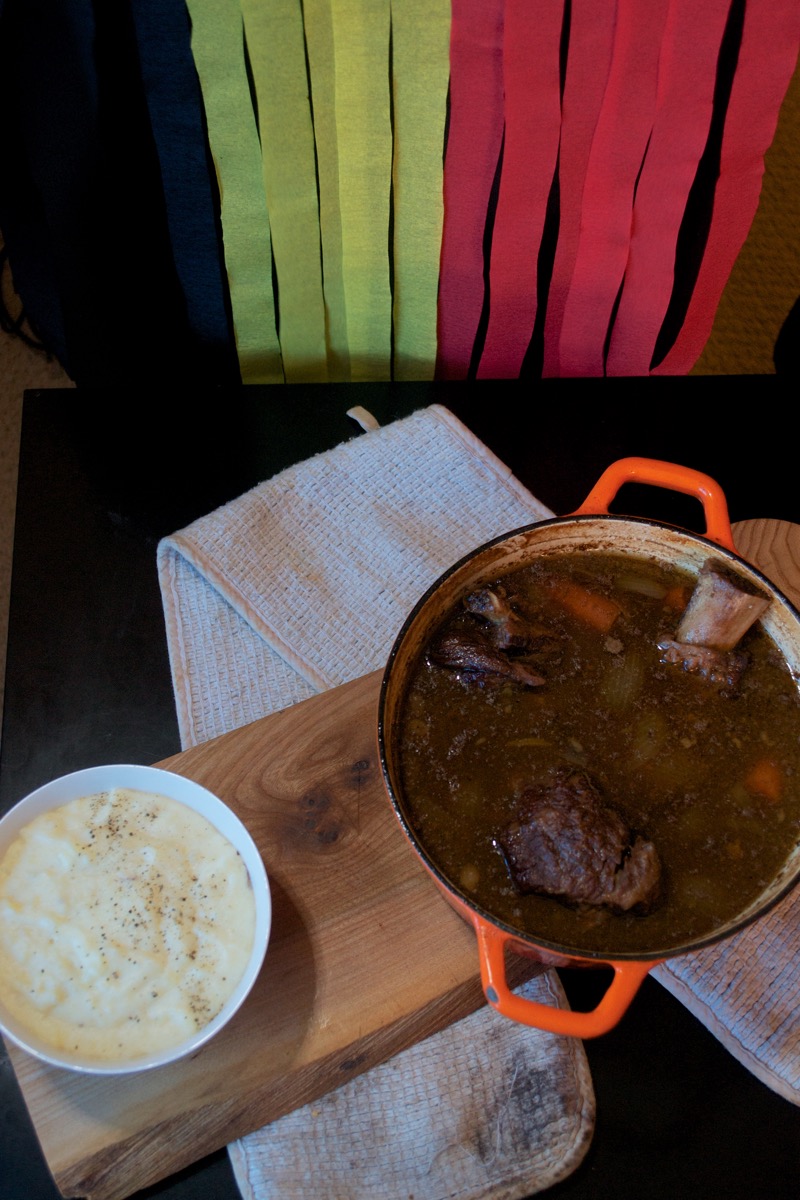 1kg Short Ribs (or shin)
125g pancetta
2 tbsp flour (seasoned with 1 tbsp freshly ground coffee, salt and pepper)
2 medium onions, halved
4 cloves garlic
2 bay leaves and (optional) dried herbs
1l beer (preferably Belgian, but we used British)
2 tbsp strong English mustard
2 tsp Allspice
1 tbsp Worcestershire Sauce
A handful of frozen peas
4 medium carrots
500ml beef stock with a little cornflour
1. Bring the meat to room temperature for an hour or two before you begin.
2. Season the meat in the flour and coffee mixture before browning off in a little rapeseed oil portions in a large, heavy pan. Once browned, take meat out and let rest for a minute on a clean plate.
3. In the same oil, now turned down to low, cook out the onions and garlic. Re-introduce the meat along with the dried herbs and pour in the stock and beer.
4. Bring the mixture to the boil, clamp on a lid and cook in the oven at 150°C for 3 hours.
5. For a further hour, allow the carrots, Worcestershire sauce, mustard and allspice to cook within the mixture.
6. When the meat is tender and the sauce thick, pop in the frozen peas (these will cook in the residual heat). Voilà, you've made Carbonnade!
7. Serve with mashed potato (we don't need to spell out how to make that… do we?) We simply oven bake spuds in their skins for about 45mins or so, scrape out the flesh and add lots of seasoning, butter and crème fraîche.