Imagine travelling up through the entire UK in the dead of night, slowly clip-clopping along the tracks as you pass by sleepy towns and deserted rail stations before waking – sun breaking the horizon – as you enter a new country, then pulling into a vibrant new city to explore… magical!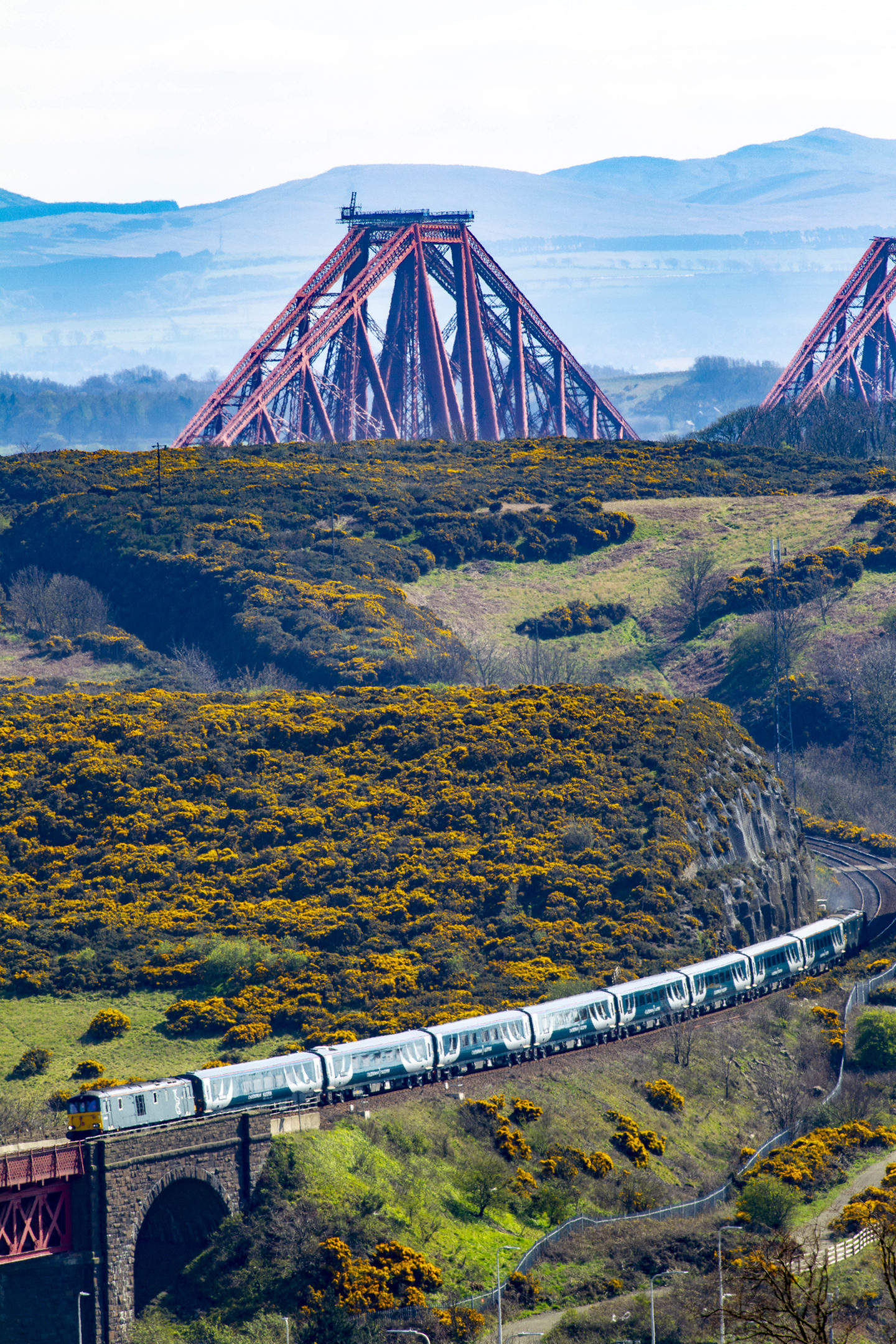 London to Edinburgh is over 400 miles, about 6 hours' car journey, 4 hours by fast train or an hour in the sky. The Highlands are even farther flung.  Whether you're looking for a UK-based staycation that's easy to travel to or you're planning a first-time trip to Scotland, we suggest starting the journey in London Euston Station and climbing aboard The Caledonian Sleeper.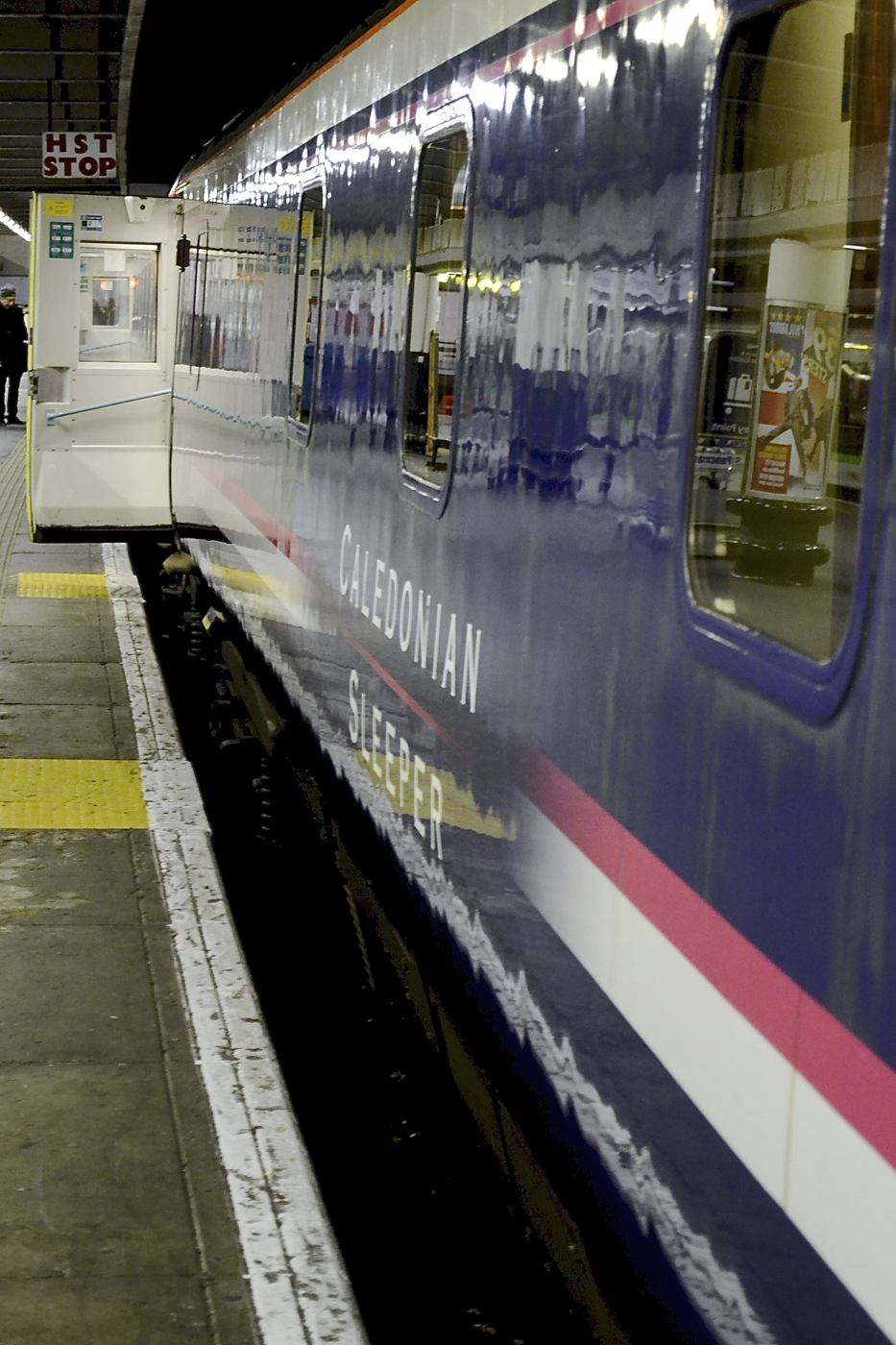 The Caledonian Sleeper leaves Euston Station in north central London six nights a week with final destinations including Edinburgh, Glasgow, Fort William, Aberdeen and Inverness. Affectionately dubbed The Deerstalker, this cross-country train has been running between England and glorious Caledonia since the heyday of great British rail travel. There's an unmistakably special, old-school feeling when you climb aboard – we get all wistful and channel all the glamour and grandeur of rail travel in the 1960s.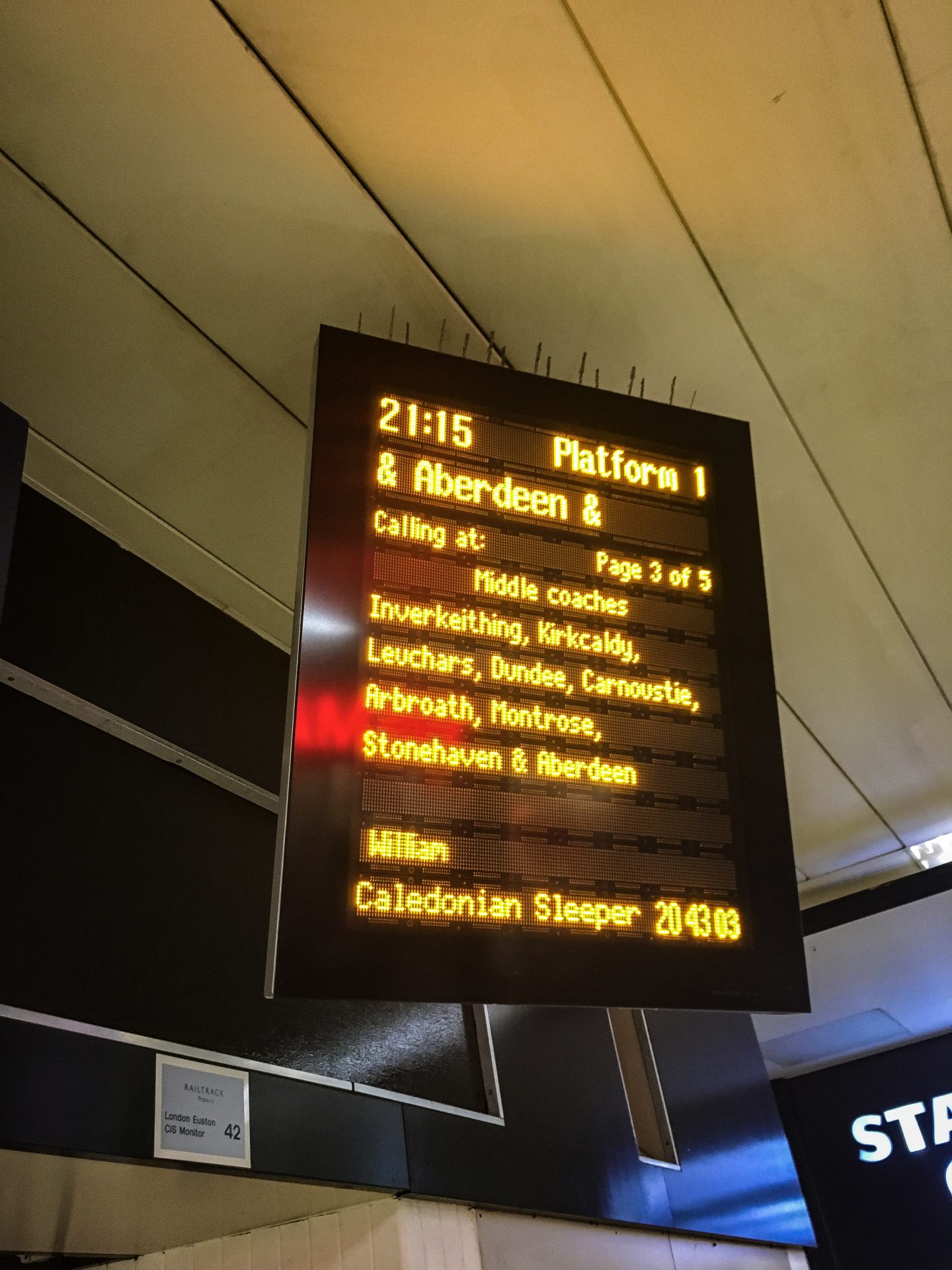 We've suffered through the claustrophobic London Underground for quite a few years, so a train service which guarantees a touch of luxury in the form of personal space is instantly going to win our hearts. Not a lot of space, mind, but enough for a night.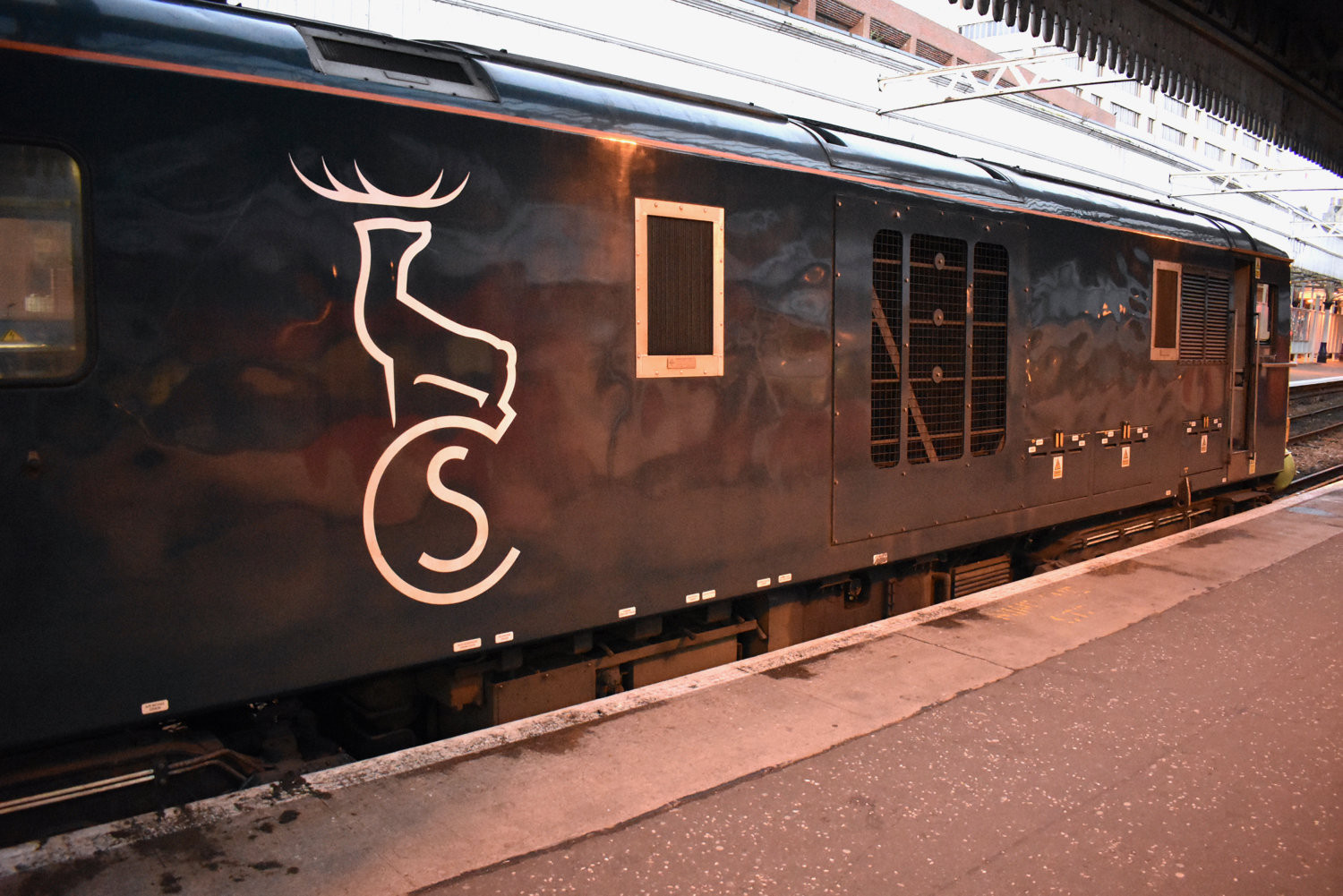 Navigating Euston Station
We've been on the service twice, first to Edinburgh in March 2015 and then to Aberdeen in November 2017, so we will talk about both because of the different destinations and we travelled in First Class on the latter, too!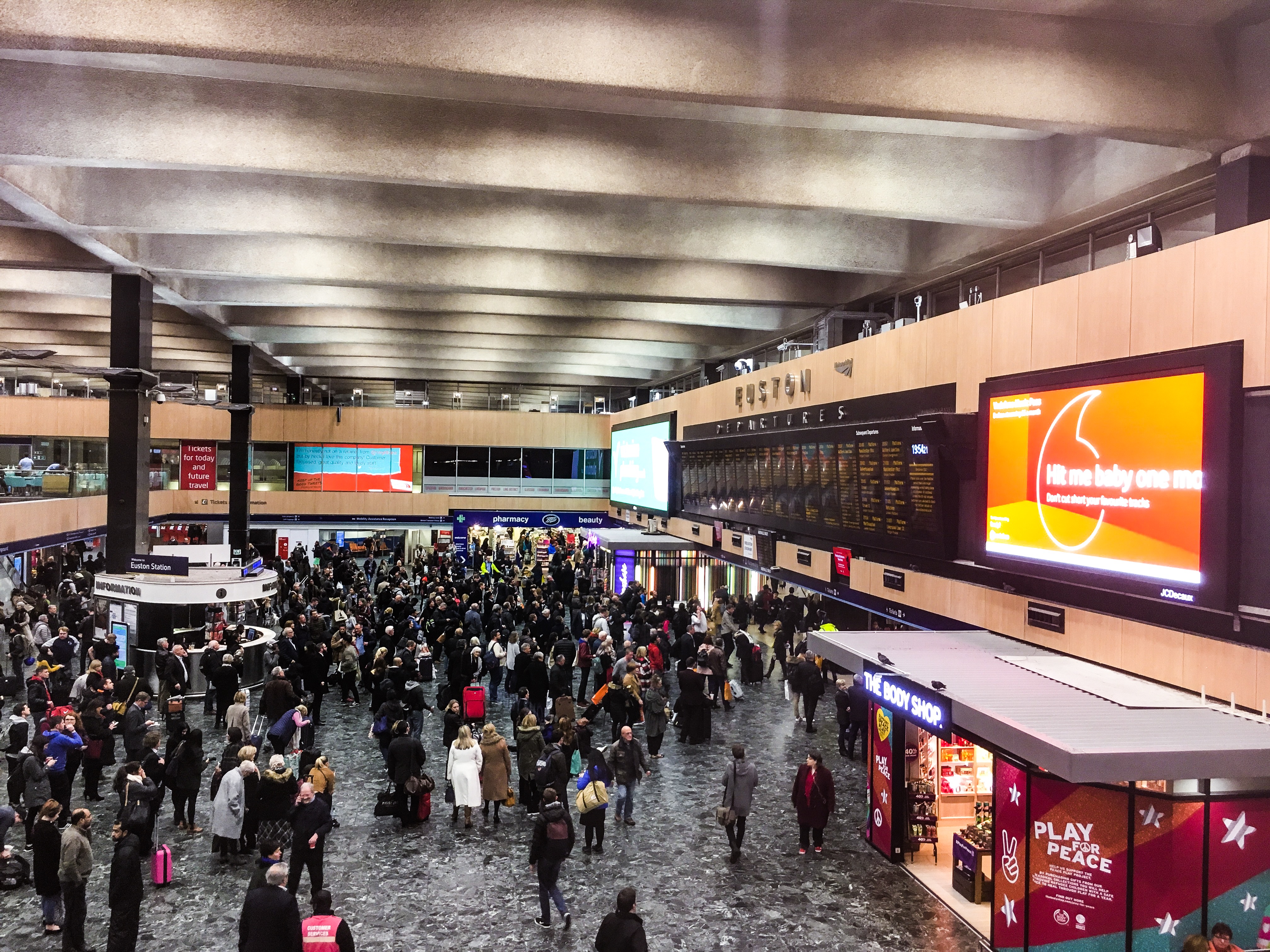 Following a few years of refurbishment, Euston is now far more spacious and has a good array of places to eat and shop before boarding the Sleeper. A large Marks & Spencer stays open 'til 11:30pm which is perfect for grabbing a few nibbles and a (potentially very necessary) bottle of wine to have on the train. There's also a WH Smith for all your reading material, or Leon and Byron Burgers if you're feeling peckish beforehand.
If you're travelling in First Class (as we did just the once, in 2017), you receive complimentary access to the Virgin Trains Lounge on the upper mezzanine level. A nice quiet retreat away from the manic stress of the station concourse below. Don't expect airport-style luxury, this is basic. It has all the essentials and lots of seating, but it's in need of a little TLC and a bit of a refurb wouldn't go amiss. But the staff are fantastically friendly and a few complimentary cups of tea and snacks always help to while away a bit of time. There are also toilets and showering facilities within the lounge, handy to know if you want to freshen up before your railway jaunt.
Departure Time
For the Lowlands destinations, like Edinburgh, we boarded the service at Euston at the stroke of 11pm for a 11:50pm departure.  The Highlands service towards Aberdeen, Fort William and Inverness departs earlier in the evening, about 8:30pm for a 9:15pm departure.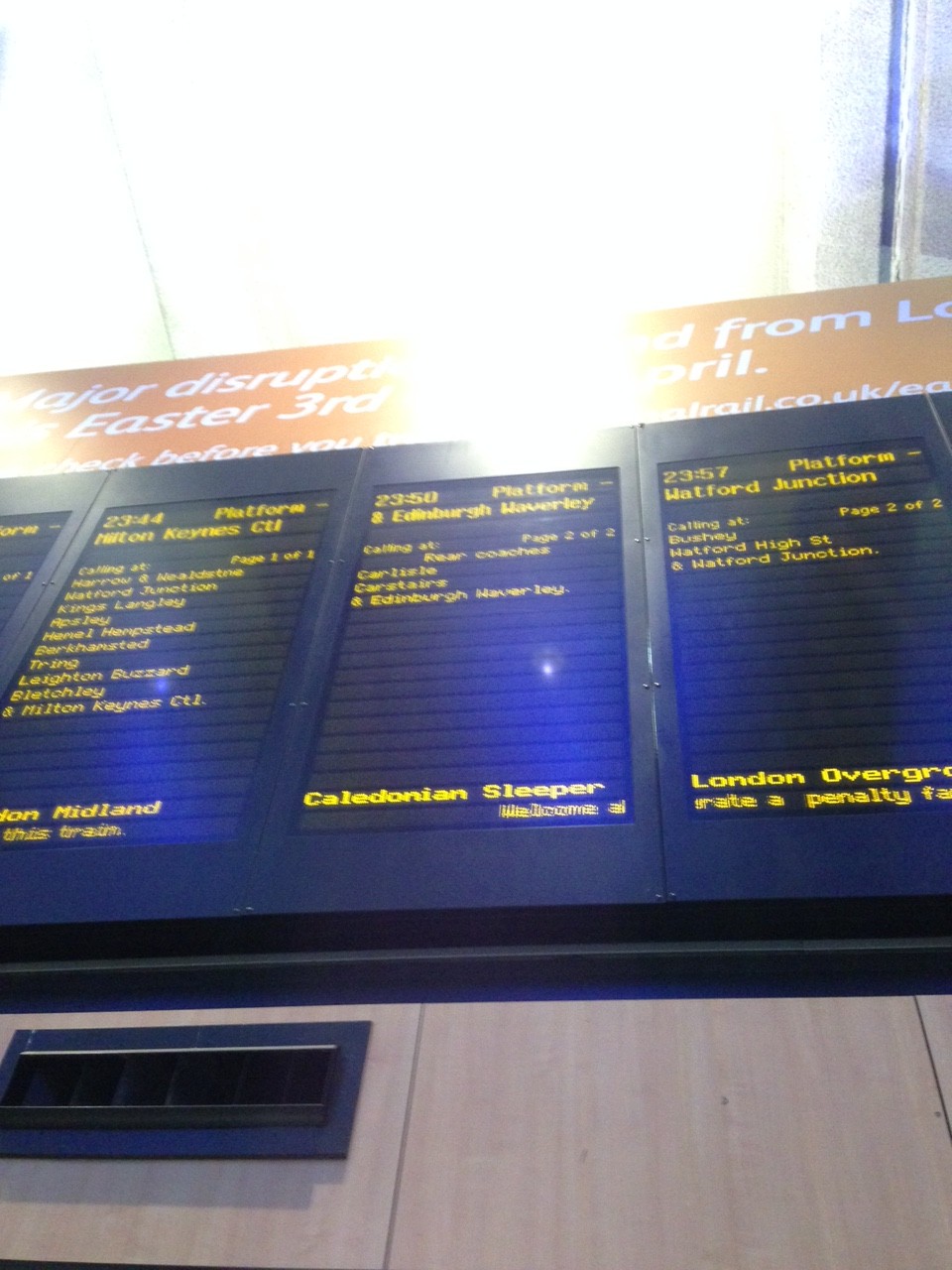 When it's time to board, you simply walk up to the platform. You'll be staggered by the length of the Caledonian Sleeper trains. We certainly were. A work out and a half, because they depart London as one service before splitting into two on the Lowlands, and three on the Highlands. Travel
Class (pre 2019)
On board the Sleeper there are three choices of accommodation: a reclining seat, a standard sleeper berth or the first class sleeper berth. Different levels of comfort, each level priced appropriately – no surprise there. We haven't yet travelled in the reclining seat option, though we do know the seats are slightly larger than your average railway seat, and are in a 2+1 formation (similar to most First Class railway coaches). Passengers in the seated class are unfortunately not permitted to use the lounge car – here's where a train picnic assembled at Euston may come in handy! – but there is a counter where they can order from and a slimmed down version of the dining car menu. Fold down tables are available on all seats, as well as a reading light.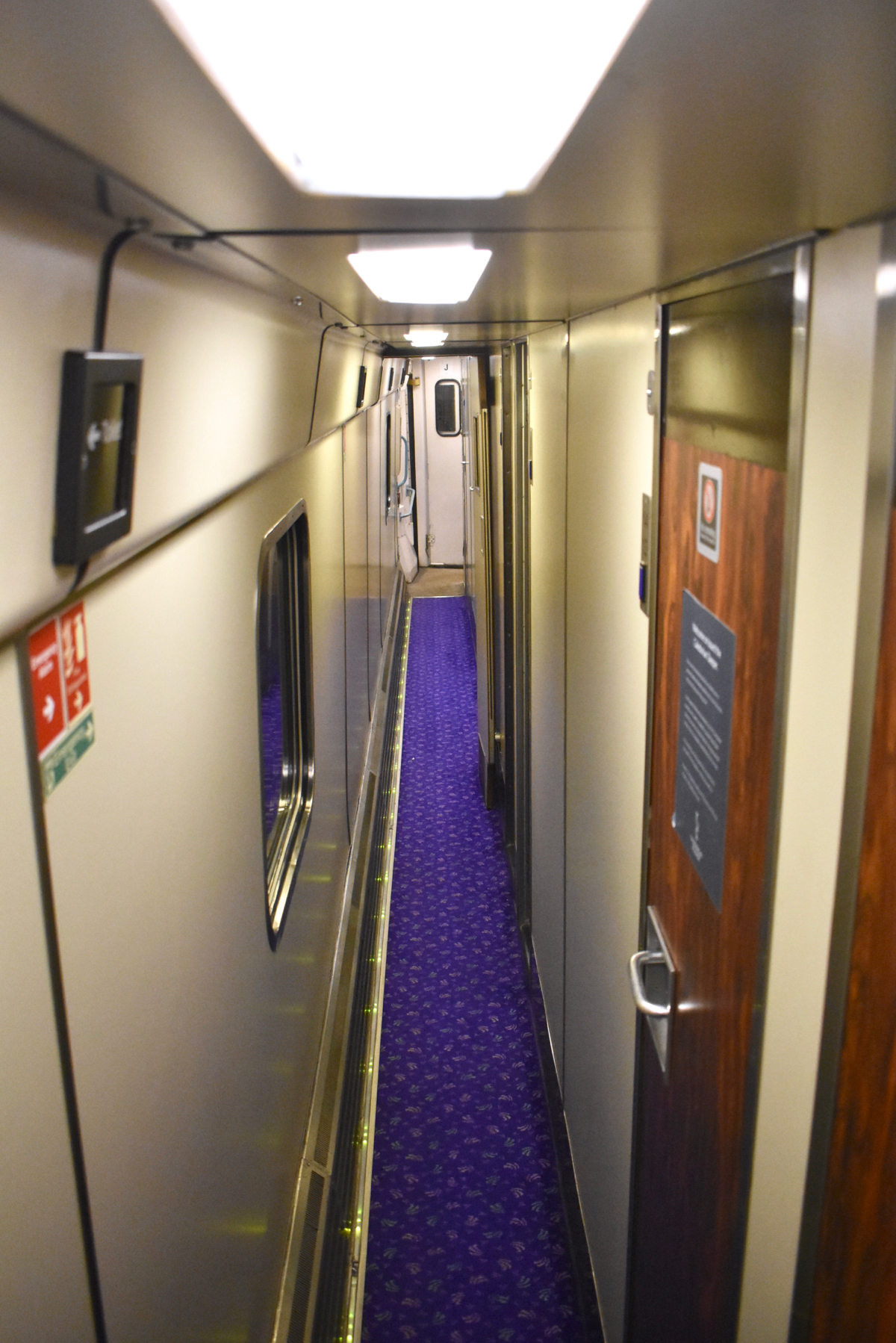 For cabin passengers, at your assigned carriage, you'll meet your train attendant for the evening, who will tick your name(s) off the list, bring you to your cabin and point out the features (lights, wash basin, call button, etc.), toilets and dining car as needed. Our wonderful attendant for Edinburgh was a young girl called Terri who was so lovely. The attendant asks what your breakfast preferences are and leaves you to get comfortable in the cabin.
If you're planning on booking a trip on the Caledonian Sleeper and you, like us, are part of the smartphone generation, listen up. There are NO power points in the cabins.  There are USB sockets above the sink (a new, very welcome addition) but no standard sockets. There are a limited number of power sockets in the dining car which can be used for the likes of laptops and whatnot. There is no WFi on board either, so if you're looking to work whilst travelling make sure you're charged up and you have your own internet access.
Standard Class
When we travelled standard it was a twin cabin, bunk beds one atop the other. Space-wise, it's worth remembering, always, that this is a train so don't be alarmed when you find space is extremely tight. Even for two skinny…ish boys like ourselves, it was a case of only one of us being able to stand at any given time. But in saying that, it's functional and an efficient use of space. There's room to leave a reasonably-sized suitcase and other luggage in the cabin, but unless you're spending weeks on your onward journey there's probably no need to pack too heavily.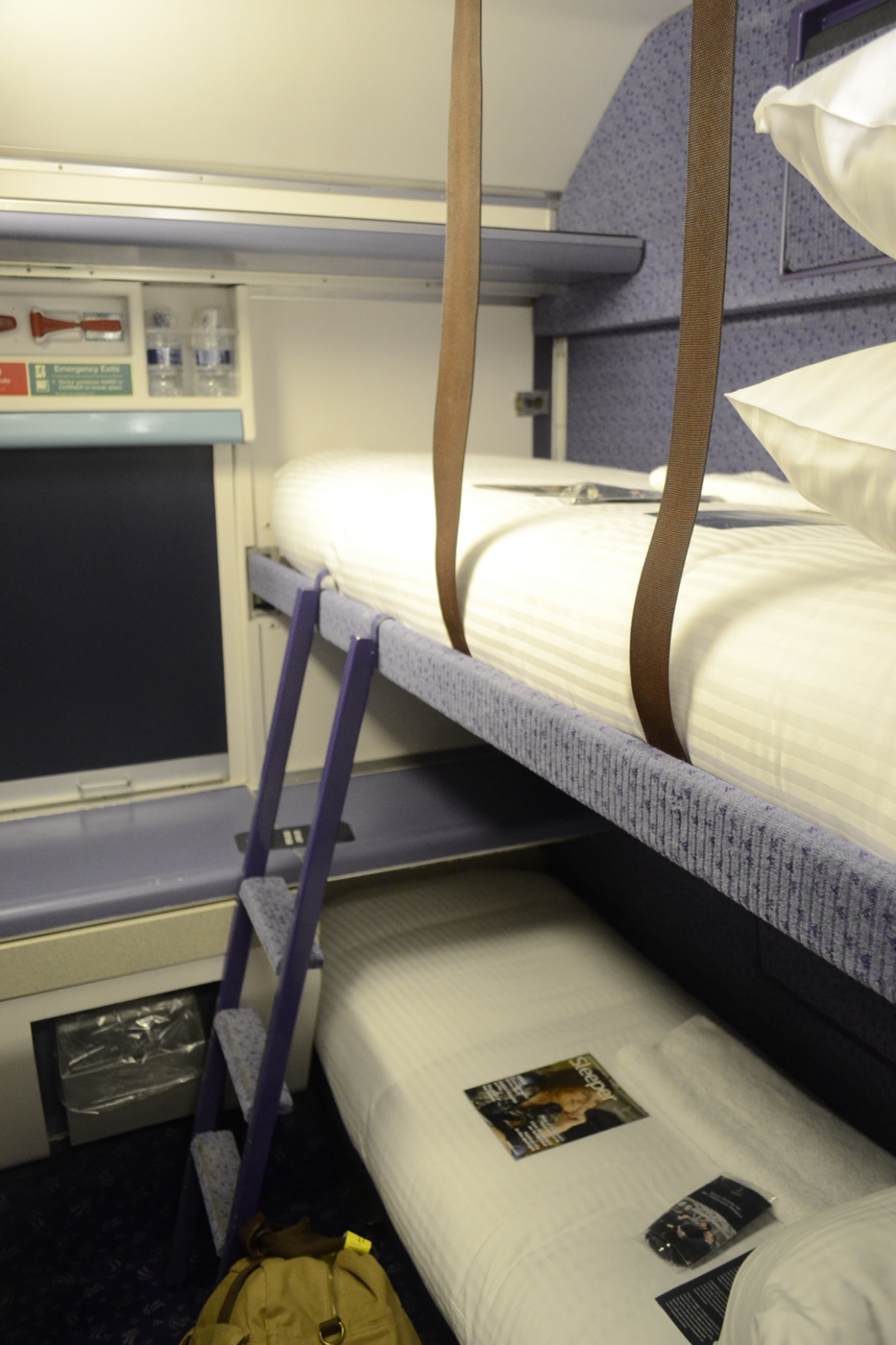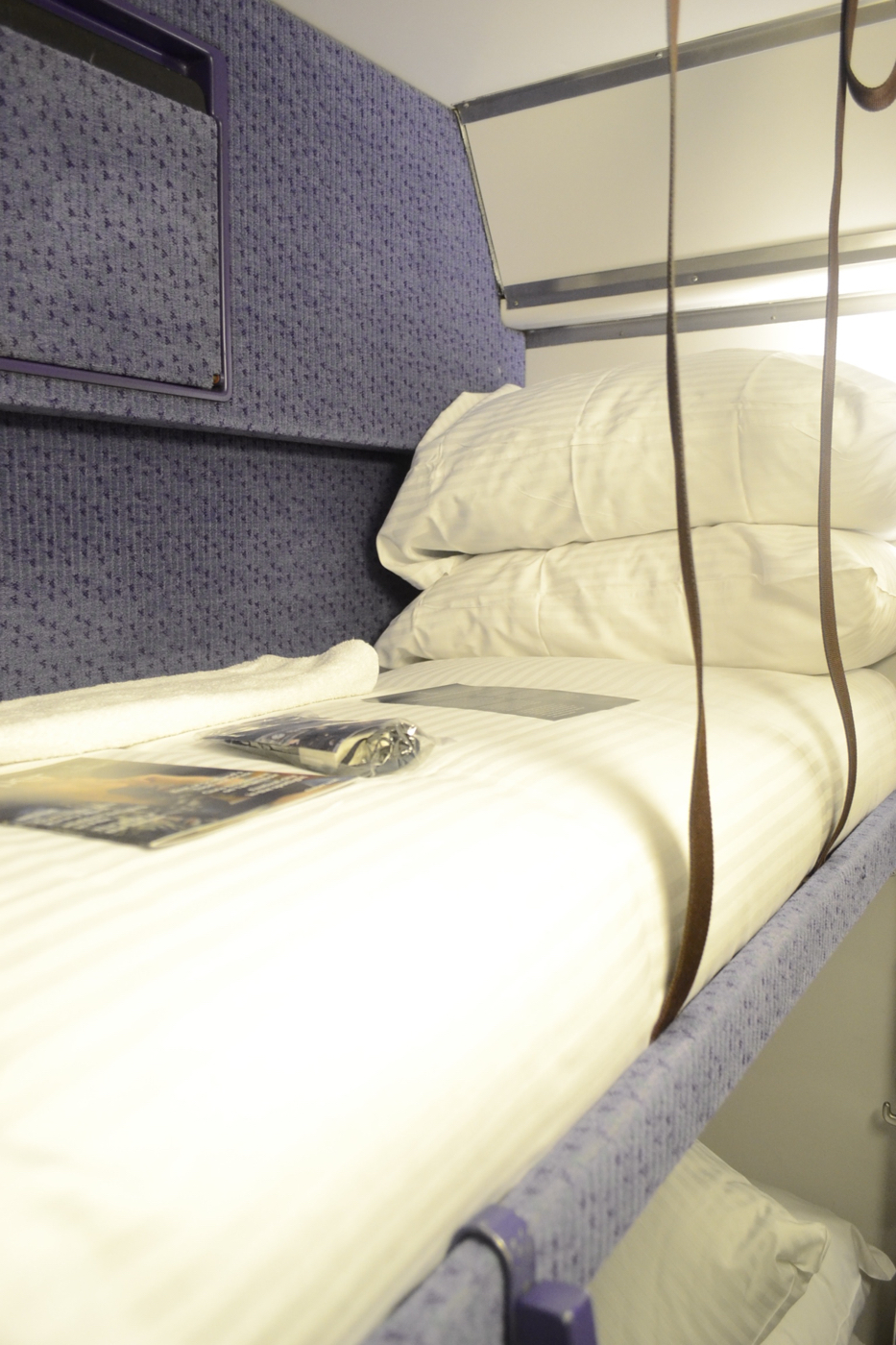 The beds are surprisingly comfortable, firm and very clean. Each berth is gifted a small vanity pack with an eye mask, earplugs and a bar of soap. You're also provided with a small hand towel and a small bottle of water in the cabin. Note: there's no shower facilities on the train.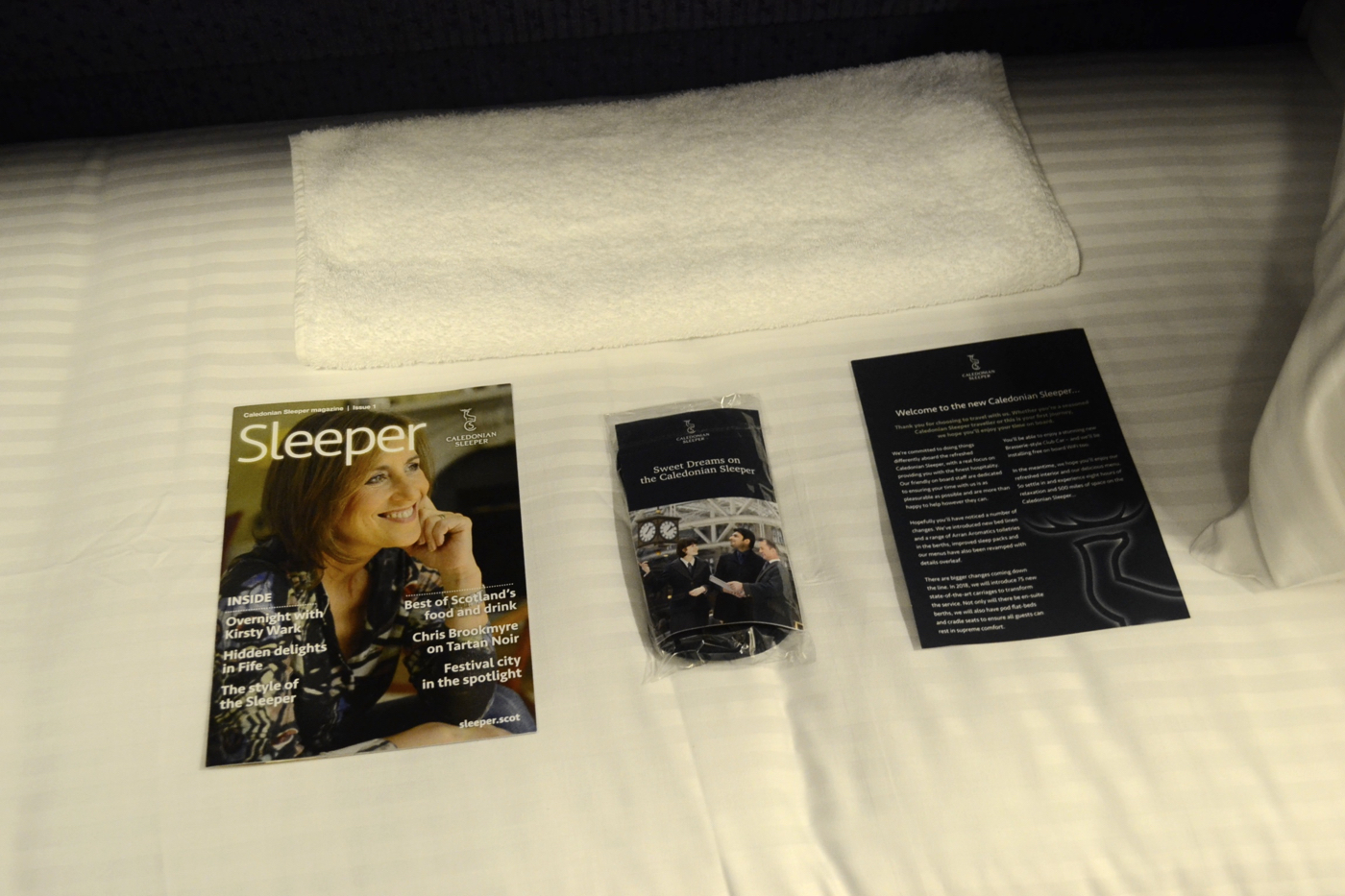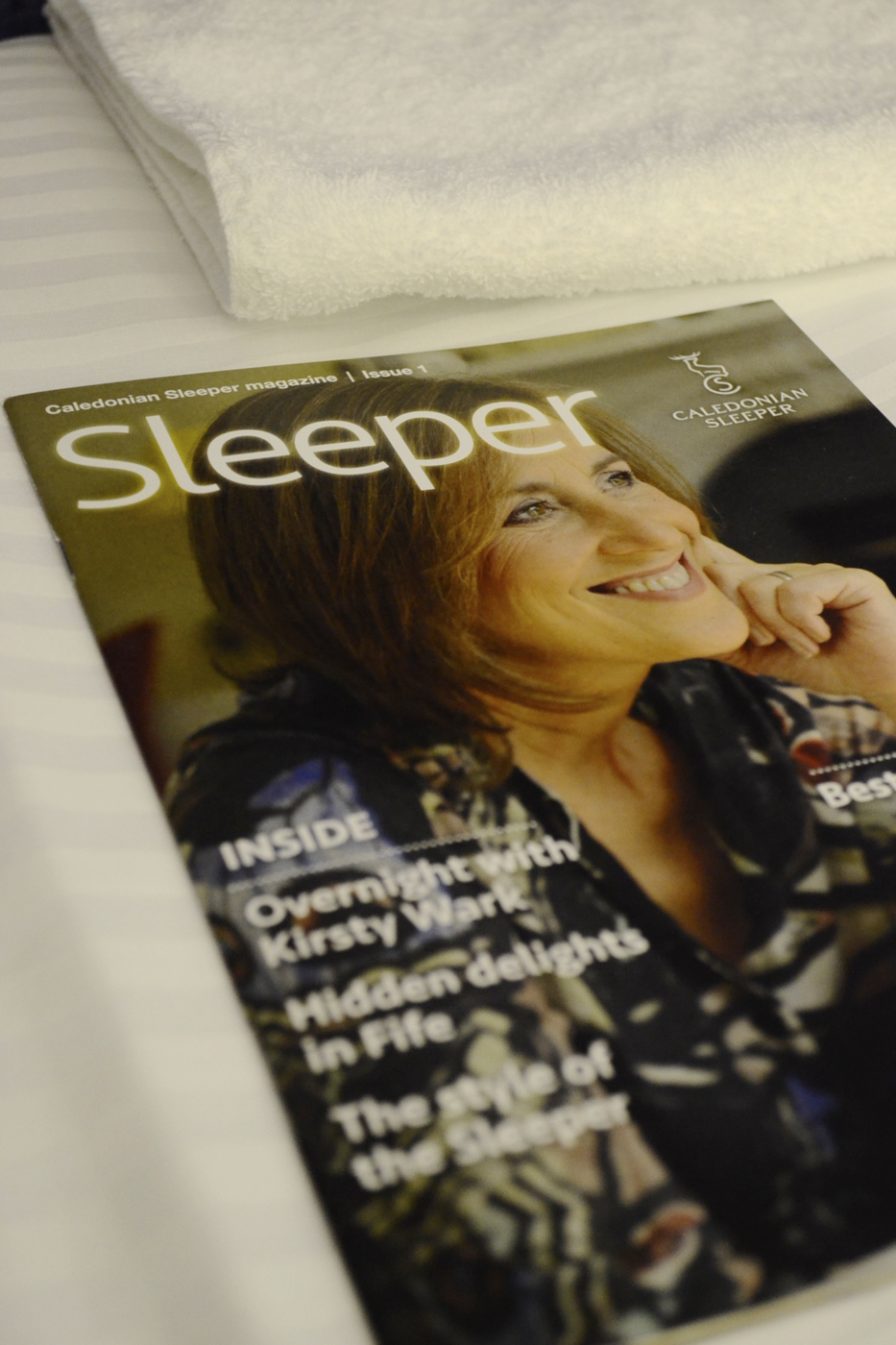 First Class
The cabins for First Class are exactly the same in design and size as Standard class. However, there is no upper bunk, leaving you with a bit more headroom and no need to share space. You also receive a slightly more luxurious amities kit, which includes body wash and lotion a pillow spray from Arran Aromatics which we really enjoyed. If you're travelling as a pair, like we did, make sure to book two cabins that are connected. There is an internal connecting door between cabins which can open to, so you can sort of turn your cabin into a suite.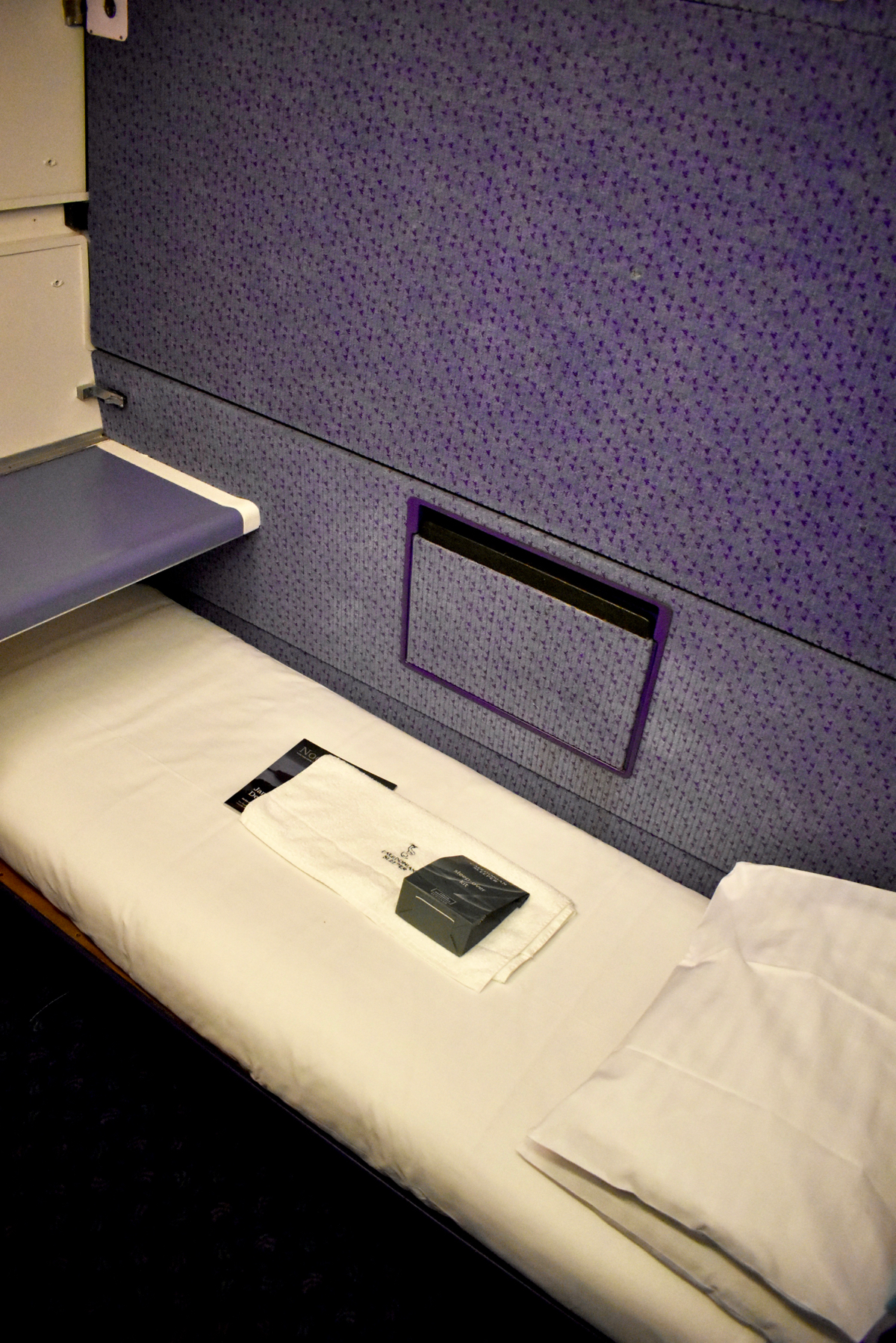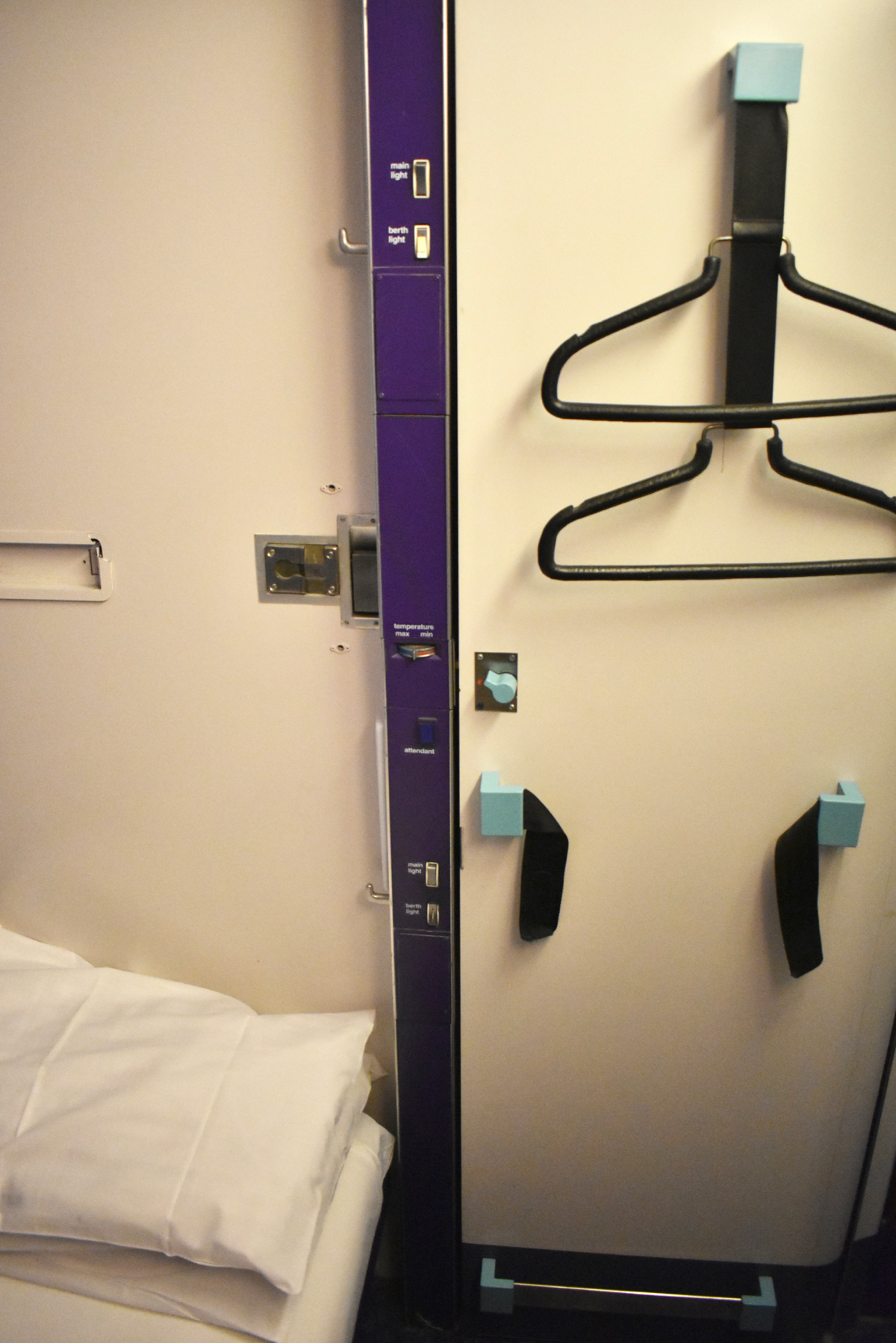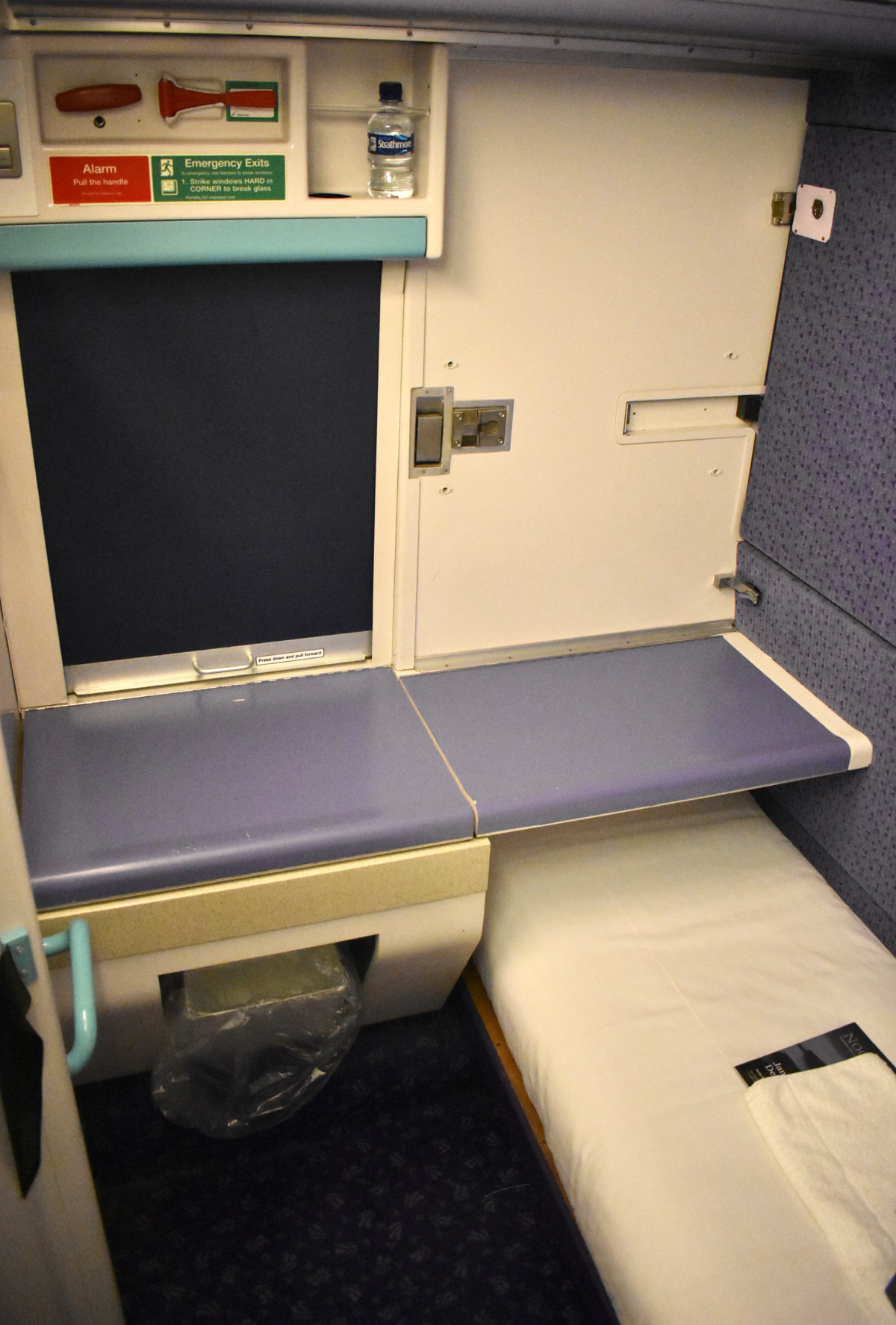 Why first class? Well, if you're travelling solo, it's added peace of mind that you're the only one in the room. Some may be a bit less comfortable sharing sleeping space with strangers, and that's totally understandable, so it's great to have the option of sharing or having a private cabin. We genuinely found we slept better in First Class than Standard – it felt less enclosed and cluttered – but both options got us to our end destination like everyone else, so it's totally up to your preference and budget.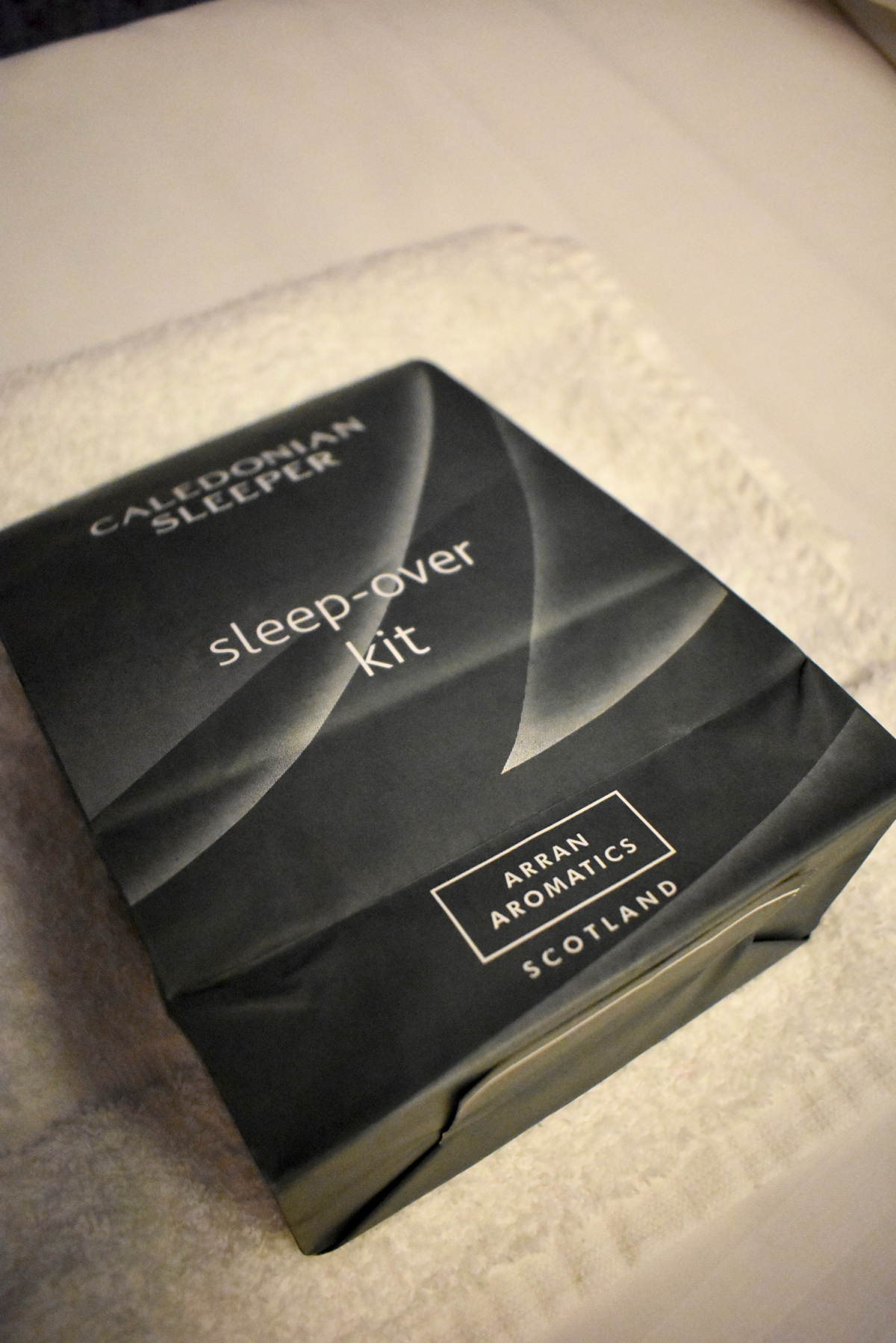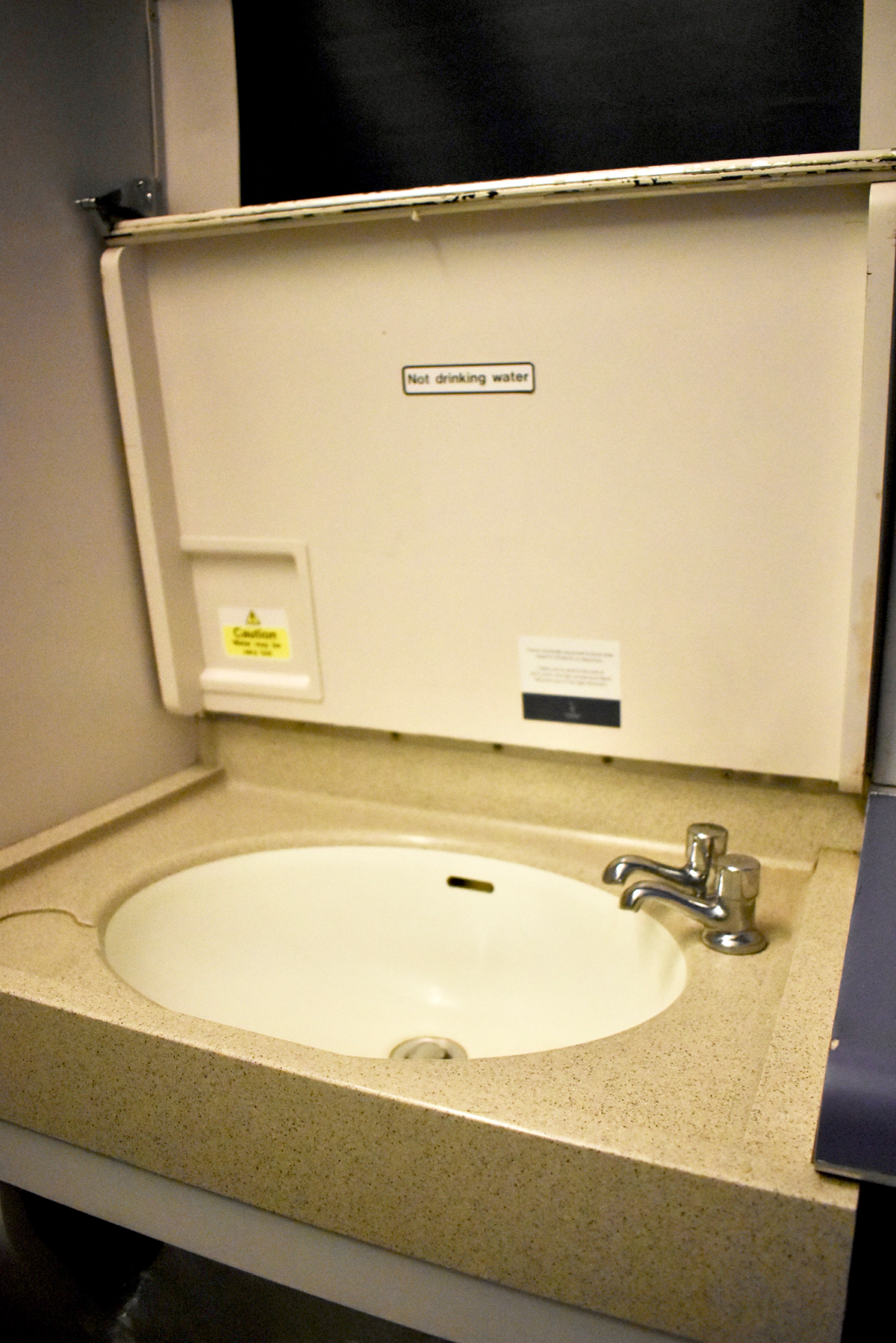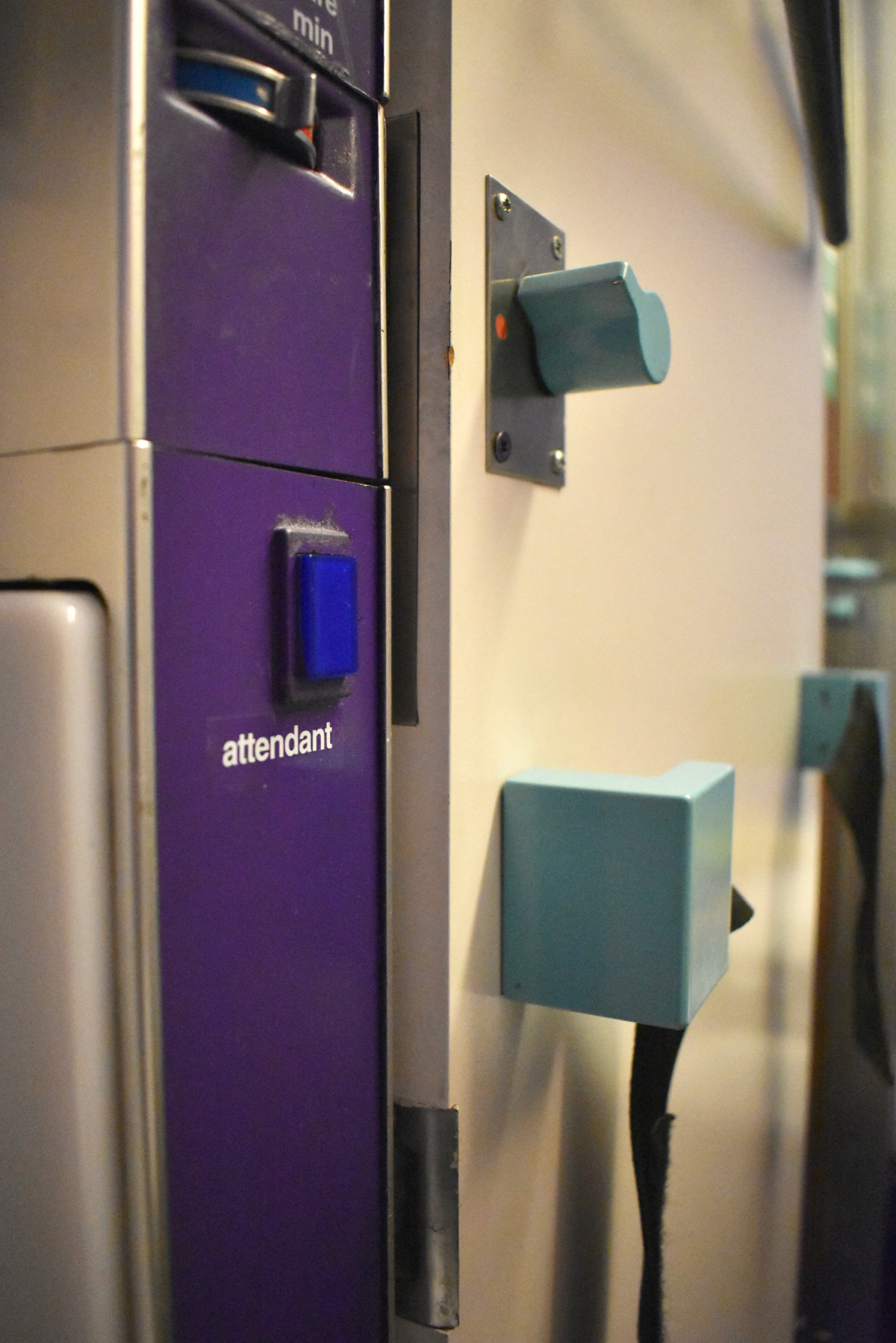 First Class passengers are also entitled to access the lounges at their end destinations, where available. They're also given priority for tables in the dining lounge on busier evenings.
After getting ourselves right at home, naturally we find ourselves venturing towards the dining car…
The Dining Car
The dining car feels like real luxury to us and it's romantic in an Agatha Christie novel type-of-way, though we're guessing that anyone who travels First Class all the time is well used to this type of luxury.  Forget all that you know about dining on-the-go. Wrapping your lips around a sloppy sandwich on the Tube, being served a sad-tasting, re-heated microwave meal 30,000 feet in the air – on the Caledonian Sleeper you're served on real plates with actual cutlery while lounging in a comfortable seat with lots of legroom. A winning experience, compared to other forms of transport. In fact, the Caledonian Sleeper was awarded a Taste Our Best Award by VisitScotland in 2017!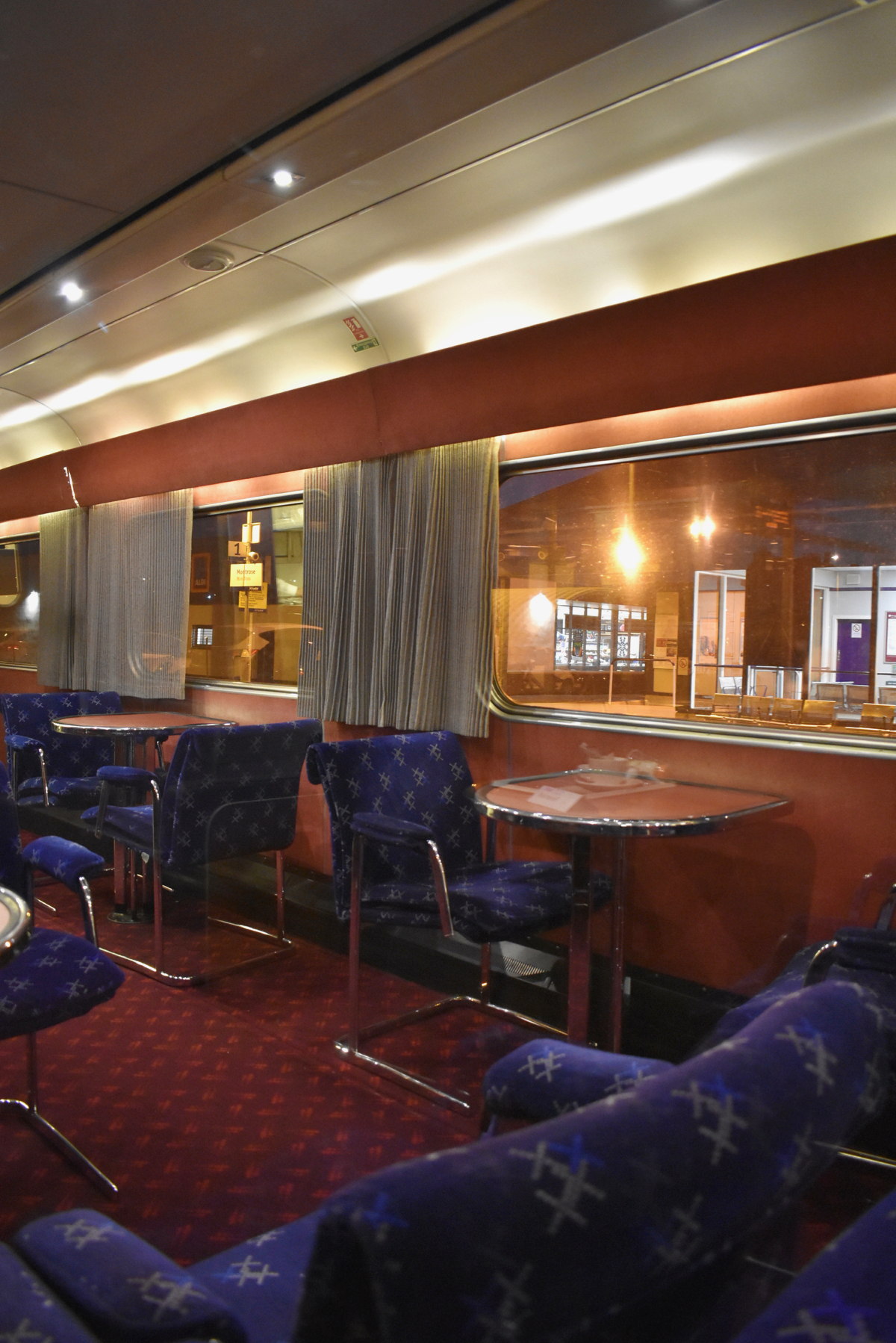 As luck had it, the evening we travelled on the Caledonian Sleeper for the first time was the first evening of a new operator (Serco). So therefore there were a number of improvements and changes that were implemented just that day. One of which was a newly-improved menu, slightly tweaked from before and slightly elevated in price. We ate both times we travelled, so read on as we recount our experiences.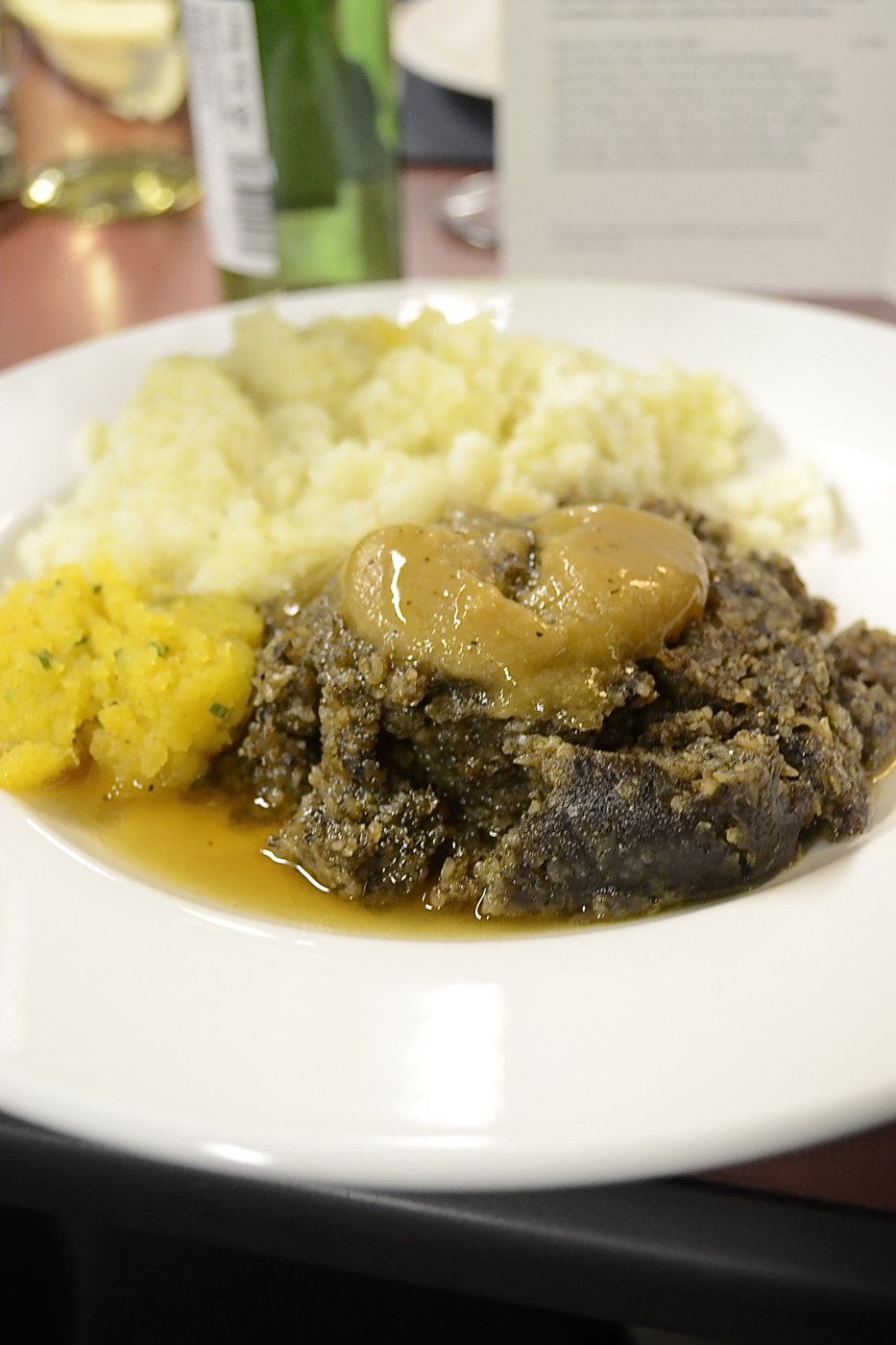 For our 2015 trip, we were giddy with excitement as we had never tried haggis before! the time we were served, the train just began its journey out of London. As the train just began to pull out of its station of origin, we had placed our orders and were nursing a glass of wine each. When the haggis arrived just shy of midnight, we weren't disappointed. So delicious, well, we love black pudding and it's not an altogether dissimilar flavour, so we had a feeling we would be satisfied. The neeps (turnip) and tatties (mashed potato) served alongside were seasoned perfectly, and mixed in with our choices of sauce, the whole dish was a wonderful way to begin our sojourn to Scotland – a fitting late-night supper, too.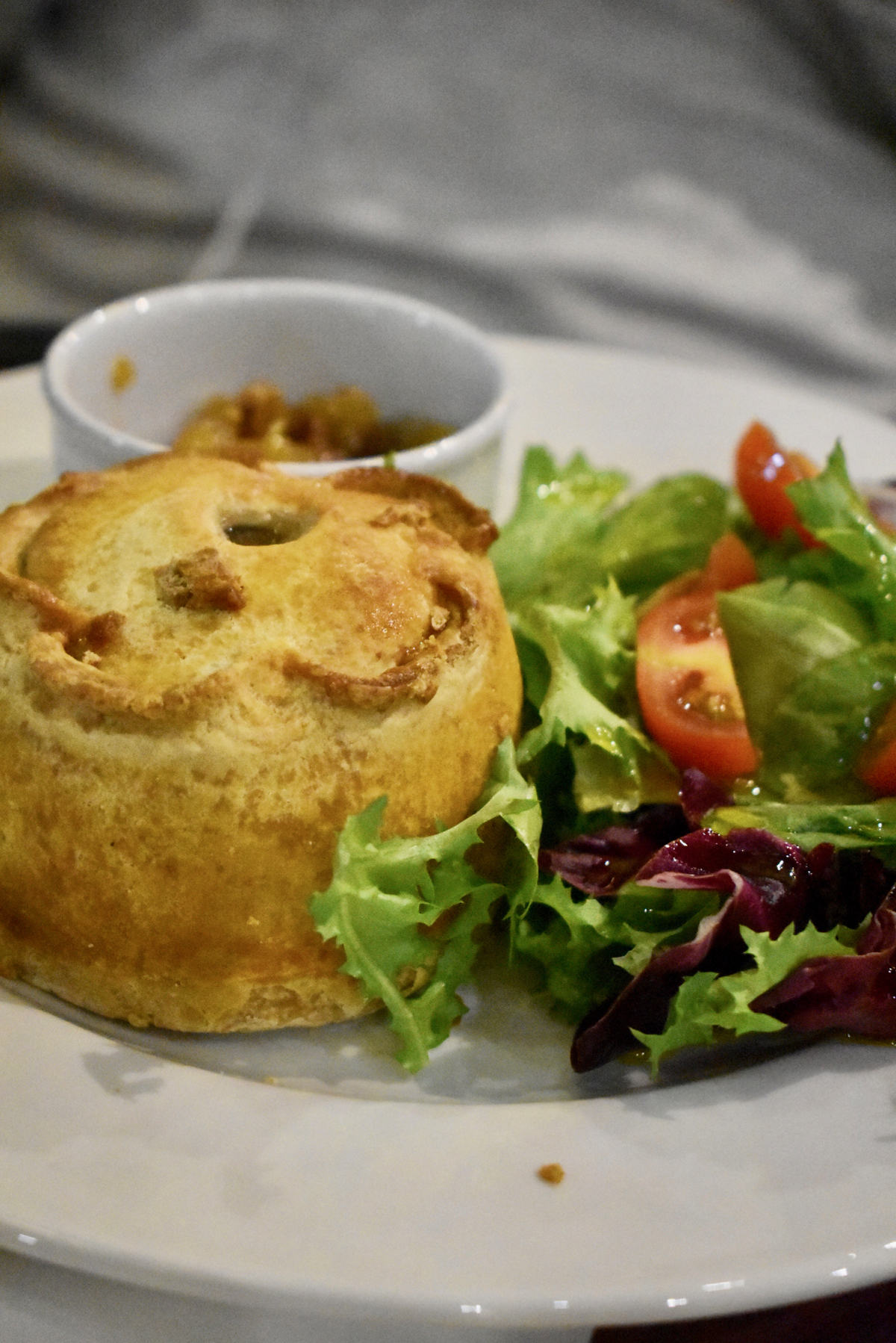 On our second visit in 2017, the menu had been updated considerably again, two years into service. As we were traveling on the Highland service, we were eating at a slightly more palatable time of 9pm. Again, we found ourselves in the dining car before the train had even left and as the wheels began to move, we were already enjoying a drink each – a Caorunn (Scottish gin brand) and tonic, £6.70, and a Ginger Laddie cocktail, £7.50. We were happy to see the new cocktail menu is offered and created in conjunction with Mac & Wild, the popular Scottish-inspired restaurant on London's Great Titchfield Street.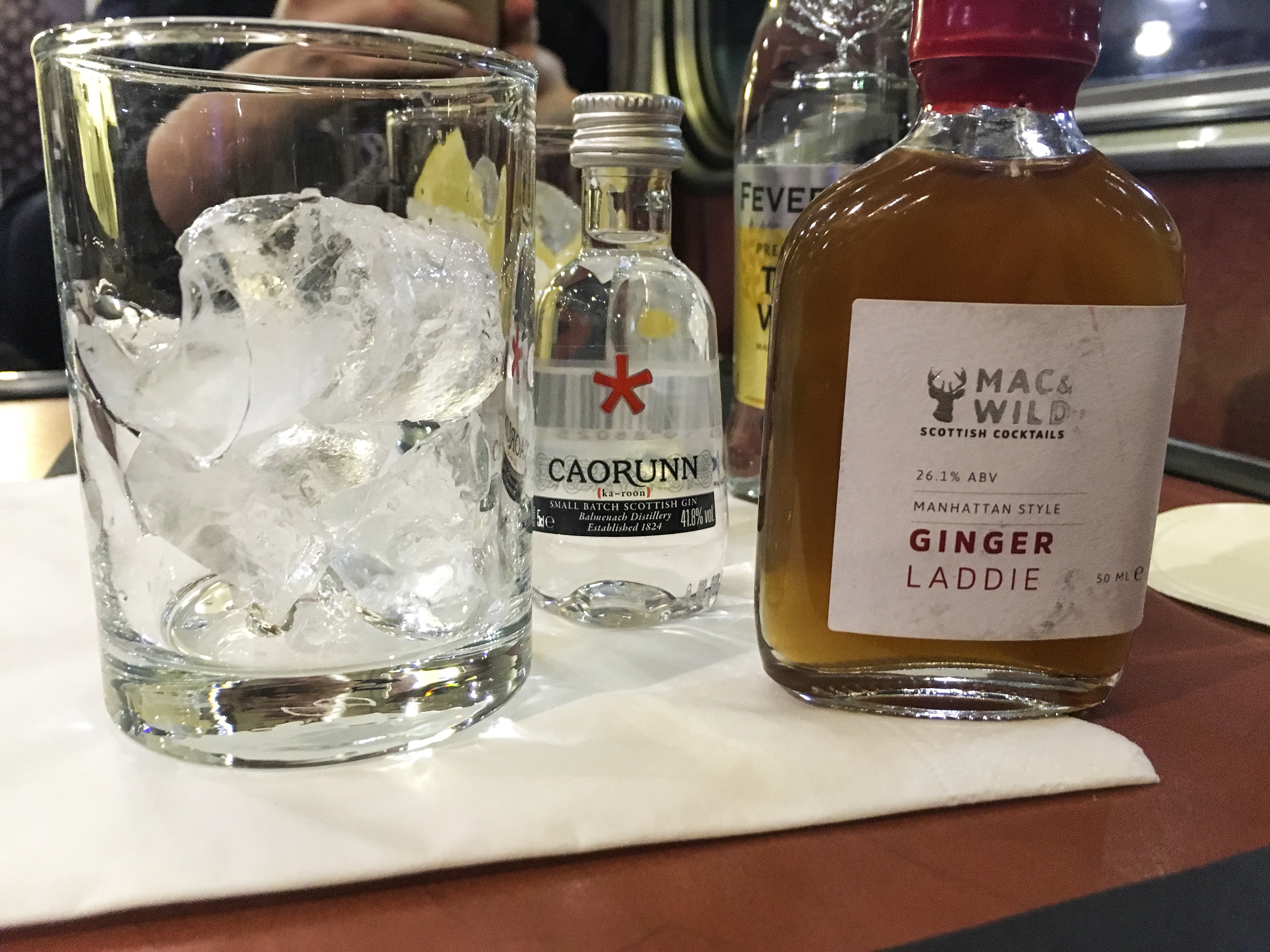 The Ginger Laddie is simply a pre-mixed whiskey cocktail that passengers pour over ice. Some mightn't be too impressed, but it's certainly miles better than a measly gin-in-a-tin in your cabin! We've previously enjoyed Mr. C's award-winning, hand-shaped pies and were similarly elated to see them offered on the menu and we chose the salmon one to share as a wee starter. Naturally, we both also ordered the haggis again on this trip. So you know when we said it was delicious, we meant it! Be sure to order whisky pepper sauce.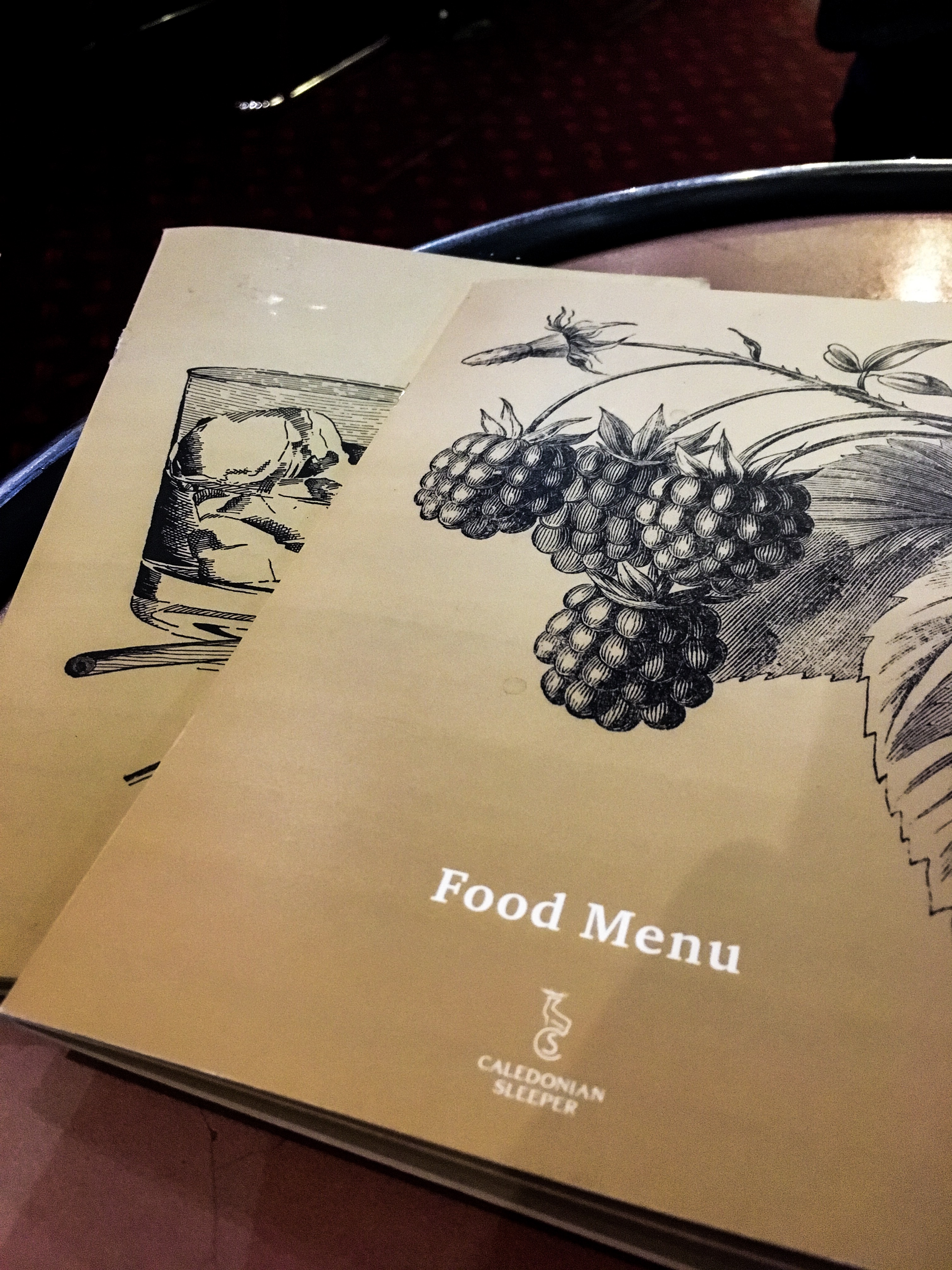 The menu now further emphasises that the Caledonian Sleeper has sourced products from carefully-selected producers across Scotland, offering passengers the best flavour of Scotland possible on board the train service. Looking around the dining car, the cheeseboard (featuring Highland Brie, Strathdon Blue and Tain Truckle Cheddar) was incredibly popular – almost everyone ordered it with their libation of choice. As tempting as it was, after two courses we finished the eve with a traditional Scottish nightcap of a wee dram of whisky from the esteemed selection- Arran 10 year and a Balvenie Doublewood, both £6.50 each.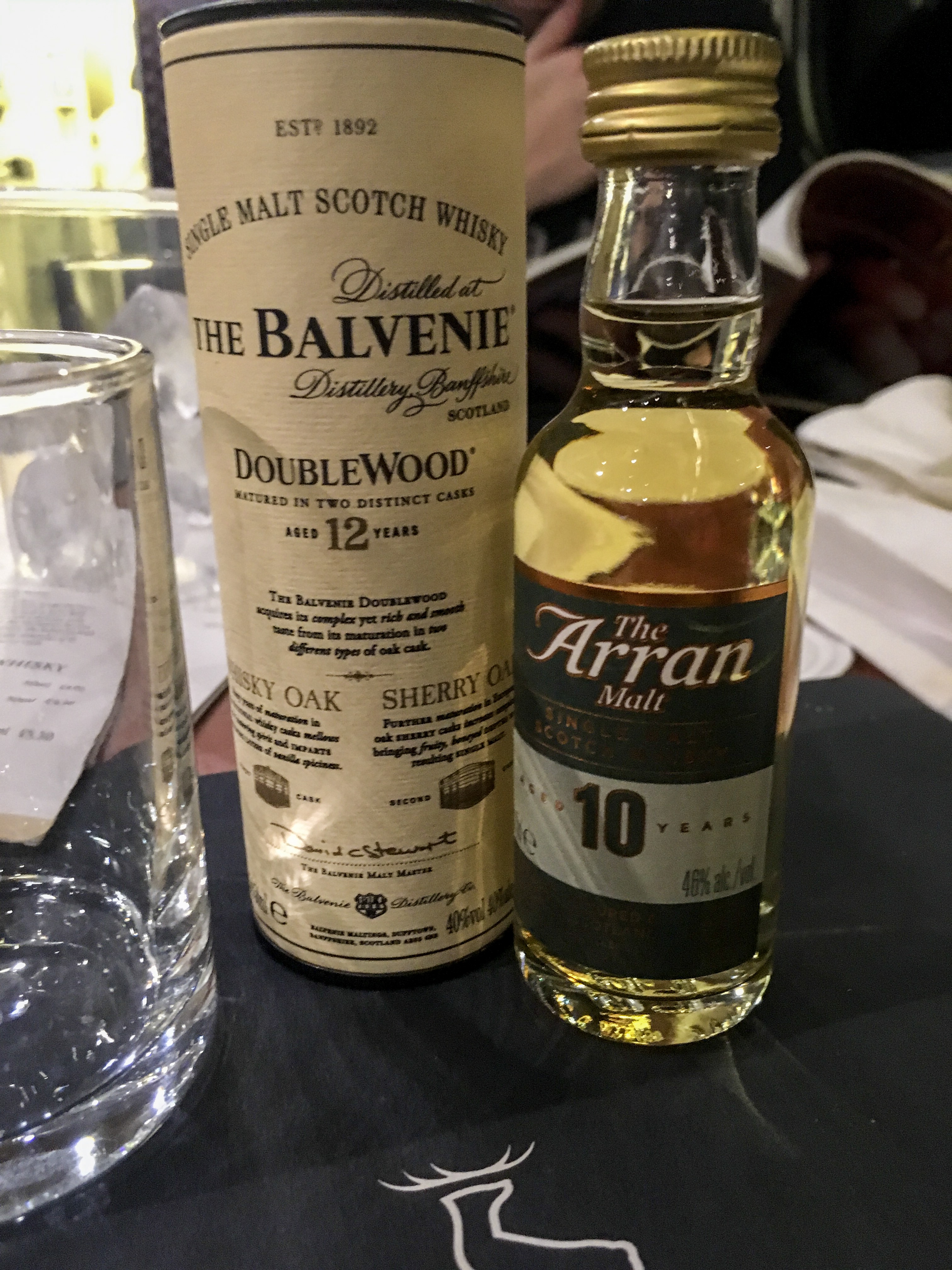 There was no rush to get us out of the dining car, despite it ticking ever closer to midnight. Customers are welcome to stay until about 1am, but with an early start beckoning for all on board,  it's unlikely too many chase closing time. We'll be back at breakfast time.
The Burning Question: How Did You Sleep?
It's hard to say. We all enjoy a peaceful night's sleep in darkness and virtual silence, but honestly you're never going to get while creaking along through the Great British countryside. In fairness, you don't get that while on an overnight flight across the globe either. There is always that constant noise, from the hum of the engine to the rattling of the tracks, tunnel reverberation to birdsong in the early AM. It's aim is to be as comfortable as possible, slowly-moving during the early hours of the morning, temperature controls in the cabins and, cosy duvets and comfy beds made as snug as possible.
We both woke (both times) surprisingly more refreshed than anticipated. Not a perfect night's sleep but it did the job, we were energised and not in any way cranky or disorientated like we had just endured a disrupted night's sleep. As promised, your attendant gently knocks the door early enough to rise in plenty of time for disembarking, armed with a hot drink and biscuit to enjoy with the sunrise view across the Scottish countryside. As we both grew up somewhat rural Ireland, this was one of the most beautiful sights we could've seen. It felt really special.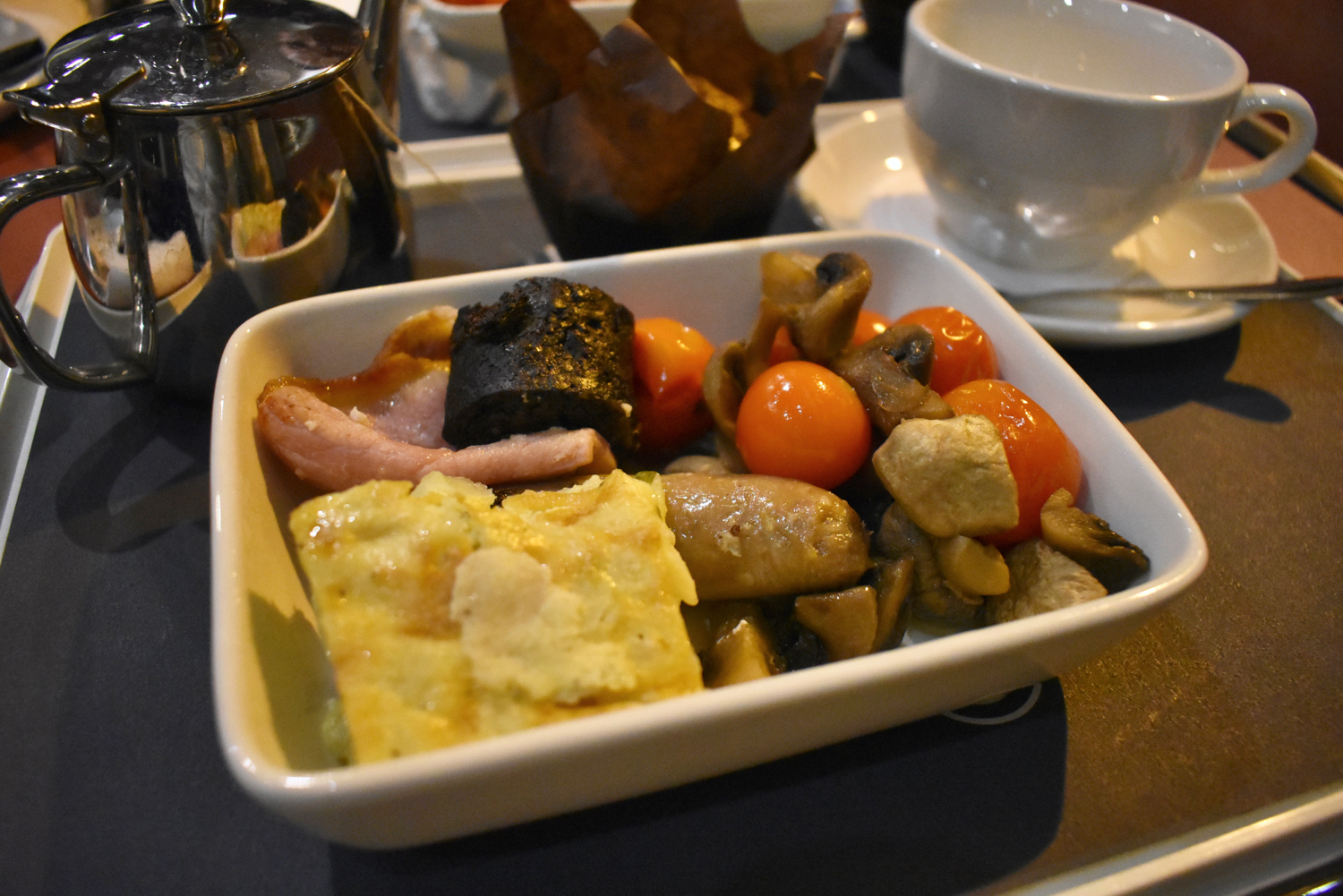 You can pre-book to have a cooked breakfast in the cabin, from a Highland Breakfast, to Smoked Salmon and scrambled eggs and porridge. If you travel first class, you get complimentary breakfast included as part of your fare, which you can have either in the lounge or in your cabin. We both ordered the Highland Breakfast which was perfectly fine, though served in a slightly less desirable style than the meals the night before (on proper plates etc.) but we've heard good things about the salmon & eggs too. You're also given a muffin, juice and tea or coffee.
Since 2019…
In 2019, the Caledonian Sleeper updated the fleet, starting on the Lowlands service, and will eventually be introduced on all Highlands routes.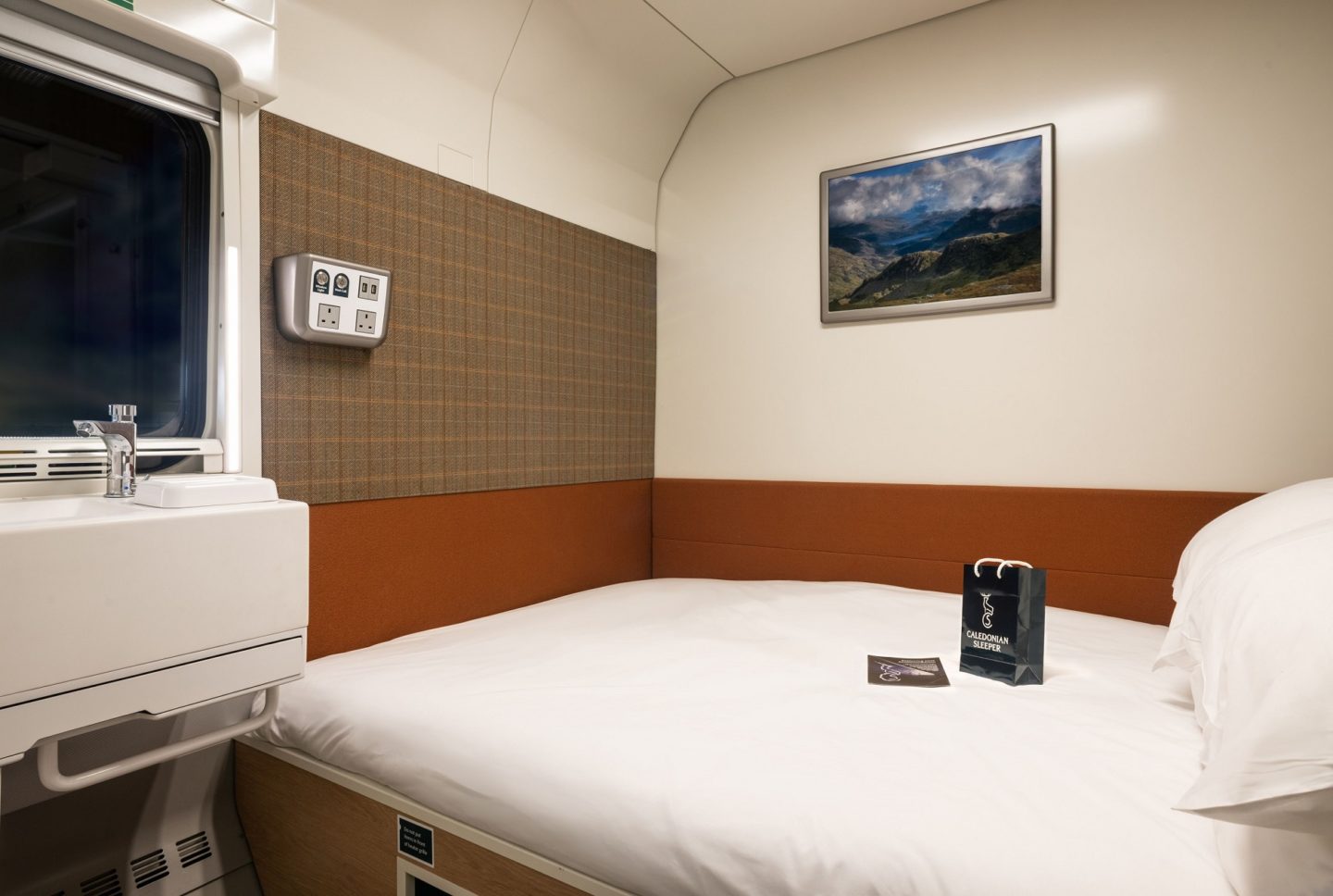 There are some changes to the pricing structure and options within classes including the option for a double bed:
Comfort Seats start from £45
Classic Rooms from £140 for Solo or £170 for two people sharing (equating to £85 per person)
Club Rooms from £205 for Solo and £250 for Shared

Caledonian

 Doubles from £335 for Solo and £400 for Shared.
All Accessible Rooms are priced at the same level as Classic Rooms – including those with double beds.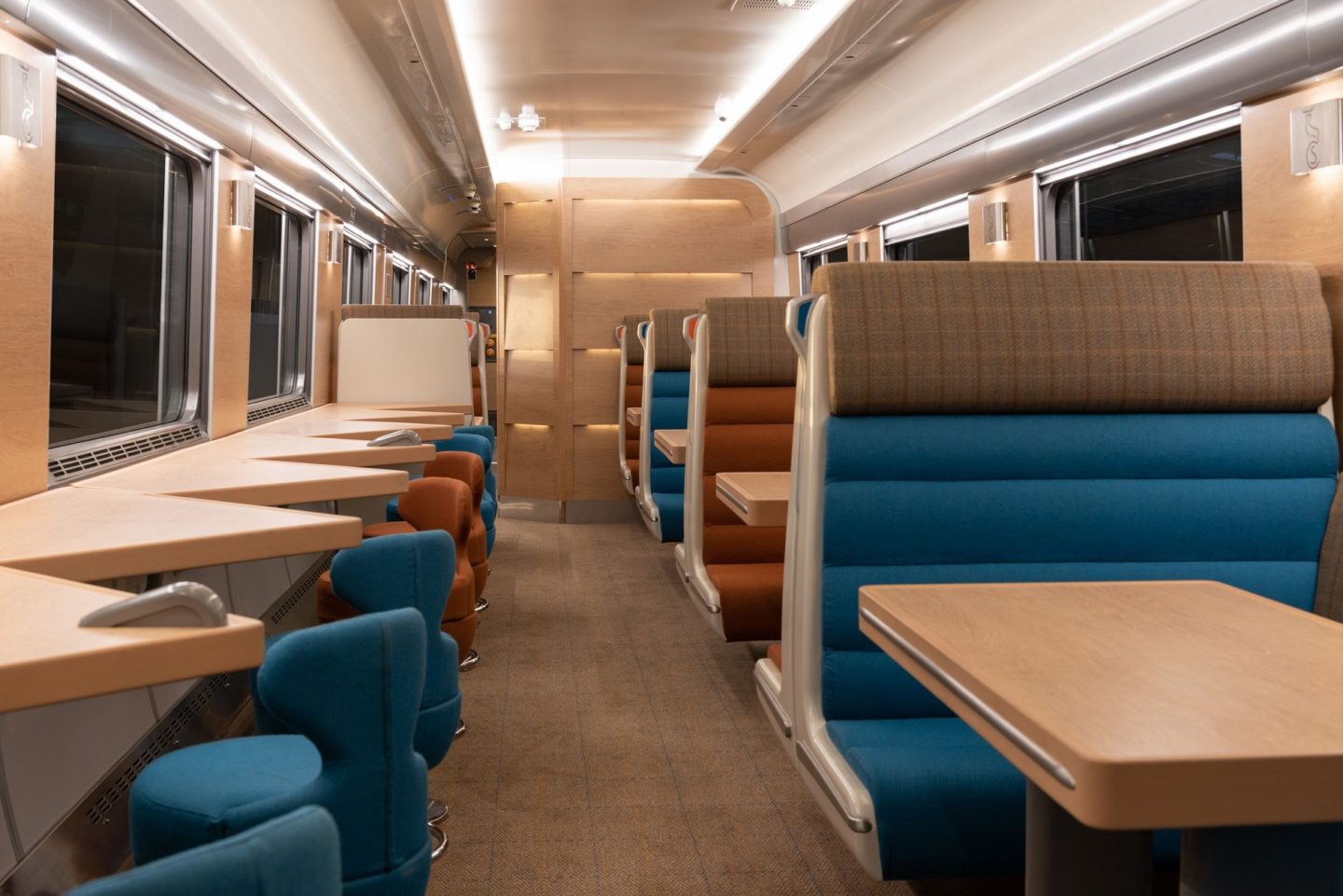 Why The Caledonian Sleeper?
We hope in reading everything that's come before this point, you've already been inspired and this question has been answered. But we can think of many other reasons. We're old-school lovers of traditional rail travel, and it's sad to see that across Europe more and more sleeper services are being discontinued by rail operators. Whether that's customer demand as we're all spoiled with short-hop budget air travel or just the expense, time and effort of running the services, it's really sad to see. In the United Kingdom, there are still two services surviving. The Night Riviera, operated by GWR between London and the West Country, and the Caledonian Sleeper. So by embracing this form of travel, you're supporting its livelihood.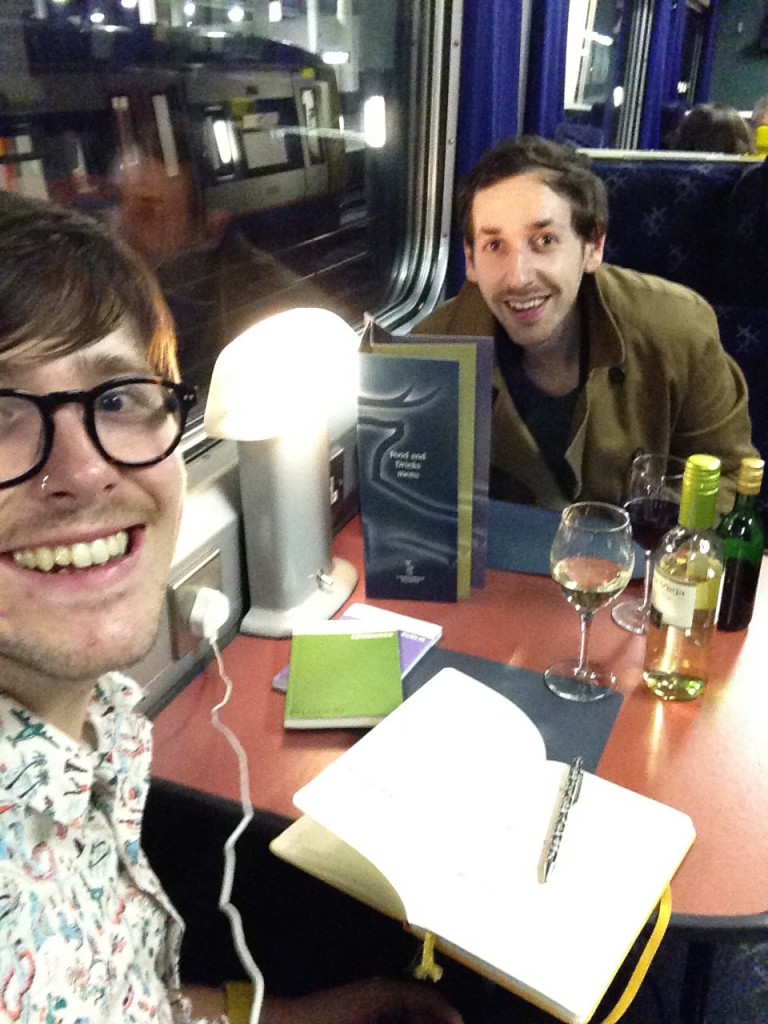 What's more, if you're travelling around the UK, it's actually the most economical means of transport, where time is concerned. Think about it: if you fly, say, London Gatwick to Edinburgh you need to get a train or taxi to the airport, arrive an hour or two earlier, pay the air fare, then get a bus, tram, train or taxi on the other side into the city before checking in to an expensive hotel after a substantial amount of hours travelling. Aboard the Caledonian Sleeper, you're already in your hotel for the night and it's city centre to city centre. While it's a longer journey and may be a premium price for the service, you're killing two birds with one stone- travelling and sleeping. Plus there's so much more room than an airplane could ever afford.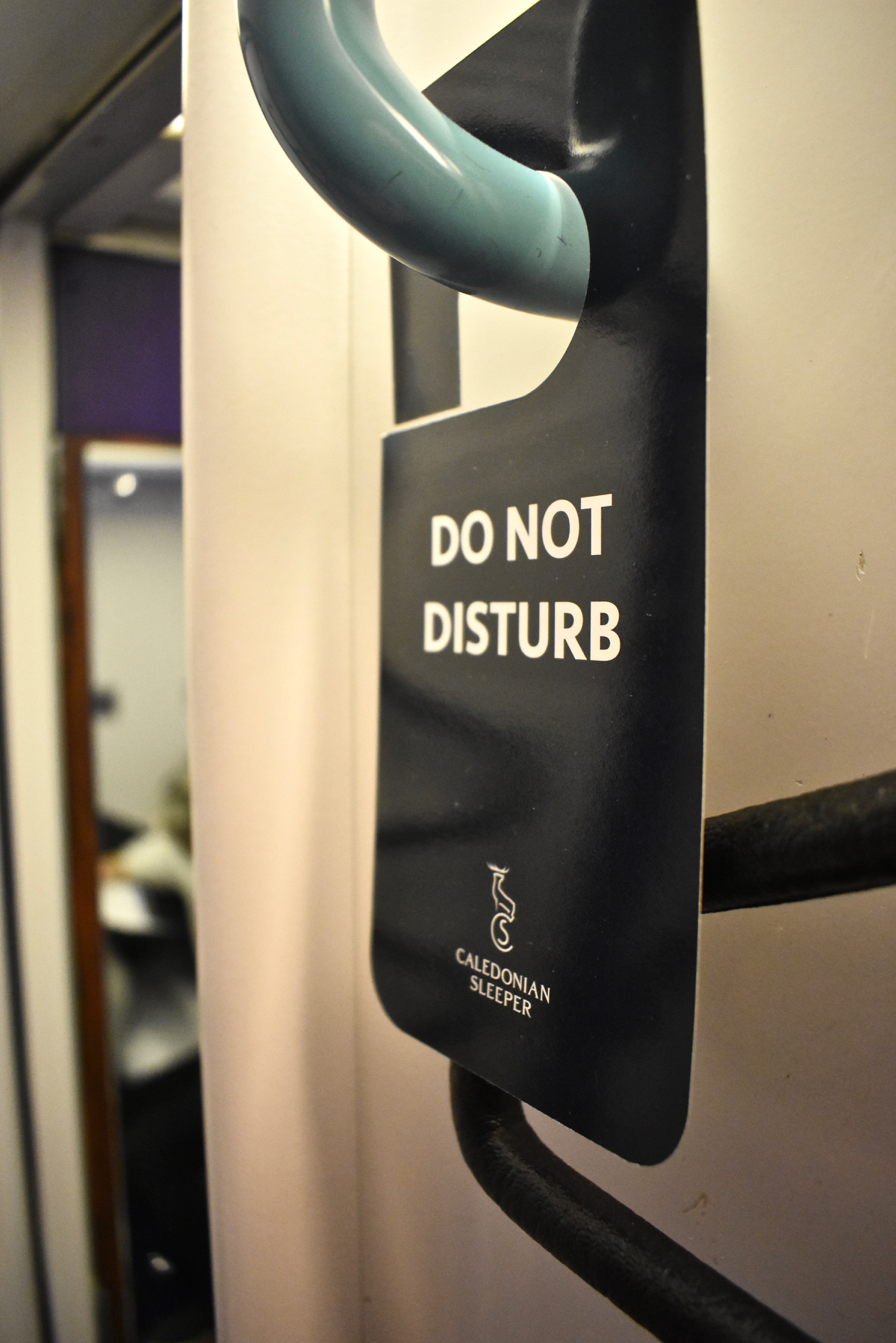 As we say, and many others echo, there's something quaint, wistful and romantic about travelling on a sleeper train. It's a different, unusual and unique experience we think everyone should try at least once!
Tickets for the Caledonian Sleeper can be booked on the Caledonian Sleeper website up to a year in advance, where you'll generally get the best fare. Valid railcards can also be used for additional discounts.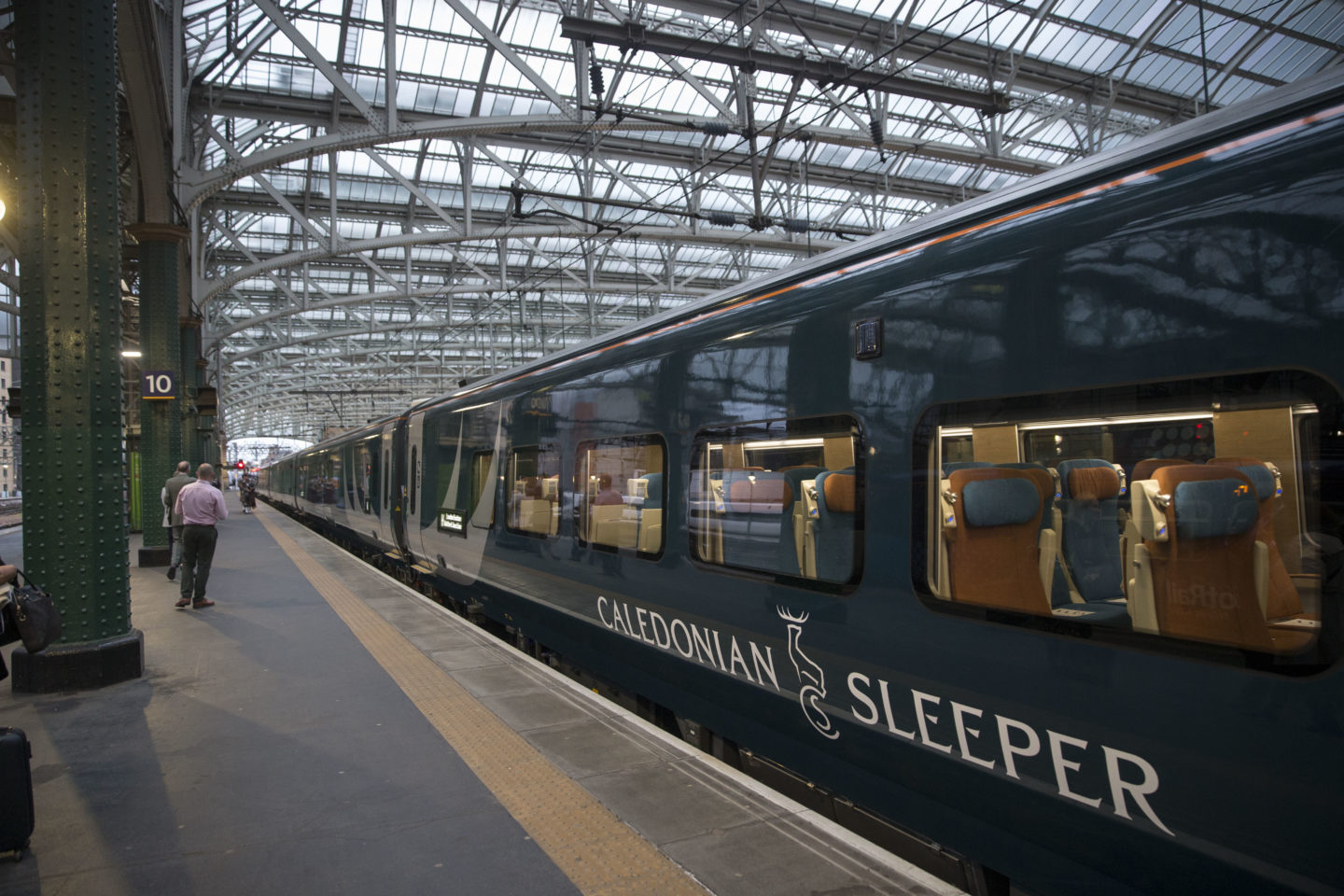 For more up to date information, scroll up to From 2019…
Disclaimer: We paid for our first journey in 2015 on the Caledonian Sleeper with no assistance from the operator whatsoever. For our journey in 2017, we were assisted by the operators in order to update our original post to include changes made since then. Opinions and views all our own.