Cult Irish food condiment Smoked Onion Mayo, created by Heather Connolly of Galway cafe Builín Blasta has been so successful it's led to record turnover, national supermarket listings and a dedicated manufacturing facility to aid scaling up.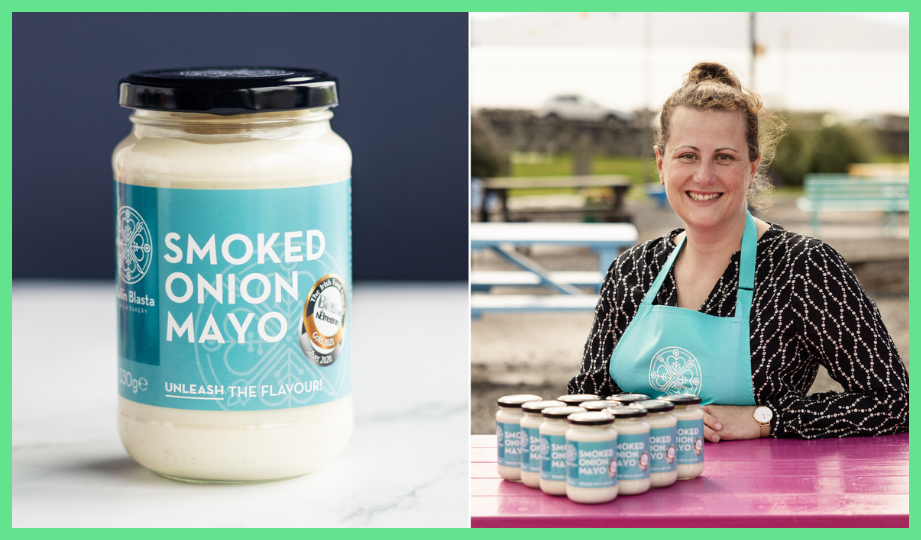 It's no secret we ourselves have been huge advocates and supporters of this addictively good flavoured mayonnaise, shouting the word far and wide for the last four years on social media not to mention having a dedicated illustration of the product in the pages of our debut cookbook, Hot Fat. It's wonderful to see Heather's success with this product range and indeed with our steering of the popular Irish language café & bakery based in Spiddal, which is predicting a record turnover for the business in 2023 of more than €1.2 million.
How did the little cafe that could get to this point? Well, most recently the Smoked Onion Mayo was one of the winners of the Grow With Aldi scheme, which offers seasonal listings in the supermarket brand for small, medium and artisanal producers across Ireland as a stepping stone to retail success. Though organised somewhat as a competition to get the most sales, pitting producers against one another as till point contenders to reach sales targets – which we personally don't agree with – ultimately those who succeed the most are often offered a more permanent or longer-contracted listing. Heather's mayo was one of the stand-outs of the 24 products included in the 2022 programme and will now supply, and be listed in, all 152 of its Irish stores. The product will be available in 330g jars at Aldi stores nationwide for the price of €3.79, whilst the product range is also available to-order from builinblasta.com.
Heather says "We knew our Smoked Onion Mayo had a bit of a cult following, but we were surprised to get through to the final round of Grow with Aldi at our first attempt… [this] is going to provide a big boost for our business and means we can confidently make investments in new equipment and staff. Something that was on the cards for a long time, but is now a reality.". Calling the S.O.M "our one-of-a-kind product" Heather adds that she loves that customers "are fanatical about it too".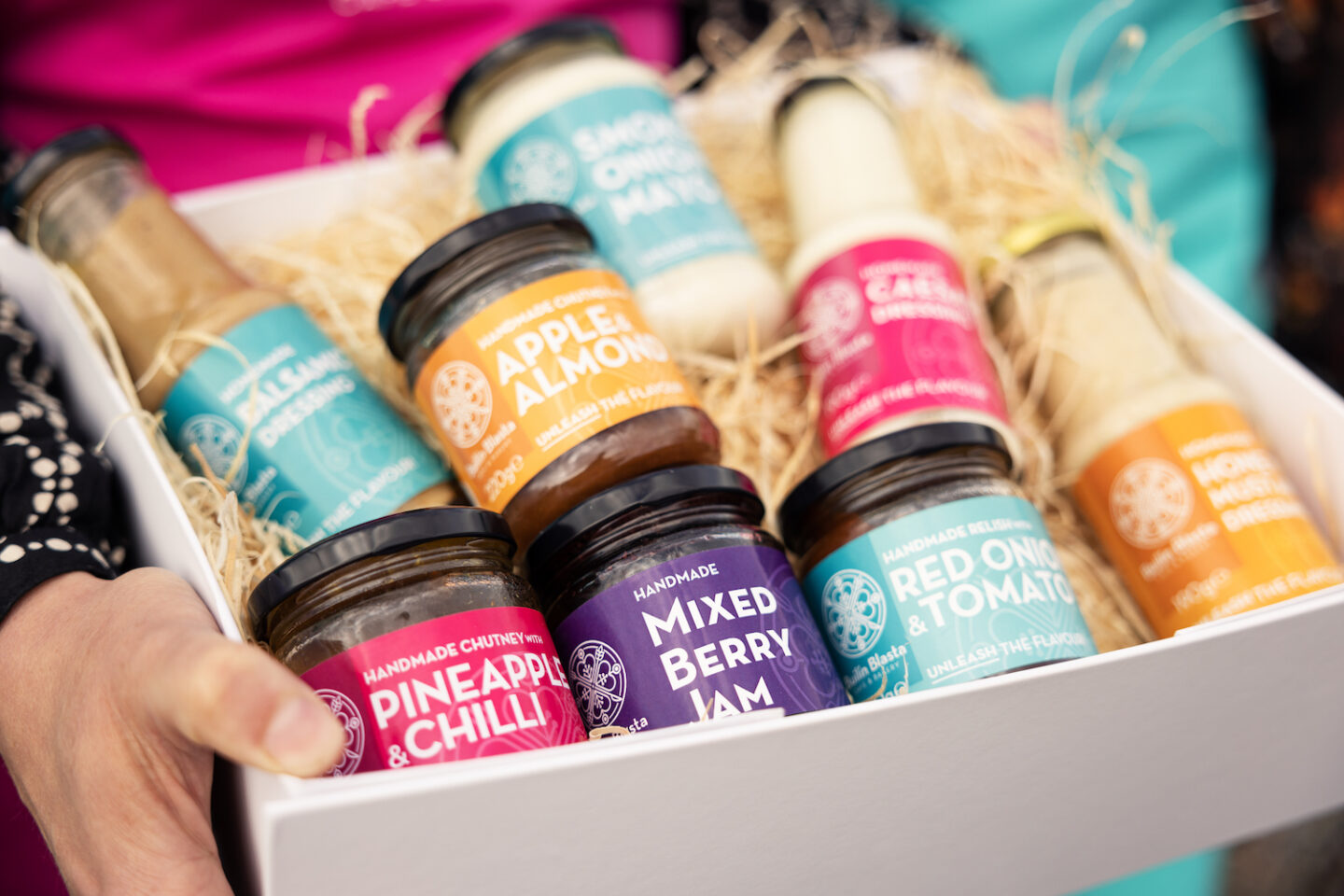 The S.O.M sits within a small but mighty product range from the cafe, which uses the cafe's name as the producer. Initially simply developed as a range to use in-house in the cafe and bakery dishes in 2018, the range includes a Red Onion & Tomato Relish, two chutneys (Apple & Almond Chutney, Pineapple Chilli Chutney) and a trio of dressings: Honey Mustard, Balsamic Vinaigrette, and Caesar. Each of the products were designed to help to boost the flavour of home cooking, elevating a dish with one simple, quick and delicious addition. A Mixed Berry Jam has recently been introduced, too.
The mayo in particular became THE thing to have in your pantry and the contemporary condiment received nationwide demand. The S.O.M. has been critically acclaimed and widely acknowledged, receiving Silver (2022) and Gold (2021) at the Blas na hEireann Awards, and Silver in the Rogha na Gaeltachta category at Blas in 2020.
New Manufacturing Facility for Builin Blasta
Fresh on the back of their Grow with Aldi success and, aided by funding from Údarás na Gaeltachta, Builín Blasta has scaled up significantly to meet the anticipated nationwide demand. Production of its award-winning Smoked Onion Mayo and the Spiddal-based café and bakery's other gourmet sauces, chutneys, and dressings now have their own dedicated manufacturing facility. This has allowed for the introduction of semi-automatic processing, a key step in up-scaling the business to increase capacity. The new facility has also added another four full-time roles to the business, on top of the eighteen full-time and seasonal staff employed at the café. This is also means new product development and more exciting flavours are in the plans to be added to the range, including a Spicy Smoked Onion Mayo.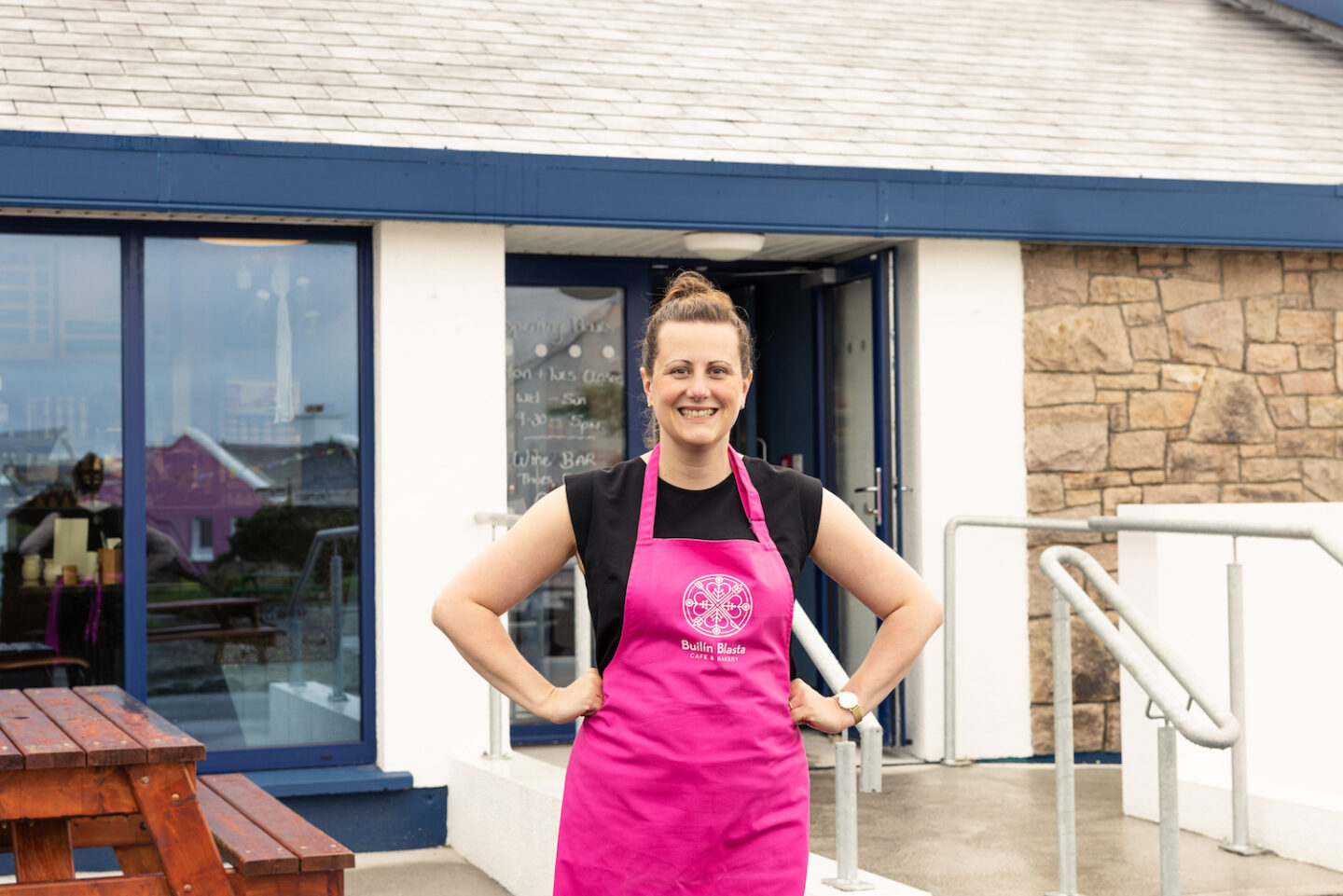 Chef-Owner Heather Connolly, Builín Blasta Cafe & Bakery
Canadian chef Heather hails from Saskatoon, Saskatchewan and moved to Ireland 17 years ago. Training in the Bachelor of Business & Culinary Arts at GMIT, she later became Head Chef opening The Gourmet Tart Co. in Salthill before moving to well-established, family-run gourmet food store McCambridge's as Executive Chef to launch the restaurant upstairs. In 2015 she struck out on her own by taking over the already-established cafe in the heart of the Galway Gaeltacht and, building on the success of the changeover, began to revolutionise the offering with the product range in 2018.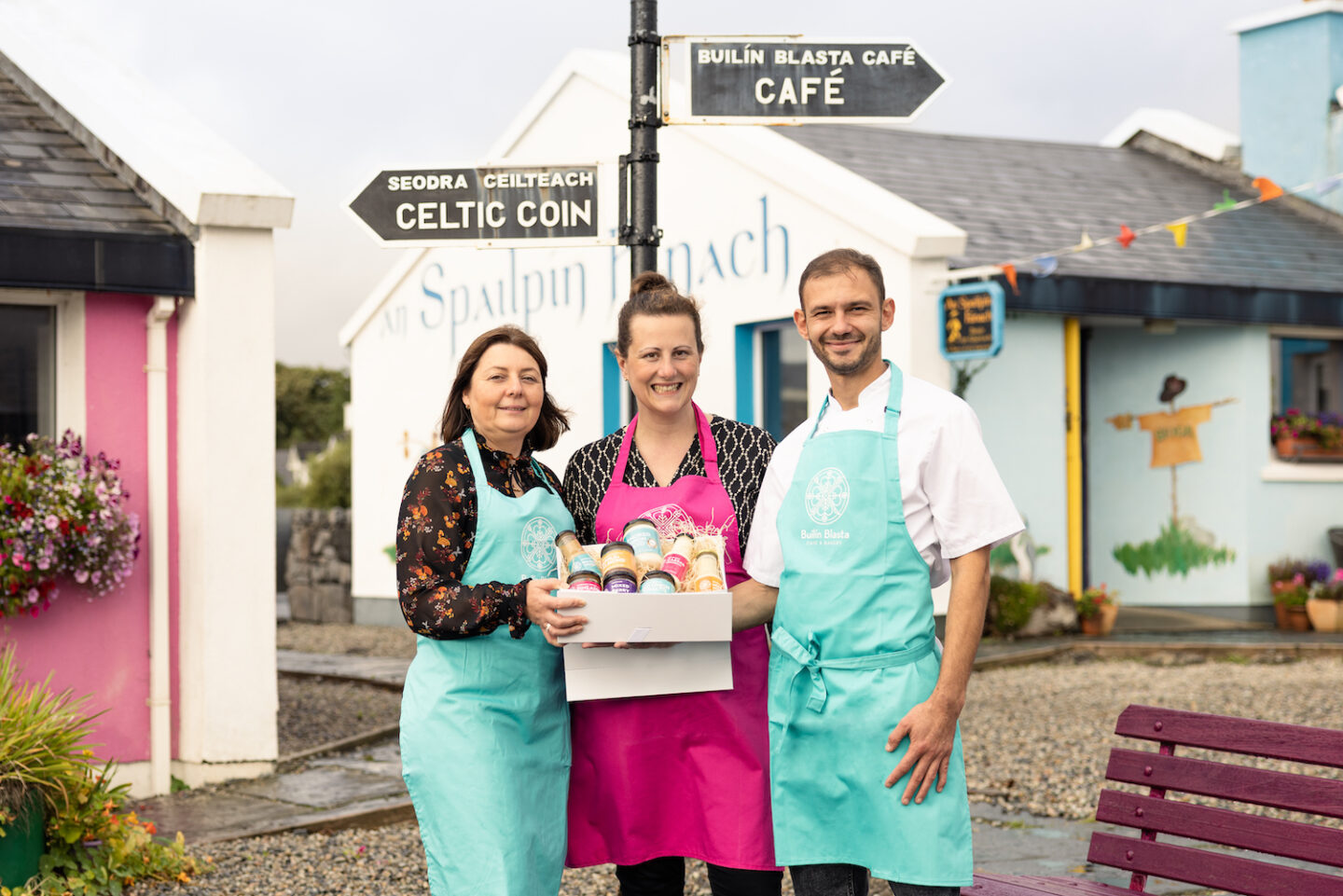 Joining her as business partners are Jenya Hardziyuk and Eimear Killian, pictured above (right to left). The cafe's menu specialises in wholesome, tasty comfort food that fits almost any dietary restrictions, and bears a distinct dedication to quality and hand-made from start to finish, including breads, cakes and pastries all made in-house. Builín Blasta also has an extensive retail and wine off-licence and is now open several evenings per week (Thursday-Saturday) until 10:30pm, offering a fresh and exciting Wine Bar menu.
Irish Artisan Condiment Hampers –– Christmas 2022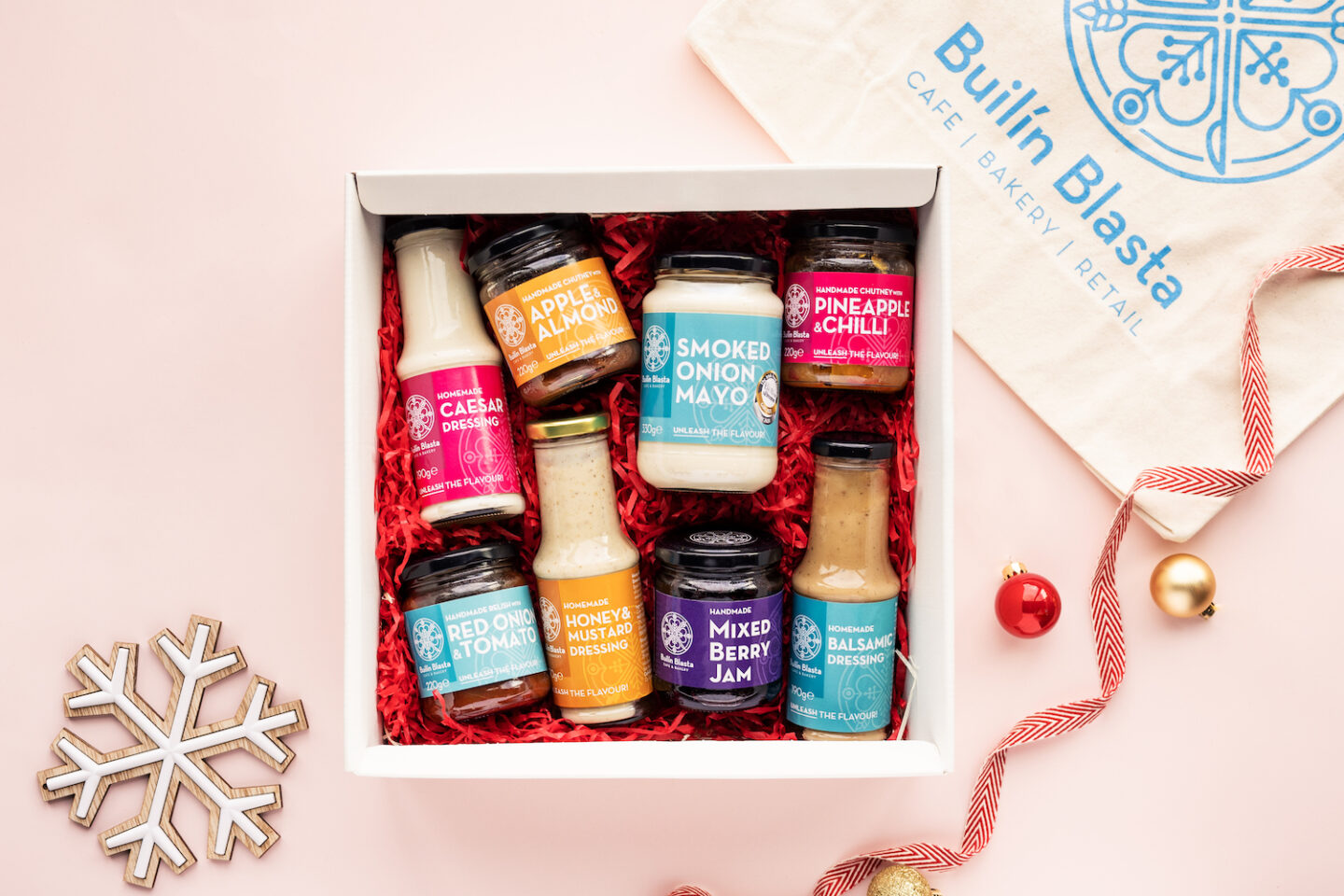 New for 2022, the cafe and bakery is launching gourmet hampers packed full of artisan Irish produce (and beautiful wines, considerately sourced from around the globe) with the Builín Blasta product range front and centre. A range of different options are available to order online for nationwide delivery, including with/without wine, different selections of sweet and savoury goods with/without the Builín Blasta product range and also selections including Irish farmhouse cheeses, crackers and mugs.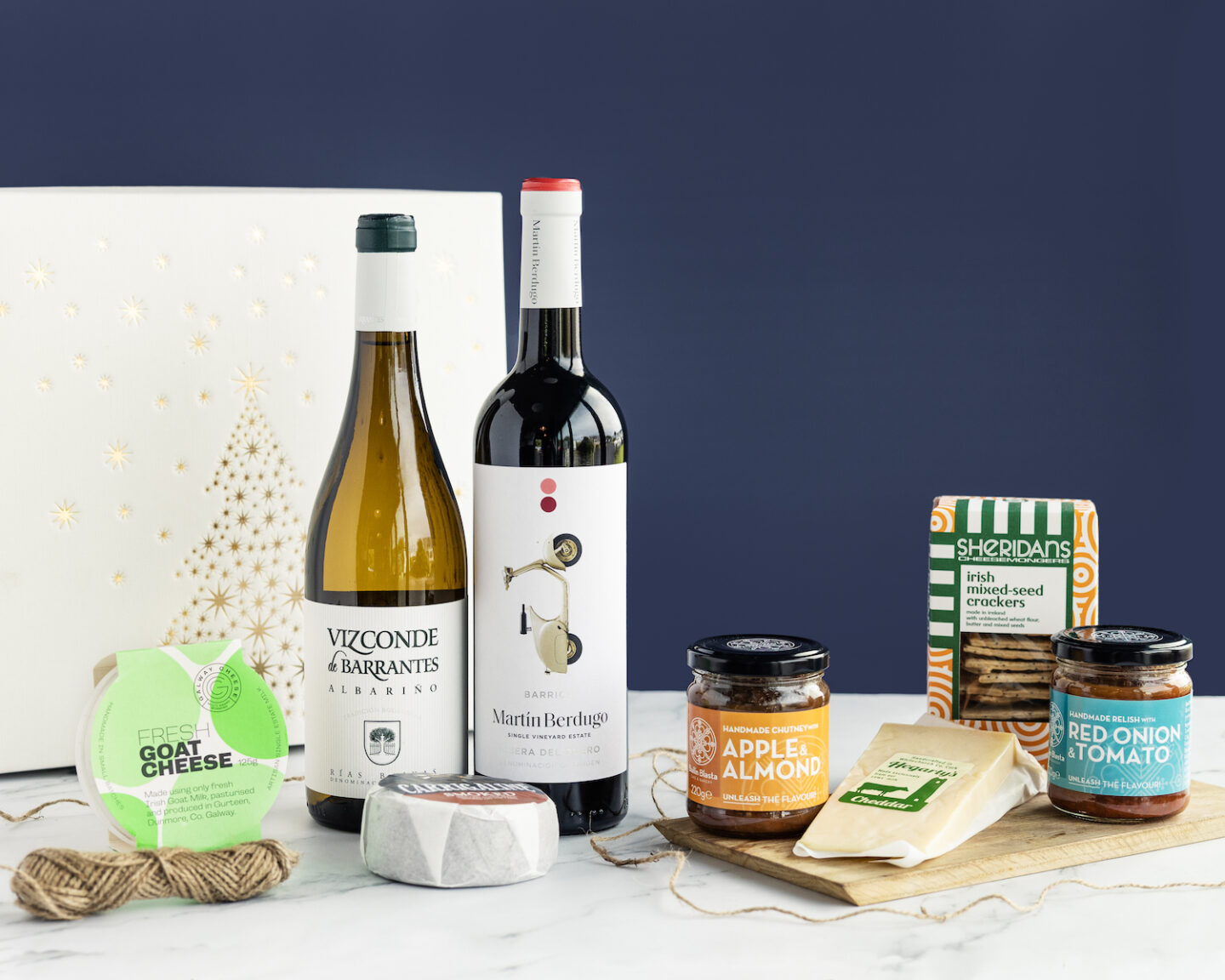 Order via builinblasta.com and final orders for guaranteed pre-Christmas delivery is Tuesday 13th December 2022.