We're on a mission. We want to convince as many people as possible to try sprouts. So often resigned to a sad, lonely, unloved corner of the Christmas dinner table, we adore Brussels sprouts year-round and don't really understand why the sprout-averse balk at the mention or sight of this humble little vegetable. Yes, we know for years your parents or grandparents possibly boiled sprouts into oblivion until the smell stank the entire house and tainted the flavour of Christmas forever, but hear us out: try sprouts again. We're convinced so many have historical fears of the brassica from Brussels because they've had them cooked incorrectly, so we're sharing a recipe here that really makes sprouts sing!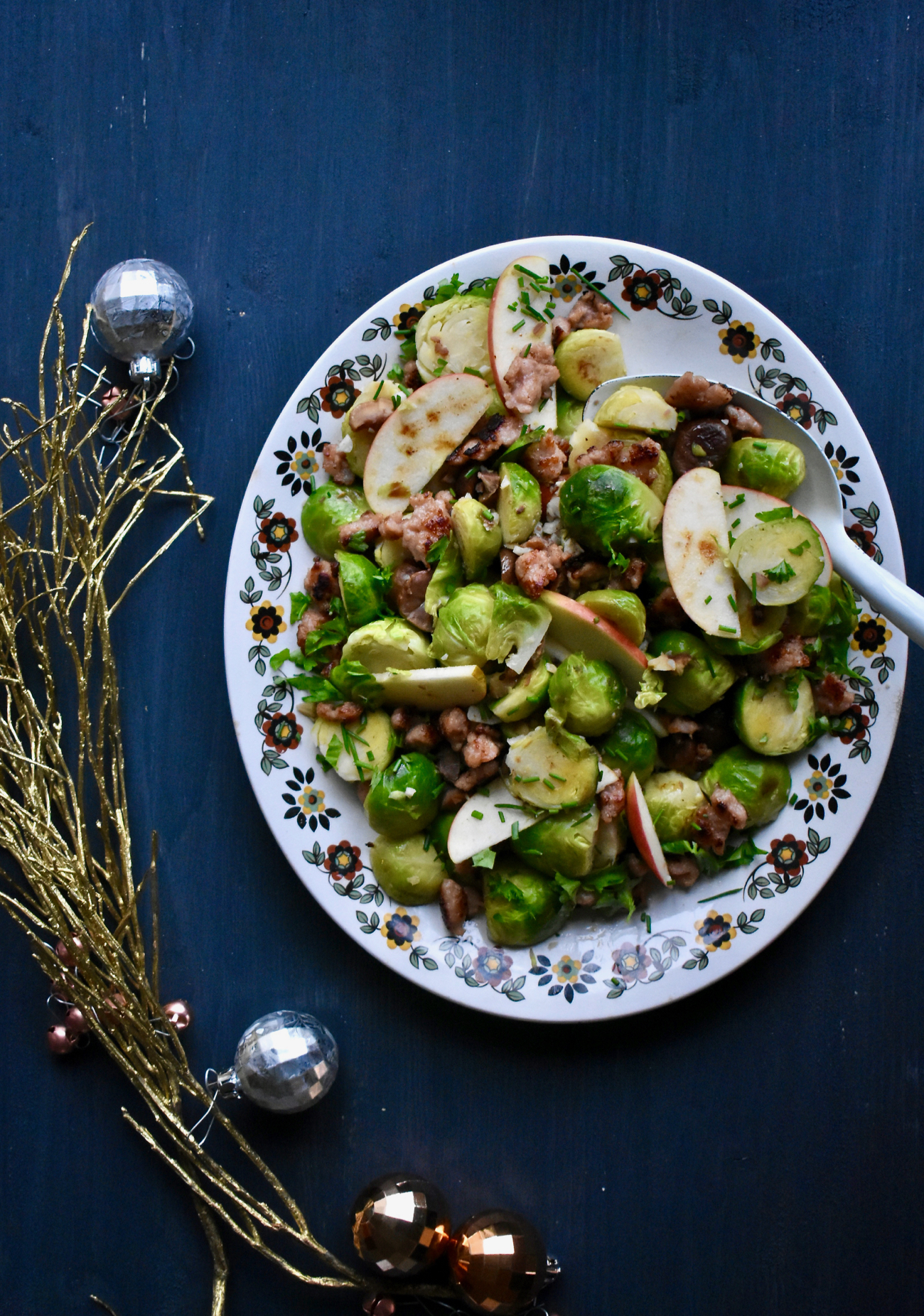 It doesn't take a lot to make a sprout sexy. Think of them as tiny cabbages, except crunchier and sweeter. We love to pan-fry them and then steam them, which we guide you through in the recipe below, and we serve them a hundred different ways. This year, our Christmas spread is going to feature this variation, studded with creamy, nutty chestnuts, strewn with sharp slices of apple, topped with bite-sized sausagemeat morsels and dappled with fresh pomegranate seeds. You still with us? Great… we guarantee this is a game changer in Christmas sides.
A Star Side: Brussels Sprouts with Chestnuts, Apple and Sausage
Serves 4-6
1kg sprouts, trimmed at the base, discoloured outer leaves removed
180-200g chestnuts, pre-cooked (we use Merchant Gourmet)
1/2 a crisp apple, we like Braeburn
1 large clove garlic, we use

Drummond House

which is local to us
3 regular-sized sausages, we used James Whelan Butchers
A handful of pomegranate seeds
A thumb-sized amount of beef dripping (we use James Whelan Butchers – a Great Taste Award Supreme Champion!)
A small handful of chives and/or flat leaf parsley
Coarse sea salt (we used Maldon) and pepper
(optional) a generous pinch of nigella (black onion) seeds or fennel seeds
1. Melt the beef dripping in a large pan over a medium heat as you prepare the sprouts by halving them. If your sprouts are very large, like when in prime season in December, quarter them.
2. Fry the sprouts in the dripping over a medium heat until they are very lightly coloured on one side and then give a stir or toss to colour the other sides. This should take about 3 minutes or so.
3. Meanwhile, mince the garlic and add to the pan with some salt and pepper for seasoning. You can add the nigella or fennel seeds here if using. Stir everything around in the pan to get it all slicked in a little oil and then pour on just enough water to cover the base of the pan in a single layer, about 75ml and clamp on a lid.
4. Now, the sprouts are steaming to cook them through so allow them to steam for 3-5 minutes with the lid on – depending on how large or small your sprouts are you want them to be able to be pierced with a knife, but not mushy. The key here is al dente. At this point slice the apples into thin crescents and slightly break up the cooked chestnuts and add to the pan with the sprouts. Now, take off the heat if done. If they still need a little longer, keep the lid on whilst off the heat and allow the residual heat to keep working.
5. Meanwhile, remove the skins from three sausages and take off very small bite-sized chunks of sausage and add to a medium-hot pan with no oil. Cook the sausage meat until coloured and using a spatula or slice keep cutting into the meat to make it smaller and smaller – you ideally want the size of broken down mince (check out our Thai laab recipe for visuals).
6. When the sausage meat has almost cooked, assemble on a big sharing platter – the sprouts, chestnuts and apple mixture first, then topped with the a strewing of sausage meat. You're using the sausage here as a garnish rather than a main ingredient.
7. Follow suit with the chopped herbs and serve warm, allowing everyone to help themselves.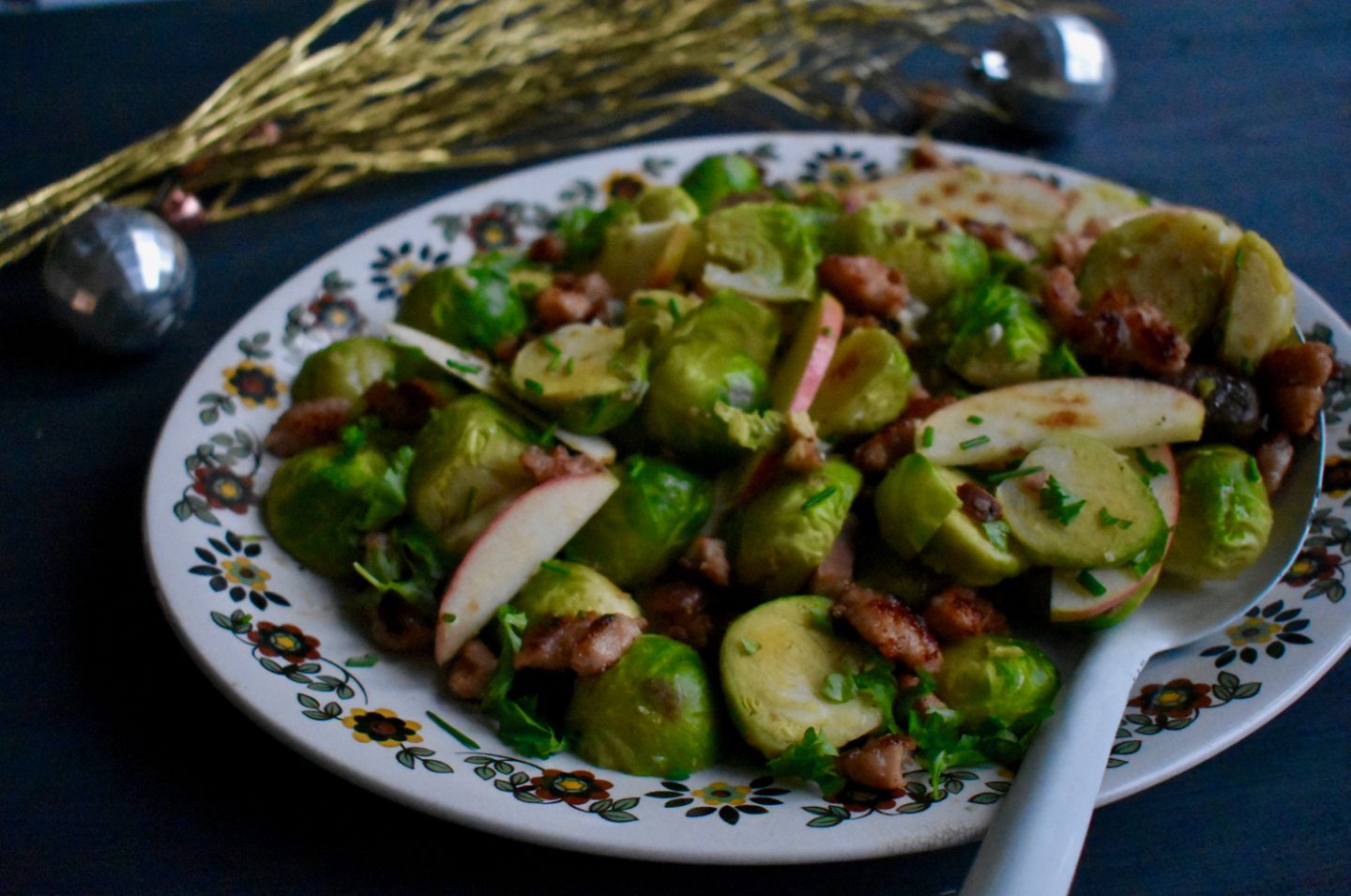 Want some more Christmas culinary inspiration? Try out our Christmas Canapes, inspired by family tradition, or our Christmas Collection, a FREE downloadable PDF of different festive recipes.