You know those places you've gone to once or twice and absolutely adored and you're set in that awkward in-between, torn between going all the time at the risk of becoming bored of it,  and never going again for fear it won't live up to the self-instilled hype. We find ourselves in that predicament so often with places in London, so funnily enough here's a post about the first proper meal we had when we moved to London that we've never forgotten!
So pizza is big business in London, but that's nothing new. You've got your Franco Manca, HomeSlice, Pizza Pilgrims, Pizza Union, Pizza East, hell there's bloody Pizza Express branches on almost every high street. However, we wonder: can you really replicate that authentic, familiar flavour of time-honoured, traditional-style pizzas when you've got a standardised replica in every postcode in London. We don't believe so. Enter: Bravi Ragazzi, our favourite secret spot and arguably the best pizza place in London.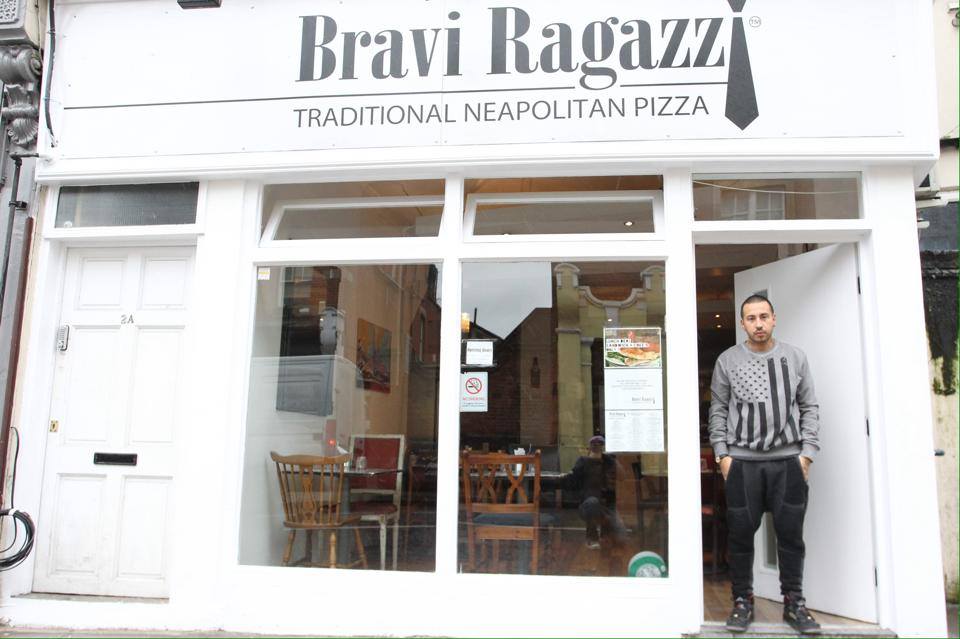 The reason we wrote that intro is we've only been to Bravi once. If you've been here too – we know, we know, shame on us. On second thought, we *may* have ordered it for takeaway another night as well. However ask us about pizza in London – which we've had shed loads of in our time – and we still come back, tirelessly, without a second thought to Bravi Ragazzi, situated in the south London suburb of Streatham. It's just the best and surely having only gone once or twice and still having loving, if not lewd, thoughts of this tiny pizzeria is exact testament to its superiority above all others.
So how the F did we end up in Streatham (which is just south of Brixton, FYI, in case you need help placing it) eating in Bravi Ragazzi as our first meal officially living in London, you might wonder? Well, when we moved over in July 2013 Patrick's sister and her boyfriend were already here a year and had set up house and home in Streatham. We very kindly were given their floor for a week or two to get our bearings in the big, bold new city we'd just landed ourselves in.
We wanted to celebrate with a special meal and both of them kept raving about this hidden pizza place they'd stumbled upon down a side street, effusing about how great value it was for incredible flavour. Naturally, we were sold!
Just off Streatham High Road, Bravi Ragazzi is set in a tiny dining room on Sunnyhill Road, decorated ultra casually but with a modern lick, white walls, relaxed art and a couple of small two and four-person tables squeezed not-so-comfortably together. Buck up; it's worth the elbow squeezing for what you get served.
The feature is, naturally, the eternally blazing stone oven, taking pride of place right behind the incredibly compact bar. This place is self-described as "a new generation of Neapolitan pizza" and Bravi's speciality is wood-fired sourdough pizza. Though there's a young, fresh-faced team, it's important to note here it's all about is "old traditions kept alive".
We visited on what felt like the hottest day of the world's existence, where the Earth's core had risen to replace all of the roads and that burning orange ball in the sky felt like it was an inch away from your face. So *naturally* we decided to have dinner in a pizza restaurant where the open oven felt like it was literally blowing out flames interspersed with crispy, beautifully burnished pizzas with chewy, light doughs and scant, but sensational toppings. Go figure.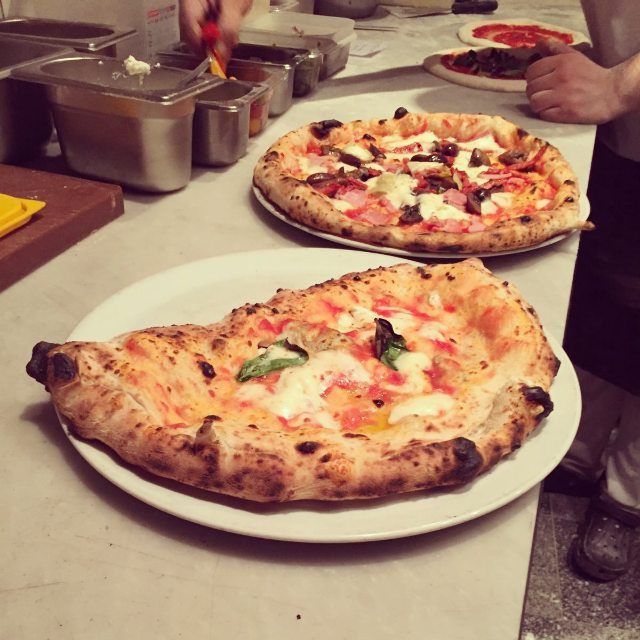 On aaaany other evening, the beautiful stone oven which sits mere metres away from hungry diners would have us ooing and awing with its intoxicating aroma and sweet warmth. However, aside from sweating buckets and having to excuse ourselves from the table every ten minutes for a gulp of fresh air outside, that first experience was still totally delicious.
So what did we eat? One of us was drawn by the allure of the unusual combination of mozzarella, broccoli and sausage on the Salsiccia E Friarielli pizza, the other opting for the Caprese-inspired Bufalina with a combination of tomatoes, slices of luxuriously soft buffalo mozzarella and freshly-torn basil leaves.
Lauren and Ian shared the (legendary, we're assured) four cheese pizza and another topped with tuna. Basically, whatever you order it's likely to be incredible. Promise. Actually, our friend Helen Graves (of Food Stories blog fame and Londonist's expert Food Editor) wrote about Bravi and sung  the praises of its anchovy pizza, in particular.
What's refreshing about Bravi Ragazzi is they don't necessarily shout from the rooftops. There's no grandiose notions to 'take over London' with chains aplenty. They don't even really market themselves. This place wins plaudits by word of mouth – most likely word of pizza-stained mouth as once anyone tries here they'll probably run out instantly and tell five friends with the taste still lingering on the tastebuds.
Now for the bad news: we lied. This place is not really a secret at all. Bravi Ragazzi has been raved about and heralded as one of the best pizza places in London by The Independent, The Telegraph and even awarded by TimeOut.

We haven't been back to Bravi because after that heatwave-y fortnight where we first tried we moved way out to the East End so it was too far of a stretch to travel, but every so often it still tugs at our tastebuds and we say to one another "what about going down to Bravi Ragazzi?"…