We're two very cynical people. Be they restaurants, bars, clubs, attractions, we'll always take the hype with a pinch of salt. When you mention you're visiting Iceland, the first thing so many people will ask is: "Are you going to The Blue Lagoon?"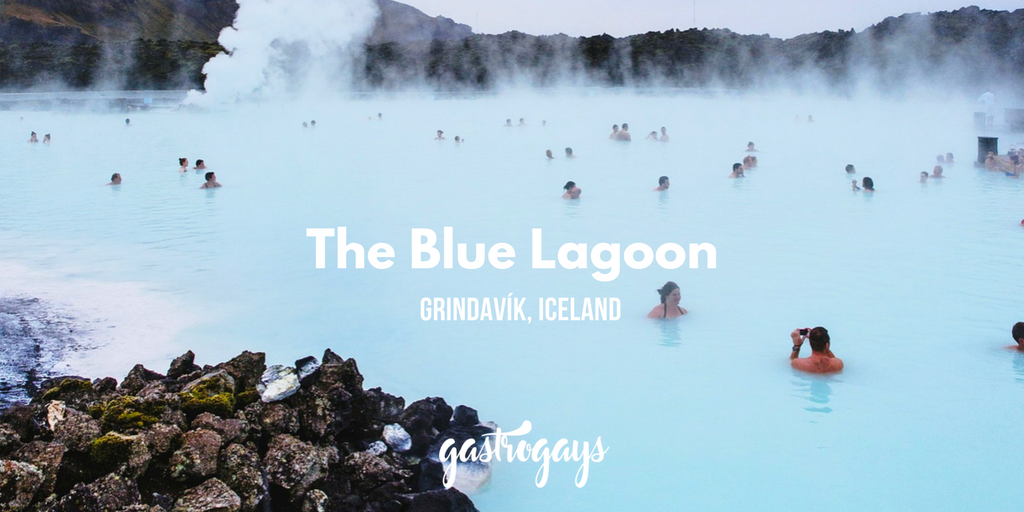 A place that everyone and their mother visits isn't normally imbedded in our itinerary, but we felt The Blue Lagoon was the exception, and we'd probably be refused boarding on the return flight if we hadn't gone!
This isn't some statue. This isn't a theme park. This is the equivalent of Iceland's Empire State Building, Big Ben and Eiffel Tower combined and it's welcomed millions of tourists. Established in 1992, it's now the most popular tourist attraction on the island of Iceland. Coach after coach park up outside delivering guests to bathe in the balmy naturally-heated springs whilst within the open, freezing north Atlantic air.
In the 70's, these geothermal pools began to form from the waste water of the geothermal energy plant nearby and from the 80's onwards, people began bathing in them. The water was believed to have healing properties, due to the silica present in the water, which also gives it the iconic blue colour. Everyone will have a different experience when they visit- time of day, weather, crowds. But we'll try to run through what to expect, 'cause The Blue Lagoon should be on everyone's Iceland bucket list.
Firstly, you must pre-book, and do it in advance. There are several different levels of entry, from Standard to Comfort (which would be 'economy' levels) and then the Premium and Luxury (more towards the luxe or VIP end). Full disclosure: we paid for Standard entry for two but the team at the Blue Lagoon gave us an upgrade from Standard to Comfort, for benefit of this blog post.
Blue Lagoon Comfort Level
Why should you opt for Comfort? Well there's not much different but you're provided with use of a towel (yes, you always forget to bring one, right?), your first drink at the bar is also complimentary as is an additional algae mask – a level-up complement to use after the silica mask, which is available to all. These might sound like frivolous extras, but it did add to the experience and ensured we used all of the elements available. If you're not wanting a full upgrade, the likes of towels, bathrobes and slippers are available to rent upon check-in if you're sticking with Standard.
Blue Lagoon Lockers
When you arrive and check-in, everyone is given a wristband, similar in size and shape to a Fitbit, which gives you access to the lockers in the changing room. It also acts as your tab for the bar, so strap it on tightly – you don't want to lose this in the water and there is a charge if you do. There's a bit of a knack to working it on the lockers and we were stumped, so some friendly advice from us to you: pick a locker, stuff your things in, when ready to lock simply close and hold your locker's door tightly and then hold your wristband against the lock system (which is shared between groups of lockers). Keep holding, a bar will load up and it will recognise the last-closed locker as yours and will lock accordingly, pairing your wristband with the locker you chose.
Squeaky Clean
Once you're changed and ready to go, you must take a shower before entering the lagoon. There are numerous levels of privacy available- the more, ahem, continental, communal style, but a small number of semi-private and private shower units are also available. (Obviously, we're only speaking about the mens changing area, we're not aware of the female!).  Thankfully, there's a space for whatever you're comfortable with.
When you walk outside, there is about an 8ft walk from indoors to the lagoon itself.  We visited at below freezing temperatures, so that walk was the equivalent of weather torture but the sheer relief and the contrast of stepping into the geothermal waters was utter bliss and kind of addictive.
Bathing in Iceland's Blue Lagoon
That's it, basically, the rest is what you make of it. You can swim around or sit about without being told to leave – there's no enforced timings. You can get unlimited silica masks from the hut, purchase drinks from the bar, sit around in the sauna and steam room to your hearts content.
We highly recommend getting away from the crowds- over towards the far left of the lagoon. Most people congregate around the entrance, the bar and near the sauna and steam rooms, which are all within immediate distance of the main building. But there's a large space of slightly warmer water, just under the bridge which we found to be more peaceful and relaxing. The silica masks are a must- they really make your skin feel refreshed, even when the rest of you has shrivelled up, resembling a sultana.
Blue Lagoon under Moonlight
If you're spoiled for choice on when to visit, we'd highly recommend going in the evening. Yes, depending on the time of year, it might be dark out. Yes, your Instagram pictures won't be quite as nice. Yes, won't see half as much. But you'll have one of the most zen, relaxing experiences of your life. Plus, it's far nicer to have a glass of Prosecco from the bar at 7pm rather than skulling it at lunchtime! For us, it felt very special about just being there in the moment as the sun set and night began to fall- the mountains and hills disappeared, while your swimming around in hot water in a freezing environment.
How to Find The Blue Lagoon
The Blue Lagoon is located 50 minutes outside Reykjavík, and coach transfers are bookable as an extra to your ticket. Coach companies in Reykjavík are very aware of the tourist market and most offer pick-up and drop-off from your hotel for a little extra – or you can make your own way to the Bus Station and get on the next departing bus from there. Car parking is available too if you have hired a rental car. The road network in Iceland is very straight forward, so you'll find your way here quite easily with a GPS system.
One nice recommendation we heard is to book-in promptly after you land, seeing as you're near Keflavik Airport, or as you're leaving toward the airport –a wonderfully relaxing and special start or end to your trip to Iceland!
Note: In 2017 there is a major team redevelopment and renovation project at The Blue Lagoon to improve facilities. These works will also see the opening of a new luxury hotel, a real treat if you're lucky to stay there! Keep an eye on their site and social media for closure updates and if any facilities are affected when booking your trip.
The Blue Lagoon is a real travel Bucket List item for so many people, and a wonderfully surreal experience. Incredibly special and unique to Iceland, as they all say: you simply must visit!