Unless you were living under a rock, one of the coolest things to come to the London street food scene last year was ice-cream sandwiches, and Richard Makin's Blu Top Ice Cream was the undisputed leader of the pack. What's more satisfying than homemade ice-cream sandwiched between two moreish cookies, finished with all sort of fun and frivolous toppings? We took an ice-cream masterclass with Rich and found out all about Blu Top in London.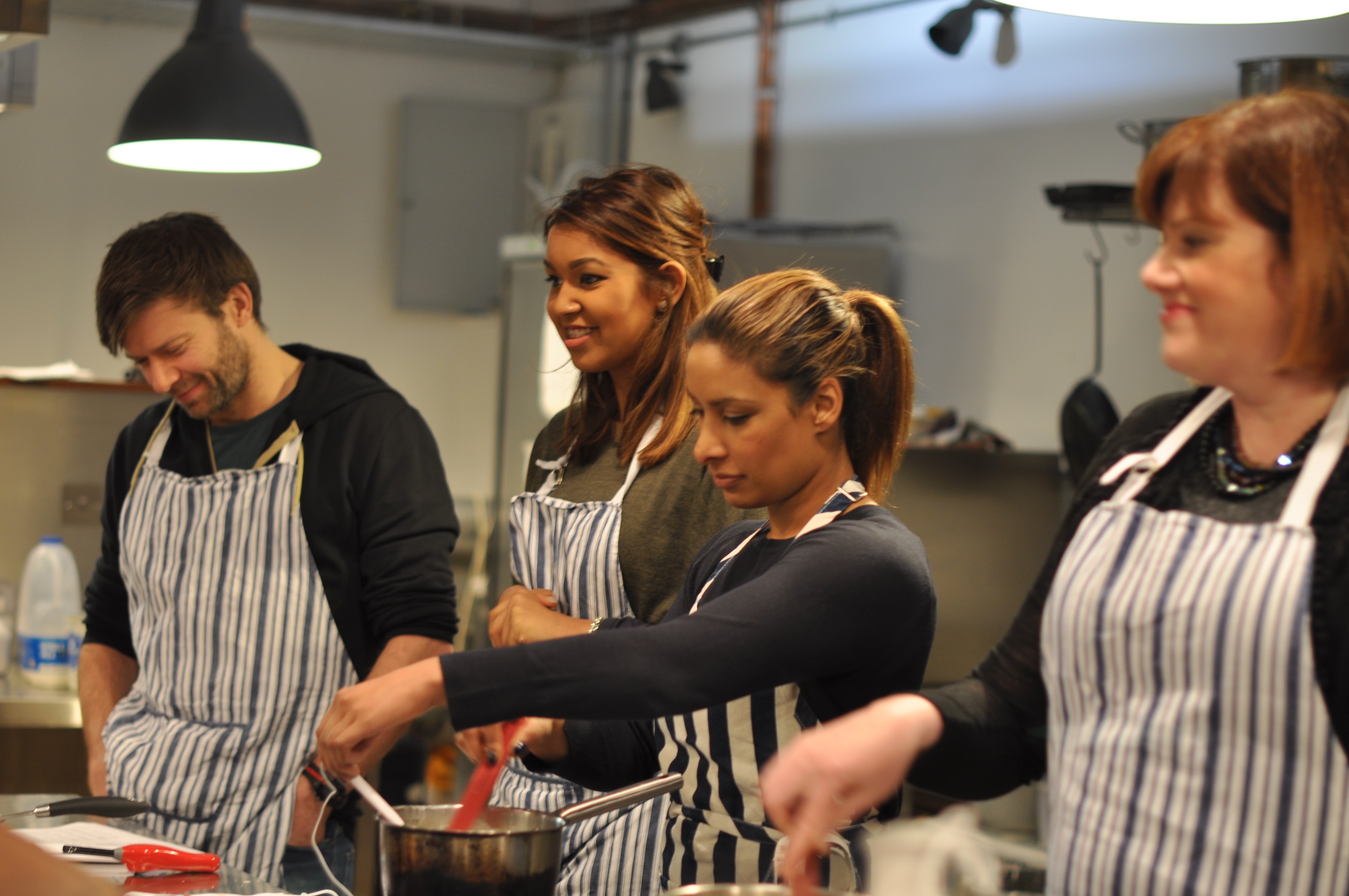 Pitching up 'Barbara', Richard's iconic baby blue ice-cream van, in various locations across London, you've probably caught sight of Blu Top at the likes of Druid Street Market, KERB or at its pop-up residency at Gordon Ramsay Group's Bread Street Kitchen in the City. Safe to say, it's been a busy and blossoming year or two for Richard and his business.
 However, summer is always followed by Autumn and Winter, where ice-cream sales begin to nose dive, until sales of these chilly wonders hit pretty much zero. In fact, once the temperature is below 15C, sales plummet, and this varies from country to country. Rather than praying for an unseasonable heatwave in December, Richard has diversified by organising and hosting a number of 3-hour long ice-cream masterclasses in Battersea, south London, to share with people the best way to make ice-cream.  
We were lucky enough to be invited along to one of Richard's classes, after meeting him a couple of times over summer he dropped us a very well-received invitation to join a class! One chilly Tuesday eve, we set off for the wilds of Battersea to find a teency class of just nine students. The structure is very straight forward: about an hour of explaining the science and make up behind ice-cream (including the important health & safety notes) then followed by two hours of making three different flavours from a simple vanilla base.  You break up into three groups of three – owing to the small sized kitchen – but you do get a hands-on chance of witnessing and practicing making the simple custard base that all ice-cream stems from.
What makes the classes so enjoyable is Richard's warmth and wealth of knowledge about ice-cream, which he owes to a childhood of being obsessed with the stuff, as well as extensive research.   When you finish up, you get to taste your creations as a group, and if you're lucky Richard will bring along some extra special toppings to try out (we tried out the doughnut gravel which was epic!) Any ice-cream made in the class is naturally gobbled up in seconds, which some may see as a shame, others see as an advantage due to no waste. We personally wouldn't want to try and make an hour long journey back home with a tub of ice-cream slowly melting away, so a feast to end the night was just perfect. The brain freeze is worth it – believe us!
Richard's class is perfect for beginners like us, who might have never made ice-cream but always been intrigued. He simplifies it so seamlessly that it's really more like a three hour-long chat that you come out of with a brand new skill!
Richard uses the Sage by Heston Blumenthal the Smart Scoop™ Ice Cream Maker for the classes, but one shouldn't be deterred by the price tag. If you're starting off, there are various other options from as little as £20, which will give satisfying results. Also, if you own a KitchenAid stand mixer, churn attachments are available for it too.
Classes run both at weekends and weeknights and full details are available at the Blu Top website. Tickets are £38.12 per person. Keep an eye out for Richard, Barbara and ice-cream sambos aplenty in the warmer months!
Disclaimer: Richard from Blu Top kindly invited us along to his class at the last-minute, so one of us attended in a complimentary capacity.