The best of Irish in a burger! Ireland is world famous for top quality beef, as well as beautiful black puddings too, so why not combine them into a burger. This is the perfect for a sunny day on the barbecue, however, we have a plancha accessory for our grill, which is a flat surface which is the best way to make smash burgers. Some gas barbecues may have a small flat surface which you can use too. Otherwise, a cast iron pan either on the grill or indoors might be the best solution.
These smashburgers are loaded with two top Irish farmhouse cheeses -Cashel Blue from Co Tipperary an Hegarty's Cheddar from Co Cork then sandwiched between toasted brioche buns, with a smattering of delicious condiments and toppings including crispy bacon and our special sauce! Recipe below, tag us in your creation if you make it!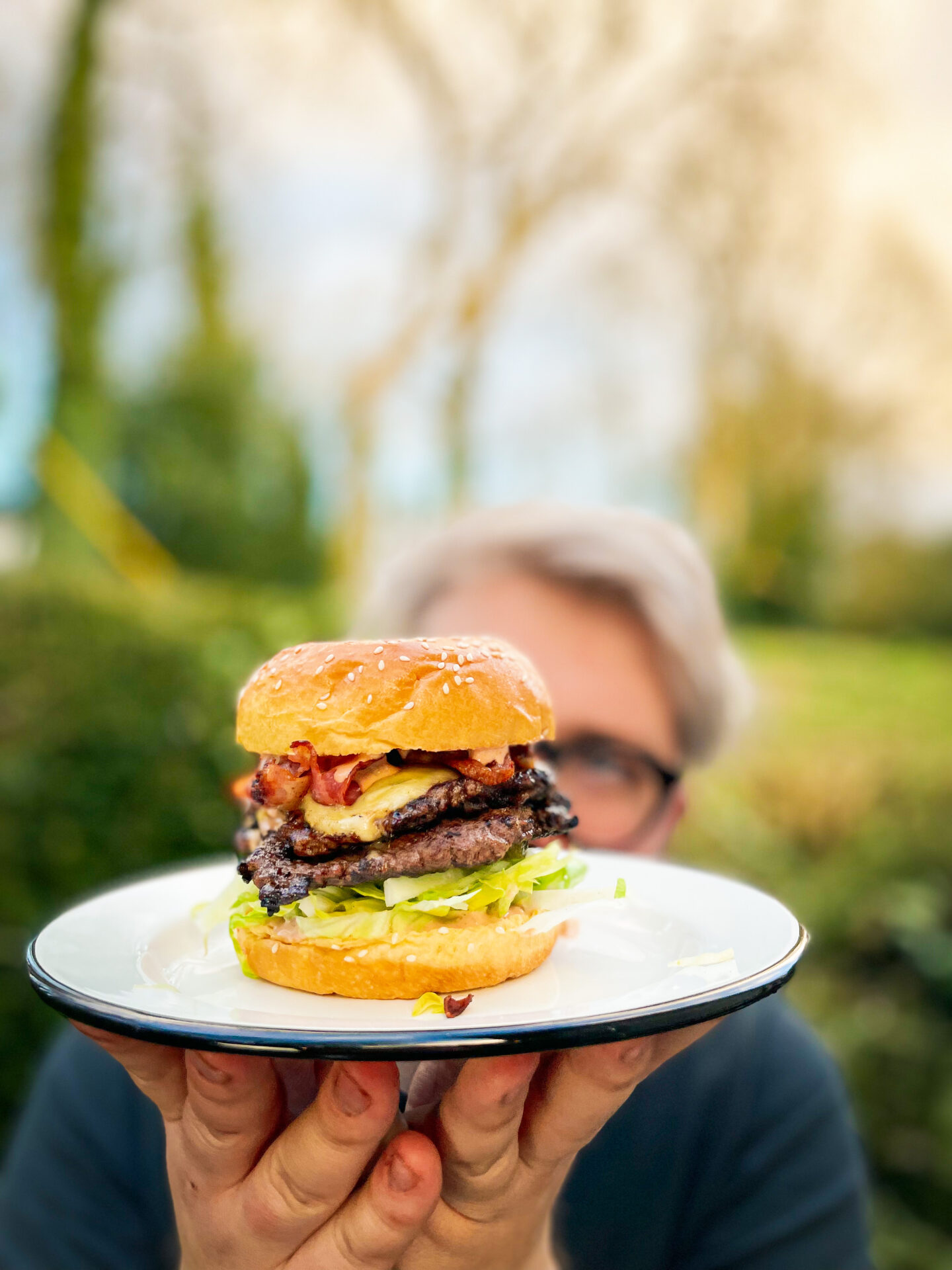 Beef & Black Pudding Smash Burgers
Makes 6 burgers
400g beef mince
120g black pudding, chopped into small cubes
4-6 brioche buns
lettuce, shredded
gherkins, sliced
crispy thin, streaky bacon
Our burger sauce
– 3 parts Builín Blasta smoked onion mayo from Galway
– 2 parts The Curious Farmer Smoked Tomato Ketchup from Tyrone
– 1 part Rebel Chilli barrel-aged hot sauce from Cork
– 1 tbsp each of finely chopped white onion and gherkins
You can use other brands if you wish.
Method:
1. In a bowl, combine the black pudding and beef mince with a little seasoning. Gently (!) mix together using clean hands, as you still want a loose mince-like texture. Roll into balls around 85g each.
2. Preheat your barbecue to around 250ºC. We're using our Weber Smokefire which has a plancha accessory to cook these as smash burgers, which works perfectly, but if you don't have the flat surface, you can always cook them as thicker burgers. Alternatively, a large frying pan or cast iron can also can work if you're cooking indoors.
3. When the plancha or pan is hot and ready, place one of the burger balls on it and using a heavy metal spatula or burger flipper or , smash it down instantly, spreading it nice and thinly. Try to avoid moving it too much to get some crispy, scraggly edges. Cook for 3-4 minutes on one side, flipping for another 2.
4. Take your cheese and crumble or slice it on top. Using a metal bowl as a cloche, place on top and leave for another minute to melt the cheese.
5. In the meantime, mix together your burger sauce mix, and get all the elements to help you build your burger from the bottom up!