Let's preface this by saying: we hold our hands up, we are fish and chip addicts.
We love the stuff so much. Back home in Ireland, in contrast to London, the fish and chips are just better. Our opinion, but we think it's true. That may be a bit of a slap in the face to the English (who historically claim this traditional double act as their own in a way), but we love an 'aul Irish chipper. Maybe it's just being exposed to mediocre chippies in London, but nothing tastes as homemade, freshly-sliced, recently battered, or salty and vinegary as when it's served to us in a paper bag in Ireland.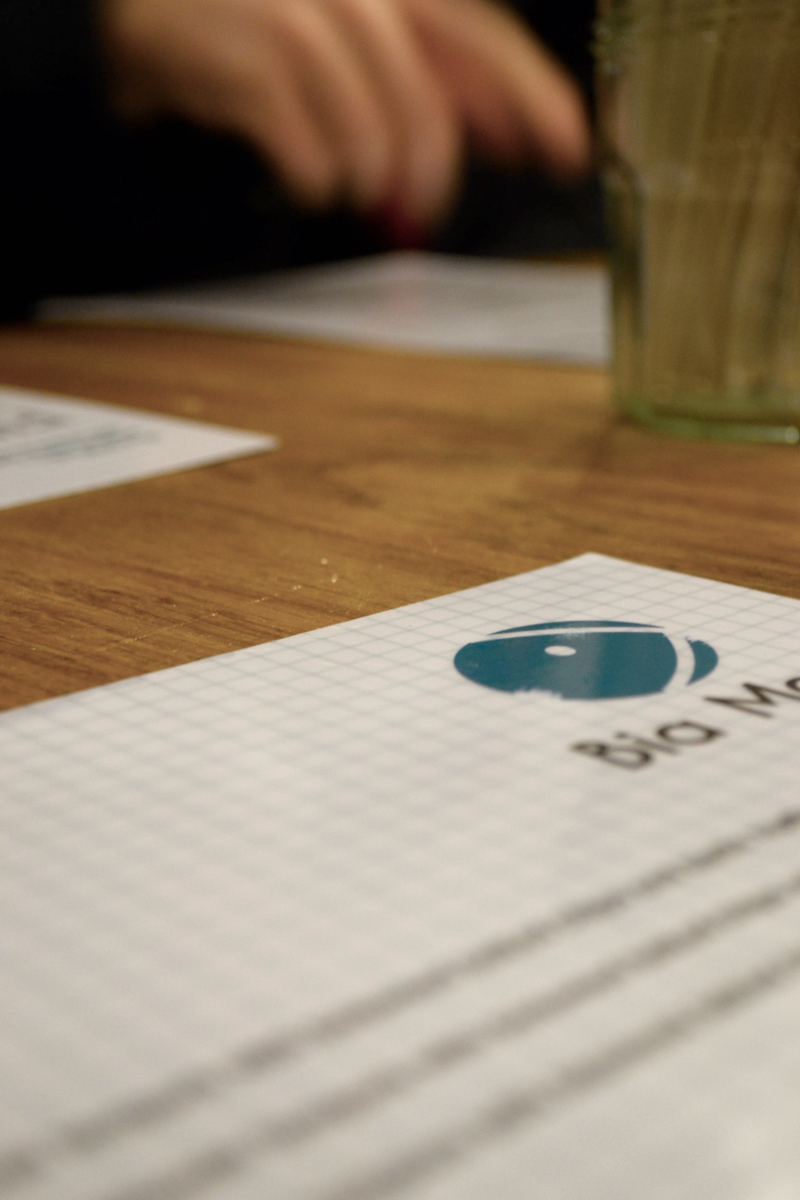 So it makes sense, then, that the best chips abroad are cooked by Irish hands! Well, we think that's true in Brussels, where Bia Mara has set up shop. Now, you know how much we adore Brussels already, and this post is about three years in the making. So no pressure, eh? Also, you may sniff something very familiar in this post… more explained further on.
Began by Barry Wallace and Simon Whiteside in Dublin as a market stall selling mackerel and chips in 2011, the business was born on the streets of Dublin and raised in Brussels. From the side of the street to the heart of bustling Brussels, the pair opened a bricks and mortar base on Rue du Marché aux Poulets in 2012. It's right in the thick of it, seconds from Grand Place – the central meeting point of the city.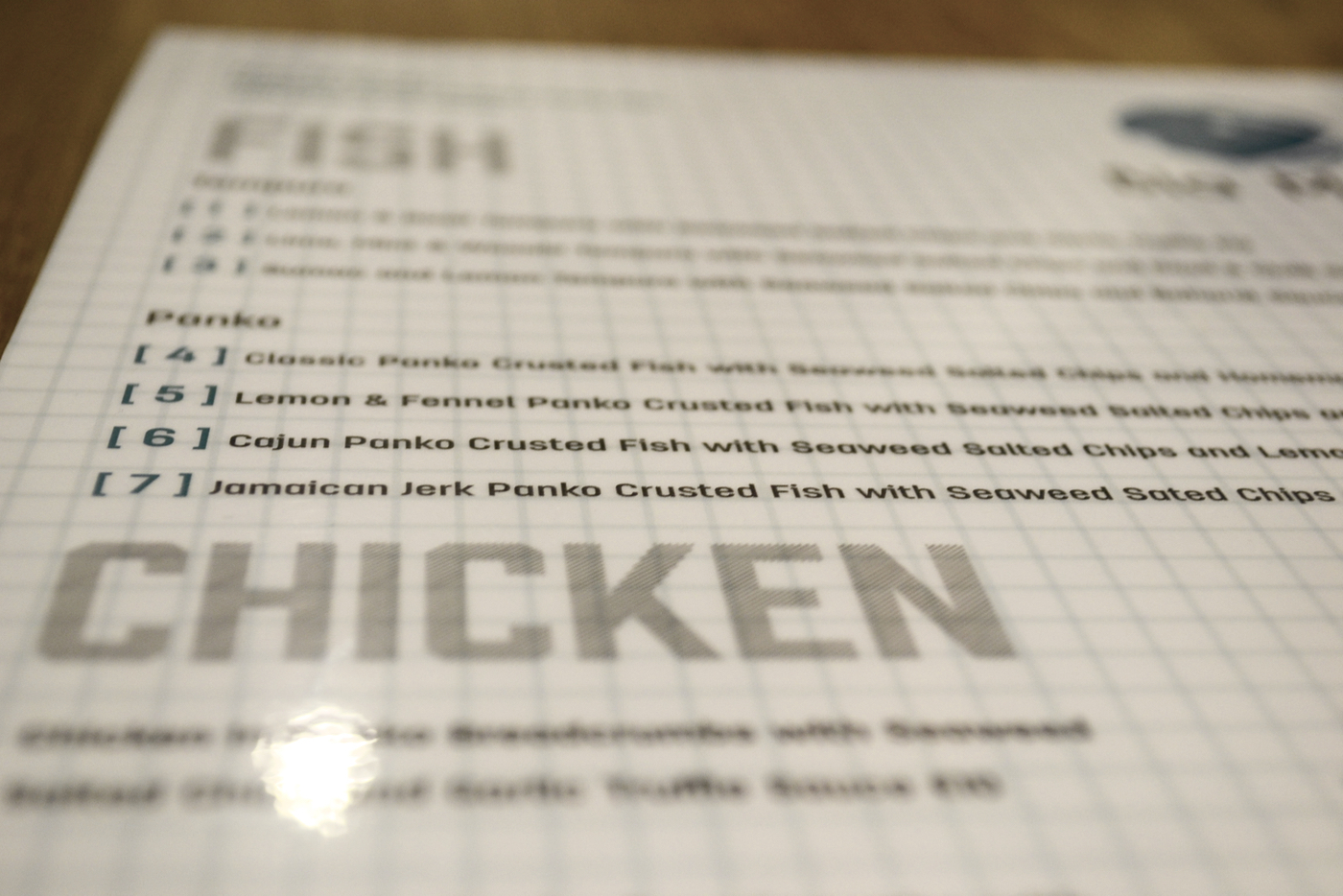 These guys specialise in fish and chips with a twist, offering a wide variety of fresh fish – either battered in light tempura or coated in panko breadcrumbs – fried and served with thickly-sliced chips and a plethora of perfect sauces. The menu is dictated by the daily catch (ling, halibut, mullet, gurnard, pollock, hake, salmon, mackerel). Some days the same fish might appear on most of the daily specials, other days there could be a real treasure of maritime treats on offer in different spice mixes with various sauces to complement.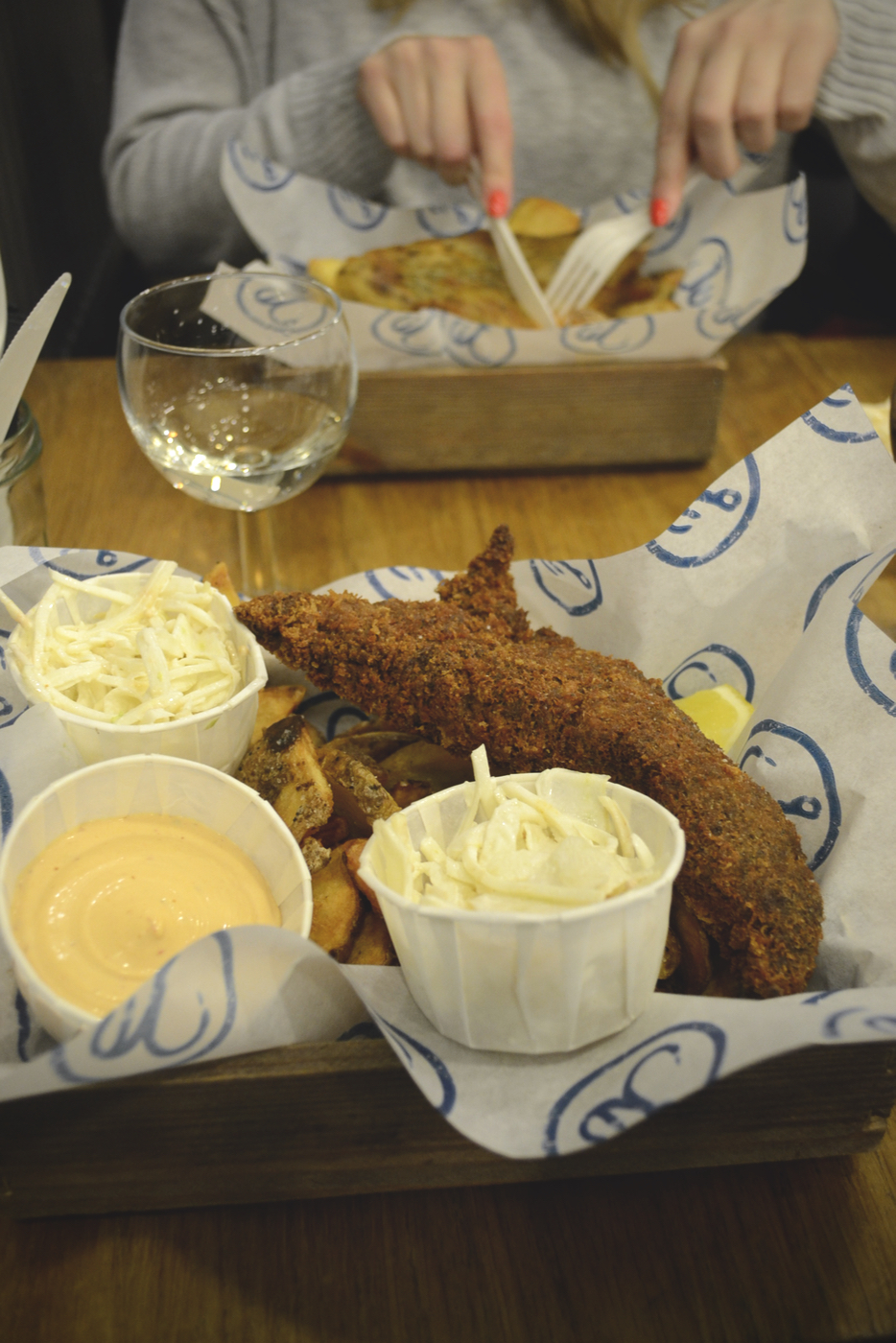 The list is ever-evolving and each visit will be like spinning the wheel and seeing what you get, keeping this concept exciting, fresh and always of-the-moment. Often, they sell out and close early as demand outweighs supply. We're sure most customers would happily prefer them to sell out rather than dump good food at the end of the day.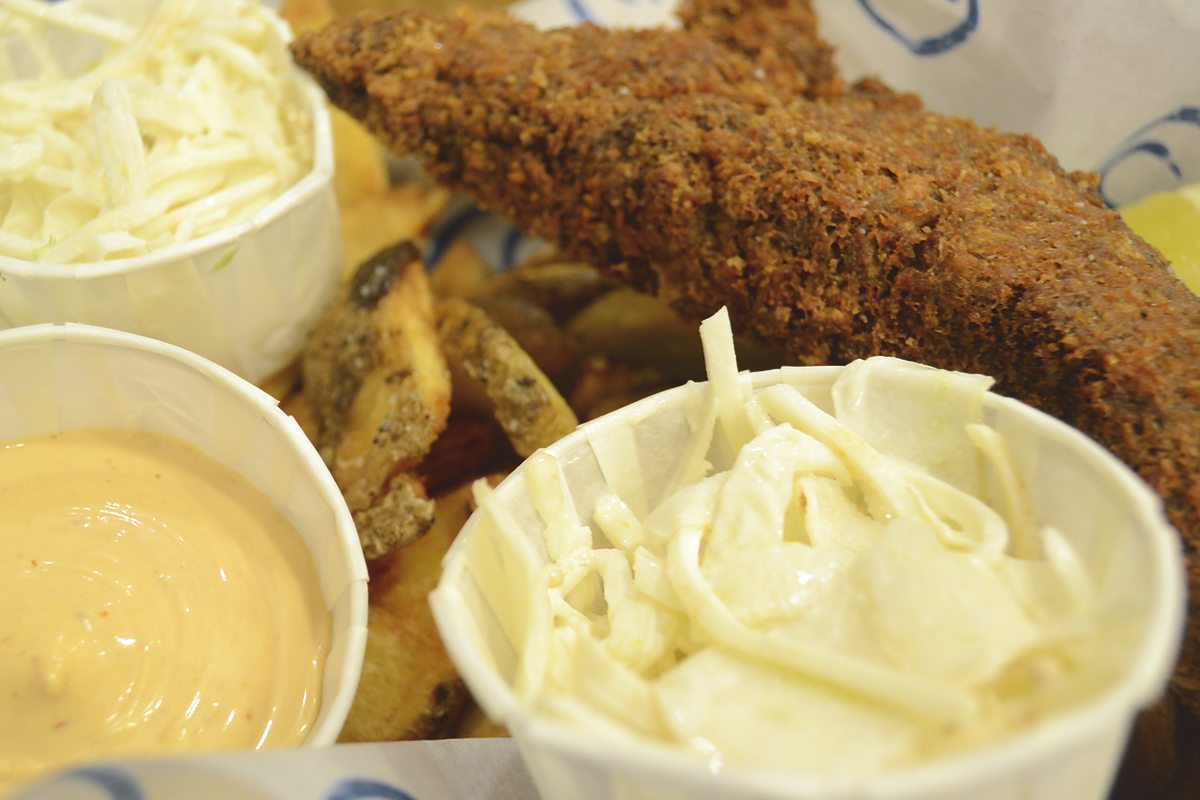 What do you picture when you dream of the best fish and chips you've ever tasted? Flaky, juicy, fresh fish wrapped in a crisp batter or coating? Home-cut, skin-on chips that are a mixture of fluffy flesh with a fried, crispy exterior; comforting, filling yet non-greasy and not too heavy. Now, amp up the ante. Transform the coating with a North African, Caribbean or Asian spice mix; dip each chip with indulgence into creamy, fiery, sharp and sweet sauces and wash everything down with an ice-cold craft beer, crisp glass of white or sharp and sweet can of lemonade.
Sides, often overlooked, are nearly a step too far when the fish and chips is so satisfying (and such a big portion) but we always manage to polish off at least one. Again, seasons and ingredients dictate sides but we've always enjoyed the minty mushy peas in their seagreen hue; sharp seaweed and samphire salad; and the celeriac and mustard seed slaw.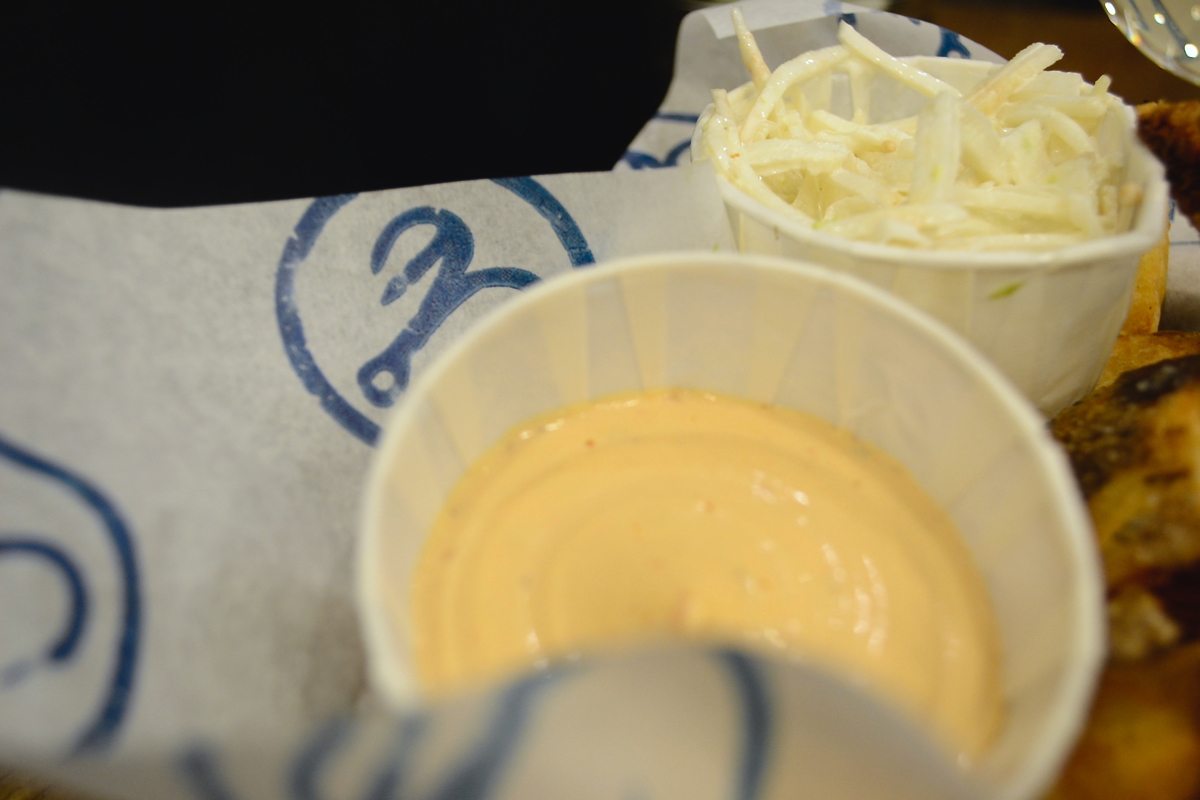 This is next level fish and chips, though it's different from the triple-cooked frites that Belgium is famous for – let's make that clear. We very much love those in their own way too. Let's make these individually exclusive!
Early success for Bia Mara came from the support of the people of this wonderful city, paired with their penchant for beer and supply from some of the world-leading beer producers – a match made in heaven. Though it's the heart of the EU (and the EU has done wonders for Brussels) it's a city that has a lot of creative heart too.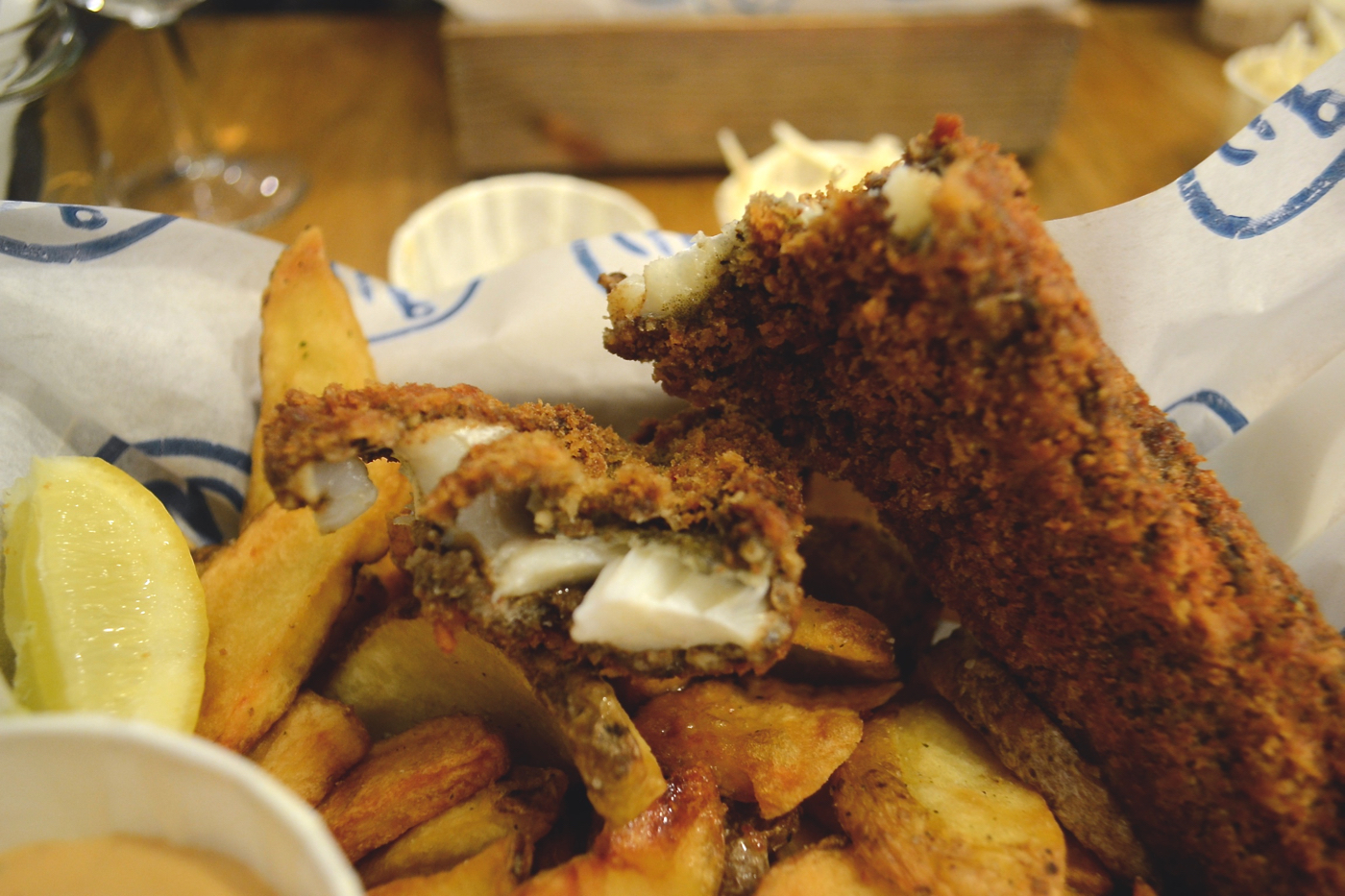 People often think that Brussels is a suits 'n' briefcases-filled metropolitan city, built on business and fuelled by politics, but what we've found – and what we know to be true – is Brussels is really like a smaller Paris, and that's always been our affectionate name for it. Winding streets; colourful street art; cosy coffee joints on every rue, chaussee, avenue and boulevard; glorious historic architecture; bars spilling out onto the streets with punters laughing, talking and joking.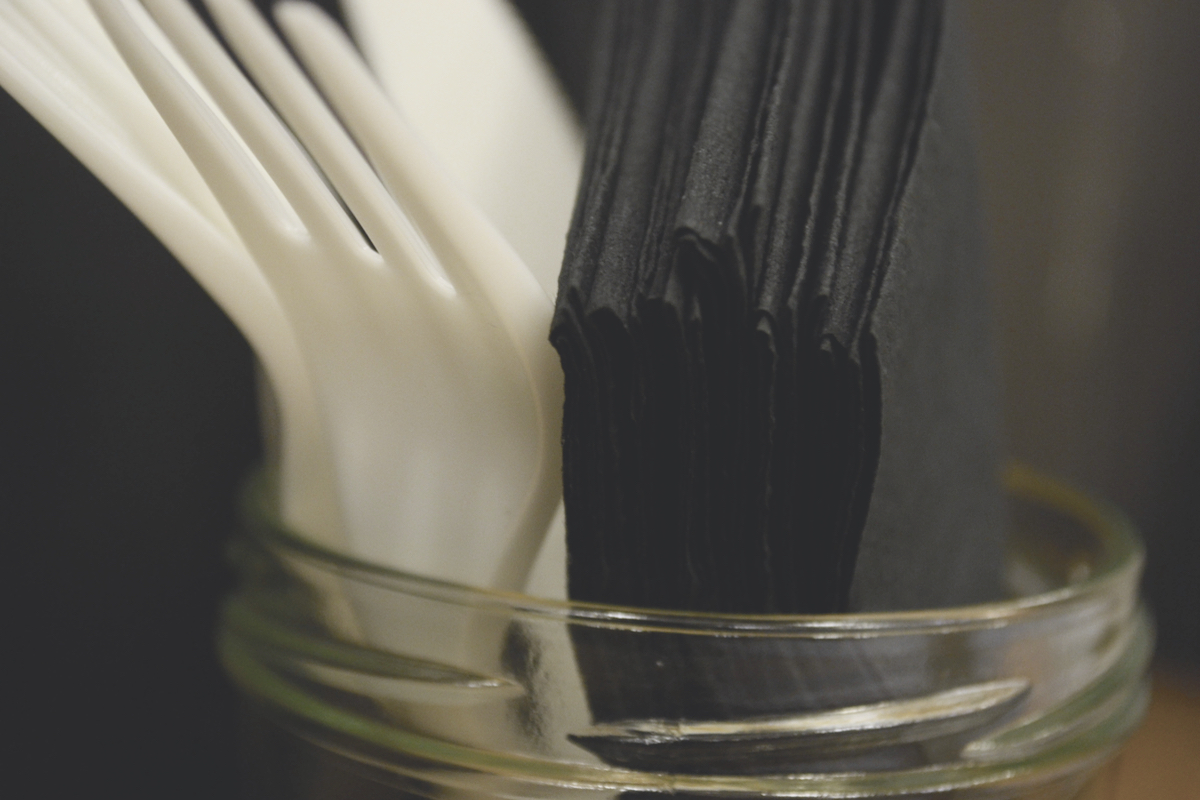 Hold on now. Wait just a second! Experiencing a little déjà vu? You should be. You must recall seeing a story a lot like this somewhere before because, yes, these are the same guys behind Hook – which we wrote about already! They've branched out to the UK (finally, after teasing us for a long time) and now they're all set up in both Camden (along Parkway) and Brixton (at Pop Brixton). But, Bia Mara was the first and our first taste of what these lads had to offer and we wanted to do a feature justice, so we made sure we tried three times (each a different trip to Brussels) and sometimes endured a painful year-long wait between tastes.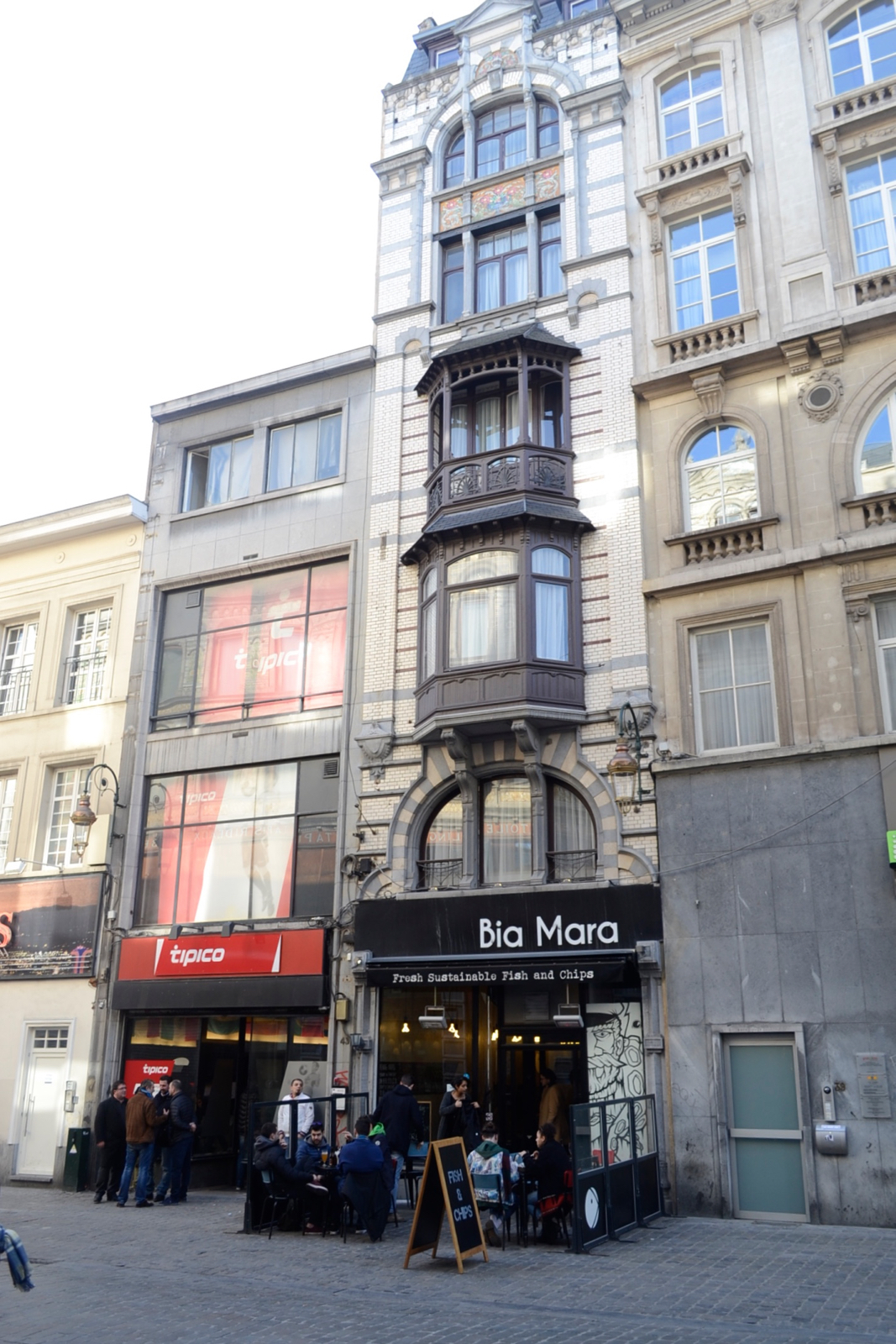 We've been following these guys since the beginning, probably one of the lucky people who got to sample Bia Mara in its infancy when we came across it in Brussels a couple of years ago. We've chatted to Barry a few times and his passion trickles through in every conversation. You can almost visualise the cogs of his mind working and the pair definitely have big ideas, huge dreams and a keen finger on the foodie pulse.
Hard work, dedication and keeping their noses to the grindstone resulted in a dizzying combination of fish and chips with over sixty different flavours and thirty types of homemade sauce, not to mention their signature seaweed salt and a new range of ice-cream coming later this year too. Their take on this iconic double act is lighter and less greasy than standard fish and chip shop styles. Simon, who is classically trained and spent a decade in fine dining kitchens in London, adds a real flair for flavour and skilled techniques to the pot here.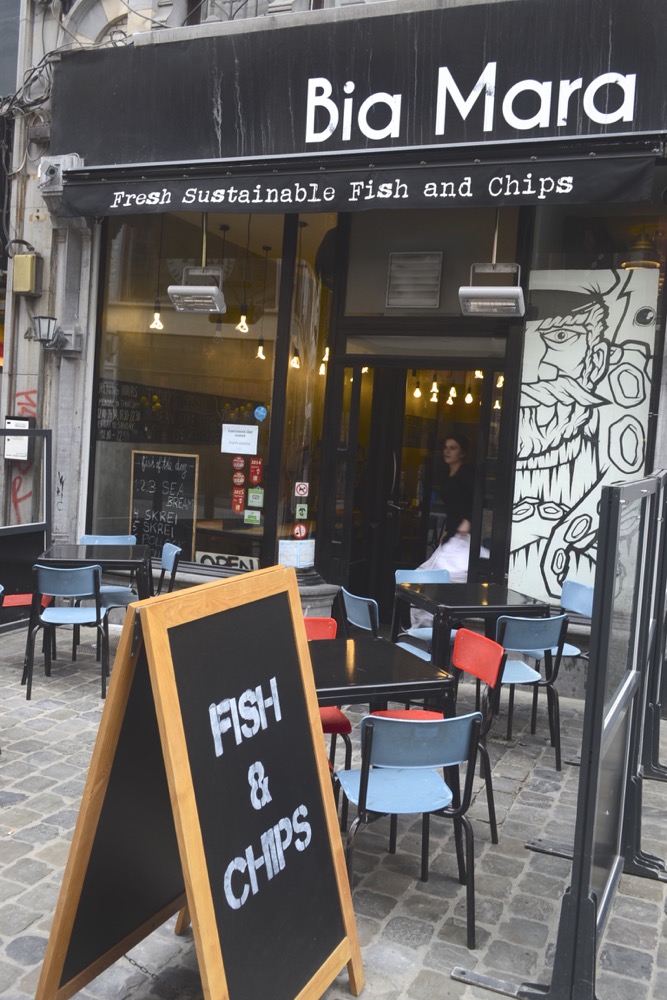 Barry and Simon want to grow quickly, but sustainably, and the business is both environmentally-conscious and aiming for sustainability. "Honest, fair… a brand that respects the planet," the website states. They're fast targeting Benelux cities (Ghent, Antwerp, Amsterdam) and want to grow in that market as quickly as they hope to grow in the UK, whilst also have an eye on New York, Madrid, even Asia.
For all our home birds, don't worry, a Dublin branch is in the works – rumoured to open next year – and just like it's become the darling of the Brussels and London casual dining scenes, it's going to do the exact same in their native Dublin too!
Who knew the little stall in Dun Laoghaire a few summers ago would become an international business?