What a bumper year for food writing and cookbook publishing!
For the last six years (2017, 2018, 2019, 2020, 2021 and now in 2022) consecutively we've been honoured to be asked to appear on The Last Word with Matt Cooper on TodayFM here in Ireland to round up the best cookbooks and the best in food writing annually in advance of the Christmas rush. Every year a pleasure, and each time more difficult than the last to whittle it down. 2022's been a phenomenal year for food writing. Naturally, in a fast-paced radio slot we can't delve into endless detail or share links or images, so each year this represents an enhancement of what we introduce on-air, and, in fact, some we can't mention on air also get included here too.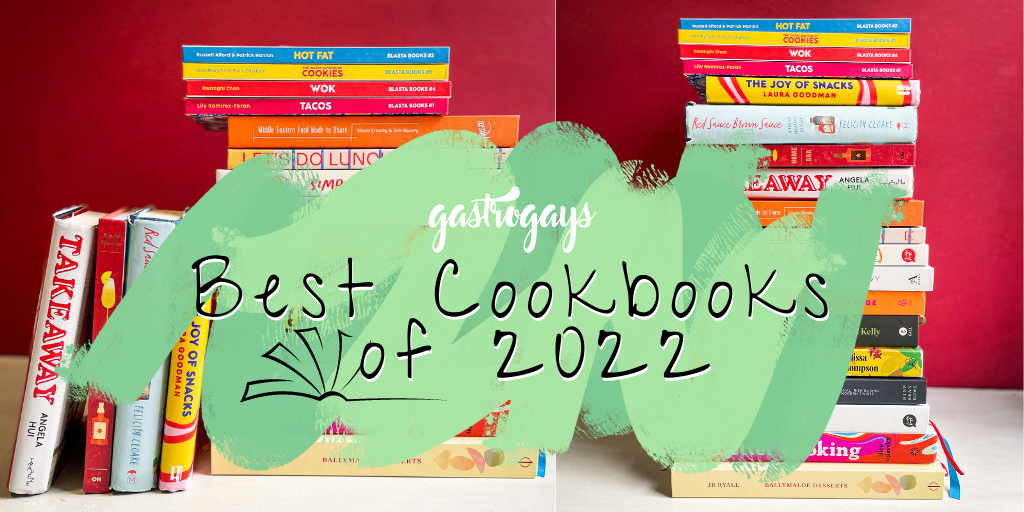 From cookbooks to handbooks, food memoirs to miscellanies, each year it's a perfect excuse for us to deep dive into the last 12 months of cookbook publishing and see what sticks out! In this year's edition we have fifteen top titles, as well as a brand new, award-winning series, to recommend…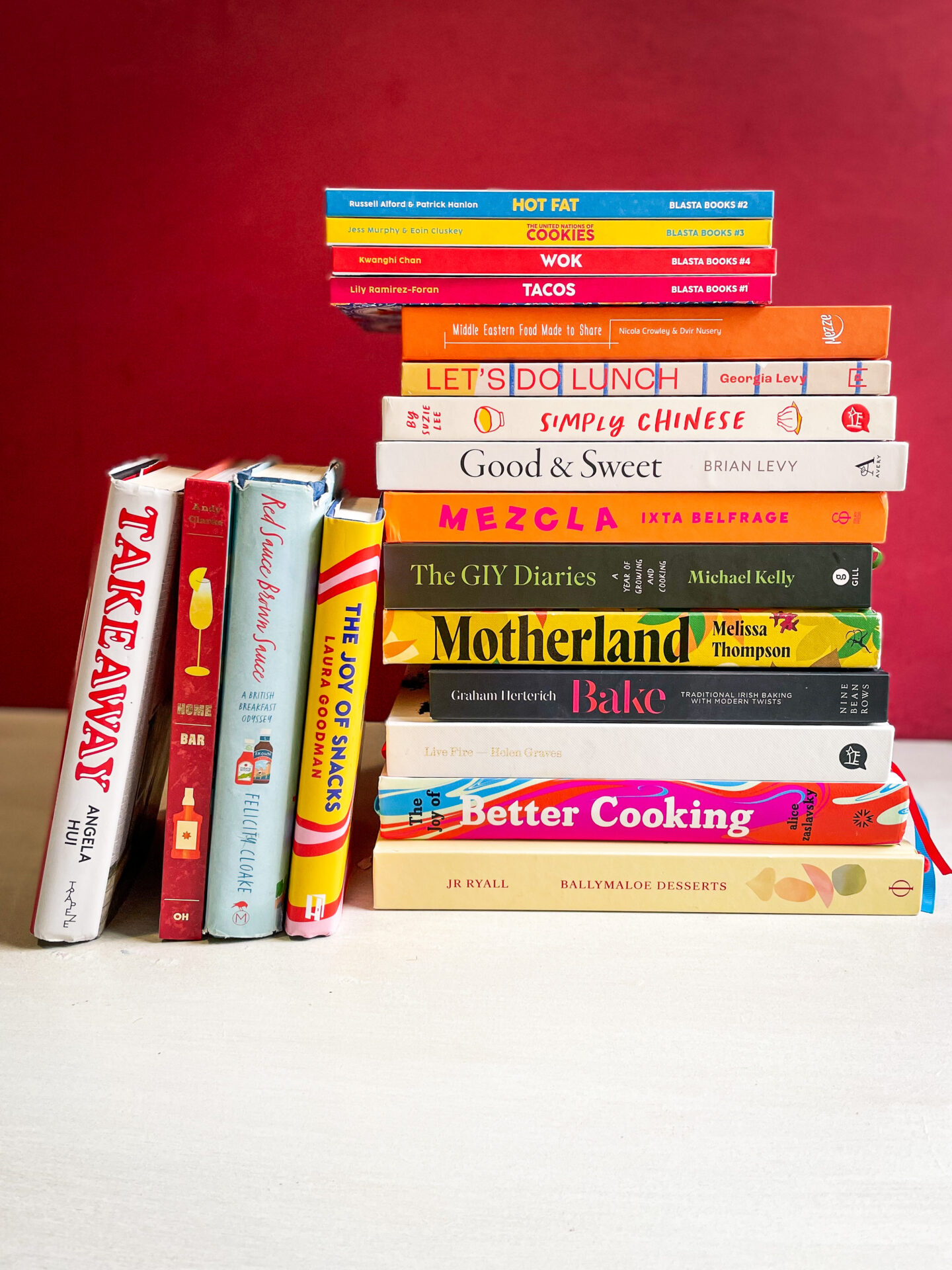 Note: Links to most of these books are Affiliate Links [#AF] via Book Depository, and that means that if you click-through and purchase any of these titles directly from our site we earn a tiny percentage commission. We love to support cookbook authors year-round and especially profiling their published work at Christmas, so to help us continue supporting them we're so grateful for you supporting us in your shopping — even in the smallest ways. This megapost always takes quite a bit of work to do, and we don't earn off this, so if we can earn a tiny commission off a couple of orders it's always beneficial.
Blasta Books, Series 1:
Tacos (Lily Ramirez-Foran), Hot Fat (Patrick Hanlon & Russell Alford), United Nations of Cookies (Jess Murphy & Eoin Cluskey) & Wok (Kwanghi Chan)
We've long compiled cookbook recommendations and annual round-ups for our audience to enjoy, but we'd be remiss if we didn't put our own debut at the very top of the list. A dash of ego, a pinch of pride, we've stirred within ourselves long enough to author our own debut cookbook, and we couldn't be prouder of what we've produced. We worked tirelessly on Hot Fat throughout various lockdowns in 2021 and in mid-2022 it finally landed. Personally, and without much self-effacement, we believe we wrote one of the best, if not the best, cookbook of 2022, but each to their own opinion.
Changing the game in Irish food publishing, Kristin Jensen and her team have definitely been THE story of food writing in Ireland in 2022. Having announced her plans to publish a series of cookbooks in 2021 and smashed every crowdfunding target set, the first four books in the quarterly series have now arrived, including our own Hot Fat alongside Tacos by Lily Ramirez-Foran, Wok by Kwanghi Chan and The United Nations of Cookies by Jess Murphy of Kai and Eoin Cluskey of Bread 41. Year two of the series is coming in 2023, with four more titles and authors announced recently (click through to our news article on it). Each Blasta Book is A5-sized and specifically-themed on a subject, style of cookery or cuisine, with around 30 unbeatable recipes apiece and all richly illustrated by talented artist Nicky Hooper, instead of full colour photography.
These are bold little books. Blasta as a concept is small but mighty, capturing key voices telling stories and sharing skills that deserve to be heard –– but 'til now have never been published, because the big beasts of tired 'ol publishing never offered the platform. Each Blasta author, which is now becoming pre-requisite for inclusion, has never been published before. These are dazzling debuts. We know pretty much all four of the first year authors have engaged with the big gun publishers before to little avail, ourselves included –– we had an offer on the table from another publisher, but chose to go with the smaller format Blasta concept instead. Jensen was disheartened by being told she was focusing on "too niche" but has since re-appropriated that phrase and wears it like a badge of honour and a call to action: "To Niche!" Each book is €15 and all equally perfect stocking fillers, whilst the annual series is a brilliant gift for the food lover in mind, especially those internationally who might not know much about the landscape of Irish food or Irish food writing and could happily delve into the voices of modern Irish food with Blasta Books.
Which Recipes do we suggest?
From Tacos: Skipped Goat Tacos, Tacos al Pastor, Roasted Butternut Squash Ancho Tacos, Salsa Madura & Citrusy Crema
From Hot Fat: The Spice Bag, Korean Fried Chicken, Lasagne Bites, Corn Dogs and Doughnuts
From UN of Cookies: Turkish Coffee Cookies, Barazek (Syrian Sesame Pistachio Cookies), Kołaczki (Polish Rose Jam Cookies) & Maamoul (Palestinian Date Cookies)
From Wok: Crabmeat Fried Rice, Dan Dan Noodles, Soy Braised Five Spice Chicken, Sichuan-style Aubergines
Motherland, Melissa Thompson
Powerful by name and very much so by nature, this is an eye-opening, deeply personal and moving read, which circumnavigates life, culture, heritage, identity, emigration and slavery. Being first generation British – born to a Jamaican father and Maltese mother – Melissa Thompson traces her roots in Motherland, a tome to the cuisine of the Caribbean island nation of Jamaica. Aside from evocative food photography and incredible sounding dishes what may surprise you is the largely vegan 'Ital' section. However, what really stopped us in our tracks is the essays. Peppered throughout are beautifully written essays surrounding Jamaican history, which at times are a difficult and emotional read, but that makes them necessities to understand and absorb, too. Thompson is a fantastic cook, there's no shadow of a doubt, but she's also an incredibly skilled journalist and wordsmith. This is truly one of those cookbooks which reads more like a storybook than just a rolodex of recipes.
Which Recipes do we suggest?
Curry Lamb Patties (pg 21 + the crucial curry powder on pg 23!)
Oxtail Nuggets with Pepper Sauce Mayo (pg 47 + pg 167) and Cassava Fries (pg 220)
Castleton Janga Soup (pg 84)
Any and all of the chicken recipes (Jerk, Curry, CFC) and, of course, curry goat (pg 168)
Guinness Punch Pie (pg 255)
Ballymaloe Desserts, JR Ryall
The Ballymaloe House dessert trolley is iconic, maybe the most iconic dessert experience in the entire country. As custodian of it, we've long waited for Head Pastry Chef JR Ryall to distill the enchanting magic of the trolley into a book, and Phaidon published it this year. A mammoth, heavy book, you already know this is going to have the time-honoured classics, the treasured favourites and the traditional treats that deserve to be cherished and kept alive, but there's also modern touches here too. Across nearly 300 pages it takes the readers' hand, first, on the basic recipes for things like crème pâtissiére, choux, honeycomb and crème Anglaise, plus basics of pastry and bread making, and then delves into the detail and the magic. It's elegant, seasonal, Arcadian and refined.
This is really the book for the dessert person, or someone obsessed with pâtisserie and wants a bible to reference for all things sweet. Amongst iconic recipes there are also stories aplenty and this is a book to get totally lost in.
Which Recipes do we suggest?
Pistachio Meringue Roulade w/ Strawberries & Elderflower Cream (pg 98)
Langues De Chat (pg 182)
Honey Mousse w/ Lavender Jelly (pg 132)
Almond Praline Cake (pg 266)
Live Fire, Helen Graves
The barbecue is very much not just for summer, it's for life! London-based food writer Helen Graves has been passionate about barbecuing and cooking over live fire for many years. With this book, it's divided into the seasons, with a lot of vegetable recipes alongside meat and fish so it's not just your beef brisket and spatchcocked chicken.
In terms of the recipes, not everything takes hours upon hours, many recipes are cooking over the coals to achieve the maximum flavour. Live Fire challenges the idea that cooking over the coals is just for special occasions, and we also really appreciate how elegant and delicate this book portrays barbecuing as, loaded with knowledge and tips. It's written by a female, for starters, and – as thirty-something gay men with a serious interest in live fire ourselves – we often feel uncomfortable and unseen with the way barbecuing is portrayed: straight, white male-oriented, overtly macho and focused on 'dude food'. Barbecue is for all, and it's a year-round joy.
Which Recipes do we suggest?
Monkfish Cheek Kebabs w/ Peas & Preserved Lemon (pg 25)
Mushroom Shawarma (pg 206) + Easy BBQ Flatbreads (pg 61)
Grilled Corn w/ Whipped Beer Butter (pg 91)
Whole Barbecued Pumpkin Stuffed w/ Beer & Sage Fondue (pg 156)
Bake, Graham Herterich
A fabulous friend of ours and someone we've impatiently waited to pen his first book, Graham Herterich has emerged from behind his The Cupcake Bloke brand and introduced himself appropriately as the wizard of flavour behind the magic of his creations. An award-winning baker, well-known from social media and regular appearances in the media and Ireland's most prominent food festivals, Graham is a master of bakes but is like an excitable child with flavour –– he uses ALL the crayons across several colouring books to express himself and his skill. Bake, his debut book, crystallises that impeccably.
Published by the publishing house we're also a part of, Nine Bean Rows, we knew Graham was writing a book before either her or his publisher, Kristin Jensen, told us their secret –– because we had a strong hunch for a while. In actual fact, as it turns out, this book happened in a way because of us. Graham heard our interview with Kristin from a lockdown episode of Chew The Fat and sent in a proposal to Jensen, who he had never met or really heard of before. That was June 2021, and the rest is history.
'Traditional Irish Baking with Modern Twists' is the subheading and, sure, there's Irishness imbued within these hot pink-gilded pages, but the bookends of that line is what really sets the scene: "Traditional… With Modern Twists". Much like a Viccy Sponge, this is a book of two equal halves, but, maybe more like a deck of cards, instead of two separate halves kept apart, the two handfuls are shuffled together –– for every traditional recipe, there's an next door neighbour 'twist' recipe which reinvents the classic with contemporary flair, including a deft hand with spices and exotic flavours. You'll notice in the photography and styling the more ethereally-shot, minimalist, lighter scenes are the traditional bakes and the more deep, dark and boldly decorated scenes are the modern twists. This is a book to cherish and to share, to loan and to gift, to pore over and to sink your teeth into. We couldn't be prouder.
Which Recipes do we suggest?
Panch Poran Soda Bread with Lamb Keema Curry (pg 32, and cover image)
Apricot Carrot and Orange Loaf w/ Goat's Cheese Frosting (pg 96)
Traditional Tea Brack (pg 106) + 'Variations: Dressed Brack' (pg 112)
Toffee Apple & Doenjang Caramel Pudding (pg 132)
Mezze: Middle Eastern Food Made to Share, Nicola Crowley & Dvir Nusery
Self-published | Order from Mezze.ie
We've loved Nicola Crowley and Dvir Nusery's food for several years now. From their pop-up stalls at food markets and festivals to their mecca of a deli, shop and cafe in the seaside town of Tramore, Co. Waterford, they've definitively established themselves as the go-to for great Middle Eastern food. If you love this style of food as much as we do, this is the perfect book to have in arm's reach and the kind of book that once you open you you won't be able to get these recipes out of your head until you have them in front of you, ready to eat. This book coaxes you to cook from it like few others, in easy to follow, straightforward recipes. This enterprising couple also self-published this book, which is a massive feat and yet another thing to admire them for, so it's worth supporting their endeavour for that fact alone!
Which Recipes do we suggest?
Wild Garlic Babka (pg 21)
Hummus Masabacha (pg 30)
Rose Harissa & Date Molasses Roasted Almonds (pg 86)
Slow Cooked Pulled Lamb w/ Sumac Onions, Tahini Sauce and Laffa (pg 178)
The GIY Diaries, Michael Kelly
Remember when an Annual used to be a thing? You'd wait all the way from Halloween to close to Christmas to get your hands on Spraoi, Siamsa, Sugradh or the like. Well, this is a grown-up 'annual' of sorts, focused on growing vegetables at home and written as diary excerpts from GIY Ireland's Michael Kelly every couple of days throughout all 12 months of the year. This is wonderful because – instead of being instructional – it's relatable. Going through the motions of the seasons, the highs, lows, ups and downs, the bountiful harvests and the near-disasters, each month is punctuated by recipes (some from Mick and the Kelly family and friends, others from Grow HQ Head Chef JB Dubois) which celebrate that season's star crop. Throughout you'll also find beautiful illustrations by Sarah Kilcoyne. A great guide to have to hand, for anyone who wants to learn how to grow their own food.
Which Recipes do we suggest?
French Onion soup w/ Garlic & Smoked Cheddar Toasts (pg 253)
Potato, Kale and Roast Garlic Soup (pgs 73-74)
Fermented Hot Chilli Sauce (pg 229)
Celeriac Remoulade (pg 317)
Simply Chinese, Suzie Lee Arbuthnot
Published by Hardie Grant Books | Order via Book Depository (#AF)
Suzie Lee Arbuthnot will be known to many as the winner of the BBC show "Britain's Best Home Cook" back in 2020 as well as appearances on ITV's This Morning and this side of the sea on Ireland AM, as well as hosting her own cookery shows on UTV.
Suzie Lee's exciting debut is functional, useful and ultimately accessible to help introduce a wide audience to Chinese cuisine. Suzie grew up in a family running a local Chinese takeaway, and this book demonstrates the connection between food and family within Chinese culture. It keeps the memory of Suzie's mother alive within its pages whilst the book is dedicated to, and written for, her children to strengthen that connection to their heritage. Ultimately, this is unfussy, simple, family-friendly cookery at its best –– which Suzie is always amazing at.
Chinese cookery can be complex but this is such an approachable book to empower home cooks to cook the cuisine confidently. It's peppered with so many little tips plus has takes on those delicious takeaway favourites, with lots of veg-focused options too. We've made so many dishes from this book and love it –– in fact we accidentally spilled an open bottle of soy sauce on one of the pages, and we think that wonderfully adds to the charm!
Which Recipes do we suggest?
Soy Sauce Chicken (pg 20) & Hainanese Chicken Rice (pg 26)
Ma Po Tofu w/ Aubergine (pg 106)
Turkey Potstickers (pg 68)
The entire chapter on Hong Kong Western Café Specials
Red Sauce, Brown Sauce, Felicity Cloake
A bit of a different book, but a thoroughly enjoyable one. Felicity Cloake is well known for her "How To Cook The Perfect…" column in the Guardian, and her previous food-travel book "One Croissant For The Road"; but this book celebrates the wonder of breakfast whilst Felicity cycles around Great Britain and Northern Ireland to meets the makers and enthusiasts in the origins of so many staples – from kippers on the Isle of Man, to soda farls in Northern Ireland as well as visiting the Baked Beans Museum, set in an eccentric man's apartment. Naturally from a British perspective, but as there are so many similarities between the full English and full Irish, it's a really great read and aside from being scattered with recipes, facts and tidbits, it will make you really crave a breakfast buffet. Plus, Felicity finally answers the ultimate quandary – "red sauce or brown sauce"?
The Joy of Better Cooking, Alice Zaslavsky
Published by Murdoch Books (AU) | Order via Book Depository (#AF)
We're massive fans of the way Alice Zaslavsky communicates food. She's actually the only author we've included in this list two years on-the-trot because we just cannot get enough, and she brings us JOY by the bucketload. We were particularly starstruck to meet her in person at Food on The Edge this year). But back to business: The Joy of Better Cooking is almost like a cookery course disguised as a party, it takes the hand of a reader and immediately pep talks 'em, reinforcing: "you are already a better cook than you think you are". Then, it aims to instil confidence in the home cook so they, as the chef in their own home, get pleasure and joy from the process of cooking, eating and feeding others. The aim is to equip the reader with tips, tricks and delicious ideas, rewiring their culinary brain, to then stop second-guessing themselves, because second guessing is the foe of kitchen confidence. The ethos is that the recipes are: adaptable, veg-forward, low impact, low effort and high return.
Think of this as the colourful foundation, and it's jam-packed with personality, vivid food photography and bright colours. Maybe this is perfect for the young cook or for the person taking their first steps in the kitchen. Maybe it's from the seasoned home cook who has developed some bad habits and wants to approach their cookery and kitchen more like a chef. Or maybe it's for the chef in your life (or your home) who just wants to read a cookbook full of recipe inspiration that delivers what it says on the tin: joy.
Which Recipes do we Suggest?
Devilled Tuna Egg Sandwiches (pg 34)
Taco Rice (pg 76)
Cauli Almond Aji Blanco (pg 164)
Conquering Napoleon (pg 267)
Cheerio Cherry Yule Log (pg 294)
Mezcla, Ixta Belfrage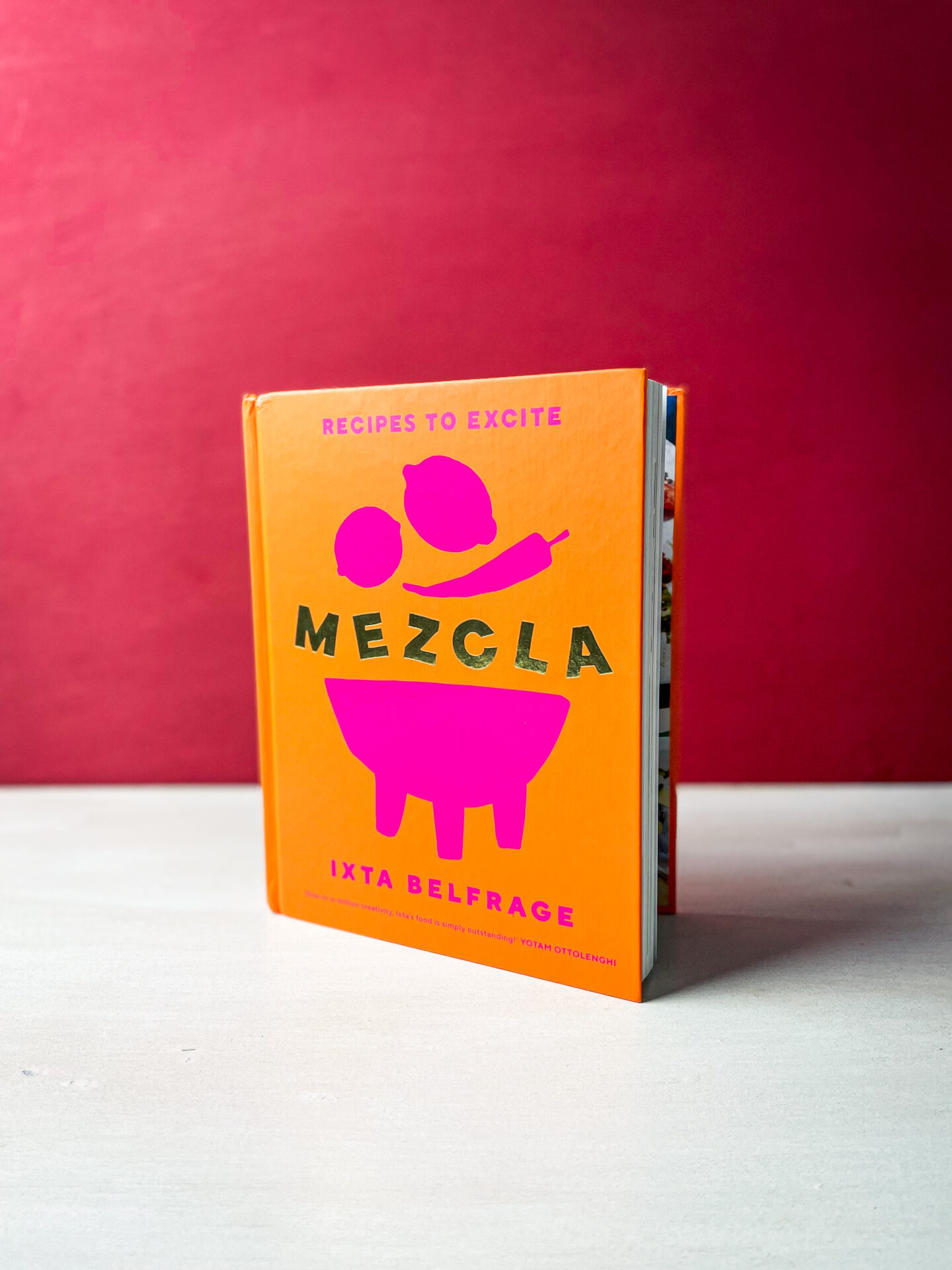 Published by Ebury Publishing (UK) | Order via Book Depository (#AF)
Mezcla means 'mix' and refers to Belfrage's eclectic, kaleidoscopic cooking style of "recipes to excite" but also her melting pot heritage, from Tuscany to Brazil, Mexico to London. With around 60% of the recipes veg-focused or plant-based, the book is split into two distinct sections: Everyday (quicker, easier recipes), and Entertaining (for longer, slower, more ingredient-heavy dishes). Well, three, actually. 'The End' is a section at the back with sweet recipes. A former Nopi chef, most recently Ixta has been part of the OTK (Ottolenghi Test Kitchen).
Like her mentor, Yotam Ottolenghi, there's flavour at every junction here, and most of the recipes read like the titles of painted masterpieces. 'Bavette resting over tomatoes, with black lime and butter', just being one example. 'Celebration Salmon', another. This style of cooking, eating, serving is mish-mash and Belfrage leans into it, creating dishes arguably greater than the sum of their parts, and that seems to be her ultimate skill.
Which Recipes to cook?
Crispy Oyster Mushroom Skewers w/ Crushed Chickpeas (pg 53)
Spiced Lamb and Aubergine Ragout (pg 109)
Moqueca Fish Pie (pg 185)
Coffee Ice Cream w/ Kahlua Fudge Sauce (pg 266)
Home Bar, Andy Clarke
Published by OH Editions (Wellbeck Publishing Group, £12.99 RRP) | Order via Book Depository (#AF)
Our bar cart overfloweth, and Andy Clarke's book is the perfect addition to the trolley of the discerning drinker, if you ask us! Beyond 60 recipes, there's classic cocktails and creatively inspired concoctions, from seasonal tipples and snacks to batch drinks for parties. It takes you by the hand from basics and classic sips we should all know how to make before delving into twists like a Clementine Cosmopolitan, Supersonic Aviation, Summer Affogato and a Cherry Bakewell Martini. Andy is also the authority you need on bar tools, syrups and other genius suggestions to up your cocktail game.
Good & Sweet, Brian Levy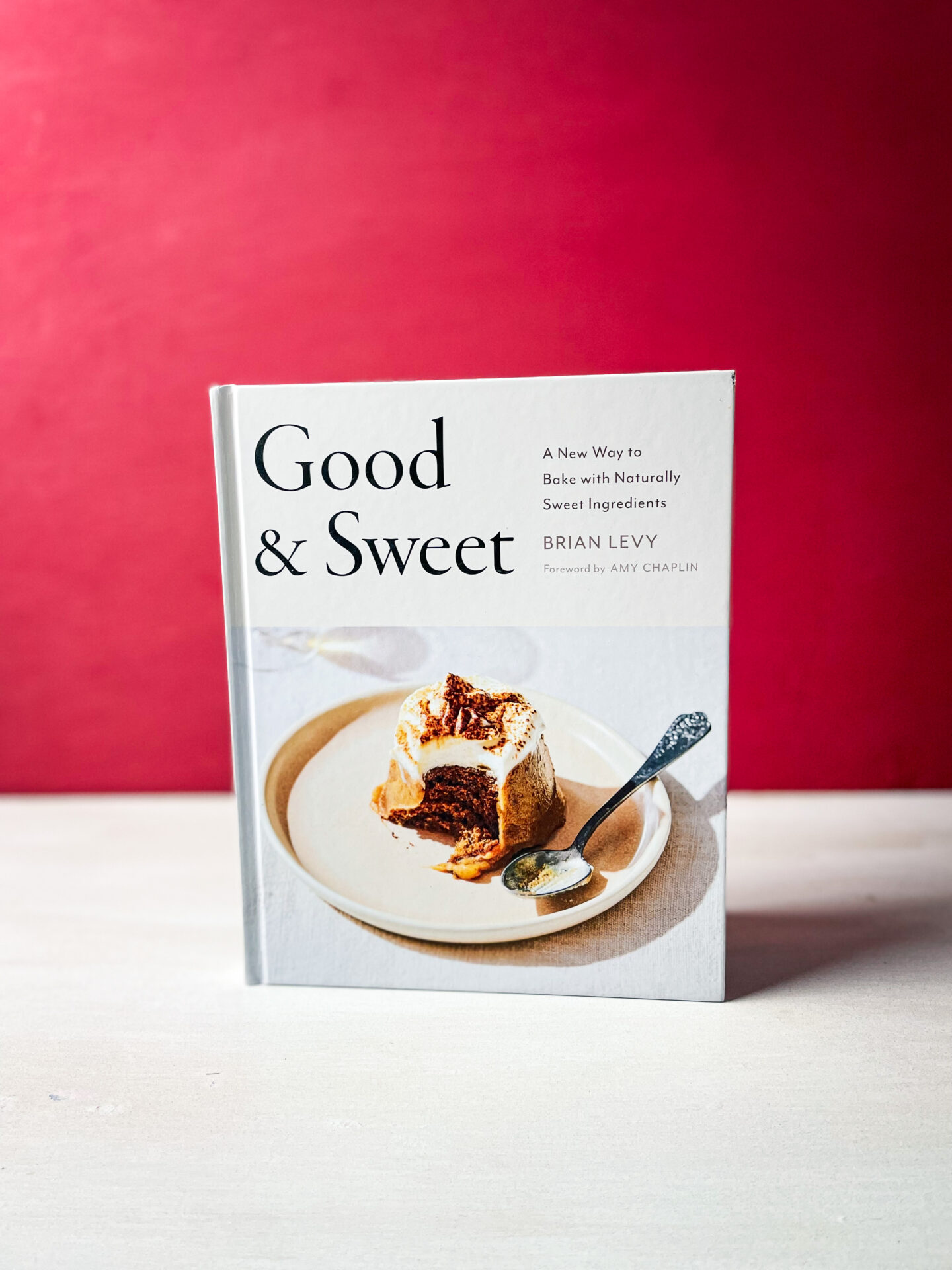 You only have to glance at the best-selling lists or the most prominent shelves and windows of bookshops to understand that the whole health and wellness publishing industry is mammoth. Every second book is a diet, lifestyle, free-from or meal plan book. Let's not even delve into the disordered eating argument. The diet, health and wellness market is at super levels of saturation right now, which is why Good & Sweet, the debut from pastry chef Brian Levy, is such a breath of fresh air.
Never preachy, always encouraging, mindful but with a serious slant of 'having your cake and eating it too' attitude, this is all about dessert recipes sweetened entirely by fruit and other natural, unexpectedly sweet ingredients. We particularly love the section on basics at the back, and the book begins with so many breakfast dish ideas, so you can soothe that sweet tooth mindfully from AM to PM!
Which Recipes to cook?
Double Banana Bread (pg 45)
Ricotta Chestnut Fritters (pg 68)
Date Rye & Olive Oil Brownies (pg 95)
Sticky Toffee Pudding Cake (pg 193)
Persimmon Panna Cotta (pg 223)
The Joy of Snacks, Laura Goodman
"A celebration of one of life's greatest pleasures," the cover reads –– and colour us sold. Laura Goodman is the author of Carbs and also a freelance food writer who has written for the likes of Grazia, The Sunday Times, Eater, Food52 and Lucky Peach. With praise from no less than Ruby Tandoh, Ella Risbridger, Georgina Hayden, Alice Levine and Miriam Margolyes, you just know this is going to be good. A subject pretty much everyone is passionate about, this is peppered with recipes, lists and essays and is in such a vivid tone of voice it's a joy to turn the next page, every single time –– especially 'cause you haven't got a frig what's around the corner!
Try the Crab Nachos, 'Nduja Mascarpone and Honey Toast, and Spaghetti Fritters…
Let's Do Lunch, Georgia Levy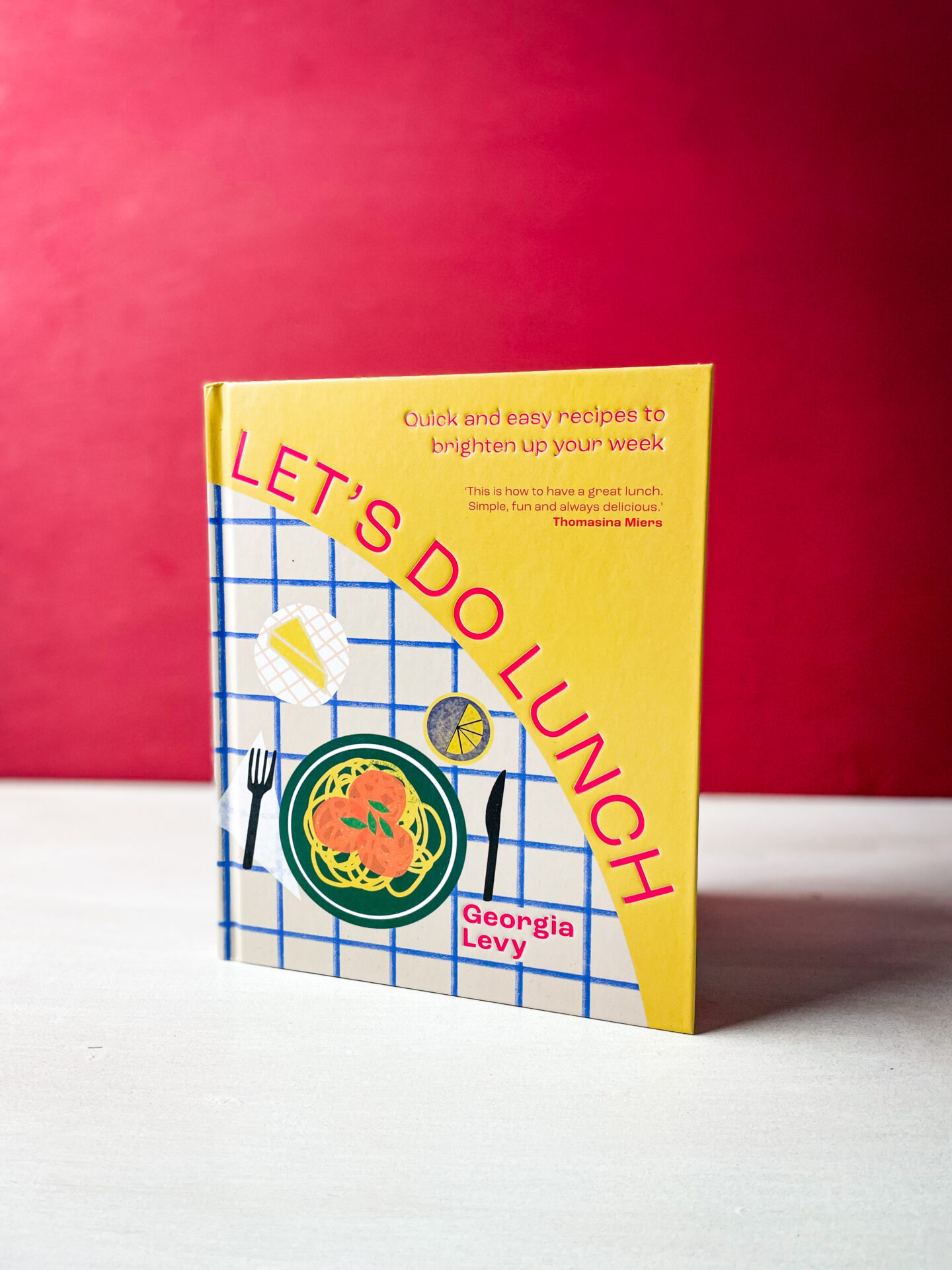 Chef, recipe developer and food consultant Georgia Levy is here to transform lunch and transport tastebuds with a captivating selection of recipes to reclaim the magic of lunch. We love the way this is written in the introduction: "At the heart of this book is [a] lack of fuss. I'm an impatient cook and akways want to eat RIGHT NOW, so if a corner can be cut, it's being cut… absolutely no excessive peeling and chopping, no challenging techniques that can cabotage an entire meal and no hard-to-find ingredients you'll only use once. These recipes are all unfuckupable. But don't worry, absolutely no deliciousness will be sacrificed in the name of speed and ease." Mostly, we're just sad we didn't get the word 'unfuckupable' in the pages of our book. This is just a breath of fresh air and a serious game-changer of a book to have for those lunchtimes where you feel uninspired –– this will whizz you 'round the kitchen and whip you up a gorgeous dish full of flavour in a flash. Love the section at the back, too, outlining some seriously killer lunchtime condiments that are a cinch to put together, like muhammara, mackerel pâté, bread and butter pickles, aquafaba mayo, dukkah, giardiniera and more.
If you allow it, by which we mean allow yourself the necessary time and attention to appreciate lunch, lunch will be neither boring nor a chore ever again. If you're on Substack, by the way, subscribe to Georgia's fabulous The Lunchbox (psst.. as well as ours, Chip Paper, too!)
Which Recipes to cook?
Salad Niçoise with Tonnato Sauce (pg 44)
Sabich (pg 12)
Paillard Chicken Caesar (pg 62)
Warm Farro w/ Cavolo Nero Pesto & Ricotta (pg 108)
Sesame Chicken Schnitzel w/ Kimchi Coleslaw (pg 114)
Take Away, Angela Hui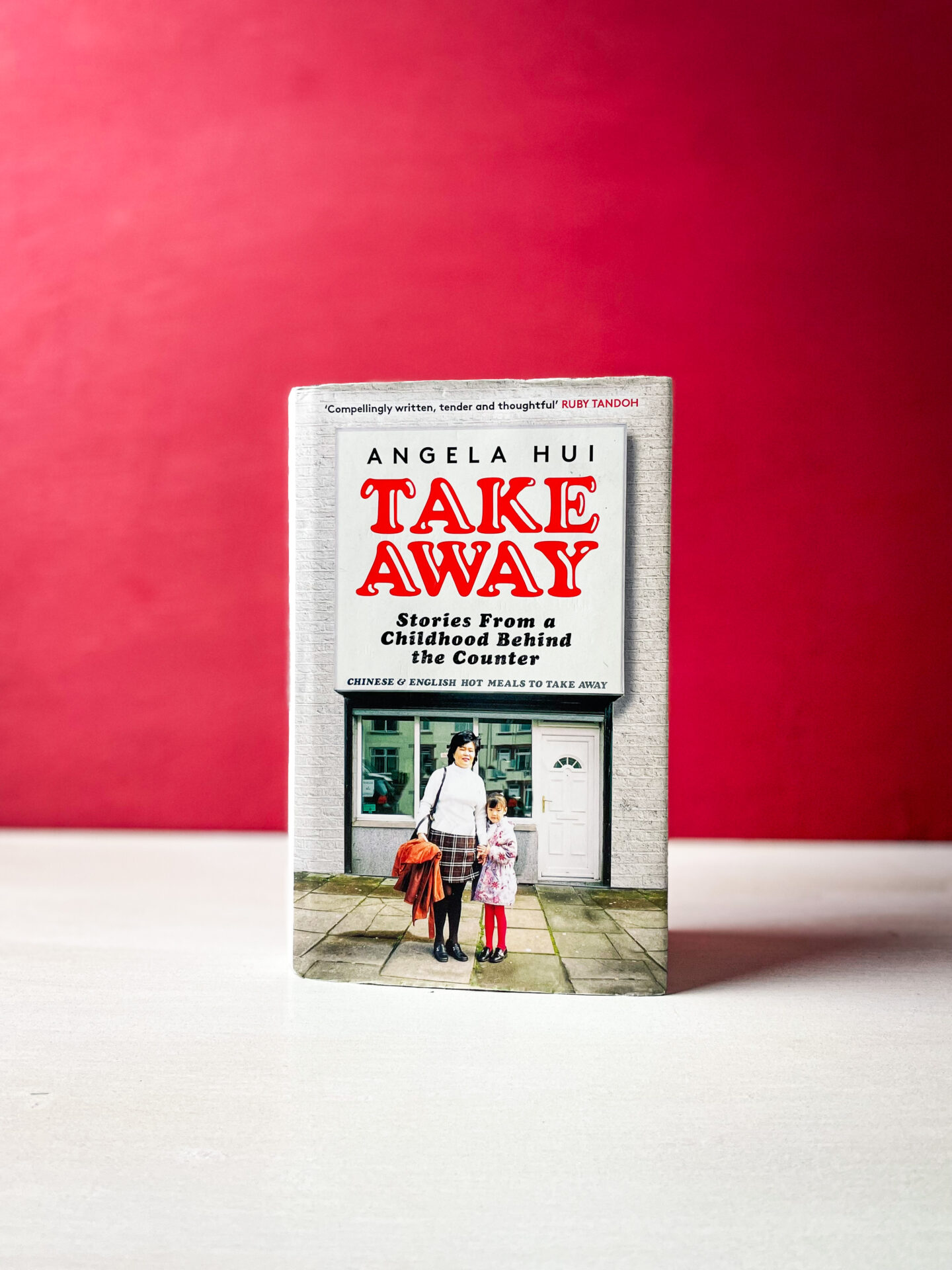 This we couldn't put down –– Angela Hui is an award-winning journalist who writes about food and drink for Time Out London, among others, and grew up in Beddau, South Wales, within a family which ran the local Chinese takeaway, The Lucky Star. A love letter to what once was, this book is so much more than just a memoir, it's a retrospective look at Angela's childhood, with vivid re-telling of things like how isolating it was to always be 'othered' and the dichotomy between her British/Welsh and Chinese identities but also the community which built around it. It's personal, evocative and at times difficult to read but ultimately a wonderful insight into a world we, personally, know very little about. Angela also runs the ChineseTakeawaysUK Instagram, which is kind of a 'Humans of…' style diary of the personalities and stories behind iconic Chinese takeaways.
Check out our previous years' round ups here: 2021 | 2020 | 2019 –– and if you have our book, Hot Fat, please review it on Goodreads!