When we were first together back in 2011, Patrick was a vegetarian, which lasted actually for another year or two. Though he cooked meat, he just chose not to eat it, not for any particular reasons but just to see how going meat-free would affect and change his body. To put it into context, Russell has always professed that a meal is never complete without meat.
In those early days (before GastroGays was ever a thing!) we didn't live together; we lived in towns about 20 minutes drive apart so we rarely got a chance to cook together or for each other. All our time was spent eating out or grabbing something on the go and one of the first memories we have of one cooking for the other is Patrick cooking Russell steak. It's such an essential skill to have, knowing how to char the cut properly, knowing when to take it off the heat, allowing it enough time to rest (and further cook), serving it with a complementary sauce and sides that make it sing even more. We've cooked steak for one another a million times since, but that first time really stands out.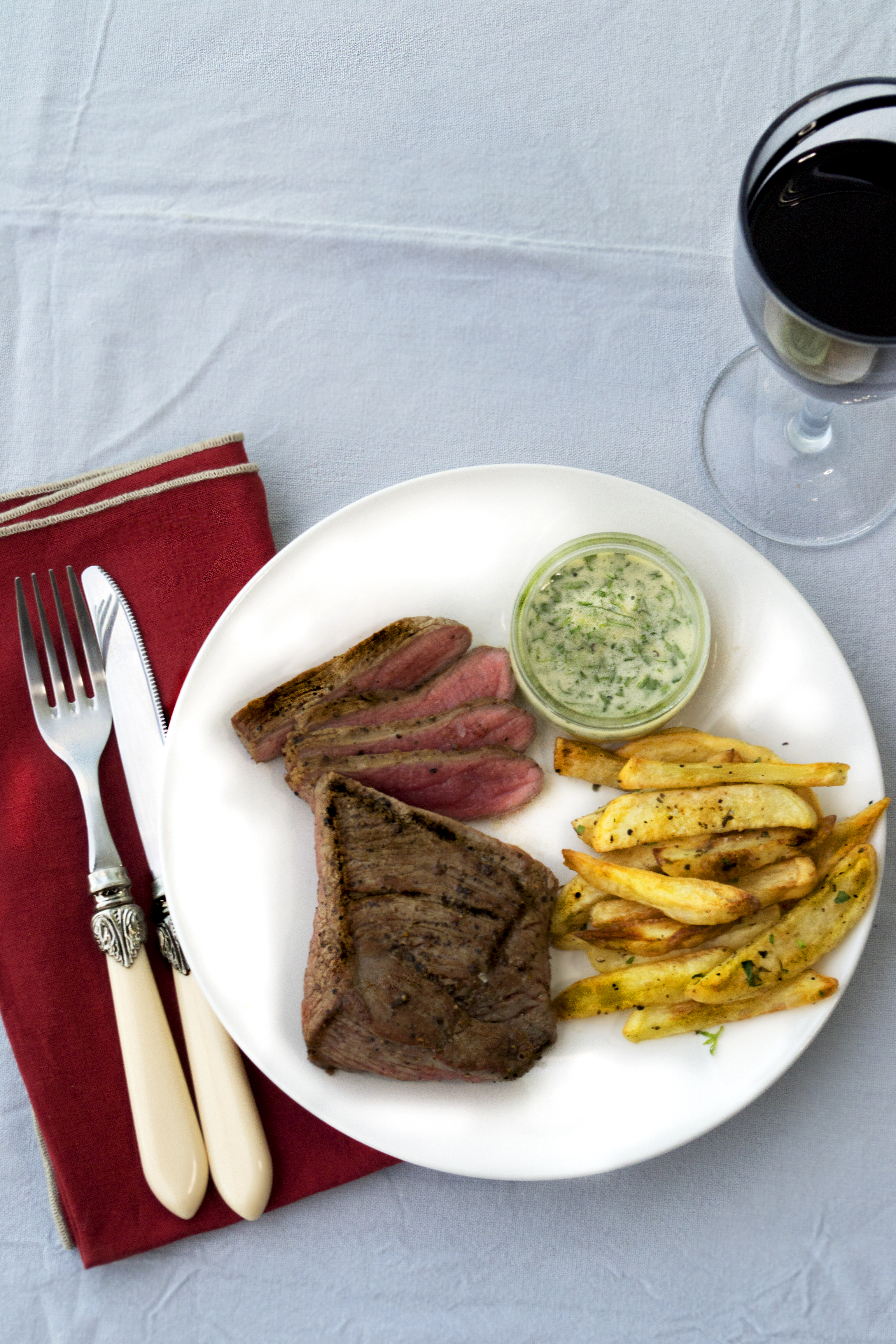 The following recipe originally appeared in Gay Times Magazine in October 2015, under the theme 'first date dinner'.
A first date meal is always a tricky one to get right. You know very little about a person, so cooking for them can be daunting. You'll probably have a good grasp of the basics and you'll want to impress, but there's no need to be a hot 'n' stressy mess in the kitchen resulting in a meal served cold, late, overcooked or tasteless. Keep it simple and perfect a crowd-pleasing classic – steak and chips.
Now, don't go out and buy fillet; they're not the love of your life just yet! Let's not buy the whole chicken when we only need one egg, so embrace the lesser-known cuts. A favourite from the GastroGays kitchen is bavette, also known as flank, a cut from around the cow's belly which is just as flavoursome yet cheaper than the prime cuts. Buttery herby Béarnaise, if nothing but a piece of work, is absolutely beautiful here and sure to impress.
Listen to us, you can tell a lot about a person by the way they take their steak. Anything more than medium, ditch 'em. Great then that bavette MUST be seared quickly on high heat, served pink and cut in thin slices against the grain for silky mouthfuls bursting with full-on flavour.
🍽 First Date Recipe: Steak & Chips ( w/ Béarnaise) 🍽
2 bavette steaks (around 300g per person)

6 large potatoes, skin off

200g butter

4 tbsp white wine vinegar

salt and pepper

1 large shallot, finely diced

a handful of fresh tarragon, chopped

two large egg yolks
1. Start with the chips. Heat the oven to 220°C and chip the potatoes then pop into boiling water and par-boil for 5 minutes.
2. Drain, spread into a well-spaced single layer on a baking tray and drizzle over oil and lots of seasoning; herbs and spices are also great here. Bake for 30 minutes, giving them a good shake about two-thirds of the way through.
3. The steaks are best taken out of the fridge at least two hours before cooking to ensure they are at room temperature. Just before searing, liberally coat in salt and pepper and then slick a little rapeseed oil over each side as you heat a large, heavy-based pan until smoking.
4. Sear each side for exactly two minutes, then wrap in tinfoil and allow to rest for 10 minutes for perfectly medium rare.
5. Whip up the sauce by reducing the vinegar with the shallots as you melt the butter in another pot. Put the egg yolks into a food processor, add the vinegar mixture, tarragon and seasoning then blitz altogether as you slowly pour in the melted butter. Keep warm in a pot over the lowest heat possible.
6. Serve everything together on plates warmed in a low oven and enjoy with a rich bottle of Malbec or Merlot. Got all that? You done good, kid.
This recipe for bavette steak and chips originally appeared in Gay Times Magazine, where we're the food columnists with a monthly recipe. Do follow GT on Twitter, Facebook or Instagram and subscribe to the magazine if you like!