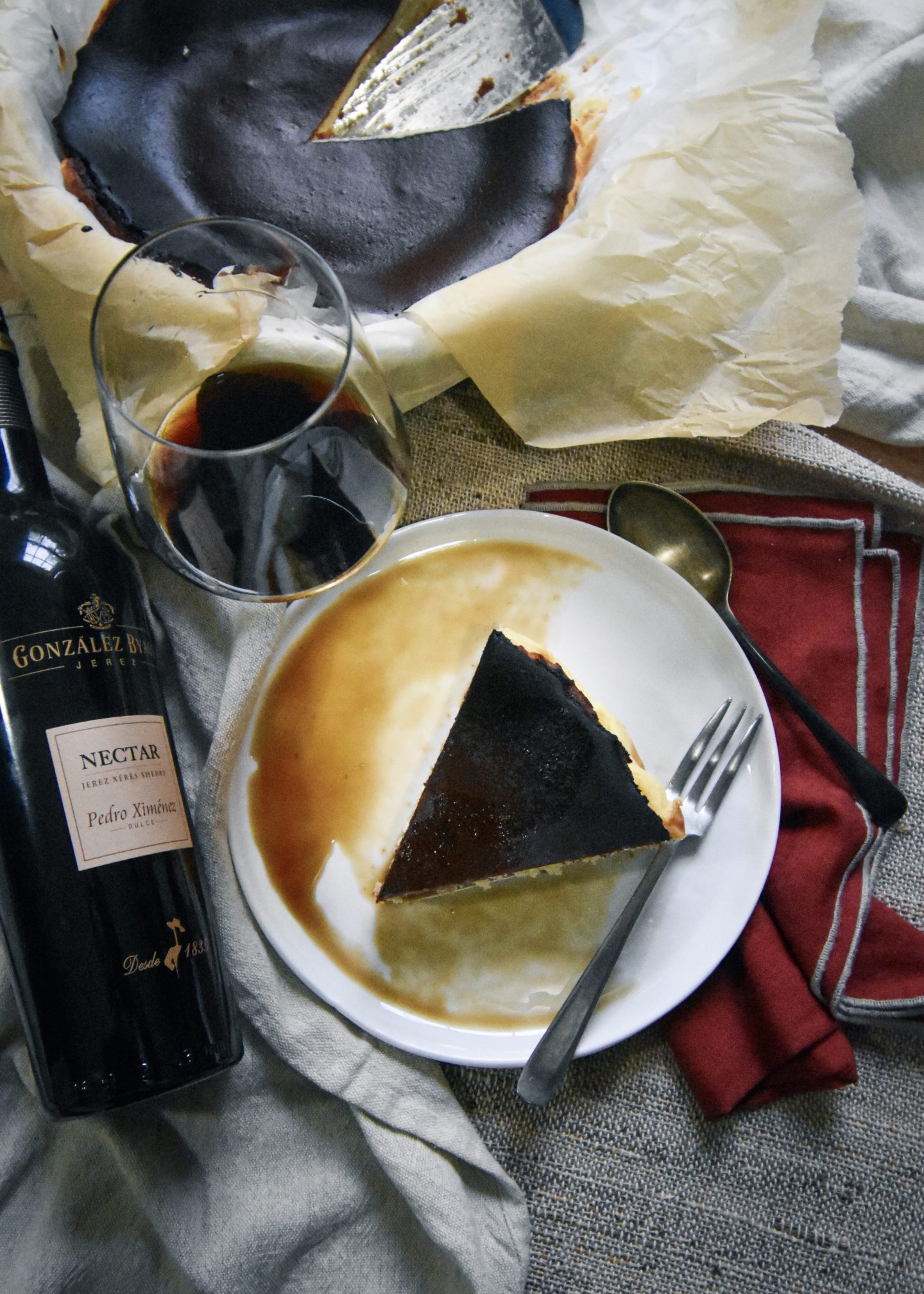 There's a small restaurant on 31 de Augosto Kalea in San Sebastián, the culinary epicentre of the Basque country. Need we even write the name? This burnt basque cheesecake recipe, inspired by there, is an icon.
For those who know, you know. La Viña is a culinary Mecca. A temple at which food lovers flock and congregate, breathing in every bite, savouring each single sip. Jostling for space at the bar. Occupying the coveted seats within. Spilling onto the street. It's an institution in the city, having stood for over fifty years. Its chefs are famed for many things, but nothing quite compares to their tarta de queso.
Spotted above the bar when you walk in, you'll see each cake still in its paper-lined springform tin. But don't be tempted by seeing these Basque cheesecakes in full stock –– these are tomorrow's offering, not today's. So they might not have any left to serve for today. This is a lengthy labour. Each cheesecake must rest in its tin for 24 hours, as this is a crustless cheesecake that rises under heat and falls slowly as it cools; cutting into it before 24 hours has passed won't deliver the right texture and will ruin the cake.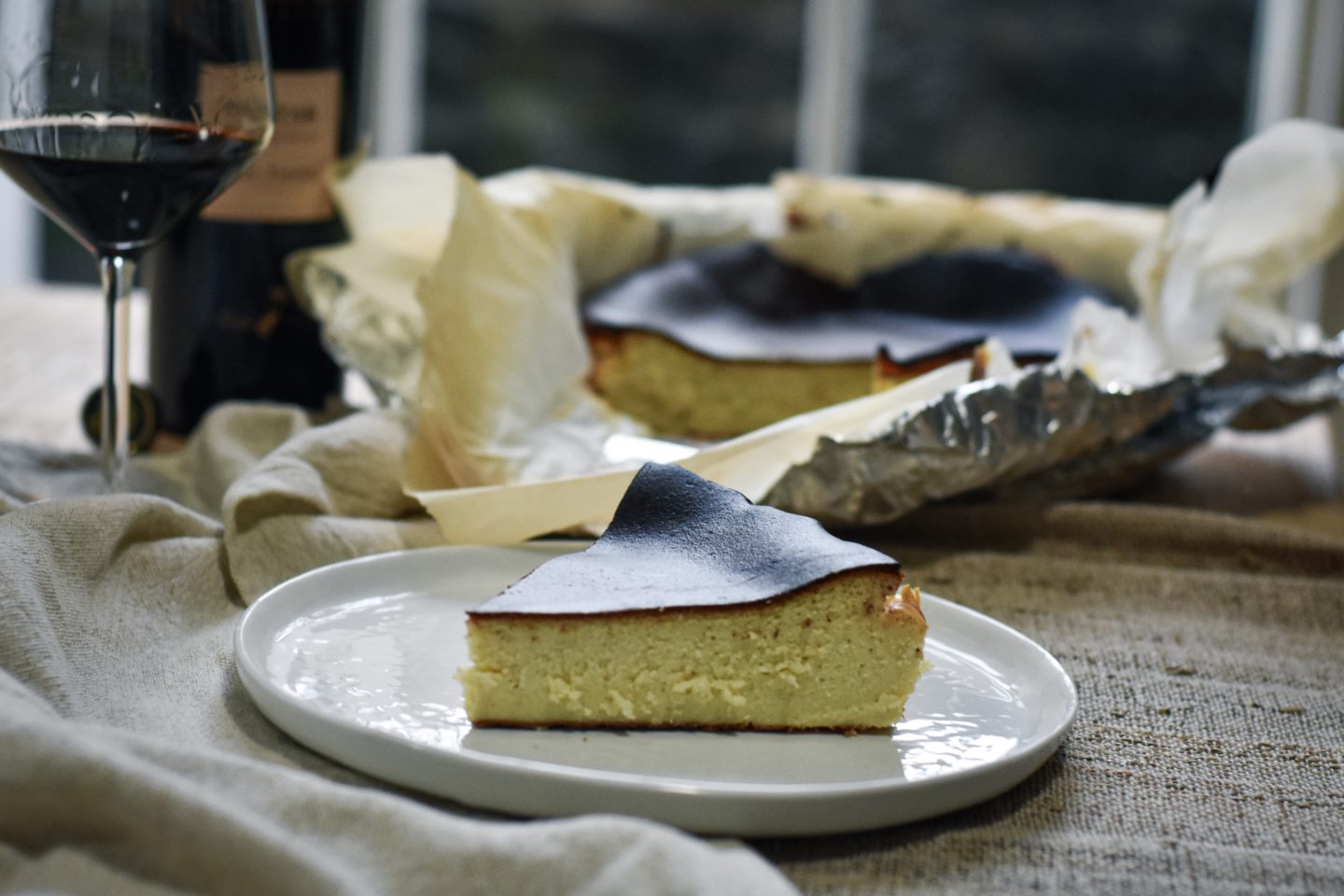 Each slice is a lesson is simplistic perfection. There's few ingredients here, but something about the luxurious combination of (mostly) different fats results in something far greater and more magical than the sum of its parts. What's more, those who really know, know to order a glass of rich, raisin-sweet sherry on the side, to sip with each forkful –– or, to drizzle over the top of the cake.
And the top of this basque cheesecake is what makes this instantly noticeable. It's burnt, but burnt intentionally; brandished a deep caramel brown by the heat of the oven whilst underneath rises with lipid lightness. You can push this pretty far, anywhere from lightly golden to almost a dark chocolate hue –– the top will continue to brown in the oven, it just depends on the time you take it out and your own personal preference. We lavish the texture and flavour contrast of the angelic under layer and the properly burnt crown.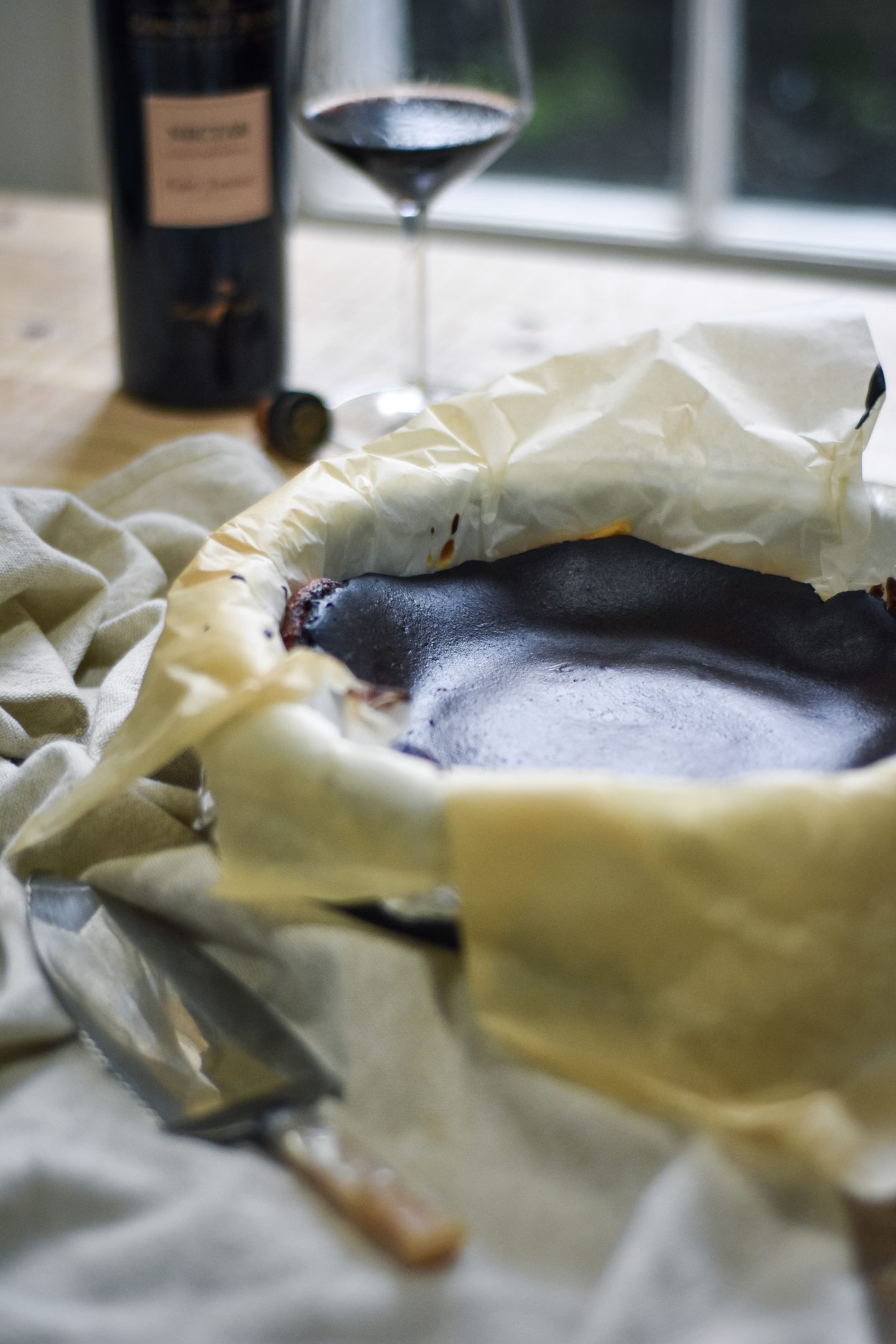 This elegant lady of a cake has zero airs and graces. She's no frills, she knows her quiet power. She doesn't need any wild, supplementary editions, she's classy and knows her worth… but we've added a little dash of vanilla paste, like a final spritz of expensive perfume. It just works in elevating the flavour and making it that bit more interesting –– even if it's not entirely traditional. We also use caster sugar, a finer sugar than granulated, which absorbs into the mixture far quicker than its coarser counterpart. This isn't the official recipe from the restaurant or anything, it's just our riff on it as close as we could make it to what we first tasted, flavour, size and texture-wise.
Tarta de Queso (Burnt Basque Cheesecake)
Serves 8
600g full-fat cream cheese, room temperature and drained of any liquid (you know the brands already, and don't even think about low-fat versions, but you could substitute a portion of this for a wonderful local cream cheese, we've tested this before with St. Tola goat's cream cheese)
2 tsp vanilla paste or 1 tbsp vanilla extract
4 large, free-range eggs
50g plain flour (about 4 large tablespoons), sifted
125g vanilla caster sugar (just a used vanilla pod steeped in sugar, but normal sugar is absolutely fine), sifted to remove any clumps
350ml double cream
3/4 tsp salt
1. First, prepare your springform baking tin, we use a round 23cm one (8″). Close it correctly and line it with a sheet of tin foil, then follow with a large sheet of baking paper, followed by a second layer. Don't worry about frills or grooves, this doesn't require nimble perfection, it as much dictates a homemade look. We've seen recipes where they butter *and* line the baking tin… you don't need to do that. An unnecessary step, if you ask us, as you will have tin foil and two layers of parchment/baking paper around the springform tin, keeping everything snug and safe inside. Even if you didn't have the tin foil as an extra layer, the mixture shouldn't leak beyond the parchment and the parchment shouldn't stick to the tin. Place the prepared tin on a baking tray (just in the odd case that anything might seep through)
2. Pre-heat the oven to 200ºC (190º fan) and whilst that's happening, in a stand mixer beat the sugar and cream cheese for about two or three minutes until velvety and all incorporated. You may need to scrape down the bowl with a rubber spatula once or twice, just to make sure everything is combined.
3. Lightly whisk the eggs in a jug, just to break them up and get them to come together into the one consistency –– we've found when testing this that they incorporate far easier this way, rather than just cracking a whole egg into it, one-by-one. Add a quarter of the egg mixture to the sugar and cream cheese mix whilst still on a medium speed.
4. Follow with a tablespoon of flour, then the next quarter of egg mix, a tablespoon of flour, the third quarter of egg mix, a tablespoon of flour and finally the last of the egg mix and the last tablespoonful of flour; so you're alternating a little egg, a little flour until both are in the mixture, whilst the stand mixer is constantly on medium-low.
5. Then, scrape down the bowl just to make sure nothing has been left at the bottom unincorporated, put it back on the mixer and finish with the vanilla, salt and the cream, amping up the speed to medium-high for 30 seconds or so just to get some more air in and make sure everything is as one.
6. Pour into the prepared tin and bake for 45-60 min until it's risen over and above the height of the tin and has a quite intensely browned top, but it will still have a little wobble.
7. Remove from the oven and allow cool for 24 hours. About an hour or so in you can cover with a clean tea towel just to protect the top if you wish (but we don't, and we haven't died yet, so…)
8. After a day, a full 24 hours, has passed, slice the Basque cheesecake with satisfaction, rewarding yourself for hardly any work at all but demonstrating the patience of a saint, and serve with (or drizzle over) some sherry – the best you can afford.