This recipe is derived from Helen James' Banana Cake and follows on from our Considering Dunnes Stores post all about the Considered by Helen James collection.
This is a great recipe for using up leftover bananas, and in reality, the blacker the banana the better, as the sugars sweeten during the ripening process. Every household always looks guiltily at the couple of bananas they've neglected to eat that are turning darker by the day and may soon end up in the bin, so here's our way of making sure there is no waste.
This time of year, dried fruit is used in abundance and one of our favourite dried fruits are dates, which are packed full of fibre and toffee-like sweetness, which works great for diabetics or low-sugar diets and combines beautifully with the flavour of banana and the mixture of spices in this cake recipe.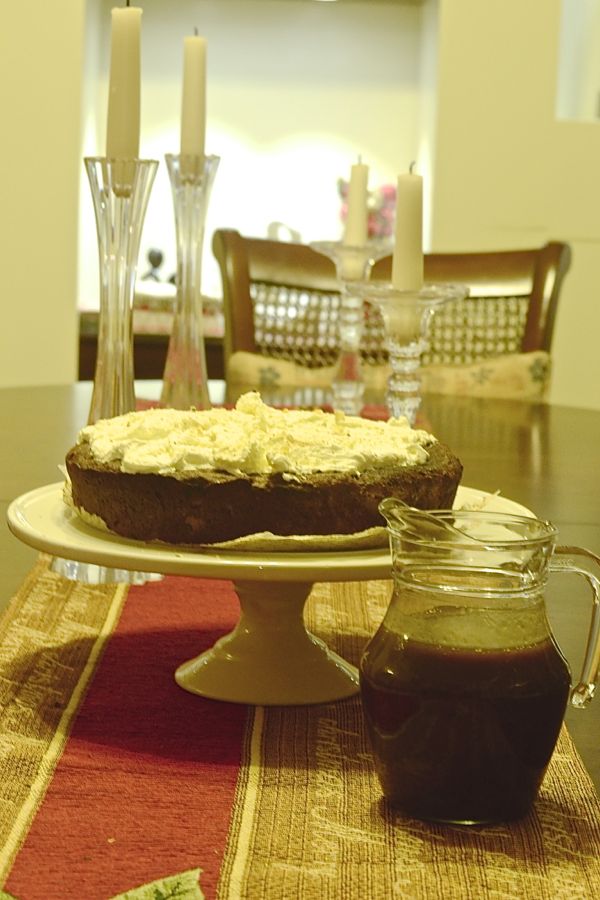 We've kept the cake sugar-free, as lots of people will be thinking about reducing their sugar levels and calorie intake now it's the New Year. However, the double cream topping and the butterscotch toffee sauce we've served alongside here are both naturally quite indulgent. You can serve the cake with whatever you like and whatever your tastes or dietary requirements. The cake's also sturdy enough to be cut into slices and toast before slathering with butter or vegetable spread, if you would prefer. We particularly like warming slices of this, spreading with a thin layer of peanut butter and making an open sandwich with slices of banana on top.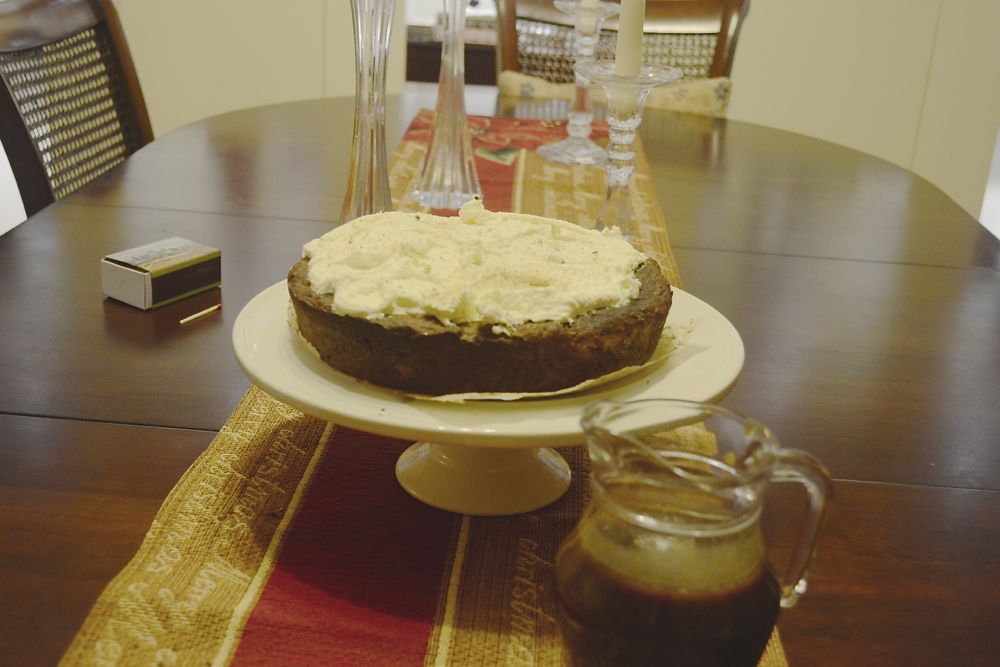 Ingredients
225g butter
275g flour (200g plain and 75g wholemeal)
300g dates (with enough water to cover in a pot)
2 large, overripe bananas
1 tbsp baking powder
2 tsp vanilla extract (or one vanilla pod, or 1tsp paste)
1 tbsp cinnamon
1 tsp ginger
A couple of fresh cardamom pods
1 lemon, juice and zest
1/4 tsp salt
2 large eggs, free-range, room temperature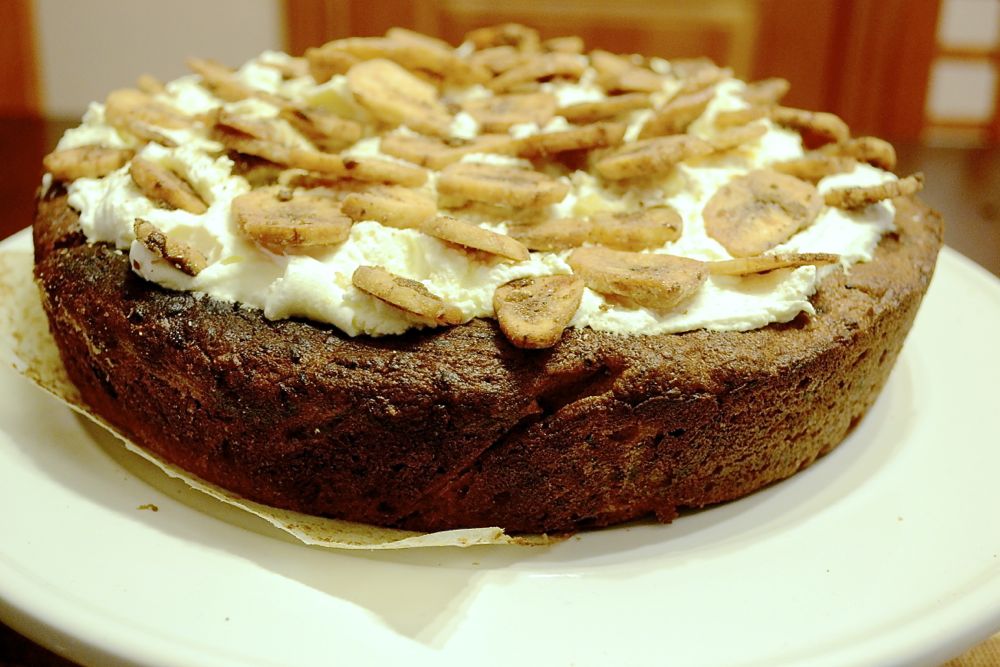 Method
Weigh out all your dry ingredients while you put a small saucepan on to simmer with the dates. Fill the pan with just enough water to completely cover the dates and allow to simmer for about 10-15minutes until they are soft and the water has somewhat been absorbed.
Allow the date mixture to cool, off the heat, while you mash your bananas with the lemon zest and juice. Add the eggs and whisk all to combine.
Blitz the date mix in the food processor. It should come out like a thick jam or paste consistency, then allow to almost completely cool.
Cream your butter until pale and fluffy (which will take at least 10 minutes by hand, or 3 minutes in a mixer) and then add the vanilla and slowly dollop in the date mixture until all combined.
Mix all the dry ingredients (flours, powder, salt, spices), you will now have the butter date mix in one bowl, while the dry ingredients and wet ingredients will be segmented into other bowls.
Pre-heat the oven to 170°C while you add the dry and wet mix alternately to the butter mix. Begin and end with the flour (so in your mind allow for four additions of dry and three additions of wet).
When all combined, pour the mixture into your desired tin, greased and lined, and bake for 35-45 minutes, depending on your oven.
Test with a skewer to ensure the cake is done, and allow to cool slightly before taking out of the tin and removing the lining paper.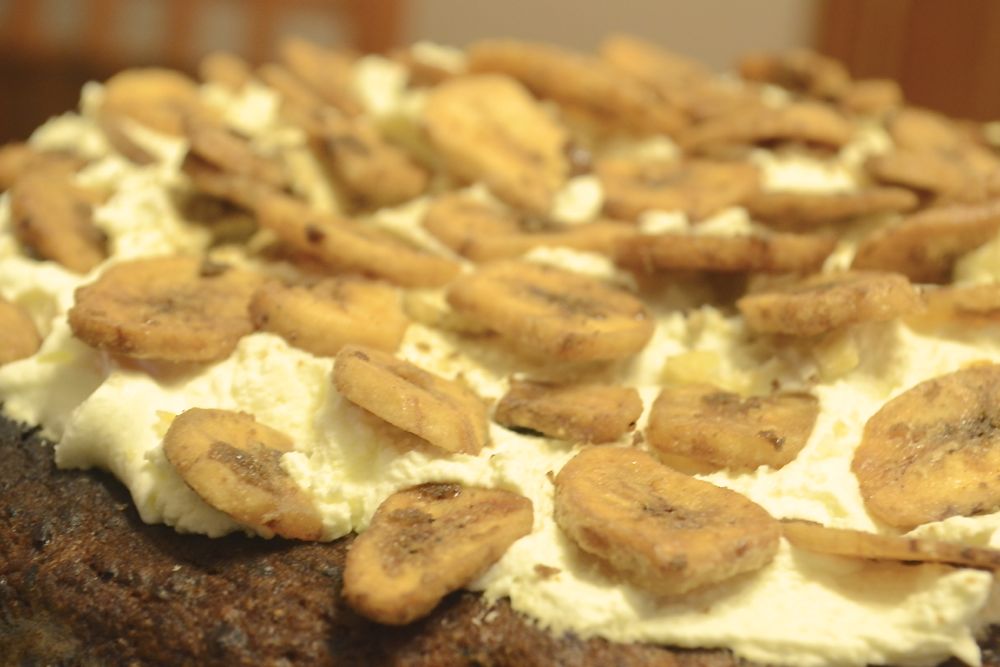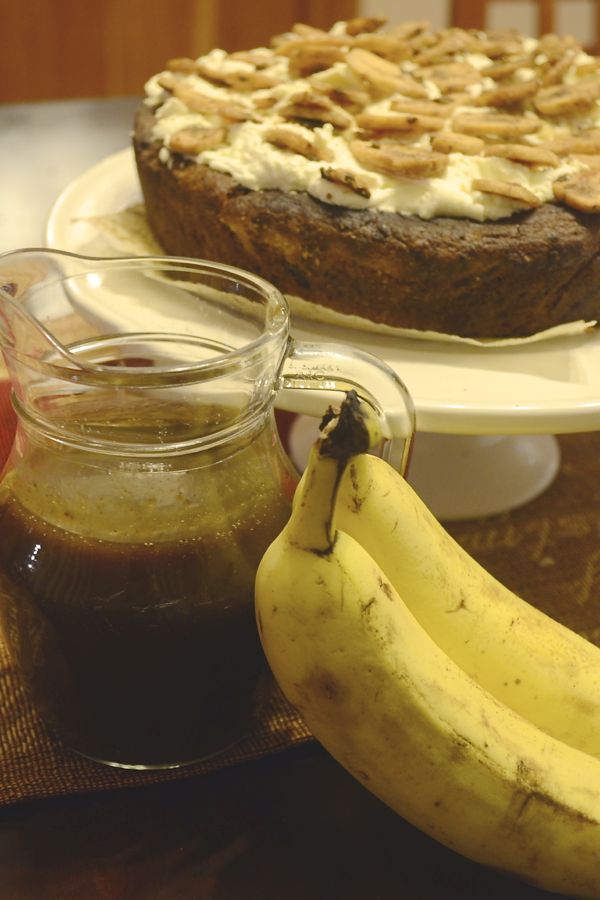 To make the cream topping, simply whip about 300ml of double cream until it just holds its shape. This can then be dolloped on to the top of the cooled cake and smoothed out to all sides.
For the butterscotch toffee sauce simply melt 100g of light brown sugar in a pan, while it dissolves in a little drop of water, alongside 100g of unsalted butter. After it melts together, bubbles and darkens in colour add in 100ml of double cream and stir it all to combine. If a little thin, keep on the hob to reduce a little (but it will thicken when cooled). As it's cooling spritz a little lemon juice in, and add any spices or flavours you would like (we used ground cinnamon and ground cardamom as well as flakes of coarse sea salt).
For decoration, we heated dried banana chips (available in large supermarkets and health food shops) in a hot oven, sprinkled with some dark brown sugar, for about 10-15minutes until they semi-caramelised, then allowed to cool and placed casually on top of the cream mixture.