A traditional Irish dish that sings sweetly in its simplicity, no airs and graces, no greater than four fairly basic essential elements served with one another: bacon or cooked ham, mash or some form of boiled potatoes, a hardy green like cabbage or kale, and a creamy white herb-flecked sauce.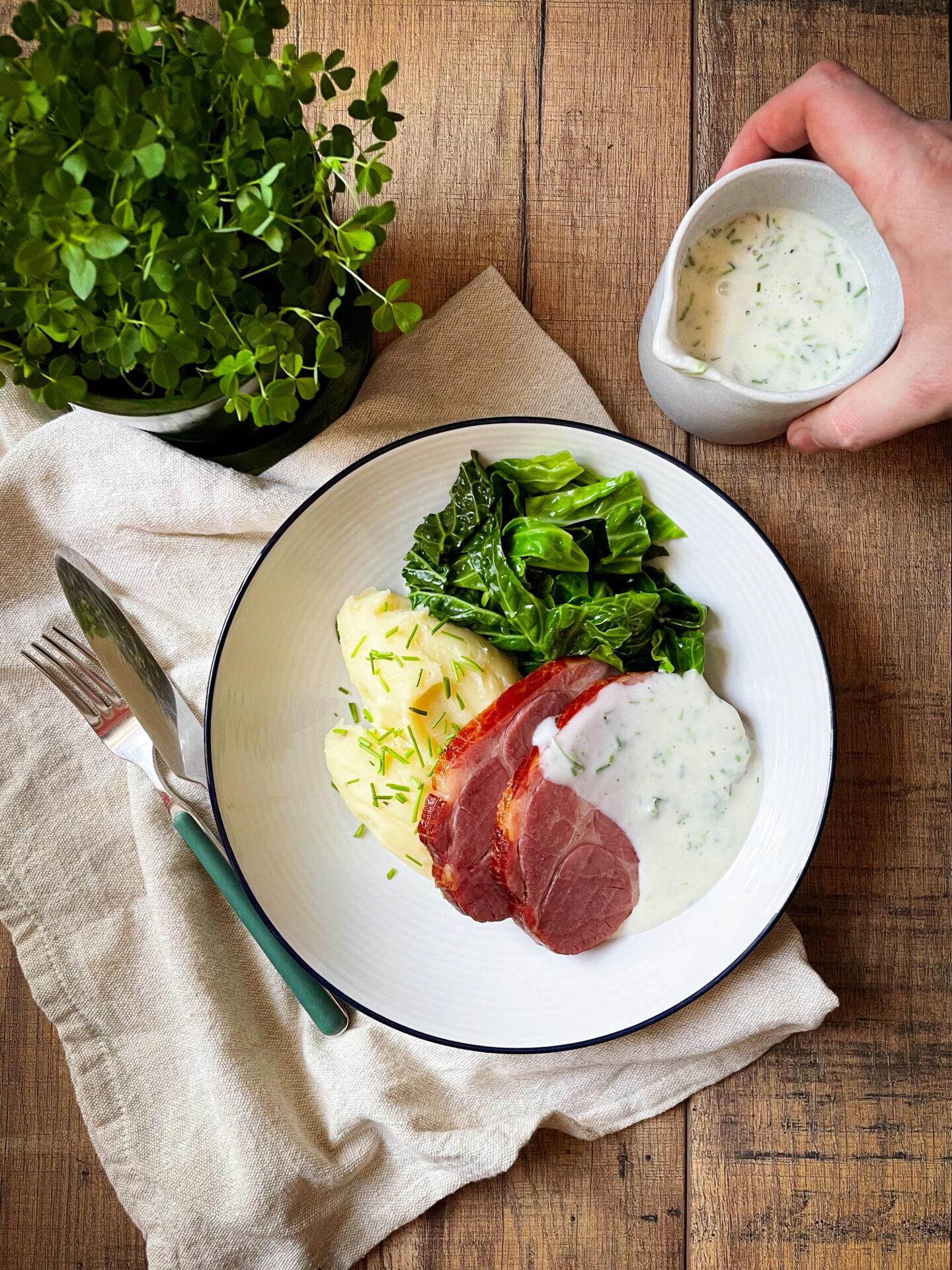 Irish cuisine is *all* about the quality of base ingredients. We grow sensational potatoes (not native, we have the New World to thank for those imports) in a roll-call of distinguished varieties, each one better than the other at some form of cooking, whether it's a floury 'spud' for mash, a Kerr's Pink for chips or waxy new Gemsons for early summer salads. We have the best dairy in the world, our butter sits unrivalled on its golden throne, we swim in high fat milks and creams, bathe in buttermilk, boast serious artisan cheeses of dizzying styles. Our landscape is dotted in a patchwork of hundreds of shades of green, and as much as we curse the almost daily rain that soddens us, we know we'd be nothing without it, as our animals graze on it and our soil rewards us with so much ample supply.
Simple speaks, when the quality of the produce is this good. And so, sometimes a classic recipe needs no interpretation, no update, no reimagining. Just leave it be, and let it captivate and comfort in every forkful.
This recipe is really a celebration of our local produce, as we've used so many local Boyne Valley Flavours (of which we're the Brand Ambassadors) suppliers, like Hugh Maguire Butchers, Meade Farm, Rock Farm Slane, Oriel Sea Salt and Newgrange Gold –– all of which we're so lucky to live around.
Smoked Collar of Bacon w/ Buttermilk Mashed Potato, Savoy Cabbage and Chive Sauce
Serves 4
8 medium-sized potatoes (2 per person)
We use a nice floury potato here, like Meade Farm's brand new Irish Gold variety with their ideal texture, golden skin and noticeable purple 'eyes', which makes a sensational mash. 
Hugh Maguire ("The Smokin' Butcher) of Hugh Maguire Butchers in Co. Meath has reinvented and reimagined a classic from the past with his Smoked Collar of Bacon. A staple a couple of generations ago, its fallen out of fashion and now hard to find unless you order in from your local butcher. Hugh to the rescue by resurrecting this classic with a three-step process: Himalayan pink salt-dry cure, a brown sugar sweet cure and a final smoking over beechwood chips! [note: If you can't get your hands on this, you can use whatever ham, gammon, bacon loin you can find and cook per packet or butcher's instruction]
A head of Savoy Cabbage or Kale
We use Rock Farm Slane's organic cabbage or greens from McNally's Family Farm, both organic producers.
For the Chive Sauce
30g real Irish butter
30g plain flour
2 tsp fine salt
450ml milk
1 tsp ground white pepper
A large handful of fresh chives, finely chopped
(optional) a few sprigs of dill, stems removed and fronds chopped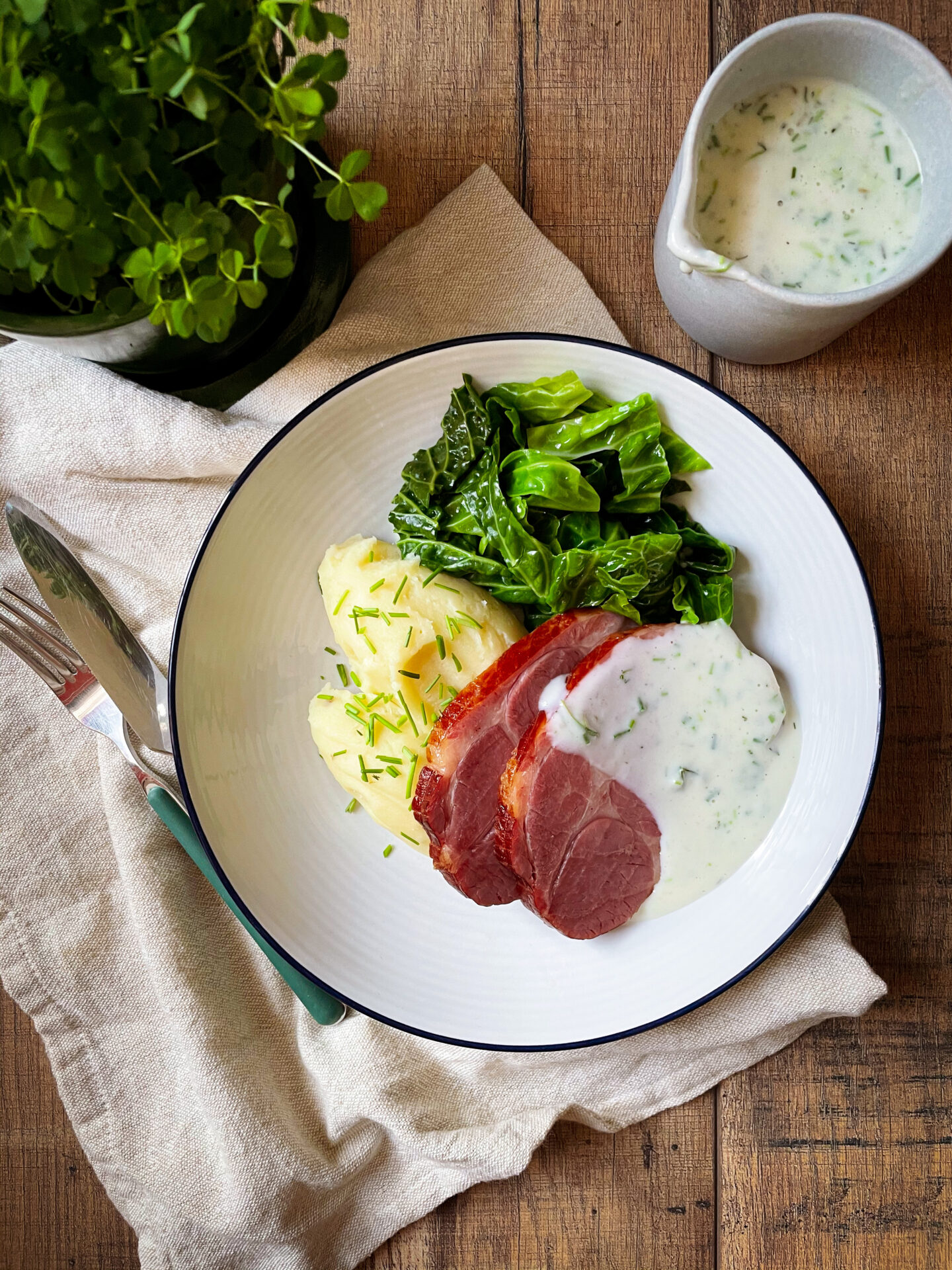 For the bacon
This style of bacon comes in the packaging fo you steam-bake it in, so it seals in the moisture and stops it from drying out or overcooking, Hugh suggests to give this about 2 hours in the oven at 150ºC and it should be perfect. We take it out after this and pop it on a higher heat (190ºC) for 10-15 minutes just to add some extra colour, glazing with the juices a couple of times. Allow to rest for 5 minutes before carving into slices and serving.
For the mashed potato
1. Peel and halve your potatoes as you bring a pot of water to a boil, just enough to cover the potatoes comfortably. Cover and reduce the heat, allowing the potatoes to cook until tender (a knife inserted and removed without any resistance) then drain immediately and add to a mixing bowl.
2. Melt 100g of butter in a saucepan, then add 150ml buttermilk and allow to warm on the lowest heat as you mash (or rice) the potatoes, then add the liquid ingredients, mashing or beating in with a wooden spoon to aid air. You may need more liquid depending on the consistency you want, bearing in mind you can always add more liquid but can't really take it away, so be careful or you might end up with too loose a mash. 
3. Season the mash really well with ground white pepper, Oriel Sea Salt and – if you have it – a glug or two of Newgrange Gold Smokey Rapeseed Oil, which adds a hint of colour and a gorgeous smoky nuttiness to the mash.
For the cabbage/kale
Wash and roughly chop the cabbage or kale leaves, removing the fibrous stem and discarding so you just have the leaves. Melt a little butter in a pan on a medium heat and then follow with around 100ml of water, add in the chopped greens and put a lid on top, reducing the heat to low and allowing the greens to steam and gently fry, which is far superior to boiling. Once tender, drain on some kitchen paper, salt liberally and serve whilst still warm.
For the sauce
1. First, make a roux by melting the butter and stirring in the flour until a paste forms. Allow this to cook out for one minute, stirring with a whisk often so as not to colour.
2. Then, add the milk, 50ml at a time or so, continuously whisking until the sauce is thickened, lump-free and the viscosity of double cream –– pourable yet thick.
3. Add the herbs off the heat (so they don't go a horrible off-green colour in the heat) and serve immediately. Chive seems to bring so much more to this than parsley ever could, with its soft allium bite.