We love to hear from everyone, and our email is hiya@gastrogays.com for all kinds of inquiries, comments and chat.
If you want to request our media kit, please drop us email us too.
Reviews (Restaurant, café, bar, product…)

The original reason why we started up this blog was to explore and visit a number of places across Dublin then review them for the site. Since moving to London, we have tweaked our mission to an extent and still enjoy visiting and reviewing restaurants, cafes and bars, albeit a little less than before, as our own recipes, photography and personalities have taken more of the spotlight.
We have a stuck rule however, that we will not write negative reviews. Our blog was born with honesty running through it's veins, and sometimes that requires critique and harsh opinion, but we will not waste our time by damning someone else's business on this site. Running a blog takes up a lot of effort and lots of man hours and money and we don't believe in spending our spare moments consciously bringing negativity to our labour of love. We find the good in almost everything, and if it isn't good to us, we'd rather just not review – just how we wouldn't recommend a place to friends and family if we didn't truly support and enjoy it.
We also try and visit a business at least twice (often three times to get the best opinion and experience) before reviewing it. This is extremely important for us, as it means we get a rounded picture, and also dine at different times of day, eat different menus and get different service each time, so we can provide you with the best insight. This practice also takes up a lot of free time and cost, always at our own expense, so we take it very seriously.
Oh, and we don't believe in writing favourable reviews or pushing content in exchange for a free meal, by the way. An email inviting us to a meal in exchange for a review will be politely declined- pre-conditions compromise content. Similarly, we won't email a restaurant asking for a meal in exchange for coverage. Any post branded as a review, you can be assured, will be paid for by us. Anything that is gifted, sponsored, an ad or by invite will be disclosed and declared clearly. No one loses out when they'e upfront.
We've written a highly praised post greatly detailing about our experiences with being bloggers, trying to remain honest, and juggling full time jobs.
As far as international travel is concerned, we occasionally enter discussions with hotels, tourist boards, airlines in order to expand the breadth of content we can create when we travel on our own bat, but we'll disclose where necessary. International travel writing can be expensive and without the backing of a publication, as many bloggers will tell you. Press trips and the elements of them, by their nature, are organised out of our control.
Photography
All photography taken by us, on our trusty Nikon D3100, and styled and edited by us too, as well as using our iPhone 6 and iPhone SE. Wherever photography not taken by us is featured, we will always credit and link to the original source. Use and/or reproduction of our images without our approval is strictly forbidden, though we are often happy to share following discussion. We edit a majority of our photos simply on iPhoto, Lightroom Elements or Snapseed.
Radio
Video/TV
Since December 2016, we've been regular cooks on The Six O'Clock Show on TV3 in Ireland, rustling up delicious recipes on the daily live programme. You can view all our appearances on our YouTube.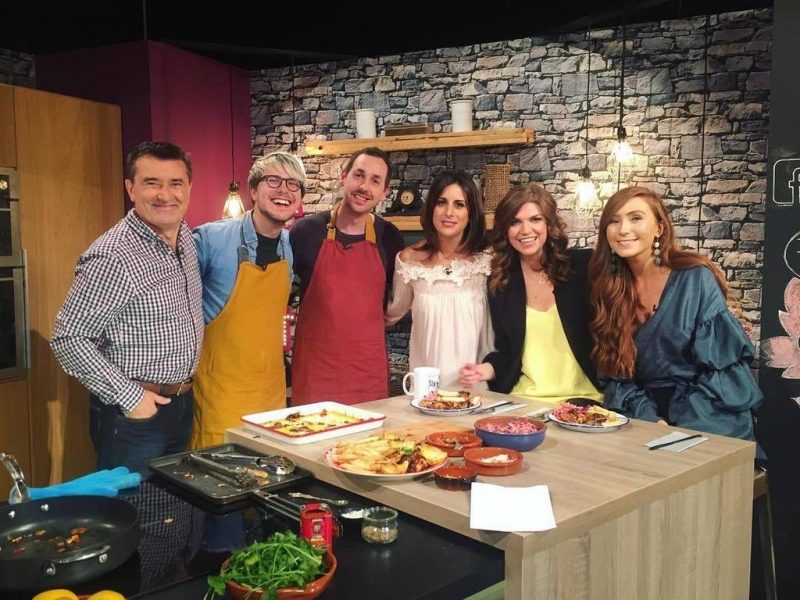 In February 2016, we were critics on TV3's "The Restaurant" which we've written about here on the blog.
Get Baking with Paul Hollywood – Waitrose TV (SpunGold TV, Spring 2014)
Publications/Contributions
From July 2014 to March 2017, we were the new food columnists for Gay Times.
We're contributed to GNI Magazine in 2016, the leading LGBT publication in Northern Ireland. In which we've written a number of recipes, travel pieces and about the Eurovision Song Contest.
Other published work featuring or written by us include:
Guardian Cook! Magazine – A throng for Europe- Eurovision Get Together -17th May 2014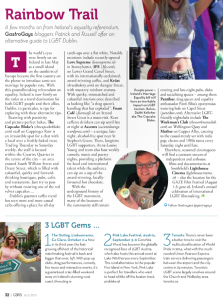 Cara (Aer Lingus in-flight magazine) July 2015 [Click Image to enlarge]
Independent Travel – Eurovision 2016: a guide to Stockholm – May 2016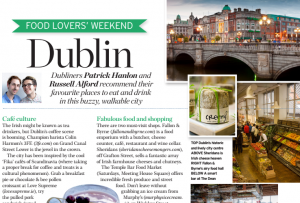 BBC Good Food- Food Lover's Weekend: Dublin – March 2016.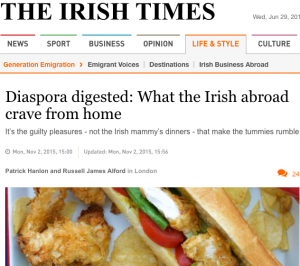 The Irish Times – Diaspora digested: What the Irish abroad crave from home – November 2015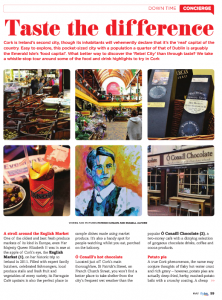 Flight Time (Flybe)- Taste the difference: Cork City – May 2016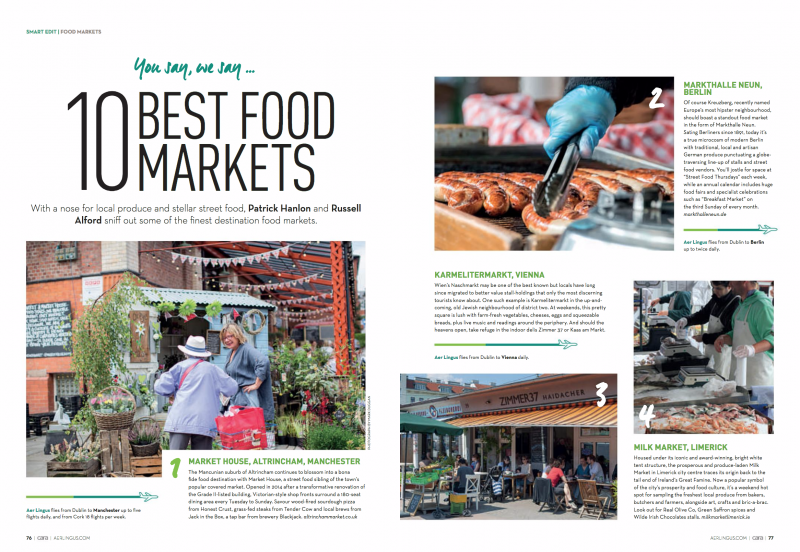 CARA  (Aer Lingus In Flight Magazine) – 10 Best Food Markets – September 2017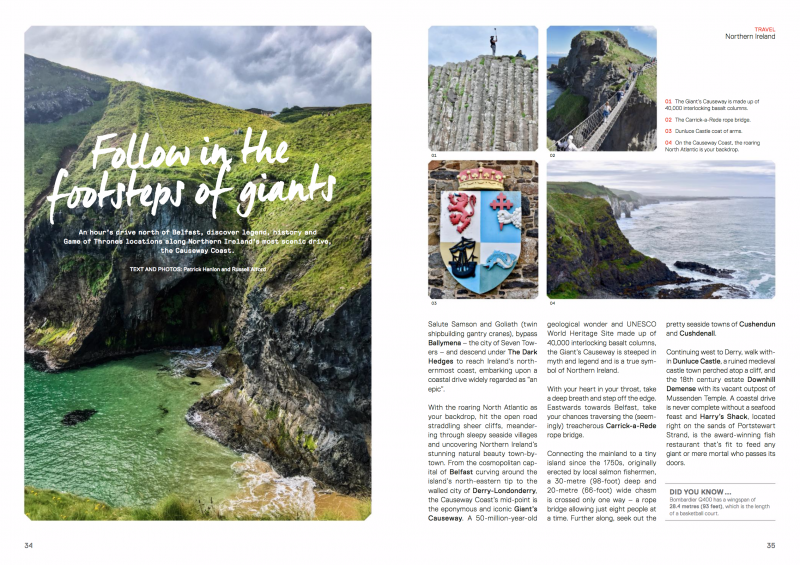 My North – Air Iceland Connect's Magazine – Causeway Coastal Route – October 2017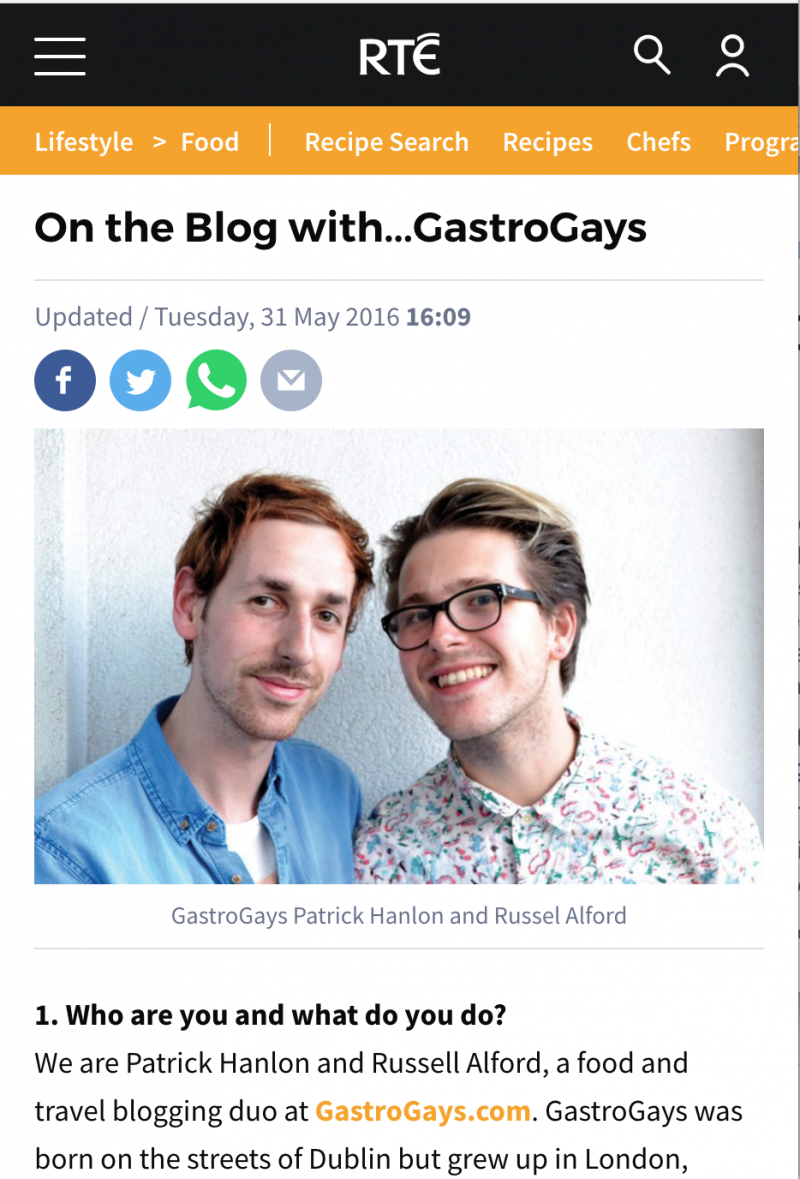 RTE Lifestyle – On The Blog with..GastroGays May 2016
East Village London interview – November 2013
20 Must-Try Brunch Dishes In Dublin – BuzzFeed
15 Of Dublin's Greatest Juices – BuzzFeed
"Frustrating, Chaotic, Perfect: Noordzee, Brussels' Best Non-Restaurant?" – Huffington Post – 7th August 2015
"Ten of Dublin's Best Breakfasts" – Huffington Post -24th August 2015
"Steeping Chicken In Buttermilk and Filling With Garlic and Black Pepper Will Change Your Life" – Huffington Post- 12th November 2015