Come for the Guinness and the gab | stay for the unbelievable grub in Dublin.
You have two chances to blow brunch right outta the water every single weekend. Use them wisely, here's 20 contenders for the best brunch in Dublin!
They claim to be the best brunch in Dublin, and this dish is a sexy little slice of Sunday morning indulgence. Served 10:30am – 4pm Sat, Suns and Bank Holiday Mondays, it feeds two and is well worth the 20 minute waiting time. Meaty lobster tail, new potatoes, sweet red pepper, cherry tomato, poached eggs and caviar hollandaise. Winning!
Green Eggs & Ham at 3FE (€14)
Ham it up, lads! Served on fluffy crumpets and drizzled in herby hollandaise, available from 10am 'til afternoon every Saturday and Sunday.
Chestnut Miso Mushrooms on Sourdough at Bear (€8.95)
"Meat me for brunch!"
You wouldn't expect those ballsy Bear 'flas with their bloody steaks to have such a dainty brunch menu, and definitely wouldn't expect the veggie option to rule them all. These meaty chestnut mushies are the perfect pick-me-up, cooked in miso butter and sitting proudly atop avo on Levain Sourdough.
HELLO WEEKEND.
P.S. The red flannel hash (steak, beets, potatoes, fried eggs and hot sauce) is defo not for the faint of heart!
Sea food. Eat it. Wrap your net around this clever catch of smoked fish with homemade Dillisk (seaweed) bread, crème fraîche, pickled cucumbers and caper-berries. Healthy and very, very Irish!
The Works at Sophies (€10.95)
Sitting at the top of The Dean Hotel, you'd pay for the view alone! Perish the thought of sloppily-served fry-ups as this chic little number is daintily plated all pretty and perfect. The freshly-made rosti is always a joy and everything on the menu is local Irish produce – can we get an Amen?  Served daily until 11am and weekends until 3pm.
Hatch & Sons All-Day Breakfast (€9.50)
Long been Instagrammed, this is the stuff Irish Mammies would be proud to see their sprogs eat. SURE doesn't it come in a piping hot skillet with a teatowel wrapped around it! A duo of baked eggs, crispy bacon, sausage and roast tomato alongside brown soda bread and Glenilen Farm butter. All the way, all-day, baby!
Turkish Eggs Menemen at Brother Hubbard (€9.95)
Available at both Brother Hubbard (Capel St.) and Sister Sadie (Harrington St), this is perfect for when you want a right kick up the arse to start the weekend. Spicy, creamy, rich, herby, sweet and savoury, this take on a Turkish classic includes scrambled eggs, red pepper, tomato, red onion, chilli, feta and black olive yoghurt and a grassy hit of freshly-cut herbs, all on top of toasted sourdough with spinach. Wowza! Make it even better with a serving of pulled pork, pan-fried chorizo or smoked salmon for about €3 more!
Breakfast Sandwich at Noshington (€6.50)
Well regarded as the perfect Breakie sandwich. Noshington's popular handheld hero of a dish is as much fun as you can have between two slices of bread – lemony, peppery O'Mahony bacon, fried eggs, Manchego cheese, rocket and red pepper aioli on ciabatta. Available every day of the week, every single second they are open and is €1 cheaper if you take-away. Worth waking up for.
Organic Pinhead Porridge at Camerino (€1!)
Bakery, café and all-round cute sustenance stop Camerino on Capel Street offers silky, freshly-made porridge which is just €1, then topped with a choice of fresh fruit, homemade granola, toasted almonds, coconut, Irish honey all €1 extra each…. mix 'n' match for super sweet, lovingly loaded porry. A nice 'aul hug from within!
Just off Camden Street, this cafe has been making waves among the foodies and aficionados about the city.  Egg yolks running into sorrel and rainbow chard – a proper upgrade from hard boiled eggs & spinach that is for sure!
Scrambled Eggs and Gubbeen Bacon on Brioche at The Fumbally (€6.50)
A stone's throw from St. Patrick's Cathedral in hipster-filled Dublin 8, The Fumbally has exceptional coffee and a small, well-formed menu with all-day breakfast like scrambled eggs on brioche toast with Gubbeen Smokehouse ham and tomatoes, which is a plate of sheer beauty. Served Tuesday – Friday from 8am and Saturday from 11am. Fumbally also do a MEAN avo toast; Instagram at the ready…
Breakfast Pie at Love Supreme (€5.20)
Get your sleepy ass to Stoneybatter for an entire breakfast inside a personal-sized pie. Not even joking. There's 3 flavours:
Maple Bacon, eggs, cracked pepper & tomato marmalade. Delish.
Goats cheese, eggs, thyme & tomato marmalade. Gamechanger veggieness.
Egg, chorizo, mint & tomato marmalade. Lipsmackinglygood.
Weekdays from 9am, weekends from 10am and available for as long as they're stocked each day. These breakfast bandits are also turning cereal on its head, offering homemade, modern interpretations of childhood classics, like the salted caramel & almond nib rice krispies. HHHNNNGGG.
Granola Pot at Eathos (€7.50)
For a healthier take on brunch, head over to Baggot Street for the trendiest granola pot you've ever laid eyes on: toasted quinoa granola, Glenisk yoghurt, compote, fresh fruit, goji berries. Mmmm, looks good, tastes even better! The buckwheat pancakes with cacao nibs, pecans and maple syrup are also fluffly little flippers of dreaminess.
Coco Pops French Toast at San Lorenzos (€12.95)
They call it the 'brunch of champions' and where else have you seen Coco Pops-coated French toast? This beastly beauty is served with caramelised banana, peanut butter, mascarpone whipped cream and Belgian chocolate sauce. NOM. If you like your brunch boozy, loud and absolutely banging, head to San Lorenzos on George's Street, every weekend from 10:30am.
Bacon & Pear Sandwich at the Pepperpot Cafe (€6.50)
If there is a sandwich that is making everyone in Dublin crazy, it is THIS. We first heard about it from French Foodie In Dublin, who if she had to have one final day in Dublin, it would be the perfect way to start. Roast pear, excellent quality bacon and Mount Callan bacon is like music to our ears too!
Duck Sausage and Egg Muffin at Super Miss Sue (€12)
With a menu of fresh-from-the-ocean seafood, this is the surprising star of Super Miss Sue's brunch menu. Fluffy English muffins come filled with a meaty duck sausage patty, topped with a perfectly fried egg and served alongside a rocket salad with crispy fried onions. Enjoy with another fantastic brunch menu item, the caramelised grapefruit (€3) and you are laughing!
French Crepes at l'Gueuleton (€10.50)
WIN brunch for 4 + pitcher of margarita for tomorrow. Follow and RT to enter. Winner announced tomorrow morning. 😎🍳 pic.twitter.com/PhKsNcOCND

— l'GueuletonDublin (@lGueuleton) July 18, 2015
Silky soft and impressively thin crepes served with seasonal berry compote and lemon mascarpone. Live lazily and roll from bed right along to Fade Street for this fancy French fare, 12pm onwards at weekends.
Homer's Brunch at Taco Taco (€12.95)
Whether you think it's inspired by the Simpson or the historical writer, this brunch is worth shouting about. Bringing an international arsenal of good stuff, that Canadian dream, poutine, is layered with smoked streaky bacon, double fried eggs, cheese and black pepper sauce. *homer gurgle noise*
Black Pudding and Halloumi at Wuff (€8.50)
Black pud is a contentious one. Some love it, some hate it. Some do 'ave em. Some don't. Embrace it here with salty, griddled halloumi in a warm salad that's got 'Perfect Autumn Brunch' written all over it. Wuff-ly!
Baked Eggs at Slice (€8.90)
How Do You Like Your Eggs In The Morning?
Some will say "not with smoked fish" and others will welcome this savoury revelation. Baked eggs alone are enough of a worthy wake up call, especially served with dippy bread. Tailor yours with bacon, sausage or smoked mackerel at this sexy little slice of a cafe in Stoneybatter
Brunch Tasting Menu at Forest Avenue (€26)
@ForestAveDub just. Sublime. pic.twitter.com/AHBl8vmWTy

— George boyle (@Geomizosi) May 5, 2016
Okay, strictly speaking this isn't a brunch dish, but did you seriously think we'd ignore the fact that there is a *brunch tasting menu* going on in one of Dublin's most popular spots?  While the menu will change according to season and availability, you start off with coffee & donut (of course you do!) followed by beautiful dishes like the gnocci and fried eggs as seen above.
Salt 'n' Pepper Lobster Burger at Pichet (€20)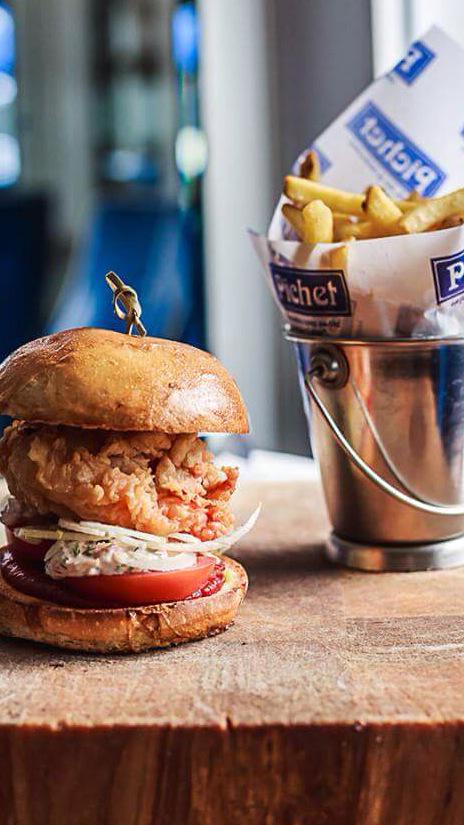 Yes, that is deep-fried lobster. Yes it's slathered in Bearnaise AND tomato jam. Yes, it's salad-ed with shaved fennel and tomatoes. Absolutely yes you're having a burger and chips for brunch. #LeBrunch at Pichet is never a disappointment. Just remember: always say 'yes'!
The name alone is a winner, but this hearty and homely dish is knock-out with organic lamb meatballs in a rich tomato sauce alongside couscous, roasted vegetables, sour cream and crusty baguette on the side to dip into. A Bloody Mary to wash it down is a MUST.