Of course, we're not against Guinness – even Bey likes the 'G' – and we've nothing but good stuff to say about 'The Black Stuff'. But we're here to tell you that Ireland's drink game goes way beyond stout; there's more that Ireland produces than that… Across the Emerald Isle, the craft brewery and small batch spirit distillery business is booming. Not just selling locally, this huge market is getting more and more fledgling players finding a national and even international audience! Here are a few suggestions to wet your whistle 🍻

The idea of a 'milk gin' might sound a bit peculiar to you, especially as it's named after the world's oldest cow, but believe us: this gin is something else! Made in West Cork by Ballyvolane House using alcohol whey (a cheesemaking by-product, as apposed to barley or wheat grain) and filled with local botanicals – some foraged right off the trees and meadows – this gin's delicate flavour is both soothing and surprising. You'll taste notes of cardamon, cumin and sweet citrus with each sip. This milk gin has recently been joined by a Sloe Gin sibling, made using sloes picked from around Ballyvolane House.
Amazon stock Bertha's Revenge, and it can be ordered via our affiliate link here.
Based in the heart of 'Ireland's Ancient East' in Drogheda, Co. Louth, nestled along the eastern coast hugging the Irish Sea, Jack Cody's is one of the many small, independent breweries booming at the moment in this area equidistant between Dublin and the border with Northern Ireland. With a growing range of craft beers and limited edition specials, they've even gone and dedicated an extra strong, seasonal stout to St. Patrick himself, made in a limited run every March. Pour one out for your 'ol bro, St. Paddy 👊 Our forever favourite is Duxie, the Grapefruit Tea Pale Ale – our version of a session beer as we could drink it over and over!
Based in west Waterford, Blackwater Distillery produces award-winning gins for Aldi stores nationwide but the real draw is the No. 5 Irish gin and some of their seasonal specials, including a Strawberry Gin, and a wild hedgerow variety. They also produce a Juniper Cask Gin and copper pot-still vodka! Up the Déise! In 2017, they released a limited edition Barry's Tea gin, which if you can get your hands on it, has a smooth flavour, and is exceptionally good in a gin martini.
Keep an eye out in 2018 for their visitors centre and distillery in Ballyduff, County Waterford.
Glendalough Distillery is one of Leinster's finest distillers. Between a range of fantastic gins, whiskies as well as Poitíns, they're committed to seasonality, flavours reflect the area where they are from and it's all quite small scale. Their products are widely available, and at this point is quite internationally recognised as among the top gins in the country.
Their Wild Botanical Gin is packed full of floral flavours, and a throughly enjoyable drink, while the series of four different season gins (Spring, Summer, Autumn and Winter), each reflecting the time of year, and the botanicals grown and foraged during that time.
Us Irish like drinking (and tourists to our isle seem to enjoy partaking too) but nothing is worse than the hangover you face the next day. Well, eventually there was going to come a spirit that banishes the hangover and Thin Gin is it. Proclaimed to be 'hangover-free' and produced by Waterford-based Anchor Spirits, Thin Gin is a splash of citrus-heavy summer year-round dancing with native botanicals like hawthorn, elderflower and hints of apple. Recipient of many taste awards, its name may imply light and barely there but this gin packs a serious juniper punch! Named after local character Isaac Thin who was renowned for his bathtub gin, we met the co-producer of this – Nichola Beresford – at a drinks event and we could not stop talking as her passion about this product is infectious. Try it!
Far from feckin' Espresso Martinis we were raised, we'll tell ye! 🍸Bet you didn't know there was this much choice in Irish cream liqueurs other than Baileys! Kerrygold is the butter brand we all know and love, widely sold around the globe and especially beloved by the States, and now they've developed their own Kerrygold Irish Cream Liqueur. New to the market, where others might use an angelic combination of fresh cream and white chocolate, this one bucks the trend with buttery creaminess and milk chocolate – giving it a darker chocolate colour but literally hugging your tastebuds in velvety silkiness. Imagine this in a boozy mousse….
Belfast-based Suki Tea sprung to life in 2005, set up by Annie and Oscar as a loose leaf tea blending business. In an area too familiar with division over the years, the one unifying force between all sides of the community is the love of a good cup of tea! A staple of the city's food hotpost, St. George's Market, we particularly adore their 'Belfast Brew' and 'Breakfast Tea' varieties as modern, contemporary, flavour-packed loose leaf teas, but there is really a global selection of flavours and tastes. Passionate about corporate responsibility, sustainability and environmentally conscious, Suki Tea now comes as a subscription service so you can travel the world via your tastebuds in the comfort of your own home with lots of special flavours dropped right to your door every month.
Based in the bustling seaside town of Bray, Wicklow Wolf Brewing Company has to be credited for the monikers they give to their brews. Two limited edition examples have included 'A Beer Called Rwanda', an English-style brown ale with the rich nuttiness of Rwandan lightly roasted coffee, and 'Children of the Revolution' – a commemorative brew marking Ireland's 1916 Rising Centenary. Why the name and location? Well according to folklore, the last wild wolves of Ireland roamed these parts. With global beer brewing inspiration they have a line-up of over 10 different beers, a fast growing team, a brewery open for tours and over 400 stockists!
Sometimes throwing the kitchen sink at something is not advised, but not this Belfast-based single estate gin. Literally named after the slang name for a Belfast sink (those covetable wash basins!), Jawbox Gin bears the distinct marriage of citrus and pine with a hefty weft of juniper and is best served the classic way with ginger ale, lots of fresh lime juice and ice plus a final flourish of a generous chunk of honeycomb. Don't ask questions, every gin has its 'perfect serve' and this is perfect!
Purchase Jawbox Gin via our Amazon Affiliate link here
Firmly established over the past decade, 8 Degrees from Mitchelstown in Cork prides itself on being naturally adventurous and their names are spot on: 'Grand Stretch IPA', 'Oxy Moron Kiwi Wit' and 'Barefoot Bohemian'… Their Sunburnt Irish Red Ale mixes flavours of toffee with orange hops while their Howling Gale Pale Ale is light and sprightly with grapefruit and citrus aromas – perfect for a sunny day BBQ.
The White Hag is a Sligo-based brewery named after the Irish mythological name for a witch, which naturally makes your ears prick up and make you thirsty, yeah? Though it may be Irish, some of their range includes the Samhain Oktoberfest Larger, perfect for chillier nights around Halloween, or their Irish wit beer, which is a fantastic Irish take on a Belgian blond beer. Keep an eye out too for their Oatmeal Chocolate Milk Stout too!
Sure, where would you be without it? Ireland is the biggest tea drinking community in the world (per capita, naturally) and sure wouldn't Mrs. Doyle be proud? Tea is the solution to all of life's problems, which every Irish mammy will vehemently attest to.
Barry's Tea, arguably Ireland's best – we polled, you voted as above, sorry Lyons and Bewley's – hails from the rebel county of Cork (though obviously not grown there), and is internationally sold as THE Irish tea you need. The green box is elementary, the red box is superb, the black box is next level. What level of tea guzzler are you?
Kalak is the phonetic spelling of the name of a mythical Celtic goddess, Cailleach. Folklore has painted her as the Irish equivalent of Mother Nature, a powerful being who commanded the forces of nature. Fitting for an exceptionally crisp, clear vodka with actual subtlety of flavour (unlike many other well-known vodkas) which is pot-distilled in West Cork. Available from a number of specialist outlets across Ireland.
14. Longueville House
A luxurious bed and breakfast guest house in Mallow, Co. Cork, Longueville House benefits from a 25 acre orchard beside it, where the O'Callaghan family produce exceptional apple-based drinks, including an artisan-style medium-dry cider and a deliciously crisp apple brandy.
15. Black Castle Drinks
John McGee and Riva O'Malley returned from living in London – like ourselves – with an idea in their heads: to create an Irish, non-alcoholic craft soda made with 100% natural ingredients. So the couple set about beginning their business, coming up with unique soft drinks to tempt drinkers and non-drinkers alike. In their own words: "We were fed up of what was on offer in bars and restaurants for non-drinkers. Why was it that the teetotaler of the group was left out?" Brewed and bottled in Wicklow, their range (so far a Bramble Sting and a Fiery Ginger Beer) is stocked in Avoca, Fallon & Byrne, Supervalu and other specialist retailers around the country plus stocked at the bars of many a fine restaurant!
Black Castle recently teamed up with Wexford craft brewery, YellowBelly Beer to create an alcohol free drink called "Designated Diver" which has been praised across the board since release. A good alternative to an orange juice or a can of 7-Up when staying off the booze!
Ireland's first gin school opened at Listoke House and Gardens outside Drogheda in Co. Louth in 2016 to rave reviews. Perfectly timed as gin was fast becoming the drink du jour in Irish bars again, an enterprising group of three local couples came together to develop the Listoke Distillery, producing both a gin and opening a gin school. Set in stunning surrounds at Listoke House and Gardens (which also offers accommodation, a tea room and garden shop), visitors can come and learn how gin is distilled and even create their own. Their signature gin is distilled in small batches using the latest technology and is a combination of half traditional gin botanicals and half contemporary flavours.
The Listoke Gin School is a wonderful experience for a gang of gin lovers to attend. The first gin school in the country, it offers visitors a full explanation as to how gin is distilled, several tasters plus a chance to sample some of the local flavours from the Boyne Valley. All who attend also get to take home a 700ml bottle of their own creation!
17. Dunville's
Once one of the best known names in Irish whiskey, Dunville's has only recently returned to the consumer market. Well-known and well-heralded until its untimely demise in the late 1930s, the brand was recently revived in 2013 by Echlinville Distillery – Northern Ireland's first new licensed distillery in over a century. Aside from a stunningly traditional packaging, the PX cask variety is also a traditional 'Old Irish Whiskey', 10-year aged in bourbon barrels before a finish in sherry casks. Worth seeking out this piece of history revived.
Dunville's Whiskey is available on Amazon, and you can purchase using this affiliate link.
18. RubyBlue, Ireland's Potato Vodka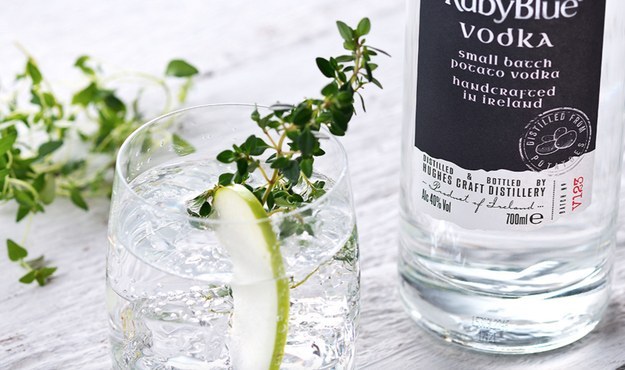 With a slew of spirits awards under its belt, RubyBlue is flying the flag for Irish vodka with this potato distilled vodka, smooth and sweet in taste with hints of apple and vanilla – great as a base for cocktails. Produced by a single family in Co. Antrim, they also have a number of fruit-flavoured liqueurs and a whiskey cask-finished special edition of the potato vodka.
Rich, creamy and refreshing – nothing like the majority of other heavy and cloying cream liqueurs on the market – Coole Swan is a real Irish spirit success story. Ten years ago, one family in Co. Meath decided to embark upon a dream to create an exceptional new cream liqueur. Made using single malt Irish whiskey, fine white Belgian chocolate and fresh cream from the family's dairy herd, Coole Swan's taste is truly exceptional. Available across Ireland, the brand has gone truly international with huge export success. Try a bit in an espresso martini too!
A new cider to the market, Dan Kelly's is made from hand-picked apples from a family orchard in Drogheda, which is spread over 80 acres with 16 different varieties of apple tree. This one might be a little harder to find, but the pure taste in every sip is so worth seeking it out. One of our favourites enjoyed ice-cold on a hot summer's day.
A marriage of Ireland and Italy, this small, independent Dublin-based company So Prosecco imports great-tasting sparkling wines from Italy for the Irish market, offering a Prosecco, Extra Dry Spumante and Spumante Brut. Available to order online, this brand is also boasted by some of the best wine shops, specialty stores and artisan delis in Dublin.
22. Boyne Brewhouse
Another Drogheda debut is this new brewery from the Cooney family – long associated with the town of Drogheda and the drinks industry itself. Set in a new state of the art premises outside the large town in Louth, they are doing double duty on Boann distillery (producing whiskey) and Boyne Brewhouse under the same roof. For the latter, they have a range of 'legend beer's inspired by local folklore but with modern flavours, sourcing their water from the Boyne Valley itself and using local malt. The recipes they use for their range are a closely guarded secret but their hops are internationally sourced as are their brewing techniques – their head brewer is even a Kiwi who's now called Drogheda home. A refreshingly bold take on craft beer, this brand means big business – keep an eye on their star rising! If you spot the Vienna Lager, make sure you try it. One of our favourites, hands down!
This is a totally novel new product in Ireland, a fruit winery in what's known as the 'Garden of Ireland' (Co. Wicklow), set up by an environmentally-conscious couple, Pamela Walsh and Brett Stephenson. Named after the Gaelic word for 'meadows', Móinéir (pronunciation moy-nair) is their company Wicklow Way Wines' brand of 100% fruit wines including a strawberry wine and a blackberry wine – with many more flavours in the works. Already becoming very popular across Ireland, the Móinéir brand is available in a number of specialist food and drink stores across Ireland.
Famed for their orchard syrup, or what we call 'the nectar of the gods' – seriously, try this addictive stuff! – the incredibly inspiring and enterprising Calder-Potts couple based in Kilkenny have created a range of Highbank Orchards ciders; an orchard liqueur; an orchard spirit; an apple vodka; a sensational crystal clear apple-flavoured gin; and even a new pink 'flamingo' gin! What will they think of next?! (and what more could you want from a humble apple?). We've spotted it around the country, but it's available in Dublin's Dollard & Co.
Teeling is the only operating distillery in Dublin city (located not far from where we used to live actually, around Christchurch in Dublin 8) and their range of whiskeys are becoming the staple of the best bars in the Irish capital and beyond. Whether you're into a single malt, single grain or small batch, each of their bottles offers its own unique personality and flavour profile – why not do a wee taste test if you find yourself so inclined?  Head to Teeling at Newmarket for a tour, too!
There you are now, but as always: drink your Irish drinks responsibly dudes!
☘ SLÁINTE! ☘